A new study looks at what would happen to human language on a long journey to other star systems.
Researchers proposes that language could change dramatically on long space voyages.
Spacefaring people might lose the ability to understand the people of Earth.
This scenario is of particular concern for potential "generation ships."
Given the mounting crises of 2020, wouldn't it be nice to just get on a giant spaceship and leave this troubled planet behind? While we don't yet have a surefire candidate for the new Earth, and our tech is probably still decades if not centuries behind, proposals and achievements in interstellar travel are stacking up. A new study makes the fascinating case that if a group of humans were to venture out on a space journey that lasted generations, their language would likely change. It could evolve into something the people of the original Earth would not understand.
Let's say a contingent of people boards a so-called "generation ship," a fully-stocked world-onto-itself spacecraft that can sustain generations of humans in space, slowly traversing the heavens towards another possibly inhabitable planet like Proxima b in the Proxima Centauri star system. We cannot yet build such a ship (which might have to fly for thousands of years) unless we invent some type of warp-drive or use antimatter as has been imagined in science fiction, but there have been some initial studies on the subject.
Cylindrical space colony
Credit: NASA Ames Research Center
Such a journey could be subject to a variety of dangers and unforeseen circumstances like viruses, asteroids, computer malfunctions, you name it. New research, carried out by linguistics professors Andrew McKenzie from the University of Kansas and Jeffrey Punske of Southern Illinois University, shows what might also happen is that the language of the travelers would mutate. The study highlights the fact that when communities become isolated from each other, conditions are ripe for language to transform. Over time, the spacefaring colonizers would not be able to understand their original language.
In the study, the linguists use examples of effects from long-distance voyages on Earth, like the changing languages of Polynesian island explorers, to show how much language can change, even within one's lifetime.
Professor McKenzie described a likely (and somewhat sad) scenario in a press release:
"If you're on this vessel for 10 generations, new concepts will emerge, new social issues will come up, and people will create ways of talking about them," McKenzie explained, "and these will become the vocabulary particular to the ship. People on Earth might never know about these words, unless there's a reason to tell them. And the further away you get, the less you're going to talk to people back home. Generations pass, and there's no one really back home to talk to. And there's not much you want to tell them, because they'll only find out years later, and then you'll hear back from them years after that."
What might also happen is that the language of people on Earth would change. So it's possible, given the distance, and the dwindling reasons to communicate, that both parties might simply not be able to speak to each other as time passes.
One way to prevent this issue – have a member of the crew trained in linguistics or make other accommodations to remember the language of Earth. Thinking even further ahead, the professors propose that each new ship of people coming over to a faraway space colony would essentially contain "linguistic immigrants" and an effort would have to be made to train them in the changed language to help them avoid discrimination.
In case you're deadset on going to Proxima b, recent research found that using currently imaginable tech, such a trip would take 6,300 years and would need to start out with a crew of at least 98 people.
Check out the study, "Language Development During Interstellar Travel" in Acta Futura, the journal of the European Space Agency's Advanced Concepts Team.
MIT and Google researchers use deep learning to decipher ancient languages.
Researchers from MIT and Google Brain discover how to use deep learning to decipher ancient languages.
The technique can be used to read languages that died long ago.
The method builds on the ability of machines to quickly complete monotonous tasks.
There are about 6,500-7,000 languages currently spoken in the world. But that's less than a quarter of all the languages people spoke over the course of human history. That total number is around 31,000 languages, according to some linguistic estimates. Every time a language is lost, so goes that way of thinking, of relating to the world. The relationships, the poetry of life uniquely described through that language are lost too. But what if you could figure out how to read the dead languages? Researchers from MIT and Google Brain created an AI-based system that can accomplish just that.
While languages change, many of the symbols and how the words and characters are distributed stay relatively constant over time. Because of that, you could attempt to decode a long-lost language if you understood its relationship to a known progenitor language. This insight is what allowed the team which included Jiaming Luo and Regina Barzilay from MIT and Yuan Cao from Google's AI lab to use machine learning to decipher the early Greek language Linear B (from 1400 BC) and a cuneiform Ugaritic (early Hebrew) language that's also over 3,000 years old.
Linear B was previously cracked by a human – in 1953, it was deciphered by Michael Ventris. But this was the first time the language was figured out by a machine.
The approach by the researchers focused on 4 key properties related to the context and alignment of the characters to be deciphered – distributional similarity, monotonic character mapping, structural sparsity and significant cognate overlap.
They trained the AI network to look for these traits, achieving the correct translation of 67.3% of Linear B cognates (word of common origin) into their Greek equivalents.
What AI can potentially do better in such tasks, according to MIT Technology Review, is that it can simply take a brute force approach that would be too exhausting for humans. They can attempt to translate symbols of an unknown alphabet by quickly testing it against symbols from one language after another, running them through everything that is already known.
Next for the scientists? Perhaps the translation of Linear A - the Ancient Greek language that no one has succeeded in deciphering so far.
You can check out their paper "Neural Decipherment via Minimum-Cost Flow: from Ugaritic to Linear B" here.
Noam Chomsky on Language's Great Mysteries
Noam Chomsky contemplates the basic, yet still unanswerable, questions of linguistics.
A study surveyed 821 people to find the funniest words in the English language.
Photo by David Silverman/Getty Images
Which word is funnier: porridge or oatmeal?
That was the question that inspired a new study that ranks the funniest words in the English language.
"Apparently my supervisor's kids couldn't stop laughing at 'porridge' one morning during breakfast," Engelthaler said. "He was really confused because 'porridge' and 'oatmeal' are the same thing, but they sound different. He thought 'porridge' was funnier, I thought 'oatmeal' was funnier. So, we decided to make a study to kind of settle the argument."
Engelthaler and his colleagues at the University of Warwick asked 821 people in the U.S. to rate 200 words, which were chosen from a list of 5,000. 
The top 12 words, in order of funniest, were:
booty, tit, booby, hooter, nitwit, twit, waddle, tinkle, bebop, egghead, ass and twerp.
At the other extreme, these were the words respondents found least humorous:
rape, torture, torment, gunshot, death, nightmare, war, trauma, rapist, distrust, deathbed, pain.
The researchers' main objective was to establish a data-set to be used in future humor studies. Still, the results showed some interesting trends, particularly in the differences between what men and women consider funny.
"Men find more dirty words funnier," Engelthaler said. "Women kind of prefer humor that's sound-driven and innocent. So, women find words like giggle and beast funnier, whereas men find words like orgy and bondage funnier."
As far as the words both sexes found similarly funny? Chug, fluff, scrotum, jabber, joke, buttocks, boon, yank, tinker, prance. 
The results also showed that both sexes tended to consider strange words funnier. 
"We found that words that are really infrequent, so words people are unfamiliar with, are funnier on average," Engelthaler said. "I think you're less used to them, so you find them strange and funny."
Engelthaler thinks this might be explained by the benign violations theory, which suggests that we find something funny when it deviates from our expectations, but only in a way that's not too offensive. That might explain why curse words didn't top the list.
"They end up being somewhere closer to the top," Engelthaler said. "But they're not at the very top, which is because, I guess, they offend a slight fraction of the people they're presented to."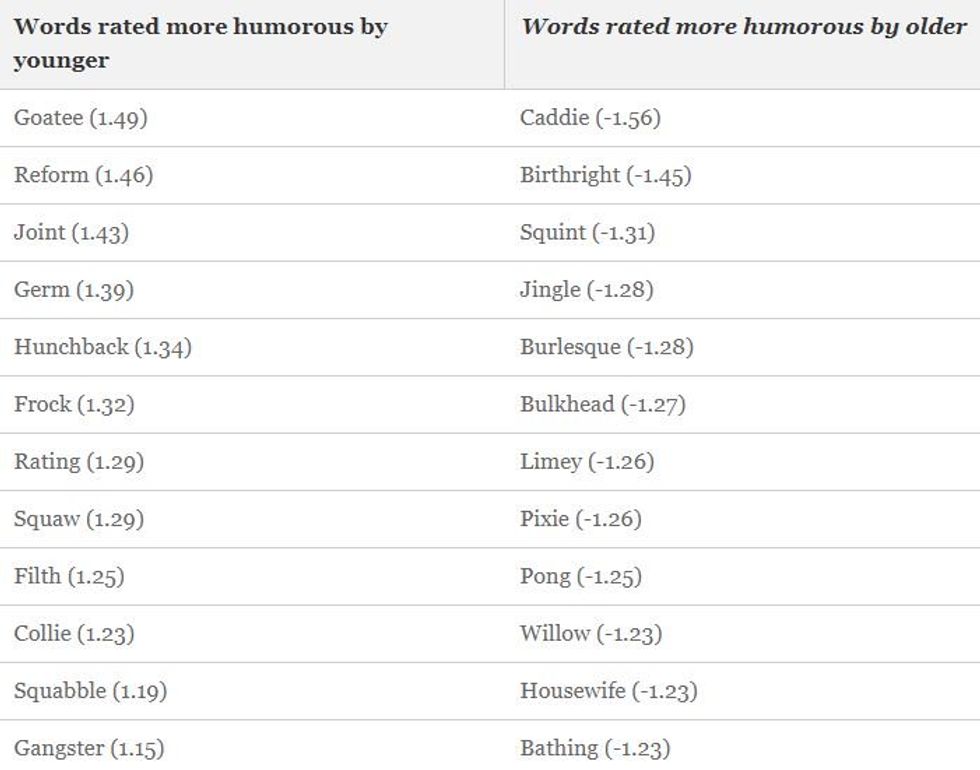 Strange words could also be funny for a different reason.
"One thing we want to look into is the sounds of the words, because there have been studies that have taken a look nonsensical words," Engelthaler said . "They found that certain sounds in the words and sound patterns make them really funny. So even though the word has no meaning at all, they still can be funny words."
Although the words were rated by people in the U.S., the U.K. researchers didn't notice much of a difference between what people in the two countries consider funny.
"As long as something's slightly naughty and slightly dirty, and not too negative, you would find funny in both the U.K. English and the U.S. English," Engelthaler said.
Sure, the old Greek guys from 2,400 years ago get all the glory. But these living philosophers have a ton to say about life, the universe, and everything as it relates to right now.
Public Domain
It can be easy to think that all the good ideas have already been thought; after all, philosophy have been going on for more than 2500 years. But that isn't true! There are still some genius philosophers out there, of course. Here, we give you ten living people with ideas worth learning about.
Noam Chomsky
One of the most cited philosophers of the modern age, Chomsky has written extensively on linguistics, cognitive science, politics, and history. His work has had an effect on everything from developmental psychology to the debates between rationalism and empiricism, and led to a decline of support for behaviorism. He remains an active social critic and public intellectual, including here on Big Think.
"Colorless green ideas sleep furiously"
Slavoj Zizek
Zizek is a modern Marxist who has commented extensively on culture, society, theology, psychology, and our tendency to view the world through the lens of "Ideology". He has devoted a great deal of time to updating the idea of Dialectic Materialism. He is also a frequent Big Think contributor.  
"Humanity is OK, but 99% of people are boring idiots."
Cornel West
Cornel is an American philosopher who focuses on politics, religion, race, and ethics. Hardly shy for the camera, West is often seen on television talk shows and even had a cameo in the Matrixfilms. His work has expanded on the ideas of W.E.B. Du Bois on more than one occasion, and continues to focus on the issues of being an "Other" in modern society. His Big Think videos can be found here.
"The Enlightenment worldview held by Bu Bois is ultimately inadequate, and, in many ways, antiquated, for our time."   
Martha Nussbaum
An American philosopher at the University of Chicago, Martha has written about subjects as diverse as ancient Greek philosophy, ethics, feminism, political philosophy, and animal rights. Along with Amartya Sen, she also developed the Capability Approach which inspired the United Nations Human Development Index.
"Now the fact that Aristotle believes something does not make it true. (Though I have sometimes been accused of holding that position!)"
Alasdair Macintyre
Alasdair Macintyre is a Scottish Philosopher who has written on ethics and morality, political philosophy, theology, and the history of philosophy. His most popular book, After Virtue, helped to fuel a resurgence in Virtue Ethics. His thought shifted from a Marxist view in his early work to one that combines his former Marxism with his new Catholicism and Neo-Aristotelian insights.
"We are waiting not for Godot, but for another—doubtless very different—St. Benedict."
Daniel Dennett 
An American philosopher, cognitive scientist, and one of the so-called Four Horsemen of New Atheism. He has written on free will for decades, and supports the compatibilist view. He has also written on how philosophers think, explaining how the idea of the "Intuition pump" can both mislead and enlighten us. He also has very many interesting interviews with Big Think.
"The Darwinian Revolution is both a scientific and a philosophical revolution, and neither revolution could have occurred without the other."
Philip Kitcher
An analytic philosopher working at Columbia University, Dr. Kitcher has done extensive work on the philosophy of science itself. His work has focused recently on the criteria for "good" science, and the philosophy of climate change.
"A great scientific theory, like Newton's, opens up new areas of research... Because a theory presents a new way of looking at the world, it can lead us to ask new questions, and so to embark on new and fruitful lines of inquiry."
Peter Singer
A modern consequentialist who puts his money where his ideas are. Author of The Life You Can Save, a book on how utilitarianism demands altruism from you right now, he went on to create an organization dedicated to the idea. He has also written on animal rights, and is a vegetarian. His stances on euthanasia and quality of life have been the cause of a great many protests over the years, often preventing him from speaking. His Big Think videos help explain his philosophy.
"We are responsible not only for what we do but also for what we could have prevented."
Amartya Sen
An Indian philosopher and Nobel Prize laureate who was worked for decades in welfare economics, capability theory, and on the questions of justice. He often writes on the need to view the implementation of philosophical ideals in degrees of success, rather than as "existent" or "non-existent". His work went on to inspire Martha Nussbaum, and they continue to compliment each other's work.  
"Democracy has to be judged not just by the institutions that formally exist but by the extent to which different voices from diverse sections of the people can actually be heard"
Judith Butler
An American philosopher who has written on gender, politics, ethics, the self, and cultural pressures. She developed the theory of gender performativity, arguing that no gender exists beyond actions used to express a gender role. Her Big Think work can be found here.
"There is no gender identity behind the expressions of gender; that identity is performatively constituted by the very "expressions" that are said to be its results."
A study analyzes the relationship between how fast people speak and how much information they actually relate.
Do you take your time when you speak, thinking out each word to make sure it's the most appropriate in that situation? Or do you speak two hundred words a minute, blanketing listeners with your ideas? Either way, you would probably get across the same amount of information in the same amount of time. That's the conclusion of a new study from Brown University. 
Uriel Cohen Priva, the author of the study and assistant professor in Brown's Department of Cognitive, Linguistic and Psychological Sciences, found that when people speak there is an interplay between how quickly they speak and how complicated is their speech. It turns out there's a narrow channel of communication data - people who speak fast tend to use simpler words and easier sentence construction, while those who speak slower use more complicated, "contextually unexpected" words and word combinations. But in both cases you get the same info.
"It seems the constraints on how much information per second we should transmit are fairly strict, or stricter than we thought they were," said Cohen Priva. 
Why there are some "constraints" is not yet clear. It could be either because the listener can process only so much information at a time or the opposite - the speaker's inability to come up with and express more than a certain amount of information.
Priva's conclusions were based on analysis of two independents sets of data - Switchboard Corpus, which includes 2,400 annotated phone conversations, and the Buckeye Corpus, containing 40 long interviews. Altogether the data had the speech of 398 people. 
The researcher calculated and compared the frequencies of words, usage of the less frequent passive versus active voice, taking into account each speaker's age and gender and other factors. He also studied how long each word would take to be spoken on average versus how long each particular speaker needed.  
Information theory considers the less predictable and more surprising message as more information. To help explain how different statements convey information, the study suggests considering the phrase "dog bites man". This expression actually provides less information than the phrase "man bites dog" with is a less expected situation. So while having the same words, the two expressions provide a very different amount of information. And if you want to up the ante, saying "human bites dog" is even more lexically informative, because the word "human" is used less frequently than "man".
The finding that faster speakers limit their information is explained by the study as an adjustment necessary for maintaining the speed of speech. 
"Repeatedly choosing more frequent words and structures would mean that speakers would rarely have to slow down for infrequent words and structures, thereby maintaining overall faster speech rate," says the study. 
What's also notable is that the researcher found the same basic relationship between information rate and the speed of speech across all the data.
"We could assume that there are widely different capacities of information per second that people use in speech and that each of them is possible and you can observe each and every one," said Cohen Priva. "But had that been the case, then finding these effects would have been very difficult to do. Instead, it's reliably found in two corpora in two different domains." 
One clue as to why there might be a limitation on the information rate lies in the difference between how men and women speak. While both men and women conform to the overall speech pattern the researcher found, men tend to convey more information than women given the same speech rate. According to Cohen Priva, this may be because women are more likely to want to make sure their listener is actually understanding what they are saying. This hypothesis corresponds to other studies that show women more likely to provide verbal cues during dialogue that ensure understanding. 
Interestingly, as the study notes, "slow speech rate was correlated with high usage of passive voice constructions."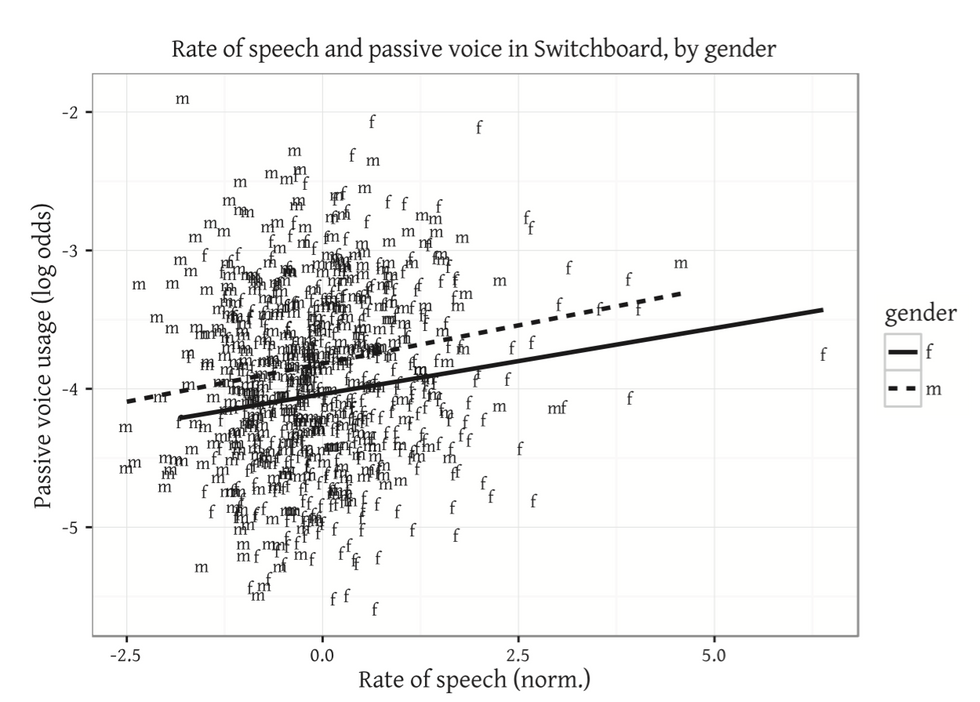 Positive correlation between slow speech rate, measured in mean pointwise speech rate and normalized, and passive voice usage, measured in log odds in Switchboard. Each point represents a speaker in a conversation. The lines represent the raw correlations between speech rate and passive voice usage, by gender.  Source - U. Cohen Priva / Cognition 160 (2017) 27–34. 
The study "Not so fast: Fast speech correlates with lower lexical and structural information" will be published in the March issue of Cognition. You can read it online here.
Cover photo: CIRCA 1950s: Couple in heated argument. (Photo by George Marks/Retrofile/Getty Images)