Age ain't nothing but a number, but "inflammatory age" may be real.
Stanford scientists have found a more accurate way to measure a person's biological age based on a blood protein marker.
The marker indicates a person's level of inflammation, which is the driver of many age-related conditions.
A person's "iAge" more accurately predicts their health than their chronological age.
According to biologist David Furman of Stanford University, "Every year, the calendar tells us we're a year older. But not all humans age biologically at the same rate. You see this in the clinic — some older people are extremely disease-prone, while others are the picture of health."
(Cough — Keith Richards.)
Some have suggested that our epigenome — the sum total of the chemical changes to our DNA — can determine our biological age and predict how soon we are likely to have serious age-related health issues.
Now, Stanford scientists have discovered a different way of ascertaining our future expiration dates: the "inflammatory-aging clock" (iAge). Determining someone's iAge is not only far simpler than performing epigenetic tests. It can also help individuals and their physicians anticipate and confront health issues before they happen.
Good and bad inflammation
Credit: doucefleur / Adobe Stock
One of the things that distinguishes people who remain healthy longer from others is the strength of their immune system.

One of the immune system's primary tools is acute inflammation. This is a "good" process because it is the body's localized, protective response to things like tissue damage, invasive microbes, or metabolic stress. Importantly, it is a short-term response that lasts only as long as needed for the immune system to finish its job.
On the other hand, long-term, system-wide inflammation is "bad." This form of inflammation causes organ damage and is associated with aging. It makes a person vulnerable to a whole range of conditions, including heart attacks, cancer, strokes, arthritis, cognitive decline, depression, and Alzheimer's.
Understanding inflammation as a measure of age
Furman is the director of the 1000 Immunomes Project, "the world's largest longitudinal population-based study of immunology and aging." As such, he had access to blood samples taken from 2009 to 2016 from 1,001 healthy people aged 8-96.
Artificial intelligence (AI) analysis of the samples allowed the researchers to identify protein markers in the blood that most reliably indicated a person's inflammation age. They identified a specific cytokine, CXCL9, as being especially useful. When processed by an algorithm the team devised, it produced a simple inflammation-age value. Comparing this to the patients' histories, it turned out to align with the health of their immune systems and subsequent encounters with age-related disease. CXCL9, produced by the inner lining of blood vessels, is associated with heart disease.
The researchers verified the validity of their system by measuring the iAge of people 65 and older who had had their blood drawn in 2010. When they followed up with these people in 2017, the scientists found that their 2010 iAge turned out to be a more accurate predictor of their health than their chronological age.
Finally, the researchers tested their iAge algorithm with 29 long-lived people from Bologna, Italy — only one of whom had not yet turned 100 — comparing them to 18 average 50-79-year-old individuals. The inflammatory age of all the Bolognese participants averaged about 40 years younger than their chronological age. Furman reports that one 105-year-old man had an inflammatory age of 25.
Tick tock
CXCL9 is easy to measure and may have significant clinical applications. Specifically, it highlights the value of addressing chronic inflammation as a way to increase longevity.
Most promisingly, a person's iAge could serve as an important early-warning system. Furman notes, "Our inflammatory aging clock's ability to detect subclinical accelerated cardiovascular aging hints at its potential clinical impact." He adds, "All disorders are treated best when they're treated early."
It's more than just weight gain—it's chronic inflammation and weak immunity.
Photo: U.S. Air Force, Airman 1st Class Grace Lee.
The first two episodes of the Netflix documentary series Rotten touch upon important issues in our relationship to food. The first focuses on the dangers of colony collapse in bee populations as well as international companies filling bottles with ingredients that definitely are not honey. The second deals with food allergies, particularly focused on the largest: peanuts.
While these are distinct issues, two themes weave these stories together. First, the impact of our environment on health. Humans have gone to great lengths to separate from nature. Yet we interact with whatever environment we live within. Effects of sedentary existences lived apart from the planet's rhythms include the slow destruction of our bodies and pretty much every species we come into contact with.
The booming almond industry needs pollinators, which stressed beekeepers (and bees) travel hundreds or thousands of miles to accomplish in California's central valley each season—adding to the stress. Colony collapse is rampant given the diseases these nomadic bees are now sharing. This is but one example of interdependence that we often overlook. No pollination, no honey, no almonds, no—a lot. 
The rapid onset of food allergies over the course of only one generation provides another example of our exile from nature's rhythms. We would never eat foods apart from the environment they were grown or captured within until recently. Industrial monocultures are likely, at least in part, to blame for this stunning increase in any or all of the eight allergens, which leads us to the second theme in these episodes: our microbiome.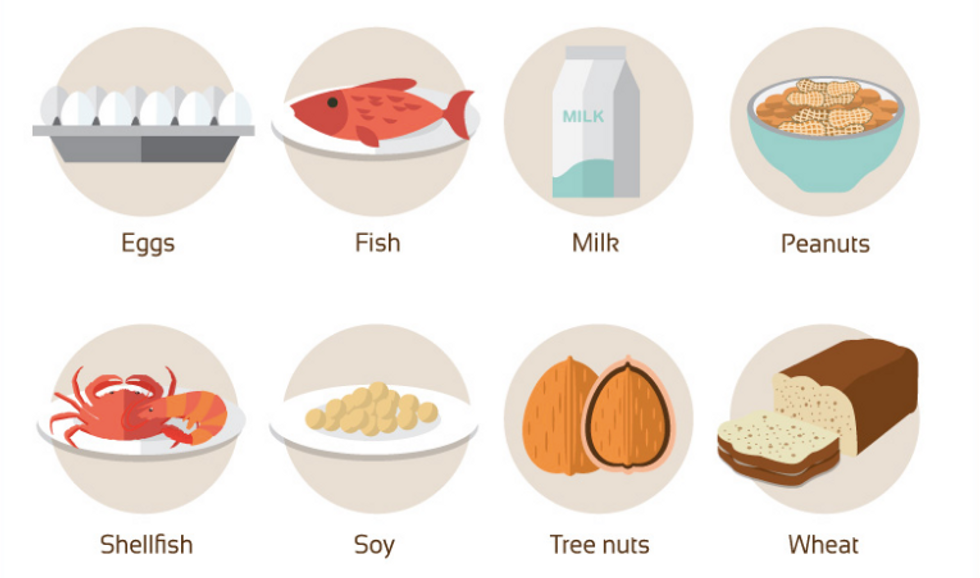 These 8 foods make up 90% of all food allergies in the U.S. Image: Fix.com
The bacteria that live inside of our guts is arguably the most important feature of our entire body. While the brain receives the bulk of praise, scientists have more recently raised an inquisitive eyebrow regarding all the data emerging on the microbiome. The relationship between our nervous system and gut (which has its own nervous system) is exceptionally influential on health. 
Our microbiome also directly interacts with our environment. While Purell has proven beneficial for soldiers in foreign territories, constantly sanitizing your hands weakens your immune system when in home territory. Synopsis: let your kids play in dirt. You play in dirt too. Those bacteria are strengthening.
Yet we have many weird relationships with our environment and the foods we eat, often in the invented cause of "purity." One example is juicing, heralded as the perfect (and profitable) "cleansing" mechanism. Drink juice for five or ten days and your body "resets." But juice is no different than soda, as you've removed the most beneficial part of the fruit: fiber. 
We've long known fiber is essential to our diet, in order to "get things moving." Otherwise known as roughage, dietary fiber is comprised of soluble and insoluble fiber. Both play critical roles in defecation. While too much fiber can cause intestinal gas and bloating, too little, a hallmark of a highly processed diet heavy on sugar, means we'll turn to laxatives instead of eating the fruits, plants, and grains that offer an abundance of it. 
Fiber also reduces the risk of heart disease, arthritis, and diabetes, and has been shown to lower mortality rates. But its role in digestion is particularly important. The food we consume is broken down by enzymes, its nutrients absorbed by our intestines. The molecules we cannot absorb, fiber, either pass through or, as it turns out, become food for gut microbes. 
A recent study published in Cell Host and Microbe investigates mice on a low-fiber, high-fat diet. The gut bacterial population crashed, triggering immune reactions. A similar experiment, published in the same journal, discovers that the effects of a low-fiber diet are wide-ranging: 
Along with changes to the microbiome, both teams also observed rapid changes to the mice themselves. Their intestines got smaller, and its mucus layer thinner. As a result, bacteria wound up much closer to the intestinal wall, and that encroachment triggered an immune reaction.
Continuation of this diet causes chronic inflammation; the mice also got fatter and developed high blood sugar. In both cases, the inclusion of a fiber called inulin dramatically improved their health and gut bacteria population. The researchers, which include Georgia State University's Andrew T. Gewirtz, realized that fiber serves as an essential food for an entire population of bacteria. 
"One way that fiber benefits health is by giving us, indirectly, another source of food, Dr. Gewirtz said. Once bacteria are done harvesting the energy in dietary fiber, they cast off the fragments as waste. That waste — in the form of short-chain fatty acids — is absorbed by intestinal cells, which use it as fuel," writes Carl Zimmer for The New York Times.
The "peaceful coexistence" of bacteria in the microbial system is disturbed on a low-fiber diet. Famine breaks out. Bacteria dependent upon fiber starve, followed by the bacteria that depend upon them for sustenance. A colony collapse. What follows isn't a disappearance, but an aggravation. 
"Inflammation can help fight infections, but if it becomes chronic, it can harm our bodies. Among other things, chronic inflammation may interfere with how the body uses the calories in food, storing more of it as fat rather than burning it for energy," writes Zimmer.
Obesity isn't the only thing fiber fights. It is also believed to help combat or prevent immune disorders. A fiber supplement probably won't cut it, however, since what our microbiome truly craves is a variety of fiber sources, which, fortunately, can be found in the produce aisle. 
We begin life with a disadvantage regarding fiber. In his book, Catching Fire, British primatologist Richard Wrangham writes that our relatively small colon means we cannot utilize plant fiber nearly as effectively as great apes. Cooked food provides an important means for intaking more fiber (and other nutrients) than raw plants, but thing is, we have to eat those plants. 
A diet filled with processed foods and fiber supplements is not going to cut it. Our microbiome craves what it has evolved to need in order to survive. Without those requirements those bacteria perish, initiating system-wide havoc in our bodies. Sans fiber we're not honoring the environment that gave birth to us, and that environment is certainly speaking back. 
--
Derek Beres is the author of Whole Motion: Training Your Brain and Body For Optimal Health. Based in Los Angeles, he is working on a new book about spiritual consumerism. Stay in touch on Facebook and Twitter.
If you want to feel less pain, meditate more often. According to this new research, it can genuinely erase the emotional reaction to pain. And since it's long been said by coaches and some doctors that most pain is within the mind, here's scientific proof to back that assertion up.
Picture this: you're in a doctor's office, and the doctor tells you that he or she is going to give you an injection. By the time they bring the needle out, you've already felt half the pain you're going to feel just by mentally preparing yourself for, arguably, worse pain than you're ever going to get with just that needle. That's because much of pain itself is psychological—and an effective way to mitigate this is by simple mediation. Just a one-day "boot camp" of meditation can make a difference, says Daniel Goleman. His new book is Altered Traits: Science Reveals How Meditation Changes Your Mind, Brain, and Body.
"Currently, inflammation is considered a major factor in the development of depression, dementia, and other brain disorders," says Dr Drew Ramsey. 
Every year you can expect a slew of new "guaranteed diet" books for weight loss, brain health, aging, spiritual well-being, and general lifestyle. There's the vegan one, the raw meat one, the low-fat one, the high-fat one, the juice-from-fruits-picked-during-a-full-moon one, the blood type one, and the one based on your latest tarot card reading. It becomes quite confusing. Authors confuse a little information with knowledge, then try to translate that into sales.
There are too many factors to factor in to a proper diet. Serious nutritionists recognize that good health requires a nuanced understanding of individual genetics, environment, and gut microbiome. Then there's the speed you consume your food, the types of sugar you eat—in juice or whole fruit, in which the fiber plays a critical role—then the types of fat you digest, and stress levels.
Let's pause on that last one for a moment, as stress is rampant. An overtaxed body is an inflamed body. A recent study investigating the role of inflammation in regards to brain health and dementia is worth considering. It's not the only factor in a good diet, but it is a crucial one. 
A team at Columbia University Medical Center, led by neuropsychologist and epidemiologist Yian Gu, studied the cognitive performance of 330 elderly adults to see if the Mediterranean diet—one of the longer-lasting and most-studied diets in the world—could lower their risk of diseases of dementia, including Alzheimer's. All adults involved did not suffer from dementia during the course of the study. 
Gu points out numerous studies have shown that this diet, which is fish- and poultry-heavy with an emphasis on whole grains, fruits, olive oil, vegetables, and moderate alcohol intake, offers protection against the development of Alzheimer's. Gu wanted to know if this is due to a decrease in inflammatory biomarkers in the subject's brain. 
The result was yes, decreased inflammatory markers were prevalent in those who ate this diet. They also had better visuospatial cognition, thanks to nutrients such as vitamins B1, B2, B5, B6, D, and E, as well as higher intake of omega 3-fatty acids, calcium, and folate. Gu notes: 
This study suggests that certain nutrients may contribute to the previously observed health benefits of some foods, and anti-inflammation might be one of the mechanisms. We hope to confirm these results in larger studies and with a wider range of inflammatory markers.
To understand why lower inflammation helps overall health and aging I emailed Drew Ramsey, also at Columbia University. The psychiatrist, Big Think expert, and author of numerous books, including Eat Complete, told me: 
Inflammation is how our body deals with stress and injury. Today, most people eat a diet and have a lifestyle that promotes incredible stress via excess sugars, eating the wrong fats, and losing the sense of joy that food should give us. Currently, inflammation is considered a major factor in the development of depression, dementia, and other brain disorders. People should worry about inflammation because it is contributing to the degradation of their health.
This is especially important as we age. As Gu and team write in the study, Alzheimer's is the leading cause of dementia worldwide, and is the most common neurodegenerative disorder. While medical interventions help us live longer that does not always translate to healthier. We can overcome cancer and heart surgery and survive longer with AIDS and type 2 diabetes, but quality of life is greatly compromised when suffering from dementia. The strain on family and friends can be overwhelming. 
Which is why it's important to start interventions earlier in life. Most of what is sold in packages is not food, but a combination of food-like substances preserved by unpronounceable chemistry. Sugars and unhealthy fats hide, disguised by numerous names, slowing transforming our microbiome in ways that degrade health. And it's not only visceral fat, body mass index, and heart disease we need to worry about. Without healthy cognition the very concept of "I" disintegrates. The so-called golden years are effectively meaningless if you can't remember them.
While studies like Gu's remind us of the bigger picture, Ramsey suggests taking it meal by meal. When I ask him how people can implement changes in their diets now, he expresses skepticism about considering the long game. Change starts at the dinner table tonight, he says. 
People don't get motivated by "long term benefits" or "risk reduction." We have the most success in our clinic when we encourage patients to make better food choices at their next meal. We find that there are very rapid effects when people switch from modern Western food to nutrient dense whole foods (which are also brain food). Sure, eating more avocados can decrease dementia risk, but encouraging patients to eat more avocado toast and guacamole is more compelling when it comes to behavioral change.
Gu knows that one study does not change a discourse. But the combination of better understanding the microbiome and the effects of decreasing inflammation is too prevalent to deny. The Mediterranean diet offers a simple lesson applicable globally, to eat seasonal fresh foods and enjoy moderate amounts of alcohol. Such an approach worked for our species for millions of years until the advent of refrigeration and industrial processing. And we know it works now. We just have to implement it, be it through the recognition of cognitively strong aging or, as Ramsey suggests, hitting the produce aisle for dinner tonight. 
--
Derek is the author of Whole Motion: Training Your Brain and Body For Optimal Health. Based in Los Angeles he is working on a new book about spiritual consumerism. Stay in touch on Facebook and Twitter.
60% of pain patients find that tolerance buildup significantly impedes their treatment over time.
A bottle of prescription painkillers spilling out.
There is an epidemic going on today that you hear almost nothing about. Yet it effects around 50 million Americans, according to the National Institutes of Health (NIH). That's more than those diagnosed with diabetes and cancer combined. It's a chronic pain epidemic and it's everywhere. Such pain is not only devastating for the person and their family, it is also the leading cause of disability. A higher number of cases puts more of a burden on the healthcare system and hampers economic growth. So it isn't only the person and their closest kin who suffer, but society as a whole.
Unfortunately, therapies haven't changed much over a hundred years or more, as little is really known about the phenomenon of pain itself. There are really two main options in terms of therapy. The first is non-steroidal anti-inflammatory drugs (NSAIDs) such as aspirin, ibuprofen (Advil, Bayer), acetaminophen (Tylenol), and naproxen (Aleve). There are stronger prescription varieties of these as well.
The second option is opioid painkillers. Derived from opium, the most common types prescribed are morphine, OxyContin, Vicodin, Percocet, oxycodone, hydrocodone, and fentanyl. Of course there are many others. Though effective in the short-term, 60% of patients find that building up a tolerance significantly impedes treatment over time. Unfortunately, three to four percent of Americans receive morphine or one of its derivatives to manage severe or chronic pain, long-term.
In the last decade, an increase in the prescribing of opioids has followed the pain crisis's upward trend. When taken as prescribed, opioids are safe and effective. But as the body begins to build up a tolerance, pain tends to bleed through. Oftentimes, increasing dosage is not recommended past a certain point. Alternative therapies such as acupuncture, tai chi, yoga, and physical therapy are usually proposed alongside opioids. Even so, patients don't always find these options effective.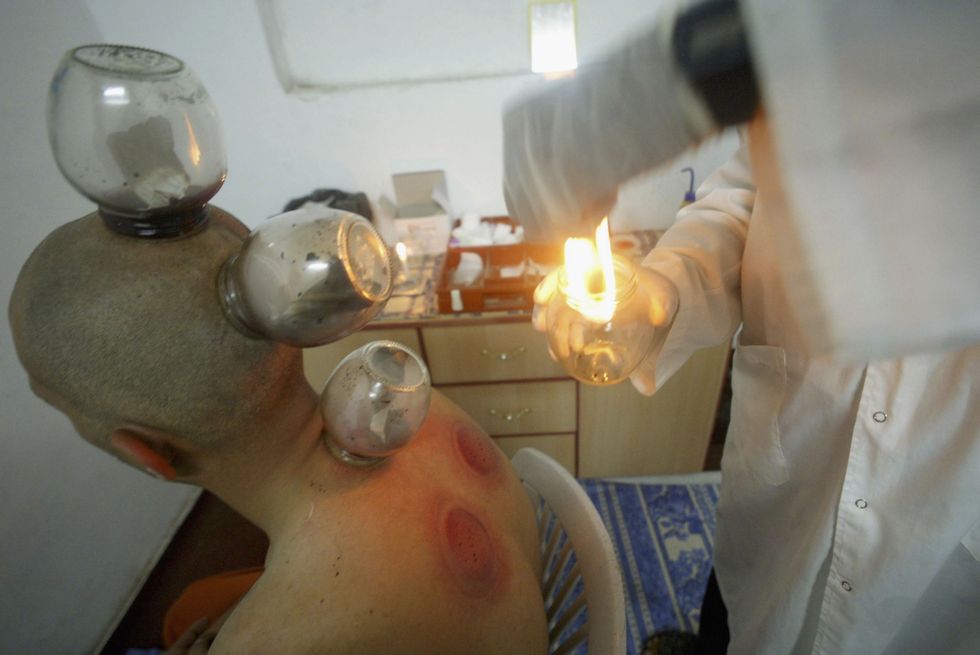 Cupping is the latest trend in alternative therapes. But many of these don't reduce pain significantly enough.
Medical marijuana advocates have suggested cannabis therapy alongside opioids. Some studies have found that it does not increase the risk of addiction or overdose, and in fact gives additional pain relief. In fact, one study out of the University of Michigan found a 64% reduction in opioid use, when medical marijuana was made available to pain patients. But for many, this option may not be viable.  
For those patients with bleed through pain, the motivation to take more than prescribed is great. Though they may find relief in the near term, the patient will soon find themselves increasing dosage once again when tolerance has increased, and so inching ever closer toward an overdose. It is through this process, and through teens and young adults swiping pills from medicine cabinets, that the prescription opioid epidemic has taken hold.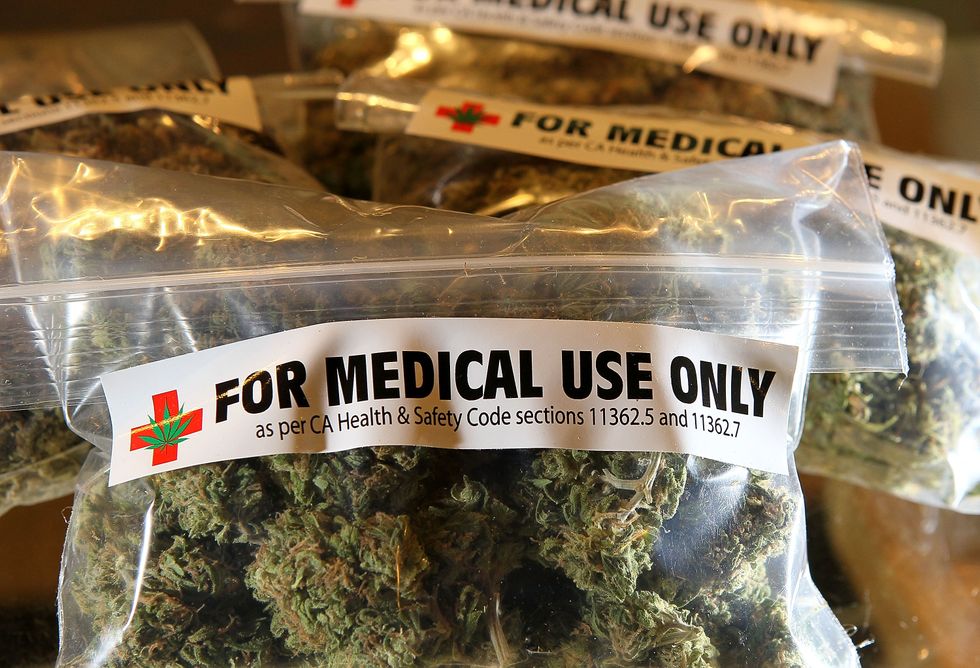 Medical marijuana may help. But it's not a viable option for all patients for a number of reasons.
2.1 million in the US were addicted to prescription painkillers in 2012, according to the NIH—the latest numbers on record. And overdose deaths have increased fourfold since 1999. It is also fueling a heroin epidemic, as the street drug is less expensive and more readily available.
Big pharma has responded by offering extended release opioids, in an attempt to give patients more relief and discourage them taking more than prescribed. Other drugs have abuse-deterrent features, such as pills one is unable to crush, and so cannot snort or use intravenously. Yet, many see this as a technological fix, putting a Band-Aid on an already out-of-control problem. Also, it does not address the issue of bleed through pain.
Besides being little understood, not enough research is conducted to learn more about chronic pain. Today, the race is on to find ways to overcome these problems, and deliver better pain relief to those who are suffering. One new study, published in the journal Neuropsychopharmacology, has located the brain mechanism that causes opioid tolerance. Researchers have even devised a way to overcome it.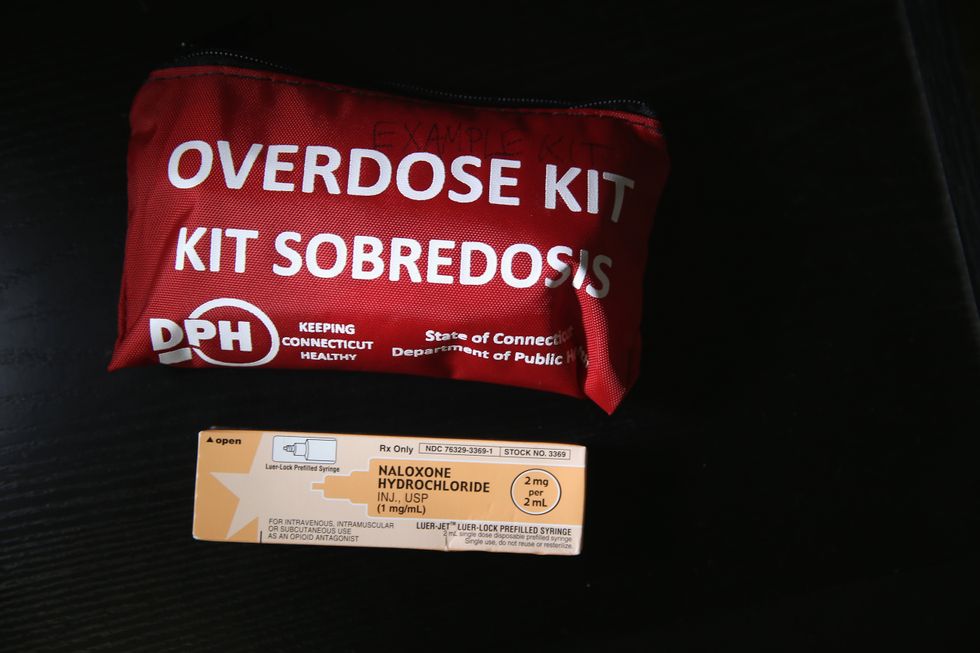 An opioid overdose kit. These are ubiquitous now across the country due to the opioid addiction epidemic.
Investigators from Emory and Georgia State Universities found, for the first time, how morphine tolerance comes about. This is an inflammatory response triggered when chemical messengers called cytokines are released inside the brain. By blocking cytokines, researchers say pain could be relieved consistently with morphine over time, at only half the dosage. These scientists were able to illustrate how the inflammatory response occurred in rats' brains, and that blocking cytokines could undermine tolerance.
The mechanism for tolerance buildup works like this. Over time, morphine interferes with homeostasis, or the body's ability to manage functions in a rhythmic and timely manner. Since it no longer recognizes pain, the body moves to rid itself of this foreign agent and reestablish balance within the system. To do that, it triggers the immune response, which causes inflammation—used to drive the agent out.
Another find, tolerance occurs quickly. One dose each day for three days was enough to cause the tolerance response to kick in. When rats were given a drug that blocked inflammation, tolerance to morphine plummeted. Researchers concluded the study by writing, "Our findings provide a novel pharmacological target for the prevention of opioid-induced immune signaling, tolerance, and addiction."
To learn more about the prescription painkiller epidemic click here: