In the 1990s, the two scientists made key discoveries that led to the development of promising new cancer-fighting immunotherapy drugs.
The two researchers, from the U.S. and Japan, made key discoveries about the immune system's response to cancer.
Their work showed how to block cancer cells from crippling white blood cells.
Still in its early stages, immunotherapy is a promising field in cancer research.
James Allison and Tasuku Honjo have won the 2018 Nobel Prize in Physiology or Medicine for their innovative work in developing immunotherapy treatments to fight cancer.
James P. Allison, 70, is the chair of the department of immunology at MD Anderson Cancer Center in Houston, Texas, and Tasuku Honjo, 76, is a professor at the Kyoto University Institute for Advanced Study in Japan. In the 1990s, the two scientists made separate breakthrough discoveries about the immune system that led to the development of immunotherapy drugs. They will share the $1 million prize.
Allison was in New York for an immunology conference when his son called early one morning to tell him the good news. An hour later, Allison and his colleagues were celebrating in a hotel room over champagne.
"It still hasn't completely dawned on me," said Allison, at a press conference. "I was a basic scientist. To have my work really impact people is one of the best things I could think about. It's everybody's dream."
Honjo also spoke about the personal satisfaction he gets from seeing his work benefit patients.
"When I'm thanked by patients who recover, I truly feel the significance of our research," Honjo said during a news conference at the Japanese university, according to Japanese news reports. He added: "I'd like to continue researching cancer for a while so that this immunotherapy will help save more cancer patients than ever before."
How immunotherapy works
Immunotherapy effectively removes the 'brakes' on the body's immune system, allowing for a certain type of white blood cell, called T-cells, to hunt down and kill cancer cells. Without immunotherapy treatment, cancer cells can deactivate T-cells by taking advantage of a switch on the cells, called an immune checkpoint. This shuts down the body's immune response and allows the cancer to spread unchecked.
Image: Nobel committee

Immunotherapies keep cancer-fighting T-cells active by blocking the immune checkpoints. In the 1990s, Allison and Honjo made key discoveries about immune checkpoints that later led to the development of immunotherapies that have proven successful in humans; Allison identified a checkpoint called CTLA-4, Honjo found another called PD-1.
The development and testing of immunotherapy drugs is still in early stages. However, immunotherapy has shown promising signs in recent years in combating several types of cancer, particularly lung cancer, even reversing the disease completely in some patients.
Revolutionary work
Photo: JONATHAN NACKSTRAND/AFP/Getty Images
Many scientists have helped develop the field of immunotherapy, but the work of Allison and Honjo helped build a foundation from which it could grow.
"I think they really deserve it," Jerome Galon, an immunologist at the Paris-based national biomedical research agency INSERM, told Nature. "You can always multiply and have many other people, but these are the obvious two first choices."
Their work "brought immunotherapy out from decades of skepticism" and has led to treatments that have improved an "untold number of people's health," Dr. Jedd Wolchok, a cancer specialist at Memorial Sloan Kettering Cancer Center in New York, told The New York Times.
The Nobel committee wrote that scientists have been searching for ways to bolster the immune system against cancer for more than a century, but the progress was "modest" until the revolutionary work of Allison and Honjo.
"Allison's and Honjo's discoveries have added a new pillar in cancer therapy. It represents a completely new principle, because unlike previous strategies, it is not based on targeting the cancer cells, but rather the brakes — the checkpoints — of the host immune system," Klas Kärre, a member of the Nobel Committee and an immunologist at the Karolinska Institute in Stockholm, said in a statement. "The seminal discoveries by the two laureates constitutes a paradigmatic shift and a landmark in the fight against cancer."
Your brain's heightened sensitivity can make you perceptive and creative. But it's a double-edged sword, researchers find.
Image source: Edvard Munch, The Scream c. 1893
People with high IQ are considered to have an advantage in many domains. They are predicted to have higher educational attainment, better jobs, and a higher income level. Yet, it turns out that a high IQ is also associated with various mental and immunological diseases like depression, bipolar disorder, anxiety, ADHD as well as allergies, asthma, and immune disorders. Why is that? A new paper published in the journal Intelligence reviews the literature and explores the mechanisms that possibly underlie this connection.
The study authors compared data taken from 3,715 members of the American Mensa Society (people who have scored in the top 2% of intelligent tests) to data from national surveys in order to examine the prevalence of several disorders in those with higher intelligence compared to the average population.
The results showed that highly intelligent people are 20% more likely to be diagnosed with autism spectrum disorder (ASD), 80% more likely to be diagnosed with ADHD, 83% more likely to be diagnosed with anxiety, and 182% more likely to develop at least one mood disorder.
When it comes to physiological diseases, people with high cognitive abilities are 213% more likely to have environmental allergies, 108% more likely to have asthma, and 84% more likely to have an autoimmune disease.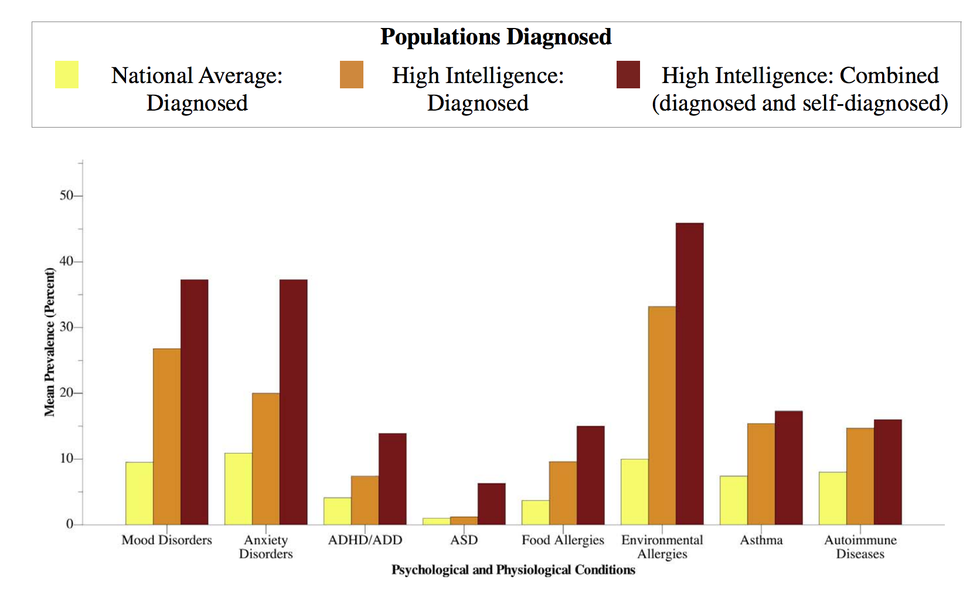 Credit: Journal of Intelligence / High intelligence: A risk factor for psychological and physiological overexcitabilities
The researchers turned to the field of psychoneuroimmunology (PNI) to look for some of the answers. PNI examines how the chronic stress accumulated as a response to environmental factors influences the communication between the brain and the immune system.
The researchers point out that highly intelligent people have tendencies for "intellectual overexcitabilites" and a hyper-reactivity of the central nervous system. On the one hand, this gives people with high IQ heightened awareness that helps their creative and artistic work. In fact, the field of cognitive ability recognizes one aspect of highly intelligent people to be "a broader and deeper capacity to comprehend their surroundings."
This hyper-reactivity, however, can also lead to deeper depressions and poor mental health. This turns out to be particularly true for poets, novelists and people with high verbal intelligence. Their intense emotional response to the environment increases tendencies for rumination and worry, both of which predict depression and anxiety disorders.
Heightened psychological responses can affect immunity, write the researchers. People with overexcitabilites may have strong reactions to seemingly harmless external stimuli like an annoying clothing tag or a sound. This reaction may turn into low level chronic stress and launch an inappropriate immune response.
When the body believes it is in danger (regardless of whether it is an objectively real one like a toxin or an imagined one like an annoying sound), it launches a cascade of physiological responses that include a myriad of hormones, neurotransmitters and signaling molecules. When these processes are chronically activated, they can alter the body and the brain, dysregulate immune function and lead to conditions like asthma, allergies and autoimmune diseases.
The scientific literature has confirmed the association between gifted children and an increased rate of allergies and asthma. One study shows that 44% of those with an IQ over 160 suffered from allergies compared to 20% of age-matched peers. Тhe exploratory study done by the authors of this latest paper further supports that connection.
Based on their findings and previous studies the researchers have termed this phenomenon the hyper brain / hyper body theory of integration, explaining that:
The overexcitabilities specific to those with high intelligence may put these individuals at risk for hypersensitivity to internal and/or external environmental events. The rumination and worry that accompanies this heightened awareness may contribute to a chronic pattern of fight, flight, or freeze responses which then launch a cascade of immunological events. [...] Ideally, immune regulation is an optimal balance of pro- and anti-inflammatory response. It should zero in on inflammation with force and then immediately return to a calm state. In those with the overexcitabilities previously discussed, including in those with ASD, this system appears to fail to achieve a balance and thus inflammatory signals create a state of chronic activation.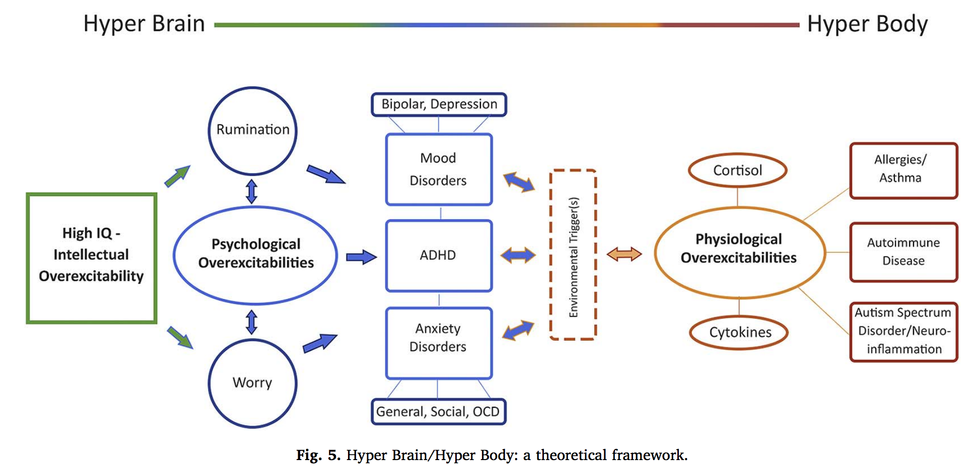 Credit: Journal of Intelligence / High intelligence: A risk factor for psychological and physiological overexcitabilities
The authors conclude that it is important to further study the relationship between high intelligence (particularly the top 2%) and illness, especially in order to demonstrate causation and further bring to light the negative aspects of having a high IQ. As they say, "this gift can either be a catalyst for empowerment and self-actualization or it can be a predictor of dysregulation and debilitation" and in order to serve this group, it is important "to acknowledge the rumbles of thunder that follow in the wake of their brilliance."
The study had some interesting findings for the adult children of separated parents who were civil.
A young girl who is scared. Flikr.
More and more, we're learning about the mind-body connection and how it affects health. We're also realizing that epigenetic changes from our parents and the emotional climate in which they lived, can plant negative seeds in us. In our own lives, medical researchers in the last several decades have figured out that chronically feeling negative emotions can weaken our immune system, while long-term positive ones boost it.
These emotions include depression, chronic stress, and loneliness. Steve Cole, Ph.D., from the Cousins Center for Psychoneuroimmunology at UCLA found out how it works. He proved a few years ago that negative emotions affect the expression of genes associated with the immune system. They suppress them. While positive emotions boost expression.
But how far back does the effect go? A new study published in the Proceedings of the National Academy of Sciences has a surprising answer. Here, researchers found that adults who endured a contentious childhood had suppressed immune systems even decades later, making them more susceptible to the common cold and other illnesses.
Psychologists from a number of universities contributed to the study. They wanted to know how a parent's separation and how they handled it affected a child's health long-term. Those parents who had a contentious separation, who wouldn't speak to one another or yelled at each other often, had children who, when they reached adulthood, were three times more likely to get sick with things like the common cold, compared with those whose parents interacted civilly.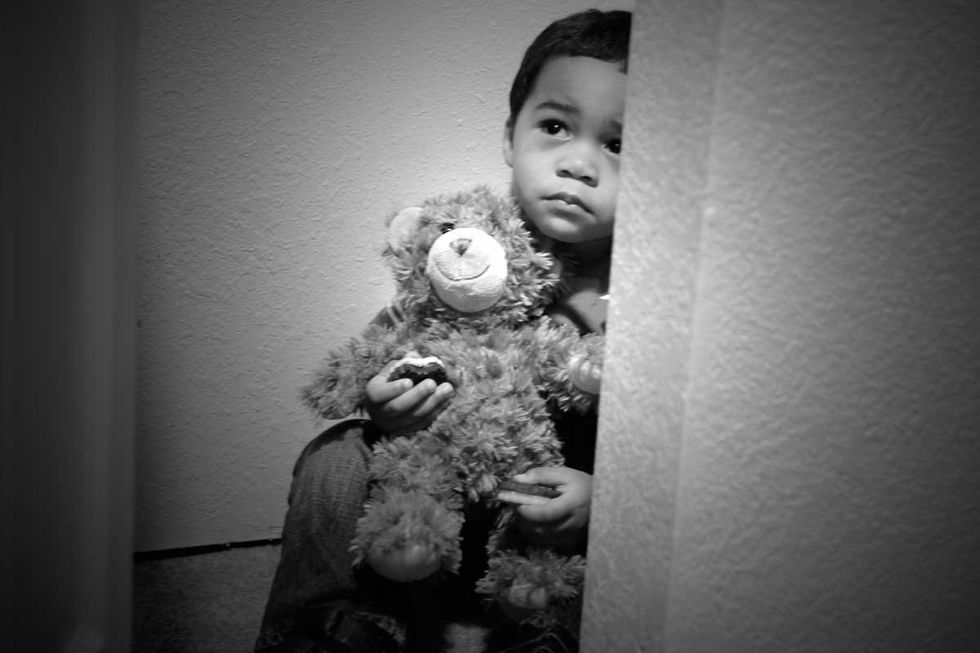 Children who had constantly bickering parents were more likely to have suppressed immune systems later on. Flickr.
To conduct the study, researchers recruited 201 normal adults. First, they were quarantined. Then, each was exposed to the virus that causes the common cold. Researchers monitored them for five days, to see if they'd get sick. Those who had suffered a childhood trauma, say from a family where a hostile separation or divorce occurred, were significantly more likely to develop the common cold. The good news is, those parents who separated but kept it civil were just as likely to have adult children with normal immune systems as those who stayed together.
Michael Murphy was one of the researchers on this study. He is a psychology postdoctoral research associate at Carnegie Melon University. He said, "Early-life stressful experiences do something to our physiology and inflammatory processes that increase risk for poorer health and chronic illness." They aren't sure exactly what mechanisms are behind it, yet. According to the study, those who endure very stressful childhoods were impacted even two to four decades later.
Professor of Psychology Sheldon Cohen from Robert E. Doherty University, was another collaborator. He said, "Our results target the immune system as an important carrier of the long-term negative impact of early family conflict." He added, "They also suggest that all divorces are not equal, with continued communication between parents buffering deleterious effects of separation on the health trajectories of the children." One substantial limitation was that the study had a very small sample size. Even so, it provides food for thought and will spur more investigations which will, in time, deepen our understanding of the mind-body connection and how it affects our health.
To learn more about how negative emotional experience can affect one's health, click here: