Gyms and fitness centers are closed, but your living room is always open.
Global lockdowns and business closures due to the coronavirus outbreak have left many searching for alternative ways to exercise.
Beyond physical fitness, studies have shown that exercising also enhances creativity, relieves depression, and is overall great for the brain.
These products will help you establish a personal workout center in your home and hopefully make self-isolation a little more bearable.
If you're a good person, then you're probably doing your part to help flatten the curve and beat COVID-19 by staying inside as much as possible. Unfortunately, that means that parts of many people's daily routines have been interrupted, including visits to the local gym or fitness studio. Being active at all ages is, of course, important for physical reasons (ensuring that muscles don't deteriorate, lowering risk of cardiovascular diseases and conditions, etc.). Studies have also shown that exercising can enhance creativity, relieve depression, and is overall great for the brain.
Just because you're stuck at home doesn't mean that you have to give up that part of your life. Mayors and governors across the United States have encouraged occasional walks when necessary (as long as they practice CDC social distancing guidelines), and a lot of people have taken this time to establish workout centers inside of their homes. Here are a few essentials you should order today to start burning calories and improve your mood between binge watches.
It's no secret that certain scents and fragrances have strong physiological effects on our moods and behaviors. Juniper Ridge creates campfire incense by extracting fragrances directly from nature. The calming forest scents are perfect whether you're practicing yoga, meditating, or just sitting and doing nothing at home. If burning incense isn't your thing, they also offer oils and plant-based room sprays.

Thanks to coronavirus, many yoga instructors have had to pivot to digital classes. Not having to travel to a studio can be a plus, but you may need a couple things to get the most of those remote session. This yoga starter kit has a mat, two blocks, a mat towel, a hand towel, a strap, and a knee pad.
Every home gym needs a machine for tracking those gains and losses. More than just a weight scale, the Fitbit Aria 2 connects to a mobile app so that you can measure and keep track of your body fat percentage, lean mass, and your body mass index (BMI). Being healthy is about more than losing or gaining pounds, so you'll need a scale that helps you see the bigger picture.
Resistance band workouts are perfect for small spaces and for people who don't want to deal with storing cumbersome equipment. Color-coded based on resistance level, these natural latex bands come with a workout guide ebook, lifetime warranty, and a travel/storage pouch.
If you have a bedroom, hallway, or kitchen floor, then you probably have enough space to do a pushup. The old-fashioned way doesn't require any additional equipment, but these were designed with a wrist-twisting motion that is said to engage more muscles and increase strength/definition while also reducing joint strain and pressure points.
It only takes one go on an ab roller for you to realize that it is definitely working. Your midsection will hate you, but it will be worth it in the end when you leave self isolation with a stronger core (and maybe even a six pack).
Indoor trampolines provide a quieter way to jump around and get your heart rate going while toning and strengthen your leg muscles. The edges can also be used for stability during floor exercises, and it folds flat for easy storage. The kids may also get some enjoyment out of this (but make sure you check the terms for any age restrictions).
There are dozens of in-home workouts you can do with an inflatable balance trainer like this one, including pushups, lunges, squats, sit-ups, toe taps, and burpees. This pack comes with a downloadable set of workouts to get you started.
Hardcore kettlebell fans will probably recommend cast iron because it's the original "real deal," but kettlebells made of rubber or ones that are vinyl coated are much safer for your floors in case of a drop.
You probably won't be slamming this ball too hard against a wall in your apartment, but there are other solo and partner exercises where having a medicine ball on hand would be a good idea. Whether you're doing ball tosses or Russian twists, you won't lose your grip thanks to this smart design.
You may not be able to hit the trails and bike lanes as much as you used to, but that doesn't mean you can't still get a few miles in before dinner. Indoor bike trainers are good for the winter and, as it turns out, for extended periods of self-isolation.
Taking the indoor cycling thing a step further, this machine from Nordictrack is not your mother's old exercise bike. The S22i Studio Cycle allows riders to choose custom routes via Google Maps, join virtual classes, or ride along scenic destination trails with a guide. The trainer controls the incline of your bike (inclines up to 20 percent and declines to 10 percent, with 24 resistance levels), or you can bypass the settings to make the ride more comfortable for you. The 22" HD touchscreen is your window to the outside world and also displays your progress and estimated stats (calories burned, workout duration, etc.). How else could you ride the roads of Norway or through the French Alps without leaving your home?
When you buy something through a link in this article Big Think earns a small affiliate commission. Thank you for supporting our team's work.
What is the what about the squat? And have we reached some sort of squatting vogue moment?
Beyoncé, doing a close approximation of the squat in concert (Photo by Jamie Squire/Getty Images)
Bipedalism has afforded us many opportunities for dominance and variety. The added height offered our ancestors the ability to create better communication skills and an opportunity to travel long distances more quickly and easily than other animals. And the various ways we can move through a full range of motion with all of these joints is astounding. Yet so few people take advantage of them. 
Let's begin with the four primary movements: pushing, pulling, jumping, squatting. A well-rounded movement diet includes all of these. Resistance training takes care of pushing and pulling, though one of the most important aspects of the latter is hanging—our primate ancestors knew something important about tree branches. 
Every runner jumps when on the road or a trail; journalist Christopher McDougall calls running a form of controlled jumping. Box jumps are great as well. The emphasis is on impact force, which is essential for good bone density. Squatting, however, is the one motion that seems most troubling, to the point where many Americans cannot even perform a simple version. 
This is problematic. We are a culture of ninety-degree angles. The grid mentality of metropolises has translated into our bodies. We sit in chairs that don't allow our knees to bend past this angle—ergonomic chairs might address some spinal issues, but do nothing for your hip flexors, hamstrings, knees, or ankle joints. We eat our meals at the same angle. Forget about television. Add to this the added spinal flexion from hours of staring at screens and phones and, well, you have the biomechanical nightmare of the technological age. 
That's the thing about our tech: we've become so heady that we ignore the body, to great peril. Squatting was likely abandoned for cultural reasons. Lower classes squat. Tables and chairs were perceived to be a sign of social dominance; only those people still squat. The biggest example, however, is toilets. Nature did not design our bodies for toilet training. We did that to ourselves. 
Defecating and urinating were long done in squat positions, as was preparing meals—my Thai mother-in-law squats when preparing Som Tam Thai in our giant mortar and pestle—and virtually every other endeavor that required hand-eye coordination. Eschewing this position has created numerous health problems, says physical therapist Dr Bahram Jam:
Every joint in our body has synovial fluid in it. This is the oil in our body that provides nutrition to the cartilage. Two things are required to produce that fluid: movement and compression. So if a joint doesn't go through its full range—if the hips and knees never go past 90 degrees—the body says 'I'm not being used' and starts to degenerate and stops the production of synovial fluid.
Then there's constipation. More than 700,000 Americans visit the emergency room every year thanks to an inability to go to the bathroom. Chronic constipation affects 16 percent of Americans over age sixty. We spent over $1.3 billion in 2016 on laxatives instead of looking for healthier alternatives. Yet research shows that squatting greatly reduces strain while going to the bathroom, which makes sense given that that's how our intestinal tract was designed. 
In my fourteen years of teaching yoga and fitness at Equinox, the two top pieces of advice I've offered are squatting and hanging. Squatting is part of my warm-up in every ViPR and kettlebell class I lead, and it's always included during yoga. I even throw in squats in my cool-down in studio cycling to make sure students are moving through a broad range of motion after forty-five minutes on a bicycle. 
After a lifetime of not squatting, immediately rushing into them is not an ideal response. Yet as biomechanist Katy Bowman notes, even people with artificial joints can increase their range of motion through variations she posted on her site. For those with a larger range of motion, movement expert Ido Portal's squat clinic offers valuable techniques for rehab and maintenance. 
Anatomy expert and yoga teacher Jenni Rawlings writes often about biomechanical problems related to yoga and other disciplines. In one post she cites tight soleus muscles as a main driver behind problems with squatting. Inflexible calf muscles restrict our ability to dorsiflex our feet, which means that when we squat our heels will not touch the ground. (Bowman's post above offers a fix with a rolled-up mat or towel.)
Rawlings says basic calf stretches, which address the gastrocnemius, won't cut it if you're attempting to squat: 
To squat well requires that we have adequate flexibility in both gastrocnemius and soleus. But in order to stretch soleus, we need to dorsiflex our ankle while the knee is flexed, not extended. This is because if we try to stretch soleus with an extended knee, the more superficial muscle tissue of gastrocnemius will stretch first, preventing the stretch from layering down to the deeper soleus. In order to truly stretch our soleus, we must first slacken the overlying gastrocnemius by flexing the knee.
More people have been addressing this problem with interventions like the Squatty Potty, which raises the ground to bring your knees past ninety degrees while defecating. Exercise routines like Crossfit have made squatting a focal point, often by loading it with weights. Both of these are important means for getting people to squat again. 
But I prefer Katy Bowman's advice: Make squatting part of your day. If you need to pick something up from the ground, squat, don't bend over. Read in a squat instead of sitting on your couch (if new to this, stick a yoga block under you to allow your pelvic floor to relax). I spend all of my reading time on the floor, switching from seated to squatting positions for variety. Pick up and put down your children in a squat, or squat down to let them crawl all over you. 
Many of our limitations are self-imposed. When cultural norms usurp basic anatomy we have to question the value of their wisdom. This one is obvious: we're built to squat. Since I incorporated squatting into my daily route, my entire posterior kinetic chain strengthened and became more flexible. My range of motion dramatically increased while old aches and pains vanished. 
Squatting isn't a cure-all—I still have one knee surgery to thank for limiting the amount of time I spend there—but the opposite is certainly a big problem. Fortunately you can being to correct the problems associated with not squatting immediately. Avoidances leads to nothing good.
--
Derek Beres is the author of Whole Motion: Training Your Brain and Body For Optimal Health. Based in Los Angeles, he is working on a new book about spiritual consumerism. Stay in touch on Facebook and Twitter.
A Duke University study that found over 40 percent of our actions aren't actually decisions, but habits. Here's how to build good ones.
Chocolate—the key to working out, says NY Times journalist Charles Duhigg. While I'm apt to reply, yes, chocolate is the key to most everything, Duhigg is specifically addressing a way to "trick your brain" into getting fitter. For those lacking the motivation to hit the trail or get into the gym, chocolate just might be the answer. 
Kale chips, he goes on, are not the way to develop an exercise habit. He says people get it wrong—you shouldn't punish yourself by following up a workout with something you don't enjoy but think is good for you. (Let's pause to remember all kale chips are not created equal. Some are truly terrible, though.) 
You need an intrinsic reward, a treat that is meaningful and pleasurable. As Duhigg states,
Studies say that the best way to start an exercise habit is to give yourself a reward that you genuinely enjoy.
In his book, The Power of Habit, Duhigg writes that habits are a three-step process: a cue, routine, and reward. He cites a 2006 study at Duke University that found over 40 percent of our actions aren't actually decisions, but habits. We think we're putting a novel idea into action when really we're on autopilot. 
Unless you deliberately fight a habit, the habit will automatically unfold. You reach for a cigarette, you pull the phone from your pocket while in line, you don't go to the gym in the morning. You need to introduce a new cue in order to change the routine. But if the reward isn't there, or isn't actually pleasurable, you'll fall back on old patterns. 
Having worked at Equinox since 2004 (and having been going to gyms since the late eighties, when my father ran his company's exercise facilities on the side), I've heard innumerable excuses about why don't people work out. 
Not enough time is first uttered. Strangely, though, many of my students are extremely busy at their jobs. It's not a matter of having time, but of budgeting it properly to ensure they're functioning optimally in body and brain. Carving that time into your day has beneficial effects on the other parts when you are swamped with duties. 
The second is not enough money to join a gym. While some are not cheap, plenty of gyms run between $10 and $40 a month. But forget the gym for a moment. All you really need is about ten feet of space. Given the number of free workouts on Youtube and Instagram, there is no dearth in available content. 
Time and money aren't the real problem. Habits are. As Duhigg says, the brain of the uninspired has not developed the proper neurological connections between routine and reward. It could be a missing cue: leaving your sneakers next to your bed so you see them first thing in the morning is well-circulated advice, in the same way that removing the office candy dish from the table curbs compulsive snacking. Cues are necessary catalysts for routines. 
Whatever cues you choose—post-it notes, sneakers at the door, earlier settings on the alarm clock—the following three pieces of advice are the most effective catalysts I've witnessed:
Schedule your workouts. Putting your sessions into your calendar makes fitness part of your day. Treating your workout like everything else in life, from your job to taking care of your children, instills a mindset that this is not a hobby. We recognize that we live in a sedentary culture, yet there has never been so many opportunities to explore such a wide range of exercise options. Devoting that hour a day a few days a week will make a big impact in the rest of your hours. Scheduling it in makes it real in your mind. 
Commit to daily exercise. This past weekend two different men stopped me after class to tell me they needed to commit to practicing more yoga. Both get in a class a week. But a little every day is better than one weekly session. Even ten minutes on busy days can be enough. Diversifying your workouts, between cardio, weight and bodyweight training, yoga, and meditation is a solid approach, but to begin, just get moving, daily. That said, don't overload during your first month. Too many people hit it hard only to get injured and lose focus. This is a long game strategy we're discussing, not a quick hit of dopamine. 
Find movements you enjoy. One of the biggest reasons people stop working out is because they don't enjoy it. Such a routine will never stick. Just as the reward needs to provide pleasure, so does the routine. If you're not deriving pleasure during exercise—if you think it's because you should be doing it instead of want to be doing it—there's no chance it will last. Fortunately there are thousands of ways to move your body. Taking a running class when you have weak knees or lifting heavy weights when you have a shoulder injury makes no sense. What about ping-pong? Swimming? Hiking? Most every form movement is beneficial, provided you're being safe and focusing on form. 
In The Power of Habit, Duhigg writes, 
Only when your brain starts expecting a reward—craving the endorphins or sense of accomplishment—will it become automatic to lace up your jogging shoes each morning. The cue, in addition to triggering a routine, must also trigger a craving for the reward to come.
Hence, chocolate. Yet Duhigg is not repeated that tired trope exercising allows you to be gluttonous. The need for the chocolate wears off in a week and a half (or so) as your brain links the reward to the routine itself. Your brain—you, forgive the metaphysical verbiage—trick yourself into action by giving it a little boost. Then, he says, 
After a week and a half your brain will learn that it enjoys the intrinsic reward of exercise. 
Not to say a little chocolate is a bad thing. Let's be real. Life without exercise or chocolate is not an optimal life. Fortunately we can have it both ways. 
--
Derek is the author of Whole Motion: Training Your Brain and Body For Optimal Health. Based in Los Angeles he is working on a new book about spiritual consumerism. Stay in touch on Facebook and Twitter.
A new study shows that addressing the ADHD epidemic may require a dose of physical activity, so kids can refocus and learn effectively in a classroom.
Gym programs – and the underfunding of them – may be as important as math or reading to learning. A new study shows that addressing the ADHD epidemic may require a dose of physical activity, so kids can refocus and learn effectively in a classroom.
Study, after study have given enough reason to think there may be a causal effect in addressing ADHD symptoms with physical activity. Researchers from another study published in the medical journal Pediatrics said they were able to "demonstrate a causal effect of a physical program on executive control, and provide support for physical activity for improving childhood cognition and brain health."
The image below shows the results from a group of 221 kids between the ages of eight and nine who were randomly selected to participate in the two-hour FITKids after school PE program, and those who didn't. The program lasted for nine months and the differences in cognitive health, focus, and physical well-being were noticeable.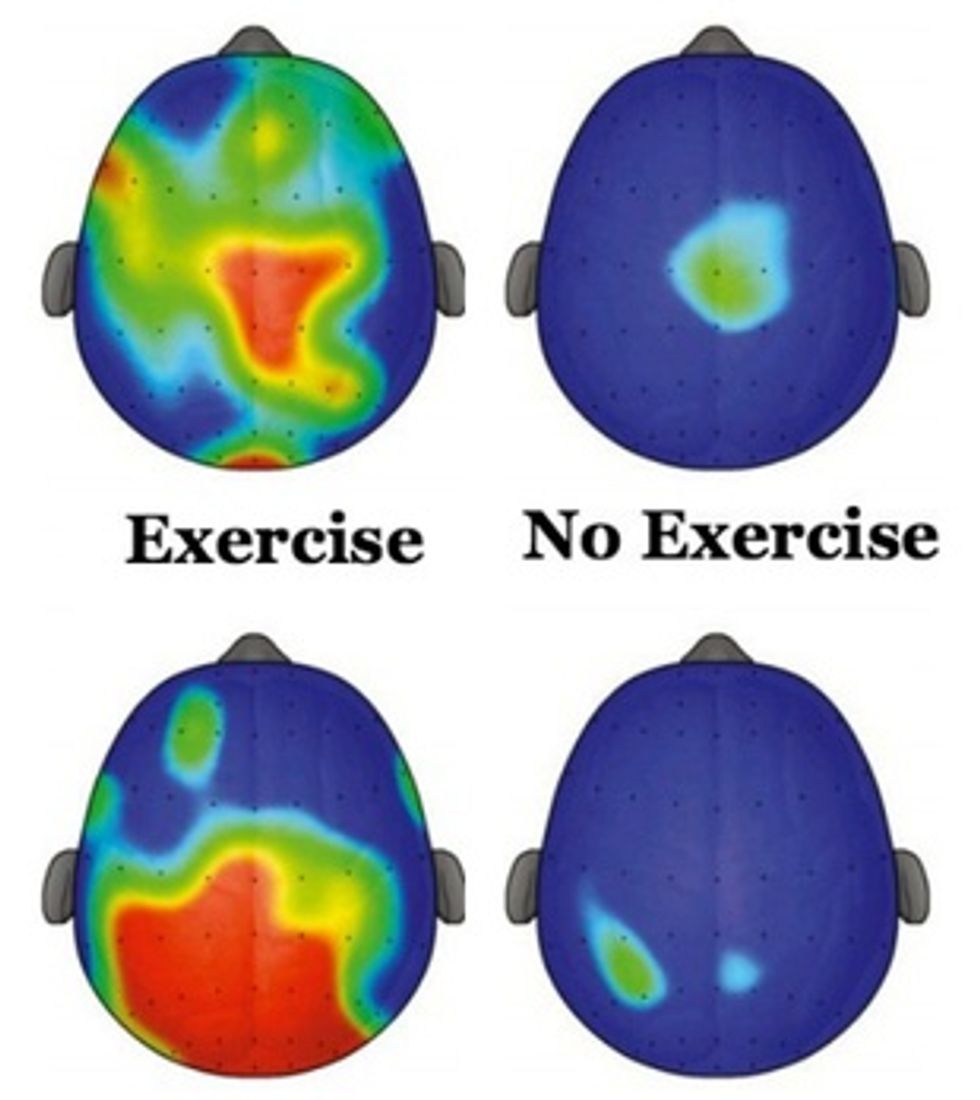 These electrophysiological plots represent the brain's processing capacity and mental workload (P3 amplitude) during cognitive tests, which requireed executive control. The red represents the greatest amount of executive control and blue represents the lowest.
(Hillman et al, Pediatrics/The Atlantic)
The researchers make a plea to policymakers and schools to consider their results, writing, "Given the rapid decline in [physical activity] opportunities for children at school, the dissemination of our findings is particularly important… Specifically, policies that reduce or replace [physical activity] opportunities during the school day (eg, recess), in an attempt to increase academic achievement, may have unintended effects."
The measures put in place to prepare kids for tests in the future may actually be putting them at a severe disadvantage. It's important to put this in perspective — our children are our future, after all. They will dictate the successes in this country and in their own lives.