Three decades after the demise of the GDR, its familiar contours keep coming back from the dead.
Nazi supporters held huge rallies and summer camps for kids throughout the United States in the 1930s.
Credit: Photo by FPG/Archive Photos/Getty Images
During the 1930s, thousands of Americans sympathized with the Nazis, holding huge rallies.
The rallies were organized by the American German Bund, which wanted to spread Nazi ideology.
Nazi supporters also organized summer camps for kids to teach them their values.
Having radical fringe groups tearing at the seams of America is not a new phenomenon. Less than a 100 years ago, the Nazis were gathering for big rallies on U.S. soil, running youth camps, their numbers growing by tens of thousands.
In the America of the 1930s, pro-Hitler groups like The Friends of New Germany carried out propaganda and intimidation campaigns to disseminate the National Socialist agenda. Their members wore uniforms, consisting of a white shirt and black trousers for men, topped by a black hat with a red symbol. Female attire included a white blouse and a black skirt.
In 1936, the Amerikadeutscher Volksbund, or German American Bund, was created as "an organization of patriotic Americans of German stock." They ran around 20 camps for youth and training, eventually establishing 70 regional divisions around the nation.
The ostensible goal of the German American Bund was to represent Americans of German descent but its true objective was to promote the views of Nazi Germany. The Bund played into the growing "America First" stance that sought to keep the U.S. out of World War 2, while amplifying its racist messages.
A Bund parade in New York, October 30, 1939.
Credit: Library of Congress
One of the most astonishing events held by the Bund was the "Americanization" rally it held at Madison Square Garden in New York on February 20th, 1939. The event, attended by 20,000 people, consisted of railing against Jewish conspiracies, President Roosevelt and similar sentiment. While speaking, the leader (Bundesführer) of the organization, Fritz Julius Kuhn (a chemical engineer by trade), spewed anti-Semitism, calling the President "Frank D. Rosenfield" while describing his New Deal as a "Jew Deal". He referred to the U.S government as a whole as "Bolshevik-Jewish" and kept attacking the press and American culture as being run by the Jews.
The rally featured a giant banner of George Washington, as the speakers tried to link the event to his birthday and supposed non-interventionist positions.
Huge crowds of up to 100,000 people comprising of anti-Nazi protestors also came to make their voices heard at this event, but were held back by 1,700 New York police officers.
For chilling footage and more on the Manhattan rally, check out the Academy Award-nominated short documentary film A Night at the Garden:
Besides the rallies—there were many held throughout the '30s—one of the main efforts to inculcate Nazi ideology in America took place in summer camps.
Audrey Amidon from the National Archives shared the significance of the camps in her interview with Gizmodo:
"The summer camps, complete with the official uniforms and banners of the Hitler Youth, might be the most visual and chilling example of the [Bund's] attempts to instill Nazi sympathies in German-American children," said Amidon.
The camps had boys and girls from 8 to 18, most often the children or grandchildren of German immigrants. Nearly a quarter of all U.S. citizens was of German descent in the 1930s, but the vast majority of them did not support Nazi ideology.
Along with usual activities you might find at a summer camp, the kids who attended were taught about Hitler's racial ideas, dressed in Nazi-esque uniforms, practiced drills and addressed higher-ups with Hitler salutes.
One prominent such camp was Camp Siegfried, in the Yaphank hamlet on Long Island. The town regularly held Nazi parades, while its streets were named after Hitler and his top brass like Goebbels.
Credit: Herald Tribune
Postcards from Camp Siegfried
Credit: Unknown
The Bund's activities obviously wound down as the U.S. entered World War 2, with many of their leaders eventually arrested as enemy agents. For more striking fascist Bund camp footage, check out this home movie:
A new law in Germany seeks to close the gender pay gap, but it could ultimately prove counterproductive.
Flickr, Ken Teegardin
Would you want your coworkers to know how much you earn? That's the relatively simple question that has sparked a huge debate. And although it has its start in a noble place — equal pay for men and women — its critics argue that it could backfire.
Germany's gender pay gap (in terms of average gross hourly earnings) is about 21 percent – considerably larger than the EU average of roughly 16 percent. In an attempt to close that gap, Germany recently passed the Wage Transparency Act, which only affects businesses with more than 200 employees. It contains three main components:
Individual employees – both men and women – who work at companies with more than 200 people will be able to request information about how their employers determine salaries, both in terms of their own salaries and those of members of the other gender working comparable jobs.
Companies with more than 500 employees must publish regular reports on their efforts to promote gender equality. (Companies with less than 500 employees won't be legally required to publish similar reports.)
Companies with more than 500 employees will be encouraged to implement internal audits of their pay structures to ensure compliance with the equal pay law.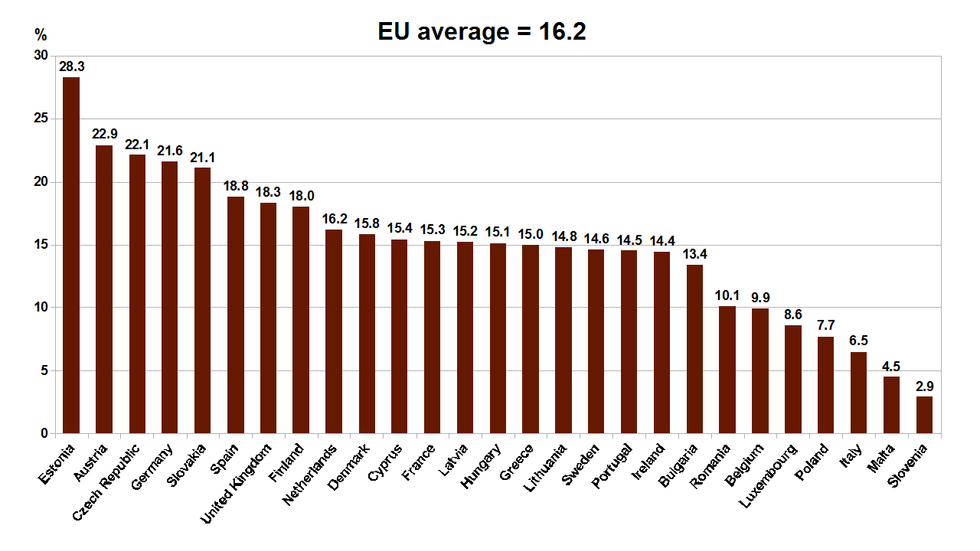 Under the new law, employees won't be able to demand the salary information of any one individual. Rather, employees will only have access to the median monthly salary of groups of employees who work comparable jobs. These groups must also consist of at least six people, or else employers have no obligation to provide salary information.
This "six person" rule could pose complications, as Christian Althaus, an employment lawyer, told the German news magazine Der Spiegel:
"The higher up you go in the pyramid of a company, the less likely you are to find a comparably large peer group, with the result that you no longer have any right to information."

Still, pay transparency seems to be generally effective in two settings, as Todd Zenger, N. Eldon Tanner professor of strategy and strategic leadership at the University of Utah's Eccles School of Business, wrote in an article for The Wall Street Journal.
One is when pay is based simply on measures like seniority or rank, like in government positions. The other is when pay is easy to measure objectively, like in sales performance.
But there's also good reason to doubt the supposition that increased pay transparency will benefit women in the long run. In an article for Harvard Business Review, Zenger outlined several arguments that show how pay transparency can cause employees to:
Become dissatisfied with their employer and more likely to quit.
Reduce productivity when constantly reminded of their lesser pay.
Lobby for change, even to the detriment of the company and, consequently, the employees.
One negative effect of pay transparency, Zenger argues, is that it leads companies to do away with merit-based rewards, and flatten pay instead.
"Unless you have a clean, clear, and broadly accepted measure of individual performance, transparency will likely push you to flatten pay — linking rewards to factors you can precisely measure, such as seniority or hierarchical position."

Removing merit-based rewards can lead a company's most productive employees to move to organizations that reward good performance more accurately. Zenger argues that the most effective businesses pursue merit-based rewards and equality simultaneously.
"They link individual performance to rewards but recognize that they must be vigilant in efforts both to measure performance and to convince employees that their necessarily imperfect measures are acceptably fair. The real problem with pay transparency is that it focuses individuals on comparing pay rather than on elevating performance."

--
Considering that the United States remains the world's only superpower, that begs the question: How informed are Americans when it comes to their country's vast global power?
A map showing how North American media cover global events. (Qatar Computing Research Institute)
When the term "armchair" is applied to a job title, it's almost always derogatory. An armchair general, for example, refers to someone who considers himself an expert on military matters even though he's never seen combat, or perhaps even served in the military. It implies a critical lack of real-world experience.
Considering that the United States remains the world's only superpower, that begs the question: How informed are Americans when it comes to their country's vast global power?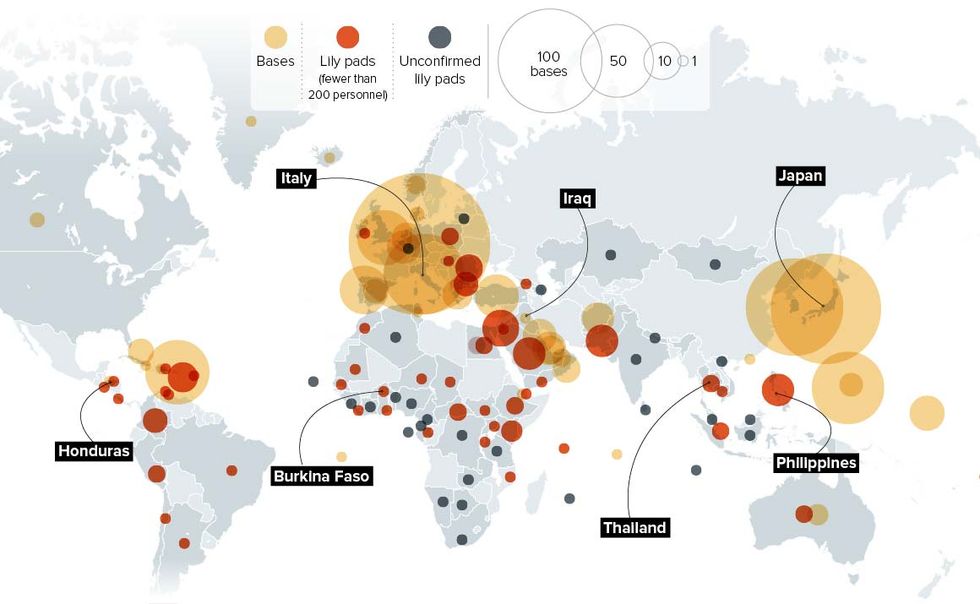 Map of U.S. military bases around the world, from Politico.
You might think that reading daily newspapers or staying glued to Twitter would produce an accurate view of our world, run by 195 different countries over 57 million square miles of land. But a study of news coverage across the globe reveals how erroneous that assumption is.
In 2014, Haewoon Kwak and Jisun An at the Qatar Computing Research Institute in Qatar analyzed thousands of real-world events and news articles, and then created a map of the world that shows each country distorted in size by how much coverage it receives in a given region. The bigger the country appears on the map, the more news coverage it receives.
News geography seen from North America.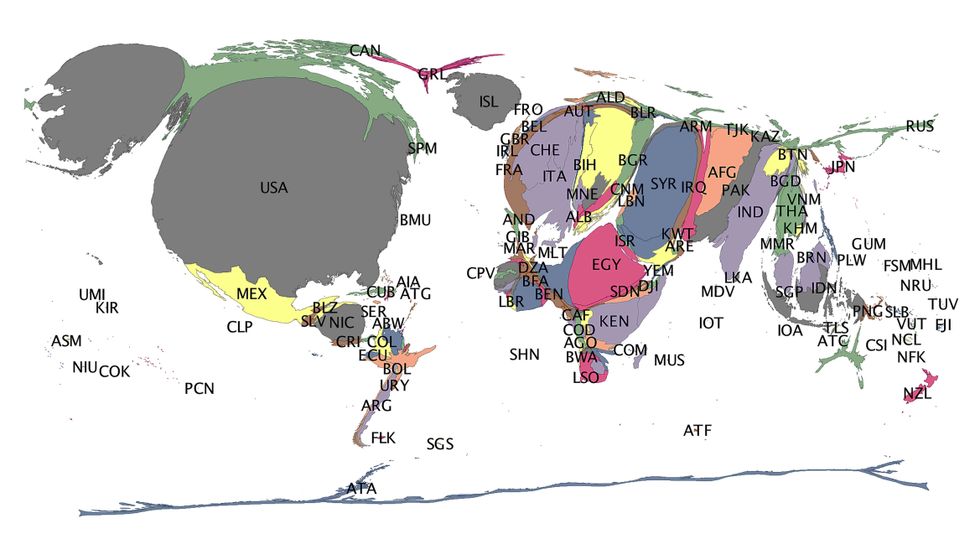 Compare that with global news coverage from Europe and Central Asia.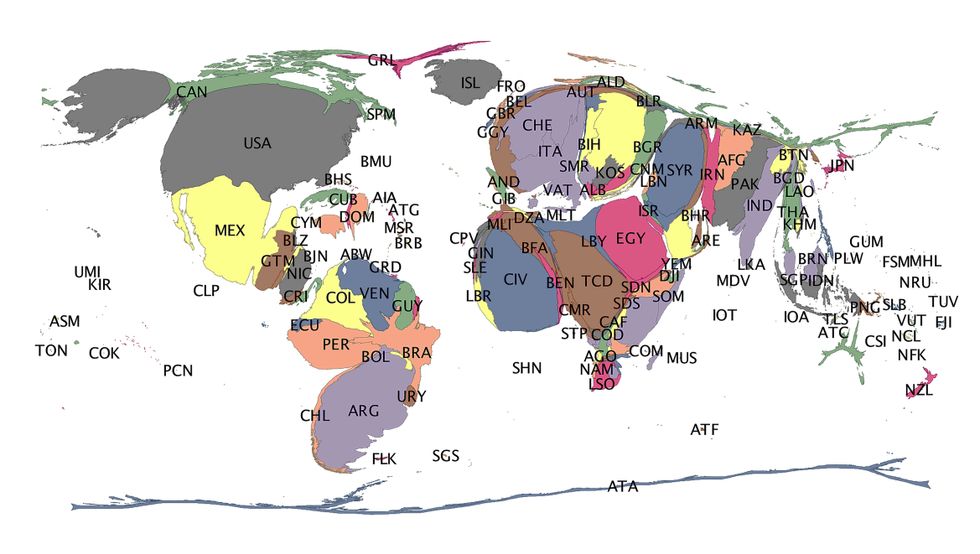 Finally, compare that to news coverage in East Asia and the Pacific.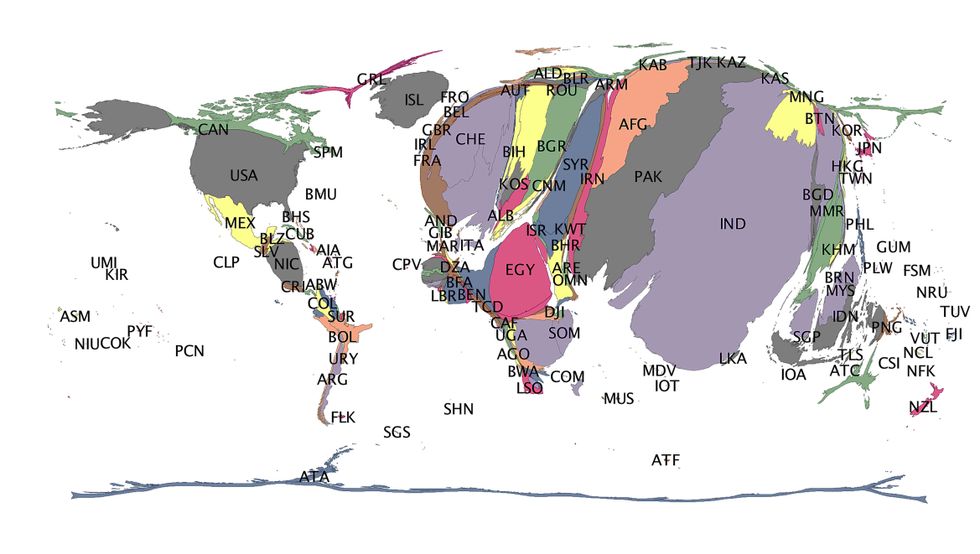 While a region's news media provide a sample of world events, it's important to remember that they can't capture the whole story. Many world events—even whole societies—fall outside mainstream news coverage.
If you had read a newspaper article about the Battle of Dunkirk during WWII, for instance, your understanding of the event would depend on the country in which you lived. Britain successfully evacuate some 330,000 fighters surrounded by Germans troops—nearly 10 times the number Churchill expected to save. In terms of casualties, however, the Germans beat the British Army by a factor of two.
On June 1, 1940, the New York Times reported:
"So long as the English tongue survives, the word Dunkirk will be spoken with reverence. In that harbour, such a hell on earth as never blazed before, at the end of a lost battle, the rags and blemishes that had hidden the soul of democracy fell away. There, beaten but unconquered, in shining splendour, she faced the enemy, this shining thing in the souls of free men, which Hitler cannot command. It is in the great tradition of democracy. It is a future. It is victory."
But Berlin's Der Adler, a Nazi biweekly, had this to say:
"For us Germans the word 'Dunkirchen' will stand for all time for victory in the greatest battle of annihilation in history. But, for the British and French who were there, it will remind them for the rest of their lives of a defeat that was heavier than any army had ever suffered before."
Asking who won the battle is a simple question. But the answer is more nuanced. And having nuanced answers to global questions has never been more needed. To better understand how international travel producers a fuller worldview, Big Think asked three experts in the field of foreign policy about experiences that shaped their outlook.
Stephen Walt, professor of international affairs at Harvard University:
"When I lived in Berlin in the mid-1970s, I watched the May Day parade in East Germany and visited a number of museums there. I was struck by how the history young East Germans were learning and the history I had learned in the West were quite different, and over the years I came to understand what I thought I knew was not in fact 100 percent correct. Of course, neither was the Communist version. It taught me that different peoples often see the world differently because they have been exposed to competing historical narratives, and that insight has remained with me ever since."
Amaryllis Fox, former clandestine service officer for the Central Intelligence Agency:
amaryllis-fox-russia-and-ai-why-global-election-tampering-will-only-get-worse
"I've hosted discussions all over the world between former fighters, from national armed forces to insurgents and terror groups. But no matter how often I witness it, the magic never fails to move me. It's quite literally like watching a curse be lifted in a folktale. Two groups of people who have always viewed the other as a two-dimensional caricature, hearing one another express the same fears and insecurities and hopes and dreams that they themselves feel and share. Each person hits a different point where they get this look on their face, blink a couple of times, as though some sleeping spell has just been lifted and they can see clearly again after a very long hypnosis."
Will Ruger of the Charles Koch Institute, a philanthropic organization encouraging discussion on topics like free speech, foreign policy, and criminal justice reform:
"Foreign travel provides a lot of benefits, including getting to better understand other cultures. But it also allows one to better appreciate that despite all of the ways that the world is "smaller" and more interconnected today, the world is still a big place, the U.S. is still very far away from most hotspots and the major industrial areas of the world, and that not everything that happens in the world directly impinges on American interests or depends upon the U.S."
My experience abroad in the U.S. military (both on active duty in the Middle East and as a reservist in places like Europe and South Korea) has really driven home just how massive is the size and scope of our defense establishment. It is one thing seeing maps marking the many U.S. bases around the globe to seeing up close and personally how big our footprint has been in places like Kuwait and Afghanistan. It has also impressed upon me how well the U.S. military does logistics relative to other militaries today and throughout history."
The world is a big place, and understanding it is made harder by the fact that there really isn't one single overarching narrative of world history — at least not one that everyone agrees upon entirely.
Perhaps most importantly, traveling the world can provide a firm understanding of what it means for the U.S. to use military force abroad. If you actually set foot in another country and talk with the people, you'll have a better sense of how future U.S. intervention might affect that country would than you would, say, if you had only watched network news.
How might Americans think differently about U.S. foreign policy if more people traveled — if more people experienced new cultures, food, people, cities, and histories, finding not just strange differences, but fundamental similarities?
There's only one way to find out.
--
In 1905, Albert Einstein's mother thought he was a genius, his sister thought he was a genius, his father thought he was a genius – but that was about it, says author David Bodanis.
Einstein had three great character traits. "I might not be more skilled than other scientists," he liked to say, "but I have the persistence of a mule." If he built a house of cards and it came crashing down, young Einstein would exhale and start again, says biographer David Bodanis. He languished for many years in a patent office in Switzerland, unable to get a job as a high-school teacher, while in the top drawer of his desk were four recently completed papers – two of which were Special Relativity and E=mc2. He pressed on with his work until people noticed. Secondly, Einstein had a thick skin. One bad whisper can shatter most mere mortals, but in 1920 there was an anti-Einstein rally at the Opera House in Berlin, where people opposed to "Jewish science". Later still, in 1933, highly educated students from Göttingen, one of the greatest university in the world at the time, burned his books. Thirdly, he was inherently noble. He had a great conscience for his fellow humans, and used a huge amount of his income and other raised money to get people out of Germany and safely to America. Despite having thick skin, he was not callous – he had great sensitivity for humanity as a whole. Though the FBI did not let him be part of the team that built the atom bomb, Einstein's work paved the way for the technology. When he heard the U.S. had dropped the bomb on Japan, he was grief stricken, and said "If I had known I wouldn't have lifted a finger." David Bodanis' most recent book is Einstein's Greatest Mistake.
David Bodanis' most recent book is Einstein's Greatest Mistake.