A new study shows how interbreeding of modern humans and Neanderthals boosted our genomes.
Homo Sapiens mated with Neanderthals when they left Africa for Eurasia.
Neanderthals developed key genetic adaptations to fighting diseases.
Modern humans have 152 genes inherited from the Neanderthals that interact with viruses.
We tend to think of the human-like people before us, like the Neanderthals, as part of our biological history that's so far removed that it has little bearing on our current lives. After all, you don't get to meet Neanderthals in the street. Or do you? For one, from 1.8% to 2.6% of the DNA in most modern people comes from the Neanderthals. A new study provides another important link - Neanderthals passed on a key genetic adaptation that kept us protected from killer viruses.
Sex between Neanderthals and homo sapiens is the reason for our genetic connection. The humans were on their way out of Africa into Eurasia, when they met the Neanderthals. Thanks to sharing a common ancestor about 500,000 to a million years prior, the sex between the species produced viable offspring.
What the new study found is that before they hooked up with modern humans, Neanderthals were in Eurasia for hundreds of thousands of years fighting off pathogens. As a result, their genomes developed an ability to survive viruses, which they gifted to us.
The study's co-author David Enard, Ph.D. from the University of Arizona explained to Inverse that interbreeding was like a quick "antidote" for the homo sapiens to protect themselves. They suddenly faced an onslaught of new viruses.
Incorporating the genetic material that was already pre-adapted from the Neanderthals gave the homo sapiens a "fast-track route for adaptation", shares Enard, adding "instead of 'reinventing the genetic wheel,' we just borrowed it from the Neanderthals."
"Neanderthal genetic material was like a protective antidote because Neanderthals had likely been infected for a long time by the same viruses that were now harmful to modern humans," says David Enard. "This long exposure means that Neanderthals had plenty of time to adapt against these viruses before modern humans showed up."
Of course, not everything went smoothly when these two species met in the distant past. The scientists think they likely infected each other with the pathogens from their environments – in what's called "the poison-antidote" model of exchanging genes. The sexual unions produced the antidote.
Poison-antidote model.Credit: Cell magazine.
The research involved creating a list of over 4,500 genes of modern humans that are involved in defending against viruses and contrasting that with the database of sequenced Neanderthal genes. The scientists found 152 genes in modern humans that were also in the Neanderthal genome. The researchers believe that these genes we got from the Neanderthals are those that interact with RNA viruses of today like hepatitis C, HIV, and influenza A.
Notably, while these genes were instrumental in human survival over time, they are not really protecting us any longer from modern viruses. This points to the fact that evolution is "an arms race," as Dr. Enard called it. It's a process where even if we manage to overcome some of them, scores of new viruses constantly spring up to attack us. It was very sobering realization for Dr. Petrov and I that our work likely implies that humans had to adapt to hundreds, if not thousands of different harmful viruses over million years of evolution," related Dr. Enard.
It also bears pointing out that modern humans get depression and cigarette addiction from the Neanderthals.
Enard co-authored the study with Dmitir Petrov, Ph.D. of Stanford University. You can check out their study published in Cell.
If you want to know what makes a Canadian lynx a Canadian lynx a team of DNA sequencers has figured that out.
A team at UMass Amherst recently sequenced the genome of the Canadian lynx.
It's part of a project intending to sequence the genome of every vertebrate in the world.
Conservationists interested in the Canadian lynx have a new tool to work with.
13th-century fantastical depiction of an elephant.
Artwork: Guillaume le Clerc / Wikimedia Commons
It is easy to see how one can look at 66,000 genomic sequences stored away as being the analogous equivalent of the Svalbard Global Seed Vault. It is a potential tool for future conservationists.
But what are the practicalities of sequencing the genome of a lynx beyond engaging with broad bioethical questions? As the animal's habitat shrinks and Earth warms, the Canadian lynx is demonstrating less genetic diversity. Cross-breeding with bobcats in some portions of the lynx's habitat also represents a challenge to the lynx's genetic makeup. The two themselves are also linked: warming climates could drive Canadian lynxes to cross-breed with bobcats.
John Organ, chief of the U.S. Geological Survey's Cooperative Fish and Wildlife units, said to MassLive that the results of the sequencing "can help us look at land conservation strategies to help maintain lynx on the landscape."
What does DNA have to do with land conservation strategies? Consider the fact that the food found in a landscape, the toxins found in a landscape, or the exposure to drugs can have an impact on genetic activity. That potential change can be transmitted down the generative line. If you know exactly how a lynx's DNA is impacted by something, then the environment they occupy can be fine-tuned to meet the needs of the lynx and any other creature that happens to inhabit that particular portion of the earth.
Given that the Trump administration is considering withdrawing protection for the Canadian lynx, a move that caught scientists by surprise, it is worth having as much information on hand as possible for those who have an interest in preserving the health of this creature—all the way down to the building blocks of a lynx's life.
Scientists can now virtually reconstruction certain long-dead individuals, without the need for DNA samples from physical remains.
It's no wonder Iceland is a country obsessed by genealogy.
The majority of its 330,000 inhabitants descend from a small group of Vikings and Celts who settled some 1,100 years ago, and immigration to the island country has been rare ever since. Icelanders keep exceptional genealogical records on almost every single citizen, a longstanding practice done partly out of ancestral reverence, but also to avoid the very real possibility of bedding down with a not-too-distant relative.
Case in point: In 2013, a group of engineering students at the University of Iceland released an incest prevention app that lets users tap their phones together to see if they share a common ancestor. Its slogan? "Bump in the app before you bump in bed."
The country's genealogical records can be found in the Islendingabok, "the book of Icelanders," which contains detailed genealogical information for about 95 percent of Icelanders who have lived over the past three centuries. It's this database and the country's unique demographic history that have made Iceland ideal for genetics research.
deCODE, an Icelandic genetics firm, has for years been using the genealogical records to study how genetic mutations can affect people's chances of having everything from cancer to blond hair. Most recently, the firm used the records, along with well-known DNA markers, to reconstruct a substantial part of the genome of an 18th-century man.
"To our knowledge, this study demonstrates the first use of genotype data from contemporary individuals, along with information about their genealogical relationships, to reconstruct a sizeable portion of the genome from a single ancestor born more than 200 years ago," the team wrote in an article published in Nature.
The reconstructed genome belonged to Hans Jonatan, a mixed-race man who escaped slavery in 1802 by sailing to Iceland where he was accepted "with open arms," as Kári Stefánsson of deCODE told New Scientist. Before his death in 1827, Jonatan married an Icelandic woman and raised two children, marking the introduction of African DNA into the country's gene pool.
"There was no African ancestry in Iceland, apart from Hans Jonatan, prior to around 1920," Stefánsson told New Scientist.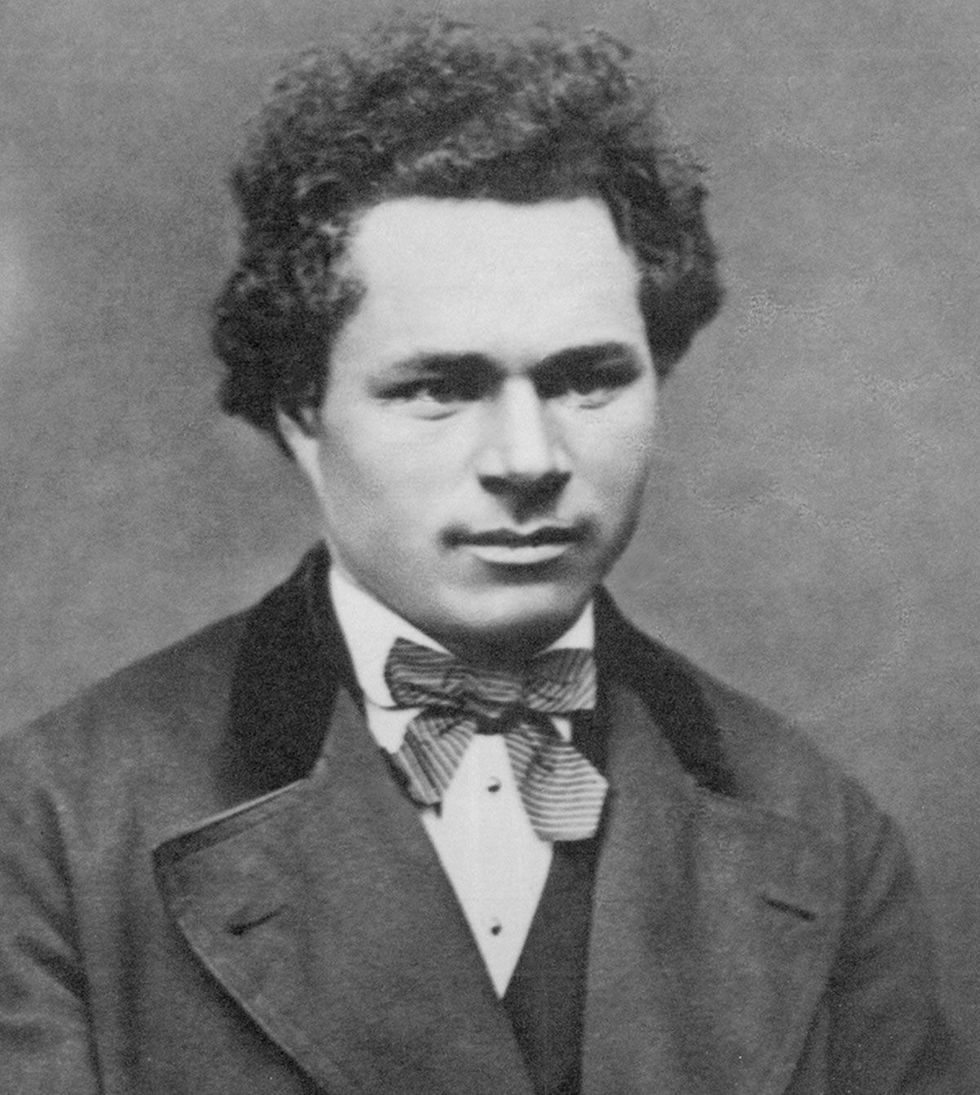 Lúðvík Lúðvíksson, grandchild of Hans Jonatan. Credit: Helga Tomasdottir
To reconstruct part of Jonatan's genome sequence, the team identified 182 of his living descendants in Iceland and searched their genetic code for well-known African DNA markers, under the assumption that these bits of DNA could have only been inherited from Jonatan. The researchers found in the descendants 593 fragments of African DNA that they used to re-create 38 percent of Jonatan's mother's genome, which represents 19 percent of his own. They also were able to determine that his mother's family likely originated from the African countries of Benin, Cameroon, or Nigeria.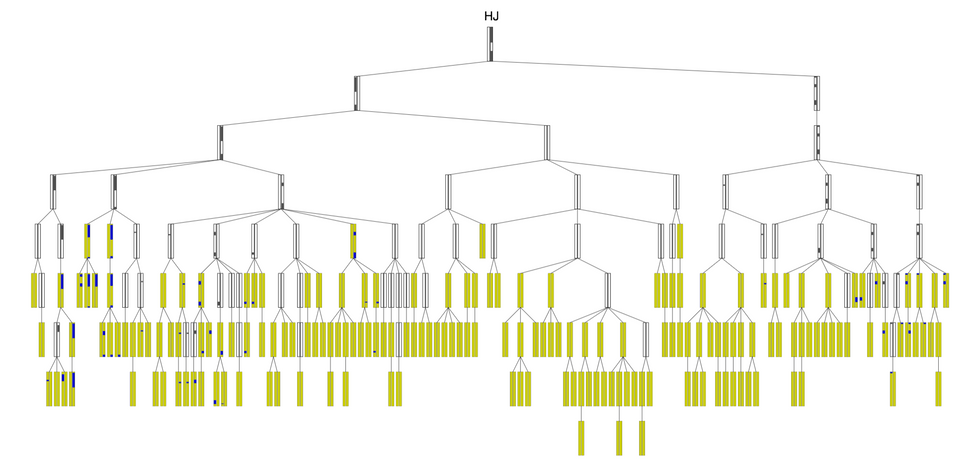 Diagram representing Jonatan's descendants.
"Ancestor genome reconstruction of this kind can be viewed as a virtual ancient DNA study, whereby genotype information is retrieved from a long-dead individual without the need for DNA samples from physical remains," the team wrote.
There are a few of proposals of what "virtual ancient DNA" might be used for in the future.
"It's the sort of study that could, for instance, be used to recover genomes of explorers who had interbred with isolated native communities," Robin Allaby, a biologist at the University of Warwick, told Futurism.
Agnar Helgason of deCODE said in the same piece that scientists could use the process to reconstruct the genome of "any historic figure born after 1500 who has known descendants" —noting the year 1500 due to lack of genealogical information and because the expected genetic contribution of an ancestor to a single descendant is very small after 10 generations.
The team also suggested genome reconstruction could be used by medical researchers "in cases where valuable phenotype data is available for ancestors who can no longer be sampled for DNA and directly genotyped."
In any case, the team wrote, the study highlights the ongoing genetic story "of a resourceful refugee from the Danish transatlantic slave trade, who was able to prosper in a culturally homogeneous and insular community of early-nineteenth-century Icelanders."
Find the right genes and we'll have a way to prolong life and good health, perhaps indefinitely.
Credit: Getty Images.
Better food, healthcare, working conditions, and safety protocols have allowed humans to live longer and healthier than ever before. In most developed countries today, the average lifespan is 80 years, while in 1906, a little more than 100 years ago, it was 48. Projections moving forward look so good that there's a debate in the medical community on whether or not we can increase human longevity indefinitely.
There are far more centenarians than ever, or those who've lived to 100, and more supercentenarians or those 110 or above. A study published last year in the journal Nature proposes that 122 may be the human lifespan's ceiling. Most of those in the upper reaches of our lifespan assign their longevity to lifestyle choices or healthy habits, which of course play an enormous role. But many scientists believe important secrets to longevity lie within our genes as well.
Moreover, quite a number of studies suggest a strong genetic link. For instance, a 1996 study published in the journal Human Genetics, looked at thousands of Danish twins. It concluded that 20-26% of longevity is up to one's genetic code. Meanwhile, a Boston University study found that a centenarians' siblings have about a 3½ times higher chance of reaching 100, over non-centenarians' siblings.
What's more, supercentenarians don't often experience any of the serious diseases people succumb to in old age, such as heart disease or cancer. Turns out, the longest living among us carry fewer of the genetic variations involved with such diseases.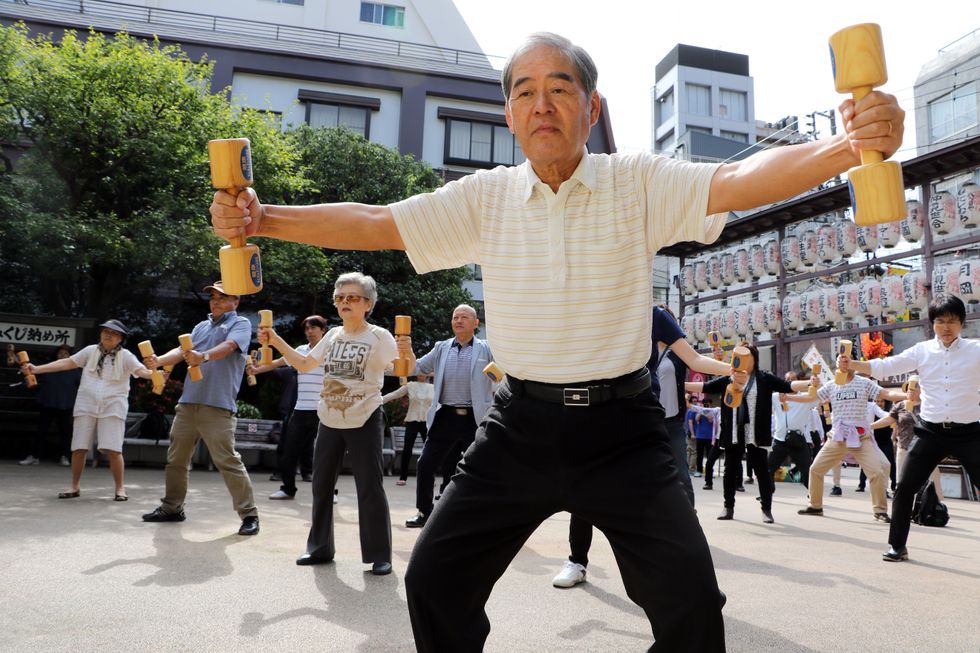 While lifestyle plays an enormous role, certain genes or gene combinations add significantly to longevity and good health later in life. Credit: Getty Images.
To find out what all those who've reached 110 have in common, a nonprofit known as Betterhumans is studying the DNA of those who have shown impressive longevity. It bills itself as "the world's most comprehensive genomic study of supercentenarians and their families." DNA samples collected will not only be sequenced, the data produced will be made available to the public. In fact, a series of genomes are to be released this week.
The idea is to find out what genes gives people an exceptional lifespan, synthesize those genes, and from there develop a way to prolong life and health in others. So far, the project has collected over 30 samples from people in North America, Europe, and the Caribbean. Those who qualify can donate their saliva, a blood sample, or if their long-lived relative is deceased, a tissue sample, to the project. Then the samples are analyzed by Betterhumans and their research partners.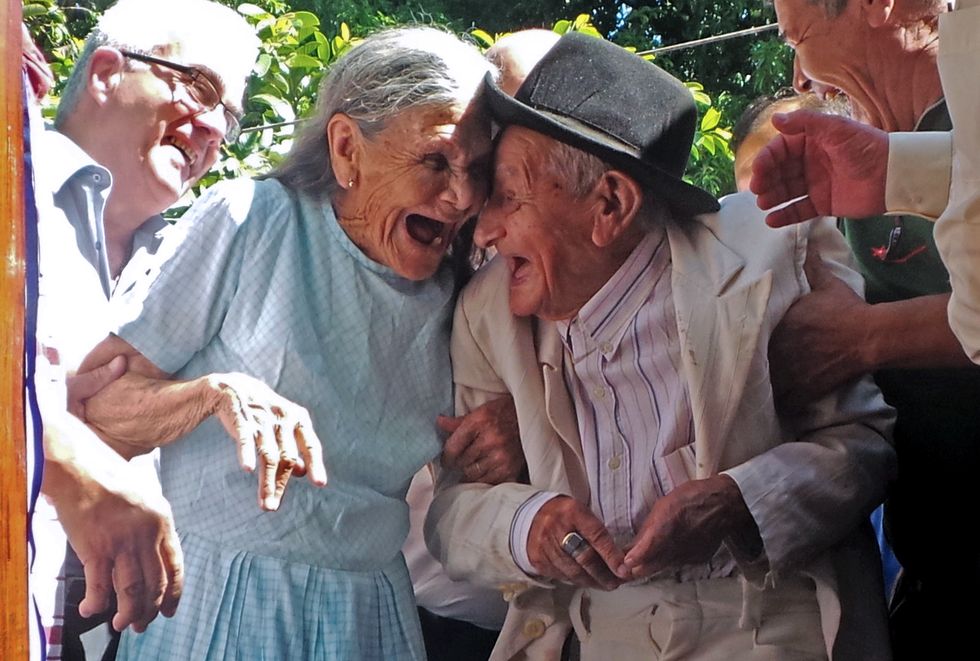 It may be more than being devoid of disease causing mutations that keep those over 110 in good health. Credit: Getty Images.
Supercentenarians live more healthy, disease-free lives in their autumn years than even centenarians. Their genomes are not just devoid of disease causing mutations, they must also contain actively protective genes. Previous work has been stunted however by a lack of supercentenarian DNA to work with. Betterhumans is hoping to overcome this problem.
The nonprofit says it uses a specific identification system, assigning a proprietary number to each sample, so that the subject can remain anonymous. Once a large number of samples have been processed, they're sent to a lab for sequencing. Both proprietary and public-domain software is used. Besides sequencing, Betterhumans is comparing and contrasting supercentenarian DNA with non-supercentenarian DNA. It takes three months total from the time they take the sample to the time it's turned into data.
2,500 differences in supercentenarian DNA have been tagged thus far, but it's hard to discern which are significant. Extremely rare mutations might be difficult to detect using standard methods. Scanning procedures are set to look at places that are already known to harbor mutations.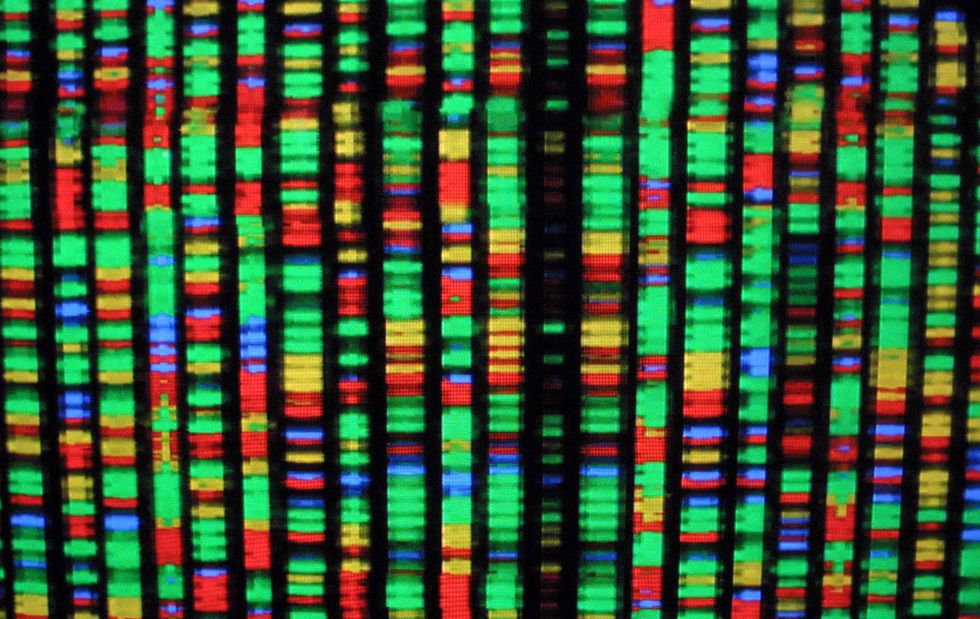 A significant number of variants for supercentenarians have been found so far. Deciphering them is another matter. Credit: Getty Images.
So will we all be living to 110 in a decade or two? There's still a contentious debate on whether or not there's a limit to the human lifespan or if science can eventually make it limitless. But let's say for the sake of argument that we can, should we?
The project has natural limitations. To understand all the phenotypes or combination of genes involved, tens of thousands of genomes would need to be sequenced. Yet, there are only about 150 supercentenarians worldwide. Just one in five million Americans is one. Also, some of them are hard to find. They may be living in rural areas in developing countries and did not receive a birth certificate when they were born.
Those who have a supercentenarian in their life or are one and want to contribute, contact Betterhumans and donate a sample. Contact them by phone at: (509) 987-5282, email: supercentenarian@betterhumans.org, or by filling out an enrollment form here.
To learn about another significant breakthrough in the quest for longevity, click here:
Researchers at Human Longevity have developed technology that can generate images of individuals face using only their genetic information. But not all are convinced.
Real photo (left) next to an A.I.-generated image
What if a computer could generate a realistic image of your face using only your genetic information?
That's precisely the technology researchers at Human Longevity, a San-Diego based company with the world's largest genomic database, claim to have developed. The team, led by genome-sequencing pioneer Craig Venter, reported their findings in a controversial paper published in the journal Proceedings of the National Academy of Sciences. 
To train the A.I. to generate facial images, the team first sequenced the genomes of 1,061 people of various ages and ethnicity. They also took high-definition 3D photos of each participant. Finally, they fed the photos and genetic information to an algorithm that taught itself how small differences in DNA relate to facial features, like cheekbone height or protrusion of the brow. The algorithm was then given genomes it hadn't seen before, and it used them to generate images of the individual's face that could be reliably matched to real photos.
Well... sort of.
The team successfully matched eight out of ten images to the real photos. However, this rate fell to just five out of ten when researchers analyzed participants of only one race, considering facial features differ slightly by race. Judge for yourself how well the algorithm did: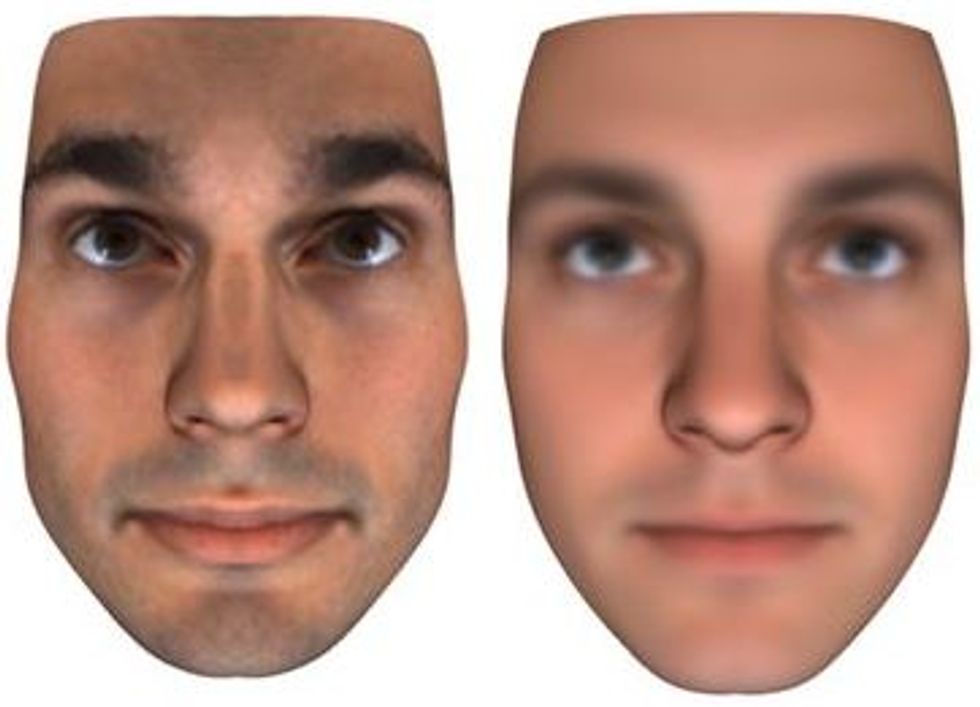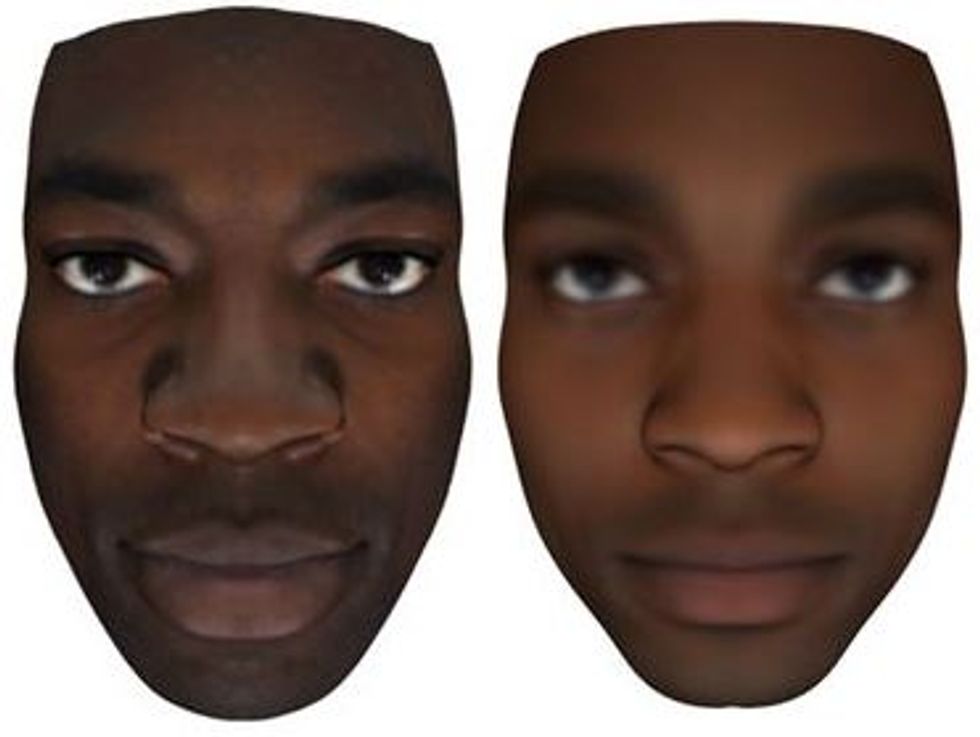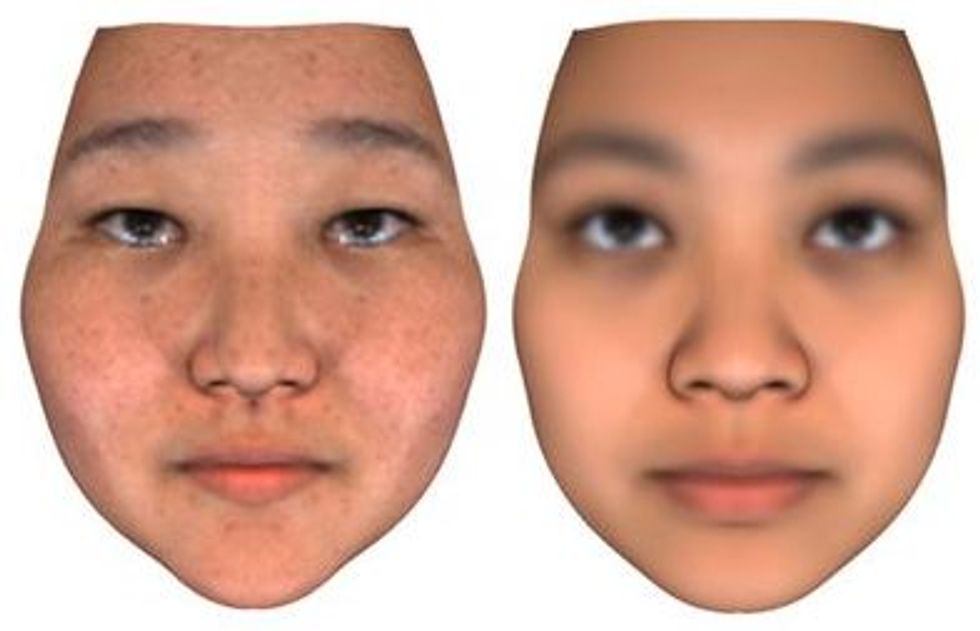 The potential applications of this technology are especially intriguing for fields like forensic science — what if investigators were able to use genetic information left at a crime scene to "see" the perpetrator? 
Interesting as the applications may be, Human Longevity is more concerned with the implications its findings has on privacy in genomics research, namely that technologies like this could be used to match people's thought-to-be anonymous genetic information to their online photos.
"A core belief from the HLI researchers is that there is now no such thing as true deidentification and full privacy in publicly accessible databases," HLI said in a statement.
Overblown claims?
Privacy concerns seem to be widely shared in the community. But some scientists say that the paper is misleading. One reason is that the Human Longevity researchers already knew the age, sex and race of the participants — demographic information that could have been used to achieve the same matching rate without using the computer-generated photos at all.
"I don't think this paper raises those risks, because they haven't demonstrated any ability to individuate this person from DNA," said Mark Shriver, an anthropologist at Pennsylvania State University in University Park, in an interview with Nature. 
Jason Piper, a former employee of Human Longevity, took issue with what he considered a lack of accuracy in the images, writing on Twitter that: 
"everyone looks close to the average of their race, everyone looks like their prediction."
But perhaps the most exhaustive criticism came from computational biologist Yaniv Erlich, who published a paper entitled Major flaws in "Identification of individuals by trait prediction using whole-genome sequencing data, part of which reads:
"The results of the authors are unremarkable. I achieved a similar re-identification accuracy with the Venter cohort in 10 minutes of work without fancy face morphology..."
Just days later, the team behind the original paper issued a rebuttal, titled simply No major flaws in "Identification of individuals by trait prediction using whole-genome sequencing data.
(It may seem mundane to those outside the field, but it's a pretty vicious beef in the scientific community at the moment, as seen by the "shots fired!" and "I'm gonna grab my popcorn..." comments under both papers.)
Access to genomics data
Underlying this whole debate is a question of access. Genomic data is used across various fields of study, but perhaps most importantly in research that seeks to combat diseases. In an interview with Nature, Piper said that Human Longevity has a vested interest in restricting access to DNA databases because it's a for-profit company that's trying to build the largest genome database in the world.
"I think genetic privacy is very important, but the approach being taken is the wrong one," Piper said. "In order to get more information out of the genome, people have to share." 
Rather than privatizing and restricting access to genomic data, Piper said that a better solution would be to make data public while using techniques that still allow individuals to remain anonymous.