Why do you check your phone 150 times a day? Is it a conscious choice, or have the attention merchants gotten into your head?
Do you really have sovereignty over own your mind anymore? Tristan Harris, a design thinker and former ethicist at Google, points to how smart phones changed our contract with advertisers, and our relationship with reality. Rather than being presented with choices as a consumer, software engineers at companies like Facebook leverage deep psychology to make their products addictive. The longer and more often sites and apps can hold your attention, the more they can make in advertising revenue. This is the attention economy—and it's why the average person checks their phone 150 times each day. It's also why Facebook is a free service—'if you're not paying for the product, you are the product,' as the saying goes. Harris explains that the constant tug-of-war on our attention won't end until consumers demand it: we have to ask for a subscription model. In the meantime, consumers can empower themselves by resisting the lure of these psychological hooks. If you walk into a cafe and there's a queue, don't look for the reality escape hatch that is your phone. Spend some time in your own thoughts. Exercise your willpower. Technology is a wonderful thing, but mindfulness, conscious choices, and real-world connection are all too easy to lose in the attention economy. To find out more about Tristan Harris, head to tristanharris.com.
A new study suggests that buying time-saving services leads to increased happiness.
Want to turn money into happiness? Buy services that give you more free time, suggests a new study from researchers at the University of British Columbia.
After surveying 6,000 people in North America and Europe, the researchers found that people who spend more money on time-saving services, like housecleaning or cooking, reported greater life satisfaction. Interestingly, it didn't matter whether the people were rich or poor.
"The benefits of buying time aren't just for wealthy people," said senior author Elizabeth Dunn. "We thought the effects might only hold up for people with quite a bit of disposable income, but to our surprise, we found the same effects across the income spectrum." 
But was buying time-saving services actually causing people to be happier?
To find out, researchers gave $40 to 60 adults in Canada and told them to spend it time-saving services. The participants had groceries delivered, their homes cleaned. One woman paid the "neighborhood boy" to run errands for her.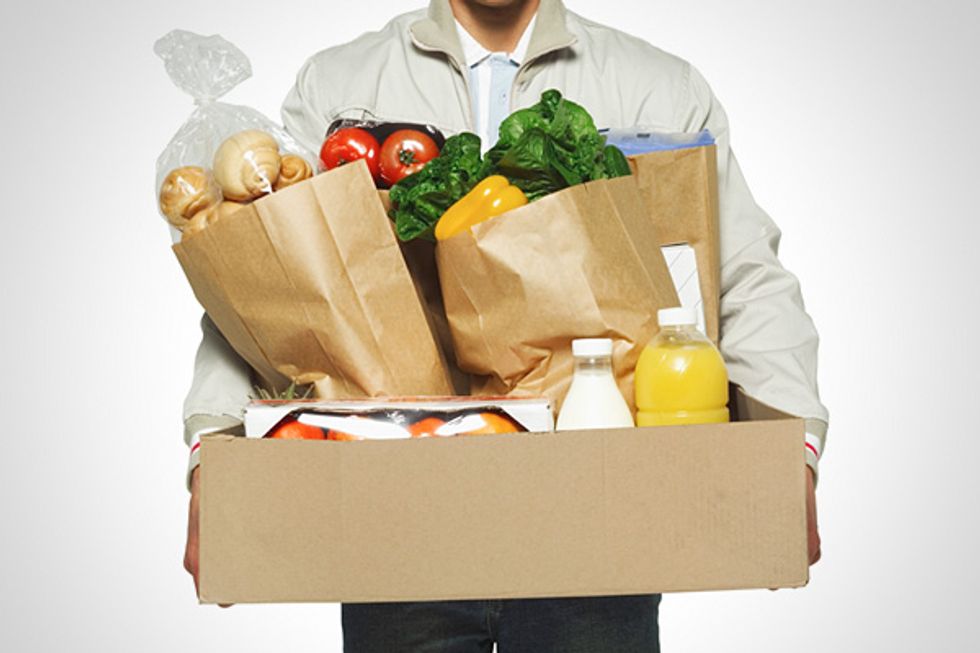 (Source: Steamboat Grocery Delivery Service)
During the following weekend, researchers gave the same participants another $40 to buy material goods – board games, clothes, wine. The results showed that buying time-saving services left people in better moods than when they bought material goods.
"Our results suggest that buying time boosts happiness by mitigating the effects of time stress — the feeling that there aren't enough hours in the day," wrote study authors Ashley V. Whillans and Elizabeth W. Dunn in the L.A. Times. "The feeling of being pressed for time is typically linked to lower life satisfaction, and we observed this well-established link in the lives of most of the people we surveyed. What's striking is that the detrimental effect of time stress disappeared among people who used money to buy time."
In places around the world where personal income is on the rise, free time is becoming something of a luxury. This kind of time stress has been shown to be detrimental to personal health, contributing to insomnia, stress and decreased life satisfaction.
Given the known effects of time stress, it's strange that more people don't choose to buy more free time. The researchers note that just 2 percent of the 98 adults they surveyed in Canada said they'd spend their $40 on time-saving services. 
The researchers suggested women might especially benefit from buying more free time. Despite their having achieved greater access to jobs and education in recent decades, life satisfaction has steadily declined among women in the West. The culprit is likely increased work hours mixed with their returning home to a "second shift" of household chores. 
People who complain about time stress are often objectively busy, but they also might be inflating stress levels out of a perceived lack on control over time in their lives. Buying more free time could help that, but it's a fine line – the researchers note that, ironically, spending too much money on time-saving services could undermine perceptions of personal control. This could actually decrease well-being by making people feel incompetent to manage their own lives. 
Still, most people would probably do just fine by outsourcing their household chores or dinner prep. 
"Don't think about time-saving services as the lazy option," wrote Whillans and Dunn. "Think of buying time as an escape hatch from the excessive time pressure of modern life."
Here's something to think about the next time you see a filthy Abe Lincoln on the sidewalk.
If there is a penny on the ground, is it worth your time to pick it up?
What if the very act of picking up a penny is more financially valuable than the one cent gained? In other words, is the value of a penny so minimal while the direct value of our time so great that it makes more sense to leave the penny alone?
For many of today's freelancers and members of the gig economy, the answer is YES--spending a few seconds to pick up a penny would be a financially unwise decision. More potential pennies would fall out of one's proverbial pocket than be placed in one's actual pocket. The penny is so nominal in value that just a few seconds of time commitment spent picking one up would be financially unsound.
Let's break it down: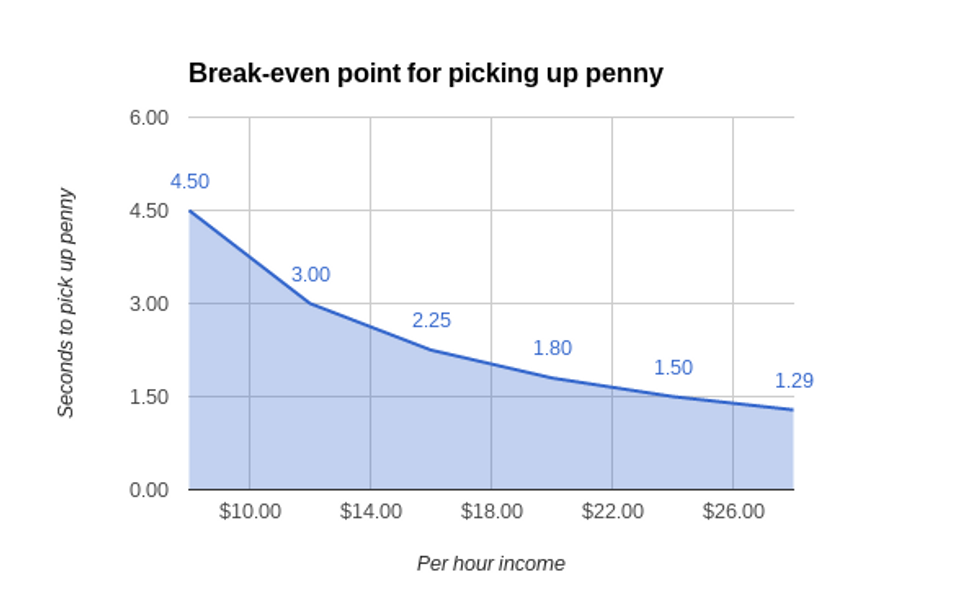 How many seconds is too much of a time commitment to make picking up a penny worthwhile? Use your per hour income as a freelancer to see what your break-even point is. For example, a freelancer receiving $18/hour has a break-even point of 2 seconds.
Picking up a penny every second for an entire hour would give you a grand total of $36.
So for a freelancer or anyone else able to command over $12/hour with their "free time," three seconds used to bend down and pick up a penny is a losing proposition. A freelancer making the current minimum wage ($7.25) would find their time better spent leaving the change on the ground if the act would take five or more seconds.
This isn't just an idle thought.
According to a recent study the McKinsey Global Institute, almost a third of American workers now participate in the gig economy. Whether it is done on a full-time basis or more an act of supplementing income, the rise of the gig economy makes the value of "spare time" highly relevant. For many participants in the gig economy, retrieving a penny would be negligible at best and negative at worst.
We have a problem, of course.  The dilemma is created by a rise in the direct value of our time within the gig economy, combined with the continuing devaluation of the penny. Applying any free time to generate money is becoming more achievable through on-demand platforms and freelancing sites, while the relative value of the penny decreases with inflation. The average Uber driver, for example, was making $19/hour in the top 20 US markets according to a 2015 study. For that average Uber driver, two seconds picking up a penny outside of their car would be less valuable than two more seconds driving.  
Why pick up a penny when you can pick up your phone? The ease of generating income in the gig economy may be making orphan pennies a mere nuisance.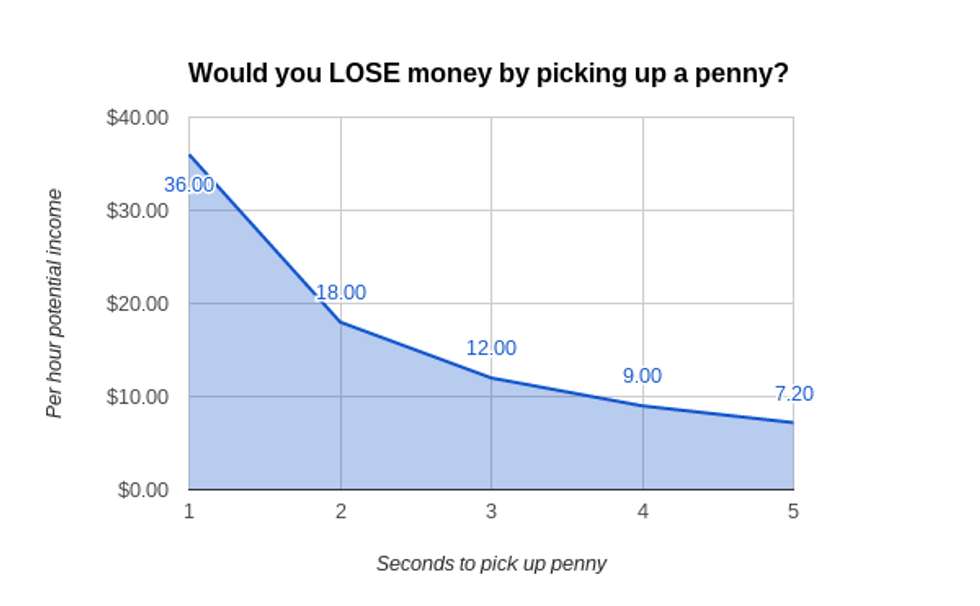 Are you losing money by picking up money? Use your average per hour income as a freelancer, along with the time used to pick up a penny, to find out! Being in the blue is a gain, while being in the white is a negative. 
Perhaps the penny is destined to stay on the ground and in circulation. The one-cent has been a part of our currency through private mints since the late 18th century, and made legal tender with the Coinage Act of 1864. The US half-penny was eliminated in 1857. Despite some passionate advocacy for the United States to eliminate the one-cent piece, the penny shows little sign of death. But whether the lowest denomination of currency has been reduced to wasting our time is another story.
There are some who find picking up a penny good luck. Others insist that the one-cent pieces add up, and can send you over some great stories like the Louisiana man who collected pennies for 40 years and cashed them in last year for $5,000. But for those in the gig economy making a decent wage, that may be penny wise and pound foolish.
Persistent as the penny is, there's no doubt its days are numbered – like all our bills and coins. To find out about where money is headed, we talked to Kabir Sehgal.