France's forests are even creeping up on their major cities.
Photo credit: Tim de Waele / Getty Images
Forests account for over 31 percent of France's land.
While most of the world is losing woodland to farmland, France is gaining.
France has both a public and private effort working on reforesting rural and urban areas.
Deforestation plagues vast swathes of the world. As rainforests are decimated — an unthinkable amount of trees are destroyed every second. Yet, in Europe this trend seems to have reversed.
Look no further than Provence, France, where resurged greenery cuts through mountain passes and sprouts up to form one of France's newest natural parks — the Baronnies Provençales. Set up only four years ago, and spreading more than 1,800 square kilometers (approx. 700 square miles), this mixed forest of oak, pine and beech is a testament to France's dedication to regrowing their ancient forests.
While the forests of the world are on the decline, those in France are quietly rising.
Successful reforestation effort
The French start-up EcoTree, launched near Brest in 2016, buys forests all over France to restore them. Photo credit: FRED TANNEAU / AFP / Getty Images
Current estimates show that forests cover 31 percent of France. The country is ranked fourth, in terms of largest forests, within the European Union. It is only surpassed by Sweden, Finland, and Spain.
Due to a concentrated reforestation effort and decline in farming, the past 30 years has seen France's forested areas increase by 7 percent. This hasn't been resigned just to France either. During the 1990s, Europe initiated something called the Common Agricultural Policy, which ensured only productive areas would be used as cropland to prevent inefficient farming. Land that was lacking was turned back into forest.
Between 1990 and 2015, Europe's total forestland grew 90,000 square kilometers — about 35,000 square miles. There has been so much progress, in fact, that there are more trees and larger forests in the EU today than there were at the start of the 20th century.
France's success can be contributed to a collective effort of private individuals and public forestry initiatives working together. A majority of the forests are on private land. With a total of 16.4 million hectares and increasing every day, new French forests reclaim old agricultural and industrial wastelands to fuel their growth.
The trees and plants being planted will do well to keep up with carbon dioxide absorption demands and fight climate change. Already within the Baronnies Provençales natural park, people are beginning to see rare species, such as the black vulture, reemerge.
Still, the new forests aren't without their fair share of complex problems and challenges.
Reforestation challenges 
There are some 34,000 people who live inside the new Baronnies Provençales. Some of the inhabitants see the black pine as a pest, which sometimes grows on their pastureland. The Economist notes that there was an initial backlash from local groups who were wary at the rapid pace at which the forest was being reclaimed. Audrey Matt, who is in charge of the park's forests, is on record saying, "The fact that forests are growing here can be problematic… It all depends which way round you look at it."
Many forests in France and Europe have become scarred with the scourge of beetle infestation. Also with the risks of extended heatwaves, these new forests are liable to burst into flames amid dry weather and turn into dangerous wildfires.
Yet, the benefits still outweigh many of the potential problems. Which is why France is also taking its reforestation efforts into the urban realm as well.
Urban forests in Paris
Photo credit: ANNE-CHRISTINE POUJOULAT /AFP / Getty Images
Mayor Anne Hidalgo recently announced a new greenery plan for the city of Paris. One that's going to bring more forests right into the city itself.
The plan is to begin planting forests near many of Paris's historic landmarks, such as Hôtel de Ville (Paris's city hall) and the Opéra Garnier. These groves will be placed in both busy and dormant pedestrian areas. Part beautification, part practical, the trees will alleviate intense heat during the increasingly sweltering summer months.
Paris is more susceptible than most places during a heatwave as it's considered an urban heat island. The mayor intends to counteract that with what she calls an "isle of coolness."
If all goes according to plan, 20,000 trees will be planted by 2020. The capstone of the goal is to cover half of the City of Light's acreage with trees by 2030.
Paris could have a potentially radical new look with the simple addition of all of this beautiful foliage.
It is rare for them to form, nonetheless reach this size.
BRYAN MESTRE INSTAGRAM
Climbing instructor discovers a glacial "lake" high in the Alps.
A glacial meltwater lake this size is usually a rare occurrence.
French glaciologists are concerned that climate change could create more dangerous lakes like these in the future.
In the wake of Europe's unprecedented heatwave, the international community is seeing further glimpses of the many changes which lie ahead for our world climate. Recently, a French mountaineer caught a beautifully striking, albeit disconcerting picture of a glacial lake in the High Alps.
Alpinist Bryan Mestre, took the photographs of the newly materialized lake on June 28th near the base of Dent du Géant Mountain, part of the larger Mont Blanc range that runs through France and Italy. A frequent hiker, Mestre remarked that this was the first time he'd ever seen a lake at this altitude during the summer months.
Hikers and climate scientists alike expect to see some glacial melting during the hottest days of summer. But the creation of an entire lake is a remarkably rare event. And one we might be seeing more of as climate change keeps turning up the heat.
France's heatwave lake
Europe was in one of the most intense heat waves in recent memory this June. When Mestre discovered the lake on June 28th, France set an all-time record high of 114.6 degrees in the southern Gallargues-le-Montueux region. Record temperatures in the Mont Blanc region topped out at 48.74 degrees.
The Mont Blanc mountains remain covered in snow and ice all year round. The lake that Mestre found was around 9,800 feet above sea level and is also usually covered in ice.
"Needless to say, the lake was a real surprise… It's located in the 3,400 to 3,500-meter (11,155 to 11,483-feet) area. You're supposed to find ice and snow at this altitude, not liquid water. Most of the time when we stay for a day at this altitude, the water in our water bottles starts freezing," Mestre told IFL Science.
Water above the Alp's 3,000 meter line is supposed to stay permanently frozen.
When speaking to the London Evening Standard, Mestre also remarked that:
"I have seen similar events in the Andes or in the Rockies, but the ecosystem is a lot different there. Snow is permanent in the Alps above 3,000 meters — it's not supposed to melt. Of course, with the whole global warming deal, it does melt, but it doesn't get this big."
According to National Geographic France the lake was around 10 meters by 30 meters or (33 feet by 98.5 feet). The lake was holding a couple thousand cubic meters of meltwater.
While this may have been an initial surprise to Mr. Mestre, many French glaciologists are starting to see a concerning trend as a similar lake was discovered in the same place last year.
French glaciologist concerns
Photo credit: JEAN-PIERRE CLATOT / GETTY IMAGES
Christian Vincent, a glaciologist at the Grenoble Glaciology Laboratory, believes that there is a direct link between the formation of this kind of pond and global warming.
Vincent remarks about a similar experience when a pond had formed over by the Rochemelon glacier in the Arc Valley, which sits on the French-Italian border. A lake had sprung up over a number of years, slowly gaining in size:
"At first it was a small pond formed in the 1960s, which grew without anyone perceiving its evolution. It was during a reconnaissance a few years ago that I realized that it contained 650,000 cubic meters of water and that it was threatening to overflow. An alert was then given and an artificial emptying operation had cleared the lake."
Vincent warns that we must be vigilant in tracking and understanding how these glacial "lakes" appear. While there is no immediate threat from the pond Mestre spotted, that doesn't preclude future problems from arising from this area or other ones like it.
"When the volume of these lakes becomes very important, it can become very dangerous if they overflow on the surface. This can threaten downstream structures and homes," says Vincent.
French president Emmanuel Macron recently announced plans to close all of the country's coal-fired power plants two years ahead of schedule.
French President Emmanuel Macron — Photo: Ludovic Martin/Getty
France plans to close all of its coal-fired power plants by 2021, a move that doubles down on the country's relatively aggressive push toward renewable energy.
"We've also decided to make France a model in the fight against climate change," French president Emmanuel Macron said at the World Economic Forum in Davos, Switzerland.
Macron said the pledge would be a "huge advantage in terms of attractiveness and competitiveness," suggesting that the move away from fossil fuels isn't a zero-sum game.
"We should stop opposing on one side productivity, on the other side climate change issues," he said.
France only gets about 1 percent of its power from coal. But in the U.S., coal remains a much larger part of the power supply mix, accounting for about 16 percent of energy production in 2016. It's also a more controversial political issue.  
In June 2017, President Trump announced the U.S. would drop out of the Paris Agreement on climate change. Months later, in October, the Environmental Protection Agency announced the repeal of the Clean Power Plan, a policy drafted under the Obama administration that would have pushed states away from coal production.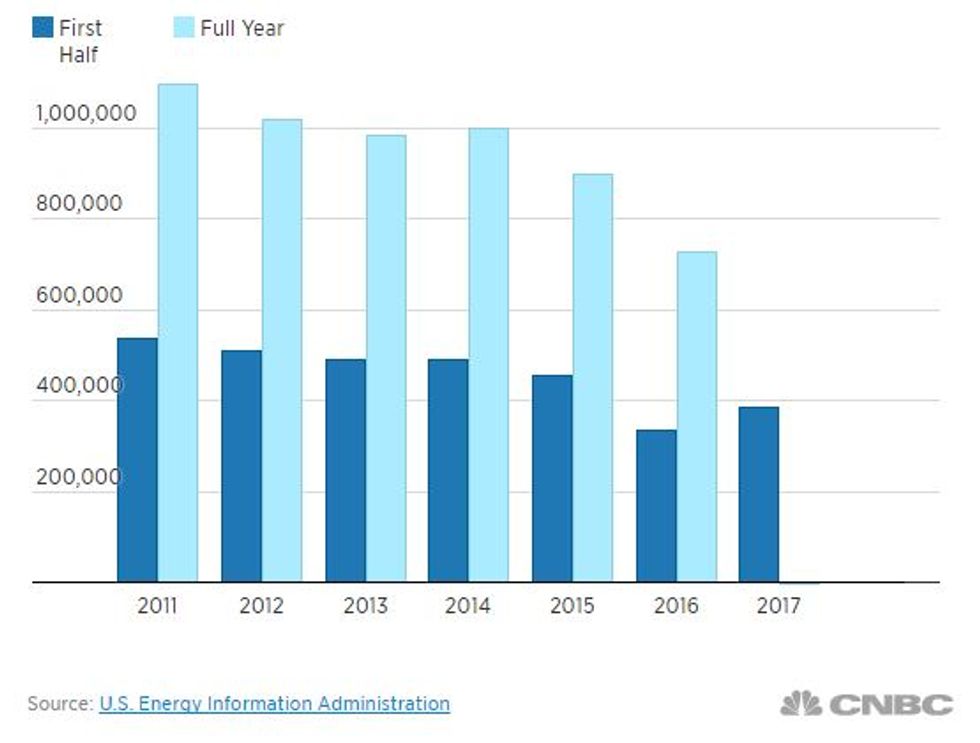 Coal was a cornerstone of Trump's presidential campaign. He won nine out of ten states with the highest coal production in the country after promising to revive the industry and put thousands of unemployed coal miners back to work. But since his election, employment rates in the mining industry have remained mostly stagnant. The relatively cheap cost of natural gas seems to be the cause. And, incidentally, it's this competition that could help the U.S. hit emissions goals set by the Obama administration—even without the Clean Power Plan in place.
Since signing the Paris Agreement in 2015, at least 15 countries have pledged to phase out coal. The U.K. and Italy plan to close all of their coal plants by 2025; the Netherlands by 2030. China has reduced coal consumption three years in a row, and halted the construction of about 100 new coal-fired plants.
Still, coal is hard for some countries to resist. It's cheap, found in politically stable areas, and easy to extract.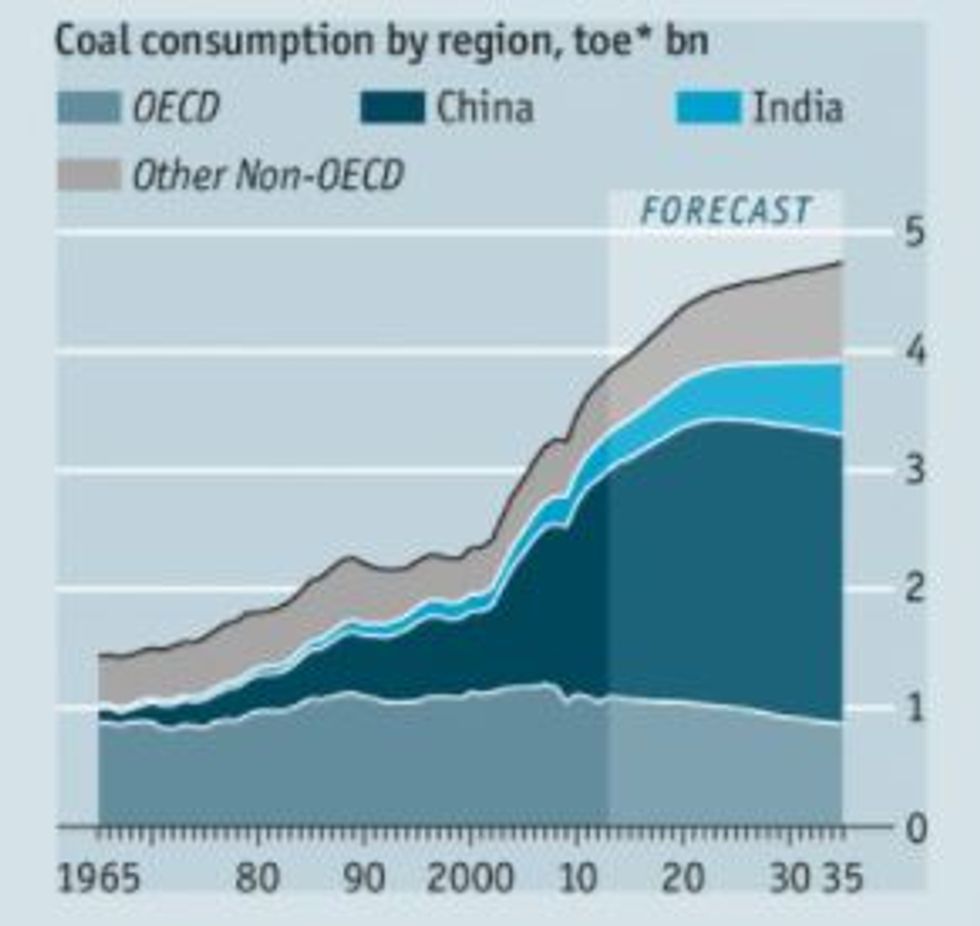 India, for instance, plans to nearly double its coal production by 2020. Even Japan, a country desperate for stable energy sources after closing its nuclear reactors in the wake of the Fukushima disaster, has plans to build new coal-powered facilities.
It seems coal won't be phased out of the global power mix until alternative energy sources become cheaper. And so far, natural gas and renewable energy don't quite cut it.
Considering that the United States remains the world's only superpower, that begs the question: How informed are Americans when it comes to their country's vast global power?
A map showing how North American media cover global events. (Qatar Computing Research Institute)
When the term "armchair" is applied to a job title, it's almost always derogatory. An armchair general, for example, refers to someone who considers himself an expert on military matters even though he's never seen combat, or perhaps even served in the military. It implies a critical lack of real-world experience.
Considering that the United States remains the world's only superpower, that begs the question: How informed are Americans when it comes to their country's vast global power?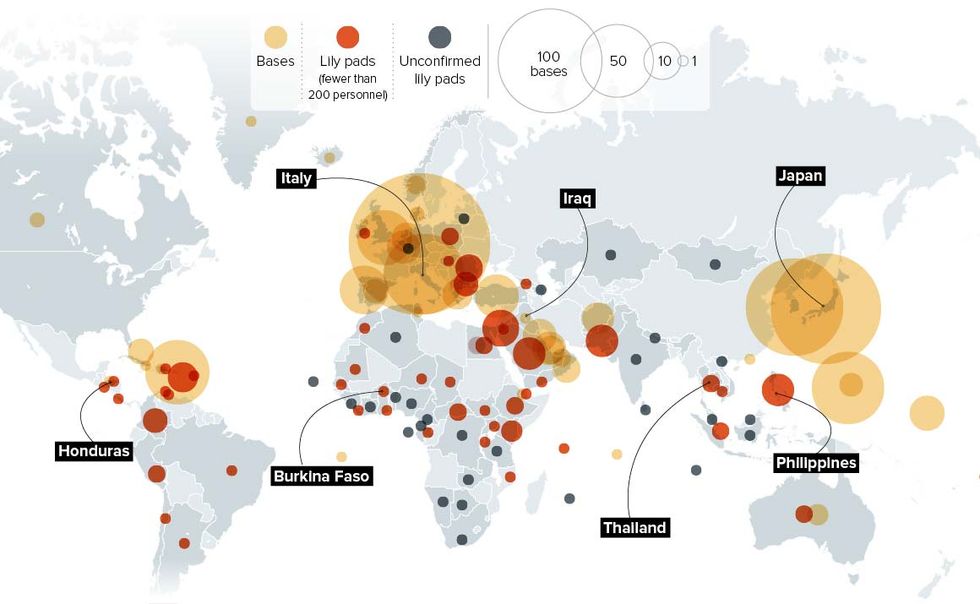 Map of U.S. military bases around the world, from Politico.
You might think that reading daily newspapers or staying glued to Twitter would produce an accurate view of our world, run by 195 different countries over 57 million square miles of land. But a study of news coverage across the globe reveals how erroneous that assumption is.
In 2014, Haewoon Kwak and Jisun An at the Qatar Computing Research Institute in Qatar analyzed thousands of real-world events and news articles, and then created a map of the world that shows each country distorted in size by how much coverage it receives in a given region. The bigger the country appears on the map, the more news coverage it receives.
News geography seen from North America.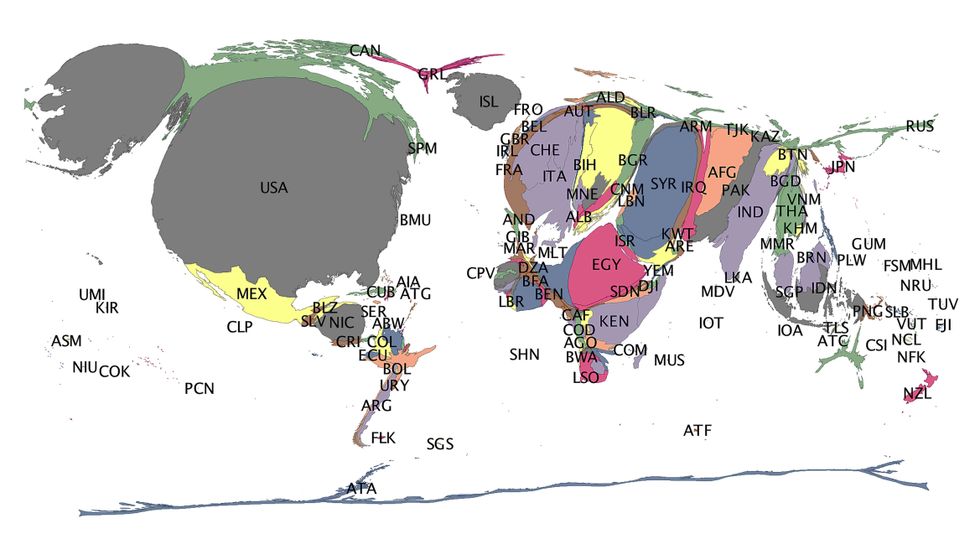 Compare that with global news coverage from Europe and Central Asia.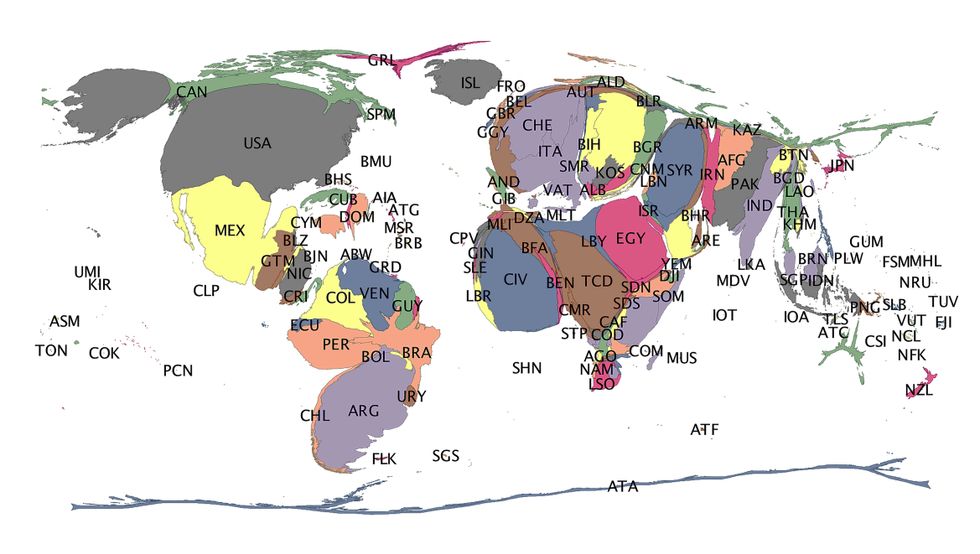 Finally, compare that to news coverage in East Asia and the Pacific.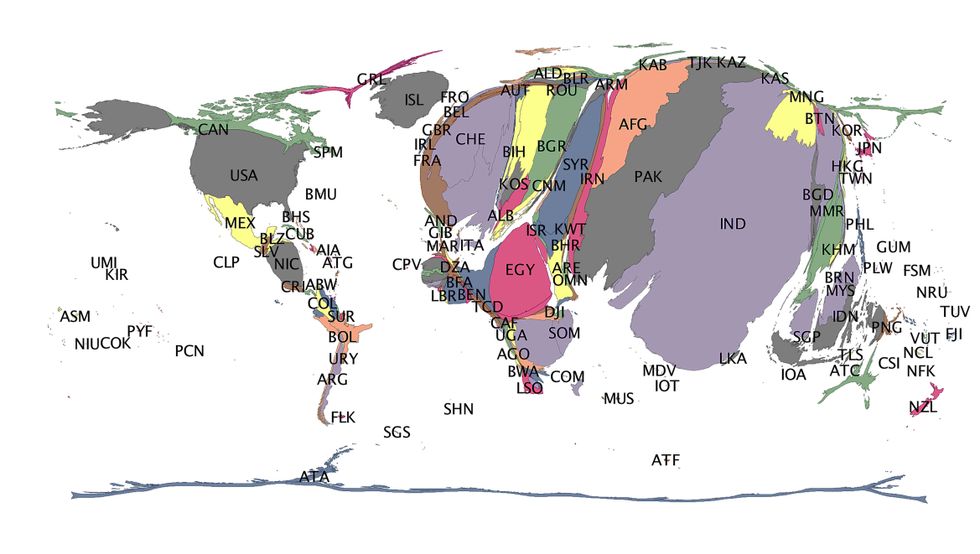 While a region's news media provide a sample of world events, it's important to remember that they can't capture the whole story. Many world events—even whole societies—fall outside mainstream news coverage.
If you had read a newspaper article about the Battle of Dunkirk during WWII, for instance, your understanding of the event would depend on the country in which you lived. Britain successfully evacuate some 330,000 fighters surrounded by Germans troops—nearly 10 times the number Churchill expected to save. In terms of casualties, however, the Germans beat the British Army by a factor of two.
On June 1, 1940, the New York Times reported:
"So long as the English tongue survives, the word Dunkirk will be spoken with reverence. In that harbour, such a hell on earth as never blazed before, at the end of a lost battle, the rags and blemishes that had hidden the soul of democracy fell away. There, beaten but unconquered, in shining splendour, she faced the enemy, this shining thing in the souls of free men, which Hitler cannot command. It is in the great tradition of democracy. It is a future. It is victory."
But Berlin's Der Adler, a Nazi biweekly, had this to say:
"For us Germans the word 'Dunkirchen' will stand for all time for victory in the greatest battle of annihilation in history. But, for the British and French who were there, it will remind them for the rest of their lives of a defeat that was heavier than any army had ever suffered before."
Asking who won the battle is a simple question. But the answer is more nuanced. And having nuanced answers to global questions has never been more needed. To better understand how international travel producers a fuller worldview, Big Think asked three experts in the field of foreign policy about experiences that shaped their outlook.
Stephen Walt, professor of international affairs at Harvard University:
"When I lived in Berlin in the mid-1970s, I watched the May Day parade in East Germany and visited a number of museums there. I was struck by how the history young East Germans were learning and the history I had learned in the West were quite different, and over the years I came to understand what I thought I knew was not in fact 100 percent correct. Of course, neither was the Communist version. It taught me that different peoples often see the world differently because they have been exposed to competing historical narratives, and that insight has remained with me ever since."
Amaryllis Fox, former clandestine service officer for the Central Intelligence Agency:
amaryllis-fox-russia-and-ai-why-global-election-tampering-will-only-get-worse
"I've hosted discussions all over the world between former fighters, from national armed forces to insurgents and terror groups. But no matter how often I witness it, the magic never fails to move me. It's quite literally like watching a curse be lifted in a folktale. Two groups of people who have always viewed the other as a two-dimensional caricature, hearing one another express the same fears and insecurities and hopes and dreams that they themselves feel and share. Each person hits a different point where they get this look on their face, blink a couple of times, as though some sleeping spell has just been lifted and they can see clearly again after a very long hypnosis."
Will Ruger of the Charles Koch Institute, a philanthropic organization encouraging discussion on topics like free speech, foreign policy, and criminal justice reform:
"Foreign travel provides a lot of benefits, including getting to better understand other cultures. But it also allows one to better appreciate that despite all of the ways that the world is "smaller" and more interconnected today, the world is still a big place, the U.S. is still very far away from most hotspots and the major industrial areas of the world, and that not everything that happens in the world directly impinges on American interests or depends upon the U.S."
My experience abroad in the U.S. military (both on active duty in the Middle East and as a reservist in places like Europe and South Korea) has really driven home just how massive is the size and scope of our defense establishment. It is one thing seeing maps marking the many U.S. bases around the globe to seeing up close and personally how big our footprint has been in places like Kuwait and Afghanistan. It has also impressed upon me how well the U.S. military does logistics relative to other militaries today and throughout history."
The world is a big place, and understanding it is made harder by the fact that there really isn't one single overarching narrative of world history — at least not one that everyone agrees upon entirely.
Perhaps most importantly, traveling the world can provide a firm understanding of what it means for the U.S. to use military force abroad. If you actually set foot in another country and talk with the people, you'll have a better sense of how future U.S. intervention might affect that country would than you would, say, if you had only watched network news.
How might Americans think differently about U.S. foreign policy if more people traveled — if more people experienced new cultures, food, people, cities, and histories, finding not just strange differences, but fundamental similarities?
There's only one way to find out.
--
Paris, France is just too real for some tourists to handle. This results in Japanese tourists getting sick, and seeking therapy because of unmet expectations.
Japanese Tourist with Baby (Wikimedia)
Paris Syndrome sounds like a condition a college freshman that has read too many Jane Austen books might develop. While the name implies something young and idealized, it can be a very serious disorder that, in the tourist season of 2011, affected twenty tourists visiting the city of lights, according to The Atlantic.
The idea of Paris is a perfect one: used in the backdrop of romantic movies, or to show how heavenly a perfume might smell in commercials. Paris is an alleged heaven on earth. Bridges are pictured over shimmery rivers in front of romantic sunsets, and when a person goes they expect to have a lovely honeymoon experience. Paris Syndrome exists specifically because there is a distance between reality and those expectations.
Paris Syndrome, which on average affects about a dozen tourists per year, hurts Japanese travelers more than anyone else. It has become such a problem that the Japanese Embassy in the city itself created a hotline for the very purpose of helping out its citizens. The line is available 24 hours a day, and aims to help those flustered by their unmet expectations. The hotline helps tourist get past their culture shock, or even seek hospitalization for those that need it.
The film industry is partly to blame for Paris Syndrome but there is one other reason that it affects Japan more than any other country. Their culture is far more polite than others. While the customer is always right in the United States, the customer is "king" in Japan. When a Japanese tourist goes to Paris they are facing, head-on, a culture where the server might yell at the dinner guest for not speaking the local language. This can turn their world upside down. Suddenly, not only is the shimmering, romantic city a dirty, dangerous, and realistic one, but it is also one where tourists just aren't respected with the same manners that they are at home. Etiquette is very important in Japan, with everyday customs such as removing shoes before going indoors being widespread. Even the Washington Post has written about how to stand on escalators when visiting. 
This is not to say that the French aren't respectful—but the city is a real city, filled with real people with real, individual problems who don't want to stop their day for a tourist. It is not the wondrous image filled with models often seen in movies. There is an expectation that tourists will know some French before going to France. It is understandable that the citizens would get annoyed by the expectation of perfection, without preparation.  
Facing this reality check can cause continuous issues. While some simply need a good night's rest, others have problems ever traveling again. Symptoms can include thoughts of persecution, paranoia, convulsions, and hallucinations. One man became convinced he was King Louis XIV. Treatment can mean hospitalization, therapy, as with most syndromes, and of course never going to France ever again. 
So what can be done about it? There is the unrealistic hope that perhaps Paris could change its marketing. Films might start portraying the city differently, highlighting the occasional mugging in a film or that servers get paid the same no matter what, and their treatment of you depends on how nicely you treat them. This is incredibly unlikely, and for now the only remaining option is to remain aware, or, of course, never go to Paris.