Fascism very much could be alive and well in America in today's toxic political climate. After all, the appeal of fascism breeds in unhealthy democracies. We can't be too careful, says political expert Rob Riemen.
Rob Riemen — founder and president of the Nexus Institute — posits that the type and level of toxicity in today's political climate is a breeding ground for fascism. He argues that most people in fully democratic Germany in the early 1930s didn't think that by decade's end they'd be a fully fascist country, and goes further to say that perhaps history will look back on the 2016 American election in the same way. Is he correct? You be the judge. Rob Riemen's latest book is To Fight Against This Age: On Fascism and Humanism.
Nietzsche's ideas were used by the Nazi's to justify their atrocities, but did Nietzsche actually support Fascism?
Nietzsche, by Munch
If there was one philosopher the fascists of the mid-20th century loved, it was Nietzsche. He was so adored by them that Hitler gifted Mussolini the complete works of Nietzsche for his birthday. The Nietzschean ideals of anti-egalitarianism, the Superman, and the will to power inspired them to act, and millions died because of it. They adored his ideas, and anointed him as the prophet of their ideology.

And most of it was due to misunderstandings and willful changes.
Nietzsche's philosophy is purposefully difficult to read. His criticisms of the "Slave Morality" he credits the Jewish people with inventing can seem like an anti-Semitic rant from time to time. When in reality, he saw the Jews as a powerful people with a fine culture, his attacks are on their ideas: not on the people. His idea of the Superman was not a racial concept but rather a spiritual one.
He claimed that the Germans were great because of the "Polish blood in their veins", and saw German nationalism as a dangerous joke. He ended relationships over his disapproval of anti-Semitism, including ones with his sister and the composer Richard Wagner. After he went mad, he wrote letters urging the great powers of Europe to attack Germany before it was too late.

Then, how did he become the Nazi Philosopher?

How Nietzsche was hijacked is a curious story, and a powerful warning. It begins with his sister, Elizabeth Förster-Nietzsche. She was reportedly an unintelligent woman; when she asked philosopher Rudolf Steiner to help her understand her brother's philosophy he was forced to give up after several excruciating attempts to educate her. He sent so far as to write that she, "lacks any sense for fine, and even for crude, logical distinctions; her thinking is void of even the least logical consistency; and she lacks any sense of objectivity." Her husband was a famed anti-Semite who Friedrich couldn't stand.
She took over her brother's estate after his descent into madness. She was then able to selectively edit new versions of his works, and created the entire book The Will to Power with his unused notes, in a way as to emphasize the bits that fit in with her political ideology. She withheld his work Ecce Homo from publication for years as it had a great deal in it that would derail her attempts to frame him in her image. In conversation, she developed a remarkable ability to remember conversations with her brother that supported her ideology.
To put not too fine of a point on things, she even met Hitler in the early 1930s when he visited the Nietzsche museum she operated. Hitler attended her funeral in 1935.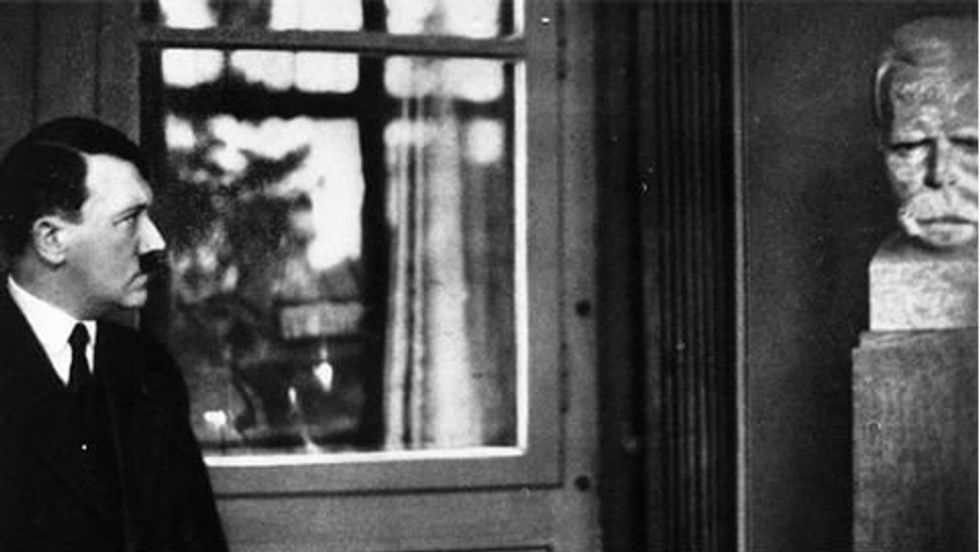 Adolf Hitler at the Nietzsche museum. 
How did Nietzsche get used by the Nazis?

Just as American politicians like to reference the ideas of dead American heroes like Washington and Jefferson, the Nazis sought great Germans to reference when justifying their new regime. Nietzsche, with the tweaks made to his philosophy by his sister, became the primary thinker for those Nazis looking to justify their beliefs with philosophy.
German universities taught Nietzsche as part of courses on the new order, references to soldiers being the Ubermensch were common, and the will to power was adopted by the Nazis as a key psychological insight. The philosopher Alfred Baeumler claimed Nietzsche had prophesied the rise of Hitler and fascism in Germany.
After the war, the warping of his ideas to suit the ideologies of his sister and later of the Nazis was corrected in large part due to the works of Jewish-American philosopher Walter Kaufmann. The notion that Nietzsche was a proto-fascist can be said to be long debunked.
So, Nietzsche was really a kind and nice philosopher who gave out candy to children?

To give the devils their due, Nietzsche did have incredibly reactionary views on women, viewing the ideal women as little more than a broodmare for potential Ubermenschen. This was a point where the fascists could just run with what they had. Similarly, Nietzsche did reject egalitarianism, democracy, and occasionally ventured into rhetoric that verged on "let's eat the poor". He was no saint, but he wasn't a Nazi either. If reading Nietzsche doesn't shock you, something went wrong.
Nietzsche's philosophy is easy to misunderstand and almost as easy to purposefully misinterpret. Even today, the far right is still using bad readings of it to justify their politics. Nietzsche was anti-nationalistic, considered the Jews worthy opponents, despised Christianity, and mass movements of all kinds; it takes a bad reading to consider him a goose-stepping fascist instead of the champion of individual genius that he was.
So, what does this mean for us today?

Almost any philosophy can be hijacked liked this. It's really not that hard. Examples come to mind without having to try. Every Marxist would claim that at least one of the communist regimes of the last century had twisted the philosophy in a way to promote selfish goals. Utilitarianism can be used to argue that every action imaginable is for the greater good. It might go without saying that the Bible has been used to justify pretty much everything; slavery, abolitionism, war, peace, and so on ad infinitum.
The real thing you should take away form this story is how easy it was to do it. Elizabeth Förster-Nietzsche was able to pull it off without understanding the ideas involved; all she had was the proper legal rights and some convenient events working for her. All of it happened despite Nietzsche's friends objecting to it, and people who had lectured on his works before he went mad did nothing. It could happen to any school of thought, and that should terrify you. Always make sure you get the full story before you make any decisions, philosophically speaking. 
When you see Nazis in the streets chanting things like "Jews will not replace us," it can be difficult to comprehend why they would believe such horrid things.
A young girl gives the fascist salute during the 39th anniversary of the death of Spanish dictator General Francisco Franco at Plaza Oriente square on November 23, 2014 in Madrid, Spain. (Denis Doyle/Getty Images)
When you see Nazis in the streets chanting things like "Jews will not replace us" and throwing around slurs at blacks, leftists, and other minority groups, it can be difficult to comprehend why they would believe such horrid things. While simple answers such as ignorance or stupidity are attractive, they are too basic to apply generally. After all, the white supremacist leader Richard Spencer has a master's degree, ruling out the explanation of stupidly in at least one case. While not every Nazi has an education, the root cause of finding such an ideology attractive must lie elsewhere.
But where?
This was the same problem that faced Theodor W. Adorno in 1947. A German sociologist who had fled Europe for sunny California during the era of Fascism, he and his colleges at Berkeley attempted to understand why a person might be inclined to support the ideas of fascism and authoritarianism. Using their backgrounds in psychology, they proposed that certain individuals might be mentally predisposed to support authoritarian regimes.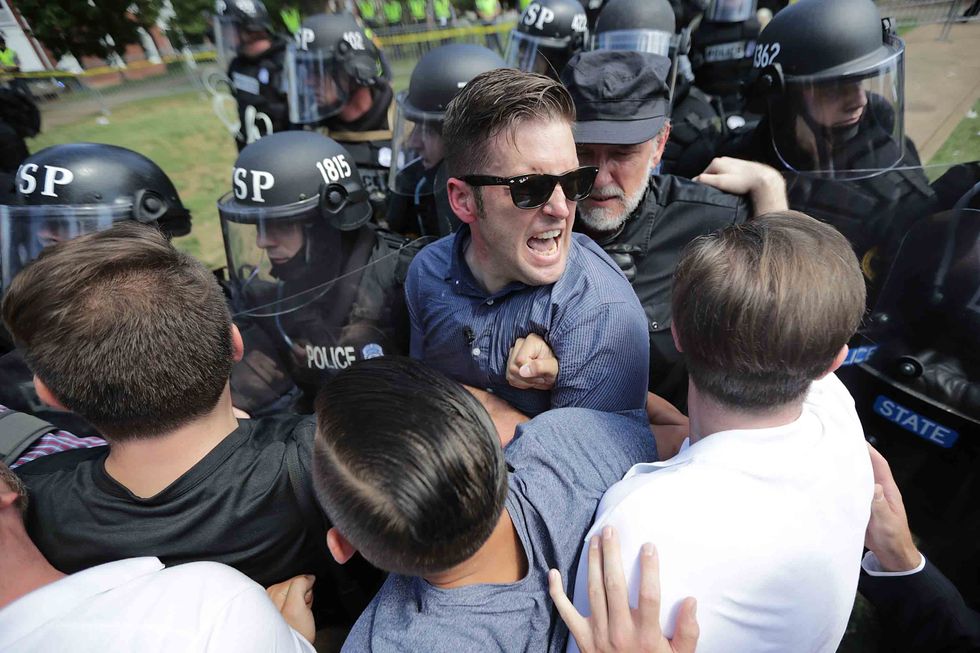 White nationalist Richard Spencer (C) and his supporters clash with Virginia State Police in Emancipation Park after the 'Unite the Right' rally was declared an unlawful gathering August 12, 2017 in Charlottesville, Virginia. Hundreds of white nationalists, neo-Nazis and members of the 'alt-right' clashed with anti-fascist protesters and police as they attempted to hold a rally in Emancipation Park, where a statue of Confederate General Robert E. Lee is slated to be removed. (Chip Somodevilla/Getty Images)
Adorno and his associates wrote a book, The Authoritarian Personality, laying out their arguments and proposing possible traits that would-be fascists share. These traits included conventionalism, authoritarian submission, authoritarian aggression, anti-intellectualism, and an interest in the use and projection of power, among others.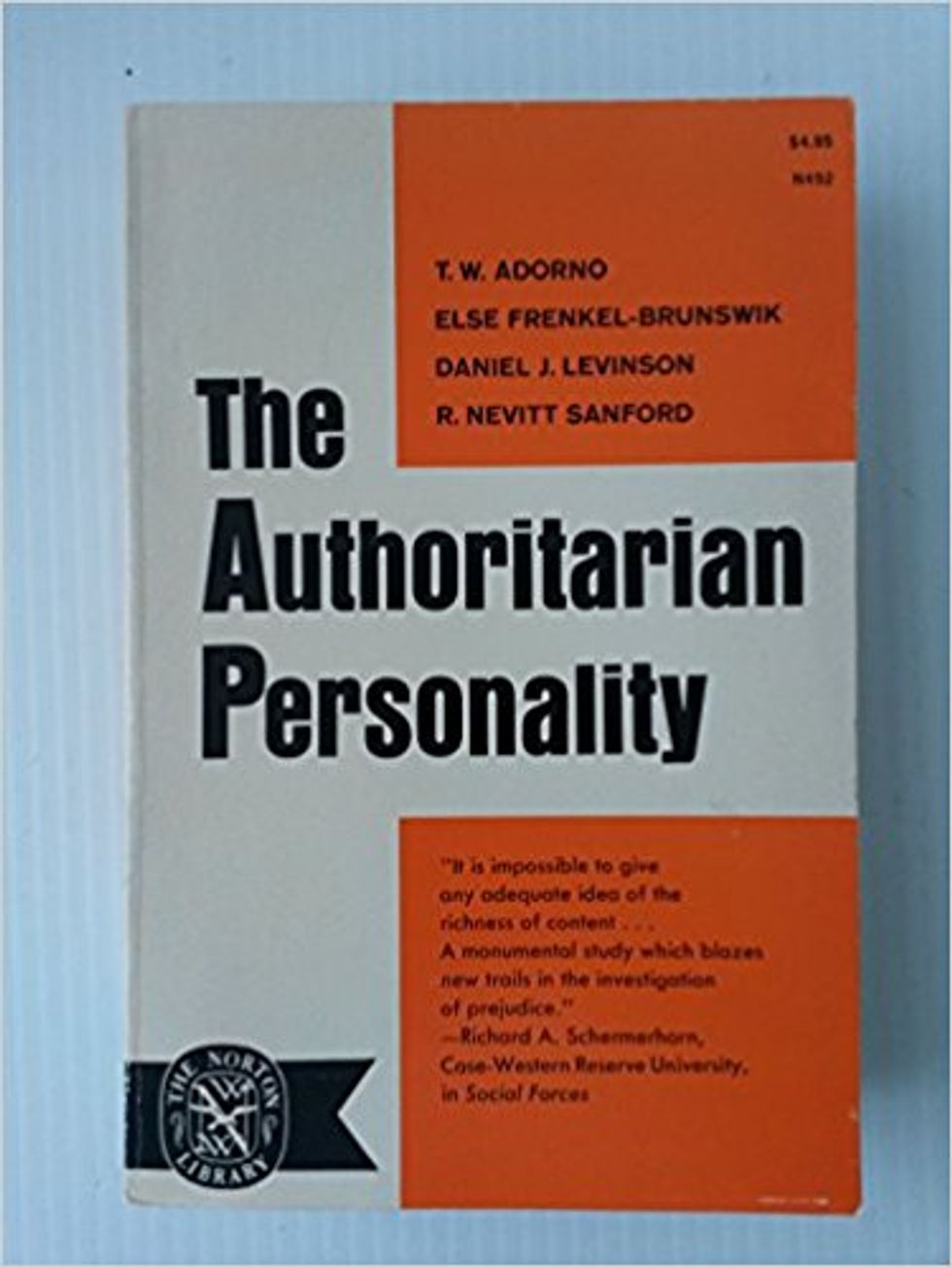 So, how do I know if I have these traits? Should I start wearing more brown shirts?
The book, after offering a psychological explanation for why individuals might come to have such traits, then proposes the idea of the "F-Scale", "F" meaning Fascist, which attempts to indirectly measure a person's tendencies towards the traits Adorno found to be authoritarian. The higher the score, the more likely you are to support Fascism.

Adorno was open about the theory needing to be tested, and at Nuremberg several Nazi war criminals were given the test. Despite the original theory having nine dimensions of the authoritarian personality, the Nazis who took the test only scored high on three of them. Continued research into the idea has supported the basic hypothesis, but heavily altered the test and proposed reasons for correlations between the traits.
While Adorno treated the tendency to Fascism as a mental disorder, his reliance on Freudian thought and the Western Marxism of the Frankfurt school to which he belonged made his scale seem biased, and later erroneous. The work has been critiqued from all angles, but the core concept has been found to be correct. There are certain personality traits which correlate and are related to potential support for authoritarianism.
The concept remains influential. The F-scale and it's slew of personality traits have been reduced to three by Canadian Psychologist Bob Altemeyer, who has created a shorter, more accurate, version of the test you can take here. In the updated version of the theory the traits which constitute the Authoritarian Personality are:
Authoritarian submission: a high degree of submissiveness to authorities perceived to be legitimate.
Authoritarian aggression: a general aggressiveness directed at deviants, outgroups, and those designated to be targets by established authorities.
Conventionalism: a high degree of adherence to traditions and social norms that are seen as endorsed by society and the established authorities. This includes a belief that adherence to these norms should be mandated across a society.
The test can also be applied to authoritarians in the left, in so far as they support the use of force to change society from multi-cultural, multi-focused, and disorganized into a homogenous, well organized, singly focused whole. The tests have, however, always presumed the authoritarianism being measured was on the political right, and early versions of the test made reference to anti-Semitism. Current versions often reference homosexuality and nudity as potential examples of deviations from norms.
Why would somebody support Fascism? Is it because they had strict parents? Because they didn't go to school? Because they have a need for order and conformity? While the root cause of having the Authoritarian Personality is still unknown, it is possible to test for it. Perhaps someday we will understand what makes a person desire such things and have a better idea on how to cure them. Until then, it is all we can do to understand when we are looking at it, and take action.
--
The newest viral video is from... 1947?
A still from the War Department's "Don't Be a Sucker" educational video.
Imagine a world where Nazis were just in the streets. Where violence shocked society to its core. A place where the specter of racial bigotry and demagoguery was ever present. Where the US military is fighting with an army that discriminates not on merit, but on social policy.
No this wasn't 2017, it was 1947. 
Against this background, the War Department re-released an educational film entitled Don't Be A Sucker, first produced in 1943. It tells of the dangers of racism and fascism, and for reasons that must be all too obvious, the short film has struck a chord with viewers today. 
The film begins with the most 1940s-sounding narrator possible explaining that some people are suckers. They buy into what is clearly a racket because it looks like a good deal. He takes us from these suckers to a typical American man listening to a racist speaker, attacking every minority in the book. The listener is fine with it, until his minority group is mentioned as a menace. Then, and only then, does he reject it.
Seeing this, a Hungarian professor and immigrant to the United States tells him of how the Nazi Party came to power in Germany. Turning the population against minority groups and any other group that could oppose them, burning facts that were inconvenient and declaring the truth according to the Party to be the only real news. This series of events lead to the deaths of millions of suckers who bought the Nazi Party's promises, and tens of millions of their scapegoats.
The film gives a happy ending, but warns us that it can happen here. It needn't though, says the Hungarian professor, we are all minorities in some way if we live in America, and we all need to stand up for our minority rights. Otherwise, we'll be the suckers.  
Why is it so popular now?
The film has been shared on social media hundreds of thousands of times in the last few days.
With the recent march to Unite the Right and the resultant deaths, spiking numbers of anti-Semitic and anti-Islamic acts of vandalism, and an increasing selection of fake news sources, the world of today shows more than a passing resemblance to the world of the 1930s. The number of hate groups in the United States is increasing rapidly, and the far right is better organized than ever.
Uhh, about that happy ending….
While the video shows us the horrible effects of race baiting and fascism, it does also show us why people buy into them, and suggests a solution. The Germans who agreed to the Nazi's platform don't start by hating the Jews, they started by wanting a better life and were suckered into thinking that religious and ethnic minorities stood in their way.
The film suggests that we can all take some action to prevent the horrible events of the 1930s in Germany at the individual level. "It started here," the professor says, referring to a park with a Nazi speaker. He encourages us to end it there. He reminds us that people are taught hatred, that they were unable to see through the lies of the fascists, and how easy it is to be drawn into a soothsaying conman.
But, with even a little dedication, we can prevent the horrors of history.


You might think philosophy is a boy's club. We are here to correct that misconception.
While a great idea can come from anybody anywhere, sometimes a different perspective is needed for progress to be made. In that mindset, today we have ten of the greatest female philosophers of all time.
 1.      Simone de Beauvoir (1908-1986)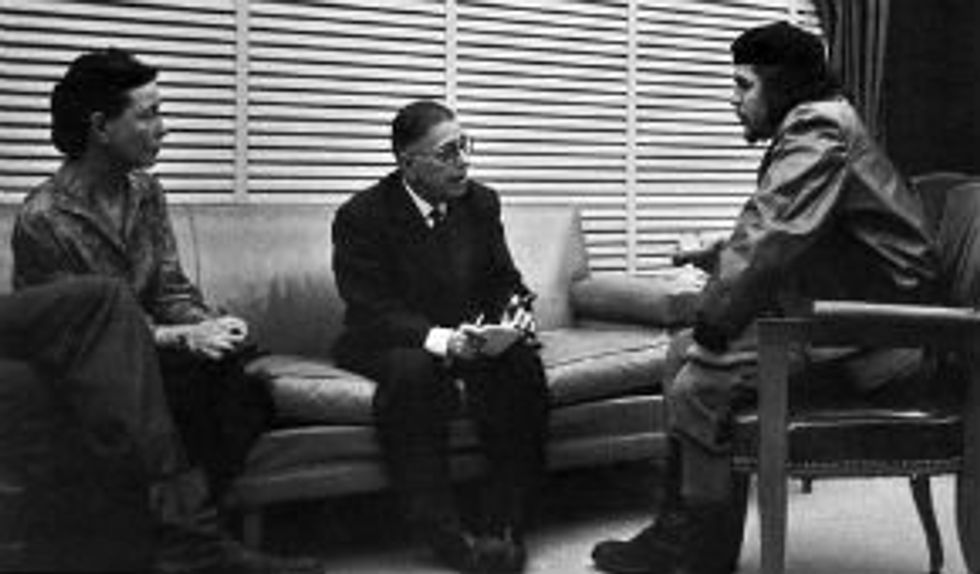 As a French existentialist, Marxist, and founding mother of second-wave feminism, there are few philosophers who can hold a candle to Beauvoir, though she never thought of herself as being one. She wrote dozens of books, including The Second Sex and The Ethics of Ambiguity, and is noted for having a very accessible writing style. Her work is often focused on the pragmatic matters of existentialism, as opposed to that of her life partner, Jean-Paul Sartre. She was very active in French politics, as a social critic, protester, and member of the French resistance.
"The curse which lies upon marriage is that too often the individuals are joined in their weakness rather than in their strength, each asking from the other instead of finding pleasure in giving."
 2.      Hypatia of Alexandria (Born c. 350–370, died 415 AD)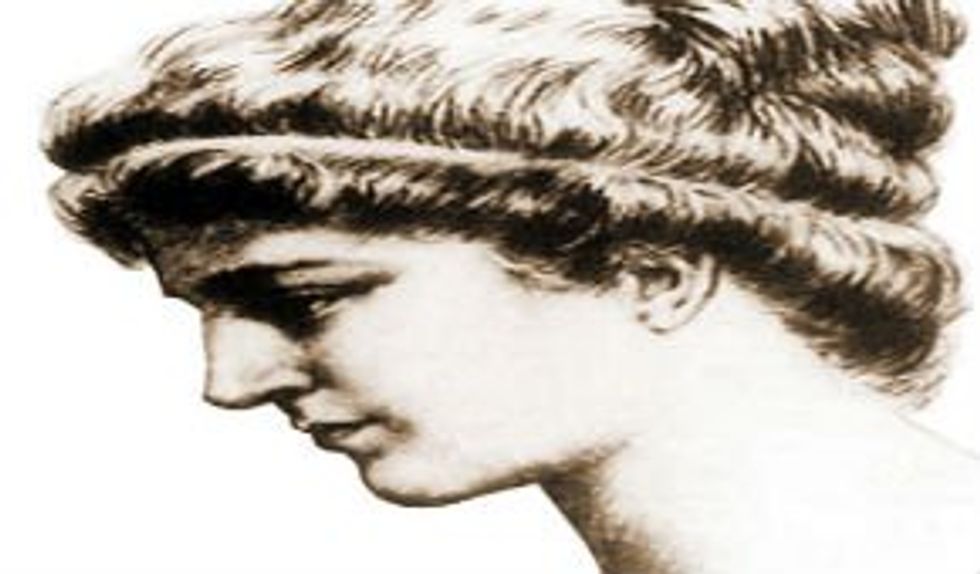 A Greek philosopher and scientist, she was regarded by many of her contemporaries as the greatest philosopher of the age. Her fame was such that prospective students traveled great distances to hear her speak. While it remains uncertain as to the scope of her writings, a common problem for ancient authors, it is agreed that she at least co-wrote several surviving works with her father, including extensive commentaries on Greek science and philosophy. She was killed by a Christian mob as part of larger riots in the city, though there is some evidence to suggest that she was assassinated over controversial astronomical work.
"There was a woman at Alexandria named Hypatia, daughter of the philosopher Theon, who made such attainments in literature and science, as to far surpass all the philosophers of her own time." – from Socrates of Constantinople 
 3.      Hannah Arendt (1906-1975)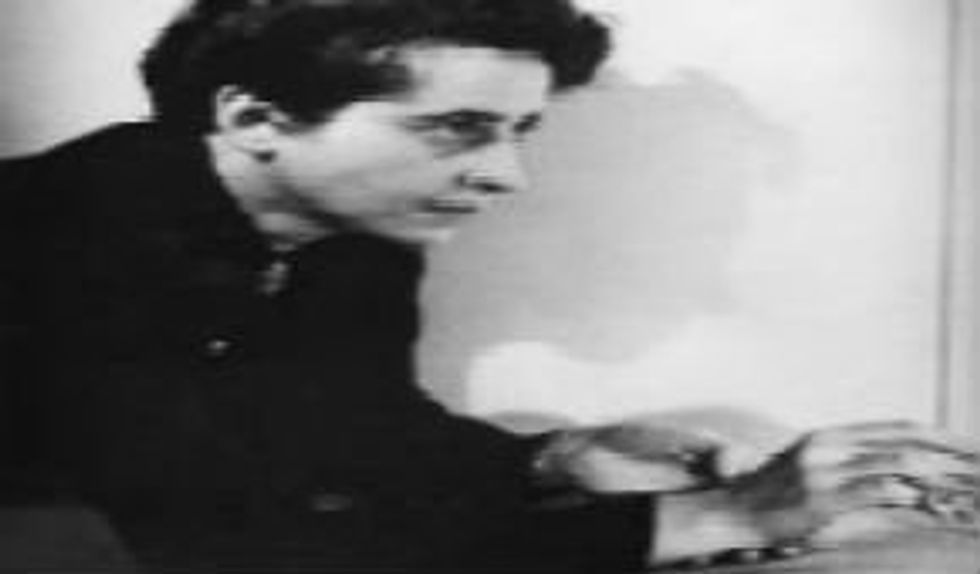 Another great philosopher who didn't consider herself one. The German born Arendt, who escaped Vichy France for New York, wrote extensively on totalitarianism during her life. Her magnum opus, The Origins of Totalitarianism, analyzes and explains how such governments come to power. Likewise, her book Eichmann in Jerusalem, considers how the most average of men can be made evil in the right conditions. She also wrote on other political subjects, such as the American and French revolutions, and offered a critique of the idea of human rights.
"Under conditions of tyranny it is far easier to act than to think."

 
 4.      Philippa Foot (1920-2010)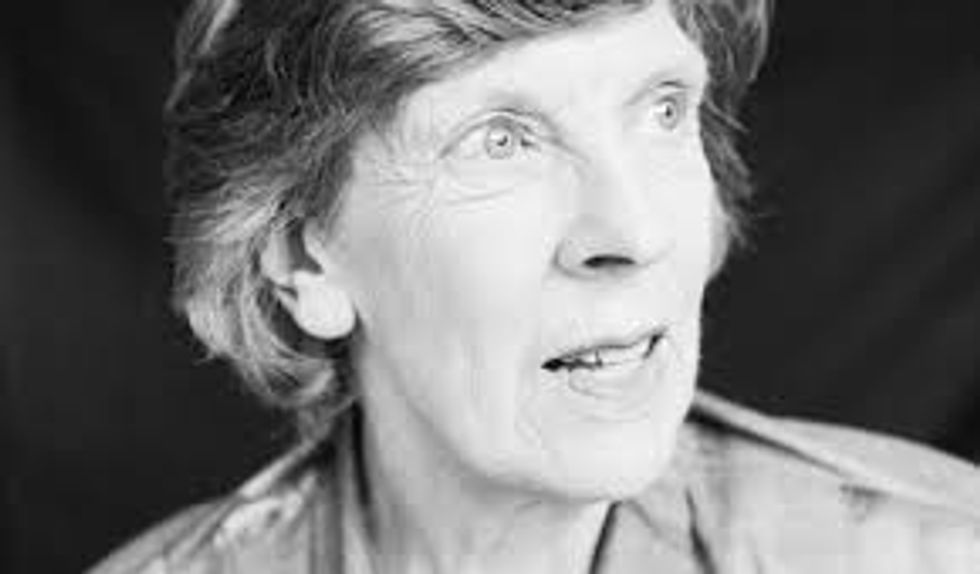 An English philosopher working out of Oxford and UCLA, she is often credited with sparking a revival in Aristotelian thought. Her work in ethics is extensive and well known: she wrote the trolley problem. Over her lifetime she worked with many philosophers (including our next entry), and heavily influenced many living philosophers. A collection of her essays, Virtues and Vices, is a key document for the recently revitalized interest in virtue ethics.
"You ask a philosopher a question and after he or she has talked for a bit, you don't understand your question anymore." 
 5.      G.E.M Anscombe (1919-2001)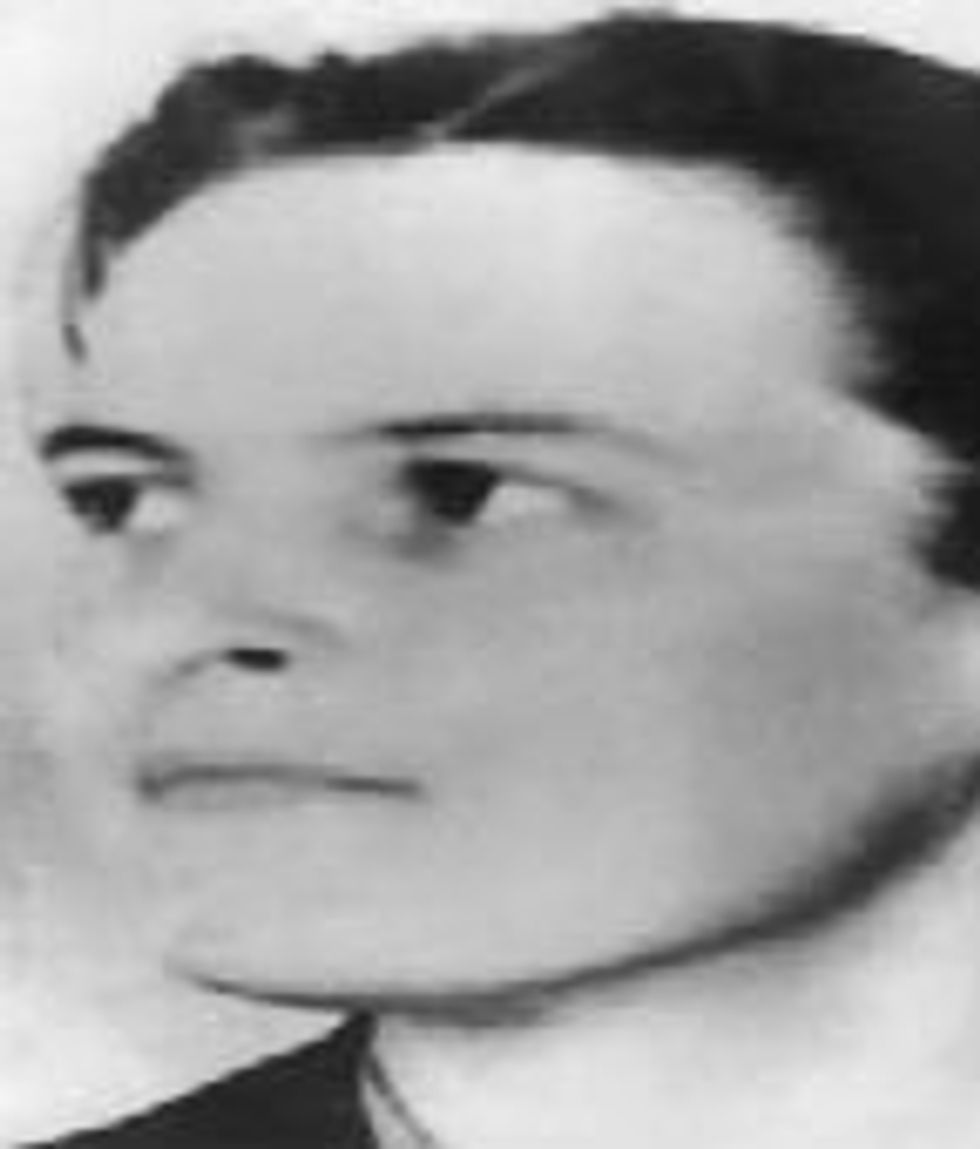 A British philosopher working out of Oxford who wrote about everything she could lay her hands on, including logic, ethics, meta-ethics, the mind, language, and war crimes. Her greatest work was Intention, a series of papers showing how what we intend to happen has a great effect on our ethical standing. Her groundbreaking work Modern Moral Philosophy, has influenced modern ethical work extensively; it was here that she invented the word consequentialism. She also debated many famous thinkers, including Phillipa Foot. She was also a notable firebrand, protesting both Harry Truman and local abortion clinics.
"Those who try to make room for sex as mere casual enjoyment pay the penalty: they become shallow."
 6.      Mary Wollstonecraft (1759-1797)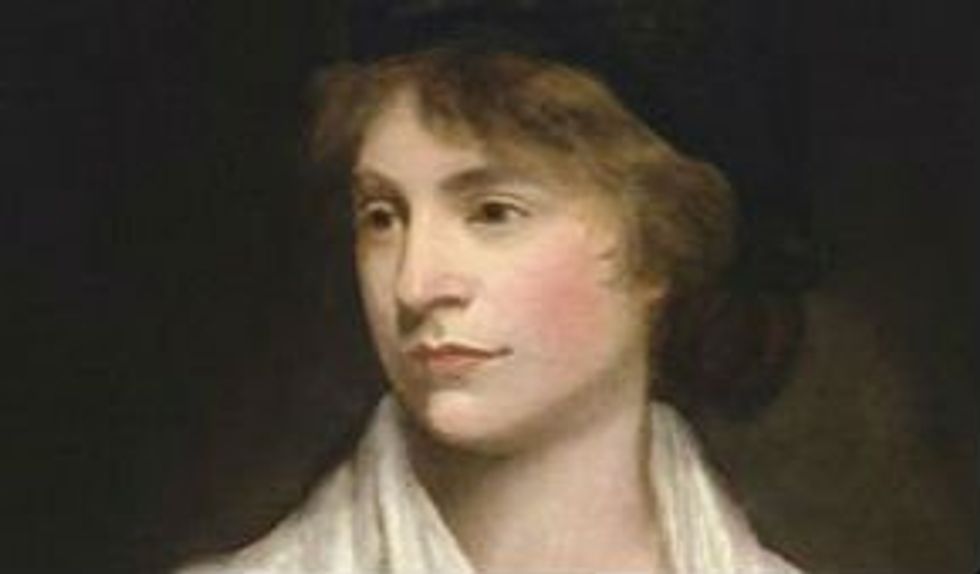 An English philosopher and popular writer, she was the author of A Vindication of the Rights of Men, a defense of the French Revolution against Burke; and A Vindication of the Rights of Woman, an answer to those who argued against the education of women. She was, in some ways, the first feminist philosopher. She also wrote several novels, travel guides and a children's book. She died from complications of childbirth at age 38. That birth gave us her daughter, who was also a noted writer: Mary Shelly, author of Frankenstein.
"Virtue can only flourish amongst equals."
 7.      Anne Dufourmantelle (1964-2017)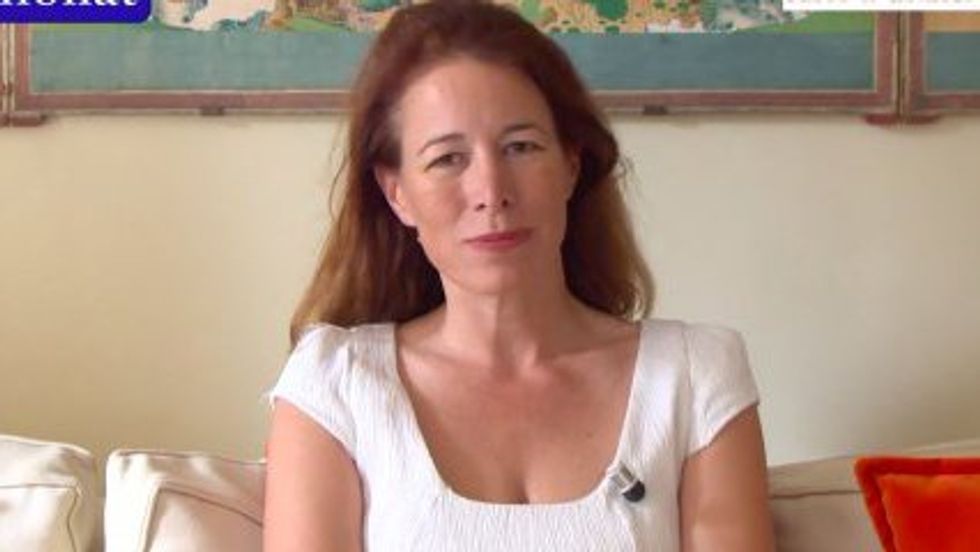 Image: Librairie Mollat
A French philosopher and psychoanalyst, her philosophy was based on risk taking. Particularly, the notion that to truly experience life we must take risks, often considerable ones. She discussed the notion of "security" which frowns on risk while also leaving a void in our existence. She was the author of 30 books, has many interesting lectures, and died as she lived.
"When there is really a danger to be faced, there is a very strong incentive to devotion, to surpassing oneself." 
 8.      Harriet Taylor Mill (1807-1858)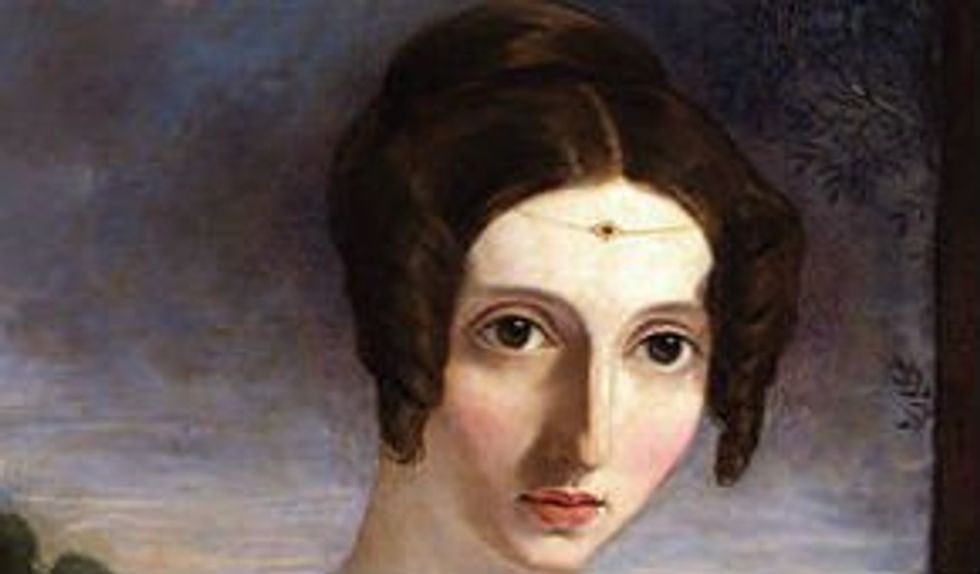 Wife of John Stuart Mill, Harriet Mill was a philosopher in her own right. Despite publishing few works during her lifetime, her influence on her husband's work is undeniable. Her essay The Enfranchisement of Women is a precursor to Mill's later work The Subjection of Women and makes many of the same points. John Stuart Mill's masterpiece On Liberty is dedicated to her, and by his admission partly written by her.
"All my published writings were as much my wife's work as mine; her share in them constantly increasing as years advanced." — J.S. Mill
 9.       Kathryn Gines (Born 1978)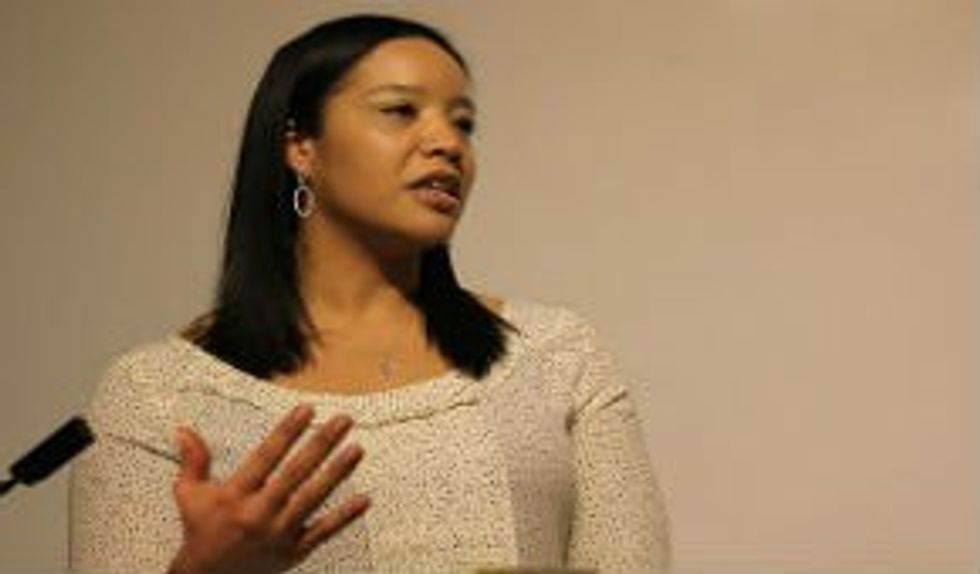 A Philosopher working out of Pennsylvania State University, Gines has written a book on Hannah Arendt's philosophy. A continental philosopher, she has written extensively on Africana philosophy, black feminism, and phenomenology. A collection of her work can be found here.
10.   Carol Gilligan (Born 1936)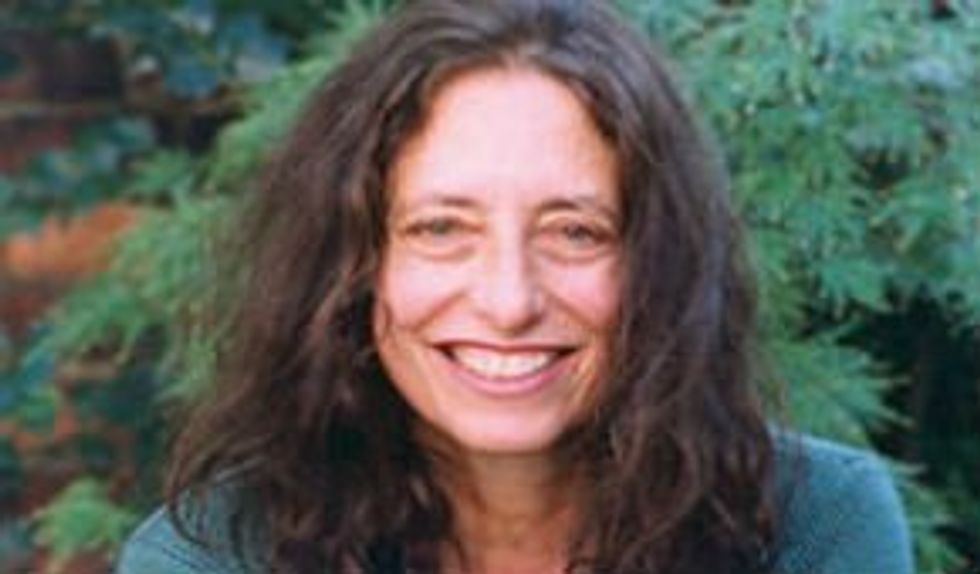 The founder of the school of care ethics, Gilligan's work In a Different Voice has been called "The little book that started a revolution." Her work questions the value of universal standards of morality, such as fairness or duty, seeing them as impersonal and distant from our problems. She instead proposes that we consider relationships and our interdependence in moral actions.  
"I've found that if I say what I'm really thinking and feeling, people are more likely to say what they really think and feel. The conversation becomes a real conversation."