None of these steps are quick or easy, but practice and online courses can help.
Many of my best friends think that some of my deeply held beliefs about important issues are obviously false or even nonsense. Sometimes, they tell me so to my face. How can we still be friends? Part of the answer is that these friends and I are philosophers, and philosophers learn how to deal with positions on the edge of sanity. In addition, I explain and give arguments for my claims, and they patiently listen and reply with arguments of their own against my – and for their – stances. By exchanging reasons in the form of arguments, we show each other respect and come to understand each other better.
Philosophers are weird, so this kind of civil disagreement still might seem impossible among ordinary folk. However, some stories give hope and show how to overcome high barriers.
One famous example involved Ann Atwater and C P Ellis in my home town of Durham, North Carolina; it is described in Osha Gray Davidson's book The Best of Enemies (1996) and a forthcoming movie. Atwater was a single, poor, black parent who led Operation Breakthrough, which tried to improve local black neighbourhoods. Ellis was an equally poor but white parent who was proud to be Exalted Cyclops of the local Ku Klux Klan. They could not have started further apart. At first, Ellis brought a gun and henchmen to town meetings in black neighbourhoods. Atwater once lurched toward Ellis with a knife and had to be held back by her friends.
Despite their mutual hatred, when courts ordered Durham to integrate their public schools, Atwater and Ellis were pressured into co-chairing a charrette – a series of public discussions that lasted eight hours per day for 10 days in July 1971 – about how to implement integration. To plan their ordeal, they met and began by asking questions, answering with reasons, and listening to each other. Atwater asked Ellis why he opposed integration. He replied that mainly he wanted his children to get a good education, but integration would ruin their schools. Atwater was probably tempted to scream at him, call him a racist, and walk off in a huff. But she didn't. Instead, she listened and said that she also wanted his children – as well as hers – to get a good education. Then Ellis asked Atwater why she worked so hard to improve housing for blacks. She replied that she wanted her friends to have better homes and better lives. He wanted the same for his friends.
When each listened to the other's reasons, they realised that they shared the same basic values. Both loved their children and wanted decent lives for their communities. As Ellis later put it: 'I used to think that Ann Atwater was the meanest black woman I'd ever seen in my life … But, you know, her and I got together one day for an hour or two and talked. And she is trying to help her people like I'm trying to help my people.' After realising their common ground, they were able to work together to integrate Durham schools peacefully. In large part, they succeeded.
None of this happened quickly or easily. Their heated discussions lasted 10 long days in the charrette. They could not have afforded to leave their jobs for so long if their employers (including Duke University, where Ellis worked in maintenance) had not granted them time off with pay. They were also exceptional individuals who had strong incentives to work together as well as many personal virtues, including intelligence and patience. Still, such cases prove that sometimes sworn enemies can become close friends and can accomplish a great deal for their communities.
Why can't liberals and conservatives do the same today? Admittedly, extremists on both sides of the current political scene often hide in their echo chambers and homogeneous neighbourhoods. They never listen to the other side. When they do venture out, the level of rhetoric on the internet is abysmal. Trolls resort to slogans, name-calling and jokes. When they do bother to give arguments, their arguments often simply justify what suits their feelings and signals tribal alliances.
The spread of bad arguments is undeniable but not inevitable. Rare but valuable examples such as Atwater and Ellis show us how we can use philosophical tools to reduce political polarisation.
The first step is to reach out. Philosophers go to conferences to find critics who can help them improve their theories. Similarly, Atwater and Ellis arranged meetings with each other in order to figure out how to work together in the charrette. All of us need to recognise the value of listening carefully and charitably to opponents. Then we need to go to the trouble of talking with those opponents, even if it means leaving our comfortable neighbourhoods or favourite websites.
Second, we need to ask questions. Since Socrates, philosophers have been known as much for their questions as for their answers. And if Atwater and Ellis had not asked each other questions, they never would have learned that what they both cared about the most was their children and alleviating the frustrations of poverty. By asking the right questions in the right way, we can often discover shared values or at least avoid misunderstanding opponents.
Third, we need to be patient. Philosophers teach courses for months on a single issue. Similarly, Atwater and Ellis spent 10 days in a public charrette before they finally came to understand and appreciate each other. They also welcomed other members of the community to talk as long as they wanted, just as good teachers include conflicting perspectives and bring all students into the conversation. Today, we need to slow down and fight the tendency to exclude competing views or to interrupt and retort with quick quips and slogans that demean opponents.
Fourth, we need to give arguments. Philosophers typically recognise that they owe reasons for their claims. Similarly, Atwater and Ellis did not simply announce their positions. They referred to the concrete needs of their children and their communities in order to explain why they held their positions. On controversial issues, neither side is obvious enough to escape demands for evidence and reasons, which are presented in the form of arguments.
None of these steps is easy or quick, but books and online courses on reasoning – especially in philosophy – are available to teach us how to appreciate and develop arguments. We can also learn through practice by reaching out, asking questions, being patient, and giving arguments in our everyday lives.
We still cannot reach everyone. Even the best arguments sometimes fall on deaf ears. But we should not generalise hastily to the conclusion that arguments always fail. Moderates are often open to reason on both sides. So are those all-too-rare exemplars who admit that they (like most of us) do not know which position to hold on complex moral and political issues.
Two lessons emerge. First, we should not give up on trying to reach extremists, such as Atwater and Ellis, despite how hard it is. Second, it is easier to reach moderates, so it usually makes sense to try reasoning with them first. Practising on more receptive audiences can help us improve our arguments as well as our skills in presenting arguments. These lessons will enable us to do our part to shrink the polarisation that stunts our societies and our lives.
Walter Sinnott-Armstrong
This article was originally published at Aeon and has been republished under Creative Commons.
Research from my PrejudiceLab at Goldsmiths, University of London shows that people who score high on the collective narcissism scale are particularly sensitive to even the smallest offences to their group's image.
The first issues of the German version of French satirical weekly Charlie Hebdo are for sale at a newsstand in Berlin. Photo credit: JOHN MACDOUGALL/AFP/Getty Images
In 2007, a British school teacher in Sudan received a jail sentence under Sharia law because she allowed her pupils to name a classroom teddy-bear 'Muhammad'. The day after the sentence was announced, more than 10,000 people took to the streets of Khartoum demanding the teacher's execution for blasphemy. While alternative explanations existed – the name Muhammad was chosen by children's voting, it is a popular male name in Sudan – the teacher faced such disproportionate hostility because some people interpreted her actions as an insult to their whole group.
In 2014, a production team from the British TV series Top Gear was forced out of Argentina by angry protesters offended by the licence plate on one of the show's cars. It read 'H982 FKL', which the Argentinians saw as a sneering allusion to the 1982 Falklands war with the UK. Naturally, this could have been a coincidence or a mistake, but it was interpreted as an insult to Argentina, and followed by retaliatory hostility. 
In these examples, those who felt that their group had been insulted must have held the group in high esteem. But not all who hold their group in high esteem feel insulted and retaliate after real or imagined threats to their group's image. So why do some feel that their group was insulted while others do not? And why do some feel that their group has been insulted even when no insult was intended and alternative explanations have been offered?
Research from my PrejudiceLab at Goldsmiths, University of London shows that people who score high on the collective narcissism scale are particularly sensitive to even the smallest offences to their group's image. As opposed to individuals with narcissistic personality, who maintain inflated views of themselves, collective narcissists exaggerate offences to their group's image, and respond to them aggressively. Collective narcissists believe that their group's importance and worth are not sufficiently recognised by others. They feel that their group merits special treatment, and insist that it gets the recognition and respect it deserves. In other words, collective narcissism amounts to a belief in the exaggerated greatness of one's group, and demands external validation.
Collective narcissists are not simply content to be members of a valuable group. They don't devote their energy to contributing to the group's betterment and value. Rather, they engage in monitoring whether everybody around, particularly other groups, recognise and acknowledge the great value and special worth of their group. To be sure, collective narcissists demand privileged treatment, not equal rights. And the need for continuous external validation of the group's inflated image (a negative attribute) is what differentiates collective narcissists from those who simply hold positive feelings about their group.
In Turkey, collective narcissists enjoyed Europe's economic crisis because they felt offended by their country being denied membership of the EU. In Portugal, collective narcissists rejoiced in the German economic crisis because they felt their country was slighted by Germany's position in the EU. Stretching the definition of intergroup offence even further, collective narcissists in Poland targeted the makers of the Polish film Aftermath (2012) for telling the story of the Jedwabne massacre of 1941 in which villagers set fire to their Jewish neighbours, and then blamed the Nazis. Even a petty transgression such as the film's lead actor joking about the country's populist government (whom Polish collective narcissists support) was met with threats of physical punishment and online abuse.
When their own group is involved, collective narcissists have no sense of humour. They are disproportionately punitive in responding to what they perceive as an insult to their group, even when the insult is debatable, not perceived by others, or not intended by the other group. Unlike individual narcissists, collective narcissists cannot dissociate themselves from an unpopular or criticised group. Once their self-worth is invested in the greatness of their group, collective narcissists are motivated by enhancing their group rather than themselves.
My team researched collective narcissism as a characteristic that pertains to an individual. We believe that there will always be a proportion of people in any given population who meet the criteria. But collective narcissism can also seize an entire group, resulting in seemingly sudden and unprovoked outbursts of intergroup rage or prejudiced reactions towards minority groups. We believe that collective narcissism is most dangerous as a group syndrome – when the belief that the righteous group is not given its due acknowledgement becomes shared by the majority of group members and becomes a dominant narrative about the group's past and present.
Such collective narcissism is so toxic it explains phenomena such as anti-Semitism and perhaps even two world wars. It might explain the 2015 terrorist attack on the headquarters of Charlie Hebdo, the French satirical weekly that published controversial caricatures of the prophet Muhammad. Recent research by Katarzyna Jaśko and her colleagues at the National Consortium for the Study of Terrorism and Responses to Terrorism at the University of Maryland, College Park demonstrates that collective narcissists in radicalised social networks are ready to engage in political violence and terrorism.
But collective narcissism explains political behaviour in established democracies, too. Recent research indicates that national collective narcissism was implicated in voting behaviour in the Unites States: apart from partisanship, this was the strongest factor predicting voting for Donald Trump in the 2016 US presidential election. Collective narcissism also explained the Brexit vote in 2016, because it predicted fear of immigrants and foreigners.
Recently, scientists at the University of Pennsylvania scanned narcissists' brains with fMRI and found physiological evidence that their experience of social rejection was particularly hurtful, despite their denials to the contrary. This is so important because other new findings show that people derive emotional pleasure from responding to rejection with aggression. It is likely, although it remains to be confirmed, that collective narcissists feel similarly distressed when their group is criticised, rejected or otherwise undermined. They can be particularly tempted to use aggression to reduce their distress.
Can we find alternative ways of reducing the link between collective narcissism and a tendency to react with retaliatory intergroup hostility to trivial acts and events? Answering this question is the topic of our ongoing research for my team at Goldsmiths. If we could learn to deactivate the hostility felt by people who score high on the collective narcissism scale, we might also learn to defuse and de-radicalise collective narcissistic groups.

Agnieszka Golec de Zavala
--
This article was originally published at Aeon and has been republished under Creative Commons.
Four-year-old Leo Griffin leaves a protest against the alt-right movement in Charlotesville, Virginia. (Photo by Scott Olson/Getty Images)
A string of terror attacks across the globe have shaken the world's most powerful nations to their core. As a result of these tragic events, and the fear-mongering from politicians hoping to exploit them, many feel that an existential threat is nigh.
To make matters worse, a highly influential and experimentally verified theory from social psychology predicts that, as long as an existential threat looms, the world will grow ever more divided and increasingly hostile. Terror management theory (TMT) explains how and why events that conjure up thoughts about death cause people to cling more strongly to their cultural worldviews – siding with those who share their national, ethnic or political identity, while aggressively opposing those who do not.
Consequently, sharp increases in deadly terror attacks around the world serve to create a sweeping psychological condition that sets the stage for waves of far-Right nationalist movements that encourage prejudice, intolerance and hostility toward dissimilar others.
Europe's nationalist surge, Brexit in the United Kingdom and the presidency win for Donald Trump in the United States are just the most recent demonstrations of TMT, first proposed by social psychologists in the 1980s and derived from cultural anthropologist Ernest Becker's Pulitzer Prize-winning work of philosophy and psychology, The Denial of Death (1973).
Becker's big idea was that much of human action is motivated by a fear of death. Unlike other animals, which lack higher cognition and the ability to reflect, humans recognise the inevitability of their own death. The conflict that results from this realisation and the natural desire to live produces cognitive dissonance that causes profound terror and anxiety. According to Becker, humans invented culture as a buffer for the terror. By adopting cultural worldviews that instil life with meaning and value, one can effectively manage the subconscious dread that is always bubbling below the surface.
While religions offer a path to literal immortality through the belief in an afterlife, non-religious cultural worldviews – such as political ideologies and national identities – provide paths to symbolic immortality. Symbolic immortality refers to being part of something larger that will ultimately outlive the individual, such as a great nation or a movement with a collective identity and pursuit. Much of human effort is dedicated to acts that might help one be remembered by groups or society long after death.
Of course, no matter how logical or intriguing a theory might sound, it is merely speculation if it makes no testable predictions that can be confirmed or disproven by experiment and measurement. What might be most impressive about TMT is how much success it has had in the laboratory. Hundreds of empirical studies have provided support for the theory by confirming something called the mortality salience hypothesis.
According to this hypothesis, if we do in fact adopt cultural worldviews to curb a fear of death – as TMT posits – then reminders of our mortality should produce actions that serve to strengthen faith in our worldviews. Specifically, death reminders should motivate individuals to invest more in groups to which they belong and, conversely, to act more aggressively towards those with different cultural worldviews and national or ethnic identities.
A particularly amusing experiment used hot sauce to measure the phenomenon. Students were broken into two groups and asked to write an essay about their own death or another, more benign topic. They were then presented with someone who did or did not disparage their political views, and asked to decide on the amount of mouth-burning hot sauce that person should have to consume. In line with TMT and the mortality salience hypothesis, participants who'd written about death allocated a large dollop of hot sauce to those who didn't share their worldview, while those in the control condition did not.
Another mortality salience study on aggression conducted on both Iranian and US college students shows disturbing results. One group of students was asked to 'jot down, as specifically as you can, what you think will happen to you as you physically die,' and to describe the emotions aroused. Participants in the control condition were given similar questions related to dental pain. The results showed that Iranian students who were made to think about death were more supportive of martyrdom attacks against the US, while those in the control condition opposed them. Similarly, death reminders made US students who identified as politically conservative more supportive of extreme military attacks on foreign nations that could kill thousands of civilians.
From these findings, it is easy to see how nations under attack can quickly grow more divided and increasingly hostile towards those from outside cultures. In fact, studies have shown that mortality salience can amplify nationalism and intensify bias against other groups. Evidence suggests that reminders of death can even influence elections, pushing voters to favour candidates on the Right. Five weeks before the 2004 US presidential election, scientists conducted studies on New Jersey voters to see whether mortality reminders influenced voting directly. Participants were given the same questions about death as the Iranian students in the previously mentioned study, while those in the control condition received parallel questions about watching television. What they found was pretty astonishing. Those voters prompted to think of death said they intended to vote for George W Bush, the hawkish conservative president, by a three-to-one margin; those prompted to think about TV strongly favoured the Left-wing challenger, John Kerry. Such results could help to explain why, after the terror attacks of 11 September 2001, Bush went from having some of the lowest approval ratings ever to being extremely popular with both Republicans and Democrats.
So what does this all mean for the world today? If massively destructive terror attacks continue, terror management theory predicts that societies will grow exponentially more chaotic and divided. Heightened aggression towards dissimilar others produces a tendency to favour war over peace. Right-wing nationalism will thrive along with prejudice and intolerance. Islamic fundamentalism will flourish while terror attacks grow more frequent. Raised tensions between nations, ethnicities and political groups will lead to further conflict, creating a devastating feedback loop of suspicion and violence.
But it is critical that we not lose optimism in these challenging times. By becoming cognisant of the inflammatory and divisive effect that death reminders and perceived existential threat have on all of us, we can begin to take steps toward defending against it. After each terrorist attack we must actively work to unite groups with different nationalities, ethnicities and cultural worldviews. We must help build bridges between dissimilar communities, and discourage ideas such as immigration bans. And we must be conscious of the way some politicians use fear-mongering and propaganda to manipulate voters. Such efforts, combined with a calm and cool temperament, can help manage the terror of mortality in ways that preserve rationality, compassion and peace.

Bobby Azarian
--
This article was originally published at Aeon and has been republished under Creative Commons.
New research claims religious terrorism is on the rise, and it appears that it's going to get worse before we see a decline in such horrendous acts.
In the latest episode of Common Sense, Dan Carlin considers what's being lost in the current age of terrorism. He posits the idea that America would look much different right now had 9/11 never occurred—terror as a main driver causing the rift between Left and Right. The word "terror" not even need be spoken to feel it lurking behind so much of our discontent. 
That's because, he continues, terrorists take advantage of our "human reaction," which is, namely, security at any cost. The payment for this security, real or imagined, is huge:
To be so afraid turns off your natural filters. You no longer think what you're sacrificing for this extra security is valuable at all. 
What makes terrorism "so particularly abhorrent," he continues, "is that it strikes against innocence." In one of the best debates I've heard on this topic, Fareed Zakaria recently appeared on Sam Harris's podcast. The two have long been at odds on Islamic terrorism. Zakaria reminds Harris that the predominant number of victims are Muslim, many, which Carlin also points out, are children.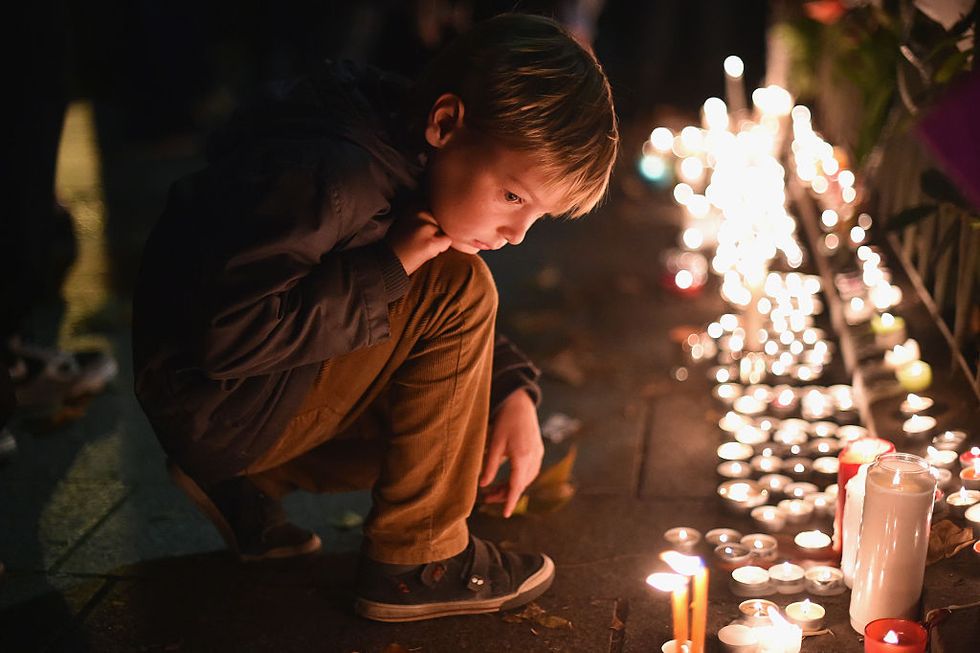 A young boy views tributes left opposite the main entrance of Bataclan concert hall in Paris, France.
Carlin believes there are two ways out of this mess. The first is to normalize terrorism and adjust, which he considers the safer option. The worse road—one we're witnessing evidence of regularly—is to allow terrorists to morph society in ways that forces citizens to act in ways we never would have had terrorism never existed. This means, for one, how we treat one another. 
While the Zakaria-Harris conversation becomes heated (though never disrespectful), they agree that peaceful resolution is the goal—a lofty ambition, but ultimately the saving grace. Zakaria grew up Muslim in India, which he claims is predominantly secular. While he's an atheist he advocates for not generalizing Muslims in one category nor denying their religiosity. Citing ancient scriptures as if all of Islam follows those codes today is his main criticism of Harris.
Yet new research claims religious terrorism is on the rise, and it appears that it is going to get worse before we see a decline in such horrendous acts. Whereas terrorism in the sixties was predominantly secular, writes University of California, Berkeley lecturer Bruce Newsome, the nineties gave birth to a new breed of religious terrorism, a wave that led to a more recent uptick which he dubs "newest terrorism."
He makes the distinction in part between how terrorists today strike quickly instead of prolonging events with hijackings and hostages. 
While the new terrorists prioritized spectacular lethality in long-planned hijackings or bombings of mass transit, offices or hotels, the "newest" terrorists encourage more frequent active violence, hostage-takings and kidnappings. They seek to kill in the most horrifying ways.
This means walking into a club and opening fire, driving a van through a crowded sidewalk, and taking a machete to passerby. More frequent small attacks are usurping large-scale 9/11-style tragedies, keeping us on constant alert, always on edge in fear of a suicide bomber or suspicious driver just around the corner. 
And while Zakaria is certainly right that many Muslims do not promote such heinous acts, Newsome notes that religion is the catalyst. It is common to hear claims that these attacks "are not real religion," a mistake that Harris, among others, frequently points out. Newsome writes that religious terrorists are more violent and deadly than secular counterparts, and that we should take them at their word. 
For example, Newsome crunched 46 years of hostage data to find that secular terrorists released hostages 51 percent of the time compared to 31 percent by religious terrorists. Twice as many people die in the hands of the religious; the religious kill more people while deploying fewer terrorists per event. Since religious terrorists are more likely to be willing to die or commit suicide in the process, maximizing death and destruction is a stated and lauded goal. 
And, of course, religious terrorists are social media experts, consummate marketers, both online and on the ground: 
We found that newest terrorists choose more public targets, such as theaters and shopping malls, theoretically in pursuit of higher lethality and terror. Old terrorists choose more politically useful or symbolic targets, such as government buildings or military barracks.
Newsome predicts that terrorism is going to get worse in the coming years. Religious extremism combined with an ability to build and access weapons and ease of communication are the culprits. It might be some time before we witness another 9/11 (if ever), but the uptick in smaller attacks appears to be imminent. How we deal with that fact—normalizing it; committing atrocities in the name of security; spreading secular education broadly—will be our great challenge in the coming years.
--
Derek's next book, Whole Motion: Training Your Brain and Body For Optimal Health, will be published on 7/17 by Carrel/Skyhorse Publishing. He is based in Los Angeles. Stay in touch on Facebook and Twitter.
A religious person without a sense of humor? That's a dangerous combination.
How can each religion be right and have conflicting beliefs? That, says Dave Barry, is why a sense of humor is crucial for religions to peacefully co-exist. Being able to laugh a little at our own behavior keeps us flexible, and religion really only becomes a danger when it's too rigid or is imposed on others. When a situation is tense in any area of life, humor is one of the most reliable ways to defuse it and find common ground again. The same goes for religion. Dave Barry is the co-author of For This We Left Egypt?.