The ESO finds another exoplanet that's definitely not a place for us to go.
WASP-76b is an extremely hot planet whose cooler side has a surface temperature of 1,500° C (2732° F).
Iron that evaporates in the heat of the planet's day side rains down in molten form on the night side.
ESO learned more about the planet's intense climate thanks to its new ESPRESSO (Echelle Spectrograph for Rocky Exoplanet and Stable Spectroscopic Observations) instrument.
She may not be ours forever.
Photo credit: Tom White / Getty Images
A new study suggests that the moons of gas-giant exoplanets may break away into their own orbits, called "ploonets."
Planet + moon = ploonet.
As the gas giants move inward toward their suns, the orbits of their moons are often disrupted, according to new computer models.
While exoplanets appear to be plentiful outside our solar system, the moons that we might expect to be orbiting them are another story. Indeed, last spring it looked like astronomers had finally found one — it was dubbed Neptmoon because of its great size — but that finding now appears less certain.
In light of this quandary, a new paper, published on June 27, looks at what might be happening to "exomoons" that orbit large gas-giant planets migrating inward toward their stars, such as our own Jupiter seems to have done.
The researchers — astrophysicist Mario Sucerquia and colleagues — hypothesize that these satellites break free of their tidal connection to their "parent" planets as they move nearer to their sun. The paper suggests that, at this point, they're not quite moons anymore — or planets — but "ploonets."
What's more, our own moon, the researchers say, may meet a similar fate one day, even though Earth isn't a gas giant. Warns Sucerquia:
"Earth's tidal strength is gradually pushing the moon away from us at a rate of about 3 centimeters a year. Therefore, the moon is indeed a potential ploonet once it reaches an unstable orbit."
Image source: JPL/BigThink
The research in the new paper is grounded on the manner in which large gas giants have been observed to slowly move inward through their solar systems toward their respective suns. It suggests that, as such a body draws close to the star, its moon's orbit — affected at that juncture by both the gravitational pull of the planet and the host star — experiences an increase in energy, which becomes unstable. This, eventually, releases the moon from the gravitational bonds of its parent parent.
Further, the paper's conclusions are based on a series of computer simulations that researchers conducted regarding what would happen to a moon orbiting a migrating gas giant. What was discovered?

The models found that 44 percent of the moons would meet their demise by being pulled into their planets (this could explain some of the planetary rings that have been observed). The system's star would seize and destroy another 6 percent. Significant amount of exomoons, however, — about 48 percent of them — would split off from their planets and begin orbiting their star as "ploonets." Around 2 percent would be blown out of their solar system altogether.
This would certainly explain why we haven't definitively found any evidence of exomoons yet.
A machine learning algorithm has shown it can discover planets from weak signals overlooked in the Kepler spacecraft's database.
The Kepler planetary system and ours. Credit: NASA/Ames Research Center/Wendy Stenzel
Humans in the Western world for a long time thought that Earth was the center of the universe. At one point, it was heresy not to think so. After the heliocentric universe was adopted, we felt smaller and less self-important. But we'd also gained something, new knowledge and a new avenue in which to explore the heavens. That was a paradigm shift in our understanding and now, it's happening again.
We know now today that our planet isn't special in certain other respects. In terms of inhabiting a "goldilocks zone" which could harbor life, Earth is not the only planet that's neither too hot nor too cold. Liquid water and an atmosphere are no longer considered luxuries, either. In short, given this and the mathematical possibilities, many scientists believe it's only a matter of time before we find life somewhere else. After all, hundreds of billions of stars inhabit our galaxy alone, which assumes hundreds of planets the right size within the habitable zone. And that's a very conservative assessment.  
Kepler is a space telescope designed to scour a section of the Milky Way in order to find exoplanets. An exoplanet is one found beyond our solar system. Before Kepler, astronomers were wondering if planets themselves were common or rare. Launched in 2009, Kepler has discovered over 2,500 confirmed exoplanets, and 30 in the habitable zone—each less than twice the size of Earth. Today, there are currently 3,500 confirmed exoplanets total.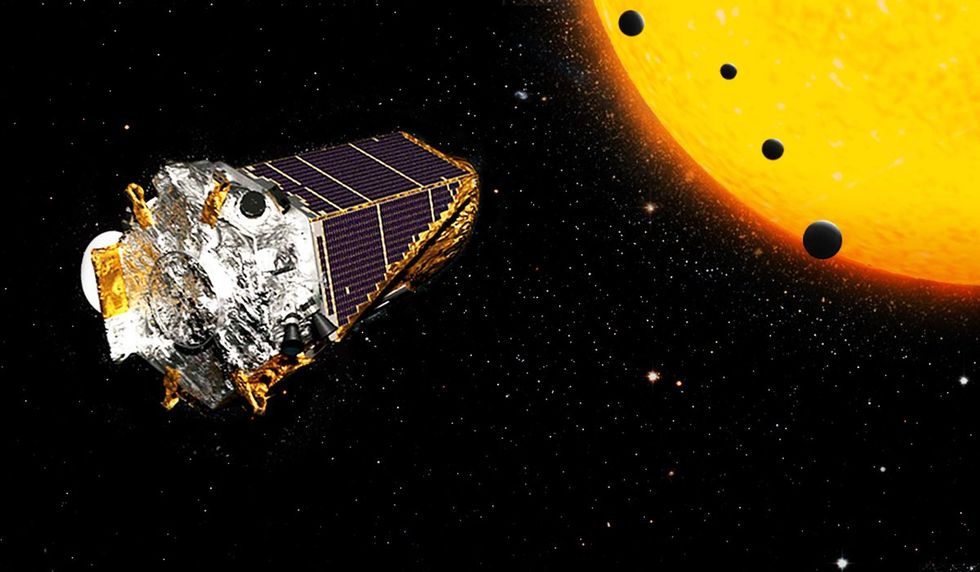 The Kepler spacecraft. Credit: NASA.
The problem with Kepler is that it collected reams of reams of data, so much that no one could go through it all. Scientists chose to select those candidates with strong signals. Weak signals could be a treasure trove for A.I., however. So Christopher Shallue, a senior software engineer at Google Brain, and Andrew Vanderburg, a NASA Sagan Postdoctoral Fellow at the University of Texas at Austin, decided to have a crack at it. They employed machine learning, a fascinating new A.I. field that's making some incredible headway. Their A.I. utilizes artificial "neural networks" modeled after our brain, albeit a far simpler version.
In a recent press conference, Shallue and Vanderburg explained how they trained their A.I. program to identify exoplanets from the Kepler database. According to the scientists, you train neural networks not by programming them but by exposing them to what you want them to recognize. For instance, if you want it to identify puppies and kittens, you show it plenty of pictures of them. After a while, it'll get good at recognizing them.
Except, here they didn't show it pets. Instead, they taught it to read minuscule light changes in the brightness of a star which occur when a planet transits or passes in front of it. After enough practice, they let it loose on light recordings captured by Kepler. What the A.I. discovered is that our solar system isn't as unique as we thought. Instead of being the only eight-planet one, we're now one of two (that we know of).
NASA introduced the Kepler 90 system in an historic announcement on December 14, 2017. "The Kepler-90 star system is like a mini version of our solar system. You have small planets inside and big planets outside, but everything is scrunched in much closer," said Andrew Vanderburg, astronomer and NASA Sagan Postdoctoral Fellow at The University of Texas, Austin.
Experts speculate that an eight-planet solar system may in fact be common. It also seems that having a solar system where the smaller planets are in the front and the larger ones in the back, may not be so rare. Hopefully, future explorations can help to understand exactly how planetary systems form, as the discovery of new exoplanets has disrupted many of the theories astronomers developed from studying our solar system.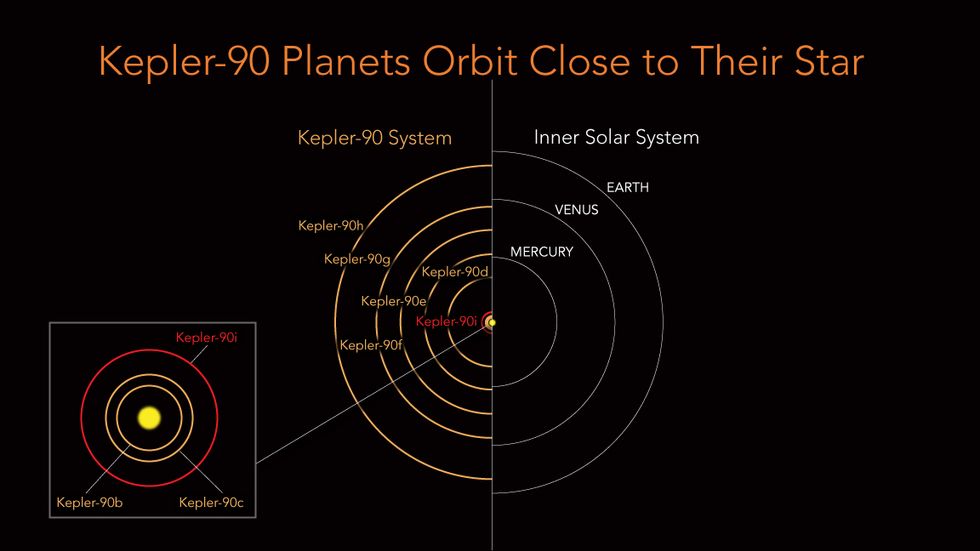 Credit: NASA/Ames Research Center/Wendy Stenzel.
The discovery began with just one planet. The A.I. found a weak transit signal from a planet known as Kepler-90i that had been previously missed. It's in a planetary system called Kepler-90, located in the constellation Draco, some 2,545 light years from Earth. The new planet is extremely hot, with an average surface temperature of 800 degrees Fahrenheit—about as hot as mercury. Its year is incredibly short. It orbits its star once every 14.4 days. This system probably isn't the best candidate for life. What's game changing besides our solar system slipping from its unique place, is the ability to use machine learning to detect previously unrecognized exoplanets. The program also located a 6th planet in the newly discovered TRAPPIST system.
A.I. had been used previously to scour the Kepler database. But these findings show that artificial neural networks are particularly adept at the task. The idea was first posited by Google's Shallue, who while studying astronomy in his free time, heard about how the discipline was drowning in data. "Machine learning really shines in situations where there is so much data that humans can't search it for themselves," he said.
Paul Hertz is the director of NASA's Astrophysics Division in Washington. He said, "Just as we expected, there are exciting discoveries lurking in our archived Kepler data, waiting for the right tool or technology to unearth them." He added, "This finding shows that our data will be a treasure trove available to innovative researchers for years to come." Shallue and Vanderburg consider this a successful proof of concept study. In it, explained in a paper to be published in The Astronomical Journal, the A.I. scanned 670 stars. In the future, they plan to have it study all 150,000 stars Kepler has identified.
Today, we still consider our planet special, as it's the only known place to harbor life. One wonders for how long it'll hold this lofty location. So far, the A.I. used can't determine whether an exoplanet is a good candidate for life. But with technology and computing power moving so fast, that ability shouldn't be too far away.
To see NASA's video of this discovery, click here:
Scientists release observation data from 1,600 stars in hopes the public can help find planets that orbit stars outside our solar system.
If the discovery of 7 new exoplanets with potential for life that were found just outside our solar system got you excited, there's now something you can do personally to help find faraway worlds. A team of research institutions that includes MIT and Carnegie Institution for Science recently made a giant amount of observations available to the public. They are hoping folks can help find exoplanets, which are basically planets that orbit stars outside our solar system. 
The dataset was collected over two decades by the W.M. Keck Observatory in Hawaii and contains close to 61,000 measurements from over 1,600 stars about 325 light years away from us. Along with it you should download the open-source software package, which will help process the data and an online tutorial.
"This is an amazing catalog, and we realized there just aren't enough of us on the team to be doing as much science as could come out of this dataset," says Jennifer Burt, a fellow in MIT's Kavli Institute for Astrophysics and Space Research. "We're trying to shift toward a more community-oriented idea of how we should do science, so that others can access the data and see something interesting."
The scientists have themselves identified 100 potential exoplanets within the data, with Burt saying that there are "no shortage of exoplanets" and a "ton of science to be done." 
"We recently discovered a six-planet system orbiting a star, which is a big number. We don't often detect systems with more than three to four planets, but we could successfully map out all six in this system because we had over 18 years of data on the host star," says Burt. 
A special spectrometer (called HIRES) mounted on a 10-meter telescope splits a star's incoming light into color components - the intensity of the colors allow the scientists to figure out other starlight characteristics. Of particular use is a star's radial velocity, which reflects the star's movements. A regular pattern of movement reveals the presence of an orbiting exoplanet as the gravity of the exoplanet changes the star's velocity.
The dataset currently released will actually continue to grow. It includes a lot of information like the date, measured velocity and other measurements of the star's activity. Armed with the data, the software and the tutorial, any enthusiast can start going through the data to see if they can locate an exoplanet. 
Burt sees the release of the data as a significant event -  
"I think this opens up possibilities for anyone who wants to do this kind of work, whether you're an academic or someone in the general public who's excited about exoplanets," Burt explains. "Because really, who doesn't want to discover a planet?" 
Happy hunting!
Cover photo: In this handout illustration made available on December 5, 2011 by NASA, the Kepler-22b, a planet known to comfortably circle in the habitable zone of a sun-like star is digitally illustrated. (Photo Illustration by Ames/JPL-Caltech/NASA via Getty Images)