The electric car manufacturer says updates to its battery design and manufacturing process will help lower production costs.
Tesla
The high cost of batteries is the main reason why electric vehicles cost more than gas-powered cars.
At the company's 'Battery Day' event on Tuesday, Tesla announced a new battery design that will give its cars more power and a longer range.
The success of Tesla's plan depends on its ability to scale up production.
Cheaper, more efficient batteries. That's what Tesla says will allow it to offer a $25,000 electric car within the next three years. The announcements came at the company's "Battery Day" event on Tuesday afternoon in Palo Alto, California.
"One of the things that troubles me the most is that we don't yet have a truly affordable car, and that is something that we will make in the future," Tesla CEO Elon Musk told a socially distanced audience, who were sitting in cars in a parking lot. "But in order to do that, we've got to get the cost of batteries down."
How to cut costs? Tesla is working on a design update for its batteries, and the company plans to begin manufacturing them in-house. (Panasonic currently produces Tesla batteries.) A key design update is removing a tab within the battery that connects the cell to what it powers.
"You actually have a shorter path length [for the electron to travel] in a large tabless cell than you have in the smaller cell with tabs," Musk said. "So even though the cell is bigger, it actually has more power."
Tesla also plans to lower costs by using nickel instead of cobalt in its cathodes. The company said its new cathode design would reduce costs by about 75 percent, and also remove waste water from the manufacturing process.
What's more, the international cobalt supply is limited, and most of it comes from the Democratic Republic of Congo, where adult and child miners are known to be exploited.
Screenshot of Tesla's 'Battery Day' presentation
Tesla
It's unclear when Tesla will stop using cobalt, or when it will stop sourcing its batteries from Panasonic. But Tesla claims that its new battery design and manufacturing changes will allow it to cut the cost per kilowatt-hour in half. If Tesla can successfully scale up production, the company could hit its goal of $100 per kilowatt-hour sooner than expected.
Hitting that mark could usher in the electric-car revolution, considering $100 per kilowatt-hour is generally regarded as the threshold the industry needs to reach in order to make electric vehicles cost competitive with gas-powered cars.
A $25,000 electric car would also be Tesla's cheapest offering by far. The company had previously promised a $35,000 car, but only offered one at that price for a limited time. Tesla's website says its Model 3, its cheapest car, starts at about $39,000.
Photo of Tesla's new battery design
Tesla
To be sure, Musk is known for promising big on his projects, but not always following through on the promised timetable. But despite having an "insanely hard" 2020, as Musk said, Tesla's had a good past couple years.

"In 2019, we had 50% growth," Musk said at the event. "And I think we'll do really pretty well in 2020, probably somewhere between 30 to 40 percent growth, despite a lot of very difficult circumstances."
Tesla's market cap surpassed that of GM and Ford on April 10, 2017.
Tesla showroom in New York [Photo: Spencer Platt/Getty]
Tesla's market cap reached about $51 billion on April 10, briefly pushing the company ahead of GM and Ford as the most valuable car manufacturer in the U.S.
The news was shocking for a few reasons. Despite their similar valuations, Tesla doesn't produce on par with that of GM and Ford. In 2016, Tesla manufactured about 100 times fewer cars than GM, and Ford reported about 20 times the revenue of Tesla.
So how is Tesla valued so richly?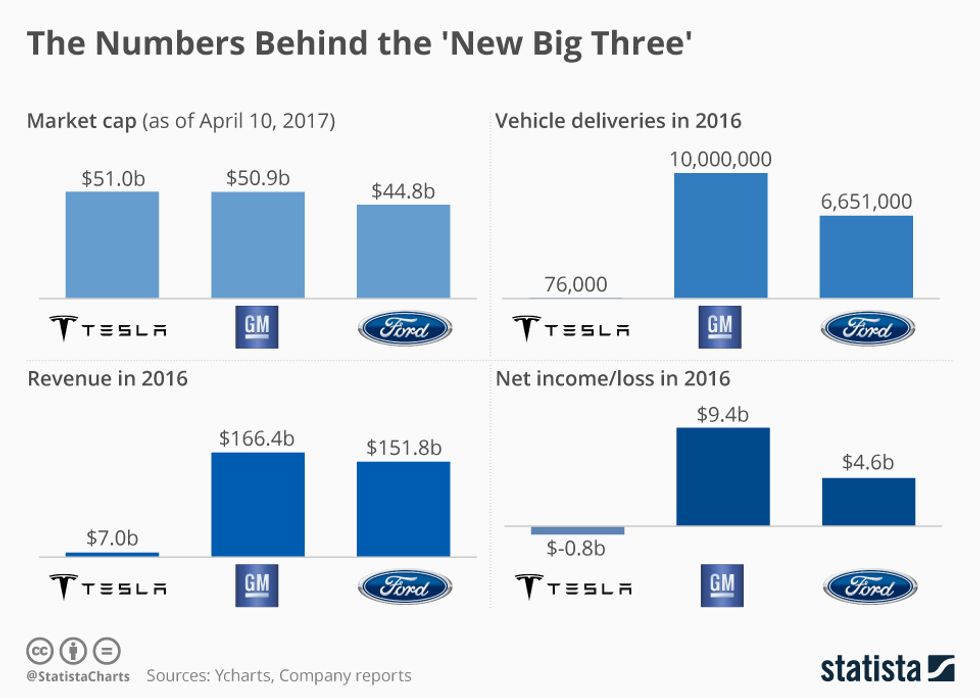 The answer probably lies in how some investors see Tesla as poised to lead the future of the automobile industry. Tesla CEO Elon Musk announced plans to produce 500,000 cars in 2018, and about 1 million by 2020. And while big car manufacturers might follow suit by shifting resources to produce more hybrid and electric cars, Tesla already has the advantage of getting batteries from its own Gigafactory—a massive multibillion-dollar facility that produces lithium-ion batteries on which electric cars run. 

Investors also seem to be confident about Musk's other pursuits. In addition to producing batteries for cars, the Gigafactory makes batteries that could one day substitute traditional electricity sources. The company is also designing solar panels that look like roof tiles and can power entire homes. And, oh yeah, Musk has this little side project where he wants to make mankind an interplanetary species by colonizing Mars through SpaceX.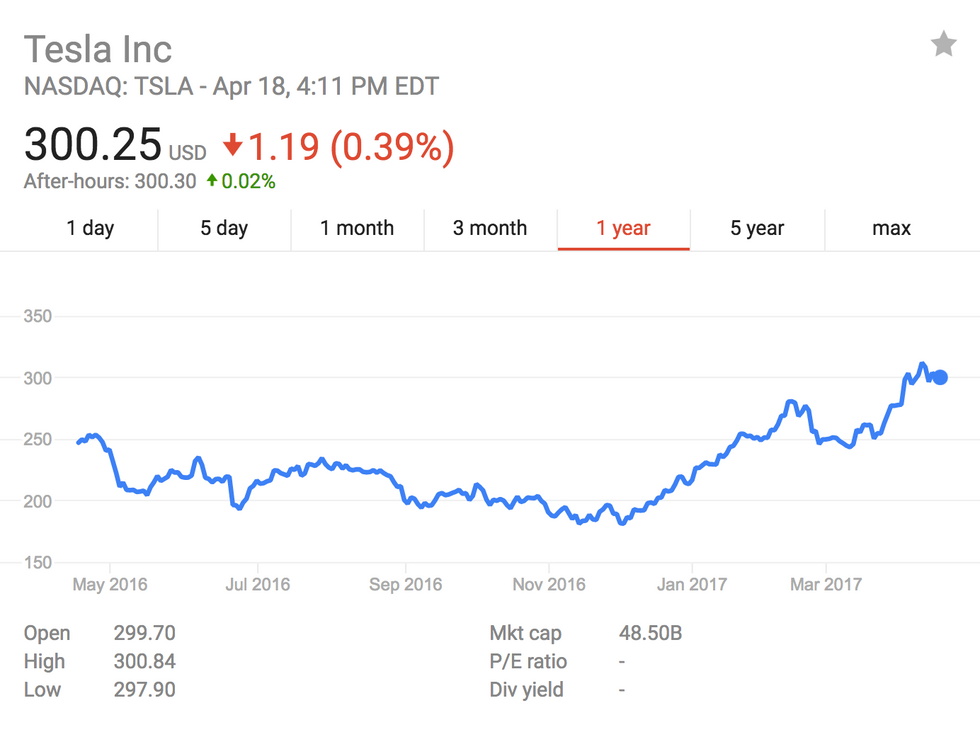 (Google Finance) 
Another reason GM and Ford are valued similarly to Tesla might be due to their mammoth size. Both spend huge amounts on advertising and getting stuck with excess inventory. For instance, Ford and GM spent a combined $7.2 billion on advertising in 2015 — more than Tesla's total revenues of $7 billion in 2016. Meanwhile, Tesla spends little on commercials and sells every car it makes almost instantly. 

But despite Tesla's lean, forward-looking mentality some analysts remain skeptical of its high valuation. And there's reason to be: Tesla has yet to prove it can manufacture its vehicles on a mass scale, Musk might be spread too thin with his job as SpaceX CEO, and it remains unknown if Tesla's Gigafactory investment will pay off. 
Elon Musk has a plan and part of that plan came together when it acquired SolarCity for $2.6 billion.
Elon Musk has a plan and part of that plan came together when it acquired SolarCity for $2.6 billion in November 2016. This deal will ultimately allow Tesla to sell all-electric goods under one, unified brand.
"The transaction is a necessary step toward Tesla's goal of becoming a sustainable energy company," Institutional Shareholder Services Inc., an influential shareholder proxy service, stated in a vote of confidence for Musk's controversial plan.
The Tesla name has become synonymous with sleek all-electric cars (and inventor Nikola Tesla), but Tesla hasn't been just a car company for over a year, ever since Musk stepped on stage to announce Tesla's Powerwall home battery. Since then the company has continued to unveil home-energy products – most recently a re-imagined set of solar tiles for rooftops.
We all know Musk is out to save the human race. This acquisition creates a virtuous cycle. Tesla showrooms will not only become a place where you can look for a new car, but where you can purchase home batteries and solar panels — a one-stop shop for all your home energy needs.
The acquisition makes even more sense when you consider Musk's Master Plan, which he wrote back in 2006:
So, in short, the master plan is:


Build sports car
Use that money to build an affordable car
Use that money to build an even more affordable car
While doing above, also provide zero emission electric power generation options
Don't tell anyone.
Musk has since updated it in July 2016 under the title Master Plan, Part Deux:
Create stunning solar roofs with seamlessly integrated battery storage
Expand the electric vehicle product line to address all major segments
Develop a self-driving capability that is 10X safer than manual via massive fleet learning
Enable your car to make money for you when you aren't using it
It's likely Tesla won't see the benefits from this acquisition for a while. This move is not a get-rich-quick investment, its part of a long-term vision Musk has already planned.
One day after the acquisition of SolarCity, Tesla tweeted that Ta'ū, an island in American Samoa, is running on nearly 100% solar energy thanks to 5,300+ solar panels and 60 Tesla Powerpacks. Before solar, Ta'ū used 109,500 gallons of imported diesel annually, which cost it $8 million every year and made it reliant on other countries to run its generators.