Why do so many people encounter these 'elves' after smoking large doses of DMT?
Pixabay
DMT is arguably the most powerful psychedelic drug on the planet, capable of producing intense hallucinations.
Researchers recently surveyed more than 2,000 DMT users about their encounters with 'entities' while tripping, finding that respondents often considered these strange encounters to be positive and meaningful.
The majority of respondents believed the beings they encountered were not hallucinations.
The psychedelic drug DMT can conjure powerful visions. In low doses, people often hallucinate fractal patterns, geometric shapes, and distortions in the physical space around them. But things get much stranger with higher doses.
When people consume enough DMT (N,N-Dimethyltryptamine) to have a "breakthrough" experience, they often encounter beings commonly known as 'elves' that seem autonomous, existing in a reality separate from our own.
The form and nature of DMT elves vary in reports, but one thing remains curiously constant: People tend to rank these encounters among the most meaningful experiences of their lives. For some people, these encounters change their beliefs about reality, the existence of an afterlife, and God.
A recent survey provides some of the most detailed information about these encounters to date. Published in the Journal of Psychopharmacology, the survey includes responses from 2,561 adults about their single most memorable encounter with a being (or beings) after smoking or vaporizing DMT. (DMT is an endogenous chemical, meaning the body produces it naturally, though it's currently a Schedule I drug in the U.S.)
Most respondents had used DMT about a dozen times in their life. The survey excluded experiences in which people consumed other drugs with DMT, and it didn't include experiences with ayahuasca, which is a brew that contains DMT.
The results show:
The encounters produced an emotional response for 99 percent of people. The most common emotions were "joy (65%), trust (63%), surprise (61%), love (59%), kindness (56%), friendship (48%), and fear (41%) during the encounter experience, with smaller proportions reporting emotions such as sadness (13%), distrust (10%), disgust (4%), or anger (3%)." Interestingly, 58 percent of respondents said the being also had an emotional response, almost always a positive one.
The encounters felt more "real" than reality. This was true for 81 percent of respondents during the encounter, and 65 percent after the encounter. One respondent wrote: "There was an indescribably powerful notion that this dimension in which the entity and I convened was infinitely more "real" than the consensus reality I usually inhabit. It felt truer than anything else I'd ever experienced."
People described the entities in different ways. The most commonly chosen labels "were "being," (60%) "guide," (43%) "spirit," (39%) "alien," (39%) or "helper" (34%). Other labels selected by small proportions of respondents (range 10–16%), included the terms "elf," "angel," "religious personage," or "plant spirit," and very few (range 1–5%) reporting the terms "gnome," "monster," or a "deceased" person."
Most people said the beings weren't hallucinations. About three-quarters of respondents said they believe the being was real, but it exists in some kind of different dimension or reality. Only 9 percent said the being existed "completely within myself."
Most described the beings positively. "When asked about the attributes of the entity, a majority of the sample reported that the entity was conscious (96%), intelligent (96%), benevolent (78%), sacred (70%), had agency in the world (54%), and was positively judgmental (52%). Fewer reported that the entity was petitionable (23%), negatively judgmental (16%), or malicious (11%)."
Most received a message during the encounter. About two-thirds of respondents said they received "a message, task, mission, purpose, or insight from the entity encounter experience."
What kinds of messages? Some people were shown that death isn't the end, that everything and everyone is connected. Others had personal insights revealed to them, such as bad behaviors that they should stop.
Some messages were strangely practical — one respondent said the beings revealed the location of a Zippo lighter that had been missing (it was buried deep in a couch, go figure). There was also the respondent who said a being "was teaching me the rules/regulations of the NFL."
The encounters were often followed by lasting changes in well-being and beliefs. About one-quarter of respondents said they were atheist before the encounter, but only 10 percent said they were after.
"Additionally, approximately one-third (36%) of respondents reported that before the encounter their belief system included a belief in ultimate reality, higher power, God, or universal divinity, but a significantly larger percentage (58%) of respondents reported this belief system after the encounter."
What's more, 89 percent of respondents said the encounter led to lasting improvements in well-being or life-satisfaction. Why? The researchers suggested that "ontological shock" — the state of being forced to question your worldview — may "play an important role in the enduring positive life changes in attitudes, moods, and behavior attributed to these experiences."
"As such, it is possible that, under appropriate supportive set and setting conditions, DMT could show promise as an adjunct to therapy for people with mood and behavioral problems (e.g. depression and addiction)," the researchers wrote.
The study also noted that DMT encounters have a lot in common with near-death and alien-abduction experiences, which also have been shown to produce long-lasting changes in personal beliefs.
​What are DMT elves?
Do DMT entities actually exist in some other dimension, or are they hallucinations that the brain generates when its visual processing system is overwhelmed by a powerful tryptamine?

The late American ethnobotanist Terence McKenna believed that DMT beings — which he called "machine elves" — were real. Here's how he once described one of his DMT experiences:
"I sank to the floor. I [experienced] this hallucination of tumbling forward into these fractal geometric spaces made of light and then I found myself in the equivalent of the Pope's private chapel and there were insect elf machines proffering strange little tablets with strange writing on them, and I was aghast, completely appalled, because [in] a matter of seconds... my entire expectation of the nature of the world was just being shredded in front of me. I've never actually gotten over it.
These self-transforming machine elf creatures were speaking in a colored language which condensed into rotating machines that were like Fabergé eggs but crafted out of luminescent superconducting ceramics and liquid crystal gels. All this stuff was just so weird and so alien and so un-English-able that it was a complete shock — I mean, the literal turning inside out of [my] intellectual universe!"
McKenna believed machine elves exist in alternate realities, which form a "raging universe of active intelligence that is transhuman, hyperdimensional, and extremely alien." But he was far from the first to believe that DMT is a doorway to other realms.
Indigenous peoples of the Amazon basin have used ayahuasca in religious ceremonies for centuries, though no one is quite sure when they first started experimenting with the psychedelic brew. The Jibaro people of the Ecuadorian rainforest believed ayahuasca allowed regular people, not just shamans, to speak directly to the gods. The 19th-century Ecuadorian geographer Villavicencio wrote of other Amazonian shamans who used ahaysuca (known as the "vine of the dead") to contact spirits and foresee enemy battle plans.
In the West, research on DMT experiences has been sparse yet interesting. The psychiatrist Rick Strassman conducted some of the first human DMT trials at the University of New Mexico in the early 1990s. He found that "at least half" of his research subjects had encountered some form of entity after taking DMT.
"I was neither intellectually nor emotionally prepared for the frequency with which contact with beings occurred in our studies, nor the often utterly bizarre nature of these experiences," Strassman wrote in his book "DMT The Spirit Molecule".
Of course, many people believe that DMT elves are merely hallucinations. But the question remains: Why do so many people encounter similar beings?
One answer: That's exactly what people expect to encounter. After all, it's likely that people who seek out a rare and intense drug like DMT have researched it, and possibly stumbled across McKenna's machine-elf idea. So, that's the image their brain produces. (An Erowid survey on the topic of DMT beings once included the question: "Do you know who Terence McKenna is?" 54 percent of respondents reported having some knowledge of him.)
Another explanation comes from a 2004 DoseNation article by James Kent, the author of "Psychedelic Information Theory — Shamanism in the Age of Reason". Kent argued that "humans across all cultures have alien and heavenly archetypes embedded in their subconscious, and psychedelic tryptamines can access the archetypes with a high level of success."
Kent said he's encountered DMT elves during his own experiences, and that he's even managed to have "rudimentary conversations of sorts" with them. In his personal experiments, he tested whether these beings could reveal to him any information that he himself would be incapable of knowing. They couldn't.
Ayahuasca Ceremony in the Peruvian Amazon
Manuel Medir / Getty
"Whenever I tried to pull any information out of the entities regarding themselves, the data that was given up was always relevant only to me. The elves could not give me any piece of data I did not already know, nor could their existence be sustained under any kind of prolonged scrutiny."
It's also worth noting that not all people who smoke DMT see beings, and that some see beings that look nothing like elves or aliens. The diversity of these reports seems to count against the argument that DMT beings exist in some objective alternate reality.
In other words, if DMT beings exist in some other dimension, shouldn't they appear the same to anyone who visits that dimension? Or do the beings assume a different appearance based on who's looking? Or are there many types of beings in the DMT universe, but most look like elves?
You might start seeing elves just trying to sort this stuff out.
Ultimately, nobody knows exactly why DMT beings take the forms they do, or whether they're just figments of overstimulated imaginations. And the answers might be beside the point.
In the recent survey, 60 percent of participants said their encounter with DMT beings "produced a desirable alteration in their conception of reality whereas only 1% indicated an undesirable alteration in their conception of reality."
DMT elves may be nothing more than projections of the subconscious mind. But these bizarre encounters do help some people find real meaning, whether it's through personal revelation or the raw power of ontological shock.
Turn on, tune in, and drop out and into a good psychedelic book.
Psychedelic literature contains some of the richest prose and musings on the human condition.
A great deal of these books hail from the 20th century.
These are gateway books to a rich and other worldly adventure.
Much has been said about the psychedelic experience and its rich and thrilling history. Luckily for us, some of the greatest pioneers who pushed forward into the choppy waters of the mind wrote it all down. Packed with governmental intrigue, freak-out trips and the loving grace of human community, this breed of psychedelia literature has it all.
Split between riveting fiction, biography and beatific new age how-to manuals, these books cover much of Western culture's first foray into the star soul of mind-blowing consciousness.
There is an exhaustive amount of books pertaining to this subject and this list tries to cover at least a smidgen of these incredible visionaries.
Here are some of the best psychedelic books ever written.
Fear and Loathing in Las Vegas 
Largely popularized as a cult classic movie adaptation starring Johnny Depp and Benicio del Toro, Fear and Loathing in Las Vegas by Hunter S. Thompson jumpstarted a new book and writing genre critics called Gonzo journalism. Following in the footsteps of the beatnik poets before him, Thompson penned a roman á clef novel loosely based off an excessive drug-addled trip to Las Vegas.
Delving into the savage heart of the American Dream and casualties of a failed cultural revolution, Thompson's satirical wit makes this book a staple of psychedelic literature. If you're looking for universal consciousness truths laid out nicely in a row, hang on to your hats because you won't get that in this book.
Thompson tears into reality with a dizzying array of hallucinatory scenes that wind you up and drop you down before you can figure out what's really even happening anymore. Interspersed between the crazed prose are beautiful bits of wisdom lamenting in the death of an era. Nowhere is that more potently felt than in Thompson's famed Wave Speech. By the end of the book it is clear that Thompson has left a warning sign for all those future freaks and seekers who naively believe that fundamental change in the world is just a tab away.
We are all wired into a survival trip now. No more of the speed that fueled that '60s. That was the fatal flaw in Tim Leary's trip. He crashed around America selling 'consciousness expansion' without ever giving a thought to the grim meat-hook realities that were lying in wait for all the people who took him seriously... All those pathetically eager acid freaks who thought they could buy Peace and Understanding for three bucks a hit.

But their loss and failure is ours too. What Leary took down with him was the central illusion of a whole life-style that he helped create... a generation of permanent cripples, failed seekers, who never understood the essential old-mystic fallacy of the Acid Culture: the desperate assumption that somebody... or at least some force — is tending the light at the end of the tunnel.
High Priest
Timothy Leary was the great proselytizer of the psychedelic revolution. From Harvard psychologist square to guru-exile, he ran the gamut on what it meant to change your mind. High Priest is taken from the early chronicles of the 1960s and written right around the time Leary was getting acquainted to the many jail and prison cells he'd been forced into by the overzealous drug czar Nixon administration and company.

This is a central book for understanding both the rich cultural history of the time and the story of a great man. Famed poet, Allen Ginsberg once remarked that Timothy Leary was a hero of consciousness. The book pays its dues to the many prophetic mystics and scientists that came before him, while also touching on some contemporaries' of the time as well, such as Aldous Huxley, Ram Dass and Ralph Metzner.
It's a thrilling journey for both the reader and Leary himself. At one point he states:
I learned more about...my brain and its possibilities... and more about psychology in the five hours after taking these mushrooms than I had in the preceding 15 years of studying doing research in psychology.


Leary's High Priest is a gateway drug to opening your mind and entering into one of the most important cultural time periods in the 20th century.
The Doors of Perception
Break on through to the other side. The philosophical essay and book by Aldous Huxley that inspired The Doors' Jim Morrison. First published in 1954, the book covers Huxley's experiences while taking mescaline. It's a recollection book that's often paired with his other essay on William Blake. The title comes from a phrase in Blake's poem The Marriage of Heaven and Hell.

The beautiful line goes like this:
If the doors of perception were cleansed every thing would appear to man as it is, infinite. For man has closed himself up, till he sees all things thro' narrow chinks of his cavern.
What's even more surprising about this book was that Huxley wrote in a time that preceded the onslaught of the counterculture. But that comes as no surprise to if you've read Huxley's Brave New World, which has been eerily prescient in predicting our current future.
The Hasheesh Eater
One hundred years before the beatniks, hippies and whatever you want to call our current breed of hedonistic meanderers, Fitz Hugh Ludlow's tour de force novel, The Hasheesh Eater, influenced an entire generation in the ways of drug experimentation. Written in 1857, Ludlow's book describes his experiences of altered states of consciousness while using the cannabis extract.
He dedicates many pages to wild flights of fancy from the visions he saw while ingesting the drug. Ludlow also takes the time to talk about the perils of addiction, which some critics believe was more related to his eventual problems with opium.
In a time many people don't place with a bohemian surge of freedom and creativity, Ludlow helped to bring about a unique change of pace in mid 19th century American culture. With passages such as these:
I am borne aloft upon the glory of sound. I float in a trance among the burning choir of the seraphim. But, as I am melting through the purification of that sublime ecstasy in oneness with the Deity himself, one by one those pealing lyres faint away, and as the last throb dies down along the measureless ether, visionless arms swiftly as lightning carry me far into the profound, and set me down before another portal.
It was no surprise that so many wished to experience this. Not too long after the books publication, many companies began advertising "Hasheesh Candy" and private hashish clubs sprang up all over the country.
DMT: The Spirit Molecule
Dimethyltryptamine (DMT) is an incredibly powerful psychedelic compound that is also endogenously produced inside the human body. After a long period of draconian drug research suppression, Rick Strassman was able to conduct a number of biomedical tests on human subjects taking DMT. In recent years there has also been many new promising studies into this wondrous substance.
Strassman conducted a series of tests in the early 1990s at the University of New Mexico. Although Strassman has a scientific background, he's very well versed in the cultural history of psychoactive drugs and never bores with the explanations of his subject's experiences. The book opens up with an unexpected hilarious account of the Kafka maze of bureaucracy he has to go through just to acquire the drug legally.
Mixed with a dash of scientific expertise and spiritual proclamations, it's a great book that, in a sense, is carrying the torch forward for future scientific exploration of these altered states.
True Hallucinations 
Terence McKenna recounts his insane adventures in the Amazon Basin in the search for a mythical hallucinogenic substance called oo-koo-hé. Whether or not this was the tall tale from some sophist raconteur or a glance at the truth to the inner cosmos, McKenna knows how to tell a story.
True Hallucinations is a wonderfully erudite story that's mixed in with reams of esoteric history, metaphysical pondering and just outright hilarious situations. After their mother's untimely death in 1971, Terrence and his brother Dennis and a coterie of seeker friends set out to the Amazon to experiment with DMT and a whole lot of psilocybin mushrooms.
McKenna truly believed that the fate of humanity and the species rested on returning to the roots of shamanism — the expanding of consciousness — and what he termed the Archaic revival. At one point in the book he says:
The Archaic Revival is a clarion call to recover our birthright however uncomfortable that may make us. It is a call to realize that life lived in the absence of the psychedelic experience upon which primordial shamanism is based is life trivialized, life denied, life enslaved to the ego and its fear of dissolution in the mysterious matrix of feeling that is all around us. It is in the Archaic Revival that our transcendence of the historical dilemma actually lies.
Nothing is off limits for McKenna in this whirlwind paean for the search on the true ontological nature of reality itself.
LSD: My Problem Child
This is the story told by the father of the substance himself, organic chemist Albert Hoffman. Hoffman traces back LSD's humble beginnings in his chemist's lab that would go on to radically change the world, sparking hysteria and a new age.
The book follows Dr. Hoffman as he goes across Mexico searching for sacred plants and corresponding with other notable figures about his discoveries, which also included psilocybin. For the father of such far-out drugs, Dr. Hoffman grounded himself to a scientific reality with an added twist of pure mysticism. This was evident in some of his speech:
The wonder, the mystery of the divine ‹in the microcosm of the atom, in the macrocosm of the spiral nebula, in the seeds of plants, in the body and soul of people.
Hoffman focuses less on "trip reports" in this book and goes into the nitty gritty of the chemistry of LSD and other psychiatric drugs. However, the book is not bereft of some wonderful ravings and incredibly diverse citations of a mountain full of great scientists and philosophers.
It's the 1st observed psychedelic-caused molecular changes inside human neural tissue.
Neural organoid or "mini-brain." Credit: Johns Hopkins Bloomberg School of Public Health.
Yet, little is actually known about them from a scientific standpoint. The CIA conducted experiments in the mid-20th century to find out if psychedelics could make hypnosis easier, or help a soldier better withstand "privation, torture, and coercion."
Ken Kesey, author of the classic One Flew Over the Cuckoo's Nest, was one such test subject. The influence of the experience helped him and others birth the counterculture movement of the 1960s, which ultimately stood against the very system that had tested them in the first place.
There was a short window in the late '50s and early '60s where psychedelics were used in the psychiatric community to help patients overcome certain disorders. Iconic Hollywood actor Cary Grant is known to have undergone 100 such therapy sessions.  
Since the '60s, psychedelic drugs have become taboo and highly illegal. It's feared they cause psychosis, despite little actual data suggesting so. In recent years, a small but growing number of studies have returned to the pre-counterculture outlook—that they might help treat certain disorders. LSD, ayahuasca brew (containing DMT), and MDMA have all been shown to exhibit anti-inflammatory and antidepressant properties.
Did ancient shamans of North and South America know something that science is only catching onto? DMT, sometimes called the "spirit molecule," has been a part of shamanic traditions for hundreds of years. The chemical used in this study is a variant of DMT.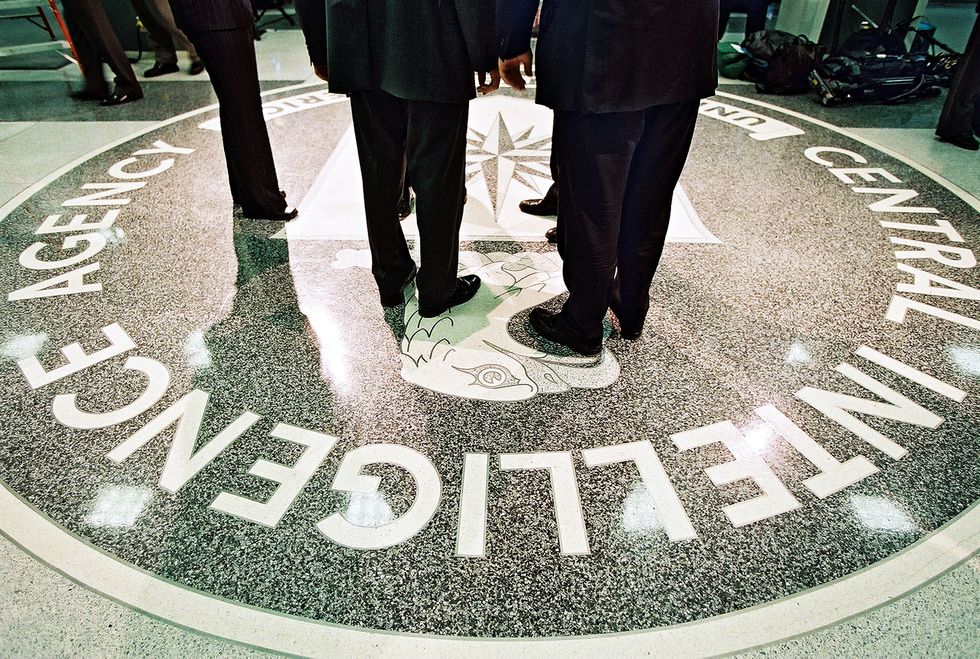 The CIA tested psychedelics on unsuspecting subjects to try and gain an edge during the Cold War. Credit: Getty Images.
So what's the breakthrough? Brazilian researchers have identified the signaling pathways that DMT takes in order to engage neuroplasticity (or changes inside the brain). The results of the study were published in the journal Scientific Reports.
Overall, scientists try to uphold things like research ethics. Plus, it's illegal to smoke DMT inside an fMRI machine. Or anywhere. So instead, investigators observed the effects the psychedelic had on so-called "mini-brains." These cerebral organoids are made up of 3D cultures of neural cells. They're grown from stem cells. Each mimics a brain inside a human fetus.
These neural organoids were first developed last year at Johns Hopkins University. Since they're lab grown, there aren't any thorny ethical issues to deal with. After dosing the mini-brains with DMT, scientists identified the neural pathways the chemical traveled which were later found to be associated with neurodegeneration and inflammation.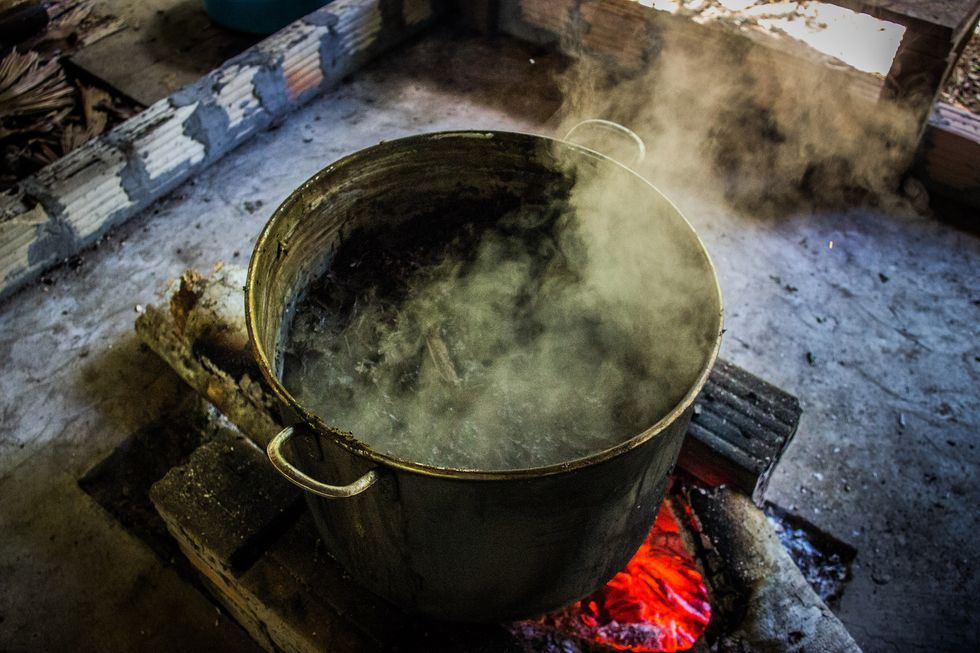 Many Westerners today are seeking out shamans to produce ayahuasca tea for their own psychological benefit. Science may back this up. But there could still be dangers. Credit: Apollo. Flickr.  
Researchers at the D'Or Institute for Research and Education conducted the study. They were led by Stevens Rehen, a professor at the Federal University of Rio de Janeiro (UFRJ). Prof. Rehen said, "For the first time we could describe psychedelic-related changes in the molecular functioning of human neural tissue."
He added, "Our study reinforces the hidden clinical potential of substances that are under legal restrictions, but which deserve attention of medical and scientific communities." Identifying these pathways has been a priority in the study of psychedelics. A lack of understanding exactly how these substances affect the brain has stunted the field, thus far.
Each mini-brain was given a single dose of the psychedelic 5-MeO-DMT. This compound comes from the dimethyltryptamine family. One might ingest it after licking a certain kind of toad, Incilius alvarius.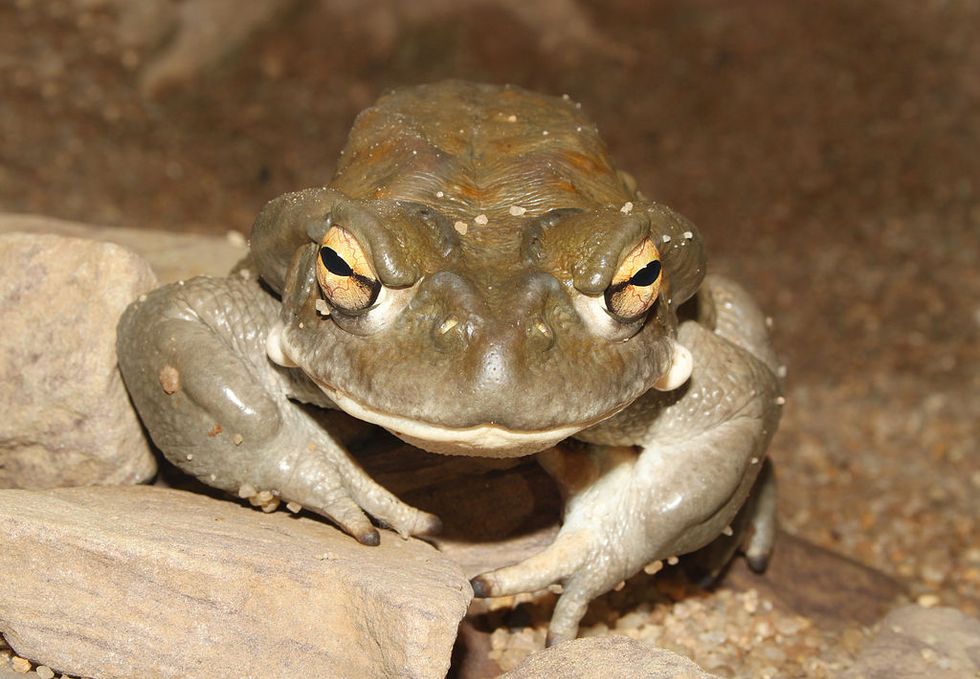 Colorado River toad toad (Incilius alvarius). Credit: H. Krisp [CC BY 3.0], via Wikimedia Commons.
Researchers used a technique known as mass spectrometry-based proteomics to analyze the mini-brains, once dosed. Nearly a thousand proteins were altered by the chemical, they found. Some were upregulated while others were downregulated. Then the scientists took these proteins and traced them back to what role they play inside the brain.
Prof. Rehen and colleagues found that this psychedelic may ward off brain lesions and inflammation, and inhibit neurodegeneration. This suggests it would be helpful as an antidepressant. Sidarta Ribeiro was a co-author on the study. He's the director of the Brain Institute at the Federal University of Rio Grande do Norte (UFRN). Ribeiro said, "Results suggest that classic psychedelics are powerful inducers of neuroplasticity, a tool of psychobiological transformation that we know very little about."
We still don't know enough about these substances, however. So no one should take them on their own, as they may have other downsides we just aren't privy to yet, and affect each person differently. More research is required before we can fully understand how these substances change the brain.
Given the high rate of depression these days, new treatment options are sorely needed. Perhaps someday a psychedelic, a derivative of one, or a synthetic based on one, will help patients overcome certain psychiatric disorders.
To learn more about science's rejuvenated interest of psychedelics, click here:
As medicine's interest in psychedelic drugs increases,will a shamanistic brew join your therapist's list of go to prescriptions?
As we have mentioned on Big Think before, psychedelic drugs are currently enjoying a surge of new interest in medicine. Psilocybin (the compound in magic mushrooms) is showing potential in the treatment of anxiety, and LSD shows promise against alcoholism. While some of these drugs were used previously for therapeutic purposes, their association with the counterculture proved dangerous to their legality. As such, only now are their potential benefits being reconsidered.

A recent study shows yet another psychedelic to have potent and potentially therapeutic effects. The drug is Ayahuasca, a concoction consisting primarily of the chemical DMT, with other elements added to aid in the absorption of the drug. DMT is incredibly powerful; users often report the sensation of being in a different world, and when brewed as Ayahuasca the length of a trip goes from five minutes to several hours. Ayahuasca is therefore regarded, justly, as one of the most extreme psychedelic drugs in existence.
The study by José Carlos Bouso and others examined the brains of 22 long-term users of Ayahuasca. When their brains were measured for thickness in the posterior cingulate cortex it was found that they had reduced levels of brain activity in that region. This isn't as bad as it sounds; this part of the brain is associated with anxiety and depression. The size of this region is also negatively associated with working memory performance. 
The users also scored higher on tests of self-transcendence and self-reported a reduced usage of alcohol and cocaine later. While correlation cannot prove causation, it does suggest that use of the drug leads to structural changes in the brain, ones that may assist people who have issues with anxiety, depression, and substance abuse, along with the typical effects of psychedelic usage.
An example of those typical effects.
It's not only Ayahuasca that has that brain-changing effect. Meditation can also reduce the area of the brain associated with anxiety and depression, and can do so without the side effects of extreme vomiting, apocalyptic diarrhea, and having to interact with potentially shady shamanistic hacks that take advantage of Ayahuasca's increasing public interest. Similarly, the studies are still new and more research is needed before the facts can be called settled. A single study of 22 people is no reason to go out and try it yourself.
We are living in a time when the potential therapeutic uses of psychedelic drugs are being seriously reconsidered. Ayahuasca, the drink of choice for the discriminating shaman, may prove to be another tool in the psychologist's arsenal. Much more research is needed before a conclusive answer can be given. The potential, however, is clear and intriguing. Our fear of psychedelics must not inhibit our ability to study their possible therapeutic effects, likewise we must be sure our hope for therapeutic effects does not inhibit our ability to do proper research.
Psychedelic mushrooms may be the explanation to how the human neocortex experienced a dramatic evolutionary change from early hominids to homo sapiens.  
Photo credit: Kseniya Avimova / AFP / GettyImages
Psychedelic drugs "expand" one's mind: this is how many people describe the changes in sensory experiences elicited by psychotropic drugs. A psychedelic trip can be good or bad, but it ultimately ends once the drug's effects wear off. According to the American ethnobotanist Terence McKenna, however, psilocybin-containing "magic" mushrooms had a profound and lasting influence on the course of human evolution.
"The great embarrassment to evolutionary theory is the human neocortex," says McKenna. He argues that there is no explanation for how such a major organ was dramatically transformed in complexity in a narrow window of time to create the jump from hominids to humans.
What lit "the fire of intelligence"? McKenna's answer lies in the hominid's diet. He essentially thinks that "we ate our way to higher consciousness."
McKenna's "Stoned Ape" theory of human evolution breaks the process into three stages. In stage one, around 40 to 50 thousand years ago, early hominids in Africa, like Homo Erectus, were forced to abandon their canopy-dwelling lifestyle due to the desertification of the African continent. As they were forced to find new sources of food, they followed herds of wild cattle in whose dung they found insects that became part of their diet. Also in the dung were magic mushrooms that often grow in such environments.
As they started to eat these mushrooms in low doses, early hominids improved their visuals acuity and became betters hunters and survivors, giving them an advantage over those who did not consume the shrooms.
Stage Two of how the psilocybin diet impacted the human brain under McKenna's theory took place 20 to 10 thousand years ago, as hominids discovered the aphrodisiac qualities of ingesting the shrooms. According to McKenna, at higher doses, the mushrooms caused increased male potency and led to group sexual activities. "Everyone would get loaded around the campfire and hump in an enormous writhing heap," half-jokingly posits McKenna.
Causing greater genetic diversification, these orgies also had the effect of creating the first societies, where males could not trace paternity and as such did not identify children as personal "property," raising them as a community.
These orgiastic sessions also led to the development of symbolic functions in hominid cognitive abilities via early art creation and dance.
The last stage of how psychedelics changed the brain came from taking higher doses of the mushrooms. McKenna argued that when doses doubled, psilocybin affected the language-forming region of the brain, causing vocalizations that became the raw material for the evolution of language. This also led to the first human religious impulse.
Challenges to McKenna's theories have mainly revolved around the lack of evidence for a number of his assertions. Many scientists have dismissed his ideas as "a story" rather than an explanation based on proven facts. Yet, there has been a growing amount of evidence about the lives of early hominids that provides some corroboration to McKenna's work.
In particular, evidence has been found that Stone Age humans ate mushrooms. German anthropologists discovered mushroom spores on the teeth of a prehistoric woman who lived around 18,700 years ago.
In 2015, the Spanish anthropologist Professor Guerra-Doce published a paper outlining the use of hallucinogenic plants by early humans. Additionally, Neolithic and Bronze cave paintings that resembled psilocybin mushrooms were found in the Italian Alps and in Villar del Humo in Cuenca, Spain.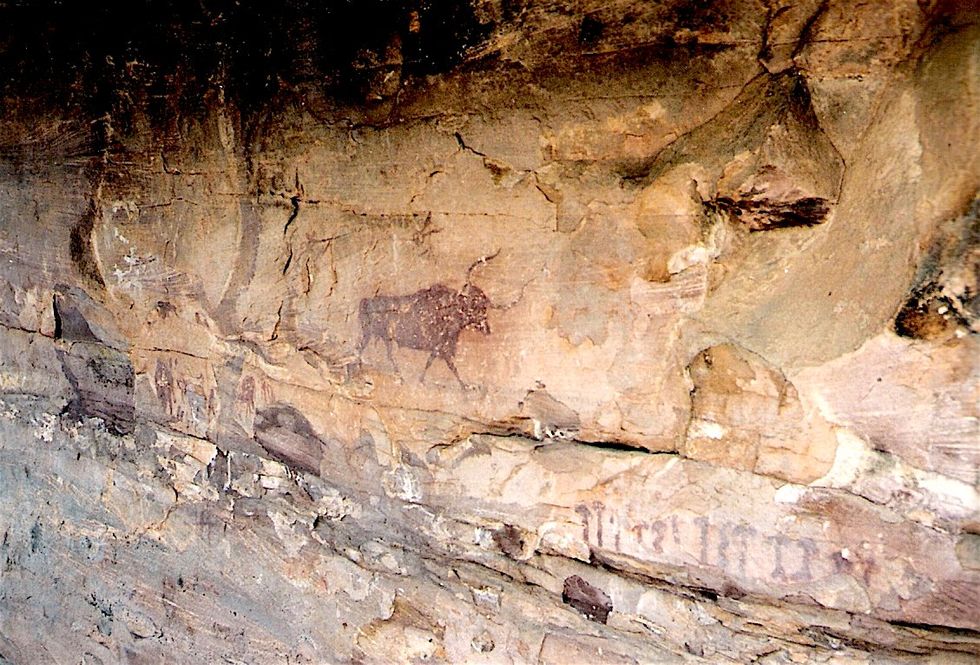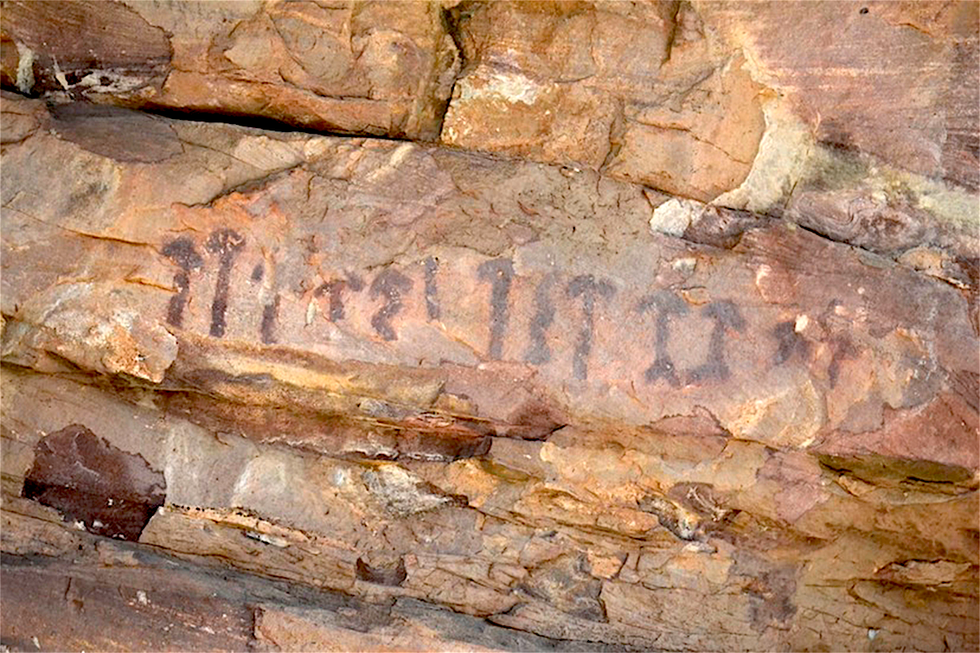 Cave paintings that feature a row of mushroom-like objects from Villar del Humo, Cuenca, Spain. CREDIT: Giorgio Samorini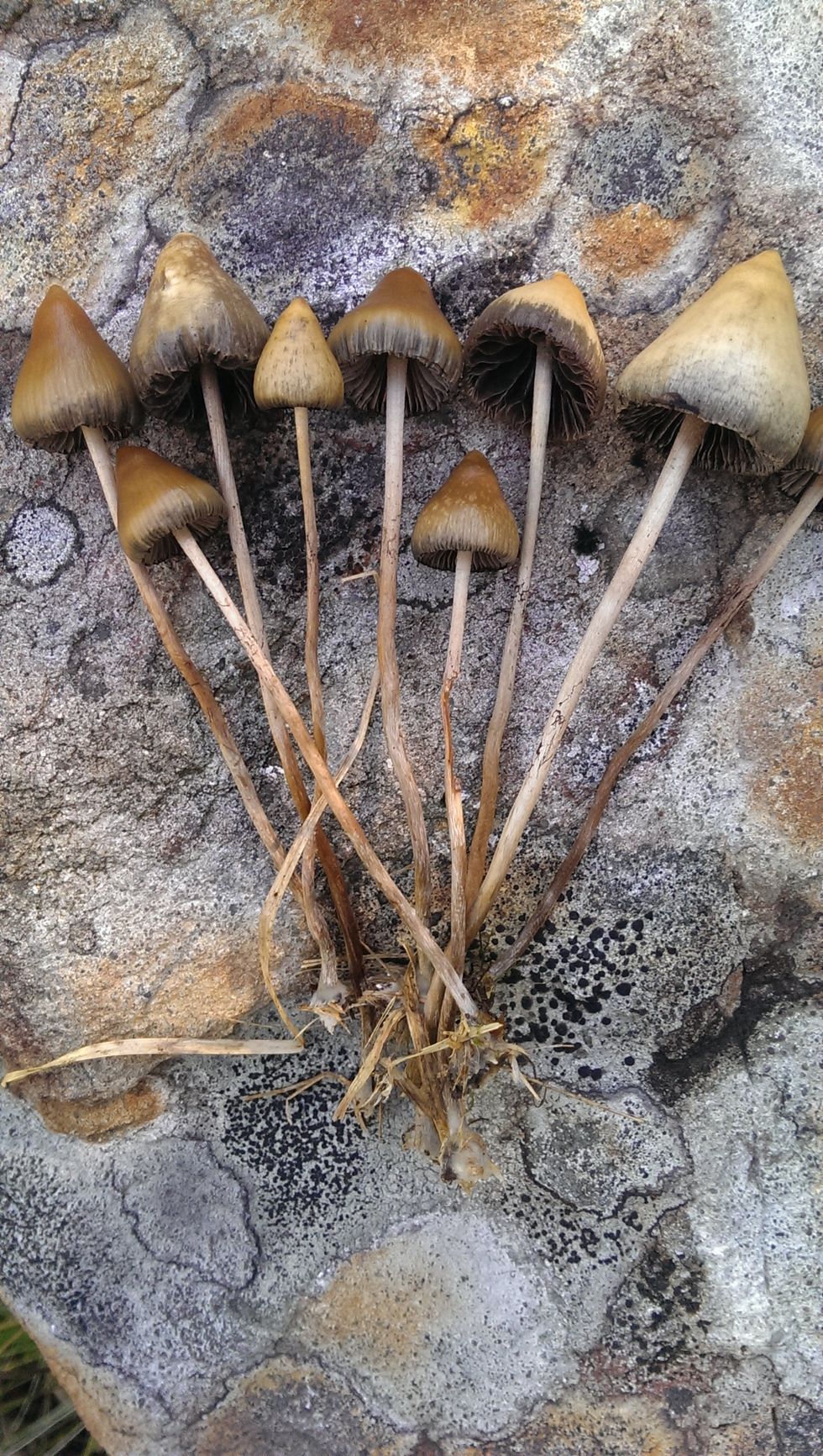 Psilocybin mushrooms.