Online dating has evolved, but at what cost?
Some dating apps allow individuals to interact and form romantic/sexual connections before meeting face to face with the ability to "swipe" on the screen to either accept or reject another user's profile. Popular swipe-based apps include Tinder, Bumble, and OkCupid.
Research by Western Sydney University and the University of Sydney has linked the experience of swipe-based dating apps to higher rates of psychological distress and/or depression.
Not all time spent on these apps is damaging, however. Up to 40 percent of current users say they previously entered a serious relationship with someone they met through one of these apps.
The last decade has seen a rapid rise in online dating, and with it, a whole new way of having fun and finding the one. Tracking the "evolution of online dating," we learn that it actually started back in 1995 with the launch of Match.com.
Since then, swipe-based dating apps have taken over the online dating scene. These apps are a platform for individuals to interact and form romantic/sexual connections before meeting face to face with potential partners. What sets them apart from other online dating apps is the feature of "swiping" on the screen to either accept or reject another user's profile. Some of the most common apps that use this method are Tinder, Bumble, Happn, and OkCupid.
How swipe-based dating apps negatively impact your mental health
Many people who use swipe-based dating apps report feeling psychological distress and depressive symptoms.
Image by Odua Images on Shutterstock
Research by Western Sydney University and the University of Sydney has linked the experience of swipe-based dating apps to higher rates of psychological distress and/or depression.
An online survey (published in BMC Psychology) of over 430 individuals compared the impact of dating habits on the mental health of people who use swipe-based dating apps and those who don't.
The measures used during this evaluation were the Kessler Psychological Distress Scale, the Generalised Anxiety Disorder-2 scale, the Patient Health Questionnaire-2, and the Rosenberg Self-Esteem Scale. An analysis of variance (a tool used in statistics that splits the data into two parts: systematic factors and random factors) was then used to consider all four mental health scores together.
High psychological distress levels among swipe-based dating app users.
20 percent of participants who use swipe-based dating apps reported a significantly higher level of psychological distress compared to those who didn't use these apps.
Sabrina Pit, one of the researchers on the project, explains: "We found an increased frequency of use and longer duration of time using the apps were both associated with greater psychological distress and depression."
Current swipe-based dating app users show more depressive symptoms than non-users.
19 percent of current users reported more depressive symptoms as a result of swipe-based dating app use, compared to 9 percent of the people surveyed who did not use a dating app.
"People who are currently using dating apps for a year or more were 3.5 times more likely to be distressed and 4 times more likely to report probable depression," Pit explains in an interview with Global Dating Insights.
People are spending more and more time on dating apps.
A study of 5,000 people between the ages of 18-30 years old shows that people are spending an average of 10 hours per week on dating apps alone. Men were logging on to check their status on dating apps 9 times a day, with women logging on 10 times per day to check their potential matches. How much time are they spending on these apps? Well, men were found to be spending 85 minutes per day on these apps, with women spending 79 minutes each day.
This amount of time spent on dating apps could boost the negative impacts we have seen through the study listed above.
Are there benefits to using swipe-based dating apps?
It's not all bad - 40% of current swipe-based dating app users report a positive mental health impact from using these apps.
Image by Jambulart studio on Shutterstock
While the study proved that there are significant negative mental health risks that follow using swipe-based dating apps for longer periods of time, not all time spent on these apps is damaging.
"The findings highlight that dating apps with swiping functions have a complex impact on the psychological well-being of users," Pit explains. Although the findings of this study are worrisome, there are some benefits that were also highlighted in the results.
Connections and serious relationships are being formed.
Up to 40 percent of current swipe-based dating app users said they had previously entered a serious relationship with someone they met through one of these apps. 77 percent of people who reported using these apps also said they had met people face-to-face, with 26 percent of these people saying they had met more than 5 people through the apps.
This connection with others leads to a positive impact on self-esteem.
Meeting people, dating, and finding serious relationships through swipe-based dating apps has proven to have a positive impact on mental health as well, with up to 40 percent of individuals using these apps claiming it's had a positive impact on their self-esteem.
Dating apps connect us with people we'd never meet otherwise.
Back in 1995 when Match.com launched, there was a spike in interracial marriages. In today's society, these swipe-based dating apps allow you to browse based on where you are. If you move to a new city, your dating pool changes. The benefits of being able to connect with people we otherwise wouldn't meet is one of the best things dating apps have given us.
Did you know that 70 percent of same-sex relationships start through dating apps?
With the launch of Grindr in 2009, there was what can only be described as a sexual revolution within the LGBTQ+ community. Finding a partner became easier, safer, and more common. Not only was Grindr the first dating app that focused on the LGBTQ+ community, but it was also one of the first to use geolocation technology.
It's safe to say that digital dating isn't leaving us anytime soon, and neither is the use of swipe-based dating. There are negative and positive impacts of swipe-based dating apps on our mental health, but the questions is how can we increase the positive and decrease the negative?
The study by these two Australian universities isn't the first to question the mental health impact of dating apps. Back in 2017, an unrelated study linked the use of Tinder with negative self-esteem and body shame.
One of the researchers on the Australian-based study explains: "We are calling for app developers to take a more active role in the promotion of positive mental health messages, particularly on swipe-based dating applications."
A new study finds an unexpected trait that young people want in a lifelong partner.
Credit: OZAN KOSE/AFP/Getty Images.
A new study from the UK looked at dating preferences of 2,700 international students.
The study found that kindness was the top trait preferred by both men and women in a lifelong partner.
Looks, financial stability and a sense of humor were also important but with differences across cultures.
We often have unrealistic expectations of our partners, wanting them to fulfill us in a multitude of ways. But there's one quality that stands out above all when choosing a lifelong mate – kindness. So says a new study of college students from six countries. It beat out money and looks as the top trait young people find most desirable.
The study carried out by the UK's University of Swansea involved the dating preferences of 2,700 students in the "Eastern" countries of Singapore, Malaysia and Hong Kong, and the "Western" countries of UK, Norway and Australia. While some differences in behaviors were noticed across the world, there were also clear similarities.
For the study, participants had to "buy" characteristics they wanted in a partner from a fixed budget. They had eight attributes to choose from for spending their "mate dollars" - physical attractiveness, creativity, good financial prospects, kindness, humor, religiosity, chastity, and the desire to have children.
Responding to different budgetary scenarios, the students were asked to figure out which traits were necessary, indispensable, and which were luxuries.
On average, the young people spent 22-26% of the total budget on kindness, making it a necessity. Outside of that, men found looks most important, while women favored partners with financial stability. On the flip side, traits like chastity, creativity and the desire for children emerged as luxuries for both men and women, getting less than 10% of the budget.
Here's a chart of key findings:
BUDGET SPENT ON DIFFERENT TRAITS BY GENDER
| | | |
| --- | --- | --- |
| Trait | Men | Women |
| Kindness | 25% | 24% |
| Physical attractiveness | 23% | 17% |
| Good financial prospects | 12% | 18% |
| Humor | 15% | 14% |
| Wants children | 7% | 9% |
| Creativity | 8% | 6% |
| Religiosity | 5% | 7% |
| Chastity | 6% | 5% |
One interesting cultural difference that emerged from the study was that while humor was considered indispensable for men to people in all cultures, it was a "necessity" only for the Western men. It's less of a priority in Eastern cultures, suggests the research.
The desire to have children was also more of a priority for Western women. The principle researcher Dr. Andrew G. Thomas explained that this has to do with differences in family planning.
"In cultures where contraception is widespread, a partner's desire for children may predict the likelihood of starting a family," said Thomas. "In contrast, in cultures where contraception use is less widespread, having children may be a natural consequence of sex within a relationship, making actual desire for children less relevant."
Read the study here, published in the Journal of Personality.
Have sexual interludes obscured the path to love?
"The Lonely Ones" by Edvard Munch
The majority of millennials are still unmarried by age 32.
Susan Winter, a relationship expert based in New York City, says the culture of modern dating has had an impact.
Among her tips for finding love? Act in accordance with what you said you want.
We live in a world filled with ghosts. Perhaps you, reader, are among them. Indeed, for many on the hunt for love nowadays, dating is more of spectral phenomenon — A "Now you see me… now you don't" kind of thing — than it is a welcoming home.
In America, in particular, — from the sun-scorched, white sand beaches of South Florida to the misty, evergreen woods of Juneau — there are many romantic vagabonds. However, this trend so prevalent among young people wasn't always so. Though the majority of millennials today are still unmarried by age 32, just 50 years ago, in the 1960s, the situation was flipped. About 65 percent of our generational forebears were long-hitched by the same age.
So, has marriage become less "compelling" for millennials, as Rabbi Schumley Boteach posits — or, is something stranger afoot? Something of which we haven't yet named, but nonetheless begun to come to grips with.
Well, matrimony may, indeed, be irrelevant for some, but it hasn't lost its allure to the distinct majority. Most people who are unmarried today — nearly 60 percent of them, actually— say they would like to, "someday," get hitched. It may be happening later in life for them, but millions of 20- and 30-somethings are continuing to walk down the aisle, and recite — amid roses, peonies and confidants — promises of fidelity to each other.
Still, for these who do venture into it, what's the cause of marriage's delay today?
Portrait of the Poet Sabartes by Pablo Picasso, 1901–1902
The results of recent studies suggest that it could be because many millennials are in debt, especially from school loans. The shame and stigma of "being in the red" may be acting as a sort of weedkiller to budding love. For many young people — especially those who entered adulthood during the Great Recession — being on firm financial footing is a critical step toward starting a family. [See: Being broke is no joke]
However, is lack of money the sole reason? Humans have, en masse, been entering into marriage, and other forms of "serious" relationships, strapped of cash — without 401Ks or savings accounts or stock portfolios — for literally millennia. This said, could it be that millennials' delay in getting to love is due to more than a financial issue, as it's popularly singled out to be?
What the expert says
According to some sex and relationship experts the phenomenon does transcend money, and is an issue heavily influenced by modern dating. Indeed, Susan Winter, one of New York's top relationship coaches says that online dating — the culture found on several apps, at least — has wreaked havoc on the emotional health of many millennials. "I've noted an underlying state of depression in the number of the millennials that first come to me for counseling," Winter says. "... 'Getting to love' has been especially daunting for this generation."
A stream of romantic disappointments, Winter says, has left many millennials jaded, in such a state that, though they may find a serious partnership/marriage compelling, it simply seems out of reach to them. In a sense, many are in a romantic blue period. "The wear and tear of sexual interludes resulting in being discarded, ghosted, or breadcrumbed takes its toll," she says. "Even those that exhibit supreme confidence in their careers suffer low self-esteem due to their erratic and unpredictable dating lives."
When you combine "sexual interludes" with the modern rule to avoid "rules" — despite the fact we're evolutionarily social creatures — a stream of disappointments is liable to become a river. "Millennial's have little structure to support their dating process and protocol. Having eliminated labels and rules, many are left adrift in a confused state of hookups and 'situationships,'" says Winter. "Therefore, getting to partnership holds a high value for them. Once the difficult task of partnership is obtained, its loss seems even more dismantling."
Despite everything, it finds a way
Photo by Annette Sousa on Unsplash
How "dismantling" for millennials? Going through the whole dating process, again, after someone of note was found, can seem like a burden on par with scaling Everest. "This is a generation that's obsessed with 'getting back with their ex," says Winter. "The reason for this obsession is because establishing partnership is a difficult achievement that's hard won."
In many ways, hook-up culture has helped many young people become more sex positive — but it also has its downsides. In this case, it's spurred confusion left and right, along with the increasingly popular riddle: What's happened to dating? Indeed, there seems to be a link between the culture prevalent in online dating, and the widespread lack of self-esteem, and commitment, among millennials.
As Dutch researcher Elisabeth Timmermans, who last year studied how psychopaths use dating apps, commented to PsyPost, "Our findings leave me wondering whether dating apps might be a threat to romantic relationships."
However, it's not all melancholic news. After all, millions of young adults are, when it's all said and over, still getting married. Despite bad experiences from "sexual interludes," and perhaps bouts of depression from today's dating scene in general, they're eventually "taking the plunge." Maybe a bit later than their forebears, but, maybe it's a testament that there's no one way — or season — to "get to love." Many times it seems to just be the result of dumb luck.

Nevertheless, since this is Big Think — and we believe "luck" favors the prepared — Winter does have some dating tips to help put the odds ever in your favor in this chaotic dating scene (they're listed below).
Don't stop believin', reader.
Winter's six tips to overcome modern dating woes:
Know what you want and need in a relationship.
Clearly articulate those wants and needs to your prospective partners.
Act in accordance with what you said you want.
Maintain clear and honest communication throughout the dating process.
Assess whether the relationship you're establishing meets the goals you want and need.
Is high IQ really something that can genuinely turn people on? Apparently so — but only to a certain point.
Pixabay
Putting sapiosexual memes aside, is high IQ really something that can genuinely turn people on? According to a new study from the University of Western Australia - yes. There is a caveat, however — above a certain threshold, the effects start to wear off.
The authors of the study Some people are attracted sexually to intelligence: A psychometric evaluation of sapiosexuality wanted to know how exactly desirability of a potential partner changes across various levels of intelligence. In addition, they wanted to finally come up with a reliable measure to prove the existence of the sapiosexual creature (a.k.a. the "sapiosexual psychological construct"), to whom "intelligence is a genuine turn-on" and not simply a desirable trait due to the associated perks.
Previous research has shown that when it comes to the traits people look for in a potential partner, intelligence is second only to "kind and understanding." Few studies, however, explore exactly how much intelligence is required and how desirable it is. 
So far, there are four main hypotheses about the social value of intelligence. One of them, the so-called "threshold IQ hypothesis," posits that for all romantic, creative, academic, and professional intents and purposes, the social value of intelligence does not extend further than an IQ of approximately 120. After this threshold, intelligence becomes "sufficient enough" and other factors, such as personality take center stage. 
A similar hypothesis takes an even more conservative threshold of an IQ of a 100. A third one accepts a linear relationship between intelligence and its social value, while the fourth hypothesis sees an exponential increase of the social value of intelligence above the 90th percentile (as shown empirically, for example, when looking at the relationship between SAT scores and income within a sample of the top 1% of intellectual ability).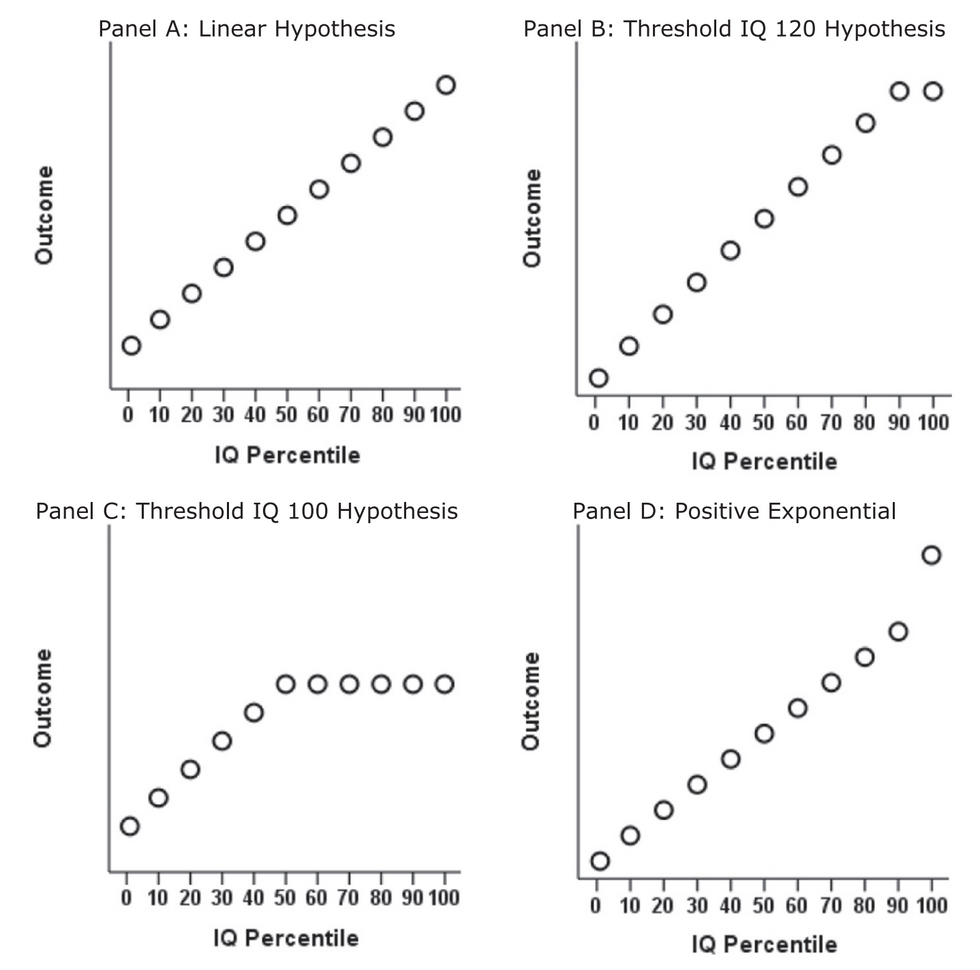 Types of theoretical associations between intelligence and socially advantageous outcomes. / Credit: Intelligence
The latest study was done with 383 participants with a mean age of 25 and a mean IQ of 108. Yet again, intelligence was rated second only to kindness and understanding, when participants were asked to rate the traits they want in a partner. When it came to the desirability of each level of intelligence, the results supported the threshold IQ 120 hypothesis. It appears that while the 90th intelligence percentile is the most sexually attractive and the most desirable in a partner, after that point attraction not only stops increasing, but actually declines.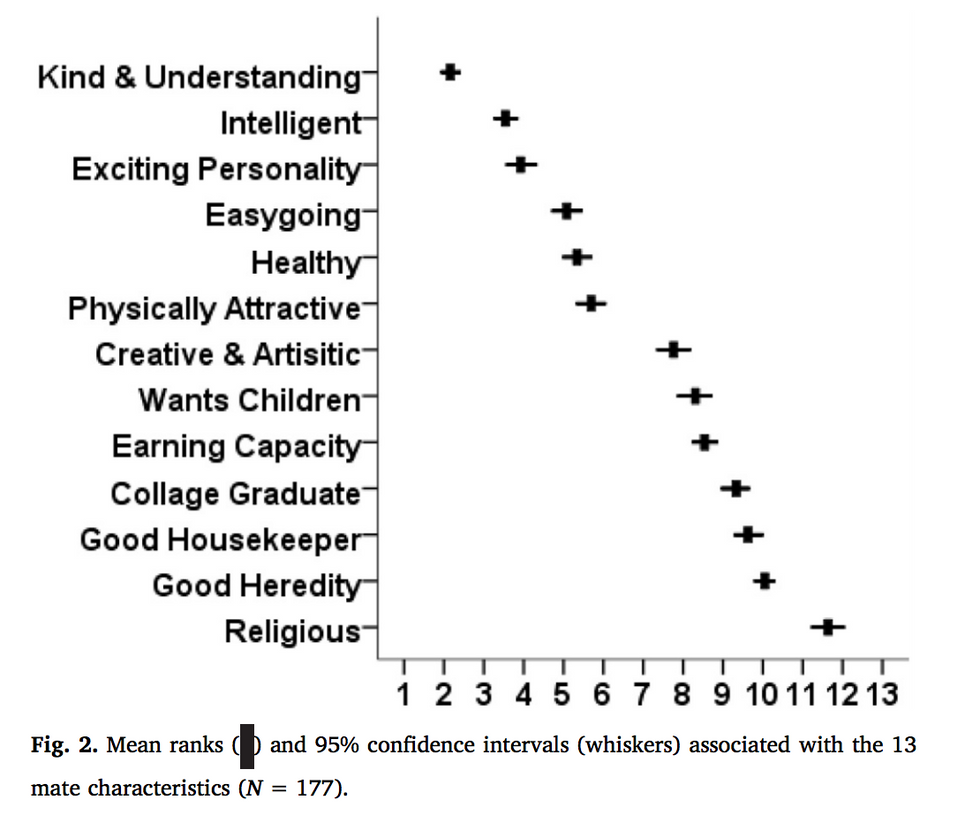 The researchers provide a possible explanation to this phenomenon:  
"[I]t may be the case that some participants in this investigation appealed to the stereotype that highly intellectually abled people suffer from inter-personal problems, when they evaluated the 99th intelligence percentile item. Extreme levels of intelligence may not be the only trait that invokes negative stereotypes. That is, some people may rate very high levels of several socially desirable attributes as somewhat less attractive (e.g., physical attraction, kindness, wealth, etc.), because they may fear a lack of compatibility with the prospective partner, or that such extreme traits may be associated with corresponding less attractive characteristics."
Finally, the authors created and administered the first Sapiosexuality Questionnaire (SapioQ) featuring items like "Listening to someone speak very intelligently arouses me sexually." The results gave "some plausibility for the sapiosexuality construct," showing a normal distribution of the trait. In other words, about 8% of the respondents could be considered sapiosexual with women scoring slightly higher on the scale.
In light of the results, it should also be noted that other studies have seen that the minimum level of intelligence required of a mate can change depending on our intentions. For example, a single date was associated with a minimum intelligence expectation of approximately the 50th percentile, while marriage boosted that minimum with 15 additional percentage points. Interestingly, in this study there was one major difference between males and females. When it came to the one-night-stand scenario, males' minimum intelligence requirement dropped to the 41st percentile, while females' rose to the 55th.
Dr. Gottman, a psychologist who studies relationships, explains the 5:1 rule.
A couple argues – Photo: geralt via pixabay
Everyone knows couples break up when they fight too much. But what if they don't fight enough?
Dr. John M. Gottman, a psychologist who's studied marital stability and relationships for decades, is known for finding that the "magic ratio" of positive and negative interactions in successful relationships is about 5 to 1. That is, couples who stay together tend to compensate for every negative interaction with five times as many positive ones. Gottman calls this his balance theory of relationships.
So, too much fighting leads to breakups. That's obvious. But what's interesting about the theory is it implies that one sign of a doomed relationship could be not enough negativity. An article on one of Gottman's websites elaborates this idea.
This balance theory implies the unusual point of view that negativity is important in healthy relationships. Negativity plays many prosocial functions — for example, culling out interaction patterns that don't work, renewing courtship over time, etc. Thus, couple therapy should not declare war on negativity. On the contrary, we submit the idea that a relationship without negative affect would be lifeless and boring.
The idea is that because people and environments are always changing, partners must provide one another with enough corrective feedback so they can be "on the same page."
Of course, it's not just about the quantity of fighting in a relationship. The style is also important. Gottman and his colleagues found that couples who remained stoic during conflicts actually tended to fare worse than couples that were more "volatile".
Another negative, dysfunctional pattern that emerged from our longitudinal research was both the absence of escalated negative affect during conflict, and also the absence of any positive affect during conflict. There was a marked lack of affection, shared humor, question-asking, active interest, excitement, joy, support, and empathy.
Conversely, volatile couples who get into lots of heated fights aren't necessarily doomed to split up. These couples exert a healthy amount of influence on one another, both positively and negatively. But as long as their interactions favor the positive, they tend to enjoy relatively stable relationships over the long term.

The 5:1 ratio also seems to ring true in the business world. Past research has examined the ways in which successful business leadership teams deliver criticism. The results showed that the most successful teams made an average of 5.6 positive comments per every negative one, while the average ratio among the lowest performing teams was just 0.36 to 1.

Jack Zenger and Joseph Folkman interpreted the results in the Harvard Business Review
"So, while a little negative feedback apparently goes a long way, it is an essential part of the mix. Why is that? First, because of its ability to grab someone's attention. Think of it as a whack on the side of the head. Second, certainly, negative feedback guards against complacency and groupthink."
Folkman and Zenger went on to add one final point that could apply to any area of life: Negative feedback can prevent you from driving off a cliff.
For a realistic look at what it takes to stay in love, here's Dr. Helen Fisher: