Meet a spectacular new blue—the first inorganic new blue in some time.
Credit: Oregon State University
Combine yttrium, indium, and manganese, then heat and serve.
The new blue was synthesized by chemists at Oregon State University.
YInMn Blue is the latest character in the weird history of the color blue.
Certain colors are globally linked to certain feelings, the study reveals.
Credit: Liudmila Dutko on Adobe Stock
Color psychology is often used in marketing to alter your perception of products and services.
Various studies and experiments across multiple years have given us more insight into the link between personality and color.
The results of a new study spanning 6 continents (30 nations) shows universal correlations between colors and emotions around the globe.
People associate colors with emotions (green for envy, blue for sadness, etc). We see this portrayed in the media, in marketing, even in the clothes we choose to wear. A detailed survey of over 4,500 participants from 30 nations (spanning over 6 continents) explains that people from all over the world often associate the same feelings with the same colors.
"No similar study of this scope has ever been carried out,"
said Dr. Daniel Oberfeld-Twistel
, member of the participating team at Johannes Gutenberg University Mainz (JGU). "It allowed us to obtain a comprehensive overview and establish that color-emotion associations are surprisingly similar around the world."
The root of color psychology
There is a very likely chance you've even been "fooled" by color marketing in the past, or you've chosen one product over another subconsciously due to colors that were designed to influence your emotions.

Companies that want to be known for being dependable often use blue in their logos, for example (Dell, HP, IBM). Companies that want to be perceived as fun and exciting go for a splash of orange (Fanta, Nickelodeon, even Amazon). Green is associated with natural, peaceful emotions and is often used by companies like Whole Foods and Tropicana.
Your favorite color says a lot about your personality.
Various studies and experiments across multiple years (2010, 2014, 2015, and more recently in 2019) have given us more insight into the link between your personality and your favorite color.
Red, for example, is considered a bold color and is associated with feelings such as excitement, passion, anger, danger, energy, and love. The personality traits of this color might be someone who is bold, a little impulsive, and who loves adventure.
Orange, on the other hand, is considered representative of creativity, happiness, and freedom. The personality traits of this color can be fun, playful, cheerful, nurturing, and productive. Read more about color psychology and personalities here.
Study reveals which colors best suit which emotions around the globe
Certain colors are globally ties to certain emotions, the study reveals.
Image by agsandrew on Shutterstock
In this particular survey, participants were asked to fill out an online questionnaire which involved assigning 20 emotions to 12 different color terms. They were also asked to specify the intensity with which they associated the color term with the emotion.
Certain colors are globally linked to certain emotions, the study reveals.
The results of this study showed a few definite correlations between colors and emotions throughout the globe. Red, for example, is the only color that is strongly associated with both negative (anger) and positive (love) feelings. Brown, on the other end of the spectrum, is the color that triggers the fewest emotions globally.

The color white is closely associated with sadness in China, while purple is what is closely associated with sadness in Greece. This can be traced back to the roots of each culture, with white being worn at funerals in China and dark purple being the Greek Orthodox Church's color of mourning.
Yellow is more associated with joy, specifically in countries that see less sunshine. Meanwhile, its association with joy is weaker in areas that have greater exposure to sunshine.
According to Dr. Oberfeld-Twistel, it is difficult to say exactly what the causes for global similarities and differences are. "There is a range of possible influencing factors: language, culture, religion, climate, the history of human development, the human perceptual system."
This polymath's papers—full of personal and scientific revelations—have joined the World Register.
A stamp printed in Laos from the "Space Exploration " issue shows Isaac Newton and Lunokhod 2, circa 1984.
The UNESCO International Memory of the World Register has recently added another batch of genius to its collection of documents: the papers, diaries, books, and notes of Sir Isaac Newton, thereby helping to preserve for all time the works of one of the greatest minds in human history.

Wait, who added what?

The UNESCO Memory of the World Program is a programmed dedicated to the preservation of and access to the documentary heritage of the world. The program has existed since 1992 and has discovered, preserved, and exhibited countess documents of vital importance to the heritage of mankind since then, including the papers of Winston Churchill, the telegram Austria-Hungary sent to declare war on Serbia, and The Wizard of Oz.

So, why add Newton's stuff?

Isaac Newton discovered and formulated the law of gravity, the classical laws of motion, the nature of color and optics, and invented calculus in his spare time. He invented the reflecting telescope, determined why the planets don't move in perfect circles, and he later went on to invent the little indentations around the side of coins when he was the master of the mint for Great Britain. His contributions to science are nearly impossible to overstate.

And don't take my word for it; Dr. Neil DeGrasse Tyson explains here why Newton is the greatest physicist of all time.
What documents of his did they add to the register?

This round of additions included the Cambridge Papers, a grand collection of Newton's works. This includes his 'Laboratory Notebook' where he recorded the results of sticking a pin in his eye to induce color images (it didn't quite work), his record of personal expenditures (he lost a bit of money at cards), and his personally annotated copy of Philosophiæ Naturalis Principia Mathematica (1687), one of the most important works in the history of science. Reading his handwritten notes, you can see the evolution of his understanding of physics from the first edition of his groundbreaking work and compare them to the changes he made in the second and third editions of Principia.

Amusingly, a list of the sins that he committed before and after Whitsunday in 1662 was also included. He seemed to have had a habit of doing things he should not, and then lying about it. He lists the sin of gluttony twice in a row, proving that geniuses are not so different from us after all.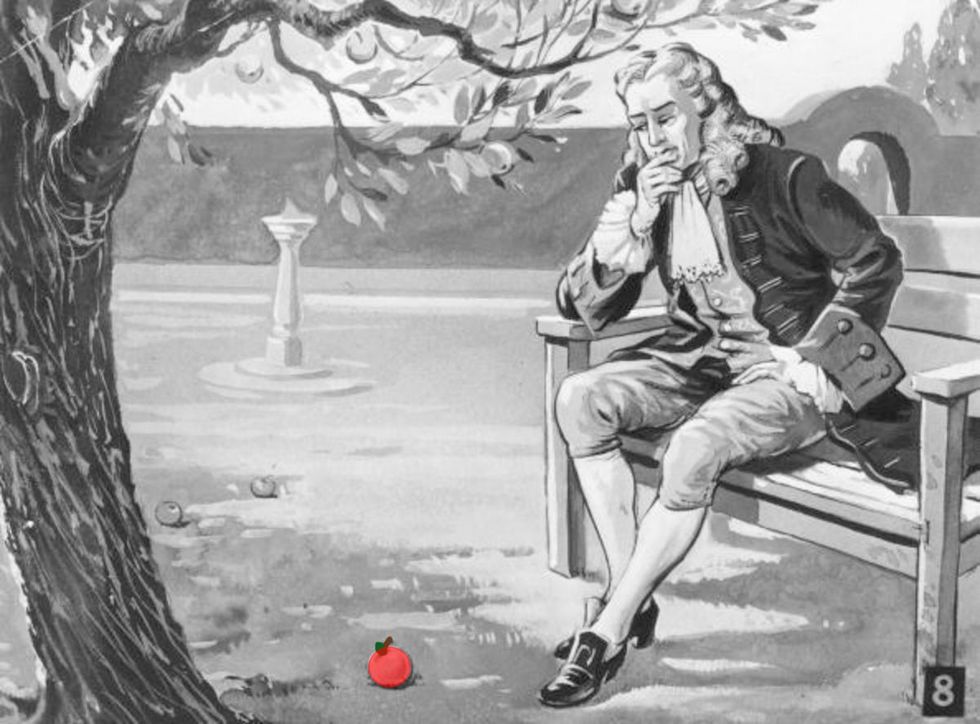 His first thoughts were to pie, not gravity. 

The work of Isaac Newton changed how humanity understood the universe. From his determining that white light was composed of all colors and that motion is unrelated to material, to inventing calculus in a "waste book" for the sake of his own curiosity, the way his mind worked awes us. Alexander Pope was not far off when he quipped that, "Nature and Nature's laws lay hid in night: God said, 'Let Newton be!' and all was light."
Brush up on Newton's Laws of Motion with Crash Course:
Our brains didn't evolve to see the world accurately, we only perceive what is useful and apply meaning to it. Neuroscientist Beau Lotto shows us how the sausage of reality is made.
We know the world exists, we just don't know what it actually looks like—and it's likely that we never will, says neuroscientist Beau Lotto. Humans can only access reality, whatever it may be, through the filter of our sensory organs, which interpret "inherently meaningless" data in ways that are useful for our survival. We don't see the world as it is, we see the world that helps us to live. It can be a concept that's hard to wrap your mind around: how is that chair not as I see it? What color is an apple, really? Lotto calls on two clarifying examples: "Dressgate", which blew people's minds in 2015 and exposed that perception is not objective, and the color spectrum, of which we only see a small slice of. Beau Lotto is the author of Deviate: The Science of Seeing Differently.
If you want to get from A to B more safely, be a little more choosy at the cab rank.
Photo: Getty Images
If you've taken to the United States streets anytime lately, you may have noticed that most public school buses are a very particular shade of yellow. That shade is called National School Bus Glossy Yellow in Canada and the US, and it was specially designed by Dr. Frank Cyr. He was in charge of developing standards for the school bus. While there was no standard prior to this, many wanted something eye-catching so that every driver knew what vehicles hosted dozens of children on their way to learn. So, in 1939, after a long-awaited conference, they chose yellow.
Yellow is easy to see in the dim lights of early morning or late evening, and because it's seen across both the green and red cones in the eye, it pops in our vision faster than other colors. It's easier to notice even out of the corner of the eye, and stands out against the fog on a rainy day. What's more, while the majority of those who are color blind have trouble distinguishing red from green, they can still see yellow just fine. The eye-popping color is just one of the reasons that school buses are one of the safest vehicles to travel in. Amanda Dumas-Hernandez, a Professor of Color Theory, agrees: 
"Studies have proven that yellow is more visible on a spectral scale. It moves to the foreground while darker colors move to the back. Something yellow appears optically speaking heavier and larger than a darker shape the same size."
It makes sense that yellow taxi cabs are safer than the blue ones. According to PNAS.org, blue and yellow cabs have the same rates of fare and spend the same amount of money a month to keep their medallions, so neither set of drivers are more motivated to drive safer. It isn't like Uber, where drivers are rated by the very customers they drive around. Furthermore, the drivers tend to drive at similar speeds, so the color of the cabs isn't attracting certain driver personalities. It is mostly linked to the color of the cab.
When Dumas-Hernandez learned that blue taxis got in 9% more accidents than a yellow taxi, she was surprised. "I thought it would be more," she said.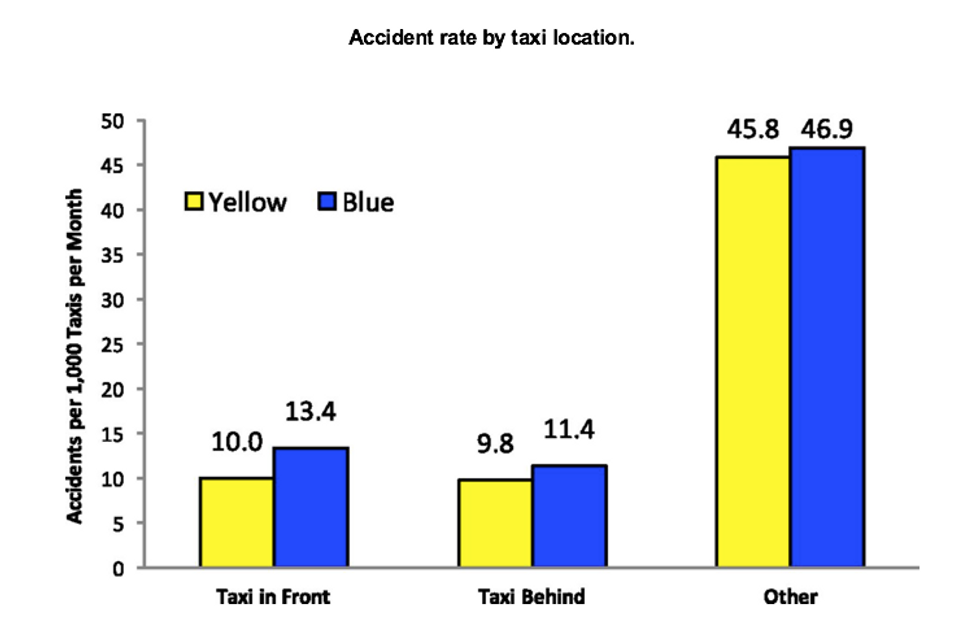 Accident rate by taxi location. Image: PNAS.org.
The long-standing association of yellow being the color of cabs means many people purchase cars that are specifically not yellow, because of the connection, but they will purchase blue cars. People are more careful around the yellow vehicle for the same reason they are careful around the school bus: they know what the color means.
Blue cars are similar to the color of fog on a rainy day, or the water under a bridge, so because of their lack of distinction, they are more likely to be hit. Blue cabs have approximately six accidents more than their yellow siblings for every one thousand accidents. Yellow cabs are less likely to be hit from behind, whether at day or at night, than blue ones. The color blue blends in with the dark while driving at night, meaning the already troubling act of facing on-coming headlights while your eyes are dilated is more difficult when a blue car is hiding along the road.
These findings may prompt introspection and the headquarters of ride-sharing apps like Uber and Lyft, and will push car buyers to consider color not just as a stylistic afterthought, but as a very low-tech but effective safety mechanism that could keep them and their passengers safer. The most immediate application of this research however will be helping people on the street make an easy choice when faced with two competing taxi companies. 
Of course, this is all a short-term worry: we won't be at the mercy human error for much longer.