Yale professor Amy Chua on the identity of nations, why hardened tribes end up in civil wars, and why you can't just replace dictators with democracy.
Yale professor Amy Chua has two precautionary tales for Americans, and their names are Libya and Iraq. "We're starting to see in America something that I've seen in other countries that is not good," says Chua. "We don't want to go there. We don't want to get to the point where we look at people on the other side of the political spectrum and we see them not just as people that we disagree with but literally as our enemy, as immoral, "un-American" people." Tribalism is innate to humanity, and it is the glue that holds nations together—but it's a Goldilocks conundrum: too much or too little of it and a nation will tear at the seams. It becomes most dangerous when two hardened camps form and obliterate all the subtribes beneath them. Chua stresses the importance of "dividing yourself so that you don't get entrenched in just two terrible tribes." Having many identities and many points of overlap with fellow citizens is what keeps a country's unity strong. When that flexibility disappears, and a person becomes only a Republican or a Democrat—or only a Sunni Muslim or a Shia Muslim, as in Iraq—that's when it's headed for danger. In this expansive and brilliant talk on political tribes, Chua explains what happens when minorities and majorities clash, why post-colonial nations are often doomed to civil war, and why you can't just replace dictators with democracy.
Clashes between "antifa" on the far left and the alt-right have intensified.
People protesting controversial Breitbart writer Milo Yiannopoulos take to the streets on February 1, 2017 in Berkeley, California. (Photo by Elijah Nouvelage/Getty Images)
The election of Donald Trump has been a catalyst for releasing the pent-up tensions in the American society. The country is not only divided but the opposing sides are not finding much in common to talk about. While the violence has not been widespread and can be written off at this point as clashes between fringe groups, there is potential for things to boil over.
Groups united under the alt-right banner have made their presence felt at protests targeting pro-Trump speakers. But they have been increasingly confronted at these rallies by violence-minded protestors known as the "antifa" or "anti-fascists." 
The 2017 skirmishes between the alt-right and antifa included the infamous Nazi-punch when the white supremacist Richard Spencer was punched in the face by a masked passerby. Further confrontations happened during the protests against uber-troll Milo Yiannopoulos's speeches in Seattle's University of Washington, where an antifascist protester got shot, and at Berkeley University in California. The April 15th fight dubbed "The Battle of Berkeley" devolved into smashed windows and set fires, with 20 arrested and 11 injured.
There've been other clashes in April in Vancouver and in Portland, Oregon and a confrontation in Boston on May 13th.

So who is behind antifa?
According to The Nation, the movement has its roots in anti-fascist fighting predating World War 2. Anti-fascists organized in military brigades fought Franco in Spain in the '30s. An infamous "Battle of Cable Street" saw thousands of fascists fighting an even larger crowd of anti-fascists on the streets of London in October 1936. The antifa movement via groups like Anti-Racist Action (ARA) has been clashing with neo-Nazis in America since the 80s.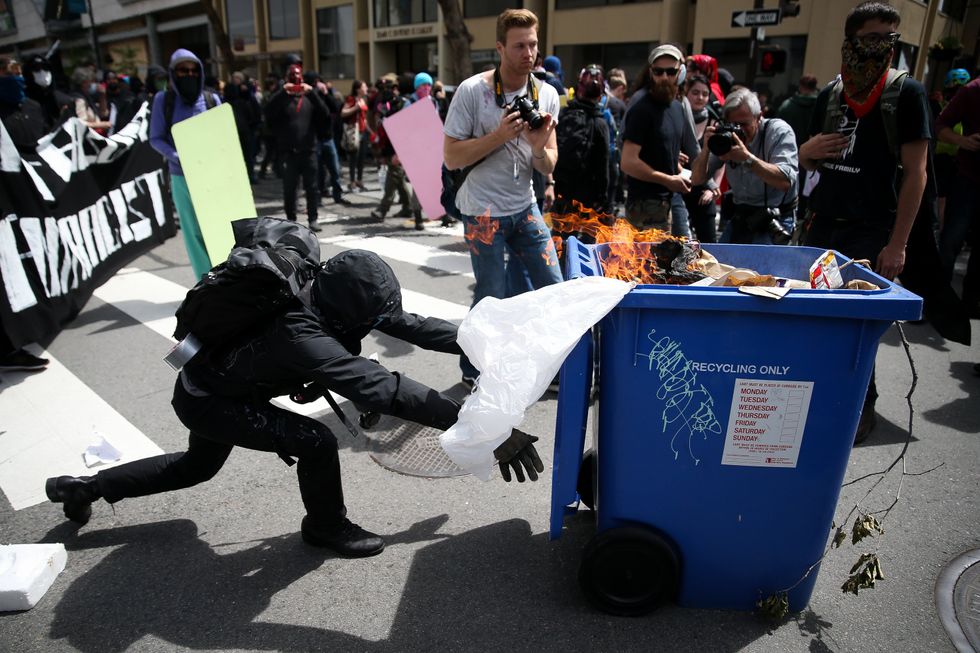 Protesters push a burning recycling bin at Trump supporters during a 'Patriots Day' free speech rally on April 15, 2017 in Berkeley, California. (Photo by Elijah Nouvelage/Getty Images)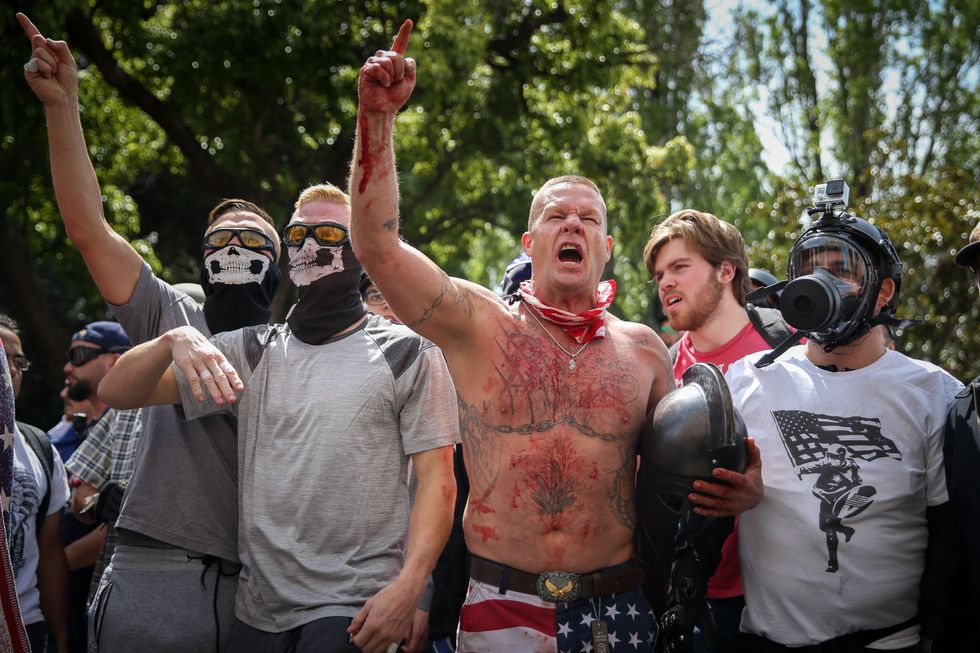 Trump supporters face off with protesters at a 'Patriots Day' free speech rally on April 15, 2017 in Berkeley, California. (Photo by Elijah Nouvelage/Getty Images) 
The modern antifa sees neo-fascists as actively trying to change the world and people's minds with their ideas and do not want to wait in the wings until things get worse. And they believe that the Trump movement has incorporated into itself radical far-right voices that now feel empowered to make themselves heard.
"For too long have our elected officials and our media placated these violent, toxic people. For too long have the enemies of democracy and rational, informed discourse been granted platforms to spew their rhetoric and earn notoriety for their movement. A warning to those who wish to destroy what we hold dear; We will resist you in the streets, in the poll booths and in the townhouses... We will not allow history to repeat itself. We will shut you down everywhere you go. We will block your marches. We will interrupt your speeches. We will protest your legislation. We will be the thorn in your side. The glass in your bread. The pain in your ass. We are ARA. We are watching." - wrote a Louisville, Kentucky ARA branch on its site.
This kind of tough talk has translated into genuine mini-riots when the opposing sides get together.
Here's how the April 15th melee at Berkeley looked [WARNING: STRONG LANGUAGE, VIOLENCE]:
Here's how it looked in Portland [WARNING: STRONG LANGUAGE, VIOLENCE]:
Another confrontation in May in Portland also got out of hand [WARNING: STRONG LANGUAGE, VIOLENCE]:
As far as the violence, it is not the only way in which antifa groups counteract their opponents, engaging in tactics like exposing the true identities of fascists and internet trolls, helping people join unions, advocating for issues like the environment. But some do see violence as intrinsic to fascism and as such regard resorting to violence as a necessary counterforce measure.
A representative for the Antifa NYC news site explained their mission more broadly to The Nation: "Antifa combines radical left-wing and anarchist politics, revulsion at racists, sexists, homophobes, anti-Semites, and Islamophobes, with the international anti-fascist culture of taking the streets and physically confronting the brownshirts of white supremacy, whoever they may be." 
Antifa protesters often wear black masks and black clothing - a "black bloc" force. Newsweek describes this as a tactic for anarchist protest which doesn't necessarily represent one group. It should be noted that antifa is far from just one organization and is a rather decentralized force (much like its alt-right counterpart). Antifa also includes militant groups outside of ARA. There's the Hoosier Anti-Racist Movement (HARM) in Indiana and Redneck Revolt and others.
Conservative commentators see antifa as agitators and anarchists. Kevin D. Williamson at National Review has dismissed antifa as an invented "gang" and "children" while at the same time painting the white nationalists and antifa as "two sides of the same very sad little coin." Williamson also doesn't see America as having a "budding fascist movement", which would of course make the existence of antifa unnecessary and nonsensical if you believe that.
From President Trump's standpoint antifa are troublemakers, with some of them being paid (probably by George Soros, the right-wing's favorite boogeyman). He tweeted a threat that federal funding could be pulled from Berkeley over the violence and suppression of free speech. There are petitions out from the right to designate "antifa" as a domestic terrorist organization. Liberal detractors, in their turn, are also paranoid that a small group of antifa agitators could start a chain of events whereby some sort of martial law would be instituted by the incensed Trump.
Could the fighting between the fringe groups get worse and go beyond the radical elements on both sides? If the rhetoric in the country doesn't improve and a wedge will continue to be driven between the two sides, who both listen exclusively to their own media outlets, nothing rosy is to be expected. Add to this the possibility that as the various investigations around Trump close in, knowing his penchant for doubling down on his positions and riling up his base, it's not inconceivable to imagine an America exploding in much stronger violence down the line.
Way before there was Cracked or Mad magazine, there was Puck, a weekly satirical publication that came out of St. Louis, Missouri in 1871. Here are some of the incredible full-color illustrations of that era's political issues.
Disappointment / Keppler. 1898 (Image: Picryl)
Way before there was Cracked or Mad magazine, there was Puck, a weekly political satire publication out of St. Louis, Missouri. The founder of Puck, Joseph Ferdinand Keppler, published it in English and German, and each issue included several full-color illustrations: on the cover, on the background and on a double-page centerfold. Puck's images were full of pawky humor that illustrated the political aspects and world line-up before the First World War. By 1884, its success was notable, with a circulation of at least 125,000 copies.
The name Puck was borrowed from the trickster character in Shakespeare's A Midsummer Night's Dream, and incarnations of the same character have appeared in tales and myths all over the world: in old Norse, Swedish, Icelandic, Frisian, Welsh, Cornish, Irish and other cultures. In 1871, with the first issue of Puck, the spirit of mischief came to the United States.
Some of Puck's 19th century caricatures depicted Tsar Nicholas II, the last emperor of the Russian Empire. His reign ended in the economic and military collapse of one of the foremost great powers of the world.
For most of the 19th century U.S.-Russian relationships were quite rosy due to a largely untold alliance between President Abraham Lincoln and Russian Tsar Alexander II, and that relationship is believed to have been the key to the North winning the U.S. Civil War. However, in the late 19th century, the United States, previously viewed as an agricultural superpower, started to equip itself for a different role, changing the dynamic for good.
Russia's defeat in the Russo-Japanese War was largely contributed to Wall Street financiers, who loaned Japan the capital to buy U.S.-built warships. The defeat dealt a painful blow to the political prestige of Russian Empire. In 1914, a political controversy with Germany and Austria-Hungary over the independence of the Serbian kingdom dragged Russia into WWI. Like all riches to rags story, Russia's changing status made great material for political humor and commentary in publications such as Puck.
The first of many tragic events that hit Nicholas II's reign was the 1896 Khodynka Tragedy, when the festivities following Nicholas II's coronation led to a human stampede and death of 1,389 spectators. In 1905, a bloody wave of anti-Jewish pogroms reached its peak in Odessa, modern Ukraine, where almost 2,500 Jews were killed and many more wounded. In the same year, an unarmed demonstration that aimed to present a petition to the Tsar was suppressed violently, with hundreds of victims. Due to these events, the last emperor earned the nickname "Nicholas the Bloody".
Nicholas, his wife Alexandra, and their five children Olga, Tatiana, Maria, Anastasia, and Alexei were killed by the Bolsheviks on 17 July 1918. The family was canonized in 1981 as new martyrs by the Russian Orthodox Church.
The U.S. perception of the political agenda of the late Russian Empire and other major world powers represents itself in Puck magazine's lithographs. The whole collection is available to view now on Picryl.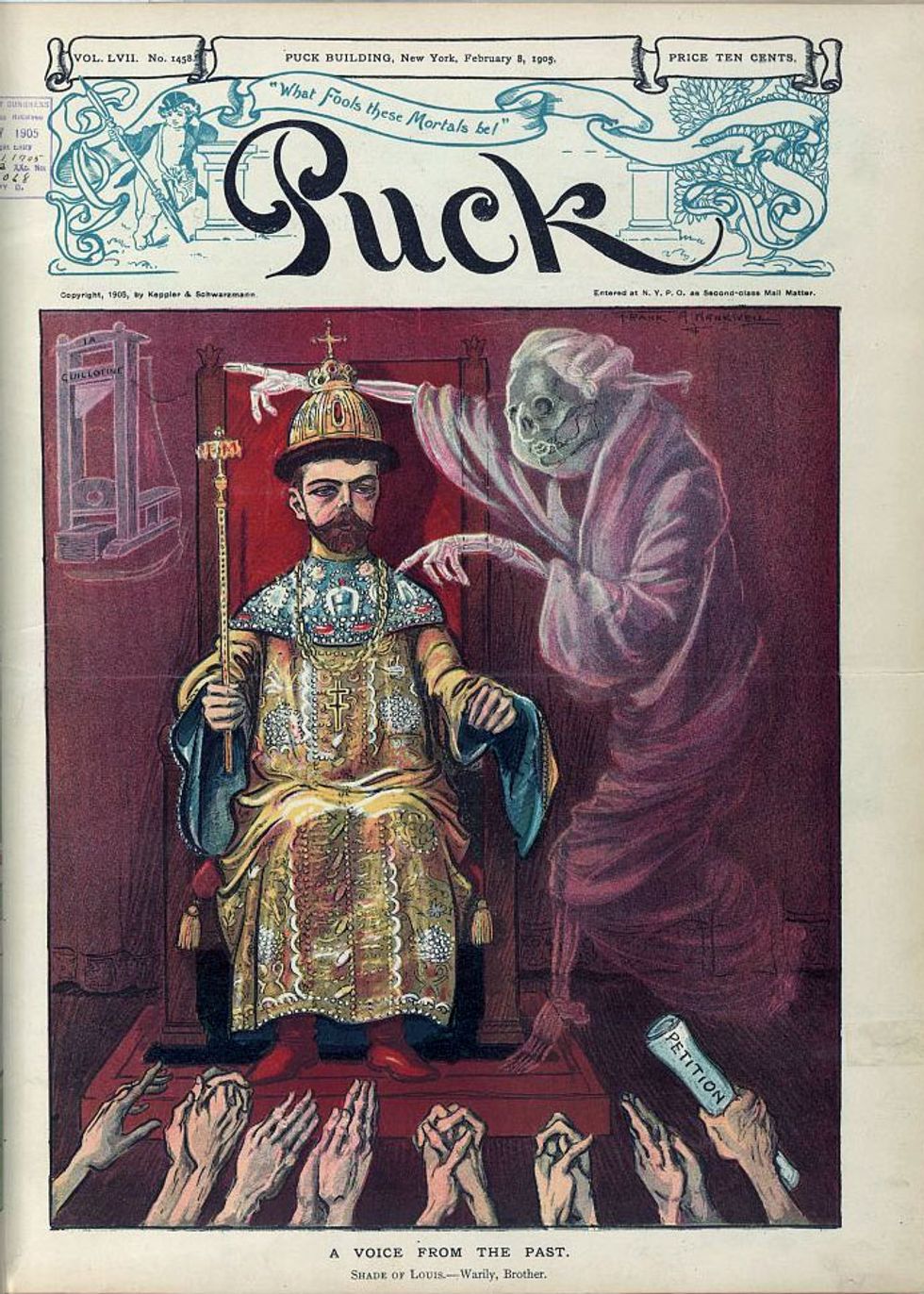 A voice from the past / Frank A. Nankivell. 1904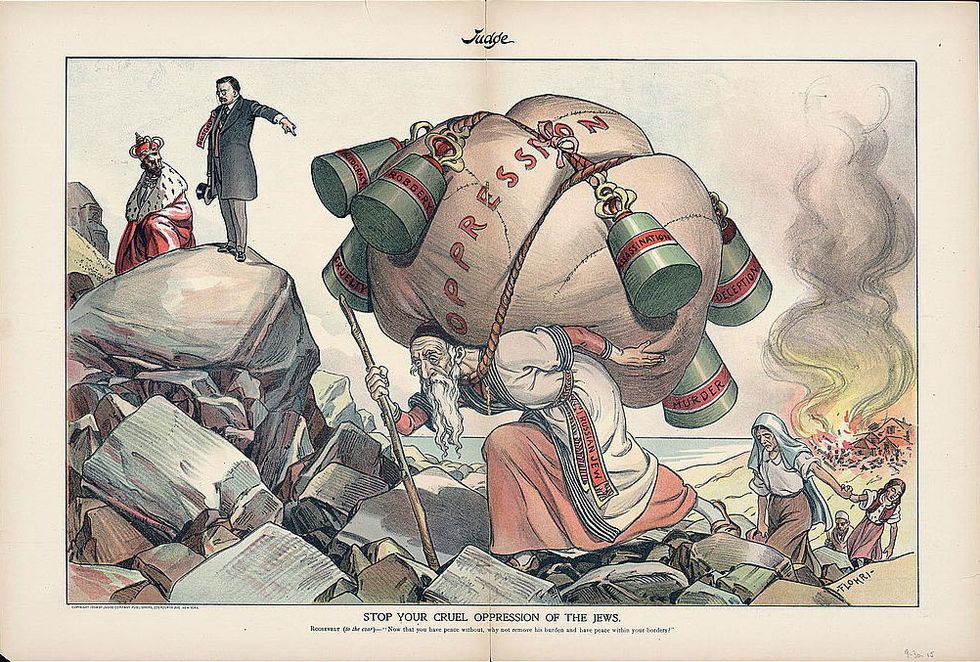 Stop your cruel oppression of the Jews / Flohri. 1903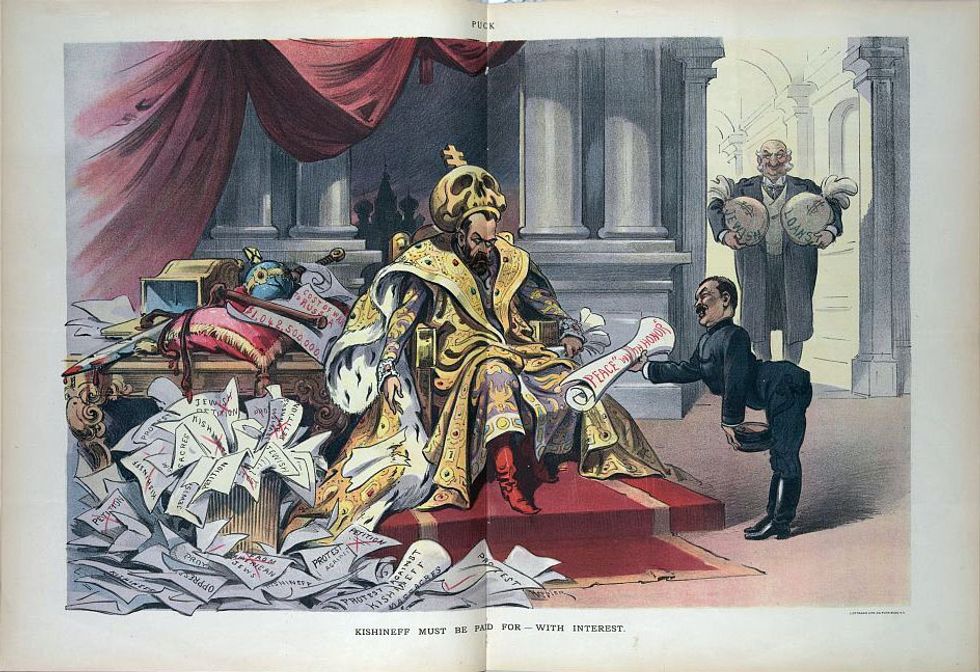 Kishineff must be paid for - with interest / Keppler. 1904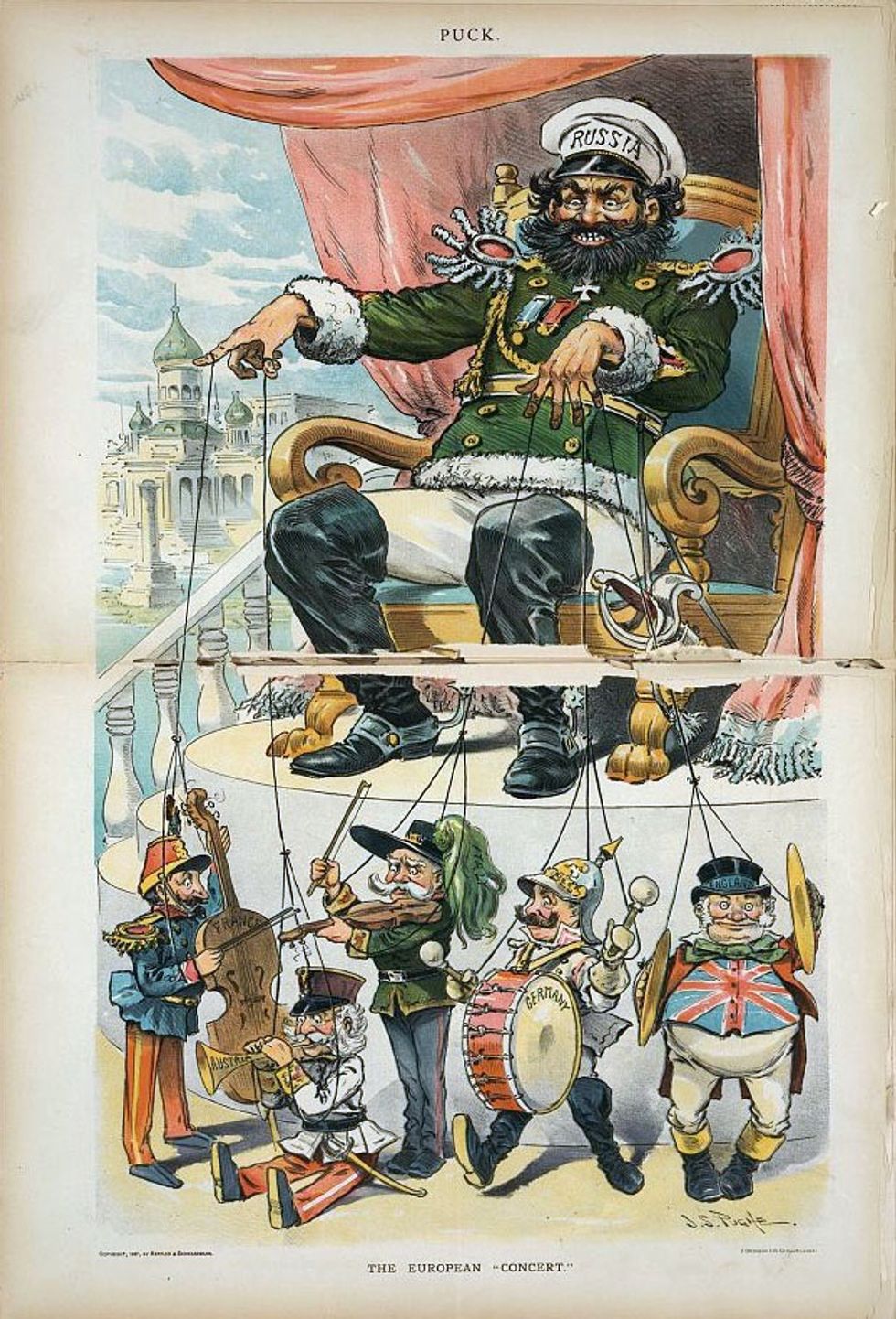 The European "concert" / J.S. Pughe. 1896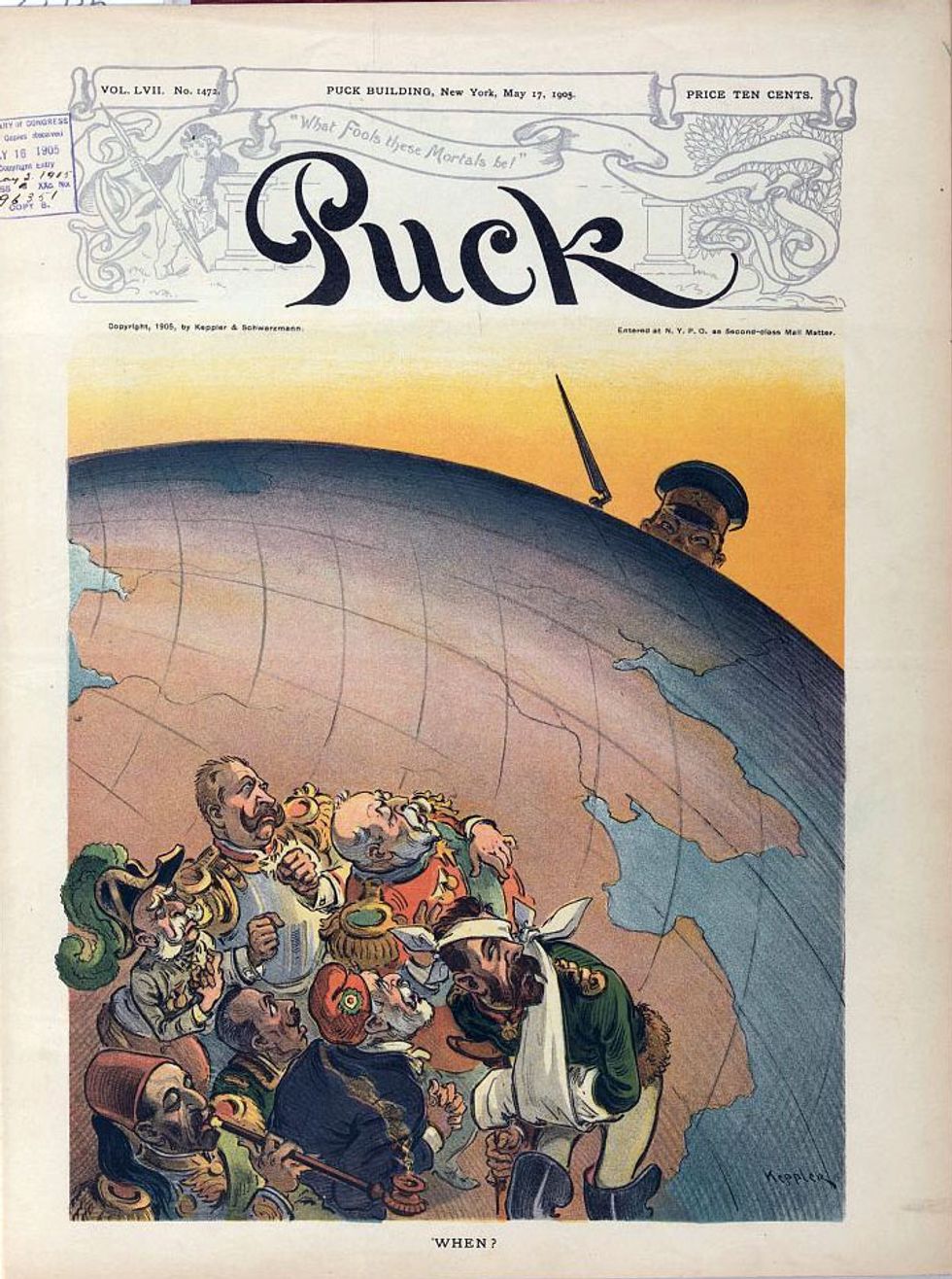 When? / Keppler. 1904
Who was the father of American photojournalism? Here's a look at the Civil War work of Mathew Brady.
Confederate prisoners awaiting transportation, Belle Plain, Va, 1865. (Image: Picryl)
Despite the limits of early picture-taking technology, in the 1840s photography had become a popular art form and a profitable business.
Back then, portrait photography was tedious; it required a very brightly lit scene, and a patient model that was able to sit still under that scorching light (which, disturbingly, is the very same reason post-mortem photography was so popular in the Victorian era).
In the United States in the 19th century, people preferred the living, and the desire to preserve an image of a loved one captivated the masses. A New York photographer, Mathew Brady, caught onto that need and in 1856 he published an ad in The New York Daily Tribune that stated: "You cannot tell how soon it may be too late", and suggested people commission photographic portraits of their loved ones while it was still possible. With the start of Civil War in 1861, it became more relevant than ever. Thousands of soldiers and their families were ready to pay about one dollar for a tintype photograph (nowadays that amount is equal to nearly $30). Brady even had a special offer for celebrities: he did not charge a fee for portraits of politicians, generals, and actors – but he did use them as marketing tools to bolster his profile and build his brand.
As the country's political climate boiled, Brady decided he had to document the Civil War itself. Due to the technological restrictions of his time, he could make photographs only before and after a battle, but thanks to his efforts, historians have gleaned a lot of information about the Civil War from those pictures. Brady was the father of American war photography and the first to captured war scenes right in the army camps.
As the war progressed and his ambitions grew, he took on a few employees and for each of them he bought a mobile darkroom. All his photos, as well as all the works of his employees, were credited "by Brady." This photography team followed the armies through victory and defeat and recorded an impressive and harrowing photographic history of the American Civil War.
To see the full collection of Mathew Brady's photographs, which are now in the public domain, head to Picryl.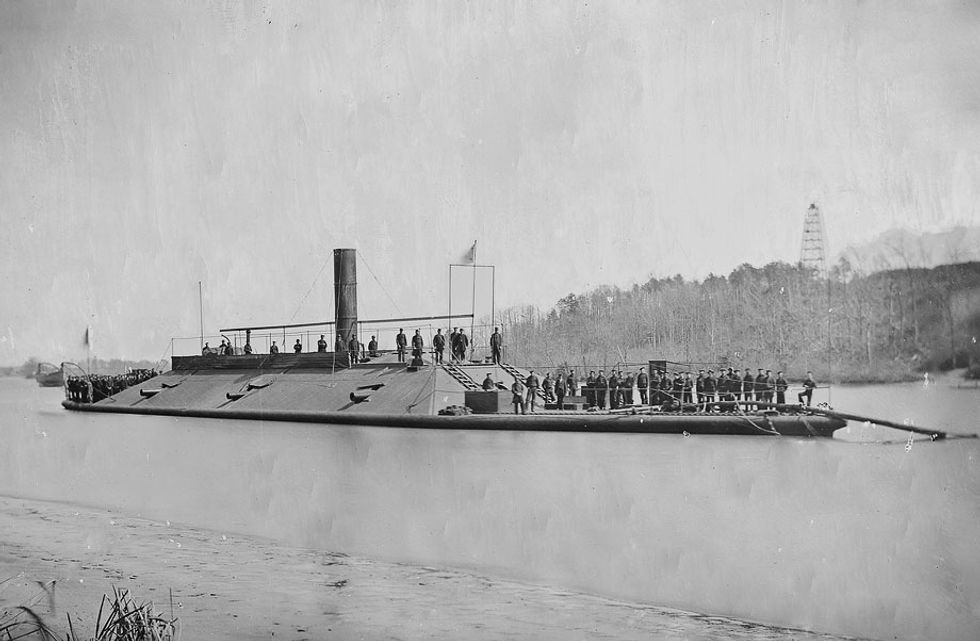 "Atlanta" (Confederate Ram) on James River after capture, 1865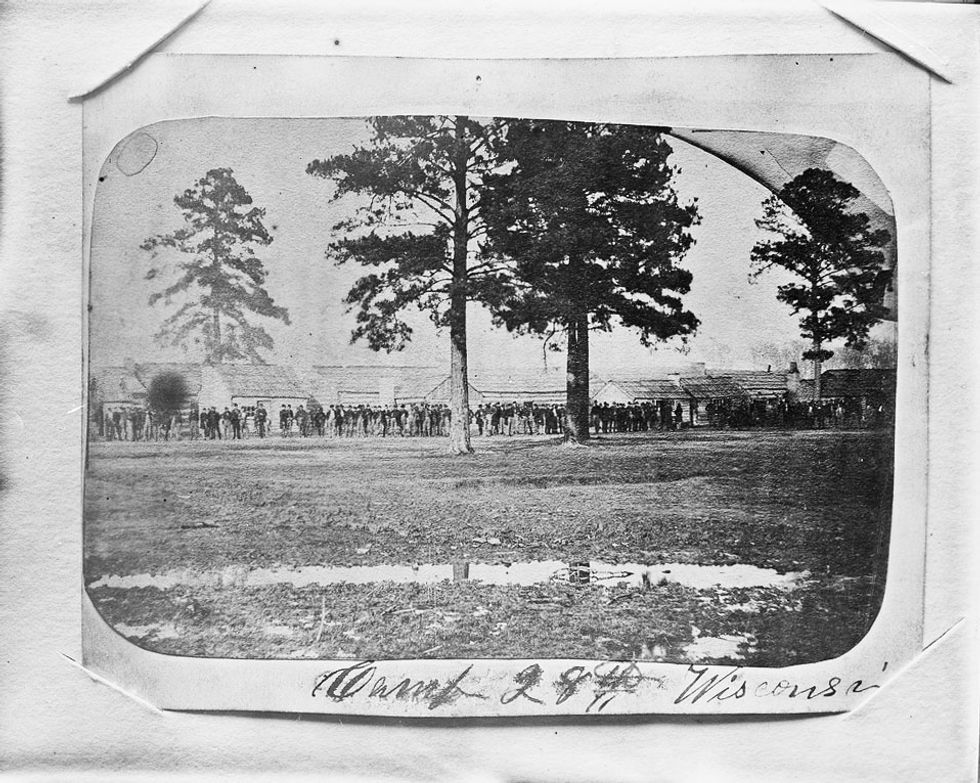 Camp of 28th Wisconsin, 1865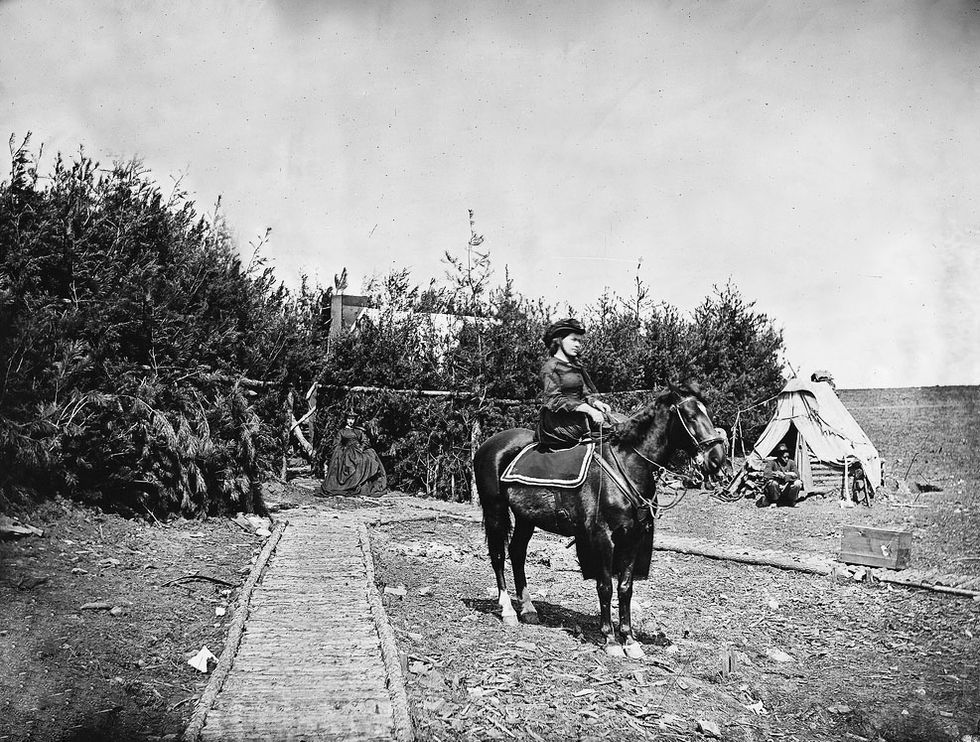 Camp scene, ladies in camp, 1860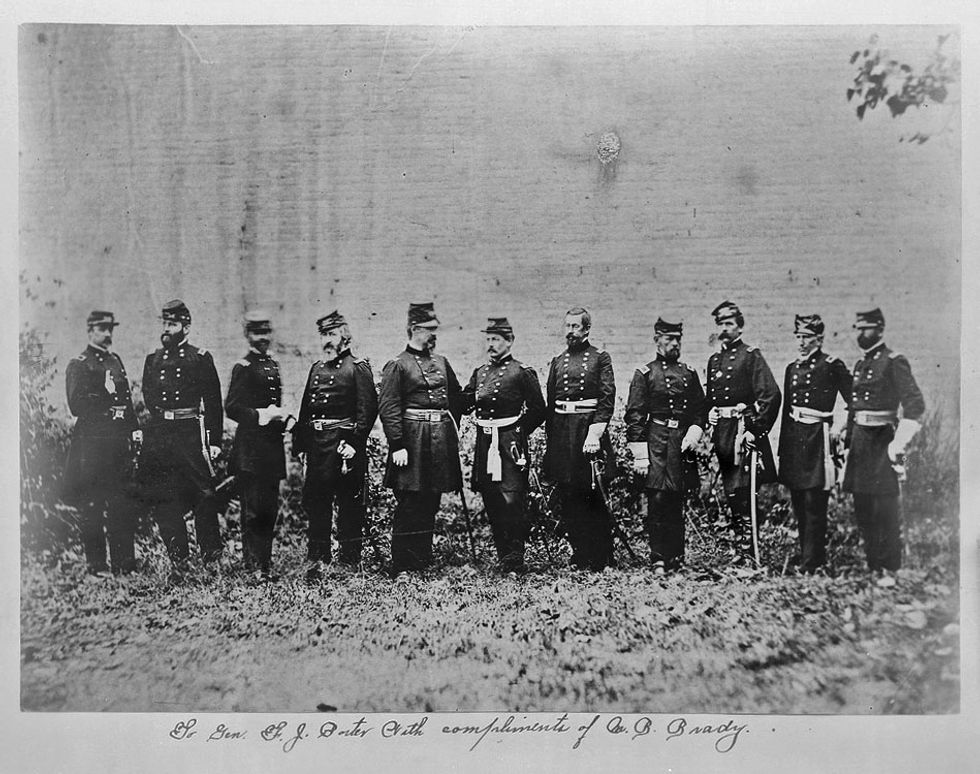 General Porter, plus others, 1865

View from Lookout Mountain, Tenn, 1865