Getting a good night's sleep just took on a whole new meaning.
A new study introduces a new method for determining your personal circadian rhythm.
This could have profound effects on combating cognitive disorders and helping patients understand when to take medicine.
The blood test measures a person's biological clock to within 1.5 hours.
Though the light bulb isn't exactly a hot new piece of technology, at the time of initial dissemination it created a social revolution whose effects — positive and negative — are still felt today. No matter how much awe we feel flying over the bright jigsaw of a metropolis, the unintended damage electric lighting waged on our sleep patterns is in part to blame for a number of modern ailments, including obesity, Type 2 diabetes, hypertension, cardiovascular disease, and cancer.
Until a few centuries ago all life was governed by the rhythm of the sun. Earlier technologies, such as controlled fire and candles, require constant upkeep while causing nowhere near the same damage as the blue lights on our phones. What we call advancement comes at a cost — for example, the physical and emotional health of teenagers.
As journalist and high school science teacher Henry Nicholls recently wrote in the NY Times, three out of four high school students do not get eight hours of sleep per night. This is extremely damaging during a time of great neuronal development. Nicholls argues that an 8:30 a.m. start time is counterproductive and dangerous:
It is unthinkable that a school should operate with asbestos in the ceilings, with no central heating in winter or with rats in the kitchen. Starting school before 8:30 a.m. should be equally unacceptable.
Such an early start time is mostly the result of parental convenience: in a two-parent household where both adults work, dropping the kids off at school considers their schedule. Unfortunately, such a timeline usurps basic biology. Teenagers should be sleeping more than eight hours, yet the combination of an early first period and late-night chats and gaming on smartphones has created an environment not conducive to learning.
Photo: Yuris Alhumaydy / Unsplash
The human circadian rhythm approximates with the rising and setting of the sun, though that's not the final word in this story. Before electric lights we slept in two shifts — still within the timeframe of the rotation of the planet, however. As Daniel Pink writes in When, his book on timing, there is individual variation in this rhythm: 14 percent of humans are what he terms "larks" and 21 percent "night owls," while the majority are "third birds," meaning their midpoint of sleep is between 3–4 am.
How do you know what feathered vertebrate you are? It turns out your blood can tell you. A new test called TimeSignature, announced in a study published in the Proceedings of the National Academy of Sciences, requires only two blood draws to inform you what your genes say about your circadian rhythms.
This follows previous, expensive tests requiring numerous blood draws at specific times of the day. TimeSignature measures forty different gene expression markers that signal when you should be sleeping. Though variation might exist dependent upon scheduling — I remember gruelingly working overnight shifts in the emergency room back in college — your genetic make-up doesn't lie.
Now we can pinpoint the hours we should be unconscious with previously unavailable precision. According to Northwestern University Feinberg School of Medicine assistant professor (and lead author of the study), Rosemary Braun,
This is a much more precise and sophisticated measurement than identifying whether you are a morning lark or a night owl. We can assess a person's biological clock to within 1.5 hours.
Poor sleep patterns are also implicated in two devastating health issues beyond those mentioned above. First, not honoring your nightly requirement factors into mental health problems and neurological disorders. Second, when you take a dose of medicine matters. TimeSignature might aid in informing doctors when their patients should be swallowing pills. As coauthor Phyllis Zee says of the study's findings,
This is really an integral part of personalized medicine. So many drugs have optimal times for dosing. Knowing what time it is in your body is critical to getting the most effective benefits. The best time for you to take the blood pressure drug or the chemotherapy or radiation may be different from somebody else.
Coauthor Ravi Allada notes that almost every tissue and organ system in our body depends on our personal circadian rhythm. The fact that certain mental health disorders, obesity, and even cancer can be avoided by knowing when you should be sleeping is a groundbreaking step forward in modern medicine, even if it is basic common sense: a good night's rest is folk wisdom.
That said, little seems common when we've shut nature out of our lives in so direct a fashion. From electricity to blue lights to virtual reality headsets, one light still matters most. The ancients would honor that star by naming their gods after it; today, fearing skin cancer, we shelter ourselves at every turn. Yet there it remains, dictating our every bodily process even as we remain ignorant of the fact. With this new test, such ignorance might just be abandoned.
--
They proved how the biological mechanism works inside our cells.
The circadian clock. Credit: Mattias Karlén. The Nobel Committee for Physiology or Medicine.
The Nobel Prize for Physiology (or Medicine) was announced on Oct. 2 in Sweden. Three American scientists jointly took home this prestigious award for their work on circadian rhythms. This is the biological clock all organisms have which controls our sleep-wake cycle, the release of hormones at important intervals, body temperature, blood pressure, and other critical mechanisms, in order to maintain homeostasis or balance.
All life seemingly has an internal clock, set to fall in line with the rotation of the Earth. This internal mechanism helps life adapt as well to changing aspects of the day and environment. Jeffrey C. Hall, Michael Rosbash, and Michael W. Young are the three newly dubbed Nobel laureates. Hall and Rosbash are from Brandeis University in Boston, while Young hails from Rockefeller University in New York City.
Hall is 72 years old, Rosbash 73, and Young 68. The three will split the $1.1 million prize money this December. Officials at the Swedish Royal Academy of Sciences made the announcement at The Nobel Assembly at Karolinska Institutet in Solna, Sweden.
We've known of these rhythms for a long time. Astronomer Jean Jacques d'Ortous de Mairan in the 18th century was the first to show the existence of a biological clock. He proved that mimosa plants, even when plunged into total darkness, still carried on processes in a 24-hour cycle. Soon, similar rhythms were found in other organisms. Basically, Hall, Rosbash, and Young uncovered the biological mechanism required to synchronize each cell.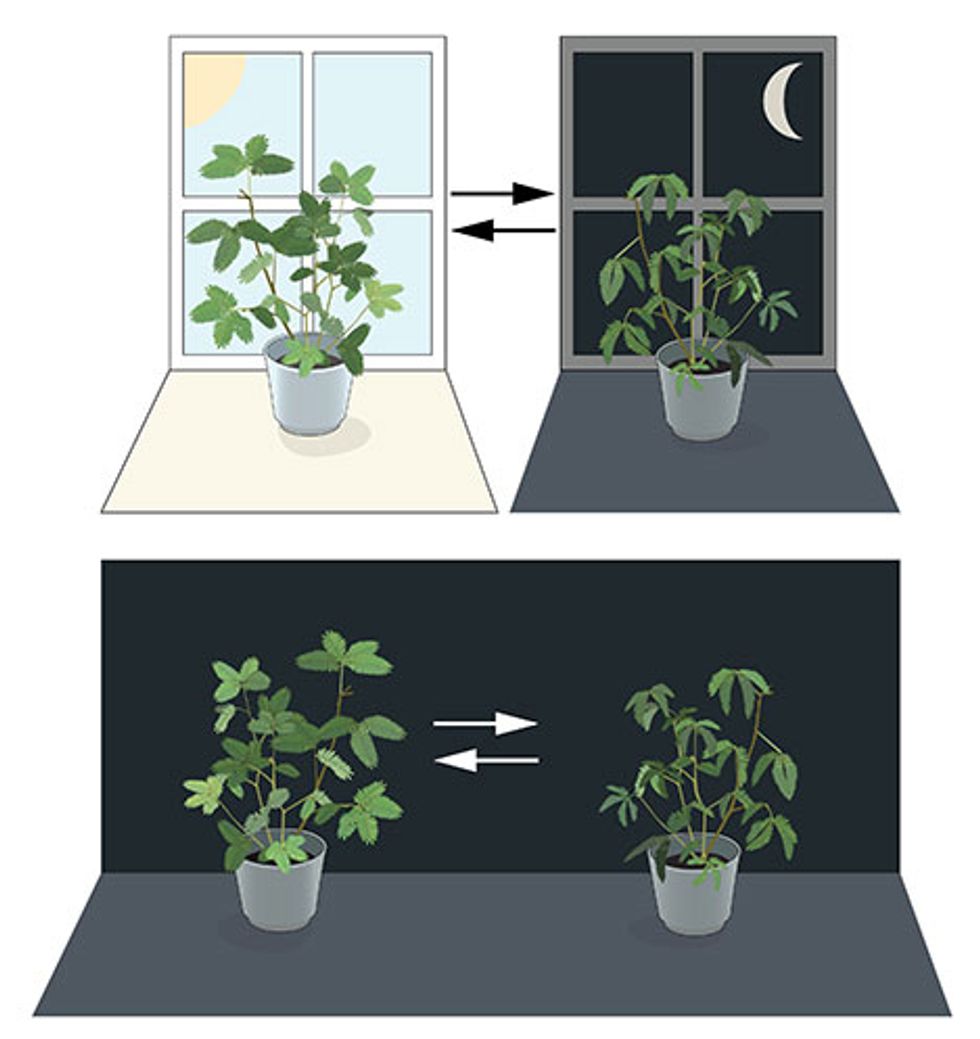 Figure 1. An internal biological clock. The leaves of the mimosa plant open towards the sun during day but close at dusk (upper part). Jean Jacques d'Ortous de Mairan placed the plant in constant darkness (lower part) and found that the leaves continue to follow their normal daily rhythm, even without any fluctuations in daily light. [Image & caption: Nobelprize.org]
 The laureates began work on their discovery in 1984. Hall and Rosbash collaborated at Brandeis while Young did his part at Rockefeller. They were all working with fruit flies. Hall and Rosbash discovered a certain protein known as PER. This would build up in the fly's system overnight and disappear over the course of the day. The protein was found to change significantly over a 24-hour period. So it's essentially the main driver for the insect's internal clock. Hall meanwhile isolated what's known as the period gene which encodes for the PER protein.
Hall found that blocking the period gene disrupts the fly's internal clock. From there, it was discovered that the gene helps control the PER protein by inhibiting its activity. Seymour Benzer and Ronald Konopka in the 1970s were the first to discover a period gene. But these new laureates found out how such a gene works.
In the fruit flies, the period gene prevents PER from synthesizing, regulating it and keeping the fly's biological clock synchronized. In 1994, Young went a step further and proved how the PER protein built up overnight again within a cell's cytoplasm. He found another gene, called timeless, which encodes the TIM protein.
TIM becomes active overnight within the cytoplasm, allowing PER to build up there. Come morning, these two proteins bind together and enter the cell's nucleus, where PER is incrementally worn away by the period gene, through an impressive feedback loop. By identifying these genes and the proteins that they make, researchers were able to reveal a crucial mechanism at work within all life.
Why is this work so important? 2001 Nobel Prize laureate Sir Paul Nurse underscored that in an interview with The Guardian:
It's important for the basic understanding of life. Every living organism on this planet responds to the sun. All plant and also animal behaviour is determined by the light-dark cycle. We on this planet are slaves to the sun. The circadian clock is embedded in our mechanisms of working, our metabolism, it's embedded everywhere, it's a real core feature for understanding life.

There's a second reason. We are increasingly becoming aware that there are implications for human disease. With the modern technological age we get more and more divorced from the circadian rhythm, as we are able to travel across time zones and disturb our circadian rhythm. We can now live in light-dark regimes that are nothing to do with the circadian rhythm. This is leading to conditions like jet lag which are disturbing and may in turn also lead to other consequences that we don't fully understand about the human condition.

There is some evidence that treatment of disease can be influenced by circadian rhythms too. People have reported that when you have surgery or when you have a drug can actually influence things. It's still not clear, but there will almost certainly be some implications for the treatment of disease too.
To hear about this discovery from Young and Rosbash, click here:
A "new" field of medicine called chronotherapy demonstrates that following nature's cycles, as our ancestors did, is integral to proper biological and cognitive function.
Every technological advance has detrimental effects. Two in particular have become relevant when contemplating a variety of ailments, from cancer and heart attacks to depression and mental illness: the light bulb and airplane. Though the benefits of both are innumerable, growing research on circadian rhythms is forcing us to question our habits as emerging therapeutic interventions are being used to combat the unexpected ravages of constant artificial light and the reality of time zones.
Chronobiology is the study of cycles. All life depends on biological clocks; animals and plants adapt to periods of light and dark. In our triumph over nature's cycles, humans have disrupted the rhythms of biological functioning, which may be at the root of many physiological and cognitive diseases. Researchers now wonder if getting back on track with life as nature intended is a silver bullet or if the simple technology of an eye mask and paying closer attention to your sleep cycles are overrated. 
The three major circadian cycles are diurnal, representing organisms active during the day, nocturnal, nighttime creatures, and crepuscular, those animals that eat and frolic at dawn and dusk. These cycles are critical in eating, mating, sleeping, migration, and cellular regeneration in animals. The field of chronobiology kicked off in 1960, borrowing from flora pioneers Jean-Jacques d'Ortous de Mairan and Carl Linnaeus and applying the concept to microbial and animal life.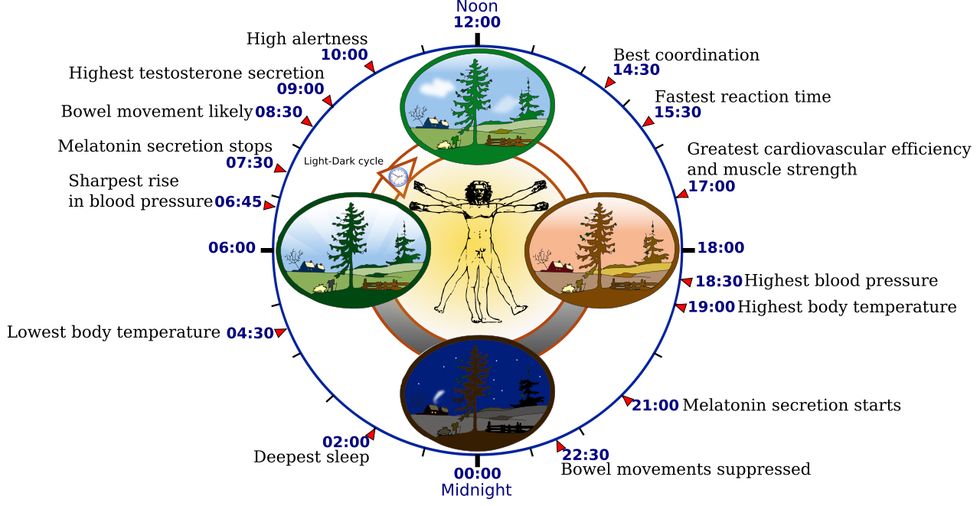 This diagram depicts the circadian patterns typical of someone who rises early in morning, eats lunch around noon, and sleeps at night (10p.m.). Data sourced from The Body Clock Guide to Better Health by Michael Smolensky and Lynne Lamberg.
More recently the circadian phenomenon has been used to study jet lag. One study at a psychiatric hospital near London's Heathrow Airport discovered that patients who had traveled from the west showed an increase in mania, while those who traveled from the east suffered higher rates of depression. Years later an Italian psychiatrist noticed patients whose windows faced east were discharged sooner than those who were assigned west-facing rooms.
The combination of light and melatonin appears to be the culprit in symptoms of jet lag, which can also be applied to sleeping disorders (or to people who, out of habit or employment, develop unnatural sleeping patterns). Your brain begins secreting melatonin a few hours before darkness, preparing you for rest. Disrupt that cycle and your body's clock is thrown off, accompanied by a series of dangerous consequences. 
One current intervention for depression is wake therapy, which has been shown to lower depression in those suffering from bipolar disorder and major depression. You wake up halfway through a normal sleep cycle, which changes your body temperature and cortisol levels. When combined with early morning light therapy and 'sleep phase advance' (going to bed five to six hours before your normal bedtime), you have 'triple chronotherapy.' The results have been positive: 
In one study of 60 hospitalized patients with bipolar depression who were taking antidepressants or lithium, 70 percent of those who did not have a history of drug resistance improved rapidly with sleep deprivation and early morning light, and 57 percent remained well after nine months. Encouragingly, 44 percent of patients who had failed to respond to at least one trial of anti-depressants also improved.
Chronotherapy is a response to environmental detachment. Before alarm clocks and light bulbs the sun was dependable timetable. Just because we've created our own rhythms does not mean we're healthier. In fact, the opposite is likely true. As science writer Jessa Gamble writes: 
To be fully integrated with an ecosystem, an organism must cling to its niches, and one of those is a carefully carved-out temporal niche.
She goes on to note that different species can occupy the same space if their internal clocks are wound differently. While our modern environment provides constant access to "food, warmth, and light … that desynchrony is causing all manner of problems … just about everything our body does – from metabolism and DNA repair to immune responses and cognition – is under circadian control."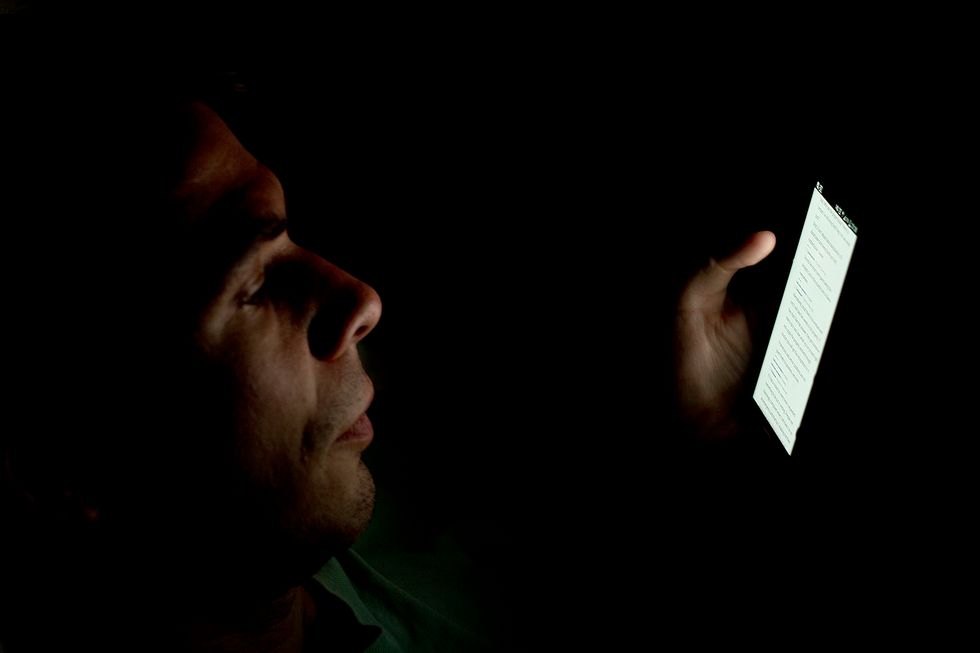 Our brain's suprachaistmatic nucleus in the hypothalamus is our body's master clock, while each organ maintains its own rhythm. Photoreceptors in our retinas inform the clocks as to which alarm should be going off and which remains on snooze. The light we need to accomplish this is daylight. Not all internal clocks are light-dependent—Gamble writes that our liver and pancreas clocks are reset when eating late at night—but when we sleep and frolic do matter to our overall health. 
Microbiomes and diseases also have their own rhythm, which is why Gamble writes that paying attention to our circadian rhythm might play an important role in combating disease: 
We can pinpoint the timing of our interventions for just the moment when our pathogens are most vulnerable. No longer bathing the body in drugs throughout the day, 'chronotherapy' acts like a guided missile to tackle disease at its most active phase. 
Cancerous tumors, she continues, are rhythmic as well. Research in France found that doubling the dose of three cytotoxic drugs for patients with advanced colorectal cancer was safe and effective when following a specific timetable that honors our internal rhythms. 
Gamble foresees a future with 'chrono' attached to most every form of medicine. This fits squarely into the emerging paradigm of personalized medicine. As technology advances and our phone offers reliable diagnoses, perhaps the day will come when we log on to find out our optimal sleep schedules—even though access to a window will often suffice. 
Not to be overly optimistic. Susan Perry co-authored a book on chronotherapy in 1990. While she sees promise in these emerging breakthroughs, she has not seen that much of a forward march to the promises of this therapy. She warns against considering chronotherapy a cure-all:
As with so much medical research, translating those breakthroughs into universally accepted and practical clinical applications has turned out to be much more complicated than originally believed.
In a time long before antibiotics, vaccines, and basic hygiene, humans lived by the rhythms of the sun. While many ancient practices were rightly left behind, following the sun's arc remains an essential component of our health. This reminds us that some breakthroughs are quite old. We just got too excited by the shiny toys we created to realize their dangers.
--
Derek's next book, Whole Motion: Training Your Brain and Body For Optimal Health, will be published on 7/4/17 by Carrel/Skyhorse Publishing. He is based in Los Angeles. Stay in touch on Facebook and Twitter.