You are not your government. An Iraqi is not theirs. Is it time to retune your perspective?
How does the world view American citizens? It might actually surprise you. Amaryllis Fox is a former CIA clandestine operative who grew up in the developing world and who has spent most of her career so far in foreign countries. "What continues to surprise me in every conversation I have, in each country I go to, is how sophisticated people are at separating the American citizen from the American government." You are not your government, just as an Iraqi is not theirs. That is a humanizing realization that is incredibly powerful for the everyday citizen, and even more so for veterans who have been trained in detachment, inside the military-industrial complex. Fox's organization Operation Zoe brings veterans back into their old theaters of war and uses their unique military skill set for humanitarian missions, like rebuilding homes, youth centers, and health clinics with local townspeople. "There's a real magic to it when you recognize yourself in someone else," Fox says. Whether you grow up in an autocracy or a democracy, there is often very little say for citizens in the actions of their government. Your perspective on others and personal actions, however, are entirely in your hands.
Pocket-sized therapies, like counseling apps, are praised as a timely solution to the budgetary pressures and long waiting lists of overstretched mental health services. But do they work?
Virtual reality and technology addiction, the bad side of VR in a classic nightmare representation. (Credit: Koron)
For Donald Ewen Cameron—a Scottish-born psychiatrist, the president of numerous medical societies, and the director of the Allan Memorial Institute in Montreal between 1943 and 1965—technology was a passion bordering on an obsession. While his tattered tweed suits and mismatched socks lent him the air of an absent-minded university don, Cameron was fixated on the future, from his collection of high-powered cars, to his constant use of Dictaphones, to the science-fiction novels that littered his bedside table. As this 'technophilia' deepened and began to shape his psychiatric thinking in the 1950s, Cameron was set on a collision course with Cold War conspiracy.
Beyond its capacity to simplify everyday life, Cameron believed that technology could be the handmaiden of a psychiatric revolution. Denouncing conventional therapy—with all its talking, listening, and trust-building—as slow and ineffective, Cameron instead subjected his patients to a radical new treatment that promised to accelerate the process of psychological healing. Termed 'psychic driving', this treatment utilized a brand-new technological savior: the reel-to-reel tape machine.
Psychic driving was a two-stage process. Firstly, distressing memories and pathological behaviors were 'annihilated' from the patient's mind through an unrelenting regime of electroconvulsive therapy (ECT). While most of his peers conservatively limited ECT to 12 shocks per month to avoid damaging short-term memories, Cameron increased this to 12 shocks per day to capitalize on this usually unwanted side-effect. Then, patients were placed in front of tape machines emitting endlessly looping messages designed to push them towards particular psychiatric epiphanies. 'Peggy, you have discovered that your mother never wanted you,' one such tape proclaimed. 'Can you see now why you have given affection in such lavish degree to your children and why you became so desperately anxious when your daughter decided to enter a convent?'
Messages were repeated for days, weeks, and even months on end, in order to overwhelm the patient's conscious defenses. When patients became distressed by the relentless repetitions, they were restrained using a variety of crude and bizarre methods, from securing their headphones with tape to immobilizing them with hallucinogenic substances. The results were devastating: rather than overcoming their conditions, patients often emerged with severe memory loss, unable even to recognize their own families.
Cameron's research attracted a number of patrons, none more surprising than the Central Intelligence Agency (CIA). Following the return of seemingly 'brainwashed' prisoners from the Korean War in 1953, the CIA had begun funding universities and hospitals engaged in research concerning behavioural modification. The project, codenamed MK-ULTRA, was designed to produce interrogation techniques for Cold War espionage. As such, Cameron's proclaimed ability to deconstruct and remake minds at will seemed too good an opportunity to pass up, and nearly $60,000 was funnelled into psychic driving between 1957 and 1960. However, as the treatment's destructive effects became apparent, the CIA realised psychic driving would have little operational use, and ties were swiftly broken. The CIA's involvement in Cameron's work would lay hidden until an explosion of class-action lawsuits in the 1980s.
Cameron's faith in psychic driving, sustained by the fantasy of a futuristic, mechanised psychiatry, outweighed the mounting evidence of its total failure. Rather than emerging out of a comprehensive psychological theory, Cameron's tape-machine treatments were largely inspired by novels such as Aldous Huxley's Brave New World (1931) and adverts for 'sleep-teaching' records that dubiously claimed to impart fluency in foreign languages overnight. Doggedly pursuing an 'automated' psychiatry that moved beyond the discussions of the chaise longue and towards an assembly line of mass-produced wellbeing, Cameron seemed oblivious to the harm being caused.
Through its 'stranger-than-fiction' quality, psychic driving pushes us towards a more critical history of psychiatry in the 20th century. Far from psychiatry being a neutral, and purely objective endeavour, set apart from the messy reality of politics and culture, psychic driving reveals how knowledge about the human mind is profoundly shaped by the concerns and priorities of the societies that produce it. This is far from a new perspective, with similar arguments persuasively made more than half a century ago in The Myth of Mental Illness (1961) by the psychiatrist Thomas Szasz and in Madness and Civilization (1964) by Michel Foucault. The history of psychic driving extends these critiques, revealing how the political pressures and moral panics of the Cold War shaped perceptions of mental illness and its treatment.
Psychic driving might also tell us something about the future, not just the past, of psychological therapy. Few present-day psychiatrists find themselves preoccupied with issues of communism and brainwashing, but Cameron's core belief in the inevitable merging of technology and psychiatry has proven remarkably resilient. This is perhaps seen most dramatically in the recent explosion of smartphone applications concerned with mental health, with some 10,000 apps on the market offering everything from mood trackers to mindfulness programs, ambient noise generators to automated hypnosis. Enthusiastic advocates have been quick to praise these pocket-sized therapies as a timely solution to the budgetary pressures and long waiting lists of overstretched mental health services.
However, psychic driving introduces a note of caution to these celebrations. While exotic conspiracies of international espionage are unlikely to be uncovered, Cameron's work reminds us that we ought to question whose interests, beyond benevolent 'healing', are at play. Beneath the optimistic rhetoric of this new wave of 'techno-therapy' there is plenty to worry about: applications frequently lack expert medical oversight, few are supported by reliable studies gauging their effectiveness or even basic safety, and many have been found to leak or actively sell users' sensitive health data to third parties. Clearly such issues must be interrogated further, and the history of psychic driving can bolster the necessary skepticism—and dissent—to do so.

Sam Hatchwell and David Saunders' Psychic Driving Installation at the Museum of the Normal
More information on the project can be found here


--
This article was originally published at Aeon and has been republished under Creative Commons.
Historian Alfred McCoy explains why American power is coming to an end and lays out his vision for the new global order.
credit: Pixabay
Living in such tense and mercurial times, it's easy to see that most Americans do not have a strong confidence in their country's future, with about 60% thinking it's headed in the wrong direction, according to the polling data from RealClear Politics. They are sharply divided by politics, by the role America should play in the world, by how to utilize science and education. All such sentiment is not only warranted but indicates the reality that the American Empire is in its last years, if you believe the prediction of the noted historian Alfred McCoy. He laid out his vision for the monumental transformation of the global order in the near future in an interview with The Intercept's Jeremy Scahill.  
McCoy sees the election of Donald Trump to Presidency as a defining moment. He does not think Trump himself is the cause of the waning American power, but rather a symptom of it. Nonetheless, McCoy regards Trump as likely to hasten the downward trajectory. 
The historian writes that all negative trends that are plaguing America now are likely to get much worse, growing rapidly by 2020, and would "reach a critical mass no later than 2030."
"The American Century, proclaimed so triumphantly at the start of World War II, may already be tattered and fading by 2025 and, except for the finger pointing, could be over by 2030," writes McCoy.
A lifelong observer of America's trajectory, in 1972, McCoy wrote "The Politics of Heroin," a seminal book on the CIA involvement in the heroin trade during the Vietnam War. His new book "In the Shadows of the American Century: The Rise and Decline of U.S. Global Power" is coming out in September. He currently teaches history at the University of Wisconsin-Madison.  

He describes the coming 2020s as a "demoralizing decade of rising prices, stagnant wages, and fading international competitiveness." He blames decades of growing deficits on "incessant warfare in distant lands". By 2030, the U.S. dollar will lose its status as the world's dominant reserve currency, marking the empire's loss of influence.  
This change will prompt dramatic price increases for American imports. Costs on overseas travel for tourists and troops will increase as well. Washington will be forced to slash its budget, causing a pullback and shrinking of American forces. Like a "fading superpower incapable of paying its bills," America will then be continuously challenged by powers like China, Russia, Iran and others for control over " the oceans, space, and cyberspace." 
Domestically, the changes in America's power will lead to a worsening of the standard of living, with skyrocketing prices and tensions that will lead to a "major rewriting of the American social contract," according to McCoy.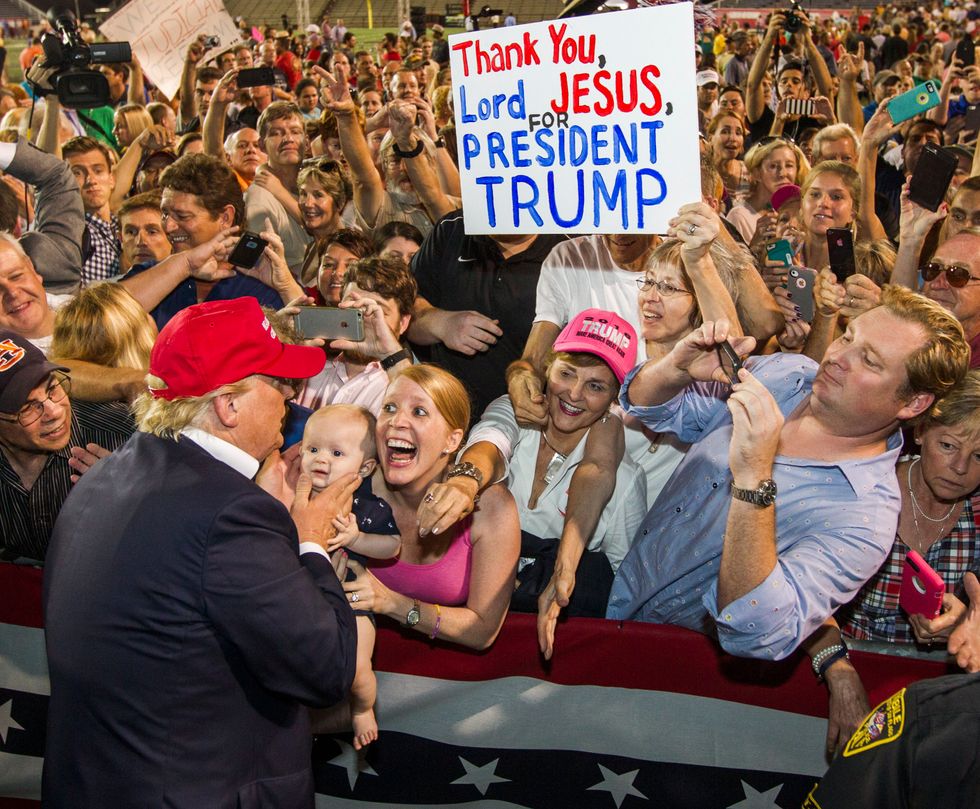 Republican presidential candidate Donald Trump greets supporters after his rally at Ladd-Peebles Stadium on August 21, 2015 in Mobile, Alabama. (Photo by Mark Wallheiser/Getty Images)
What role will Donald Trump play in this scenario? McCoy sees the new President as setting out to demolish "the essential pillars of U.S. global power". Namely, weakening alliances with NATO and Asian partners, as well as cutting back on scientific research that has for a long time given the edge to the U.S., its military industrial complex, in particular. He also cites other examples of U.S. being withdrawing from global leadership, like its new stance on the Paris Climate Accord and the TPP. 
McCoy acknowledges that the U.S. has already reached a point where it's no longer the dominant global power, with its share of the global economy getting smaller. Indeed, the U.S. portion of the global Gross Domestic Product (GDP) has declined from 40% in 1960 to 22% today. Essentially, America's economic role is nearly half of what it used to be. By 2030, China will jump ahead and become the world's preeminent economic superpower. 
The historian also thinks that while some presidents like George H.W. Bush worked to expand the U.S. influence around the world, Trump is pursuing the opposite agenda. 
"I think he's accelerating perhaps markedly, even precipitously, the U.S. decline," says McCoy.
He also singles out the importance of supporting research, alarmed by Trump's current policies. 
"What Trump doesn't seem to understand is that there's a close relationship between basic research, like research in artificial intelligence, and your capacity to come up with the next new thing that will give the United States a leading edge in military technology. And that's what he doesn't understand, that's the one way he's damaging the whole complex," argues McCoy.
Besides the geopolitical changes, McCoy points to the growing failures within the "intellectual infrastructure of the country" as being responsible for America's downturn.  He makes the argument that maybe we should pay attention to all the statistics we often hear about, like the disturbing PISA rankings that have American students coming in 41st in math and 25th in science on the global scale. Students from countries like Singapore, Hong Kong and, China are in the top 5 in all categories.  It's not hard to imagine that by 2030, these students will be "super smart scientists and engineers that are coming up with the cutting edge technology," says McCoy.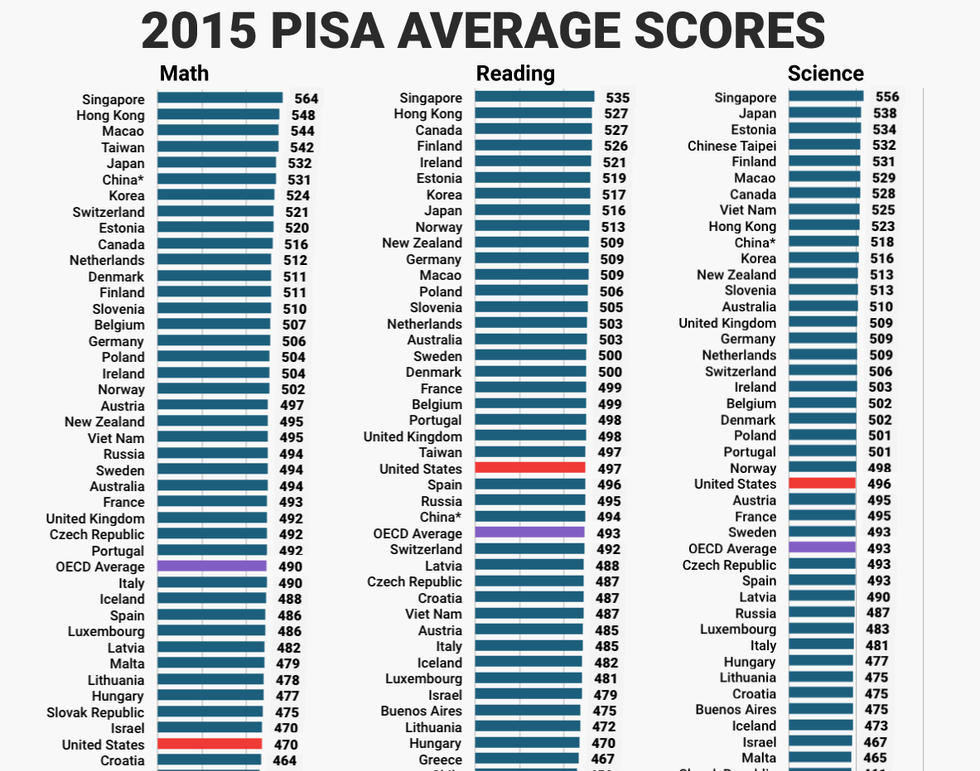 And if you think this only concerns gadgetry, McCoy sees this "erosion" of educational standards in the U.S. leading to "very serious implications for our military technology." The American military might will suffer greatly as well. 
"The technological and educational shifts coming together means that there are all kinds of ways for the U.S. to lose power. Either with a bang or a whimper. But by 2030, it's pretty much over for our global dominion," predicts McCoy. 
Lest you think America's got it coming and it's about time it loses its world status, McCoy warns that whoever will take its place will not wield power in the "comparatively benign and beneficent" way that the U.S. has. For all its faults, America's great experiment has brought worldwide advancements in women's rights, gay rights, democracy and human progress in general.  
You can listen to the full podcast interview with Alfred McCoy here.
The times in history when science was deadly and dangerous.
A masked ecologist militant is pictured with a barrel falsely contaminated during a demonstration against nuclear energy near the Tricastin nuclear power plant run by Areva in Bollene, southern France, on November 25, 2011, during a visit of France's Pres
Science is a force for good in our world, improving lives of people all across Earth in immeasurable ways. But it is also a very powerful tool that can become dangerous in some situations. Especially when it gets entangled in politics. At other times, science's inherent ambition to push boundaries of what is known can also lead to some heart-stopping moments. 
The following list is in no way exhaustive but gives us a place to start when thinking about the serious responsibility that comes with the march of science.
1. Project MKUltra 
The infamous project MKUltra was CIA's attempt at mastering mind control. The program started in the 1950s and lasted seemingly until 1966. Under MKUltra, often-unwilling subjects were given drugs, especially hallucinogenics like LSD. The people tested were also put through sleep and sensory deprivation, hypnosis, sexual abuse, and other kinds of psychological torture, while some tests proved lethal.
The supposed goal of the project was some combination of chemical weapons research and effort to create mind-controlling drugs to combat the Soviets. 
2. Weaponizing the Plague
The last time plague roamed around, it killed around half of Europe's population, reducing the amount of people in the world by nearly a 100 million during the 13th and 14th century. In the late 1980s, the Soviet Union's biological warfare research program figured out how to use the plague as a weapon, to be launched at enemies in missile warheads. What could go wrong? Besides the plague, defectors revealed that the Soviet bio-weapons program also had hundreds of tons of anthrax and tons of smallpox.
3. The Large Hadron Supercollider 
The Large Hadron Collider (LHC) in Switzerland, built to study particle physics, is the world's largest machine and single most sophisticated scientific instrument. Because of this and the cutting-edge research its involved in, the LHC has prompted more than its share of fears from the general public. It has been blamed for causing earthquakes and pulling asteroids towards Earth.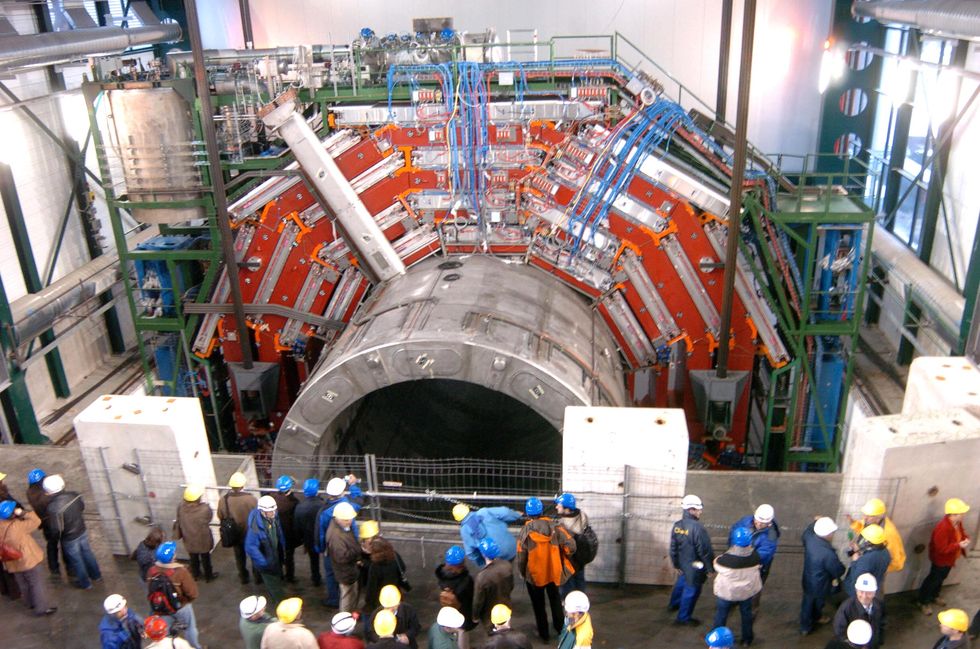 A giant magnet used in the Large Hadron Collider, weighing 1920 tonnes. 28 February, 2007 at the European Organization for Nuclear Research (CERN) in Geneva. (Photo credit: JEAN-PIERRE CLATOT/AFP/Getty Images)
While conspiracy theories around the LHC have generally been disproven, it has also been accused of potentially creating black holes that could swallow Earth, a possibility that was curiously not completely discounted by the CERN, the organization running the collider. 
CERN claimed the LHC is not dangerous, but also acknowledged that some type of black hole could be created. 
"The LHC will not generate black holes in the cosmological sense. However, some theories suggest that the formation of tiny 'quantum' black holes may be possible. The observation of such an event would be thrilling in terms of our understanding of the Universe; and would be perfectly safe," said CERN's statement.
A quantum black hole would be tiny. Don't you feel better?
4. The Tuskegee Syphilis Experiment
A government-funded "study" from 1932-1972 denied treatment for syphilis to 399 African American patients in rural Alabama, even as penicillin was found to be effective against the disease in 1947. The patients were actually not told they had syphilis, with doctors blaming their "bad blood" instead and given placebos.
The goal of the experiment, carried out by the U.S. Public Health Service, was to study the natural progress of syphilis if left untreated. 28 of the people in the study died directly from syphilis while 100 died from related complications.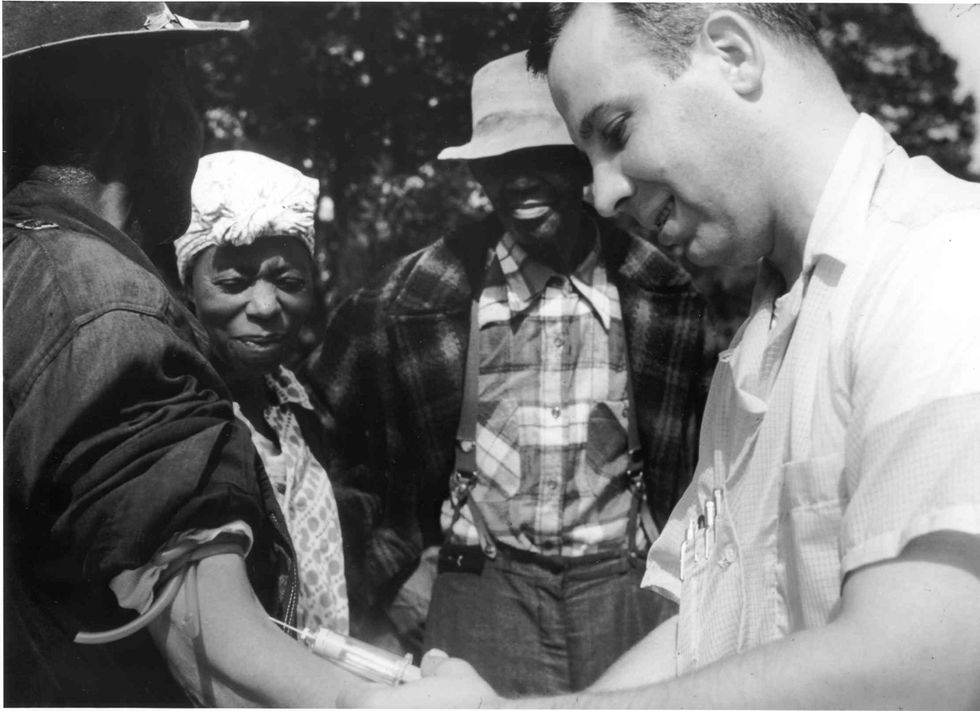 Doctor drawing blood from a patient as part of the Tuskegee Syphilis Study. 1932.
5. Kola Superdeep Borehole 
A Soviet experiment, started in 1970, sought to drill as deeply as possible into the crust of the planet. By 1994, they bore a 12-km-deep hole into the Kola Peninsula in Russia's far northwest. The record dig provided much scientific data, like the finding of ancient microscopic plankton fossils from 24 species.
While nothing negative happened, there were concerns at the time that drilling so deep towards the center of Earth might produce unexpected seismic effects. Like cracking the planet open.
The hole's site is currently closed. 
6. Guatemalan STD study
This horrid experiment is another instance of the U.S. government causing harm in the pursuit of "science". From 1945 until 1956, around 1500 Guatemalans were deliberately infected with sexually transmitted diseases, including syphilis and gonorrhoea. The subjects included orphans, prisoners, prostitutes and military conscripts. Researchers used disease-infected prostitutes, injections, and other unscrupulous methods to make their subjects sick. 
Subjects of the experiment are currently suing John Hopkins University for $1 billion for its role in the study.
7. The Aversion Project
A medical torture program was instituted in South Africa between 1971 and 1989 to "cure" homosexuality in military conscripts. The policy, carried out under apartheid, included forced "aversion therapy" treatments like electric shock therapy and chemical castration. The army also authorized as many as 900 sex change operations.
It was widely believed in the medical community at the time that homosexuality was a mental illness that could be cured. Dr. Aubrey Levin, in charge of the program as chief psychiatrist of the South African military, was eventually accused of human rights abuse by international organizations and received a prison sentence.  
8. Nazi Concentration Camp Experiments 
Nazis carried out medical experiments on thousands of prisoners in concentration camps, without any regard for human life. Some of their "research" involved purposefully inducing hypothermia, infecting people with malaria, using mustard gas on people, forced sterilization, giving prisoners different poisons, infecting wounds with bacteria and filling them with wood shavings and ground glass.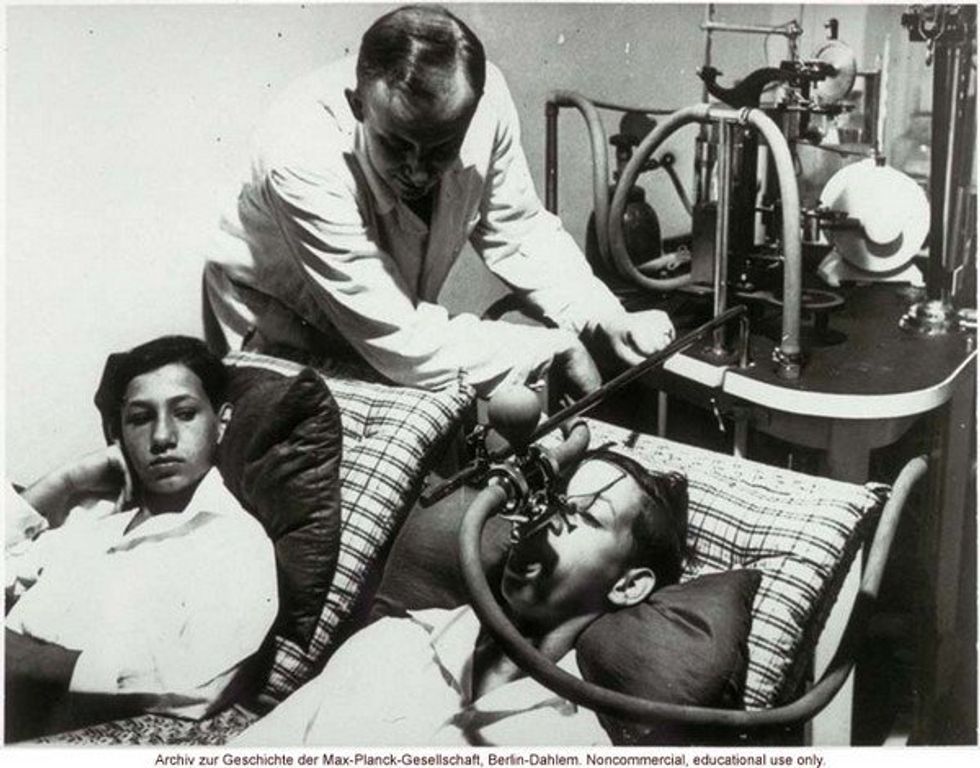 The Nazi doctor Josef Mengele was the prototypical "evil scientist," known for his concentration camp experiments, with a particular focus on twins, mostly Jewish or Roma ("Gypsy"). Supposedly in the interest of studying heredity, the SS physician Mengele was responsible for such atrocities as removing organs from people without anesthetics, injections with deadly bacteria, dismemberment and others.
Not surprisingly known as the "Angel of Death", Mengele collected the eyes of murdered victims for heterochromia research and attempted to prove through experiments the supposed resistance of Jews and Roma to a host of diseases.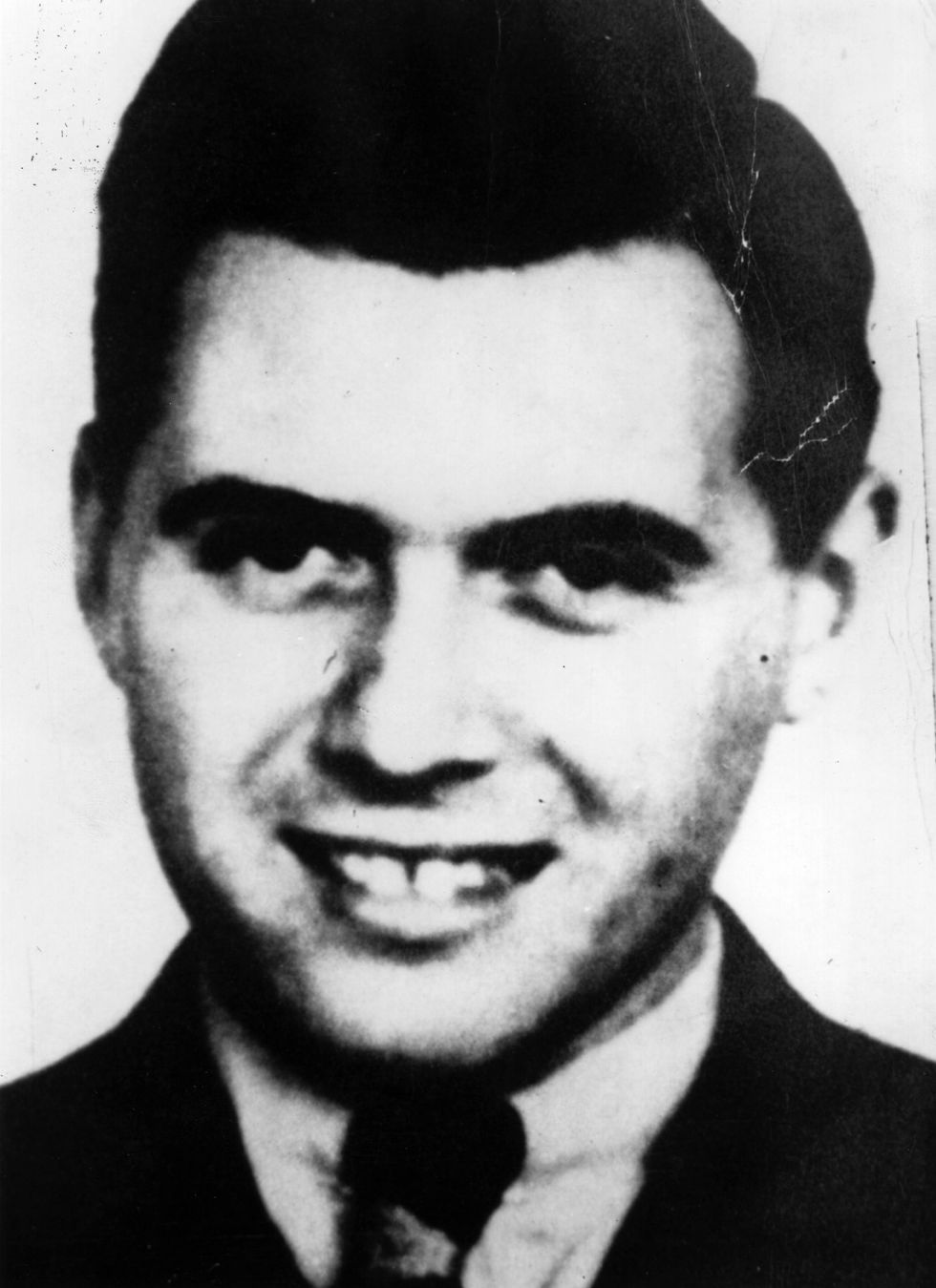 circa 1940: Joseph Mengele, before he became known as 'The Doctor of Auschwitz' and 'The Angel of Death' for his pseudo-scientific experiments on inmates in Nazi death camps. (Photo by Keystone/Getty Images)
9. Unit 731
Unit 731 was a secretive R&D unit of the Japanese Army that carried out horrendous experiments on humans during World War 2. Commanded by General Shiro Ishii, the unit experimented on an estimated 250,000 men, women and children. Most of the victims were Chinese, along with some prisoners of war from Russia and the Allies.
The forced medical procedures involved vivisections - cutting open subjects usually without anesthesia, unnecessary limb amputations, and removal of body organs like parts of brain, liver, lung and others. Victims were also subjected to biological warfare, frostbite testing, forced pregnancies, and even weapons testing by grenades or flamethrowers.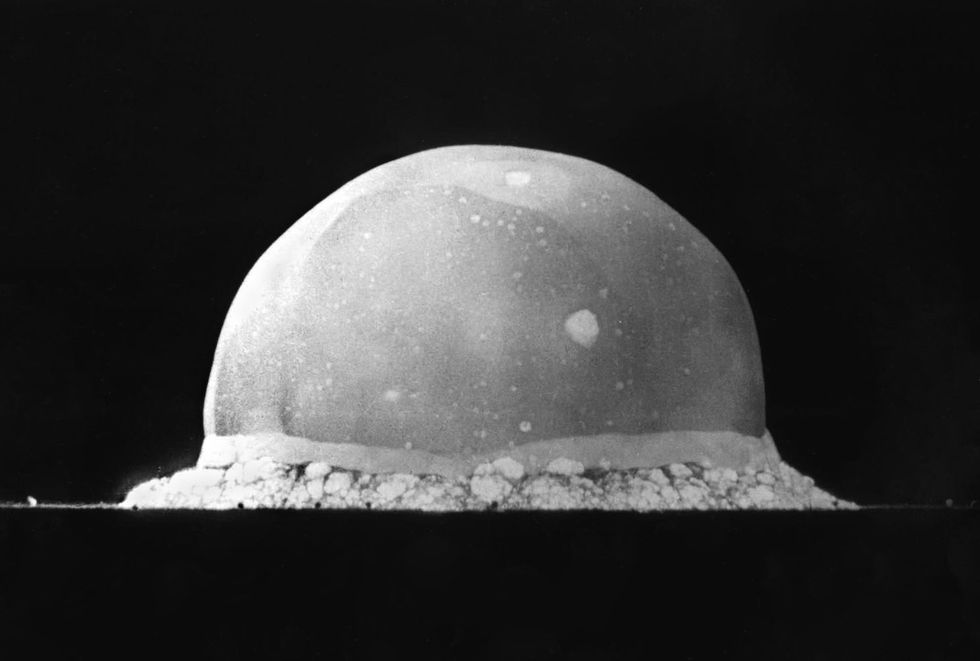 Trinity Site - 0.016 second after explosion, July 16, 1945. The highest point of the cloud in this image is about 200 meters high.
10. The Trinity Test
It's hard not to put the world's first nuclear test on such a list. In the mad rush to develop the atomic bomb and gain a military advantage in World War 2, America instituted the secretive Manhattan Project. This resulted in the Trinity Test, a detonation of the first-ever nuclear weapon in a New Mexico desert on July 16, 1945.
While the scientists were relatively confident in their work, there were some famous doubters who wondered if the bomb would even explode or if it would perhaps cause the end of the world as we know it.
Waiting for the bomb to go off, Nobel Prize-winning physicist Enrico Fermi, wagered others whether the bomb would just destroy New Mexico or the world, potentially setting the Earth's atmosphere ablaze.