Around 100 million adults in the United States are affected by chronic pain. What can we do about it?
Dema (male) the 26-day-old endangered Sumatran Tiger cub cuddles up to 5-month-old female Orangutan, Irma at the 'Taman Safari Indonesia' Animal Hospital, on February 26, 2007 in Cisarua, Bogor Regency, West Java, Indonesia. (Photo by: Dimas Ardian/Getty
Around 100 million adults in the United States are affected by chronic pain – pain that lasts for months or years on end. It is one of the country's most underestimated health problems. The annual cost of managing pain is greater than that of heart disease, cancer and diabetes, and the cost to the economy through decreased productivity reaches hundreds of billions of dollars. Chronic pain's unremitting presence can lead to a variety of mental-health issues, depression above all, which often intensifies pain. And our most common weapon against pain – prescription painkillers – generates its own pain, as the ongoing opioid crisis attests. But must we rely on pharmacology to stave off pain? Perhaps there is a more natural nostrum – partial and insufficient, but helpful nonetheless – closer to hand. 
Most pain research concentrates on a single, isolated person in pain. This allows researchers to simplify their analyses of pain, which is useful to a point, though it does yield a somewhat distorted view. The problem is that, outside of the laboratory, people are often not isolated: they take part in a social world. Without involving social interactions into the study of pain, we risk ignoring the part that social communication might play.
New techniques have recently made it possible to monitor the physiological activity of several people simultaneously. This allows us to measure the level of synchrony between people as they take part in extreme or prosaic social situations, with some surprising findings. Participants and spectators of a fire-walking ritual were found to have synchronous heartbeats. So do people watching emotional movies together, choir singers singing together, and romantic couples gazing at each other and engaged in imitation tasks in the lab. How can interpersonal synchrony be facilitated? And might there be a way for such physiological coupling to contribute to pain relief? The answer lies in the simplest of human interactions: touch.
Research I recently conducted with my colleagues Haifa Irit Weissman-Fogel and Simone Shamay-Tsoory at the University of Haifa suggested that interpersonal touch is an effective way of reducing pain. We recruited 23 romantic, heterosexual couples to participate in the experiment. The women received pain stimuli under varying conditions. First, alone, without their partners, and then with their partners, but without physical contact. In the third condition, the women held hands with their partners while receiving pain and, in the fourth, they held hands with a stranger. This study showed that the third condition – partner's touch – resulted in enhanced pain-reduction in comparison with others. Moreover, women with highly empathetic partners reported increased pain-reduction associated with that partner's touch. It seems, then, that this study empirically supports the idea that touch can transfer a partner's empathy, thereby decreasing pain. And it happens that this finding dovetails with previous research showing that a range of emotions from disgust to love to fear can be effectively communicated solely by means of touch.
In order to understand the physiological bases of our findings, we conducted an additional study that also measured synchrony. This time, 22 (different) romantic couples were invited to participate. Throughout the experiment, we calculated physiological synchrony by recording heartrate and respiration in each partner. There were four study conditions: holding hands, with pain; holding hands, without pain; not holding hands, with pain; and without either pain or holding hands. (Pain was again administered only to the females.) We explored interpersonal synchrony in both conditions without pain, and touch moderately enhanced the synchrony for the respiration. Surprisingly, synchrony disappeared altogether when pain was administered without touch, perhaps women participants focused almost exclusively on their own pain as a strategy to cope, leading to a physiological 'disconnection' from their partners. However, interpersonal touch enlivened synchrony between partners in both heartrate and respiration. Moreover, couples that demonstrated high touch-related pain relief showed enhanced levels of physiological synchrony, as did the couples with a highly empathic male partner.
The investigation didn't stop there. Under the same conditions, we studied inter-brain synchrony. This study highlighted the analgesic effect of synergistic touch and empathy, which might have important implications for acute pain conditions, such as easing the pain of going through labour. Indeed, the presence of partners during delivery is helpful in 60 per cent of cases, suggesting that the partner's empathy and the quality of the birth interaction might explain the differences between the cases. Similarly, other studies showed that the father's presence increased positive experiences in all aspects of childbirth. Therefore, future studies might concentrate on the clinical implication of these findings, investigating the efficacy of different touch aspects and using empathy training.
Interpersonal touch has important social and affective meanings. Skin-to-skin touch is necessary to the development of premature infants. It contributes to the regulation of stress responses in adults, enhances trust, and provides comfort and emotional wellbeing. So while it's unlikely that this research solves the problem of painkillers, it does propose a very simple pain treatment with an indispensable side effect: connecting with other people.

Pavel Goldstein
--
This article was originally published at Aeon and has been republished under Creative Commons.
This could lead to new pain relievers that mute the sensation without increasing the risk of addiction.
The Sopranos. Credit: Getty Images.
Pain is the body's way of protecting itself, and communicating to our conscious mind that something is terribly wrong. We all have varying sensitivity to it. Recent research has found that how sensitive or tolerant you are to pain depends on your genetic makeup. Today, 25 million Americans suffer from chronic pain. That's about 11% of the population. This is moderate to severe pain occurring every day for three straight months. 
Experts say the chronic pain epidemic has contributed heavily to the opioid crisis. Because of this, medical researchers have been looking to find a pain control method that isn't addictive. Unfortunately, we don't have a good grip of all the ins and outs of pain and how it works in the central and parasympathetic nervous system. But advancements in this understanding are happening all the time. For instance, we've recently learned that genes may have more to do with it than we thought.
Take the curious case of an Italian family who can hardly feel pain. Researchers at University College London (UCL) recently identified the Marsili family and the genetic underpinnings of a condition they all share, congenital insensitivity to pain (CIP). The family includes a 78-year-old grandmother, her two daughters and their three children.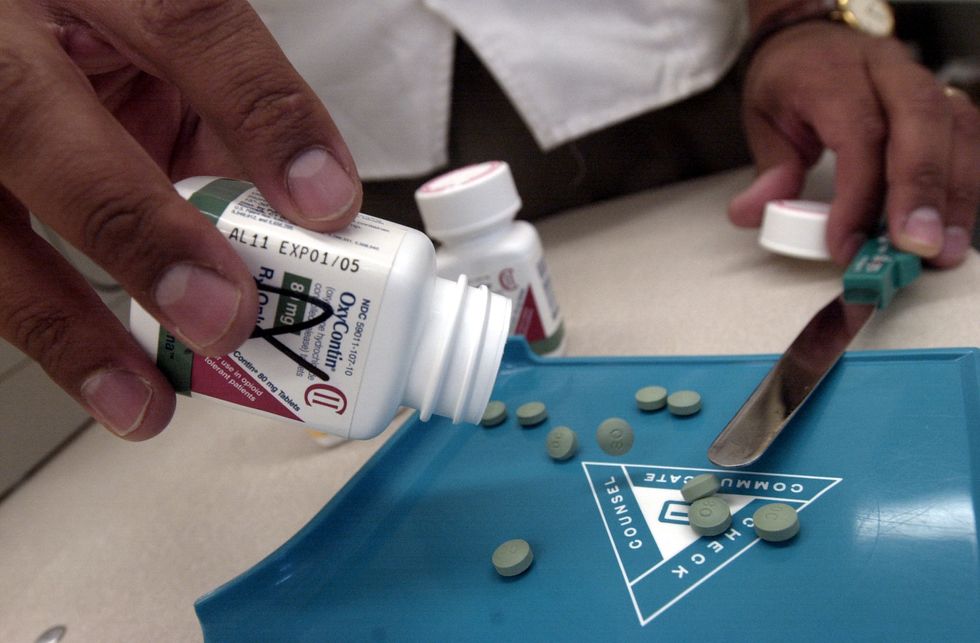 Since our understanding of pain is limited, we rely on opioid painkillers for chronic pain. But these are highly addictive and not very effective long-term. Credit: Getty Images.
Those with CIP hardly feel any pain at all. While that may sound like a euphoric lifestyle, the condition means people can easily hurt themselves, very seriously, without even noticing it. Children with it have little to prevent them from taking part in reckless behavior. Moreover, should one be unlucky enough to develop a health problem where pain is the symptom that tells that something is wrong, that illness can develop until it's in a late stage, unbeknownst to the person who has it.
When UCL experts examined the family, they found that some of them had fractures they weren't even aware of. James Cox was one researcher on this project. He hails from the University's Wolfson Institute for Biomedical Research.
Cox told New Scientist, "Sometimes they feel pain in the initial break but it goes away very quickly. For example, Letizia broke her shoulder while skiing, but then kept skiing for the rest of the day and drove home. She didn't get it checked out until the next day." Cox said they can burn themselves and not feel a thing. And for those who enjoy the spicy tingle a chili pepper delivers, pity the poor members of the Marsili family, who are immune to such a sensation.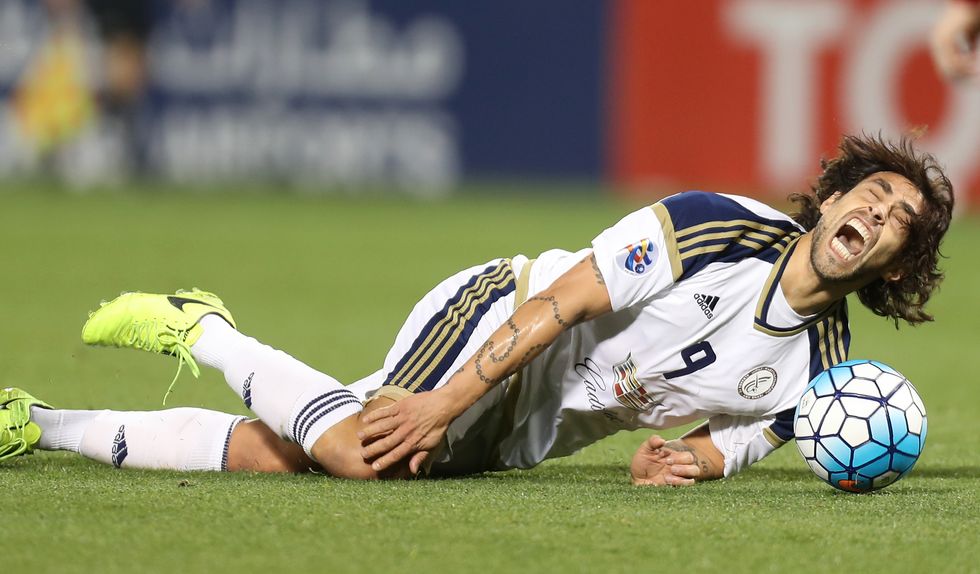 Not feeling the pain sensation sounds heavenly. Yet, we would miss recognizing when the body has been seriously injured. Credit: Getty Images.
Led by Cox, the researchers team conducted a series of experiments on the family. They found the Italians had a normal level of nerves on the surface of their skin, what's known as intra-epidermal nerve fiber density. Next, they studied the genomes of family members. Here, the scientists hit pay dirt. They found a mutation in the gene ZFHX2.
Next, they bred special mice without the gene. Cox and colleagues discovered they were far more tolerant to pain than normal mice. But counterintuitively, they became more sensitive to heat. This tells Cox and colleagues that the gene may play a role in regulating what pain sensations an individual experiences. This gene seems to control the activity of 16 of its counterparts, scientists say.
The next piece is to sort out how each gene involved in this network contributes or what role it plays. Cox and his team say more than one gene is involved. But this allows for the discovery of a new target, which could lead to the development of a novel, non-addictive pain reliever. As for the Marsili's, Cox and colleagues told them they might be able to knock out the mutation and give them normal pain sensations, but the family said they're good. They want to stay as they are.
Want to learn about a non-pharmaceutical method pain control? Click here:
A "magical probiotic mouthwash" may someday eradicate them, according to UC-San Diego researchers, whose research is leading them to a trigger in the microbiome.
Around one in seven people suffer from migraines. That's 38 million in the US alone. Women are three times more likely to experience them than men. On average, most sufferers have one once per month. For some people the pain is so severe, it can be debilitating. Migraine sufferers are often put out of commission for hours, even days.
Although there are treatments and techniques to ease the pain, there is no cure. In fact, we don't even know what causes them, although there have been a lot of theories. Hormone fluctuations, a brain chemistry imbalance, faulty genes, the brain stem interacting with the trigeminal nerve, electrical misfiring or restricted blood flow inside the brain, have all been prevailing theories at one time or another.
A new study offers compelling evidence that the head may not be the origin of these headaches, but rather the digestive tract. Certain bacterial species inhabiting the mouth and gut, if not at fault outright, are at least a trigger. These species break down nitrates, compounds found in certain foods, which are eventually converted into nitric oxide. This is the same compound goosed by Viagra, which in turn dilates the blood vessels downstairs in order to cause an erection. Headaches are also a common side effect of certain heart medications containing nitrates.
Though such dilation is good for the cardiovascular system, as it improves blood flow, it may cause too much blood pumping through the brain and scalp, causing a migraine to occur. We've known for a long time that foods containing nitrates such as red wine, processed meats, and certain vegetables can trigger migraines. Ever hear of a "hot dog headache"? High nitrate levels are the reason one occurs. The bacteria angle, however, is new.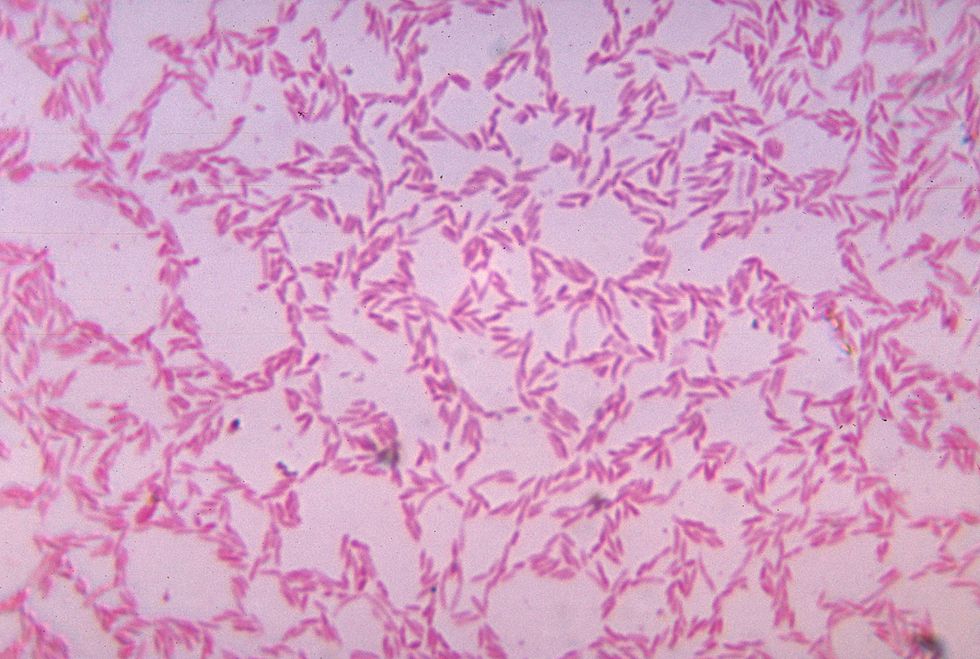 Microbiota species in the lower intestine. (Image: Public Domain)
Investigators at the University of California-San Diego conducted the study, published in the journal mSystems. The senior author Antonio Gonzalez and programmer-analyst Rob Knight studied 1,996 stool samples and 172 oral samples collected from migraine sufferers. All the participants were a part of the American Gut Project.
This is the largest crowd-sourced research project ever conducted within the US. Thousands of people have given samples to be analyzed for the makeup of their microbiome or gut bacteria. A healthy human gut contains thousands of species, which when taken together number in the trillions. The exact makeup of each person's microbiome is as unique as their fingerprint. But an imbalance in species, scientists are finding more and more, leads to certain disorders or illnesses.
The samples given to Gonzalez and Knight were genetically sequenced to discover what bacteria were present. This study proves association between nitrate-eating bacteria and migraines, but not causality. Further studies must discover whether these bacteria are the essential component or merely a trigger. For now, Gonzalez and Knight suggest migraine sufferers steer clear of all foods containing nitrates. They also speculate that someday a "magical probiotic mouthwash," may become a viable treatment to overcome migraines. 
To learn about another theory for the cause of migraines, click here: 
60% of pain patients find that tolerance buildup significantly impedes their treatment over time.
A bottle of prescription painkillers spilling out.
There is an epidemic going on today that you hear almost nothing about. Yet it effects around 50 million Americans, according to the National Institutes of Health (NIH). That's more than those diagnosed with diabetes and cancer combined. It's a chronic pain epidemic and it's everywhere. Such pain is not only devastating for the person and their family, it is also the leading cause of disability. A higher number of cases puts more of a burden on the healthcare system and hampers economic growth. So it isn't only the person and their closest kin who suffer, but society as a whole.
Unfortunately, therapies haven't changed much over a hundred years or more, as little is really known about the phenomenon of pain itself. There are really two main options in terms of therapy. The first is non-steroidal anti-inflammatory drugs (NSAIDs) such as aspirin, ibuprofen (Advil, Bayer), acetaminophen (Tylenol), and naproxen (Aleve). There are stronger prescription varieties of these as well.
The second option is opioid painkillers. Derived from opium, the most common types prescribed are morphine, OxyContin, Vicodin, Percocet, oxycodone, hydrocodone, and fentanyl. Of course there are many others. Though effective in the short-term, 60% of patients find that building up a tolerance significantly impedes treatment over time. Unfortunately, three to four percent of Americans receive morphine or one of its derivatives to manage severe or chronic pain, long-term.
In the last decade, an increase in the prescribing of opioids has followed the pain crisis's upward trend. When taken as prescribed, opioids are safe and effective. But as the body begins to build up a tolerance, pain tends to bleed through. Oftentimes, increasing dosage is not recommended past a certain point. Alternative therapies such as acupuncture, tai chi, yoga, and physical therapy are usually proposed alongside opioids. Even so, patients don't always find these options effective.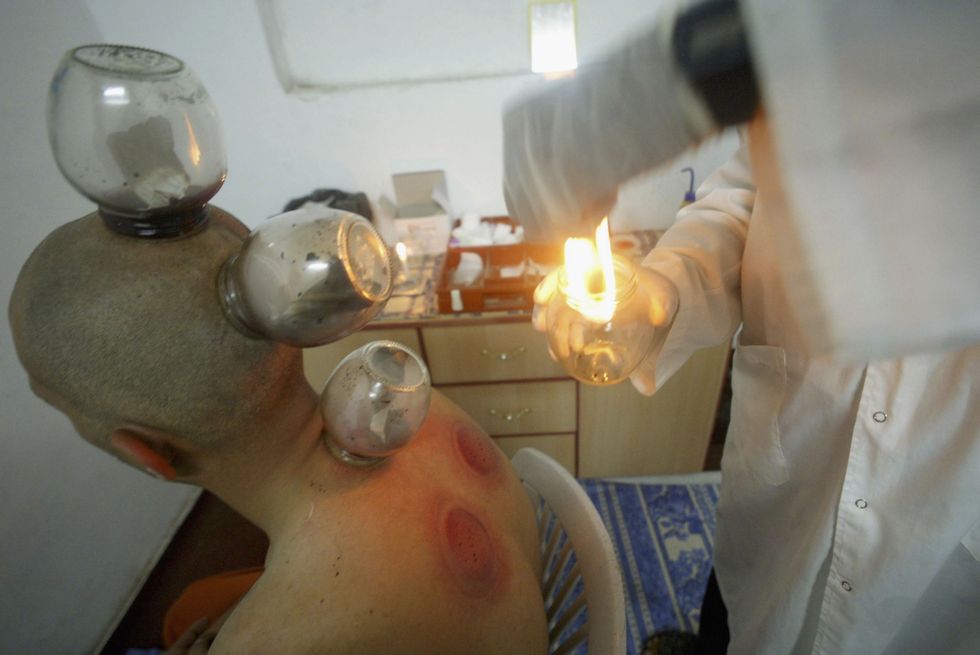 Cupping is the latest trend in alternative therapes. But many of these don't reduce pain significantly enough.
Medical marijuana advocates have suggested cannabis therapy alongside opioids. Some studies have found that it does not increase the risk of addiction or overdose, and in fact gives additional pain relief. In fact, one study out of the University of Michigan found a 64% reduction in opioid use, when medical marijuana was made available to pain patients. But for many, this option may not be viable.  
For those patients with bleed through pain, the motivation to take more than prescribed is great. Though they may find relief in the near term, the patient will soon find themselves increasing dosage once again when tolerance has increased, and so inching ever closer toward an overdose. It is through this process, and through teens and young adults swiping pills from medicine cabinets, that the prescription opioid epidemic has taken hold.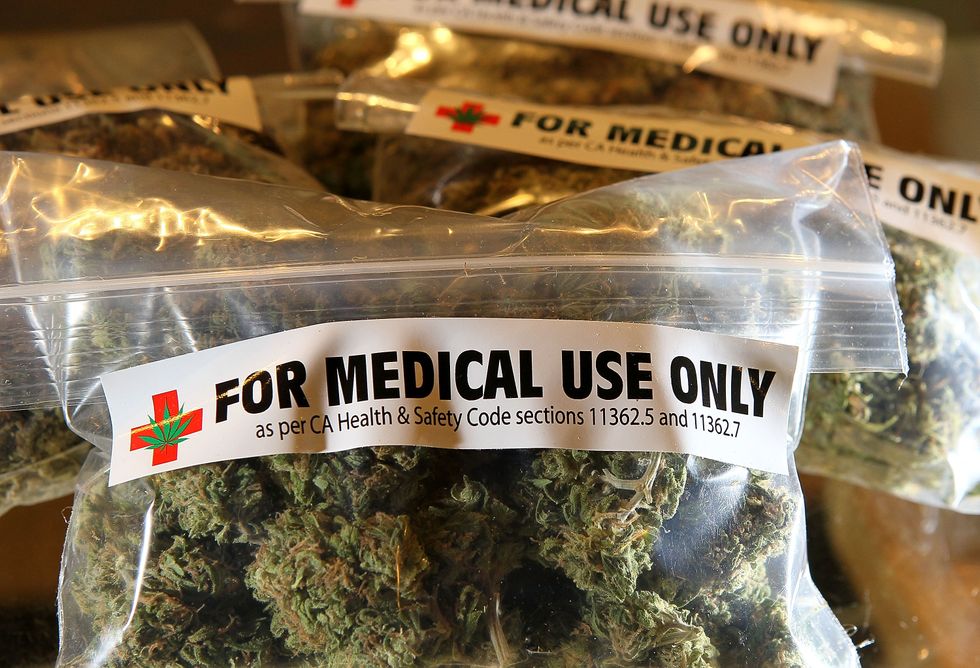 Medical marijuana may help. But it's not a viable option for all patients for a number of reasons.
2.1 million in the US were addicted to prescription painkillers in 2012, according to the NIH—the latest numbers on record. And overdose deaths have increased fourfold since 1999. It is also fueling a heroin epidemic, as the street drug is less expensive and more readily available.
Big pharma has responded by offering extended release opioids, in an attempt to give patients more relief and discourage them taking more than prescribed. Other drugs have abuse-deterrent features, such as pills one is unable to crush, and so cannot snort or use intravenously. Yet, many see this as a technological fix, putting a Band-Aid on an already out-of-control problem. Also, it does not address the issue of bleed through pain.
Besides being little understood, not enough research is conducted to learn more about chronic pain. Today, the race is on to find ways to overcome these problems, and deliver better pain relief to those who are suffering. One new study, published in the journal Neuropsychopharmacology, has located the brain mechanism that causes opioid tolerance. Researchers have even devised a way to overcome it.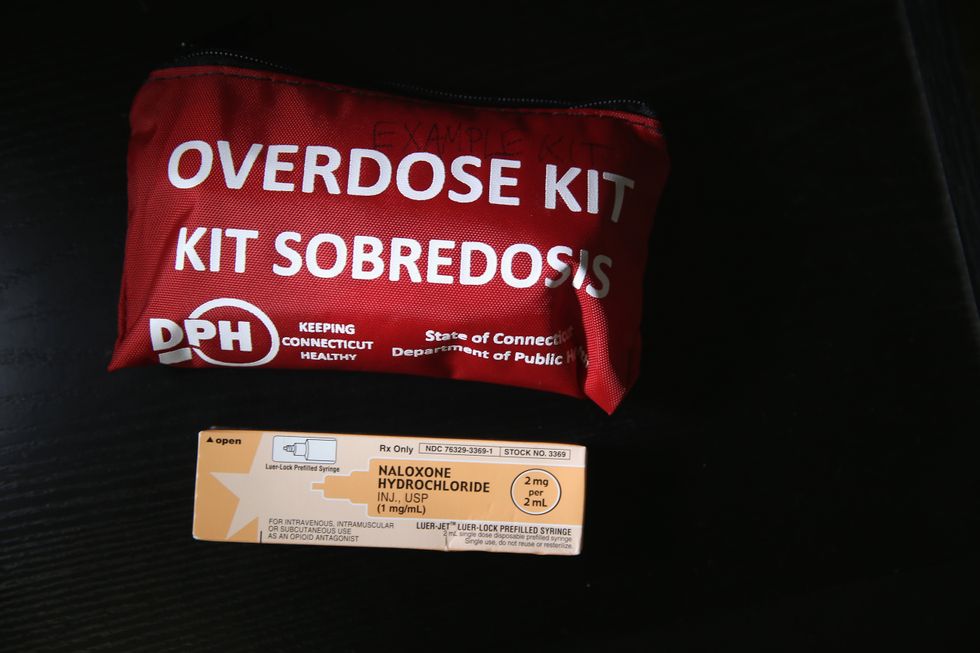 An opioid overdose kit. These are ubiquitous now across the country due to the opioid addiction epidemic.
Investigators from Emory and Georgia State Universities found, for the first time, how morphine tolerance comes about. This is an inflammatory response triggered when chemical messengers called cytokines are released inside the brain. By blocking cytokines, researchers say pain could be relieved consistently with morphine over time, at only half the dosage. These scientists were able to illustrate how the inflammatory response occurred in rats' brains, and that blocking cytokines could undermine tolerance.
The mechanism for tolerance buildup works like this. Over time, morphine interferes with homeostasis, or the body's ability to manage functions in a rhythmic and timely manner. Since it no longer recognizes pain, the body moves to rid itself of this foreign agent and reestablish balance within the system. To do that, it triggers the immune response, which causes inflammation—used to drive the agent out.
Another find, tolerance occurs quickly. One dose each day for three days was enough to cause the tolerance response to kick in. When rats were given a drug that blocked inflammation, tolerance to morphine plummeted. Researchers concluded the study by writing, "Our findings provide a novel pharmacological target for the prevention of opioid-induced immune signaling, tolerance, and addiction."
To learn more about the prescription painkiller epidemic click here: