Rather than one layer at a time, this method creates an entire object all at once, using lasers.
Volumetric printed object. Credit: Shusteff et al., Science Advances.
Imagine this, you see something online you just have to have, like a rugged smartphone case emblazoned with your favorite character. You order it and instead of waiting for it to be delivered, your 3D printer fashions it for you, to your exact specifications, in seconds. Why don't we have this right now? 3D printers can take hours or even days to create an object, making such a scenario difficult to implement.
3D printers are still a new technology with a lot of potential. Think of the cost savings to the consumer (no shipping costs), the time saved to the producer (no need to ship things anywhere), and to the environment (saving on exhaust from trucks, planes, delivery vans, producing unsold items, and so on). Not only could it transform manufacturing but the research and development process as well. Making prototypes fast and easy would revolutionize engineering and design.
The potential is there. What's holding up additive printing, as it's sometimes called, is that it's time intensive and the device is limited as to what shapes it can produce. The model we have today adds only one layer at a time.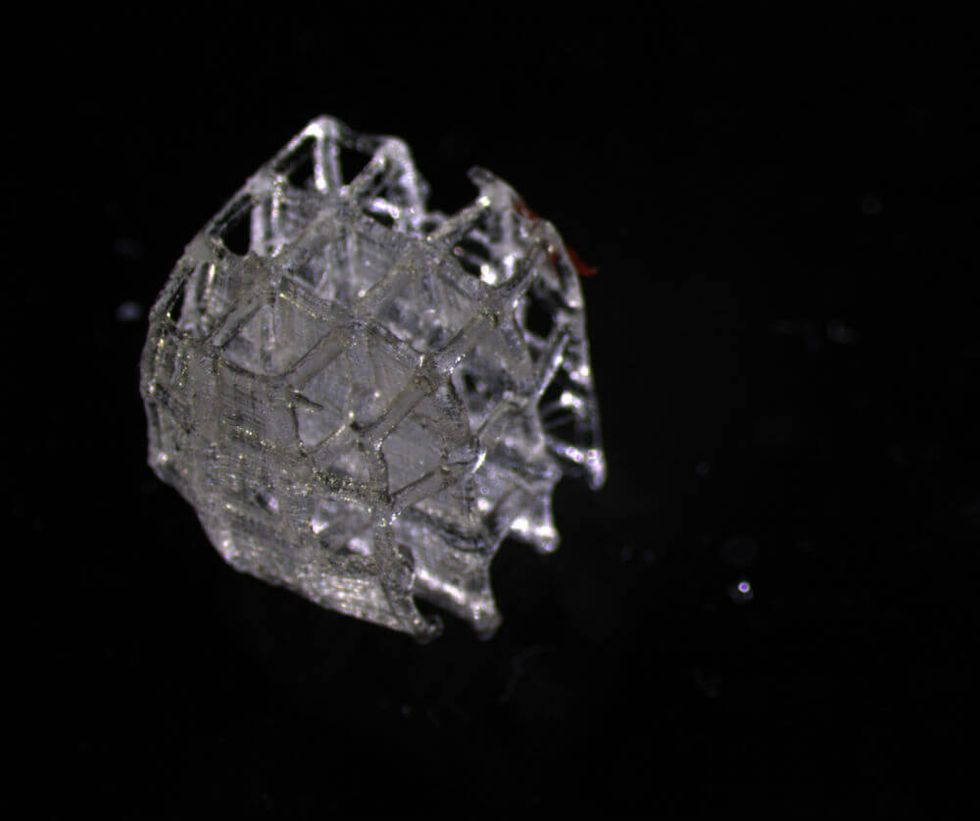 Lattice work on the millimeter scale, produced by a new 3D printer technique. Credit: Shusteff et al., Science Advances.
Scientists at the Lawrence Livermore National Laboratory, in California, have now come up with a novel technique that can make complex objects in mere seconds, by adding several layers simultaneously. The details are in a report in the journal Science Advances.
There are two really big innovations here. The first is using a fast drying, photosensitive resin, and the second is the unique way the lasers are employed. In traditional 3D printing, a powerful laser is used to harden the resin into plastic. Here, the printer follows a pattern set up by a 3D laser model. Creation takes place inside a tank full of liquid resin.
Three weak lasers are used, so the resin doesn't cure. Instead, it creates a holographic effect, forming a 3D model of what's to be made inside the tank. Anywhere where the three lasers are made to come together unites them into one strong beam, which hardens the resin. In this way, rather than one layer at a time, multiple layers can be fabricated at once by orchestrating the lasers into complex patterns. This method can allow for pinpoint accuracy.
Once the pattern is complete, the lasers harden the resin in seconds, and the unused liquid is drained away, leaving the finished product behind. The process works with metal as well. But it's a little different. Here, the lasers arrange metal dust into a pattern. Once complete, the dust is condensed into a solid by a laser or electron beam.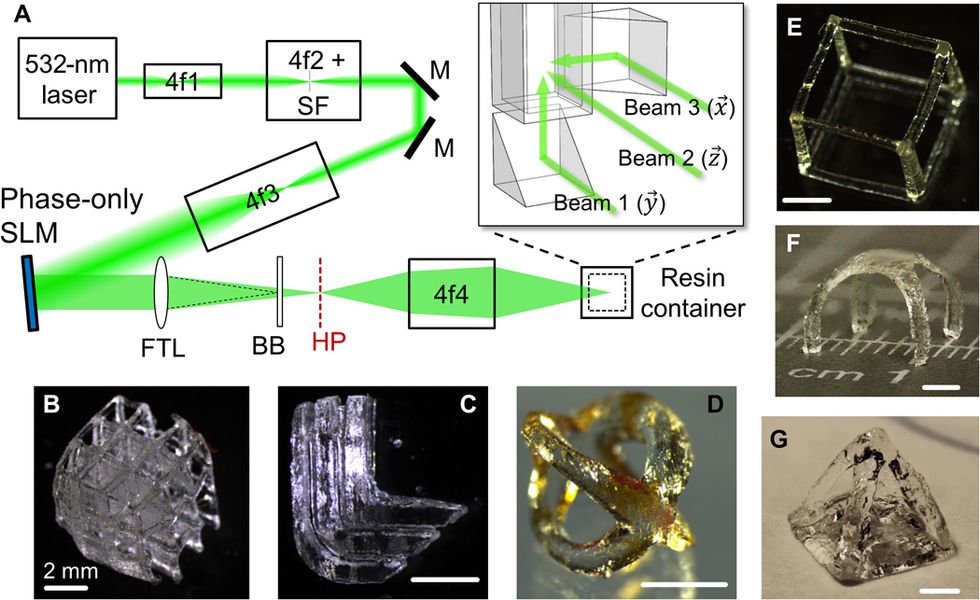 Volumetric 3D printing and the objects scientists have made so far. Credit: Shusteff et al., Science Advances.
LLNL engineer Maxim Shusteff led the study. He told New Atlas, "The fact that you can do fully 3D parts all in one step really does overcome an important problem in additive manufacturing." Not only is the new technique faster and able to create a wider variety of shapes, it eliminates the need for support structures current 3D printers often need to fashion objects. In addition to lattices, beams, squares, and other structures, it could be used to make something complex with moving parts, like a gearbox. Another advantage, it can print multiple objects at once, such as a set of chess pieces.
The objects made via volumetric 3D printing, as the technique is being called, aren't yet able to produce as sophisticated a product as some commercial 3D printers out there today. Really, this was a proof of concept study. But Shusteff and his team believe they can reach the same level of resolution with their process. Future models may use LEDs rather than a complicated laser array, as the latter is expensive. Also "laser speckle" or when a laser interferes with itself, can cause noise and result in surface roughness on printed objects.
So far, Shusteff and colleagues have made a few shapes on the millimeter scale. Though the amount of power needed may steer entities away from using this technique for heavy manufacturing, it would be useful for creating biomedical implants, which need to be flexible and yet high resolution. Another option could be bioprinting living tissue. "We've taken a really good first shot at this," Shusteff said, "but we've not yet taken it to the limit of its performance, so the space is wide open for us and others to demonstrate what this approach is capable of."
To see volumetric 3D printing in action, click here:
One researcher called it "the ultimate in the miniaturization of machinery."
Arm of a molecular robot. Photo: Nature.
We marvel at movies like Ant Man, Inner Space, and Fantastic Voyage, where someone or something can shrink down to the nanoscale and navigate a microscopic world. Although shrinking something down with some type of laser or energy field is all but impossible today, we are beginning to exact more and more control over tinier and tinier environments.
The new and growing branch of nanotechnology promises much. In the near future, experts predict that nanosensors will be used inside our bodies to monitor our health and alert us to disease or even an oncoming health crisis. Nanosensors could also monitor the environment. Another exciting application is creating the next generation of materials with novel properties.
These can include gaining electrical properties in fabric-based items. Consider clothing that can conduct electricity; your outfit could have electronics built into it, or even a wireless charger for your phone. Nanotech can also help create the next generation of bullet-proof and explosive-resistant materials. We will be able to imbue materials with other properties as well such as water-resistance, anti-corrosive properties, anti-fogging, anti-abrasion, and more.
Imagine self-healing materials. Tear your jacket? No problem. It just grows back. In the realm of energy, nanotech could be used to improve solar cells and develop ultra-capacitors for energy storage, which could help us embrace green energy and jettison fossil fuels. In total, scientists believe nanotech can help us to develop multi-component systems that are smart, autonomous, and adapt to the environment or changing circumstances.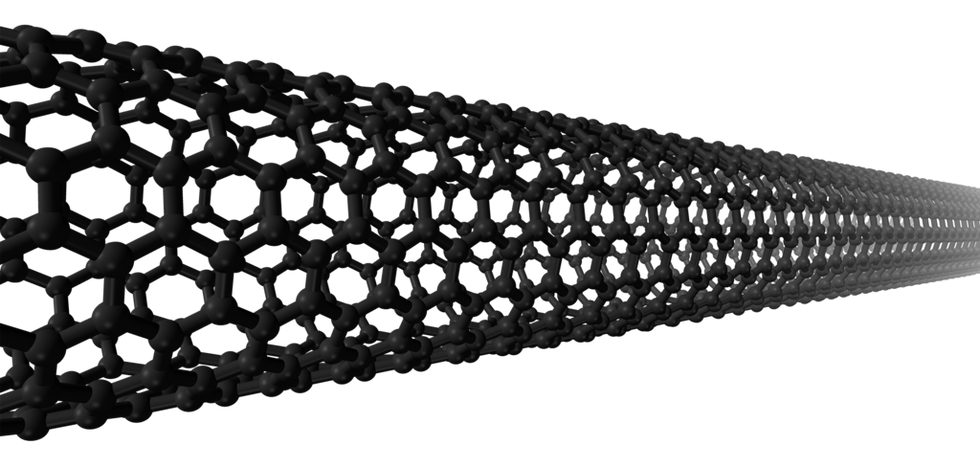 Carbon nanotubes strung together can make some of the strongest material on Earth. Wikipedia Commons.
But what about actual machines? The field of nanorobotics is young but growing rapidly. One research team is working on self-aware nanobots that can deliver drugs inside the body, right where they're needed. Another group at Rice University built a nanocar. A collaboration of several US universities recently announced the creation of a photodynamic nanodrill. When it encounters light or a laser, it spins and can drill right down into a cancer cell, killing it.
Now, a team at the University of Manchester in the UK has reached another milestone. It's developed a robot so small it operates on the molecular level. This is the world's first molecular robot, and it has an arm which can manipulate individual molecules or move them in clusters.
The thing is a millionth of a millimeter in size. To give you an idea of the scale we're talking about, one quintillion (a billion billion) of them piled together would be about equal to a few grains of salt. Each machine is comprised of 150 atoms. That includes carbon, hydrogen, oxygen, and nitrogen atoms. Though small, these machines could offer us incredible capabilities, such as to work in tiny, molecular factories, in order to manufacture the next generation of materials and products.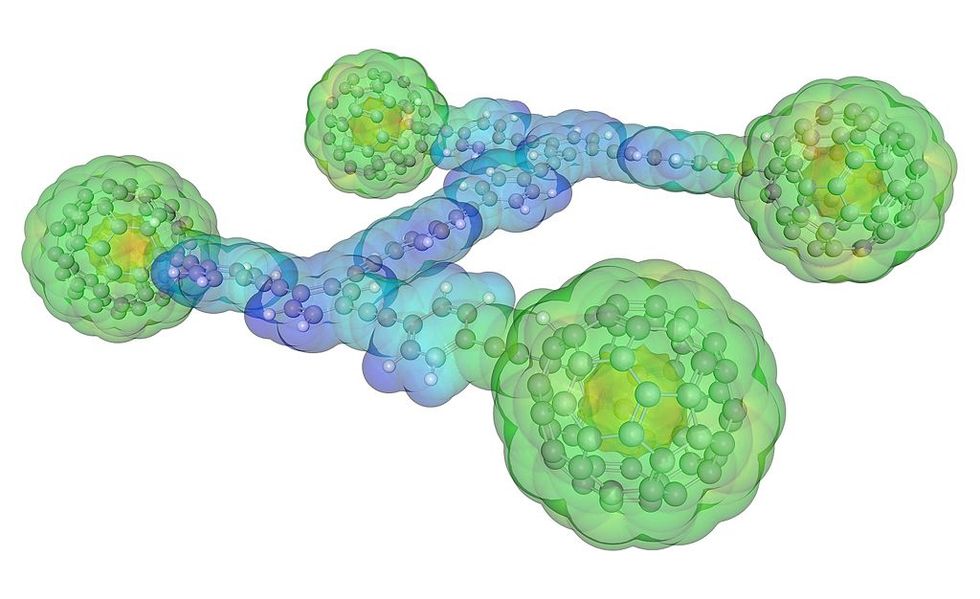 This 2016 Nobel Prize-winning Nanocar was created at Rice University. Edumol, Molecular Visualizations. Wikimedia Commons.
Certain biological processes move atoms individually or in clusters all the time to serve an organism's needs. Previous to this study, some experts argued that doing so artificially was all but impossible. Professor David Leigh of University of Manchester's School of Chemistry led the study. He called this, "the ultimate in the miniaturization of machinery." The chemist explained how he and his team approached the project.
Leigh said:
Our robot is literally a molecular robot constructed of atoms just like you can build a very simple robot out of Lego bricks. The robot then responds to a series of simple commands that are programmed with chemical inputs by a scientist. It is similar to the way robots are used on a car assembly line. Those robots pick up a panel and position it so that it can be riveted in the correct way to build the bodywork of a car. So, just like the robot in the factory, our molecular version can be programmed to position and rivet components in different ways to build different products, just on a much smaller scale, at a molecular level.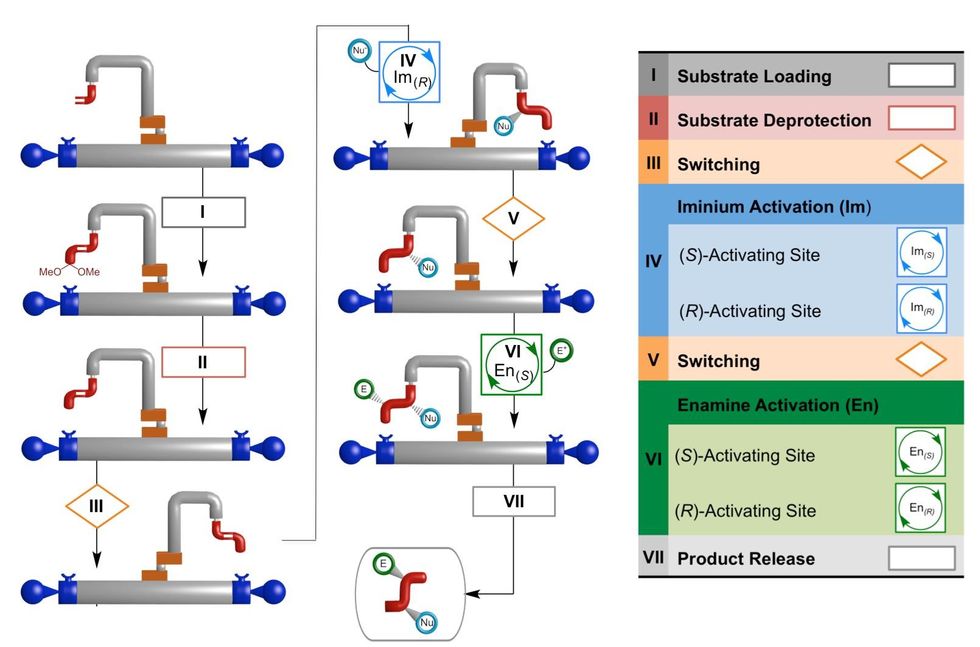 Detailed visualization of the molecular robot. Credit: Nature.
While most nanobots are extremely complex to build, this one operates on simple, well understood chemical processes. Prof. Leigh said, "This is the science of how atoms and molecules react with each other and how larger molecules are constructed from smaller ones." He added, "It is the same sort of process scientists use to make medicines and plastics from simple chemical building blocks. Then, once the nano-robots have been constructed, they are operated by scientists by adding chemical inputs which tell the robots what to do and when, just like a computer program."
The cost of materials, particularly to make electronics, is going through the roof. The beauty in using such robots instead of life-sized equipment is that everything operates on such a small scale, once the price of the actual tech comes down, it'll make the ability to create materials more cost-effective. It could also improve the quality of products. It may even help increase the rate of miniaturization. We'll be able to make smaller, more agile devices more easily. Such a robot could also help improve the process of discovering new drugs as well.
"Our aim is to design and make the smallest machines possible," Prof. Leigh said. "This is just the start but we anticipate that within 10 to 20 years molecular robots will begin to be used to build molecules and materials on assembly lines in molecular factories."
The results of this study were published in the journal Nature.
To get an interesting look at the "nanobots" that already operate inside your body, click here: 
--
Imagine data delivered by light. This is an important benchmark toward the development of a whole new computer.
Imagine taking lightning and turning it into thunder. That's how University of Sydney researchers explain their latest breakthrough. They've converted light into sound energy, a world first—and it all took place inside a special microchip they've designed. Computing power is going to run out; if we're going to keep doubling computing power every 18 months, as Moore's Law suggests, we're going to have to outgrow the silicon microchip.
Electromagnetic systems generate a lot of heat. Besides an aspect to deal with when designing communication systems, it also means they lose a lot of energy. A silicon microchip can only become so efficient—and it can only get so thin until the power needed to run it fries it completely. What's more, the electromagnetic system is easily disrupted through interference. A light-based system wouldn't get hot. It would be super-efficient and transmit information at light speed. This step is a benchmark toward such a computer, one that would be 20 times faster than current computers.
Dr. Birgit Stiller is a research fellow at the University of Sydney. She along with doctoral candidate Moritz Merklein were the lead authors, and both hail from ARC Centre of Excellence for Ultrahigh bandwidth Devices for Optical Systems (CUDOS). Part of CUDOS, the Australian National University's Laser Physics Centre, created the chip.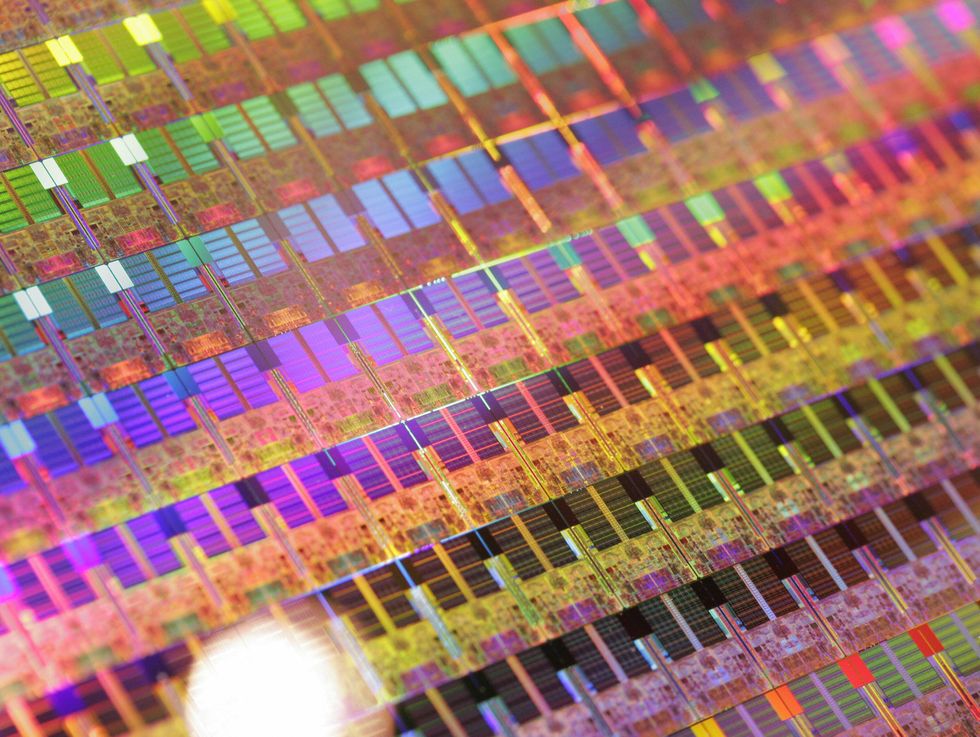 A light-based system would be five orders more efficient. Getty Images.
According to Dr. Stiller, "The information in our chip in acoustic form travels at a velocity five orders of magnitude slower than in the optical domain." She was the one who compared this feat to changing lightning into thunder. Stiller and Merklein's results were published in the journal Nature Communications. IBM, Intel, and other tech giants are already working on photon-based computing systems, so this study may help them broach certain shortcomings.
Fiber-optic wires and some aspects of cloud computing already use photon-based systems. The trouble is photons move fast (duh!), too fast for a computer to read. So the advantage that they bring in one area bogs things down in another. According to Dr. Stiller, "Unlike previous systems this allows us to store and retrieve information at multiple wavelengths simultaneously, vastly increasing the efficiency of the device."
The hope is that the energy could be received as light then converted into acoustics, slowing it down long enough for the computer to read, process, and manage it, and then converted back into light, in order to enable quick retrieval and transmission.
Professor Benjamin Eggleton is another co-author and the CUDOS director. He said: "This is an important step forward in the field of optical information processing as this concept fulfils all requirements for current and future generation optical communication systems."
See a model of how the microchip works here: 
Google is closing in on achieving a major quantum computing milestone.
9-qubit quantum processor. Credit: Julian Kelly/Google.
In theory, quantum computers could be vastly superior to regular or "classical" computers in performing certain kinds of tasks, but it's been hard to build one. Already a leader in this field, Google is now testing its most powerful quantum chip yet, a 20-qubit processor, which the company looks to more than double in power to 49 qubits by the end of 2017.  
Google's qubit devices are built on integrated circuits and can perform calculations using the physics of quantum mechanics. Qubits (or quantum bits) are units of quantum information that can be a mix of 0 and 1 at the same time, making them better suited than classical bits for encoding large amounts of data.
Last year, Google actually released a plan on how it will achieve what it called "quantum supremacy" - getting quantum computers to do something the classical computers cannot, like factoring very large numbers. The paper says that if the processors manage to get to 50 qubits, quantum supremacy would be possible.
One big issue for Google to resolve - figuring out how to simulate what randomly arranged quantum circuits would do. Even a small difference in input into such a system would produce extremely different outputs, requiring a great amount of computing power that doesn't currently exist.  
"They're doing a quantum version of chaos," is how Simon Devitt from the RIKEN Center for Emergent Matter Science in Japan described Google's challenge. "The output is essentially random, so you have to compute everything." 
Computational difficulties aside, Google and other companies like IBM are moving along quicker than expected in their development. While they figured out the science necessary to create the qubits, the next challenges lie in scaling down their systems and reducing error rates.
The engineer Alan Ho from Google's quantum AI lab revealed that his team's current 20-qubit system has the error measure also known as "two-qubit fidelity" of 99.5%. The goal for the 49-qubit system would be to reach 99.7% fidelity.
It might take until 2027 until we get error-free quantum computers, according to Ho, meaning that usable devices are still some time away.
For more on how quantum computing works, check out this video:
Studies and trials point to the potential of a rave drug becoming the newest antidepressant medication in decades.
Early risers take part in a Morning Glory 'Rave Your Way Into The Day!' morning dance experience at Village Underground on September 4, 2013 in Shoreditch, London, England. (Photo by Dan Kitwood/Getty Images)
A powerful anesthetic, used as an animal tranquilizer and an illicit club drug, has been receiving growing attention for its potential to treat depression. A number of studies point to the possibility that ketamine (known in the club scene as "special K") can become the next big thing in anti-depressant medications. 
While it's not approved by the FDA for treating depression, numerous clinics have sprung up to treat patients "off-label", with low doses of the drug, while drug manufacturers are ramping up research and development.
Yale professor of psychiatry Dr. Sanacora, who has used ketamine to treat hundreds of patients suffering from severe depression, said in a recent interview with NPR that he feels an obligation to use the drug. 
"If you have patients that are likely to seriously injure themselves or kill themselves within a short period of time, and they've tried the standard treatments, how do you not offer this treatment?" said Sanacora.
He also says a survey of U.S. and Canada clinics showed that "over 3,000" patients have already been treated.
How effective can ketamine be? It has been shown to relieve the kind of depression that no other drugs can affect. It's lifted even suicidal depression in just hours. With studies into ketamine going on for over a decade, a recent statement from the American Psychiatric Association says there is "compelling evidence" that it works, although its effects have been described as "transient." 
There is definitely more research to be done, especially considering the absence of large-scale trials.
"We don't know how much or how often it should be given for it to be effective or safe," said psychiatry and neuroscience Professor James Murrough, in a review of ketamine published in Nature Reviews Drug Discovery. 
Murrough is concerned that we don't know the long-term effects of taking the drug. It also tends to wear off, necessitating more to be taken. Another big issue — how to avoid the often-unpleasant "high" from the drug, leaving only its therapeutic qualities. Professor Sanacora shares those concerns:
"In a nutshell, I feel confident telling patients who have had little help from previous treatments that ketamine provides meaningful relief from some of their worst symptoms for at least a few days or even weeks,'' said Dr. Sanacora. "But I can't tell them with any degree of certainty how long the benefit can be sustained or how safe it is to repeatedly administer the medication over periods of months or years. "
But even with reasonable cautions, ketamine's promise is very much real, as it can lead to a totally new kind of medication. 
"There's warranted caution that's balanced with an optimism that says we've never had a new medication for depression since the era of Prozac," says Murrough. 
While most current antidepressants target the neurotransmitters serotonin and noradrenaline, ketamine works on glutamate. Before ketamine was studied, the role of this pathway in depression was not known. 
Will we see a ketamine drug soon? 
A 2016 study on mice found that the compound hydroxynorketamine may be responsible for ketamine's success in treating depression.  The scientists involved are going to human trials next. 
A compound formed from ketamine called esketamine is now in the final testing stage before being considered by the FDA. Other ketamine-like drugs are also in development.
When used in clubs, ketamine is usually injected or snorted to create strong feelings of detachment. The more it's taken, leading down what's called a "K hole," the more feelings of disassociation it will cause. For that reason, it can also be dangerous, with potential to cause temporary amnesia, confusion, increased heart rate, aggression and impaired motor function. There have also been cases of ketamine overdosing leading to date rape (due its paralyzing effects) or even death. In other words - don't try this at home and wait for the science to catch up.
Check out this Big Think interview with neurobiologist and psychiatric Dennis Charney, who explains how ketamine works differently than other antidepressants: