A mysterious startup reveals a groundbreaking solar energy achievement.
Credit: Heliogen
Heliogen, a startup backed by Bill Gates and Dr. Patrick Soon-Shiong, announces a solar energy breakthrough.
The company's array of mirrors generated heat of 1,000 degrees Celsius, nearly twice as much as before.
The startup aims to utilize the technology in industrial processes, significantly reducing gas emissions.
Heliogen, a solar-energy company backed by the the world's richest man, Bill Gates, claims to have made a renewable energy breakthrough. The company's array of mirrors generated a tremendous heat of 1,000 degrees Celsius, showing promise in replacing fossil fuels in major industrial processes.
The company is gearing its tech towards plants that manufacture cement, petrochemicals or steel. The replacement of fossil fuels in such industries could potentially lead to significant reductions in greenhouse gas emissions that have been linked to climate change. Re-powering cement production alone with solar could wipe out up to 7% of carbon dioxide emissions around the world.
The way Heliogen's mirrors work is by concentrating light towards a point on a liquid-filled tower. This heats up the tower, creating thermal energy that can fuel a heat engine. Previous solar thermal systems would only go to 565 degrees, not producing enough power for many industrial operations that have achieved the required heat by burning up fossil fuels.
The company's system of mirrors is also noteworthy for its AI backend, supported by computer vision software that can align the large mirror array with precision to reflect sunlight onto a target. Of course, one wonders if this is going to have military applications.
Heliogen was founded by its CEO – the entrepreneur Bill Gross, who also founded Idealab. He called what Heliogen achieved "a technological leap forward" that can address about 75% of the world's energy demand that is currently not being served by clean energy.
"The world has a limited window to dramatically reduce greenhouse gas emissions," said Gross, adding "With low-cost, ultra-high temperature process heat, we have an opportunity to make meaningful contributions to solving the climate crisis."
Bill Gates, who invested into the company, said in a press release he was "pleased to have been an early backer of Bill Gross's novel solar concentration technology. Its capacity to achieve the high temperatures required for these processes is a promising development in the quest to one day replace fossil fuel."
Based in Pasadena, California, the startup is staffed by scientists and engineers from top technical insinuations like Caltech and MIT. Among its other investors is the billionaire Dr. Patrick Soon-Shiong and the venture capital firm Neotribe.
Explore Energy Innovation, with Michio Kaku
What's next for the startup? Having cracked 1,000 degrees, Heliogen aims to achieve temperates of up to 1,500 degrees Celsius. That amount of heat is necessary to make 100-percent fossil-free fuels like hydrogen or syngas. "If you can make hydrogen that's green, that's a gamechanger," explained Gross to CNN. "Long term, we want to be the green hydrogen company."
The best self-directed learners use these seven habits to improve their knowledge and skills in any subject.
(Photo by Peter Cade/Getty Images)
Bill Gates, Mark Zuckerberg, and Ellen DeGeneres all dropped out of college, yet they became leaders in their fields. Their secret? Self-directed learning.
Self-directed learning can help people expand their knowledge, gain new skills, and improve upon their liberal education.
Following habits like Benjamin Franklin's five-hour rule, the 80/20 rule, and SMART goals can help self-directed learners succeed in their pursuits.
People are captivated by the stories of individuals who eschewed traditional education yet still became titans in their field. Bill Gates, Ellen DeGeneres, Anna Wintour, Henry Ford, John D. Rockefeller; none of them has a college degree, but they have all achieved fame and a level of success few can match. How did they do this? They are self-directed learners.
Nowadays, self-directed learning is less of a cultural curio and more of an economic necessity. New knowledge accumulates so quickly, and industries change so rapidly, traditional education paths can't keep pace. Unless your specialty is the pottery fashions of Ancient Greece, chances are your diploma is out of date before the ink dries. (Even then, you never know when some newly discovered Pompeii will upend terracotta paradigms.)
Need help getting into the practice? Here are seven habits shared by the best self-directed learners.
Take ownership of your learning
Malcolm Knowles was an educator and a champion for adult learning (a.k.a. andragogy). He described self-directed learning as a process "in which individuals take the initiative, with or without the help of others, in diagnosing their learning needs, formulating learning goals, identifying human and material resources for learning, choosing and implementing appropriate learning strategies, and evaluating learning outcomes."
The habits we'll discuss here address all these points, but the first step is always to take the initiative.
As Salman Khan, founder of Khan Academy, told Big Think, this isn't that much different from high school or college learning. "There is this illusion that is created in our classical education system that someone is teaching it to you," Khan said. "Really, they are creating a context in which you need to pull information and own it yourself."
The difference is that self-directed learners need to create that context for themselves. They do this by engaging in learning through
a growth mindset
. Traditional education can inadvertently saddle students with fixed mindsets (i.e., students are either naturally gifted at a subject or not, and their grades will reflect this). A growth-mindset student, on the other hand, knows that improvement is possible, even if it isn't easy.
Set SMART goals
Once you have theinitiative, you need to set goals. Otherwise, rewards will always remain nebulous and unobtainable, and rewards are necessary if you are to remain motivated.
The best self-directed learners know to set SMART goals. SMART is an acronym that stands for Specific, Measurable, Action-oriented, Realistic, and Time-defined. Any goals you set should meet these criteria.
Pay close attention to realistic time management. Self-directed learning is generally done in our few, precious off-hours. Teaching yourself programming is great. Trying to program an entire video game within a year is a bit much. Break it down into smaller chunks and give yourself time.
If you're curious, the opposite of a SMART goal is a VAPID one—that is,
V
ague,
A
morphous,
P
ie-in-the-sky,
I
rrelevant, and
D
elayed. Don't be a VAPID learner.
Benjamin Franklin's five-hour rule
Benjamin Franklin was an author, statesman, inventor, and entrepreneur. He also left school when he was 10. How did he amass the knowledge necessary to succeed in so many trades with so little schooling? He set aside an hour every weekday for deliberate learning. He would read, write, ruminate, or devise experiments during that time.
Author Michael Simmons calls this Franklin's five-hour rule, and he notes that many of the best self-directed learners use some form of the method. Bill Gates reads roughly a book a week, while Arthur Blank reads two hours per day.
Be sure to spread your five hours throughout the week. Your brain wasn't designed for cram sessions, and trying to squeeze a week's learning into one day will ensure you forget a lot of the material. Additionally,
our brains' neural networks
need to time process information, so spacing out our learning helps us memorize difficult material more efficiently.
A lithograph of Benjamin Franklin and his son William performing their famous kite-and-key experiment.
(Photo by Hulton Archive/Getty Images)

Active learning
Salman Kahn created Kahn Academy to engage learners with exercises they could do themselves. Active learning, he says, helps students better understand the material and know when to apply which skills.
It is easy to engage actively with gardening or math problems, but what about subjects like history, where participation comes mainly through reading books? Bill Gates has a solution for that. He uses marginalia—note-taking in the margins of a book—to turn reading into a vibrant conversation with the author.
"When you're reading, you have to be careful that you really are concentrating,"
Gates told Quartz
. "Particularly if it's a non-fiction book, are you taking the new knowledge and attaching it to knowledge you have. For me, taking notes helps make sure that I'm really thinking hard about what's in there."
A photo of Bill Gates taken on April 19, 2018, in Berlin, Germany.
(Photo by Inga Kjer/Getty Images)
Prioritize (the 80/20 rule)
In the early 20th century, Italian economist Vilfredo Pareto noticed that 20% of Italy's population owned 80% of its land. His analysis was later expanded into the Pareto principle (a.k.a. the 80/20 rule). This rule broadly states that 80% of your results will stem from 20% of your actions.
The best self-directed learners use this rule to prioritize their study time. They focus on the 20% of actions that net them the most results. If someone wants to learn to crochet, they don't need to understand the history of primitive textiles to do that (as fascinating as that may be). They need to invest their learning time at hands-on applications and only use spare time to brush up on nålebinding (again,
super fascinating
).
Visit the library
This one may not apply to learners with the means of, say, Bill Gates, but for most of us, financial limits can interfere with our ability to accrue new supplies. Enter the library. A good research library has books on most any subject, has access to a host of online resources, and can connect you with like-minded professionals or groups.
Author Ray Bradbury couldn't afford to go to college and instead visited the local library three times a week. He went on to become one of the most celebrated authors of the 21st century.
"A college cannot educate you; a library can educate you,"
Bradbury said
. "You go to the library to find yourself. You pull those books off the shelf, you open them, and you see yourself there. And you say, 'I'll be goddamed, there I am!'"
People studying in the New York Public Library's Rose Reading Room.
(Photo by Sascha Kilmer/Getty Images)
Employ your own motivation
The traditional education path gives you a very clear motivation: Get a good grade to get a good job. Self-directed learning provides no clear motivation, so you'll have to create your own.
Entrepreneur Mark Cuban urges people to never stop learning. The near 60-year-old billionaire is currently teaching himself to code in Python. His reason? He believes the world's first trillionaire will make their fortune with artificial intelligence, and he doesn't want to be left behind.
"Whatever you are studying right now, if you are not getting up to speed on deep learning, neural networks, etc., you lose," Cuban told CNBC. "The more I understand it, the more I get excited about it."
Of course, your motivation doesn't have to be finding the next million-dollar venture. It could be as simple as expanding your liberal education for self-improvement, learning a new skill set to advance in your field, or simply reading a book to share in conversation with others. Whatever the case, the motivation needs to come from you.
Nigeria, which accounted for more than half of all polio cases in 2012, reported zero new cases of the infectious disease in 2017.
UNICEF health consultant Hadiza Waya (R) tries to immunize a child during a vaccination campaign against polio in northwest Nigeria. (Photo: Pius Utomi Ekpei/AFP/Getty Images)
The Bill & Melinda Gates Foundation plans to pay off the $76 million debt that Nigeria owes Japan for resources used to eradicate polio.
It marks yet another investment by the Gates Foundation in the fight against the ancient disease. In 2017, the Gates Foundation reported it had so far spent a total of $3 billion on anti-polio efforts.
"You might be wondering why we're spending so much money when there's only 12 cases," said Jay Wenger, a medical doctor who leads the Gates Foundation's polio eradication effort, to CNBC. "We want to be sure we finish it off."
In the foundation's 2017 annual letter, Bill Gates was optimistic that the end of polio was near, adding:
"...ending polio will save lives—through the magic of zero. When polio is eradicated, the world can dedicate polio funds to improving child health, and the lessons from polio will lead to better immunization systems for other diseases."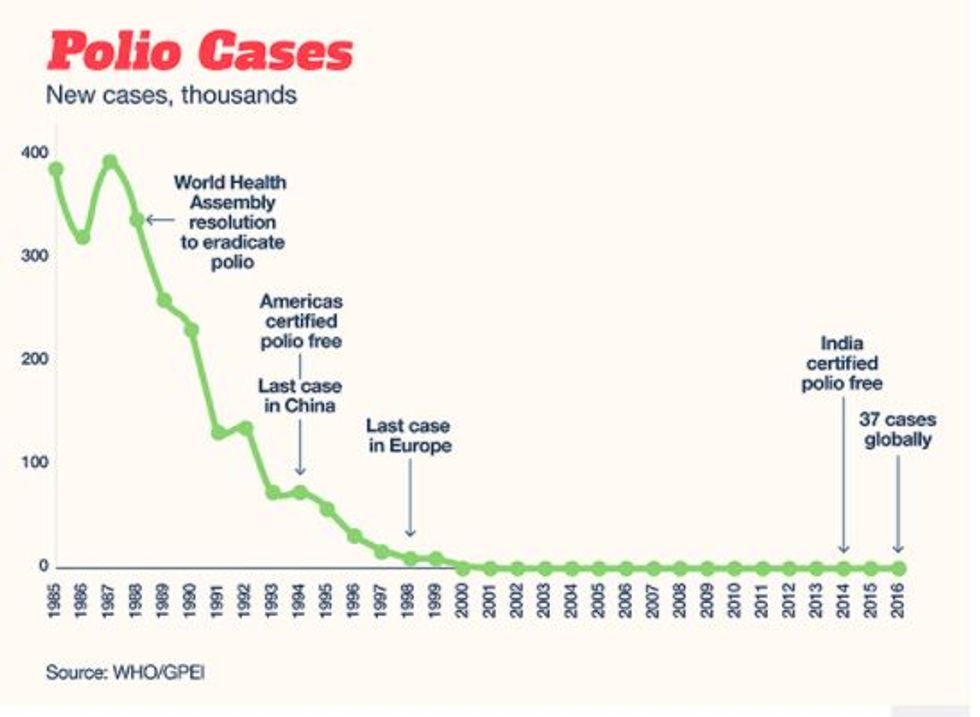 According to Quartz Africa, the Gates Foundation had agreed in 2014 to pay off Nigeria's debt over a 20-year period if the country could achieve "more than 80% vaccination coverage in at least one round each year in very high risk areas across 80% of the country's local government areas."
The efforts seem to have paid off. Nigeria, which accounted for more than half of all polio cases in 2012, reported zero new cases of the infectious disease in 2017. But achieving widespread immunization in the African nation has been difficult.
One major factor that has contributed to the lingering of polio in Nigeria has been cultural opposition to immunization. This sentiment can, in part, be traced back to 2003 when a physician on a Nigerian government committee said Western medicine was "corrupted and tainted by evildoers from America and their Western allies."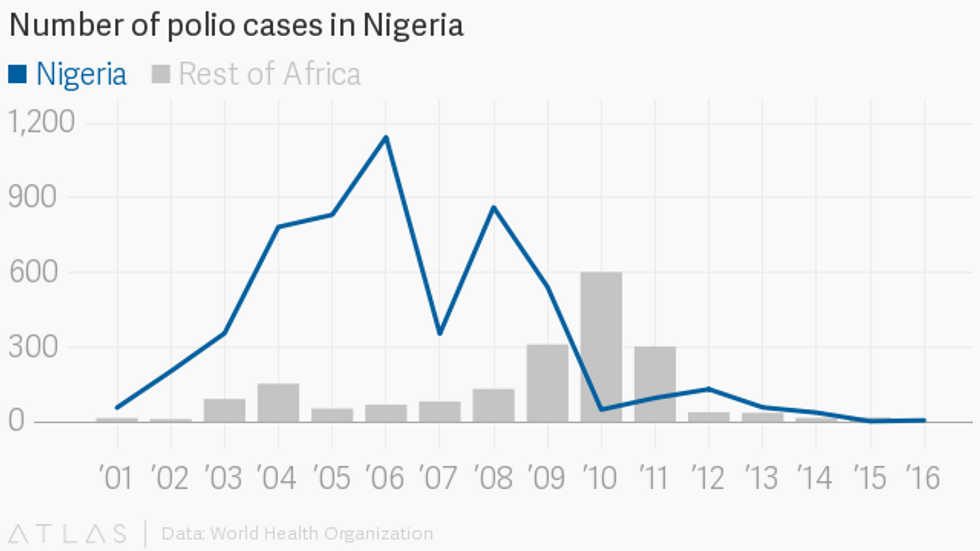 Some experts take issue with Elon Musk's frightening warning about AI taking over.
(FROGDNA)
One way to develop a reputation as a visionary is to come up with a well-known, startlingly prescient prediction that proves true. Another way is to gain immense wealth and fame through the development of a breakthrough product—say, PayPal—or two—maybe Tesla—or three—SpaceX—and then use your well-funded megaphone to cast prognostications so far and wide and so often that the world comes to simply accept you as someone who sees the future. Even better if you can start a public debate with other famous visionaries, say Facebook's Mark Zuckerberg, Bill Gates, and Stephen Hawking. This is what Elon Musk has just done at the U.S National Governors Association meeting in July 2017.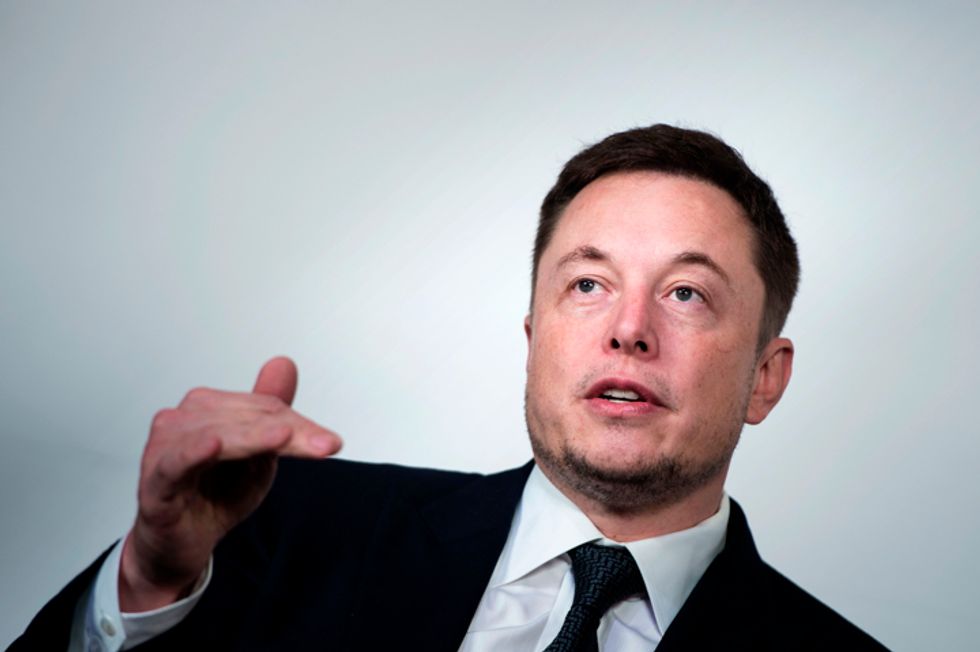 Elon Musk (BRENDAN SMIALOWSKI)
Musk's comments about artificial intelligence (AI) were startling and alarming, beginning with his assertion that "robots will do everything better than us." "I have exposure to the most cutting-edge A.I.," Musk said, "and I think people should be really concerned by it."
His vision of the potential conflict is outright frightening: "I keep sounding the alarm bell but until people see robots going down the street killing people, they don't know how to react because it seems so ethereal."
Musk's pitch to the governors was partly about robots stealing jobs from humans, a concern we've covered on Big Think, and partly a Skynet scenario, with an emphasis on humanity's weak odds of prevailing in the battle on the horizon. His point? "A.I. is a rare case where I think we need to be proactive in regulation [rather] than be reactive."
It was this dire tone that caused Facebook's Mark Zuckerberg to take issue with Musk's position when asked about it in a Facebook Live chat. "I think people who are naysayers and try to drum up these doomsday scenarios—I don't understand it," said Zuckerberg. "It's really negative, and in some ways I think it's pretty irresponsible."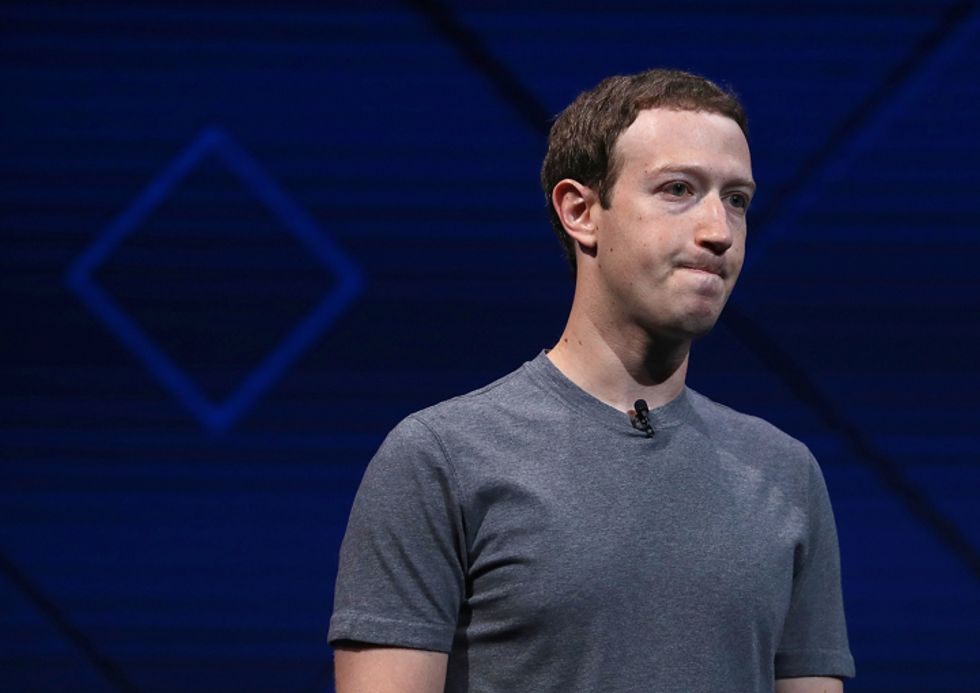 Mark Zuckerberg (JUSTIN SULLIVAN)
As CEO of Facebook, Zuckerberg is as cranium-deep into AI as Musk, but has a totally different take on it. "I'm really optimistic. Technology can always be used for good and bad, and you need to be careful about how you build it, and what you build, and how it's going to be used. But people are arguing for slowing down the process of building AI—I just find that really questionable. I have a hard time wrapping my head around that."
Musk tweeted his response.
I've talked to Mark about this. His understanding of the subject is limited.
— Elon Musk (@elonmusk) July 25, 2017
He created Windows and made billions of dollars. But that wouldn't have happened if it weren't for a few small things in his early life. 
TOBIAS SCHWARZ/AFP/Getty Images
At 31 Bill Gates became the youngest billionaire ever. At 39 he was the richest man on earth. What have some of the milestones along his path been?
As with other outliers, Gates has had an unusual confluence of circumstances, family, luck, personal qualities, and perfect timing that have shaped his path. From age 8 Gates had access to a computer at his school, where he could learn to program - a luxury very few people at all had at that point in history - which just so happened to be the dawn of personal computing. This opportunity for an early start and his own ambition and perseverance (which got him banned from school for a while for hacking), helped him clock in the (Malcolm Gladwell-approved) 10,000 hours of practice before even finishing high school.
Similar to other mavericks like Elon Musk, Gates proceeded to hustle, work 16-hour days, and never stop learning and improving himself. He is known for reading one book a week and believes he can improve the way he thinks by following the advice outlined in John Medina's book Brain Rules which summarizes what scientists know about the brain and then offers practical ideas for our daily lives.
Luck, of course, has also played a part in his story. Like meeting Paul Allen while he was still a teenager, or working with Steve Jobs and being inspired to create Windows. Still, as Gates himself points out, while luck, circumstances and timing play a part in one's life and are not something one can control, there are many who have them but don't make use of them. Ultimately, it is about how prepared you are and how you apply yourself to take advantage of the factors in your life that are outside of your control.
This infographic created by Anna Vital and published in Funders and Founders, outlines some of the key moments of Bill Gates' early life.