Australia could soon ban unvaccinated children from attending preschools nationwide.
A children's doctor injects a vaccine against measles, rubella, mumps and chicken pox to an infant on February 26, 2015 in Berlin, Germany. (Sean Gallup/Getty Images)
Australia might soon ban unvaccinated children from attending preschools and daycare. Prime Minister Malcolm Turnbull didn't mince words on the proposed law, dubbed "No Jab, No Play." 
"This is not a theoretical exercise – this is life and death," he said. "If a parent says 'I'm not going to vaccinate my child', they're not simply putting their child at risk, they're putting everybody else's children at risk too."
Australia has been moving toward stricter vaccination laws for years. In 2015, the federal government stripped welfare and tax benefits from parents of unvaccinated children, a move that led to an increase of about 200,000 child vaccinations.

Laws that restrict unvaccinated children from attending schools already exist in New South Wales, Queensland and Victoria. But Turnbull and the Australian Medical Association want to enforce them nationwide.
"If you, as a parent, expect the community to support you by either welfare payments or access to care, then you need to do your bit to contribute to that community by protecting other children," Michael Gannon, president of the Australian Medical Association, told Fairfax Media.
Still, some think Australia's strong-arm legislation could empower the anti-vaccination movement.
"People without any previous interest in vaccination may defend anti-vaccination activists and join their cause because they are concerned about the threat to civil liberties," said Julie Leask, a professor and researcher at the University of Sydney.
Like the U.S., Australia has a small but loud anti-vaccination movement (or "vaccination skeptics") who believe vaccines cause autism and other medical problems – despite overwhelming evidence that says otherwise. These beliefs can permeate entire communities and facilitate the resurgence of Victorian-era diseases.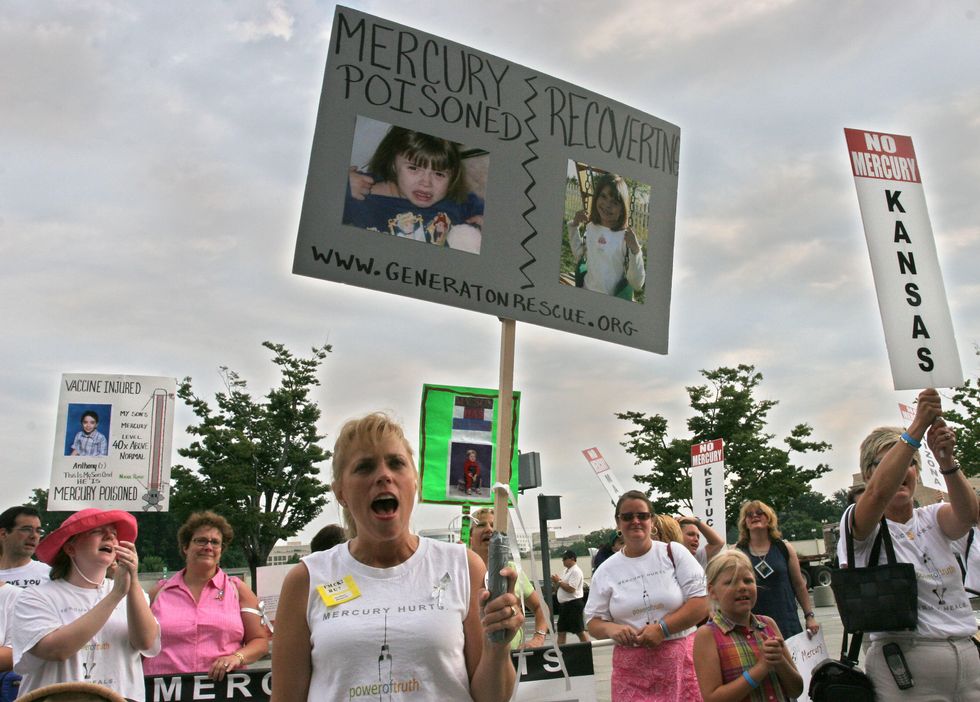 (Photo: NICHOLAS KAMM)

One anti-vaccination mother living in a suburb outside of Sydney recently proposed starting a daycare center for unvaccinated children. 
"Many families are concerned about vaccinating. Yes it's in response to No Jab No Play," the post read. Some parents supported the idea on Facebook, and even suggested opening similar daycares in nearby cities. 

But should these parents be allowed to establish unvaccinated daycares? To answer the question, you need to factor in the effects it would have on herd immunity.
Herd immunity occurs when enough people in a society are vaccinated, making it nearly impossible for transmittable diseases to spread. It's strength in numbers. Herd immunity protects everyone, but it's critical for people who can't receive vaccinations for medical reasons.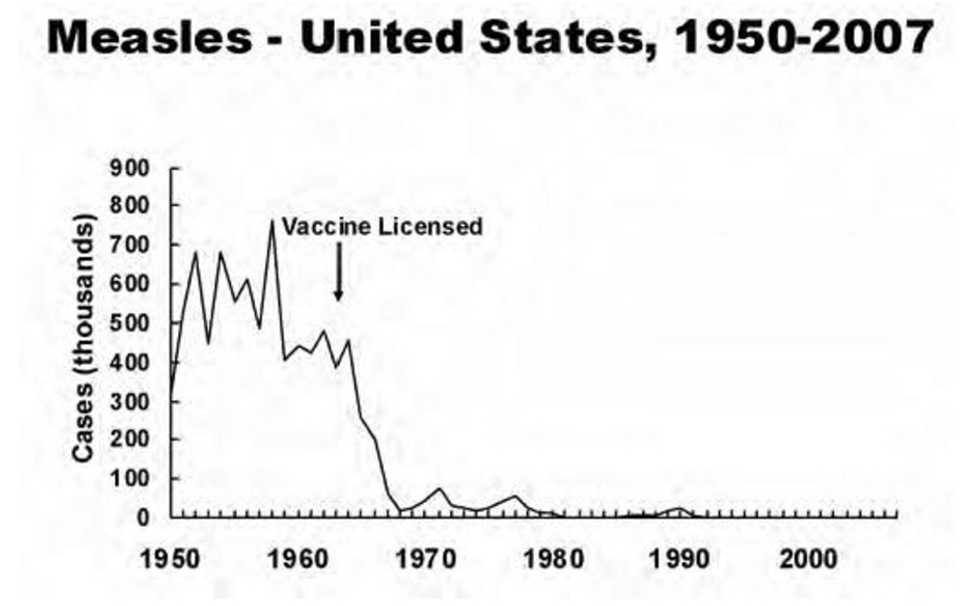 The chicken-pox vaccine is a good example. It only took a few years after the vaccine was introduced in the U.S. before there were zero chicken-pox deaths among babies less than 1 year old. This wasn't because babies were vaccinated – they weren't – but rather because there were no older unvaccinated kids to pass them the disease. 
The herd immunity threshold for highly contagious diseases, like measles, is about 95 percent of the population. Right now, about 93 percent of Australian schoolchildren are fully vaccinated. Supporters of compulsory vaccination think the laws could help hit the herd immunity threshold in Australia. 
In the U.S., all 50 states require children to be vaccinated to attend school. But each state allows exemptions for various reasons – religious, philosophical, medical. Some states make it harder to opt-out. In 2015, California passed a law granting exemptions only for medical reasons. Unsurprisingly, states that make opting-out easy experience more breakouts of transmittable diseases.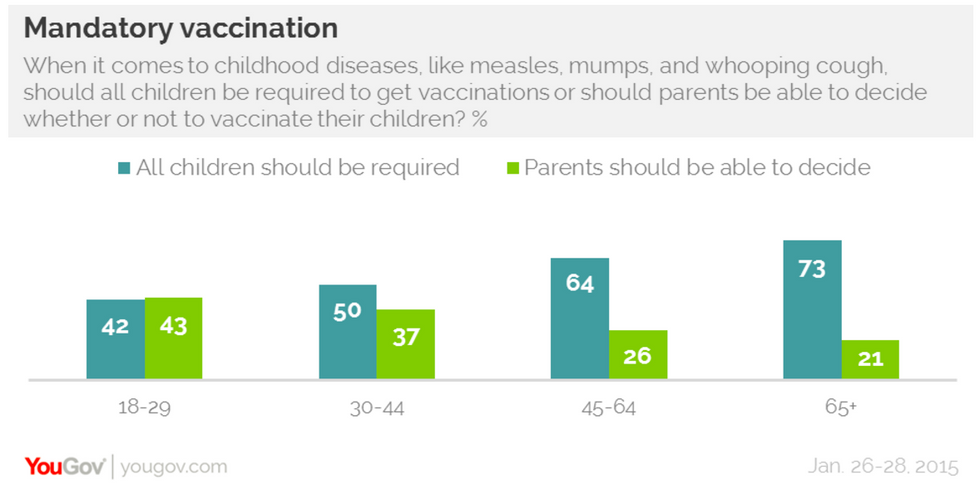 The majority of Americans support vaccination and don't believe vaccines cause autism. But anti-vaccination movement is no longer restricted to the fringe. There are activist organizations, celebrity denouncements. President Donald Trump even hinted that vaccines might be dangerous, rhetoric that calls to mind research that suggests anti-vaccination sentiment tracks closely with a lack of trust in government. As long as the anti-vaccination movement has influence on lawmakers, the future of U.S. vaccination policy is uncertain.

At the heart of the vaccination issue is a question about freedom: At what point should individual rights be subordinated to protect the health of a society?
Anti-vaccination parents want the positive liberty of choice when it comes to vaccinating their children. But this positive liberty can impinge on other's negative liberty, which in this case is the freedom not to be unnecessarily subjected to transmittable diseases. 
Society is always striking balances between state power and individual liberties. Deciding how we should restrict guns or abortion are tough questions with no clear answers. But vaccination is less abstract. The research continues to reaffirm the individual and societal medicinal benefits of immunization, despite the loud noises of (likely) well-intentioned detractors. More so than other issues, vaccination shouldn't require us to respect people's beliefs at the expense of facts. In the absence of solid scientific research demonstrating that vaccines are dangerous, there seems little reason not to set sights on 100 percent herd immunity.
--
A new nonprofit organization aims to elect more scientists to the U.S government.
Concerned that scientific views are not being properly represented in Washington, a new nonprofit group wants to get more scientists elected. 314 Action, named after the first three digits of pi, wants scientists to embrace the political process, running for all levels of government. The group's aim is to get as many scientists elected as possible in the 2018 elections.
314 Action sees particular urgency for its work due to the rise of anti-science rhetoric on the Hill, especially from the right. The current Republican standard bearer President Trump has questioned the idea that climate change is caused by humans and seemingly encouraged debunked anti-vaccination opinions. With the appointments Trump made so far, it's hard to believe his administration will advance scientific causes. 
The 314 Action group describes its members as people who come from the STEM community whose goals are to increase communication between STEM community and elected officials, to actually elect STEM-trained candidates to public office, to increase presence of STEM ideas through the media, and to prevent the U.S. from falling further and further behind the rest of the world in math and science education.
Another big issue for the nonprofit is to reorient public debate on gun violence by treating it as a public health crisis.
The organization hopes to achieve this by identifying interested scientists and connecting them with money and political campaign machinery. They have a current network of 75,000 donors. 
"We have school boards that are determining the curriculum for our children and having people with a pro-science agenda at the table is very important," she said. "We're looking at the federal level, which is very important, but we're also looking a few steps prior to that so we can build a pipeline to have more scientists at all levels of government," told Shaughnessy Naughton, the board president of 314 Action, to Jason Koebler of Motherboard. 
The group is not looking to "politicize science" but rather to get scientists into politics. 
"When the man who's going to lead this country claims climate change is a hoax, we need people willing to stand up for the facts," added Shaughnessy.
Was is the profession most represented in our government now? Traditionally it has been lawyers, with more than half of all American Presidents and members of Congress having a law background. The proportion of lawyers in Congress decreased recently, to its lowest percentage of 36.5% in 2015-2016, still a sizable amount. What has increased is the number of professional politicians, people who rise up through the ranks from being aides or various political organizers. 
The number of business people in government has held relatively steady at about 25% of the group.
Here's a useful breakdown from a survey by Nick Robinson, a lecturer on law at Yale: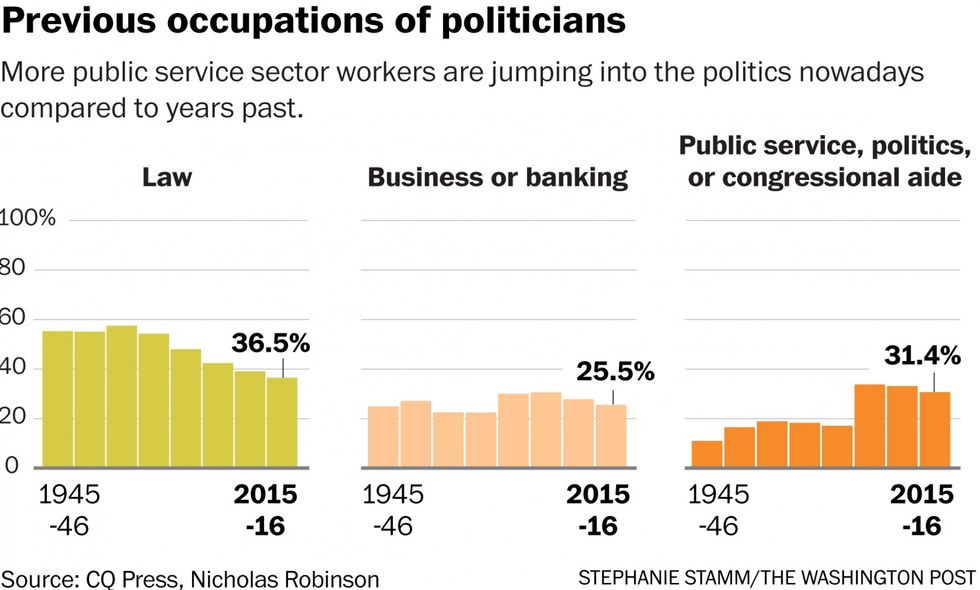 Why aren't there many scientists involved in politics right now? The explanation offered by the New York Times in 2012 was that Americans just don't trust scientists, dismissing them as "elitist", a label that's unlikely to go away with the dismal state of American science and math education. The fewer people understand what you do, the less likely they are to support you.
Another issue has been the nature of the political process itself. Unlike people in other professions, scientists usually have much less ability to take time off from their research to focus on public office work. In contrast to business people, lawyers and doctors (another well-represented group in Congress), scientists can't easily come back to their field after years away. 
As a result, there are just a few people with a science background working in the American government at this point. We are talking about people like representatives Bill Foster, Ph.D., an accomplished physicist, Jerry McNerney, holding a Ph.D. in mathematics, and microbiologist Louise Slaughter. There're also a few people in Congress with a computer science degree. And that's about it.
Isn't it time science was properly represented in government?
Cover photo: Members of Congress observe a moment of silence during a September 11th remembrance ceremony on the steps of the U.S. Capitol September 11, 2013 in Washington, DC.(Photo by Win McNamee/Getty Images) 
"Memory is a poet," Marie Howe once remarked, "not an historian." When it comes to fake news, our minds can be easily and permanently misled.
A not so careless whisper. (Photo Paul J. Richards/AFP/Getty Images)
Do you remember where you were on 9/11? While most Americans immediately explain the details of the moment they found out about the attack on the World Trade Center, 40 percent of them are wrong.
Mere days after the attack, over 2,000 Americans were questioned about their experiences. Researchers followed up a year later, three years later, and a decade later. Nearly half of respondents reminisced inaccurately.
Humans have terrible memories. Part of the reason is the way we remember. When an event happens we file it via our brain's weigh station, the hippocampus. When we recall the event it returns piecemeal, influenced by everything that's occurred since. The more we retell a story the stronger the recall—and the more likely it will be revised.
"Memory is a poet," Marie Howe once remarked, "not an historian."
Like all verse, we can wax poetic over golden ages or reconstruct nightmares. Memory informs our identity. How we move forward in life depends on how we remember our past. Not only do we poorly reconstruct our experiences, we're also susceptible to false memories. Tell yourself a lie often and it becomes truth.
A recent study published in Memory confirms this. A team of researchers from three separate countries assessed over 400 memory-report transcripts to better understand the mechanisms behind false beliefs. Pulled from eight different reports with no clear set of shared criteria, the researchers settled on seven concepts they felt adequate for describing the characteristics of autobiographical memories. This study reveals startling evidence regarding just how gullible humans are.
Take subjects implanted with false memories. Participants that reject the supposed event outright are unlikely to develop one. Yet others are more suggestible. If there is even an iota of doubt (or belief) regarding the imagined event, a process of questioning the possibility begins. A narrative arc is constructed. Eventually the event is taken as historical fact even though invented.
We think in narrative; we construct our lives as stories. Events barely noticed become foundational creation myths down the road. Worse, false events influence and shape the future.
Like Pizzagate.
One of the more disturbing drivers and consequences of the recent election is the proliferation of fake news, such as the absurd notion of a reported pedophilia dungeon turning into real gunfire at a D.C. pizza shop. Fake news is nothing new, though part of what makes it so difficult to discern involves agreeing as to what it is.
Satire? Propaganda? Advertising ploy? A little bit of all, depending on who's writing it and the willingness of the believer. Gullibility is a neurological quirk: we're more likely to believe what we are predisposed to, regardless of evidence against it.
Enter vaccines. To better understand the anti-vaccination movement, a research team based at Dartmouth mailed four separate types of pro-vaccination literature to nearly 2,000 parents. One stated there has been no scientific evidence relating vaccines to autism; another highlighted the dangers of the diseases vaccines prevent; the third featured photos of children suffering from said diseases; the final was a story about an infant who almost died from measles.
The team spent three years only to discover it didn't matter which leaflet each parent received. Those predisposed to believing vaccines are evil did not change their mind. The neural connection, the memory they bought into—vaccines are bad—was so wired that no amount of contradictory evidence sufficed. Opposing literature sometimes fueled resistance in what is known as the backfire effect: you say do this, I do that instead.
How we've wired dictates what we believe, altering our memories to sync with the narrative inside of our heads. The researchers from Memory found that imagery and emotion are especially important markers for false memories. Returning to Pizzagate, there was a physical image—Comet Ping Pong Pizzeria—and an emotion to attach: namely, distrust and hatred of Hillary Clinton.
This leads to the second aspect of implanting false memories. Remember, only those at least somewhat willing to accept the possibility of the fake event will eventually formulate a false memory. The next cognitive leap occurs when they "remember" it. The imagination takes hold. Stories grow elaborate as the participant embellishes details that never occurred about an experience that never happened.
Researchers discovered that sprinkling in actual names and places makes the participant more susceptible. Doctored photographs are useful tools. Still, imagination reigns supreme. When false imagery was present the false memory rate was 37.3 percent, compared to 19 percent when it was not.
That only gets the ball rolling. Once the memory is implanted recollection is no longer as important. As the authors state:
Belief in the occurrence of an event may be sufficient to influence behaviour, whether or not there is also an accompanying episodic recollection.
Of the over 400 reports studied, 30.4 percent of participants had false memories, while 53.3 percent accepted the fake event to some degree. When factoring in previously stated conditions—doctored photographs, idiosyncratic information, and imagination procedures—rates were even higher: 46.1 percent had a false memory; 69.7 percent displayed at least some acceptance. The researchers state:
One conclusion that can be made based on this study and on similar work is that it can be difficult to objectively determine when someone is recollecting the past, versus reporting other forms of knowledge or belief or describing mental representations that have originated in other sources of experience.
There is a lot of discussion about how to combat fake news and debate over how much influence invented stories have on our political and social landscapes. The ease of sharing news has merely exploited a longstanding neurological feature: memories are highly susceptible to alterations. As this electoral season has shown, those who understand how to manipulate facts are experiencing unprecedented power at the expense of our faulty memory machines. We might not remember, but they do.
--
Derek's next book, Whole Motion: Training Your Brain and Body For Optimal Health, will be published on 7/4/17 by Carrel/Skyhorse Publishing. He is based in Los Angeles. Stay in touch on Facebook and Twitter.