An elephant at the Bronx Zoo has become a cause célèbre for animal rights activists.
A 47-year-old Asian elephant's final years are at issue in legal proceedings.
The larger question is whether or not animals are entitled to habeas corpus rights.
Several judges have gone on record stating that courts need to face the issue of legal rights for animals such as Happy.
The Royal College of Veterinary Surgeons issued a statement to remind its members of their fundamental obligation to science-based medicine and animal welfare.
A vet and veterinary nurse prepare a dog for surgery. (Photo: Leon Neal/Getty Images)
In 1784, American inventor Benjamin Franklin and French chemist Antoine Lavoisier were tasked by the Académie des Sciences to study the efficacy of mesmerism, the notion that invisible forces exerted by animals provide therapeutic relief in humans. The claim, made by German physician Franz Mesmer, was quickly put to rest with this investigation. No, animal spirits do not influence human biology. 
During their studies Franklin and Lavoisier inadvertently discovered a peculiar aspect of human psychology and physiology: the placebo effect. As biographer Richard Holmes writes in The Age of Wonder regarding the increased health of patients who were not actually receiving active ingredients, "It was simply because the patients believed they would be cured." 
It wasn't until the 1970s that Rabi Simantov and Solomon Snyder discovered endorphins, endogenous opioid neuropeptides produced by our pituitary gland and hypothalamus that bind to morphine receptors, which is the cause of the placebo response. We've reaped the advantages of this natural pain and anxiety relief for eons. The placebo response is why many alternative therapies "work."
One such alternative therapy is homeopathy, which has recently been put to task by American governing agencies. In 2015, the FTC cracked down on speculative claims advertised on homeopathic packaging, while last month the FDA announced it would be regulating high-risk homeopathic products. 
The UK-based Royal College of Veterinary Surgeons (RCVS) also now recommends veterinarians use caution when employing homeopathic products. Considering there is no evidence of a placebo response in any other animal, and that so far the only means for homeopathy to work in humans is by this response, the council overwhelmingly felt using such products is not humane. The statement read:
Homeopathy exists without a recognised body of evidence for its use. Furthermore, it is not based on sound scientific principles. In order to protect animal welfare, we regard such treatments as being complementary rather than alternative to treatments for which there is a recognised evidence base or which are based in sound scientific principles. It is vital to protect the welfare of animals committed to the care of the veterinary profession and the public's confidence in the profession that any treatments not underpinned by a recognised evidence base or sound scientific principles do not delay or replace those that do.
The statement continues by reminding vets that the welfare of animals under their care should be foremost on their minds. Since there is no credible proof homeopathic remedies work, they should not be employing these substances in their treatments. 
While the council has not banned veterinary homeopathy, nor even suggests it, holistic vets responded by claiming an infringement on their rights. Chris Day, president of the The British Association of Homeopathic Veterinary Surgeons, called it a "de facto ban." 
This is an attack on freedom of choice for clients and on the clinical freedom of vets. We are deeply disappointed that the RCVS would seek to undermine its own members whose independence and livelihoods are at stake. 
It's challenging trying to make sense of homeopathy's efficacy as promoted to treat animals. Consider a concoction designed for diarrhea and gas in dogs and cats. Among the active ingredients are Nux Vomica, from the highly poisonous strychnine tree, which, diluted to the homeopathic rating of 6c means there's one part strychnine per ten trillion parts sugar water; Thuja Occidentalis, derived from the cedar tree, which, while rich in vitamin C, is predominantly used in insecticides, cleansers, disinfectants, and soaps, and contains a neurotoxic compound, thujone; and Argentum Nitricum, silver nitrate, a popular homeopathic remedy for anxiety with no proven health benefits and lethal in high doses. 
That's only one-third of the ingredient list for that particular concoction; the others do not hold up to scrutiny either. By aligning itself with the "natural" and "holistic" edge of healthcare, homeopathic products take advantage of our general ignorance of compounds and dilution rates. Most homeopathic remedies are quite safe because there's little to no active ingredients inside of the bottle. The leap to calling it "therapeutic," however, is inexcusable, a fact more governing agencies are acknowledging.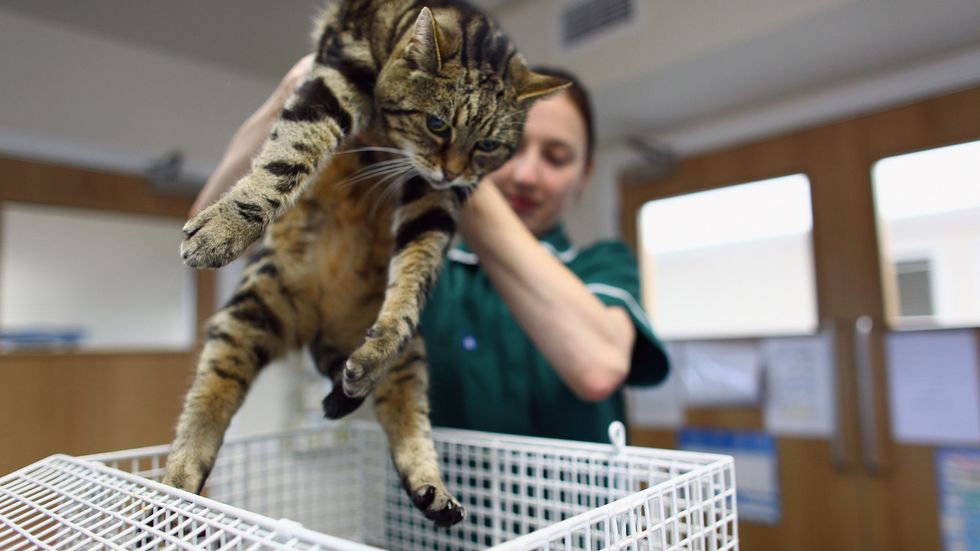 "Can I haz evidence plz?" (Photo: Jeff J Mitchell/Getty Images)
Senior Vice President of the RCVS Chris Tufnell is particularly concerned with the use of homeopathic nosodes which are sugar-coated homeopathic vaccination pills containing trace amounts of diseased tissue or discharge from a sick animal. "I have seen dogs die from completely preventable conditions such as parvovirus, which is extremely unpleasant and preventable," he said to The Sunday Telegraph. "It's entirely unnecessary." Homeopathic painkillers are another concern in the scientific community, as animals are often left in tremendous pain if their owners opt for alternatives to painkillers for their pets.
Our interaction with other species is always fraught with danger. For example, credible researchers always take studies on mice with a grain of salt. While their DNA is remarkably similar to ours, until tests are performed on humans there is no way to ensure efficacy on our biology. The reverse is also true: believing our remedies are applicable to other species is unsound.
Not that there aren't cross-species solutions. Recently, one of my cats was having bowel problems. My wife and I started mixing fiber into his diet; problem solved. Plant fibers do their job across many species; a lack of fiber in the human diet is creating serious problems. There are plenty of examples of such substances working in different animals. 
Homeopathy is not one of them. We've evolved an incredible healing system with natural opioids in which psychology and physiology work by unconscious processes. The RCVS recommendation isn't a civil rights issues; it's an animal welfare issue. Doctors treating animals should uphold the same oath demanded of human doctors. That starts with evidence. 
--
Derek Beres is the author of Whole Motion: Training Your Brain and Body For Optimal Health. Based in Los Angeles, he is working on a new book about spiritual consumerism. Stay in touch on Facebook and Twitter.
It turns out Winston Churchill wrote an essay of predictions titled 'Fifty Years Hence'—and while he was off on the timing, some are finally coming true.
Humans have been tinkering in laboratories for millennia. Before then nature was—in many ways, remains—a laboratory itself. Agriculture was a hard-fought discovery that's still being understood through trial and error. Given agriculture's role in climate change, our understanding of lab work is shifting again. 
We remain between two worlds, that of nature and that of meddling with nature. Sometimes a harmonious relationship exists; often it is fraught with danger. A "back to the earth" movement persists in social consciousness. The same thinkers who believe we've destroyed ecosystems and animal populations often welcome scientific intervention—lab-grown meat and leather are two ideas animal rights activists and environmentalists alike applaud. 
Foreseeing the future is not particularly challenging in our digital age. If it can be dreamed it can be produced (or reproduced). But understanding which predictions will have large-scale consequences is another story. Richard Branson has long relied on foresight, and he sees lab-grown meat not only impacting agriculture and economics, but actually replacing animal consumption: 
"I believe that in 30 years or so we will no longer need to kill any animals and that all meat will either be clean or plant-based, taste the same and also be much healthier for everyone."
Branson is no speculative ideologue; he has a financial stake in lab-grown meat, with recent investments in Memphis Meats. Yet just as his vision of space travel could net him profits, technology and emerging markets are old bedfellows. In this case, a boon for companies that reduce suffering and carbon emissions is a win for everyone. 
Today what could have taken decades seems to occur in months. Life seems to be speeding up. Nearly a hundred years ago—December, 1931, to be exact—Winston Churchill knew time is fluid, or, as he puts it in an article titled 'Fifty Years Hence', published in Strand Magazine, "constantly quickening." Churchill witnessed civilized nations rising above the need for the bare necessities of survival to experience what he calls "culture." Cultures have to keep progressing, he insisted, as sliding backwards would be devastating: 
"Mankind has gone too far to go back, and is moving too fast to stop. There are too many people maintained, not merely in comfort but in existence, by processes unknown a century ago, for us to afford even a temporary check, still less a general setback, without experiencing calamity in its most frightful form."
Churchill's anthropological reckoning on the economics of past societies has been updated by recent research. Yet he was an ardent devotee of history. He expresses particular adoration for Tennyson's "Locksley Hall," of which he said the poet's predictive couplets have come to pass—a slightly premature assessment, given the coming world war. Churchill uses Tennyson as a springboard for his own predictive powers, which he says combines historical education and scientific instinct. 
Churchill proved (or is proving) prescient in his social sorcery. In an ode certainly pleasing to animal rights activists, he knew food production was about to take a serious turn: 
"We shall escape the absurdity of growing a whole chicken in order to eat the breast or wing, by growing these parts separately under a suitable medium. Synthetic food will, of course, also be used in the future… The new foods will from the outset be practically indistinguishable from the natural products, and any changes will be so gradual as to escape observation."
Frozen, processed foodstuffs would be next, however, changing the face of the planet as World War II raged on. Rather than creating foods, manufactures utilized chemistry to delay the spoiling of existing foods while injecting animals with antibiotics and growth hormones to increase their yield. If Churchill foresaw this he gave no hint, for his vision is more Paradiso than Inferno. If lab-grown meat is on the horizon, as it appears to be, it took the clearing of a large roadblock to arrive.
Production in many forms is Churchill's great hope of the future. Not only food, but work will change dramatically. Nuclear energy replaces coal. Engines and machinery make slavery unnecessary. Robots will offer us more leisure time and less physical strain. So great is our mechanical engineering, in fact, he saw all of nature bowing to us: 
"Geography and climate would obey our orders."
True, they have, the problem being we weren't aware what orders we've been giving. Churchill might have missed greenhouse gases because his focus was on the structural side. He believed sunlight would be inconsequential when food is grown with "artificial radiation." Agricultural bunkers would shorten the distance between city and country, as urbanites gain acres:
"Parks and gardens will cover our pastures and ploughed fields. When the time comes there will be plenty of room for the cities to spread themselves again."
Churchill was even clued into the development of artificial life. A London play clued him into the possibility of test tube babies. Humanoid creatures will be developed for the purpose of employment "without other ambitions." He believed Christian civilization would prevent such an ethically indeterminate development, but we'd better stay upon on the technology as Russians might welcome robotic human beings. He writes, with more than a hint of disdain, 
"There is nothing in the philosophy of Communists to prevent their creation." 
Churchill's apocalyptic message remains timely. Sure, there were oversights: Our brains are quite different than those of our ancestors "millions of years ago," and the idea that "modern man we know so well will do the most terrible deeds, and his modern woman will back him up" would not even go over even a decade later when the women's rights movement picked up steam during the Second World War. 
Yet Churchill knew science changes the world, just as he knew that we're doomed without an understanding of history. These messages remain particularly meaningful in a world being ravaged by climate change, piece by piece by piece, as well as tribal infighting fueled by nationalistic anxiety across the globe. 
Materialistic progress is irrelevant if humans can't get along. Not so much a prediction as Churchill simply opening his eyes. He knew technology and science offer both "Blessing and Cursing," that we are ultimately the deciders of our fate. Optimist he was, he concluded with a sense of hope, which is sometimes all we have to keep us pressing forward.
"No material progress, even though it takes shapes we cannot now conceive, or however it may expand the faculties of man, can bring comfort to his soul. It is this fact, more wonderful than any that Science can reveal, which gives the best hope that all will be well."
--
Derek is the author of Whole Motion: Training Your Brain and Body For Optimal Health. Based in Los Angeles, he is working on a new book about spiritual consumerism. Stay in touch on Facebook and Twitter.
A US-based company is genetically creating proteins similar to bovine collagen to make leather from living cells without the need of animals.
In 2008 I peered outside the window of a fabric shop perched high atop a building in Fez's medina, one of the world's largest car-free zones. Before the sight came the stench, dozens of industrial vats filled with dyes, lithe Moroccans scurrying between giant buckets tending to the leather the colors are destined for.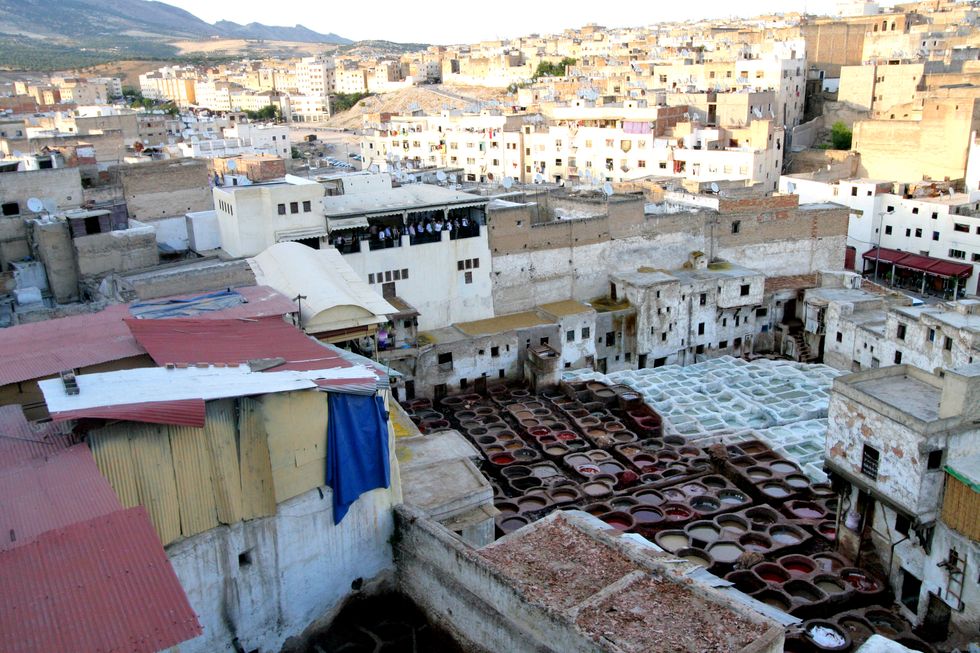 Leather is a popular item in the medina, as it is around the world. Producing it is also environmentally costly: chemicals used at the tannery, air pollution in the forms of hydrogen sulfide and ammonia, and cattle rearing. The process is physically dangerous for workers. Waste water is noxious, as evidenced by the surrounding pits in Fez. While leather might feel good and fit well, it takes up to 40 years to decompose, with some of the materials involved in the production process staying around for up to 500 years. 
Yet we love leather, so much so that we spend $100 billion every year on a wide range of products. Not all manufacturing facilities are as primitive as the one I gazed down upon, though the environmental impacts above, especially related to the cattle industry, remain relevant. 
Faux leather is its own industry, and while the texture and smell—the final product scent, not the production odor—is nowhere near genuine leather, imitations are getting better. I have a Brooklyn Industries wallet that slides across my fingertips as smoothly as leather wallets I've owned. Durable, too. At five years old it looks and feels new.
There are numerous types of faux leathers. Poromeric imitation leather is made by placing polyurethane over polyester. Leatherette involves covering a fabric base with soft PVC. There's ocean leather, made from kelp; Pinatex, from pineapple leaves; cork leather, from cork oak bark. None of these mimic proper texture or feel. Plus, let's face it: most humans choose an emotional connection over environmental impact. Not a happy reality, but the truth. 
Earlier this year I wrote about innovations in lab-grown meat that could be a true game-changer. Ethical eaters will have an opportunity to dine on actual meat without any animal suffering, while carnivores will remain unaware anything has changed. The price point for such a burger is not yet market-ready, but it appears that day will soon arrive. 
Modern Meadow believes leather is a "co-product of the meat industry." You can't get cattle hide without stripping it from meat. Rather than configuring new ways to utilize polymers, the Brooklyn-based company genetically creates proteins similar to bovine collagen. As Inventionr reports: 
Modern Meadow has formulated a method of activating the building blocks of proteins to form fibres without using natural fibroblasts. Once the fibres form, they can as well be assembled, according to its intended purposes, into fine sheets of leather. Once the process reaches this point, other processes like tanning and dyeing can proceed in the normal way.
Environmental impact is only one aspect of this story. Natural leather is notoriously finicky. Now it can be produced in straight sheets, making production easier for whoever is going to work the leather. Engineers can even alter the composition within each sheet, making one part coarse and another soft, for example. 
Modern Meadow's co-founder, Andras Forgacs, has previously applied such a mindset when co-founding Organovo, which commercialized a 3D bioprinting process for the production of human tissue. His latest company uses biofabrication to create leather from living cells without the need of animals.
While the company does not intend to overthrow the leather industry, CCO Suzanne Lee believes the possibility of creating entirely new products is in sight: 
If you're not bound by the animal, then you can construct it in the way you want. Collagen really is the material we're producing – we can form it in new ways and create leathers that couldn't exist in nature.
The public will find out how close they've come when Modern Meadows debuts a t-shirt in New York in October. There will probably always be a segment of the population demanding the "real thing," but you can't get much realer than collagen. And if that saves lives and reduces pollution, this future is worth investing in.
--
Derek is the author of Whole Motion: Training Your Brain and Body For Optimal Health. Based in Los Angeles he is working on a new book about spiritual consumerism. Stay in touch on Facebook and Twitter.