Are you the type of person who solves problems piecemeal, or with one great insight? A new study tells us the merits of each method.
Dr. Gregory House (left) always has a 'eureka!' moment, while Dr. James Wilson (right) is more by the books. Who is the show named after?
Are you the sort of person who solves problems with a single "A-ha!" moment, more often than not? Do you find sitting down and analytically working through a problem boring? Well, take pride. A new study shows you are going to be correct more often than your analytic friends in problem solving – if you have the time.
The specific kind of gut feeling that the study talks about is "insight". Defined as ideas that "emerge into consciousness in an all-or-nothing fashion when the unconscious solving process is complete", these are the proverbial "A-ha!" moments of understanding when the answer to our problem is suddenly clear to us.
Many great thinkers have noted their use of insight over analysis for certain problems. Even Einstein thought that insight was a better method to use for problem solving sometimes, noting that he often made "a great speculative leap" to an answer then determined why it was correct after the fact.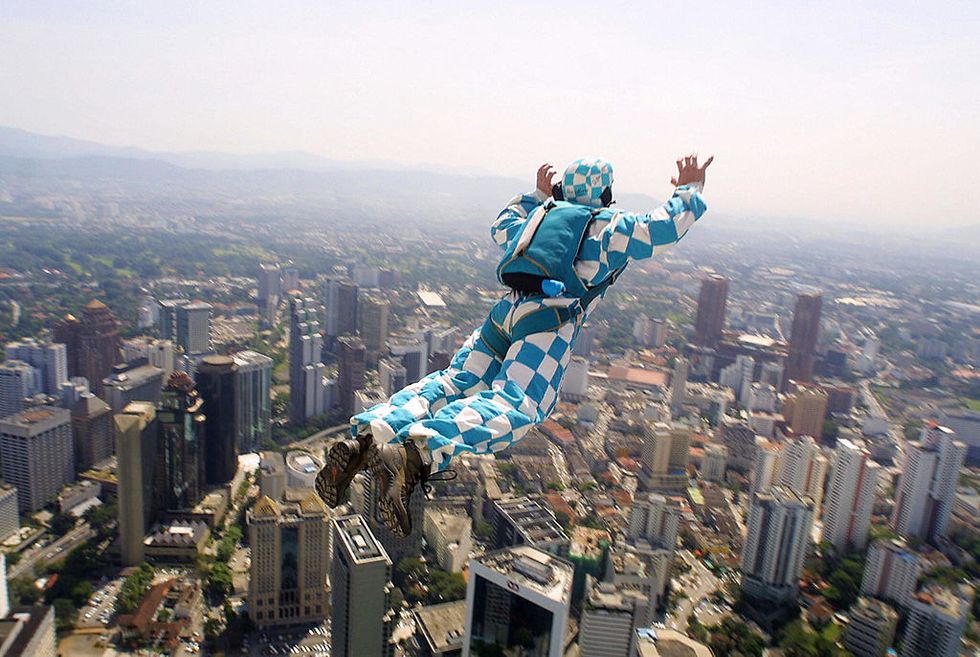 A speculative leap of Einsteinian proportions.  
But, why is this the case? Shouldn't gut feelings and insight be less accurate than analysis? What gives?
A study at Northwestern University and The University of Milano-Bicocca by Carola Salvi, Emanuela Bricolo, John Kounios, Edward Bowden & Mark Beeman presented various problems to subjects and studied how they solved the problem, how accurate they were, and how long it took for them to solve it.
Participants were given 15 seconds to answer, and were told to mark their answers as being solved by an insight or by analysis. They were told there was no wrong answer in how they solved the problem.
Questions solved with insight were correct 93.7% of the time, while those solved with analysis came in at a poor 78.3% success rate. The people who used insight also did so faster than their counterparts when they managed to solve it at all.
Things got more interesting when the researchers looked at the wrong answers. The two kinds of solutions gave differing errors. While people who relied on insight often just ran out of time, or missed something large in their answer. People who used analysis often added something wrong, as they thought out the answer and went down the wrong path.
This is not to bash analytic methods of problem solving; participants who used insight often did not submit an answer in the given time limit, while people who used analysis often gave some solution in time. If you need to have at least a partial answer with some accuracy, analysis is the way to go. If you have an all-or-nothing problem, insight might be best.
Why is this?
Insight is more than just a guess, but rather the answer that your brain has already figured out. If you have the time for it, it can be more reliable than analytic thinking. When you use analysis, you are finding a series of intermediate answers and then piecing them together; if you make a mistake at one point, the whole thing falls apart. Of course, with insight, you might not know why you have your answer, unlike when you use analysis.
So, if you want to solve a problem, you might get an edge by giving your mind time to reflect on it. And if somebody tells you that you need to be faster or more analytic about things, tell them to lay off – you just think like Einstein. To buy yourself some extra time, maybe have a shower.
People who believe in God or the supernatural don't quite understand the physical world, claims a new study from researchers at the University of Helsinki.
Priests attend a special mass for Pope John Paul II in St Peter's Square on April 3, 2005, in Vatican City. (Photo by Peter Macdiarmid/Getty Images)
People who believe in God or the supernatural don't quite understand the physical world, claims a new study from researchers at the University of Helsinki. 
The Finnish scientists also concluded that not only did they not understand nature and the biological world clearly, religious people tended to anthropomorphize, ascribing human qualities like feelings to inanimate objects such as rocks, wind and the like. They would agree with statements like "stones sense the cold".
"The more the participants believed in religious or other paranormal phenomena, the lower their intuitive physics skills, mechanical and mental rotation abilities, school grades in mathematics and physics, and knowledge about physical and biological phenomena were… and the more they regarded inanimate targets as mental phenomena," wrote the study's co-authors Marjaana Lindeman and Annika Svedholm-Häkkinen.
By "mental", they meant having human-like thoughts and spirit.
Not having a solid understanding of the world around them resulted in the people believing in demons and the supernatural, in a kind of confusion seen in "ancient people and small children".
The scientists also compared traits of religious belief with traits of autism, as both have difficulties differentiating between the mental and the physical.
The study, published in Applied Cognitive Psychology, involved 258 Finnish people, who completed a series of questionnaires and online tests, answering whether they agreed with such statements as "there exists an all-powerful, all-knowing, loving God" and if they believed in such things as telepathy or being able to predict the future.
Additionally, the researchers found that women were more likely to believe in God and the paranormal. They also based their actions more on instinct than analytical thinking. 
The Finnish scientists see the significance of their work in pointing out that:
"Intuition-based, unfounded theories in astronomy, evolution, matter, mechanics, and other domains persist several decades beyond the acquisition of a mutually exclusive scientific theory, and they affect individuals' ability to act as informed citizens to make reasoned judgments in a world that is increasingly governed by technology and scientific knowledge."
Previous studies also concluded that religious people were, in general, less analytical and might have lower IQs, but also tended to be happier and more generous than non-believers. Atheists, for their part, were compared to psychopaths in a different study.
Atheists are undoubtedly religious people's worst and most vocal critics, but for a fresh take, Rob Bell argues that believers shouldn't be too riled up, but rather appreciative – because atheism actually improves religion: