A strange object found in the desert has prompted worldwide speculation.
Credit: Utah Department of Public Safety
A monolithic object found in a remote part of Utah caused worldwide speculation about its origins.
The object is very similar to the famous monolith from Stanley Kubrick's "2001: Space Odyssey".
The object could be work of an artist or even have extraterrestrial origins.
An enigmatic "monolith" found in the desert in Utah on November 18 has become the source of worldwide attention and speculation, with internet denizens looking for something more light-hearted to talk about as the tumultuous 2020 draws to a close.
The unusual object was discovered by a helicopter of the Utah Department of Public Safety department which was helping the Department of Wildlife Resources to count bighorn sheep in a remote southern part of the state. As the crew passed by the object, a biologist noticed what they described as something "out of this world." Upon landing amidst red rock cliffs and getting a closer look, they found a shiny object, between 10 and 12 feet high, that was eerily similar to the monolith in director Stanley Kubrick's seminal sci-fi masterpiece, "2001: Space Odyssey."
Given the cinematic history and the location of the object, here are top 5 theories on what it could be:
1. Art object
Chances are, this is an art object. The shiny "monolith" appears to be bolted to the ground and made of metal. It also seems to be fastened with rivets, rather being a uniform block of more unexplainable production origin. Deserts are great places for unusual installations as has been evidenced by past art projects that you can discover wandering through the ghost towns and faraway canyons of Nevada, California, Utah, and New Mexico. Certainly, an artist with a sense of humor and an appreciation of Kubrick's genius could have installed such "sculpture" in hopes of exactly what is happening right now–viral fame.
On the other hand, there is evidence, courtesy of eagle-eyed Google Earth sleuths, that the object appeared in that location (somewhere near Canyonlands National Park) in 2015-2016. So it's possibly been there for a few years. Would an artist have placed it there so long ago with the aim of having this type of success eventually?
A gallery owner claimed the work may be a tribute to the late artist John McCracken, who created similar-looking objects before he died in 2011. McCracken was part of the Light and Space movement with such artists as James Turrell, and was known to make his sculptures from plywood forms that were coated with fiberglass and polyester resin.
While the theory that the monolith was the work of a McCracken aficionado (or the artist himself) may hold some water due to the object's similarity, the fact that the artist died so long ago and the lack of clear incentive for anyone to have planted this years ago only to reveal it now work against this theory.
John McCracken sculptures.
Another Utah desert art object.
2. Alien evolutionary device 
Certainly, explaining the monolith as an art installation may make the most sense at this point, but its resemblance to the famous object from Kubrick's epic "2001: A Space Odyssey" can't help but bring some science-fiction scenarios to our minds.
In the film, the perfect black slab was discovered by a group of prehistoric apes. After finding the slab, the apes seemed to have developed the ability to utilize found objects like bones as tools and weapons. The film suggests that finding the monolith had an evolutionary impact on the apes, perhaps serving as "the missing link" that propelled humans from being lower-end primates to the intellectual powerhouses they are today.
Later in the film, after fast-forwarding thousands of years into the future, such an object is discovered on the moon by human astronauts. Using the writer Arthur C. Clarke's short story "The Sentinel" as its inspiration, the film's narrative suggests that alien civilizations are responsible for these objects which potentially serve as beacons that may still be transmitting signals back to whoever created them while also possibly being responsible for fostering evolution throughout the Universe.
Could the Utah object be serving just such a function? While 2020 has offered very inconsistent evidence of human intelligence, a device from a benevolent alien race that can make us all smarter might be just what we need.
Or it could portend the exact opposite and be the one thing that will hasten our demise.
3. Alien probe
Besides having some specific impact on the inhabitants of planet Earth, the monolith could "just" be an extraterrestrial probe, sent here to learn about our ways. Would placing it in the middle of Utah desert be the best place to probe humanity? If the object was part of many such probes being sent all over the cosmos, it's possible the advanced alien overlord wannabes may not know specifically we are here and are just sending these everywhere they can. It's similar to when humans send probes to places like Mars and assume there's no life there just because the rover landed in the middle of a desert.
A closer look: the Utah monolith
4. Kubrick fan installation 
Stanley Kubrick (1928-1999) was one of the greatest film directors of all time, leaving behind a slate of films that are each considered a masterpiece – "Dr. Strangelove," "The Shining," "2001: A Space Odyssey," "A Clockwork Orange," "Spartacus," "Full Metal Jacket," and more.
The visionary American director left a profound legacy, garnering millions of fans around the world. As the monolith he devised for "2001: A Space Odyssey" is one of the most famous objects in movie history, it's not out of the question that one of the director's followers decided to recreate it.
5. Government control device  
The American Southwest is rife with government military installations and mysterious bases like Area 51. Having the monolith be a part of some government (vast psychological?) experiment is a connection that's easy to make for any conspiracy-minded internet dweller.
Of course, given the government's penchant for both secrecy and ineptitude, this last one may be the hardest to ever prove definitively. In any case, the Department of Public Safety is not releasing the exact location of the object and warns people against trying to find it:
"It is in a very remote area and if individuals were to attempt to visit the area, there is a significant possibility they may become stranded and require rescue," DPS said.
A new study discovers the likelihood of extraterrestrial life in the universe.
Image by IgorZh
A Columbia University astronomer calculates the odds of extraterrestrial life emerging.
The probability comes out in favor of aliens existing.
The search for life in space should be encouraged, concludes the scientist.
The sheer amount of space boggles the mind and makes one wonder, where are all the aliens? Surely, we aren't the only ones who made it out onto a cosmic rock alive. Of course, there might be numerous reasons we have not encountered aliens yet, from having poor technology to the aliens not desiring to be seen. A new study tries to take a statistical approach to the question, finding out the likelihood of complex extraterrestrial life emerging on other planets.
For his new paper, David Kipping of Columbia University's Department of Astronomy, used the statistical technique called Bayesian inference to arrive at the conclusion that there's a greater chance than not that aliens should exist. The odds he calculated come out 3 to 2 for the aliens.
Kipping based his analysis on the chronology of life's development within 300 million years of the Earth's oceans forming and the human evolution on the planet. He wondered how often life would emerge if we were to repeat Earth's history over and over.
To figure this out, he used the method of Bayesian statistical inference, which works by updating the probability of a hypothesis when new evidence or information appears.
"The technique is akin to betting odds," Kipping explained. "It encourages the repeated testing of new evidence against your position, in essence a positive feedback loop of refining your estimates of likelihood of an event."
He came up with four possible answers, as reported in the press release:
life is common and often develops intelligence
life is rare but often develops intelligence
life is common and rarely develops intelligence
life is rare and rarely develops intelligence
Do aliens exist? If they did, would we know?
Using Bayesian math, Kipping pitted the models against each other. According to him, the "key result here is that when one compares the rare-life versus common-life scenarios, the common-life scenario is always at least nine times more likely than the rare one."
This means that life is 9 times more likely to emerge than not. But would this life be intelligent? The answer here is more muddled and less optimistic. Still, Kipling concluded that under similar circumstances and conditions to Earth, the odds are 3:2 that some planet out there would sport complex, intelligent life like ours.
Why are these odds lower? Kipping thinks that as humans appeared rather late in Earth's habitable history, it's clear their existence was not a foregone conclusion. "If we played Earth's history again, the emergence of intelligence is actually somewhat unlikely," he pointed out.
He also maintains that while the likelihood of alien life may not be overwhelming, it's still quite strong, and "the case for a universe teeming with life emerges as the favored bet."

Check out his paper published in PNAS, Proceeding of the National Academy of Sciences.
A leading British space scientist thinks there is life under the ice sheets of Europa.
Credit: NASA/JPL-Caltech/SETI Institute
A British scientist named Professor Monica Grady recently came out in support of extraterrestrial life on Europa.
Europa, the sixth largest moon in the solar system, may have favorable conditions for life under its miles of ice.
The moon is one of Jupiter's 79.
Alien hunting is a hopeful activity and one reason behind our space programs that the public generally supports. Looking for other life is a strong incentive to be venturing out into space, despite having found none so far. Professor Monica Grady, a professor of planetary and space science at Liverpool Hope University, gave all cosmic explorers a big dose of such hope in a recent speech. She is certain there's some form of life on Jupiter's moon, Europa, though there is no evidence to prove it.
This life could be larger than mere bacteria, Grady said, perhaps with intelligence levels similar to an octopus, and is likely residing in the cold waters under the moon's sheets of ice. Grady thinks there's a great likelihood of undiscovered life somewhere in our galaxy.
She also supposes that the deeper caves and cavernous spaces of Mars could be harboring some subterranean creatures, likely bacteria, there to escape the solar radiation. They could be getting water from the ice buried deep down.
"When it comes to the prospects of life beyond Earth, it's almost a racing certainty that there's life beneath the ice on Europa," she said in a February address.
She thinks these life forms on Europa, 390 million miles from Earth, could be higher in sophistication than the Martian bacteria, possibly having "the intelligence of an octopus."

Where would the creatures live on this moon of Jupiter? Somewhere below the very thick layer of ice, which goes 15 miles deep in some places. It's possible there is liquid water beneath all that ice, keeping whatever lives inside protected against radiation and the impact of asteroids and similar smashing bodies.
The likelihood of life on Europa is bolstered by the possible hydrothermal vents on its ocean floor. Such vents are cradles of life on Earth.
Grady thinks that our solar system doesn't have to be particularly special and that statistically speaking, as we explore other stars and galaxies, we should be able to find conditions for life. "I think it's highly likely there will be life elsewhere—and I think it's highly likely they'll be made of the same elements," stated the professor.
Neil deGrasse Tyson wants to go ice fishing on Europa
Grady did not want to guess whether we would contact extraterrestrials any time soon, citing the fact that distances between us and likely aliens might be gigantic.
On the other hand, she added, if you look at a grain of sand, you "can see that most of it is made up of silicates, but it's also got little patches of carbon in it—and that carbon is extra-terrestrial, because it also contains nitrogen and hydrogen, which is not a terrestrial signature."
This tiny sample, says Grady, shows it was hit by meteorites, asteroids, and interstellar dust, pointing out "It's giving us an idea of how complex the record of extra-terrestrial material really is."
As for Europa, it has certainly figured in conversations about alien life previously. As NASA explains, scientists call Europa an "ocean world" due to decades of observations that predict an ocean under its sheets of ice.
In 2019, water vapor was confirmed there by NASA for the first time. While it might just have the right conditions for life, does this moon have little octopus E.T.s swimming about? Future studies will tell.
Water Vapor Above Europa's Surface Deteced for First Time
There are several ways alien life could travel across space, scientists say.
The International Space Station. Credit: Getty Images.
Cosmonaut Anton Shkaplerov lit a wildfire recently when he announced his team had found alien bacteria clinging to the outside of the International Space Station (ISS). It took place during a spacewalk several years ago. Those samples were returned to Earth and have been analyzed recently by Roscosmos—the Russian space agency. He claims Roscosmos scientists conclude the bacteria isn't from Earth. One thing is for sure, there's living bacteria clinging to the outside of the ISS! Whether it's extraterrestrial or not is another matter.
Shkaplerov in a recent interview with the Russian news agency TASS said that this bacteria was absent from the hull prior to launch. The cosmonaut is planning to lead a mission back to the ISS come December, which is why he was being interviewed. Since 2010, an experiment known as Test has been ongoing, where samples are periodically taken from the outer hull of the ISS and sent back to Earth for analysis.
"They (the bacteria) have come from outer space and settled along the external surface," Shkaplerov claimed. "They are being studied so far and it seems that they pose no danger." The robust bacteria gathers in areas where fuel waste accumulates and in little nooks and crannies around the ISS. Roscosmos meanwhile offered no details, and failed to respond to multiple media outlets for comment.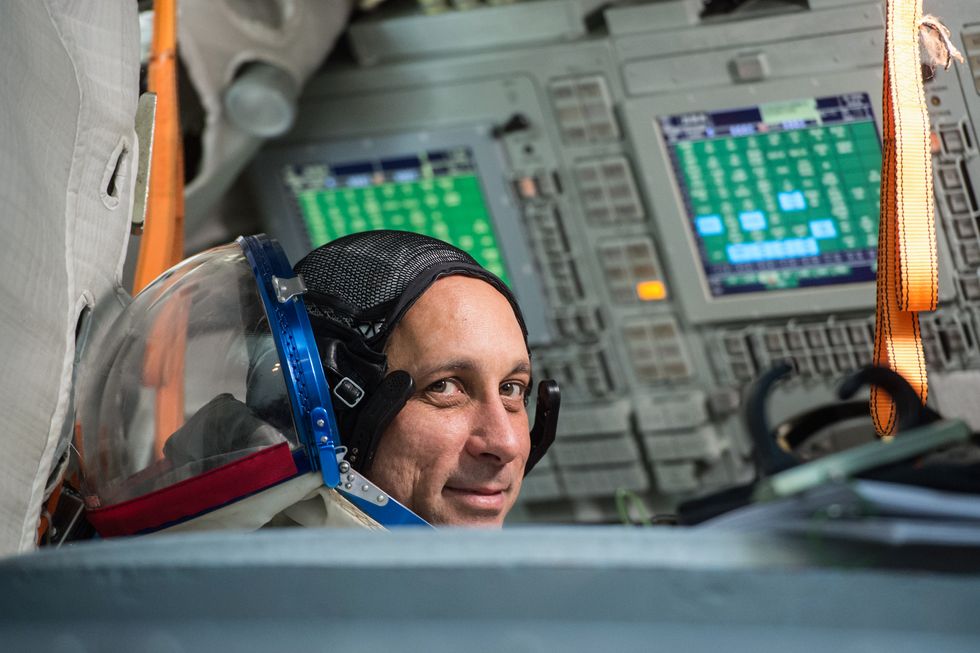 Russian Cosmonaut Anton Shkaplerov. Credit: Getty Images.
Details remain murky. Nothing has been submitted to any peer-reviewed journal. No one knows when or how the experiment was conducted. Most experts tend to believe that this bacteria somehow came from Earth and has made the outside of the ISS its home. Another question is how it's able to withstand the harsh conditions there, including constant exposure to cosmic radiation, extreme temperatures, and ultraviolet light.
This isn't the first incident of its kind. Back in 2014, another spacewalk sample was said to contain sea plankton living on the outside of the ISS, according to Russian scientists. No new information on them has been released since. Many scientists however, believe that it's possible for bacteria from space to come to Earth.
There are already organisms on Earth which endure punishing conditions, such as bacteria who cling to hydrothermal vents on the ocean floor. Naked mole rats thrive in low oxygen environments. Tardigrades (water bears) have been found to survive the vacuum of space for short periods. And the ISS isn't exactly in outer space, either. Rather, it's situated within the thermosphere, 205 to 270 miles (329-434 km) above Earth's surface. There is air there, thin as it may be. And microbes have been found as high as 47 miles (75km) above the ground.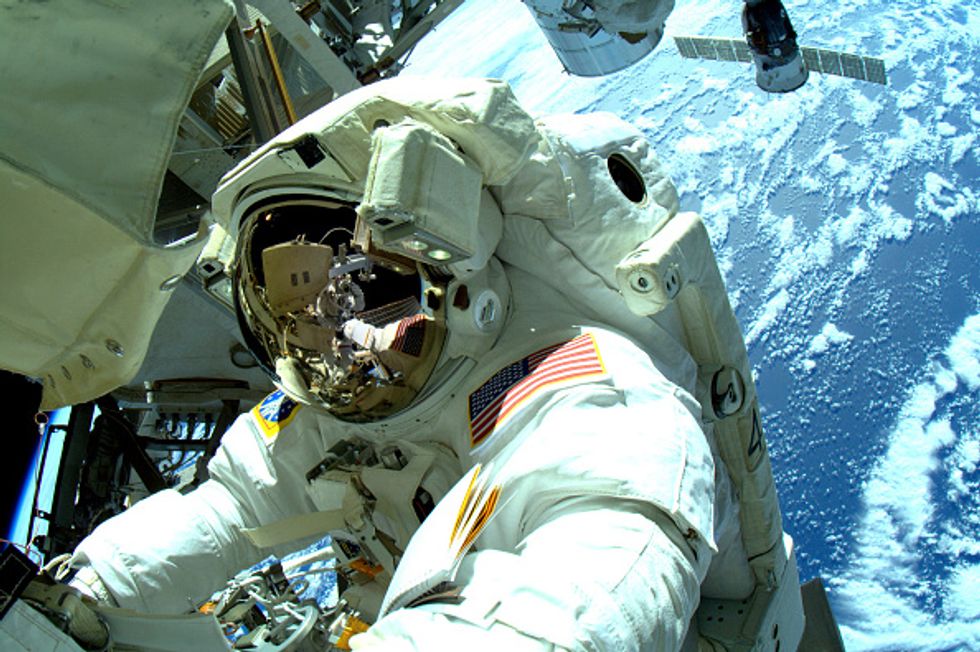 It isn't impossible that bacteria from space settled on the ISS. But contamination brought from Earth is more likely. Credit: Getty Images.
Moreover, biological material has been found on meteorites and around comets. Streams of fast-moving space dust between planets could also bring microscopic alien life to Earth, or ferry microbes from Earth elsewhere. So it's possible, but unlikely, that the Russian cosmonauts found alien bacteria.
What this incident does do is make us worry about the possibility of the space program contaminating other planets on future missions, farther afield. Of course, it's impossible to completely avoid any contamination. Any time we set foot somewhere, microbes from Earth come with us.
To learn more, click here:
Greatest job ever? NASA will pay six-figures to a Planetary Protection Officer.
Men in Black
NASA has a great job opening for all you alien hunters - the position of Planetary Protection Officer. Applications are still being accepted, so you better hurry if you want to snag the six-figure pay in the range of $124,406 to $187,000 per year and a truly brag-worthy business card. 
The job entails warding off alien attackers of the mostly bacterial kind. The specific mission of planetary protection is listed by NASA as "avoidance of organic-constituent and biological contamination in human and robotic space exploration." We don't want to have our world contaminated by extraterrestrial organisms and vice versa.
If you get the job, which is held from 3 to 5 years, you'll be only one of two such people in the world. There's another planetary protection officer (PPO) at the European Space Agency.
Currently, Catharine Conley serves in this capacity at NASA, having held the position since 2014. But her position opened up as it's being moved to a different department - the Office of Safety and Mission Assurance.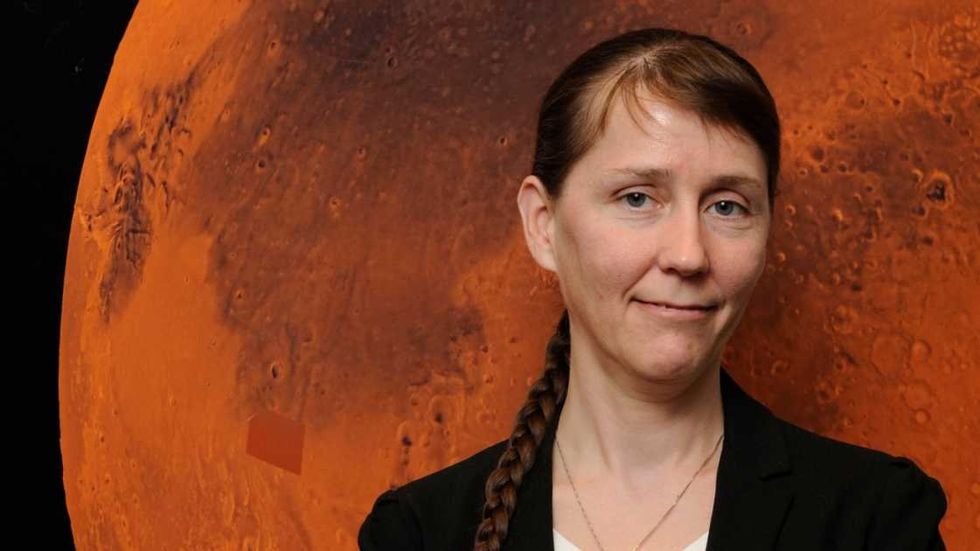 Catharine Conley, NASA's planetary protection officer. Credit: Paul E. Alers/NASA
The position owes its existence to the U.S. ratifying the Outer Space Treaty of 1967. Its Article IX called for signers of the document to conduct exploration of celestial bodies while avoiding their "harmful contamination and also adverse changes in the environment of the Earth resulting from the introduction of extraterrestrial matter."
If you don't think it's an important matter, there are some theories that attribute diseases such as the plague, ebola and even the flu to Earth's contamination by alien bacteria.   
A big part of the PPO's job is international coordination and analyzing planet-bound robots to make sure they are contamination-proof. 
What kind of experience do you need to have for the position? Broad engineering expertise, with advanced degrees in a physical science or math. Also necessary is at least one year of top-level civilian government work. You also have to be a "recognized subject matter expert" with advanced knowledge of planetary protection. It would also help if you previously oversaw "elements of space programs of national significance."