Yet another study shows the potential efficacy of psychedelics in treating addiction.
Universal History Archive/Universal Images Group via Getty Images
MDMA could help alcoholics break their addiction (and not relapse) suggests a new study in the UK.
Ketamine became the first FDA-sanctioned psychedelic for use in treating depression earlier this year.
The Multidisciplinary Association for Psychedelic Studies (MAPS) organization hopes to have legally prescribed MDMA on the shelves by 2021.
When John Hopkins professor Roland Griffiths and NYU professor Stephen Ross brought a unique study on psilocybin's efficacy in treating cancer patients' existential distress to the FDA, they were surprised when the government agency asked them to expand their focus and ambition. Recognizing that SSRIs are not working in treating mental health disorders, the FDA was willing to explore other avenues — even a Schedule 1 drug like "magic mushrooms."
When Michael Pollan contacted the FDA while reporting for his book on psychedelics, How to Change Your Mind, the agency refused to confirm or deny this account due to its longstanding practice of not discussing substances under regulatory review. Still, this marks an important advancement in our broader understanding of the potential benefits of psychedelics.
Let's face it: until the twentieth century, these substances, predominantly used in ritual for all of recorded history (and likely longer), were generally not viewed as dangerous. In fact, it has been long been argued that they're necessary for personal and societal therapy.
Even more modern incarnations, such as LSD and MDMA, affect the same (or similar) serotonin circuits as psilocybin and DMT. Sanctioned drugs, such as alcohol, cigarettes, and sugar, have proven far more damaging to our health than the class of substances known as psychedelics.
MDMA is not always broadly considered a psychedelic, given that it does not provoke the same hallucinations or altered consciousness as other "trips." Yet MDMA binds to the same serotonin-2a receptor (the "mystical experience" receptor) as LSD and psilocybin, as well as dopamine receptors, accounting for the intense euphoria.
Is MDMA psychiatry's antibiotic? | Ben Sessa | TEDxUniversityofBristol
All of these substances have been used recently in addiction treatment. As Pollan notes, MDMA specifically was being used to treat alcoholism back in the fifties and sixties, before sanctioned studies were commissioned. It was only due to Nixon's racist profiling that these class of drugs were deemed Schedule 1.
Now that the first study on MDMA's role in treating alcoholism is complete, it turns out that the longstanding anecdotal evidence might bear fruit. Led by Ben Sessa, a senior research fellow at Imperial College London, the team studied seven volunteers during an eight-week MDMA-assisted psychotherapy course to see if it would help curb their alcoholism. This preliminary paper focuses on four volunteers who have completed the course.
While this is an extremely small sample size, it does open the door for further studies, which is the general aim of such research. Given the tenuous nature of psychedelic research due to the drugs' illegality, governments (and the public) have to be brought in slowly, even as advocates can vouch for their value.
Simply put, we need better interventions. As the team notes, 6 percent of men and 2 percent of women in England are alcohol-dependent; a quarter of the population has an abusive relationship to alcohol. As a depressant, alcohol also heavily influences mental and emotional health. It is often a chicken-and-egg scenario in regards to mental health and alcoholism, but one thing is certain: drinking doesn't help.
Roland R. Griffiths, Ph.D., is a professor in the departments of Psychiatry and Neuroscience at Johns Hopkins University School of Medicine. He studies the effects of psychoactive drugs on the mind in his lab which is set up to look like a living room.
Photo by Andre Chung for The Washington Post via Getty Images
The total cost of alcohol-related problems in England, ranging from health disorders and domestic problems to crime and accidents, is £20 billion. Current treatment methods are insubstantial. Relapse rates there are 60 percent after one year, jumping to 80 percent after three years.
For this study, the patients received ten therapeutic sessions. Eight were non-drug psychotherapy sessions. The other two, administered during weeks three and six, included 125 mg doses of MDMA (with an optional 62.5 mg "booster" dose after two hours).
None of the volunteers experienced adverse effects during or after the course, nor did they return to drinking. Importantly, none felt any craving for MDMA after the study's conclusion. As one participant commented, the drug itself was more a mediator than anything:
It's not about the drinking, the MDMA healed me inside and the drinking looks after itself … I'm seeing things anew, nature for the first time … I'm in control of my decisions, I've got control back … Life is just good!
Comments from other participants include the feeling of a "weight being lifted off my shoulders" and "being under MDMA was beautiful. It showed me the real me; the me without alcohol."
Now the team is calling for twenty volunteers with alcohol dependency in order to conduct another study. Separating the actual efficacy of psychedelics and its sordid legal status and past fear-mongering will take time, but hopefully not too much. Earlier this year, ketamine became the first FDA-approved psychedelic to be legally prescribed.
The Multidisciplinary Association for Psychedelic Studies (MAPS) has trained its sights on legal MDMA by 2021. Given the emerging science on the topic, such a goal is within reach. That's good news for addicts that feel their time is running out.
--
A new report from the World Health Organization outlines some sobering statistics on the global toll of alcohol consumption.
Image: Pixabay Commons
The report indicates that the 'harmful use' of alcohol leads to about six deaths per minute.
Poorer countries tend to see higher rates of alcohol-related deaths and injuries.
The WHO suggests deaths can be prevented through policies that restrict pricing, marketing, consumption and other factors.
Alcohol is responsible for 5 percent of all deaths worldwide, according to a new report from the World Health Organization (WHO). The report, which used global data for 2016, includes some sobering statistics. The 'harmful use' of alcohol leads to about 3 million deaths annually — about six every minute — and the vast majority of those deaths, 2.3 million, are suffered by men. Among people ages 20 to 39, alcohol is responsible for about 13.5 percent of all deaths.
The report also indicates:
There is a causal relationship between harmful use of alcohol and a range of mental and behavioral disorders, other noncommunicable conditions as well as injuries.
The harmful use of alcohol is a causal factor in more than 200 disease and injury conditions.
The latest causal relationships have been established between harmful drinking and incidence of infectious diseases such as tuberculosis as well as the course of HIV/AIDS.
Beyond health consequences, the harmful use of alcohol brings significant social and economic losses to individuals and society at large.
Globally, alcohol is linked to 7.7 percent of all deaths among men, but just 2.6 percent of all deaths among women.
Europe showed the highest levels of alcohol consumption, though Africa reported the highest levels of alcohol-related injuries and diseases.
Globally, an estimated 237 million men and 46 million women have alcohol-use disorders, mostly in Europe (14.8 percent and 3.5 percent) and the Americas (11.5 percent and 5.1 percent).
Governments aren't implementing effective policies
WHO alcohol-control expert, Dr. Vladimir Poznyak, told The Guardian that the health burden of alcohol was "unacceptably large."
"Unfortunately, the implementation of the most effective policy options is lagging behind the magnitude of the problems," he said. "Governments need to do more to meet the global targets and to reduce the burden of alcohol on societies; this is clear, and this action is either absent or not sufficient in most of the countries of the world."
Although the levels of harm caused by alcohol largely depend on factors both individual (age, socioeconomic status, gender) and societal (culture, alcohol laws), the report suggests that governments can curb alcohol-related deaths and injuries by:

regulating the marketing of alcoholic beverages (in particular to younger people)
regulating and restricting the availability of alcohol
enacting appropriate drink-driving policies
reducing demand through taxation and pricing mechanisms
raising awareness of public health problems caused by harmful use of alcohol and ensuring support for effective alcohol policies
providing accessible and affordable treatment for people with alcohol-use disorders, and
implementing screening and brief interventions programmes for hazardous and harmful drinking in health services.
"Now the task we share is to help countries put in place policies that make a real and measurable difference in people's lives," wrote Dr. Tedros Adhanom Ghebreyesus, the director-general of the WHO. "We have no time to waste; it is time to deliver on alcohol control."
The WHO report comes in the wake of a recent study, published by The Lancet, in August, that made headlines primarily for suggesting that the "safest level of drinking is none."
"Alcohol poses dire ramifications for future population health in the absence of policy action today. Our results indicate that alcohol use and its harmful effects on health could become a growing challenge as countries become more developed, and enacting or maintaining strong alcohol control policies will be vital," Emmanuela Gakidou, the report's senior author, told The Guardian.
Explore how alcohol affects your brain, from the first sip at the bar to life-long drinking habits.
(Photo by Angie Garrett/Wikimedia Commons)
Alcohol is the world's most popular drug and has been a part of human culture for at least 9,000 years.
Alcohol's effects on the brain range from temporarily limiting mental activity to sustained brain damage, depending on levels consumed and frequency of use.
Understanding how alcohol affects your brain can help you determine what drinking habits are best for you.
Alcohol has enjoyed a near universal presence across human societies. Our ancestors began experimenting with alcohol fermentation at least 9,000 years ago and incorporated such heady drinks into their ceremonies, celebrations, social gatherings, and even medical practices. Today, alcohol is the most popular drug in the world. We use it to destress, to cheer us up, and to lubricate social interactions.
But why have people across cultures and through the ages enjoyed alcohol so much? It's all in how alcohol interacts with the human brain.
To see how alcohol affects the brain, let's perform a little thought experiment. Imagine you're at your favorite haunt, and you order a drink. It doesn't matter if it is wine, beer, or a cocktail. As far as our brains are concerned, alcohol is alcohol is alcohol. (Our waistlines, however, have another opinion on the matter.)
You ease into the booth, have a few sips, and enjoy some chitchat. You polish off your drink as a sense of relaxation disperses across your consciousness. Here's what's going on inside that head of yours.
A new study suggests that older couples may help their marriages by drinking together.
Two, please (GRIFFIN STEWART)
Almost half the wine consumed in the U.S is consumed by millennials, according to recent research. In 2015, the 79 million Americans ages 21 to 38 drank 159.6 million cases of wine. As a relaxant and social lubricant, it's obviously a pretty popular way to go, and that's just wine. As young people couple off, alcohol can work for and against the relationship, depending on the amount of alcohol consumed and whether or not both partners are drinking similarly. But what happens over time to couples? Baby boomers are finding out, and so did a new study published in the Journals of Gerontology.
The elderly are the fastest-growing segment of the U.S. population, and it's a drinking crowd, many having switched over the years to alcohol as a legal intoxication option. The Centers for Disease Control and Prevention (CDC) says that people over 65 are more frequently found to be binge drinkers. Boomers may also require less alcohol to get drunk because it's metabolized more slowly in the elderly, meaning there is a higher percentage of alcohol in the blood compared to a younger drinker.
About the New Research
The new study looked at negative marital quality, since there's a clearer link between marital trouble and health problems than there is between positive marital quality and positive health.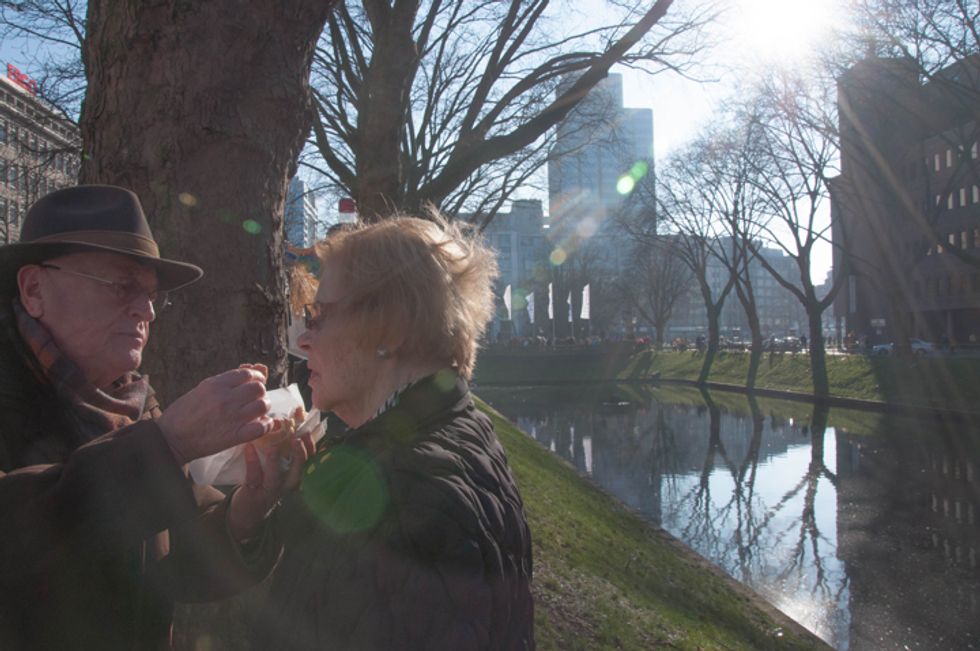 (ANDRÉA PORTILLA)
Researchers interviewed 4864 husbands and wives. The men ranged from 52-92, with an average age of 64. The women were at an average age of 63, being anywhere from 52-88.
The subjects were a bit more homogenous than the general population. Roughly two-thirds of them were in their first marriage. They all had similar (though obviously not identical) alcohol consumption, similar negative marital quality as well as other comparable variables including education, years married, race, and number of children.
Subjects responded to self-administered psychosocial questionnaires (SAQ) in four waves, each of which collected responses from half the subjects. Thus, the responses from 2006 and 2008 were treated as Wave 1 since together they accounted for 100% of the respondents, and Wave 2 was the combined 2010 and 2012 SAQs using the same logic. In this way, every subject was questioned exactly twice, years apart.
In Wave 1, the idea was to identify drinking habits and assess subjects' current negative marital quality as a baseline.
Researchers asked people about their drinking:
"Do you ever drink any alcoholic beverages such as beer, wine, or liquor?"
"In the last three months, on average, how many days per week have you had any alcohol to drink?"
"On the days that you drink, about how many drinks do you have?"
62% of respondents were drinkers, and 38% not, about the same as the general population. In 45% of the couples, both members drank, in 29% no one drank, in 17% it was just the husband, and in 8% it was only the wife.
To ascertain their negative marital quality, their were interviewed with a commonly used and well-validated set of questions:
"How often does your spouse make too many demands on you?"
"How often does he or she criticize you?"
"How often does he or she let you down when you are counting on them?"
"How often does he or she get on your nerves?"
Their answers to both sets of questions were converted into numerical values for analysis.
In Wave 2, the subjects were again assessed for negative marital quality to see how things had changed, based on the assumption that drinking habits had remained constant and that it was the driver of increases or decreases in negative marital quality.
The Findings
First off, unlike with studies of younger couples, the frequency and amount of alcohol consumption wasn't a reliable predictor of changes in marriages. What was significant was the degree to which a couple's drinking was:
"concordant" — meaning both members of the couple drink, or both don't drink, or
"discordant" — meaning one member of the couple drinks while the other doesn't.
The three biggest takeaways from the study were:
Couples with concordant drinking habits reported a decrease in negative marital quality. (If the double-speak is confusing, that means they were happier.)
Wives experienced even more of a reduction in negative marriage quality than their husbands as a result of concordant drinking.
Non-drinking concordant couples didn't experience a reduction in negative marriage quality! (The researchers wonder if co-imbibing may give drinking couples more time together in a shared activity.)
Suggestions for Millennials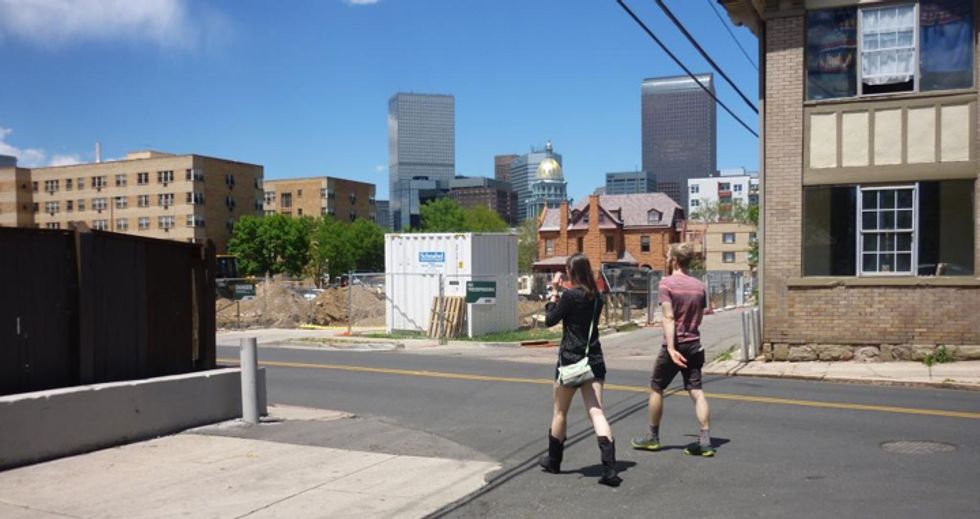 (ROBERT RYNERSON)
So, young millennials in love, here are the rules:
If you both drink — within bounds of reason, of course — keep up the good work. (I can't believe I just typed that.)
If one of you quits, you both should quit if you want to stay together.
If only one of you keeps drinking, you're heading for issues.
If neither of you drink, the study suggests that maybe you should both start? (Or that.)
There's a trillion-dollar underground economy hiding in plain sight, says Steven Kotler, and it can be measured in dopamine.
What really fuels the economy? It's not trade, free spending, or good old-fashioned elbow grease – it's something much smaller and harder to see: dopamine. Along with high-performance expert Jamie Wheal, Steven Kotler has spent the last four years interviewing and researching trailblazers like Elon Musk, Eric Schmidt, Amy Cuddy, and institutions like Nike's innovation team, the Navy SEALs, and the United Nations' Headquarters. What did he find? That these bright people and teams are using altered states of consciousness – like 'flow' – to boost their inspiration, ability, and impact. Winning feels good, as does reward. It all boils down to dopamine. Many of us may not be consciously aware of the the neurochemical, altered-state highs we seek on a daily basis. Kotler runs through three ways we chase dopamine, and questions the ethics of these unchecked habits. For example, when you check your phone for a text, the uncertainty or "magic of maybe" in what the text might deliver results in a 400% spike in dopamine – roughly the same amount of dopamine as a person gets from cocaine. "We're essentially putting highly addictive drugs into the hands of kids before they have any natural defenses against them," says Kotler. Steven Kotler's and Jamie Wheal's book is Stealing Fire: How Silicon Valley, the Navy SEALs, and Maverick Scientists Are Revolutionizing the Way We Live and Work.
Steven Kotler's and Jamie Wheal's book is Stealing Fire: How Silicon Valley, the Navy SEALs, and Maverick Scientists Are Revolutionizing the Way We Live and Work.