Technique may enable speedy, on-demand design of softer, safer neural devices.
Dan Kitwood/Getty Images
The brain is one of our most vulnerable organs, as soft as the softest tofu. Brain implants, on the other hand, are typically made from metal and other rigid materials that over time can cause inflammation and the buildup of scar tissue.
MIT engineers are working on developing soft, flexible neural implants that can gently conform to the brain's contours and monitor activity over longer periods, without aggravating surrounding tissue. Such flexible electronics could be softer alternatives to existing metal-based electrodes designed to monitor brain activity, and may also be useful in brain implants that stimulate neural regions to ease symptoms of epilepsy, Parkinson's disease, and severe depression.
Led by Xuanhe Zhao, a professor of mechanical engineering and of civil and environmental engineering, the research team has now developed a way to 3D print neural probes and other electronic devices that are as soft and flexible as rubber.
The devices are made from a type of polymer, or soft plastic, that is electrically conductive. The team transformed this normally liquid-like conducting polymer solution into a substance more like viscous toothpaste — which they could then feed through a conventional 3D printer to make stable, electrically conductive patterns.
The team printed several soft electronic devices, including a small, rubbery electrode, which they implanted in the brain of a mouse. As the mouse moved freely in a controlled environment, the neural probe was able to pick up on the activity from a single neuron. Monitoring this activity can give scientists a higher-resolution picture of the brain's activity, and can help in tailoring therapies and long-term brain implants for a variety of neurological disorders.
"We hope by demonstrating this proof of concept, people can use this technology to make different devices, quickly," says Hyunwoo Yuk, a graduate student in Zhao's group at MIT. "They can change the design, run the printing code, and generate a new design in 30 minutes. Hopefully this will streamline the development of neural interfaces, fully made of soft materials."
Yuk and Zhao have published their results today in the journal Nature Communications. Their co-authors include Baoyang Lu and Jingkun Xu of the Jiangxi Science and Technology Normal University, along with Shen Lin and Jianhong Luo of Zheijiang University's School of Medicine.
The team printed several soft electronic devices, including a small, rubbery electrode.
From soap water to toothpaste
Conducting polymers are a class of materials that scientists have eagerly explored in recent years for their unique combination of plastic-like flexibility and metal-like electrical conductivity. Conducting polymers are used commercially as antistatic coatings, as they can effectively carry away any electrostatic charges that build up on electronics and other static-prone surfaces.
"These polymer solutions are easy to spray on electrical devices like touchscreens," Yuk says. "But the liquid form is mostly for homogenous coatings, and it's difficult to use this for any two-dimensional, high-resolution patterning. In 3D, it's impossible."
Yuk and his colleagues reasoned that if they could develop a printable conducting polymer, they could then use the material to print a host of soft, intricately patterned electronic devices, such as flexible circuits, and single-neuron electrodes.
In their new study, the team report modifying poly (3,4-ethylenedioxythiophene) polystyrene sulfonate, or PEDOT:PSS, a conducting polymer typically supplied in the form of an inky, dark-blue liquid. The liquid is a mixture of water and nanofibers of PEDOT:PSS. The liquid gets its conductivity from these nanofibers, which, when they come in contact, act as a sort of tunnel through which any electrical charge can flow.
If the researchers were to feed this polymer into a 3D printer in its liquid form, it would simply bleed across the underlying surface. So the team looked for a way to thicken the polymer while retaining the material's inherent electrical conductivity.
They first freeze-dried the material, removing the liquid and leaving behind a dry matrix, or sponge, of nanofibers. Left alone, these nanofibers would become brittle and crack. So the researchers then remixed the nanofibers with a solution of water and an organic solvent, which they had previously developed, to form a hydrogel — a water-based, rubbery material embedded with nanofibers.
They made hydrogels with various concentrations of nanofibers, and found that a range between 5 to 8 percent by weight of nanofibers produced a toothpaste-like material that was both electrically conductive and suitable for feeding into a 3D printer.
"Initially, it's like soap water," Zhao says. "We condense the nanofibers and make it viscous like toothpaste, so we can squeeze it out as a thick, printable liquid."
Implants on demand
The researchers fed the new conducting polymer into a conventional 3D printer and found they could produce intricate patterns that remained stable and electrically conductive.
As a proof of concept, they printed a small, rubbery electrode, about the size of a piece of confetti. The electrode consists of a layer of flexible, transparent polymer, over which they then printed the conducting polymer, in thin, parallel lines that converged at a tip, measuring about 10 microns wide — small enough to pick up electrical signals from a single neuron.
MIT researchers print flexible circuits (shown here) and other soft electrical devices using new 3-D-printing technique and conducting polymer ink.
The team implanted the electrode in the brain of a mouse and found it could pick up electrical signals from a single neuron.
"Traditionally, electrodes are rigid metal wires, and once there are vibrations, these metal electrodes could damage tissue," Zhao says. "We've shown now that you could insert a gel probe instead of a needle."
In principle, such soft, hydrogel-based electrodes might even be more sensitive than conventional metal electrodes. That's because most metal electrodes conduct electricity in the form of electrons, whereas neurons in the brain produce electrical signals in the form of ions. Any ionic current produced by the brain needs to be converted into an electrical signal that a metal electrode can register — a conversion that can result in some part of the signal getting lost in translation. What's more, ions can only interact with a metal electrode at its surface, which can limit the concentration of ions that the electrode can detect at any given time.
In contrast, the team's soft electrode is made from electron-conducting nanofibers, embedded in a hydrogel — a water-based material that ions can freely pass through.
"The beauty of a conducting polymer hydrogel is, on top of its soft mechanical properties, it is made of hydrogel, which is ionically conductive, and also a porous sponge of nanofibers, which the ions can flow in and out of," Lu says. "Because the electrode's whole volume is active, its sensitivity is enhanced."
In addition to the neural probe, the team also fabricated a multielectrode array — a small, Post-it-sized square of plastic, printed with very thin electrodes, over which the researchers also printed a round plastic well. Neuroscientists typically fill the wells of such arrays with cultured neurons, and can study their activity through the signals that are detected by the device's underlying electrodes.
For this demonstration, the group showed they could replicate the complex designs of such arrays using 3D printing, versus traditional lithography techniques, which
involve carefully etching metals, such as gold, into prescribed patterns, or masks — a process that can take days to complete a single device.
"We make the same geometry and resolution of this device using 3D printing, in less than an hour," Yuk says. "This process may replace or supplement lithography techniques, as a simpler and cheaper way to make a variety of neurological devices, on demand."
Reprinted with permission of MIT News. Read the original article.
Today, a quickly emerging set of technologies known as bioprinting is poised to push the boundaries further.
Sandy Huffaker/Corbis via Getty Images
In the last few years, the use of 3D printing has exploded in medicine. Engineers and medical professionals now routinely 3D print prosthetic hands and surgical tools. But 3D printing has only just begun to transform the field.
Today, a quickly emerging set of technologies known as bioprinting is poised to push the boundaries further. Bioprinting uses 3D printers and techniques to fabricate the three-dimensional structures of biological materials, from cells to biochemicals, through precise layer-by-layer positioning. The ultimate goal is to replicate functioning tissue and material, such as organs, which can then be transplanted into human beings.
We have been mapping the adoption of 3D printing technologies in the field of health care, and particularly bioprinting, in a collaboration between the law schools of Bournemouth University in the United Kingdom and Saint Louis University in the United States. While the future looks promising from a technical and scientific perspective, it's far from clear how bioprinting and its products will be regulated. Such uncertainty can be problematic for manufacturers and patients alike, and could prevent bioprinting from living up to its promise.
In a landmark study for the tissue engineering community, scientists have successfully grown and reconstructed new ears for children born with a birth defect.
Photo from study, patient's face blurred to protect identity
Scientists in China have successfully grown and reconstructed new ears for five children born with microtia, a condition that affects the function and appearance of the ear. The recent study marks a new milestone in the field of tissue engineering.
A paper published in the journal EBioMedicine outlines how the team performed the procedure.
The researchers used cartilage cells collected from patients' affected ears to grow new cartilage in vitro. They 3D-printed mirrored copies of each patient's healthy ear to use as scaffolding into which the new cartilage could grow, ensuring that the new ears would be the right shape for each individual. Finally, the scientists attached and reconstructed the new ears onto the patients.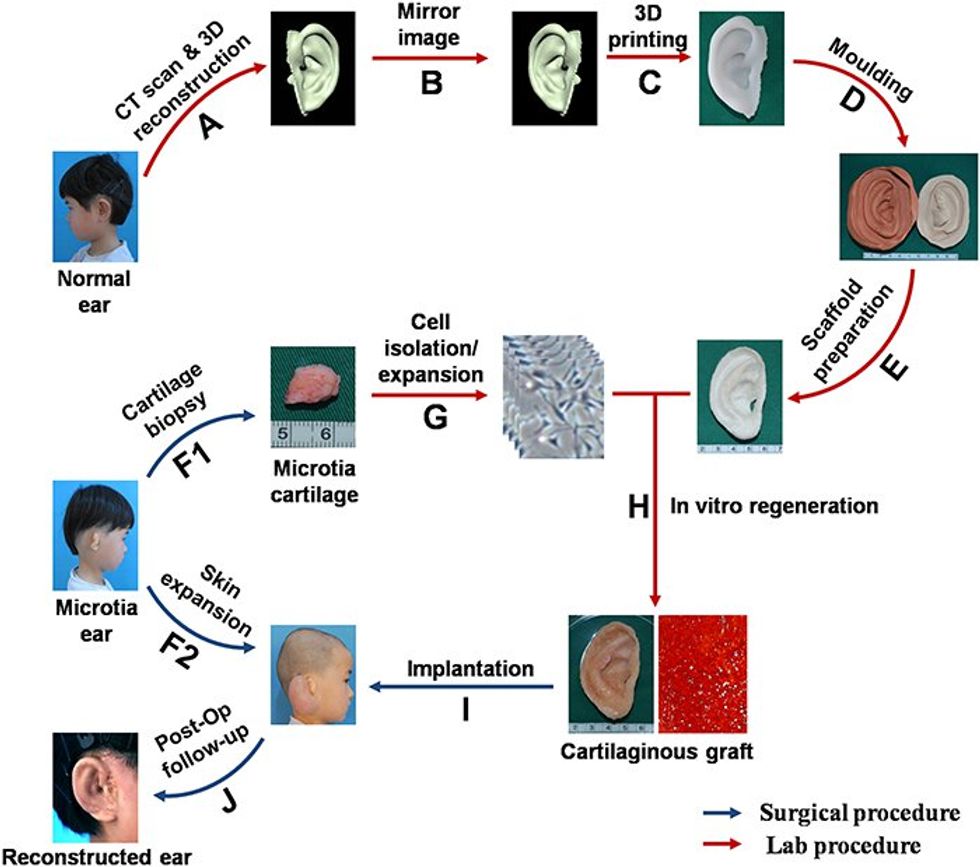 "We were able to successfully design, fabricate, and regenerate patient-specific external ears," wrote the researchers.
Reconstructing the ears of microtia patients has been a goal of the tissue engineering community for decades. The condition affects as many as 17.4 out every 10,000 children in some countries, in degrees ranging from a slightly smaller ear (on one side or both) to a completely missing ear, a condition known as anotia. It cripples hearing ability; one doctor wrote that hearing with microtia is similar to placing a finger in your ear, and can also damage self-confidence.
The study signals new hope for children afflicted with microtia, but the procedure may prove difficult to implement on a large scale.
Lawrence Bonassar, a biomedical engineering professor at Cornell University who wasn't involved in the study, told CNN:
"The method for making these constructs is quite complicated, involving three distinct biomaterials that are combined into a scaffold, seeded with cells, then cultured for three months before implantation to ensure proper cell distribution throughout the construct."
Scaling up the procedure for thousands of microtia patients would be a difficult task, he said.
"Secondly, the materials that are used for these scaffolds remain in the body for a long time: up to four years... Such implants would likely need to be monitored for four or five years before the ultimate fate of these materials in the body is known."
Still, the results of the recent study are positive.
"Tissue engineered auricle is a promising alternative to current ear reconstructive options, but its clinical translation is yet to be accomplished," the researchers wrote. "In the current study, cartilage frameworks with patient-specific ear shapes and proper mechanical strength were successfully engineered in vitro. Using these engineered ear frameworks, we performed external ear reconstruction on 5 patients and achieved satisfactory therapeutic outcome as revealed during 2.5 years' follow-up so far."
It takes an average of 7.5 months to build a single-family home. A Ukrainian startup has cut that timeframe down to just 8 hours.
Image: PassivDom
It takes an average of 7.5 months to build a new home. Even the smallest of domiciles — cabins, micro homes — usually take months to construct. But the Ukrainian startup PassivDom has cut that time down to as few as 8 hours by using a 3D-printing robot to print autonomous, mobile homes for $64,000 each.
The robot only prints the walls, floor and roof of the 410-square-foot homes, while human workers later install the windows, doors, plumbing, and electrical systems. Also, the 8-hour timeframe only applies to the company's most basic model. Still, since its launch in early 2017, PassivDom has already received more than 8,000 preorders for the homes in the U.S. alone.
PassivDom's smallest model, the 410-square-foot modulOne, ranges in cost from $64,000 to $97,000, depending on the features.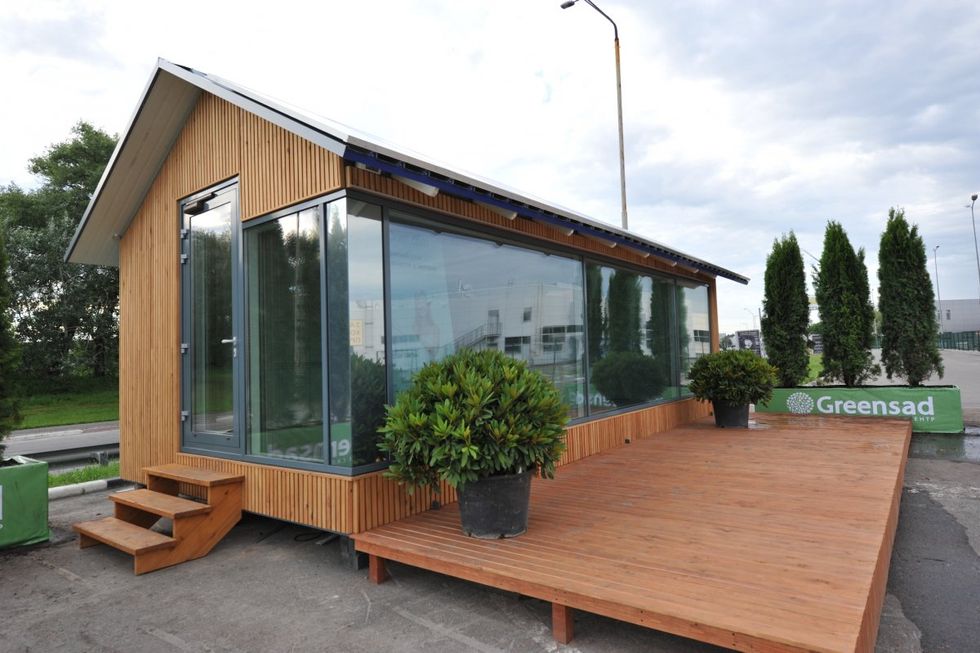 The most expensive model comes equipped with appliances, furniture, heating and cooling, and a smart ventilation system.

The top-tier model also allows owners to manage every system in the house—including cloud-based video surveillance—through a smartphone app.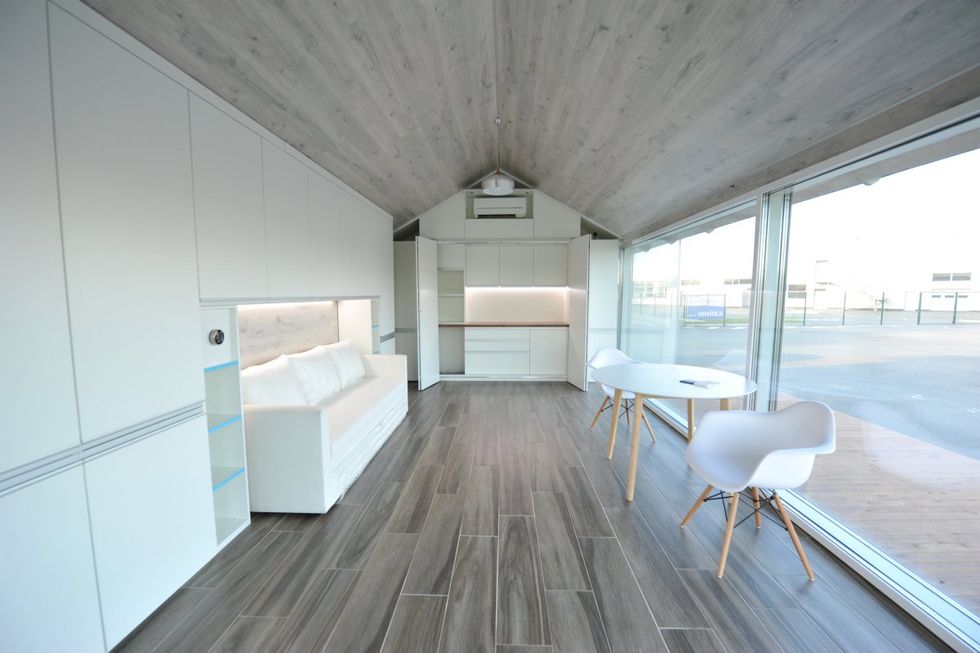 The house features floor-to-ceiling windows and a small kitchen.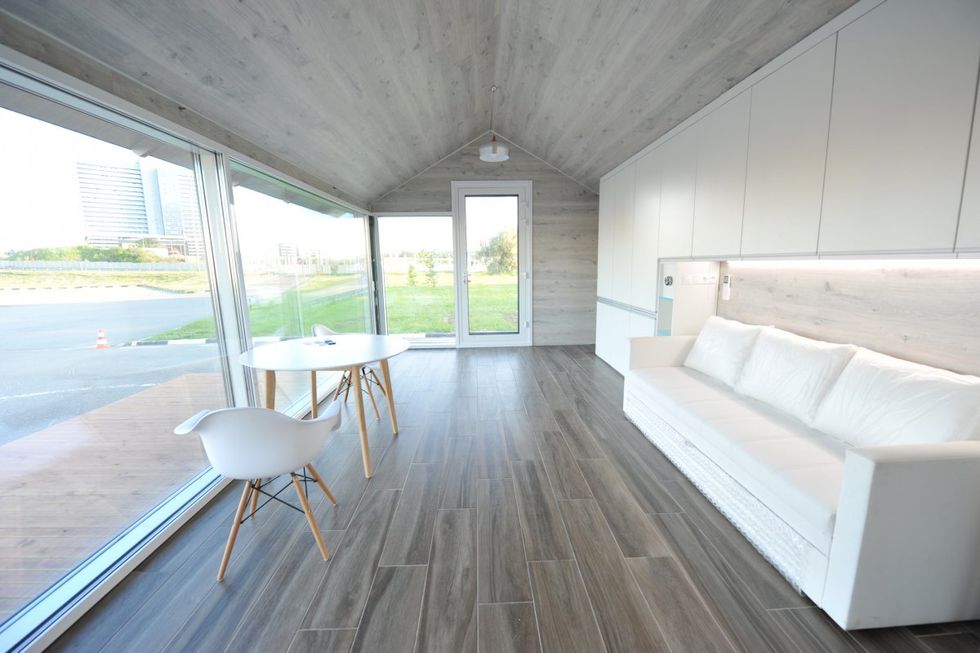 The larger 775-square-foot model, modulTwo, includes a second room.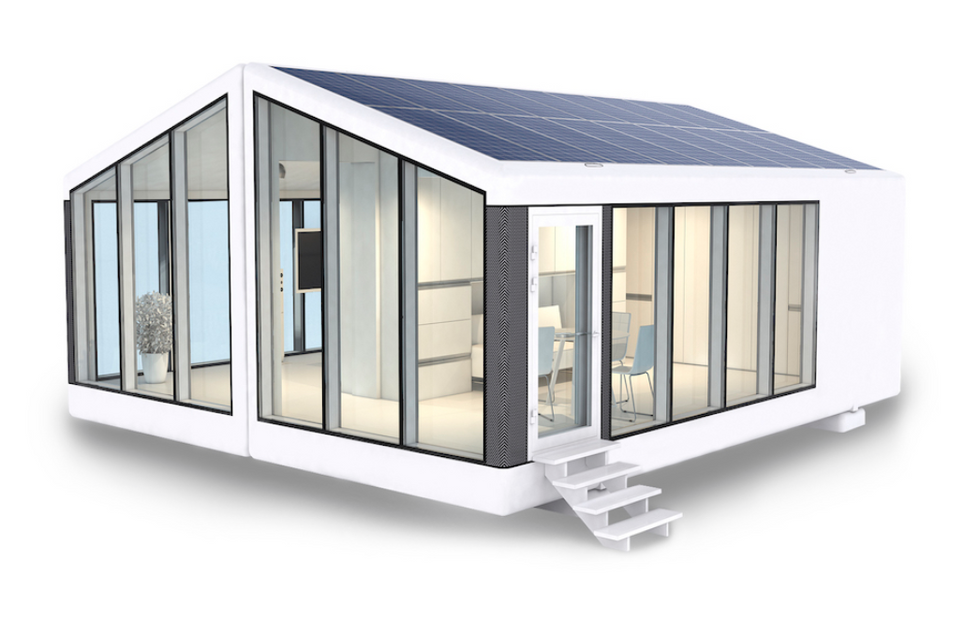 Every model is equipped to live off the grid with a solar cell-integrated roof, and the more expensive models include battery storage.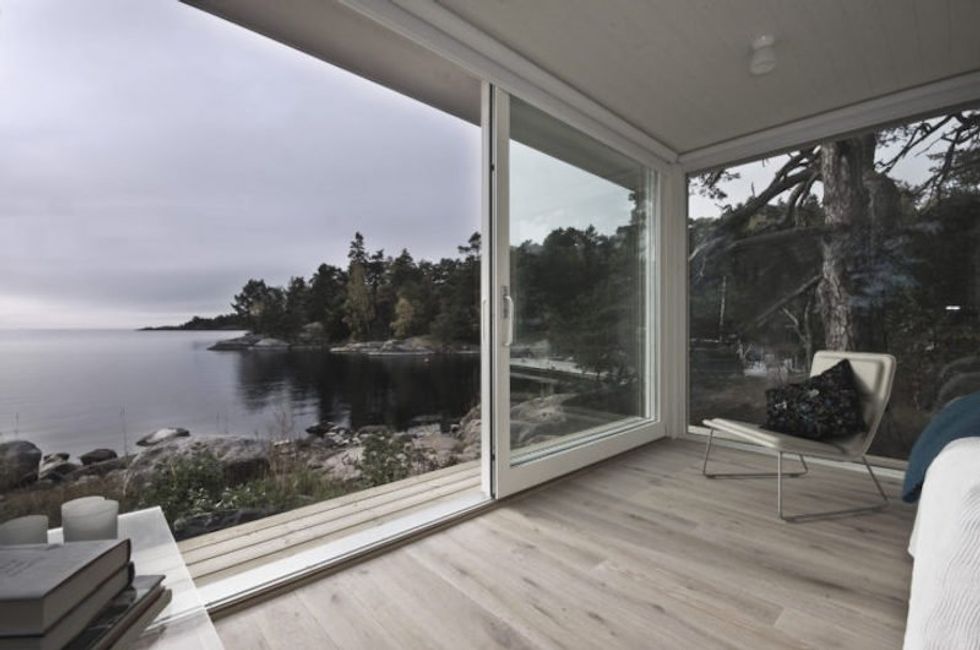 "We should have opportunities to live in nature away from civilization, but have comfortable conditions of a traditional house," PassivDom designer Maria Sorokina said to Business Insider. "This technology can allow us to live in the woods, on mountains, or on the shore—far away from people and infrastructure."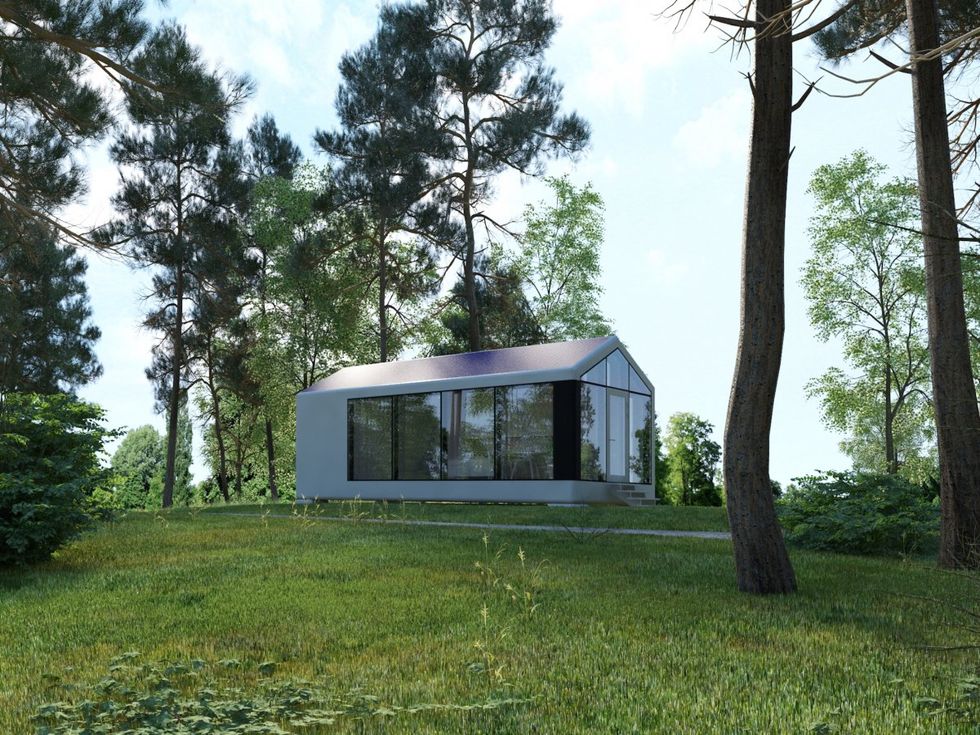 While the simplest model can take just 8 hours to complete, the more advanced homes can take up to a month to install all of the features.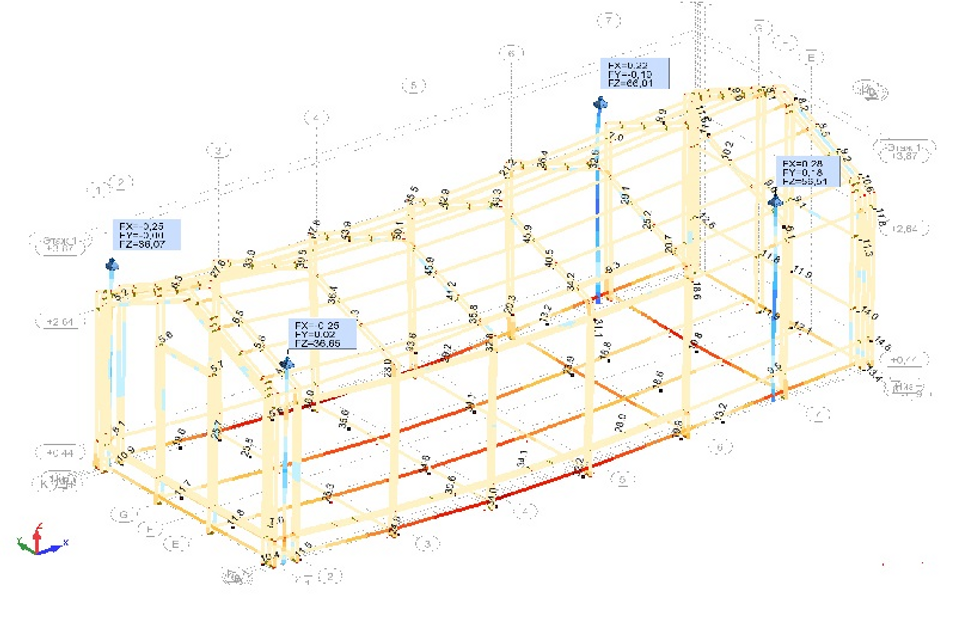 "Over 100 million people do not have a roof over their heads," Sorokina said. "It is necessary to build more affordable houses."
Rather than one layer at a time, this method creates an entire object all at once, using lasers.
Volumetric printed object. Credit: Shusteff et al., Science Advances.
Imagine this, you see something online you just have to have, like a rugged smartphone case emblazoned with your favorite character. You order it and instead of waiting for it to be delivered, your 3D printer fashions it for you, to your exact specifications, in seconds. Why don't we have this right now? 3D printers can take hours or even days to create an object, making such a scenario difficult to implement.
3D printers are still a new technology with a lot of potential. Think of the cost savings to the consumer (no shipping costs), the time saved to the producer (no need to ship things anywhere), and to the environment (saving on exhaust from trucks, planes, delivery vans, producing unsold items, and so on). Not only could it transform manufacturing but the research and development process as well. Making prototypes fast and easy would revolutionize engineering and design.
The potential is there. What's holding up additive printing, as it's sometimes called, is that it's time intensive and the device is limited as to what shapes it can produce. The model we have today adds only one layer at a time.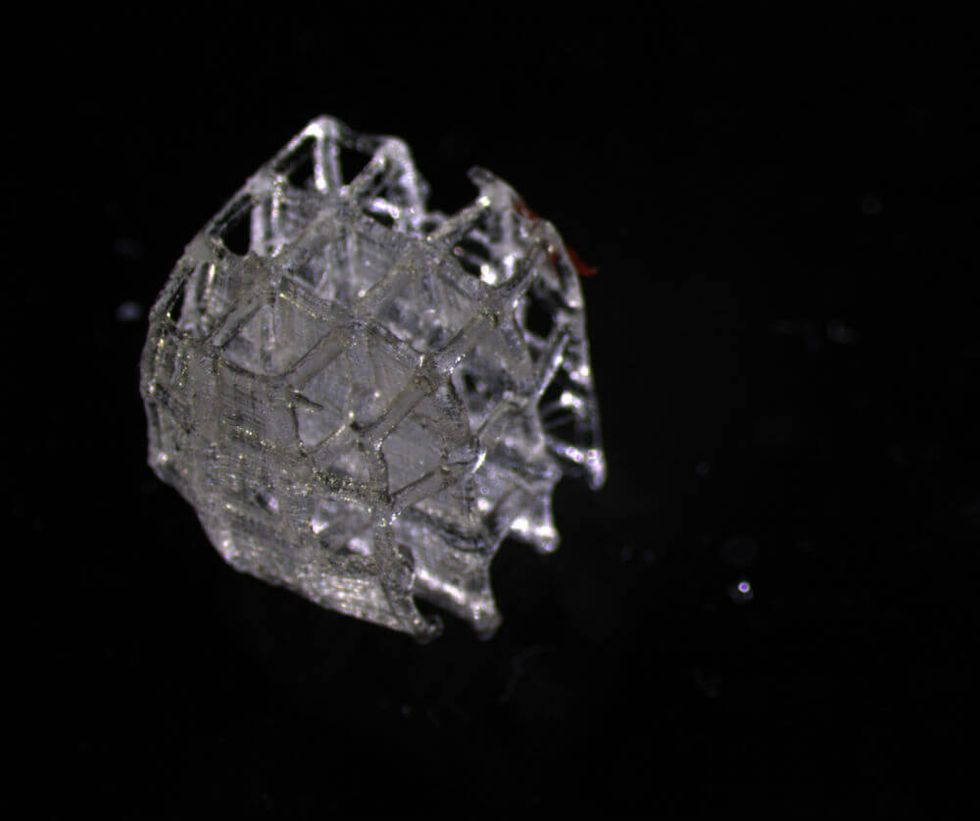 Lattice work on the millimeter scale, produced by a new 3D printer technique. Credit: Shusteff et al., Science Advances.
Scientists at the Lawrence Livermore National Laboratory, in California, have now come up with a novel technique that can make complex objects in mere seconds, by adding several layers simultaneously. The details are in a report in the journal Science Advances.
There are two really big innovations here. The first is using a fast drying, photosensitive resin, and the second is the unique way the lasers are employed. In traditional 3D printing, a powerful laser is used to harden the resin into plastic. Here, the printer follows a pattern set up by a 3D laser model. Creation takes place inside a tank full of liquid resin.
Three weak lasers are used, so the resin doesn't cure. Instead, it creates a holographic effect, forming a 3D model of what's to be made inside the tank. Anywhere where the three lasers are made to come together unites them into one strong beam, which hardens the resin. In this way, rather than one layer at a time, multiple layers can be fabricated at once by orchestrating the lasers into complex patterns. This method can allow for pinpoint accuracy.
Once the pattern is complete, the lasers harden the resin in seconds, and the unused liquid is drained away, leaving the finished product behind. The process works with metal as well. But it's a little different. Here, the lasers arrange metal dust into a pattern. Once complete, the dust is condensed into a solid by a laser or electron beam.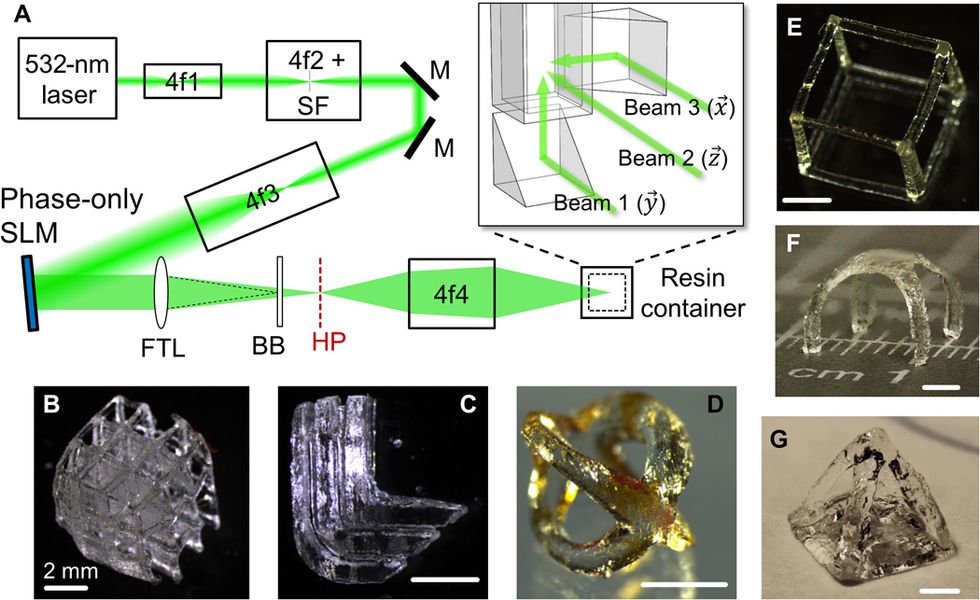 Volumetric 3D printing and the objects scientists have made so far. Credit: Shusteff et al., Science Advances.
LLNL engineer Maxim Shusteff led the study. He told New Atlas, "The fact that you can do fully 3D parts all in one step really does overcome an important problem in additive manufacturing." Not only is the new technique faster and able to create a wider variety of shapes, it eliminates the need for support structures current 3D printers often need to fashion objects. In addition to lattices, beams, squares, and other structures, it could be used to make something complex with moving parts, like a gearbox. Another advantage, it can print multiple objects at once, such as a set of chess pieces.
The objects made via volumetric 3D printing, as the technique is being called, aren't yet able to produce as sophisticated a product as some commercial 3D printers out there today. Really, this was a proof of concept study. But Shusteff and his team believe they can reach the same level of resolution with their process. Future models may use LEDs rather than a complicated laser array, as the latter is expensive. Also "laser speckle" or when a laser interferes with itself, can cause noise and result in surface roughness on printed objects.
So far, Shusteff and colleagues have made a few shapes on the millimeter scale. Though the amount of power needed may steer entities away from using this technique for heavy manufacturing, it would be useful for creating biomedical implants, which need to be flexible and yet high resolution. Another option could be bioprinting living tissue. "We've taken a really good first shot at this," Shusteff said, "but we've not yet taken it to the limit of its performance, so the space is wide open for us and others to demonstrate what this approach is capable of."
To see volumetric 3D printing in action, click here: