Big ideas.
Once a week.
Subscribe to our weekly newsletter.
Just 10 streams carry 95% of all river-borne plastic into the ocean
Just ten rivers are responsible for up to 95% of all river-borne plastic trash that ends up in the sea. Silver lining: cleaning them up would have a huge positive impact.
10 August, 2018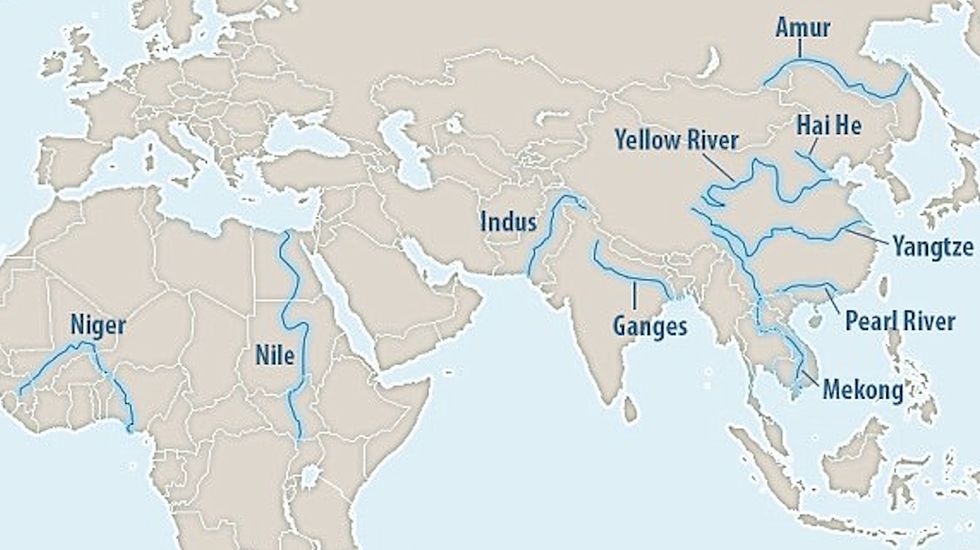 The Yangtze alone discharges as much as 1.5 million tons of plastic waste each year
Cheap, durable and multifunctional, plastic is one of humanity's most successful inventions. From the 1950s to 2015, we've produced 8.3 billion metric tons of the stuff. By now, it's everywhere. It's also non-biodegradable. And that's devastating the environment. Only 9% of all plastic waste has been recycled, and another 12% has been incinerated. That means that almost 80%—nearly 6.3 billion tons—has turned into waste with no half-life to speak of: condemned to an eternity as landfill, litter or ocean-clogging junk.
---
Every year, plastic kills around 1 million seabirds, 100,000 sea mammals and inestimable numbers of fish. The volume of plastic trash in the world's oceans is currently estimated to be around 150 million tons. No less than eight million tons are added to that every year—that's one truckload every minute. Between 0.5 and 2.75 million tons come from rivers alone.
Large rivers are particularly efficient conveyors of plastic waste to the oceans, especially in countries lacking a well-developed waste management infrastructure. Up to 95% of river-borne plastic comes from just 10 rivers, scientists at the Helmholtz Center for Environmental Research in Leipzig, Germany have found.
The scientists analysed data on both microplastic debris (<5mm) such as beads and fibres, as well as microplastic objects (plastic bottles, bags, etc.) from 79 sampling sites on 57 of the world's largest rivers, singling out the 10 mapped out here as the biggest culprits, due to "mismanagement of plastic waste in their watersheds".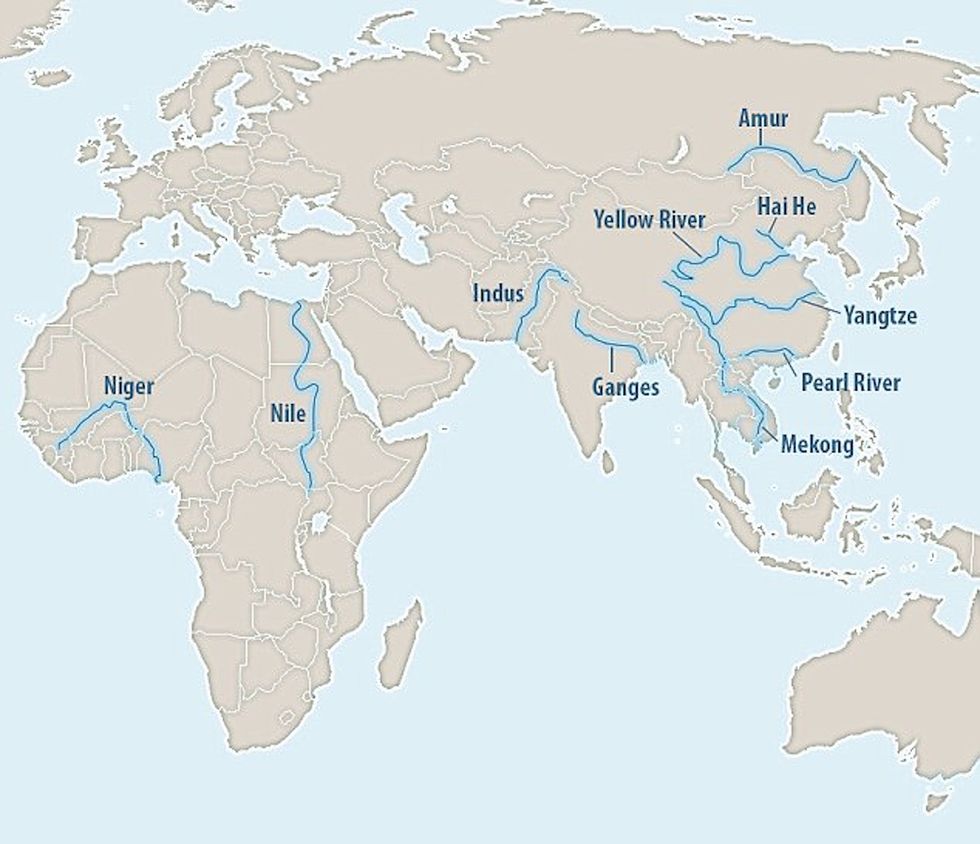 As this map shows, eight of the rivers are in Asia.
Four are solely in China:
The Yangtze, which flows into the East China Sea.
The Hai He and the Yellow River, both debouching in the Yellow Sea. 
The Pearl River, going into the South China Sea.
Two others closely involve China:
The Amur rises in Russia and flows into the Sea of Okhotsk, but for a large part of its course forms the border with China (where it's called Heilong Jang). 
The Mekong rises in China, but touches or crosses Myanmar, Laos, Thailand, Cambodia and Vietnam on its way to the South China Sea.
Two flow through the Indian subcontinent:
The Indus, which rises in China and crosses India, but mainly runs through Pakistan, ending in the Arabian Sea.
The Ganges, flowing through India and Bangladesh, into the Bay of Bengal.
The two non-Asian rivers are both in Africa:
The Nile, with two sources in Ethiopia (Blue Nile) and Rwanda (White Nile) and flowing through Uganda, South Sudan, Sudan and Egypt towards the Mediterranean. 
The Niger, rising in Guinea and flowing through Mali, Niger, Benin and Nigeria into the Gulf of Guinea.
Not all of these rivers are equally guilty. As the graph below shows, the Yangtze is the main culprit, ejecting around 1.5 million tonnes of plastic into the East China Sea. That's more than the other nine rivers combined.
While awareness of the issue is rising, plastic pollution itself is still on the increase as well. In 2016, 480 billion plastic bottles were sold globally. By 2021, that figure will be close to 540 billion. Fewer than half of that total is currently recycled.
If current trends continue, the amount of plastic dumped into the ocean will increase to one truckload every minute today to one every 15 seconds in 2050, by which time plastic waste will literally outweigh all the fish in the ocean.
However, as the scientists from Leipzig point out, quick fixes are possible. Focusing waste management efforts on just these 10 rivers could put a serious dent in the plastic pollution trend. Halving the discharge of plastic waste in Yangtze, Ganges, Niger and the other seven rivers listed above would reduce the global flow of river-borne plastic into the oceans by no less than 45%.

Map found here at the Daily Mail. Graph found here on Scientific American's Twitter feed.
Strange Maps #929
Got a strange map? Let me know at strangemaps@gmail.com.
Inventions with revolutionary potential made by a mysterious aerospace engineer for the U.S. Navy come to light.
Credit: Getty Images
Surprising Science
U.S. Navy holds patents for enigmatic inventions by aerospace engineer Dr. Salvatore Pais.
Pais came up with technology that can "engineer" reality, devising an ultrafast craft, a fusion reactor, and more.
While mostly theoretical at this point, the inventions could transform energy, space, and military sectors.
The U.S. Navy controls patents for some futuristic and outlandish technologies, some of which, dubbed "the UFO patents," came to light recently. Of particular note are inventions by the somewhat mysterious Dr. Salvatore Cezar Pais, whose tech claims to be able to "engineer reality." His slate of highly-ambitious, borderline sci-fi designs meant for use by the U.S. government range from gravitational wave generators and compact fusion reactors to next-gen hybrid aerospace-underwater crafts with revolutionary propulsion systems, and beyond.
Of course, the existence of patents does not mean these technologies have actually been created, but there is evidence that some demonstrations of operability have been successfully carried out. As investigated and reported by The War Zone, a possible reason why some of the patents may have been taken on by the Navy is that the Chinese military may also be developing similar advanced gadgets.
Among Dr. Pais's patents are designs, approved in 2018, for an aerospace-underwater craft of incredible speed and maneuverability. This cone-shaped vehicle can potentially fly just as well anywhere it may be, whether air, water or space, without leaving any heat signatures. It can achieve this by creating a quantum vacuum around itself with a very dense polarized energy field. This vacuum would allow it to repel any molecule the craft comes in contact with, no matter the medium. Manipulating "quantum field fluctuations in the local vacuum energy state," would help reduce the craft's inertia. The polarized vacuum would dramatically decrease any elemental resistance and lead to "extreme speeds," claims the paper.
Not only that, if the vacuum-creating technology can be engineered, we'd also be able to "engineer the fabric of our reality at the most fundamental level," states the patent. This would lead to major advancements in aerospace propulsion and generating power. Not to mention other reality-changing outcomes that come to mind.
Among Pais's other patents are inventions that stem from similar thinking, outlining pieces of technology necessary to make his creations come to fruition. His paper presented in 2019, titled "Room Temperature Superconducting System for Use on a Hybrid Aerospace Undersea Craft," proposes a system that can achieve superconductivity at room temperatures. This would become "a highly disruptive technology, capable of a total paradigm change in Science and Technology," conveys Pais.
High frequency gravitational wave generator.
Credit: Dr. Salvatore Pais
Another invention devised by Pais is an electromagnetic field generator that could generate "an impenetrable defensive shield to sea and land as well as space-based military and civilian assets." This shield could protect from threats like anti-ship ballistic missiles, cruise missiles that evade radar, coronal mass ejections, military satellites, and even asteroids.
Dr. Pais's ideas center around the phenomenon he dubbed "The Pais Effect". He referred to it in his writings as the "controlled motion of electrically charged matter (from solid to plasma) via accelerated spin and/or accelerated vibration under rapid (yet smooth) acceleration-deceleration-acceleration transients." In less jargon-heavy terms, Pais claims to have figured out how to spin electromagnetic fields in order to contain a fusion reaction – an accomplishment that would lead to a tremendous change in power consumption and an abundance of energy.
According to his bio in a recently published paper on a new Plasma Compression Fusion Device, which could transform energy production, Dr. Pais is a mechanical and aerospace engineer working at the Naval Air Warfare Center Aircraft Division (NAWCAD), which is headquartered in Patuxent River, Maryland. Holding a Ph.D. from Case Western Reserve University in Cleveland, Ohio, Pais was a NASA Research Fellow and worked with Northrop Grumman Aerospace Systems. His current Department of Defense work involves his "advanced knowledge of theory, analysis, and modern experimental and computational methods in aerodynamics, along with an understanding of air-vehicle and missile design, especially in the domain of hypersonic power plant and vehicle design." He also has expert knowledge of electrooptics, emerging quantum technologies (laser power generation in particular), high-energy electromagnetic field generation, and the "breakthrough field of room temperature superconductivity, as related to advanced field propulsion."
Suffice it to say, with such a list of research credentials that would make Nikola Tesla proud, Dr. Pais seems well-positioned to carry out groundbreaking work.
A craft using an inertial mass reduction device.
Credit: Salvatore Pais
The patents won't necessarily lead to these technologies ever seeing the light of day. The research has its share of detractors and nonbelievers among other scientists, who think the amount of energy required for the fields described by Pais and his ideas on electromagnetic propulsions are well beyond the scope of current tech and are nearly impossible. Yet investigators at The War Zone found comments from Navy officials that indicate the inventions are being looked at seriously enough, and some tests are taking place.
If you'd like to read through Pais's patents yourself, check them out here.
Laser Augmented Turbojet Propulsion System
Credit: Dr. Salvatore Pais
Milgram's experiment is rightly famous, but does it show what we think it does?
Mind & Brain
In the 1960s, Stanley Milgram was sure that good, law-abiding Americans would never be able to follow orders like the Germans in the Holocaust.
His experiments proved him spectacularly wrong. They showed just how many of us are willing to do evil if only we're told to by an authority figure.
Yet, parts of the experiment were set up in such a way that we should perhaps conclude something a bit more nuanced.
Holding a clipboard and wearing a lab coat makes you a very powerful person. Add in a lanyard and a confident voice, and you're pretty much in Ocean's Eleven.
Though we believe ourselves to be contrarians, most of us like to obey authority. We answer questions, help with any number of tasks, and obey commands unthinkingly. The vast majority of the time, this is relatively harmless and even requisite for a functioning society, but it can also lead humanity to very dark places.
It could happen here
As we've seen with Asch's experiments on conformity, the post-World War II community was determined to answer how and why the Holocaust took place. Just after the trial of Adolf Eichmann, the American media and public came to see German society as some special kind of monster in just how willing they were to follow orders unthinkingly, at odds with any sense of duty or morality.
Into this came Stanley Milgram. In 1961, Milgram set out a series of experiments to show, in his view, how the German people were more susceptible to authoritarianism than Americans. Milgram believed, as a lot of people did, that the American people would never be capable of such horrendous evil.
The experiment was to be set up in two stages: the first would be on American subjects, to gauge how far they would obey orders; the second would be on Germans, to prove how much they differed. The results stopped Milgram in his tracks.
Shock, shock, horror
Milgram wanted to ensure that his experiment involved as broad and diverse a group of people as possible. In addition to testing the American vs. German mindset, he wanted to see how much age, education, employment, and so on affected a person's willingness to obey orders.
So, the original 40 participants he gathered came from a wide spectrum of society, and each was told that they were to take part in a "memory test." They were to determine the extent to which punishment affects learning and the ability to memorize.
Milgram believed, as a lot of people did, that the American people would never be capable of such horrendous evil.
The experiment involved three people. First, there was the "experimenter," dressed in a lab coat, who gave instructions and prompts. Second, there was an actor who was the "learner." Third, there was the participant who thought that they were acting as the "teacher" in the memory test. The apparent experimental setup was that the learner had to match two words together after being taught them, and whenever they got the answer wrong, the teacher had to administer an electric shock. (The teachers (participants) were shocked as well to let them know what kind of pain the learner would experience.) At first, the shock was set at 15 volts.
The learner (actor) repeatedly made mistakes for each study, and the teacher was told to increase the voltage each time. A tape recorder was played that had the learner (apparently) make sounds as if in pain. As it went on, the learner would plead and beg for the shocks to stop. The teacher was told to increase the amount of voltage as punishment up to a level that was explicitly described as being fatal — not least because the learner was desperately saying he had a heart condition.
The question Milgram wanted to know: how far would his participants go?
Just obeying orders
Credit: Amos from Stockphotos.com via Unsplash
The results were surprising. Sixty-five percent of the participants were willing to give a 450-volt shock described as lethal, and all administered a 300-volt shock described as traumatically painful. It should be repeated, this occurred despite the learner (actor) begging the teacher (participant) to stop.

In the studies that came after, in a variety of different setups, that 60 percent number came up again and again. They showed that roughly two out of three people would be willing to kill someone if told to by an authority figure. Milgram proved that all genders, ages, and nationalities were depressingly capable of inflicting incredible pain or worse on innocent people.
Major limitations in Milgram's experiment
Milgram took many steps to make sure that his experiment was rigorous and fair. He used the same tape recording of the "learner" screaming, begging, and pleading for all participants. He made sure the experimenters used only the same four prompts each time when the participants were reluctant or wanted to stop. He even made sure that he himself was not present at the experiment, lest he interfere with the procedure (something Phillip Zimbardo did not do).
But, does the Milgram experiment actually prove what we think it does?
First, the experimenters were permitted to remind the participants that they were not responsible for what they did and that the team would take full blame. This, of course, does not make the study any less shocking, but it does perhaps change the scope of the conclusions. Perhaps the experiment reveals more about our ability to surrender responsibility and our willingness simply to become a tool. The conclusion is still pretty depressing, but it shows what we are capable of when offered absolution rather than when simply following orders.
Second, the experiment took place in a single hour, with very little time either to deliberate or talk things over with someone. In most situations, like the Holocaust, the perpetrators had ample time (years) to reflect on their actions, and yet, they still chose to turn up every day. Milgram perhaps highlights only how far we'll go in the heat of the moment.
Finally, the findings do not tell the whole tale. The participants were not engaging in sadistic glee to shock the learner. They all showed signs of serious distress and anxiety, such as nervous laughing fits. Some even had seizures. These were not willing accomplices but participants essentially forced to act a certain way. (Since then, many scientists have argued that Milgram's experiment is hugely unethical.)
The power of authority
That all being said, there's a reason why Milgram's experiment stays with us today. Whether it's evolutionarily or socially drilled into us, it seems that humans are capable of doing terrible things, if only we are told to do so by someone in power — or, at the very least, when we don't feel responsible for the consequences.
One silver lining to Milgram is in how it can inoculate us against such drone-like behavior. It can help us to resist. Simply knowing how far we can be manipulated helps allow us to say, "No."
Jonny Thomson teaches philosophy in Oxford. He runs a popular Instagram account called Mini Philosophy (@philosophyminis). His first book is Mini Philosophy: A Small Book of Big Ideas.
As the American population grows, fewer people will die of cancer.
Surprising Science
A new study projects that cancer deaths will decrease in relative and absolute terms by 2040.
The biggest decrease will be among lung cancer deaths, which are predicted to fall by 50 percent.
Cancer is like terrorism: we cannot eliminate it entirely, but we can minimize its influence.
As the #2 leading cause of death, cancer takes the lives of about 600,000 Americans each year. In comparison, heart disease (#1) claims more than 650,000 lives, while accidents (#3) take about 175,000 lives. (In 2020 and likely 2021, COVID will claim the #3 spot.)
Headlines are usually full of terrible news about cancer. Seemingly, you can't get away from anything that causes it. RealClearScience made a list of all the things blamed for cancer — antiperspirants, salty soup, eggs, corn, Pringles, bras, burnt toast, and even Facebook made the list.
The reality, however, is much more optimistic. We're slowly but surely winning the war on cancer.
Winning the war on cancer
How can we make such a brazen statement? A new paper published in the journal JAMA Network Open tracks trends in cancer incidence and deaths and makes projections to the year 2040. The authors predict that around 568,000 Americans will have died of cancer in 2020, but they project that number to fall to 410,000 by 2040. That's a drop of nearly 28 percent, despite the U.S. population being projected to grow from roughly 333 million today to 374 million in 2040, an increase of 12 percent. That means cancer deaths will decrease in both relative and absolute terms.
What accounts for this unexpected good news? The lion's share is the number of deaths attributable to lung cancer, which is projected to decrease by more than 50 percent, from 130,000 to 63,000. This drop is largely due to the decreasing use of tobacco products. Other deaths predicted to decline include those from colorectal, breast, prostate, and ovarian cancers, among others, such as leukemia and non-Hodgkin lymphoma (NHL).
The authors credit screening and biomedical advances for saving many of these lives. For instance, lead author Dr. Lola Rahib wrote in an email to Big Think that "colonoscopies remove precancerous polyps." She also noted that targeted therapies and immunotherapies have helped reduce the number of deaths from leukemia and NHL.
We'll never cure cancer
Now the bad news: We'll never cure cancer. There are at least three reasons for this. The first is obvious: We all die. The lifetime prevalence of death is 100 percent. The truth is that we are running out of things to die from. After a long enough period of time, something gives out — often your cardiovascular system or nervous system. Or you develop you cancer.
The second reason is that we are multicellular organisms and, hence, we are susceptible to cancer. (Contrary to popular myth, sharks get cancer, too.) The cells of multicellular organisms face an existential dilemma: they can either get old and stop dividing (a process called senescence) or become immortal but cancerous. For this reason, the problem of cancer may not have a solution.
Finally, there isn't really such a thing as a disease called "cancer." What we call cancer is actually a collection of several different diseases, some of which are preventable (like cervical cancer with the HPV vaccine) or curable (like prostate cancer). Unfortunately, some cancers probably never will be curable, not least because cancers can mutate and develop resistance to the drugs we use to treat them.
But the overall optimism still stands: We are slowly and incrementally winning the war on cancer. Like terrorism, it's not a foe that we can completely vanquish, but it is one whose influence we can minimize in our lives.
Scroll down to load more…