The U.S. is Cow Country, and other lessons from this land use map
America's corn syrup fields are big enough to cover all its airports and railroads, and other surprising lessons from a 'tidied-up' map of America's land use zones
09 August, 2018
About 41% of all land in the coterminous U.S. is dedicated to cattle
Yes, this is America. The borders are all new, but the areas are correct; this is a map of land use in the contiguous United States, each category corralled into a homogenous rectangle. As you can see, humans have a minority stake in the nation. The U.S. is Cow Country.
---
Of course, this is not what America really looks like. The 1.9 billion acres in the coterminous states are a coast-to-coast jumble of residential areas, industrial zones, farmlands and more. This map gives all that the Ursus Wehrli treatment.
Mr Wehrli is a Swiss artist with an obsessive-compulsive bent. He produces before-and-after images of, among other things: alphabet soup, alphabetized; a parking lot full of cars, rearranged according to color; or René Magritte's famous It's raining men painting (1), with the bowler-hatted gentlemen lined up in three size categories.
The results are strangely satisfying 'tidied-up' images, and so is this map, regimenting statistical data into coherent cartographic cohorts. It doesn't even look too much out of order, given that most U.S. states are at least partially rectangular in shape anyway. The result: an illuminating overview of land management in the Lower 48.
The map is based on the six major land use (MLU) categories as defined by the U.S. Department of Agriculture, but also shows various subdivisions.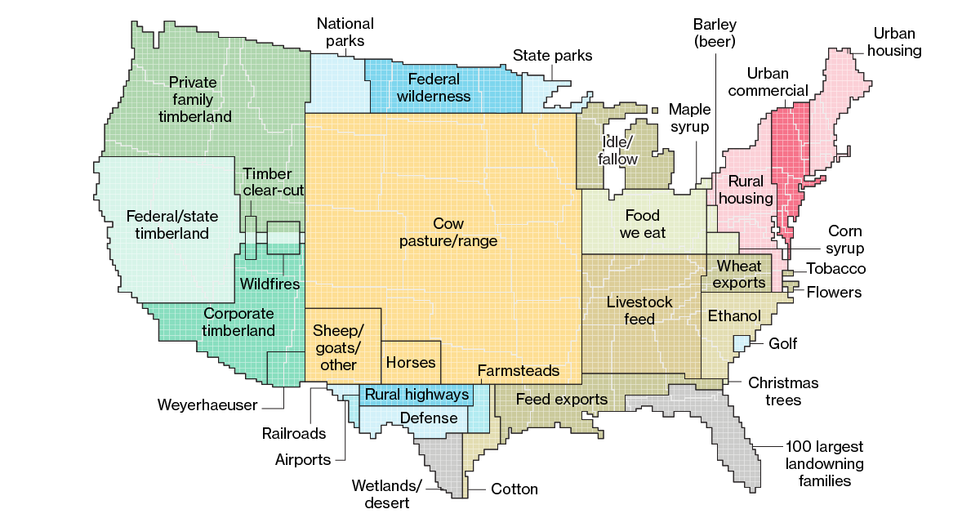 Pasture/range
654 million acres (about 35% of the total)
Judging by land use, the U.S. is dominated by cattle. More than one-third of the area of the contiguous states is given up to pasture—more than any other land use type. Most of it is for cows, with much smaller areas nibbled by horses, and sheep/goats/other.
About a quarter of pastureland is federally administered, mainly in the western states.
Adding up pasture and cropland used to produce feed (124.7 million acres), cattle dominate 41% of all land in the contiguous U.S.
Forest
539 million acres (28.5%)
These are forested areas outside of parks and reserves. About a quarter of the contiguous states are covered in these unprotected wooded areas.
About 11 million acres of timber are harvested every year, but thanks to regrowth, U.S. timber stock grew by about 1% per annum from 2007 to 2012.
The largest private owner of timberlands in the U.S. is a company called Weyerhaeuser. It owns 12.4 million acres or 2.3% of all available timber. Put differently: that's an area almost the size of West Virginia (or, on this map, a private fiefdom spanning the Arizona-New Mexico border).
Cropland
More of it is used for livestock feed (127 million acres) than for human consumption (77 million acres).
Most of the land planted with food we eat is covered by wheat, followed by soybeans, peanuts and oilseeds.
More land is dedicated to sugarcane and sugarbeets and maple syrup than to vegetables.
More than a third of the entire corn crop, or around 38 million acres, is dedicated to ethanol, for bio-diesel.
Around 21.5 million acres are planted with wheat for export, 63 million acres are used for growing other grain and feed exports.
Special use
Most of this is nature reserves, either state or national parks (15 and 29 million acres, respectively), but most of all federal wilderness areas (64 million acres).
Military areas cover around 25 million acres. That's about the size of Ohio.
Perhaps surprisingly, rural highways cover no less than 21 million acres. Farmsteads add up to 8 million acres, almost enough to cover New Hampshire.
Airports and railroads cover 3 million acres each, equal to the area of Connecticut (each) or Vermont (together).
Miscellaneous
Swamps, marshes, deserts, non-harvestable forests and generally any barren land of low economic value. Most of this category (about 50 million acres) is made up of rural residential lands.
Urban
About four in five Americans live in urban areas, which is about the size of the Northeast. Sounds like a good balance with nature. But urban areas have quadrupled in size since 1945, and are adding about a million acres—that's four of the squares on this map—each year.
For reference, the map indicates the approximate outlines of state borders and, in thinner white lines, a grid of squares with an area of 250,000 acres each.
For instance, that's the area covered by Christmas trees (conveniently corralled into one location on the coast of Georgia for this map).
Double that area is covered by tobacco plants (half a million acres), and double again by flowers (a million acres), both growing on the shores of North Carolina.
Double again: America's One Giant Golf Course, taking up 2 million acres on South Carolina's central coast.
One of the fastest-growing categories: land owned by the 100 largest private landowners. Was 28 million acres in 2008, is about 40 million acres now—slightly larger than the entire state of Florida.

Many thanks to all who sent in this map, found here on Bloomberg.
Strange Maps #928
Got a strange map? Let me know at strangemaps@gmail.com.
(1) Actual name: Golconda. Painted in 1953. Now at the Menil Collection in Houston, Texas. No motion is implied, so it's deliberately unclear whether they're rising, falling or hanging still in mid-air.
To create wiser adults, add empathy to the school curriculum.
Sponsored by Charles Koch Foundation
Stories are at the heart of learning, writes Cleary Vaughan-Lee, Executive Director for the Global Oneness Project. They have always challenged us to think beyond ourselves, expanding our experience and revealing deep truths.
Vaughan-Lee explains 6 ways that storytelling can foster empathy and deliver powerful learning experiences.
Global Oneness Project is a free library of stories—containing short documentaries, photo essays, and essays—that each contain a companion lesson plan and learning activities for students so they can expand their experience of the world.
This is what the world will look like, 250 million years from now
On Pangaea Proxima, Lagos will be north of New York, and Cape Town close to Mexico City
Surprising Science
To us humans, the shape and location of oceans and continents seems fixed. But that's only because our lives are so short.
The future of education and work will rely on teaching students deeper problem-solving skills.
Future of Learning
Asking kids 'What do you want to be when you grow up?' is a question that used to make sense, says Jaime Casap. But it not longer does; the nature of automation and artificial intelligence means future jobs are likely to shift and reform many times over.
Instead, educators should foster a culture of problem solving. Ask children: What problem do you want to solve? And what talents or passions do you have that can be the avenues by which you solve it?
"[T]he future of education starts on Monday and then Tuesday and then Wednesday and it's constant and consistent and it's always growing, always improving, and if we create that culture I think that would bring us a long way," Casap says.
These Jurassic predators resorted to cannibalism when hit with hard times, according to a deliciously rare discovery.
Stephanie K. Drumheller et.al
Surprising Science
Rare fossil evidence of dinosaur cannibalism among the Allosaurus has been discovered.
Scientists analyzed dinosaur bones found in the Mygatt-Moore Quarry in western Colorado, paying special attention to bite marks that were present on 2,368 of the bones.
It's likely that the predatory carnivore only ate their already-dead peers during times when resources were scarce.
Personal Growth
As a doctor, I am reminded every day of the fragility of the human body, how closely mortality lurks just around the corner.
Scroll down to load more…