The multiculturalism of World Cup teams
The fans supporting their teams at the World Cup in Russia are overwhelmingly white. Their teams? Not so much.
11 July, 2018
Belgian striker Romelu Lukaku failed to score a goal in the FIFA World Cup semi-final against France. The French team won by the smallest margin: 1-0.
---
Will Lukaku now go back to being called "the Belgian striker of Congolese descent"? His quote, in the graph below, highlights a curious dichotomy in the world of soccer.
Perhaps especially in the case of the World Cup and other international tournaments, soccer is a contradictory amalgam of exclusionary nationalism and a post-national multiculturalism that dare not speak its name.
While the fans indulge in flag-waving, anthem-singing and opponent-taunting, the teams on the pitch often resemble each other's multi-ethnic composition more than they do the overwhelming whiteness of their respective fan bases.
As this graph shows, many teams harbor a significant number of players of migrant descent.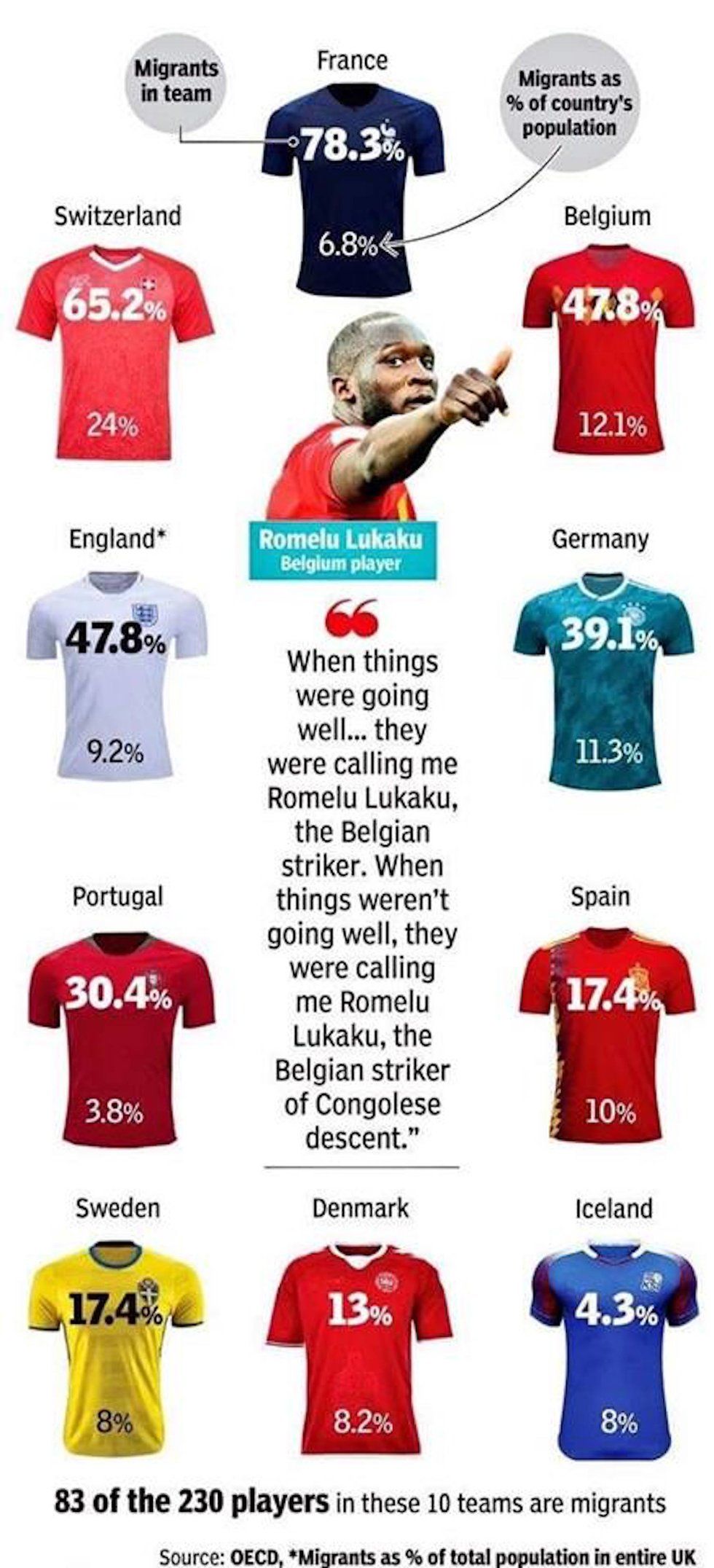 More than three-quarters of the players in the French team are the sons of foreigners, the same goes for almost half the Belgian players. In both cases, most have their roots in Africa.
In contrast, migrants constitute less than 7 percent of the total population of France and just over 12 percent of the Belgian population.
Switzerland has one of the highest shares of migrants in its total population — 24 percent — but that's still a far cry from the share of immigrants playing for the team: almost two-thirds.
Two Swiss players of Kosovo-Albanian descent barely escaped bans by their national league for making an eagle-like hand gesture after scoring goals against Serbia — the eagle is the national symbol of Serbian arch enemy Albania.
If the share of immigrants in the national team is anything to go by, integration is a success story in England (48 percent of immigrant players vs. 9 percent of immigrants in the general population), Germany (39 percent vs. 11 percent) and Portugal (30 percent vs. 4 percent).
The figures are relatively low for Spain (17 percent vs. 10 percent), Sweden (17 percent vs. 8 percent) and Denmark (13 percent vs. 8 percent). Iceland is the only team with a smaller share of immigrants in the team (4 percent) than in the general population (8 percent).
Map found via M. Deuze.
Strange Maps #922
Got a strange map? Let me know at strangemaps@gmail.com.
Former president of the ACLU Nadine Strossen discusses whether our society should always defend free speech rights, even for groups who would oppose such rights.
Sponsored by Charles Koch Foundation
Former ACLU president Nadine Strossen understands that protecting free speech rights isn't always a straightforward proposition.
In this video, Strossen describes the reasoning behind why the ACLU defended the free speech rights of neo-Nazis in Skokie, Illinois, 1977.
The opinions expressed in this video do not necessarily reflect the views of the Charles Koch Foundation, which encourages the expression of diverse viewpoints within a culture of civil discourse and mutual respect.
Designers from Luxembourg created a smart planter that can make anyone have a green thumb.
Technology & Innovation
A design team came up with a smart planter that can indicate 15 emotions.
The emotions are derived from the sensors placed in the planter.
The device is not in production yet but you can order it through a crowdfunding campaign.
If you don't want to know anything about your death, consider this your spoiler warning.
Culture & Religion
For centuries cultures have personified death to give this terrifying mystery a familiar face.
Modern science has demystified death by divulging its biological processes, yet many questions remain.
Studying death is not meant to be a morbid reminder of a cruel fate, but a way to improve the lives of the living.
Big Think Edge
Often times, interactions that we think are "zero-sum" can actually be beneficial for both parties.
Ask, What outcome will be good for both parties? How can we achieve that goal?
Afraid the win-win situation might not continue? Build trust by creating a situation that increases the probability you and your counterpart will meet again.