The multiculturalism of World Cup teams
The fans supporting their teams at the World Cup in Russia are overwhelmingly white. Their teams? Not so much.
11 July, 2018
When all goes well, Lukaku is a Belgian player. When it doesn't, he's a "Belgian player of Congolese descent."
Belgian striker Romelu Lukaku failed to score a goal in the FIFA World Cup semi-final against France. The French team won by the smallest margin: 1-0.
---
Will Lukaku now go back to being called "the Belgian striker of Congolese descent"? His quote, in the graph below, highlights a curious dichotomy in the world of soccer.
Perhaps especially in the case of the World Cup and other international tournaments, soccer is a contradictory amalgam of exclusionary nationalism and a post-national multiculturalism that dare not speak its name.
While the fans indulge in flag-waving, anthem-singing and opponent-taunting, the teams on the pitch often resemble each other's multi-ethnic composition more than they do the overwhelming whiteness of their respective fan bases.
As this graph shows, many teams harbor a significant number of players of migrant descent.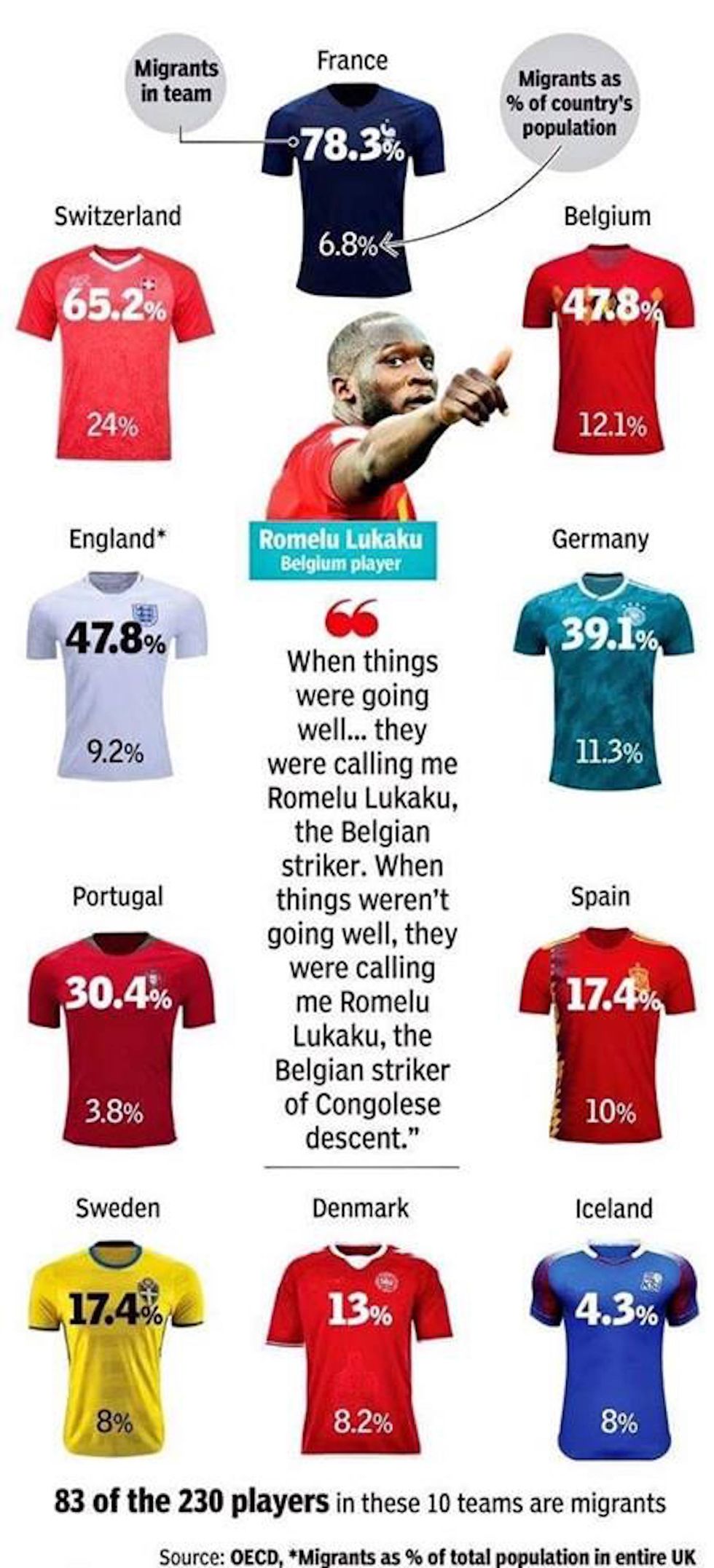 More than three-quarters of the players in the French team are the sons of foreigners, the same goes for almost half the Belgian players. In both cases, most have their roots in Africa.
In contrast, migrants constitute less than 7 percent of the total population of France and just over 12 percent of the Belgian population.
Switzerland has one of the highest shares of migrants in its total population — 24 percent — but that's still a far cry from the share of immigrants playing for the team: almost two-thirds.
Two Swiss players of Kosovo-Albanian descent barely escaped bans by their national league for making an eagle-like hand gesture after scoring goals against Serbia — the eagle is the national symbol of Serbian arch enemy Albania.
If the share of immigrants in the national team is anything to go by, integration is a success story in England (48 percent of immigrant players vs. 9 percent of immigrants in the general population), Germany (39 percent vs. 11 percent) and Portugal (30 percent vs. 4 percent).
The figures are relatively low for Spain (17 percent vs. 10 percent), Sweden (17 percent vs. 8 percent) and Denmark (13 percent vs. 8 percent). Iceland is the only team with a smaller share of immigrants in the team (4 percent) than in the general population (8 percent).
Map found via M. Deuze.
Strange Maps #922
Got a strange map? Let me know at strangemaps@gmail.com.
To create wiser adults, add empathy to the school curriculum.
Sponsored by Charles Koch Foundation
Stories are at the heart of learning, writes Cleary Vaughan-Lee, Executive Director for the Global Oneness Project. They have always challenged us to think beyond ourselves, expanding our experience and revealing deep truths.
Vaughan-Lee explains 6 ways that storytelling can foster empathy and deliver powerful learning experiences.
Global Oneness Project is a free library of stories—containing short documentaries, photo essays, and essays—that each contain a companion lesson plan and learning activities for students so they can expand their experience of the world.
This is what the world will look like, 250 million years from now
On Pangaea Proxima, Lagos will be north of New York, and Cape Town close to Mexico City
Surprising Science
To us humans, the shape and location of oceans and continents seems fixed. But that's only because our lives are so short.
The future of education and work will rely on teaching students deeper problem-solving skills.
Future of Learning
Asking kids 'What do you want to be when you grow up?' is a question that used to make sense, says Jaime Casap. But it not longer does; the nature of automation and artificial intelligence means future jobs are likely to shift and reform many times over.
Instead, educators should foster a culture of problem solving. Ask children: What problem do you want to solve? And what talents or passions do you have that can be the avenues by which you solve it?
"[T]he future of education starts on Monday and then Tuesday and then Wednesday and it's constant and consistent and it's always growing, always improving, and if we create that culture I think that would bring us a long way," Casap says.
As a doctor, I am reminded every day of the fragility of the human body, how closely mortality lurks just around the corner.
Photo by Alex Boyd on Unsplash
Personal Growth
'Despite all our medical advances,' my friend Jason used to quip, 'the mortality rate has remained constant – one per person.'
Videos
Tyson dives into the search for alien life, dark matter, and the physics of football.
Scroll down to load more…