The multiculturalism of World Cup teams
The fans supporting their teams at the World Cup in Russia are overwhelmingly white. Their teams? Not so much.
11 July, 2018
Belgian striker Romelu Lukaku failed to score a goal in the FIFA World Cup semi-final against France. The French team won by the smallest margin: 1-0.
---
Will Lukaku now go back to being called "the Belgian striker of Congolese descent"? His quote, in the graph below, highlights a curious dichotomy in the world of soccer.
Perhaps especially in the case of the World Cup and other international tournaments, soccer is a contradictory amalgam of exclusionary nationalism and a post-national multiculturalism that dare not speak its name.
While the fans indulge in flag-waving, anthem-singing and opponent-taunting, the teams on the pitch often resemble each other's multi-ethnic composition more than they do the overwhelming whiteness of their respective fan bases.
As this graph shows, many teams harbor a significant number of players of migrant descent.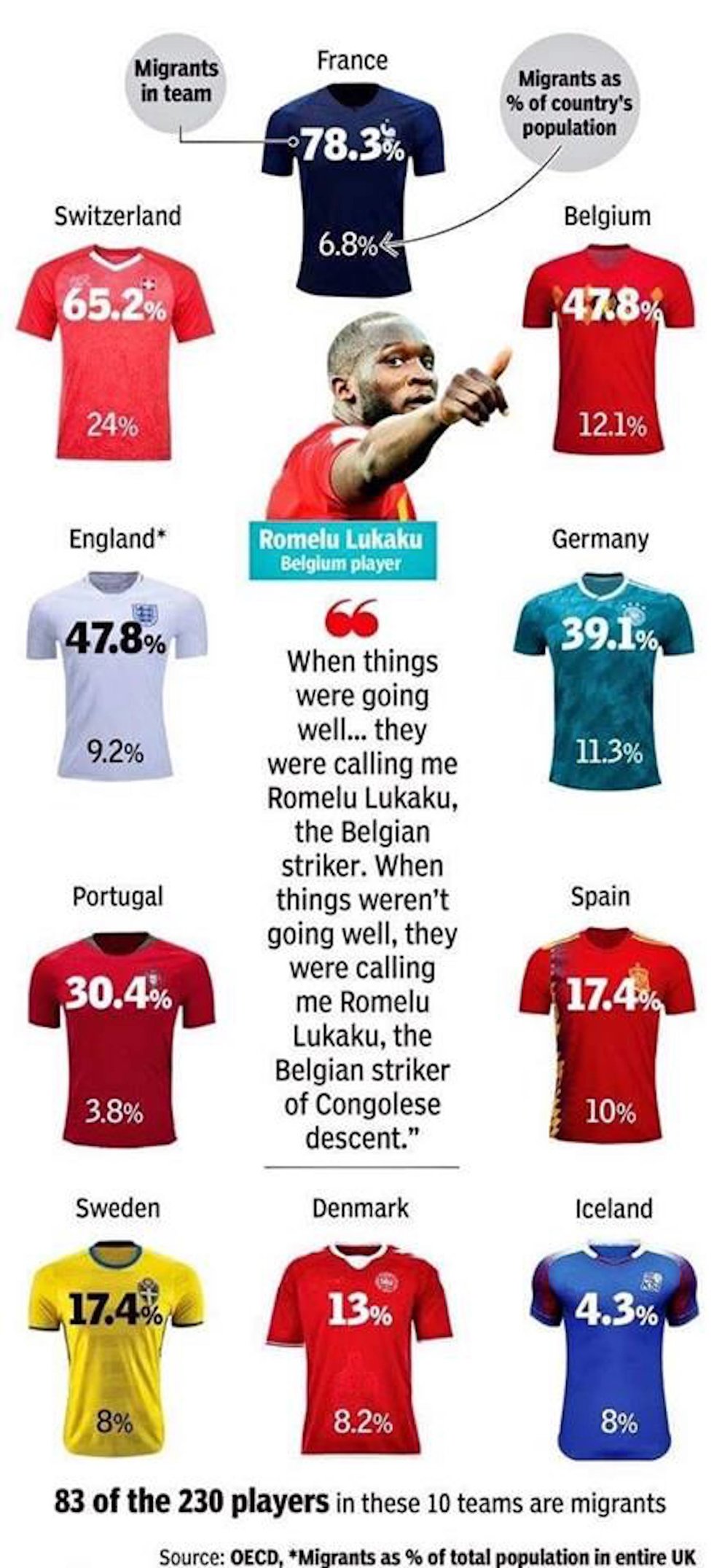 More than three-quarters of the players in the French team are the sons of foreigners, the same goes for almost half the Belgian players. In both cases, most have their roots in Africa.
In contrast, migrants constitute less than 7 percent of the total population of France and just over 12 percent of the Belgian population.
Switzerland has one of the highest shares of migrants in its total population — 24 percent — but that's still a far cry from the share of immigrants playing for the team: almost two-thirds.
Two Swiss players of Kosovo-Albanian descent barely escaped bans by their national league for making an eagle-like hand gesture after scoring goals against Serbia — the eagle is the national symbol of Serbian arch enemy Albania.
If the share of immigrants in the national team is anything to go by, integration is a success story in England (48 percent of immigrant players vs. 9 percent of immigrants in the general population), Germany (39 percent vs. 11 percent) and Portugal (30 percent vs. 4 percent).
The figures are relatively low for Spain (17 percent vs. 10 percent), Sweden (17 percent vs. 8 percent) and Denmark (13 percent vs. 8 percent). Iceland is the only team with a smaller share of immigrants in the team (4 percent) than in the general population (8 percent).
Map found via M. Deuze.
Strange Maps #922
Got a strange map? Let me know at strangemaps@gmail.com.
Lumina Foundation is partnering with Big Think to unearth the next large-scale, rapid innovation in post-high school education. Enter the competition here!
Evolutionarily speaking, being gay is still something of an enigma
Videos
Heterosexual people have been less interesting to scientists than gay people, in terms of where they come from, because, evolutionarily speaking, being gay doesn't lead to a higher "higher reproductive fitness" — meaning, it doesn't lead to more babies.
Across cultures, gay boys tend to be more interested in spending time with their mothers.
We still don't really know why gay people are attracted to each other.
The part of your brain responsible for ASMR catalogs music, and appears to be a stronghold against Alzheimer's and dementia.
The parts of the brain highlighted in red and yellow are thought to control your sense of attention and memory. (image c/o Brain Network Lab)
popular
Some music inspires you to move your feet, some inspires you to get out there and change the world. In any case, and to move hurriedly on to the point of this article, it's fair to say that music moves people in special ways. 
Creativity can bring about unchecked harm, but it's up to us how we wield it.
Mind & Brain
Suppose you forgot it was your partner's birthday, but you know that they would appreciate the smallest of gestures, say a bouquet. It's late at night and no florists are open. The cemetery on your way home has recently had a funeral, and you walk across the site and pick up a good-looking bouquet of roses from someone's grave. You then head home, and the flowers are happily received by your partner.
Would you say that you hurt anyone?
Big think's weekly newsletter.
Get smarter faster from the comfort of your inbox.
See our newsletter privacy policy
here
Most Popular
Most Recent
Big think's weekly newsletter.
Get smarter faster from the comfort of your inbox.
See our newsletter privacy policy
here
© Copyright 2007-2018 & BIG THINK, BIG THINK EDGE,
SMARTER FASTER trademarks owned by The Big Think, Inc. All rights reserved.