The Fountain of Hispanicity (Gets Two Things Wrong)
Celebrating Hispanic culture, the map-shaped fountain is one of Zaragoza's more curious attractions
11 April, 2016
 If you're visiting northeastern Spain this summer and like odd cartographic attractions, get thee to Zaragoza to check out the Fuente de la Hispanidad. Constructed on the city's central Plaza del Pilar in 1991, this 'Fountain of Hispanicity' celebrates the cultural links between Spain and Latin America not just in name, but by its very shape.
---
The fountain consists of a raised stone slab, into which are carved the coastlines of Cuba, Central America and the northern parts of South America. Water gushes over this slab into an adjacent pool, shaped like the rest of South America all the way down to Tierra del Fuego.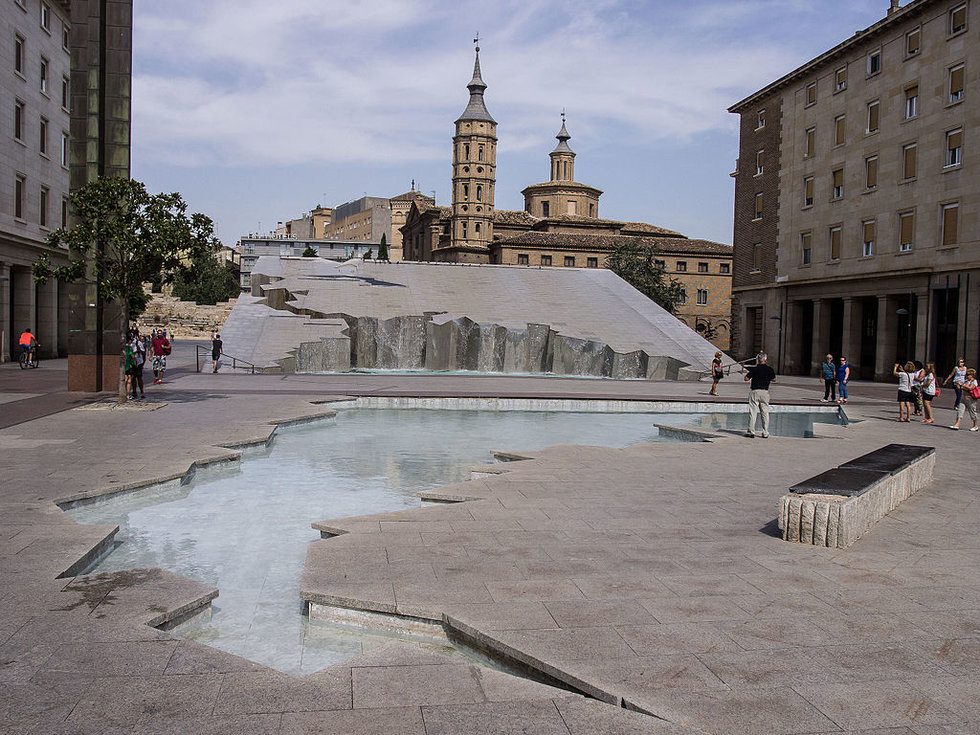 Strictly speaking, the fountain-shaped map is wrong on two counts: it is both incomplete and overinclusive. Hispanidad in its conventional definition covers 23 nations with Spanish heritage and culture. Most of them are indeed within the confines of the map/fountain, but some aren't – Spain itself isn't there, and neither are the Philippines and Equatorial Guinea, nor even those significant portions of the U.S. with Hispanic heritage. And on the other count, the map includes Brazil, which is part of a different, Portugal-based global club a.k.a. the Lusosphere (see also #545).
Geo-cultural inaccuracies aside, the location of the fountain itself is particularly apposite. It is located near the Basilica of Our Lady of the Pillar. The mother of Jesus is venerated here as the Virgen del Pilar ('Virgin of the Pillar') and Mother of the Hispanic Peoples.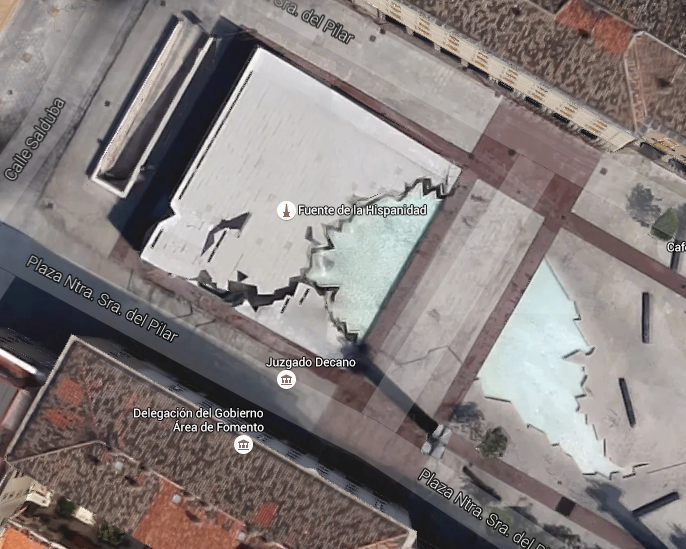 Legend has it that the church is built upon the spot of Mary's first apparition, to the apostle St James the Great, on 2 January of the year 40. James supposedly was the first Christian missionary in Spain, but was making little headway among the heathens. Discouraged, he turned in prayer to Mary.
When she appeared to him – her only apparition before the Assumption – she presented him with a wooden statue of herself on a column of jasper, saying that one day the faith of the locals would be as firm as that pillar, and instructed him to build a church in her honour.
James was later executed in Jerusalem, and still according to church lore, his body brought back to Spain for burial at a place in Galicia around which arose Santiago de Compostela, still a popular pilgrimage destination. The chapel he built on the south bank of the Ebro, now in the centre of Zaragoza, has been rebuilt many times, but it still contains a wooden statue of Mary, resting on a column of jasper.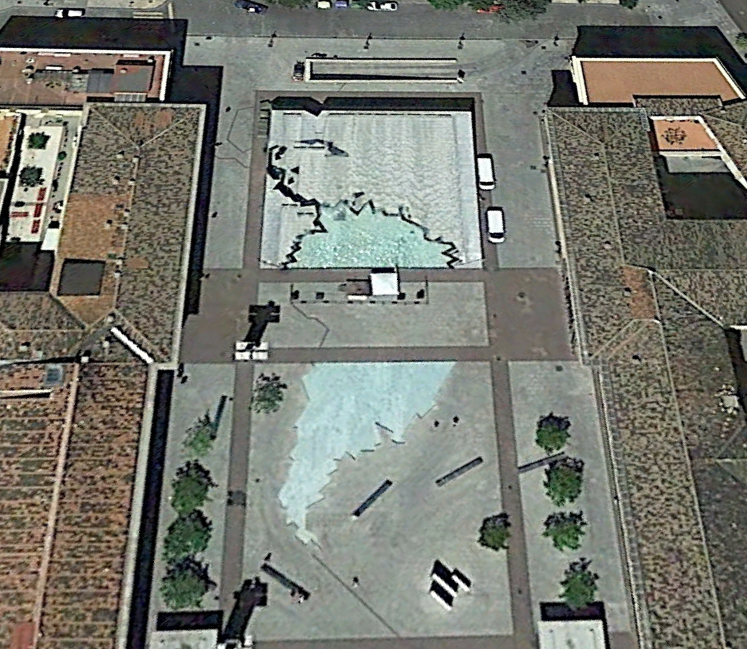 The Feast of Our Lady of the Pillar is held every year on 12 October. That is also the date on which Columbus discovered America. Known in the U.S. as Columbus Day, in Spain it is celebrated as both the National Day and the Dia de la Hispanidad – the start of the spread of Spanish culture throughout the Americas.
In 1730, Pope Clement XII sanctioned the celebration of the Virgén del Pilar throughout the Spanish Empire. In 1984, his successor John Paul II he came to Zaragoza to prostrate himself in front of the holy image of Mary, and honour La Señora del Pilar as Mother of the Hispanic Peoples.
Spain a bit far from your holiday destination this year? Here are some other map-based attractions across the world: Ciudad Evita in Argentina (#346), a model solar system along Route 1 in Maine (#428), a Nebraska-shaped field in Nebraska (#426), The World, off Dubai (#686), and a Danish map of the world (#727).
First image of the fountain by Francis Raher (found here on Wikimedia Commons), second image from Google Maps, third one from Google Earth. 
Strange Maps #778
Got a strange map? Let me know at strangemaps@gmail.com.
Malcolm Gladwell teaches "Get over yourself and get to work" for Big Think Edge.
Big Think Edge
Learn to recognize failure and know the big difference between panicking and choking.

At Big Think Edge, Malcolm Gladwell teaches how to check your inner critic and get clear on what failure is.

Subscribe to Big Think Edge before we launch on March 30 to get 20% off monthly and annual memberships.
We take fewer mental pictures per second.
Mind & Brain
Recent memories run in our brains like sped-up old movies.
In childhood, we capture images in our memory much more quickly.
The complexities of grownup neural pathways are no match for the direct routes of young brains.
A consortium of scientists and engineers have proposed that the U.S. and Mexico build a series of guarded solar, wind, natural gas and desalination facilities along the entirety of the border.
Credit: Purdue University photo/Jorge Castillo Quiñones
Politics & Current Affairs
The proposal was recently presented to several U.S. members of Congress.
The plan still calls for border security, considering all of the facilities along the border would be guarded and connected by physical barriers.
It's undoubtedly an expensive and complicated proposal, but the team argues that border regions are ideal spots for wind and solar energy, and that they could use the jobs and fresh water the energy park would create.
Melting ice is turning up bodies on Mt. Everest. This isn't as shocking as you'd think.
Surprising Science
Mt. Everest is the final resting place of about 200 climbers who never made it down.
Recent glacial melting, caused by global warming, has made many of the bodies previously hidden by ice and snow visible again.
While many bodies are quite visible and well known, others are renowned for being lost for decades.
The bodies that remain in view are often used as waypoints for the living. Some of them are well-known markers that have earned nicknames.
For instance, the image above is of "Green Boots," the unidentified corpse named for its neon footwear. Widely believed to be the body of Tsewang Paljor, the remains are well known as a guide point for passing mountaineers. Perhaps it is too well known, as the climber David Sharp died next to Green Boots while dozens of people walked past him- many presuming he was the famous corpse.
A large area below the summit has earned the discordant nickname "rainbow valley" for being filled with the bright and colorfully dressed corpses of maintainers who never made it back down. The sight of a frozen hand or foot sticking out of the snow is so common that Tshering Pandey Bhote, vice president of Nepal National Mountain Guides Association claimed: "most climbers are mentally prepared to come across such a sight."
Other bodies are famous for not having been found yet. Sandy Irvine, the partner of George Mallory, may have been one of the first two people to reach the summit of Everest a full thirty years before Edmund Hillary and Tenzing Norgay did it. Since they never made it back down, nobody knows just how close to the top they made it.
Mallory's frozen body was found by chance in the nineties without the Kodak cameras he brought up to record the climb with. It has been speculated that Irvine might have them and Kodak says they could still develop the film if the cameras turn up. Circumstantial evidence suggests that they died on the way back down from the summit, Mallory had his goggles off and a photo of his wife he said he'd put at the peak wasn't in his coat. If Irving is found with that camera, history books might need rewriting.
As Everest's glaciers melt its morbid history comes into clearer view. Will the melting cause old bodies to become new landmarks? Will Sandy Irvine be found? Only time will tell.
<div class="ad-tag"> <div class="ad-tag__inner"> <div class="gallery_ad"></div> </div> </div>
Big think's weekly newsletter.
Get smarter faster from the comfort of your inbox.
See our newsletter privacy policy
here
Most Popular
Most Recent
Big think's weekly newsletter.
Get smarter faster from the comfort of your inbox.
See our newsletter privacy policy
here
© Copyright 2007-2018 & BIG THINK, BIG THINK EDGE,
SMARTER FASTER trademarks owned by The Big Think, Inc. All rights reserved.