The Mapa Cor-de-rosa: A Portuguese Empire That Never Was
This trans-African colony could have rivalled Brazil for dominance of the Portuguese-speaking world.
20 December, 2011
Philip K. Dick never found the source of the mysterious messages he received during his 'mystic episode' in early 1974. The science fiction writer had a few theories, though: Soviet scientists experimenting with psychotronics, the Rosicrucians [1], an alien satellite, even an entity called the Portuguese States of America. That putative nation, possibly similar to the US but with a Portuguese instead of an English root, had Dick obsessed with the possibility of parallel universes [2].
---
In one of those parallel universes, there exists a country called the Portuguese States of Africa, spanning southern Africa from its Atlantic coast all the way to the Indian Ocean. This country, a transcontinental Lusophone [3] giant perhaps to rival Brazil, is based on more evidence in this world than PKD's possibly merely psychotic visions. It was envisaged in this Mapa Cor-de-rosa (the 'Pink Map').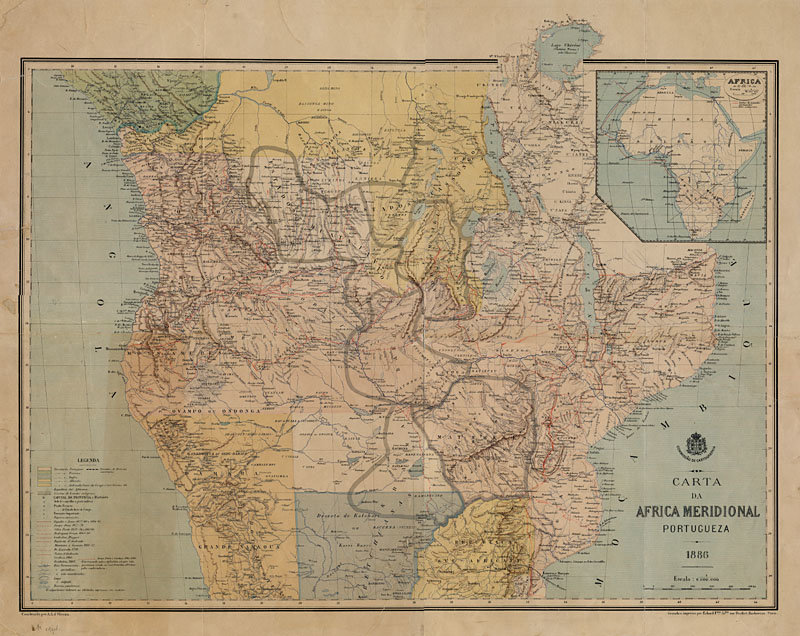 The original Mapa Cor-de-rosa, showing an unbroken chain of Portuguese territory from the Angolan to the Mozambican coasts (image found here at Nos e a historia, a Portuguese history blog).
The original version of the Pink Map was drawn up in 1886. Those were the early days of the Scramble for Africa. By 1913, no more than seven European powers [4] held colonial sway over almost all of Africa. Only two states remained independent: Liberia, founded in the early 19th century as a refuge for freed American slaves in the west; and the ancient empire of Abyssinia (nowadays known as Ethiopia) in the east.
In the intervening years, the colonial ambitions of Portugal and Britain clashed in the southern interior of Africa. The British master plan for a string of colonies from 'Cape to Cairo' finally compelled the Portuguese to venture inland from Angola and Mozambique, coastal colonies they'd held for centuries, and unite them into a grand Afro-Portuguese empire.
Lisbon sent out explorers into the projected interior of its future mega-colony. That the names Capelo, Ivens and Serpa Pinto don't ring out like the one of their British rival Livingstone is no comment on their achievements, but rather a sign that theirs was the losing side in the tug of war over southern Africa.
Portugal attached the Pink Map to its colonial treaties with France and Germany, countries that were not involved in the area concerned - covering present-day Zimbabwe, Malawi and most of Zambia. Britain, the one country it did have to convince, was too powerful to not have its way. In 1890, London issued an ultimatum, demanding Portugal retreat from the area and abandon claims of sovereignty. Or: a break-off of diplomatic ties and, ultimately, war.
The Portuguese territory indicated on the Pink Map shown in clearer contrast, and in relation to other Portuguese holdings in Africa (Sao Tome, Guinea-Bissau, Cabo Verde). Map found here at the Federation of Free States of Africa).
King Carlos I of Portugal meekly agreed - damaging the reputation of the monarchy so irreparably that the Mapa Cor-de-rosa affair was still considered a factor 20 years later, when the Republican Revolution of 1910 overthrew the monarchy. A century on, the Portuguese still aren't entirely over the Ultimatum. In the fighting words of the chorus to their national anthem, written in the heady days after the Ultimatum: "Às armas, às armas!/Sobre a terra, sobre o mar,/Às armas, às armas!/Pela Pátria lutar!/Contra os canhões, marchar, marchar!" [5] Even though the enemy remains unnamed, it's obvious to the Portuguese who they are: the perfidious British, who had stabbed their oldest ally in the back [6].
This episode sheds light on an earlier post on this blog, showing the size of Portugal's colonies in relation to that of Europe [7]. And here is a similar example of Portuguese propaganda, using the size of its colonies to mitigate its inferiority complex. Angola might not have linked up with Mozambique to create a Portuguese States of America, it's still big enough to contain Portugal ten times over - with some room to spare.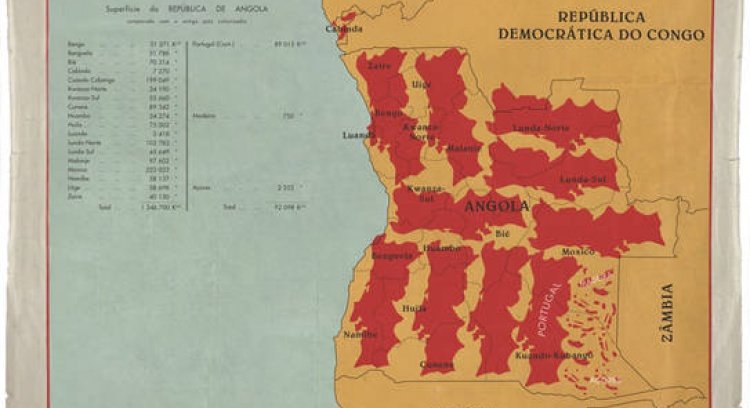 The Angola map taken here from a PPL.
Strange Maps #545 
Got a strange map? Let me know at strangemaps@gmail.com.
_________
[1] A secret society founded in the early 17th century, and devoted to the study of esoteric wisdom.
[2] For a thorough examination of Dick's fascinating 'mystic' experiences, see this page at the Gnosis Archive.
[3] Portuguese-speaking, derived from Lusitania, the Roman province that covered most of present-day Portugal. The 'Lusosphere' comprises Portugal and its former colonial empire: Brazil (in America); Angola, Mozambique, Cape Verde, Guinea-Bissau, São Tomé and Príncipe (in Africa); and East Timor and the Chinese city-region of Macau. All of these (except Macau) form the Community of Portuguese Language Countries.
[4] Great Britain, France, Germany, Portugal, Italy, Spain and Belgium.
[5] "To arms, to arms!/Over land, over sea,/To arms, to arms!/For the Fatherland, fight!/Against the cannons, march, march!"
[6] The 1377 Treaty of Windsor, pledging mutual support between Portugal and England, is the oldest diplomatic treaty still in force (in spite of the Ultimatum of 1890).
[7] Strange Maps #390: "Portugal Is Not A Small Country". 
Lumina Foundation is partnering with Big Think to unearth the next large-scale, rapid innovation in post-high school education. Enter the competition here!
Evolutionarily speaking, being gay is still something of an enigma
Videos
Heterosexual people have been less interesting to scientists than gay people, in terms of where they come from, because, evolutionarily speaking, being gay doesn't lead to a higher "higher reproductive fitness" — meaning, it doesn't lead to more babies.
Across cultures, gay boys tend to be more interested in spending time with their mothers.
We still don't really know why gay people are attracted to each other.
The part of your brain responsible for ASMR catalogs music, and appears to be a stronghold against Alzheimer's and dementia.
The parts of the brain highlighted in red and yellow are thought to control your sense of attention and memory. (image c/o Brain Network Lab)
popular
Some music inspires you to move your feet, some inspires you to get out there and change the world. In any case, and to move hurriedly on to the point of this article, it's fair to say that music moves people in special ways. 
Creativity can bring about unchecked harm, but it's up to us how we wield it.
Mind & Brain
Suppose you forgot it was your partner's birthday, but you know that they would appreciate the smallest of gestures, say a bouquet. It's late at night and no florists are open. The cemetery on your way home has recently had a funeral, and you walk across the site and pick up a good-looking bouquet of roses from someone's grave. You then head home, and the flowers are happily received by your partner.
Would you say that you hurt anyone?
Big think's weekly newsletter.
Get smarter faster from the comfort of your inbox.
See our newsletter privacy policy
here
Most Popular
Most Recent
Big think's weekly newsletter.
Get smarter faster from the comfort of your inbox.
See our newsletter privacy policy
here
© Copyright 2007-2018 & BIG THINK, BIG THINK EDGE,
SMARTER FASTER trademarks owned by The Big Think, Inc. All rights reserved.