Big ideas.
Once a week.
Subscribe to our weekly newsletter.
Some Very Curious Maps of London
Visit the place where in 1593 an astrologer and a playwright used a shamanic ritual to found the British Empire
14 May, 2017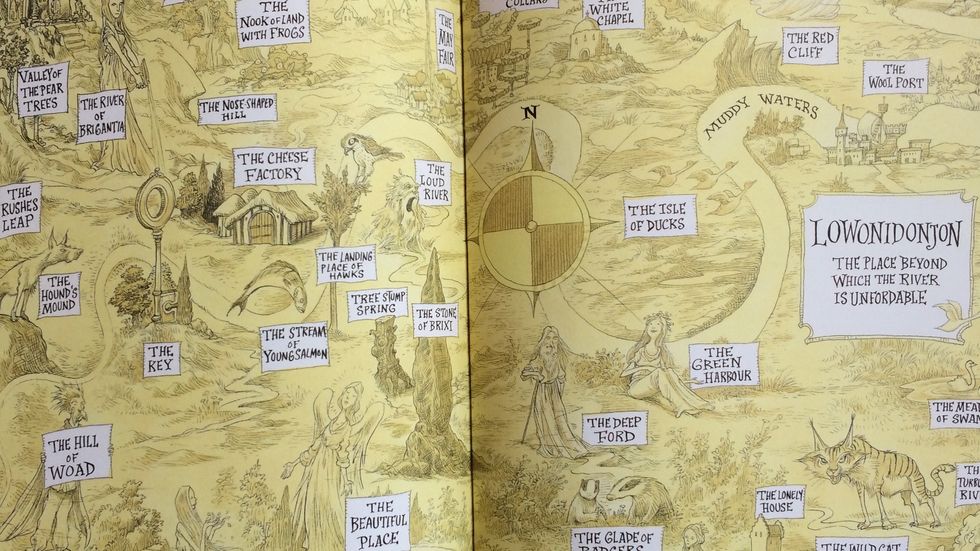 ---
Footnote #3 on p. 331 of Curiocity goes as follows: "There is only one Tube station that share no letters with the word 'mackerel'. It is mentioned on p. 297". Try to find that nugget of trivia in any other London guidebook. 
As humans migrate to cities, the list of megacities that dot the globe grows longer each year. But London is a special kind of metropolis. Not as old as Rome, nor as big as Beijing, it can still claim to be the true capital of the world – it has the right configuration of history, charm and global appeal.
No wonder a place like London generates a metric ton of guidebooks every year - to the frustration of londonists (1) everywhere, because most of these mostly repeat the same old highlights.
Curiocity does not fall into that trap. It leaves the tired tropes to those other guides, and provides London with a trivia-rich compendium that befits the British capital.
Written by Henry Eliot and Matt Lloyd-Rose, Curiocity is the end result of the eight-issue magazine they produced from 2009. In that earlier incarnation, Curiocity was a series of foldable maps, each a richly illustrated guide to the lesser-known aspects of London.
As a cloth-bound, 450-page treasure trove, Curiocity maintains its original balance between the encyclopaedic and the cartographic.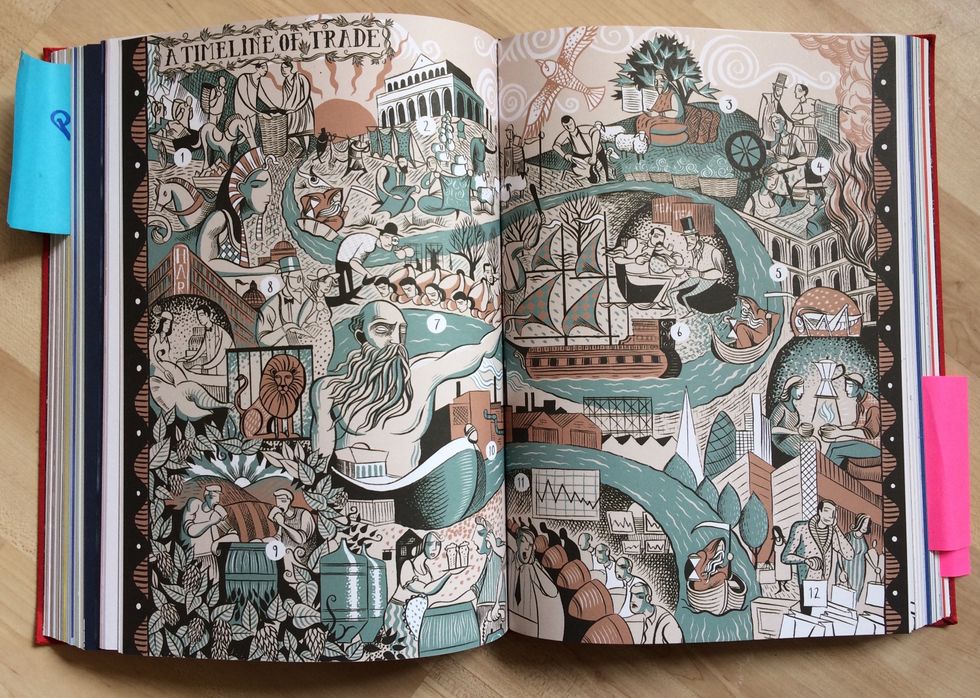 Its twenty-six chapters run from A (Atlas) to Z (Zones), taking in such subjects as Dust, Grid, Vanitas and Ylem (the hypothetical primordial matter of the universe). Each chapter is centred on a map, illustrating that letter's particular aspect of the kaleidoscopic city – see above for the map on Trade.
The book abounds with illustrations, footnotes, infographics, cross-references. And maps. In line with Curiocity's overall attitude, they avoid the obvious and delight in the obscure. Here are some examples of the many that fill the book's pages.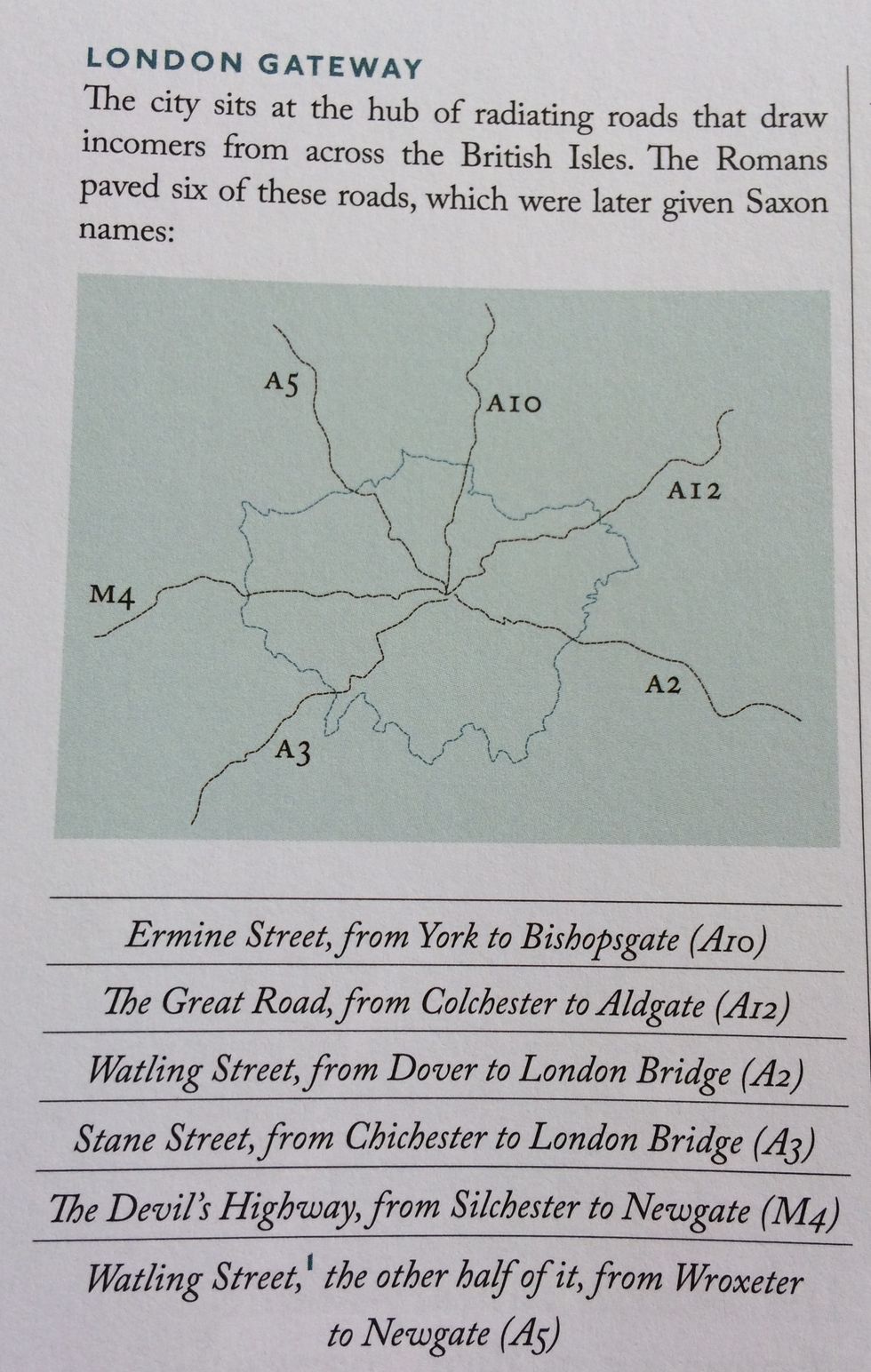 London sits at the convergence of six ancient roads that were paved by the Romans. The descendants of those roads are still in use today.
Ermine Street, leading north from Bishopsgate, is the A 10. The Great Road, from Aldgate to the northeast, today goes by A12. Watling street, from London Bridge to the southeast, survives as the A2. Also leaving from London Bridge, but running to the southwest, is Stane Street – a.k.a. the A3. The ominous Devil's Highway leads west from Newgate, also the starting (or end) point for Watling Street to the northwest.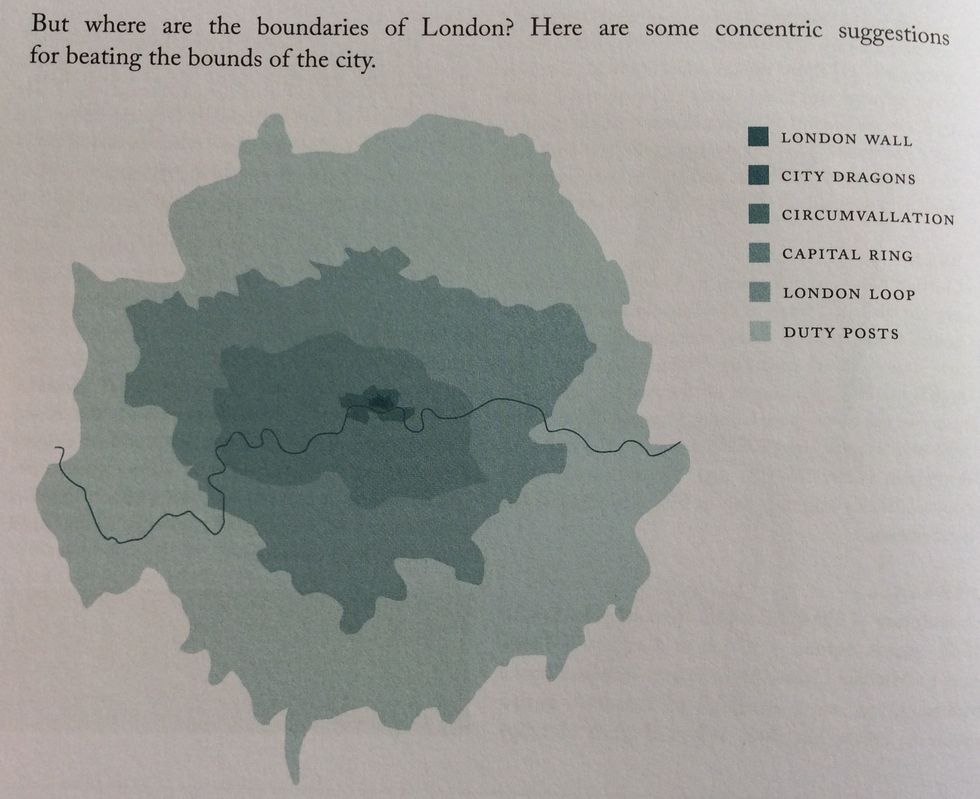 How big is London? The city is surprisingly difficult to pin down. Here are some suggestions for its borders:
The London Wall, a twenty-foot brick wall built by the Romans in 200 AD with seven gates, the names of which still reverberate: Ludgate, Newgate, Aldersgate, Cripplegate, Moorgate, Bishopsgate and Aldgate.
The City Dragons, a collection of 13 guardian statues put up in the 1960s to mark the boundary of the City Corporation's jurisdiction.
The Circumvallation, walked by Daniel Defoe in 1725 as the outer perimeter of "continued buildings that in the common acceptation are called London".
The Capital Ring, a 78-mile circular signed walk launched in 2005, connecting green spaces such as the Thames Barrier park, Richmond Park and the Walthamstow Marshes.
Completed in 2001, the LOOP – short for London Outer Orbital Path – traces the edges of Outer London, including Enfield Lock, Hall Place and Farthing Down.
The 218 surviving Duty Posts mark the area in which taxes on coal were once payable to the City Corporation.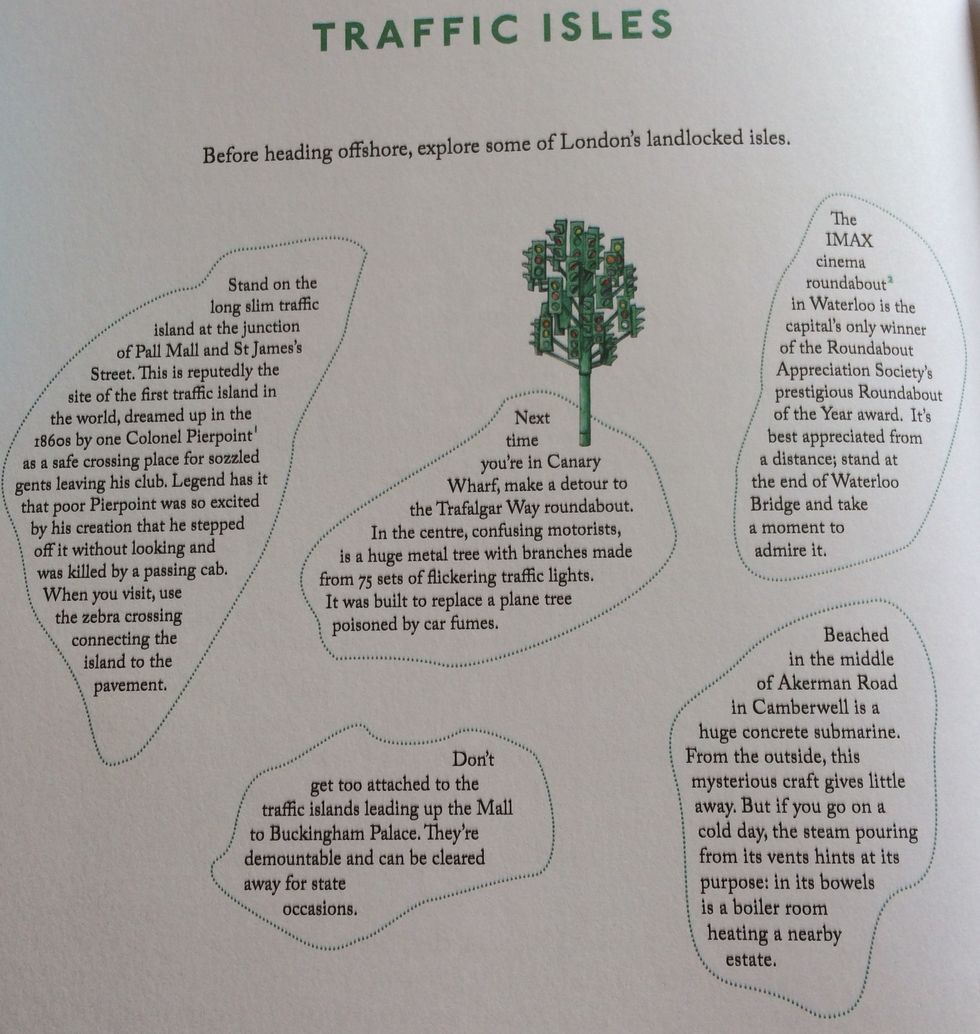 The Thames failed to provide London with an island in the city centre, like the Seine did with the Île de la Cité at the heart of Paris. But London's river nevertheless contains some 190 islands from source to sea. In its chapter about Isles, Curiocity discusses urban loneliness as a more symbolic form of insularity, gives a potted history of Eel Pie Island and other actual Thames eyots (2), and – on this map – a more prosaic form of isolation: traffic islands.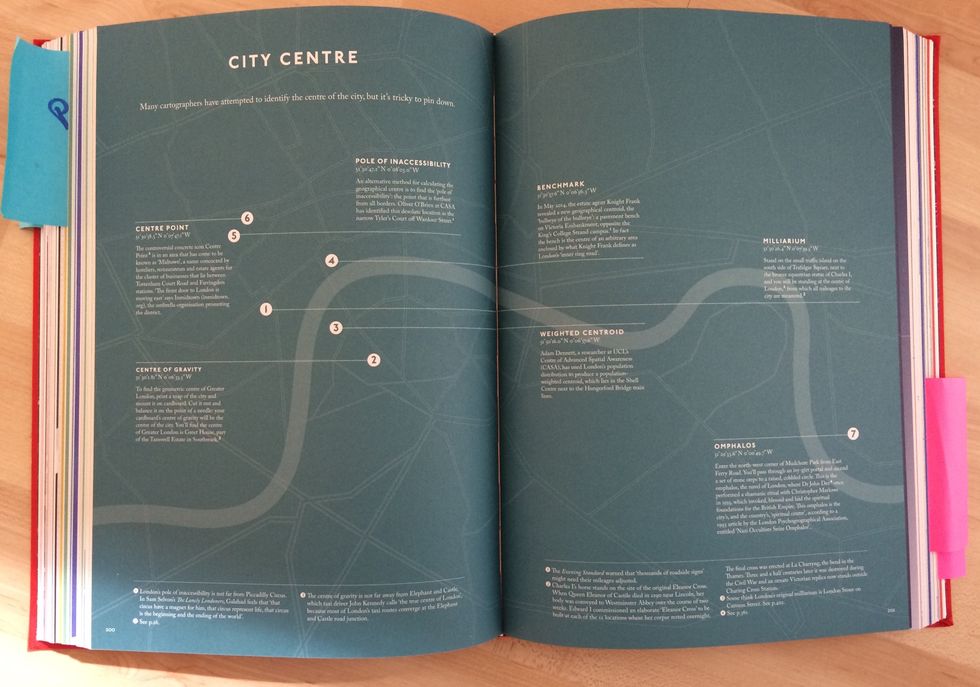 Where is London's centre? Not surprisingly for a city the confines of which are so debatable, the question has divided the experts. Here are some suggestions:
1. Milliarium: The small traffic island (!) on the south side of Trafalgar Square, next to the bronze equestrian statue of Charles I, is the place from which all mileages to the city are measured. 
2. Centre of Gravity: The geometric centre of Greater London is Greet House, part of the Tanswell Estate in Southwark.
3. Weighted Centroid: The population-weighted centroid lies in the Shell Centre next to the Hungerford Bridge train lines.
4. Benchmark: Estate agent Knight Frank identified a pavement bench on Victoria Embankment as the "bullseye of the bullseye" of an area defined by London's inner ring road.
5. Pole of Inaccessibility: The point furthest from London's outer borders is Tyler's Court, off Wardour Street in Soho.
6. Centre Point: An example of ambitious self-definition, the Sixties building at the northeast corner of Soho was christened Centre Point. It now sits in the middle of an area dubbed Midtown by eager estate agents.
7. Omphalos: A raised, cobbled circle now in the north-west corner of Mudchute Park on the Isle of Dogs. In 1593, Dr. John Dee and Christopher Marlowe performed a shamanic ritual here to lay the spiritual foundations of the British Empire.
Curiocity has been praised as "the greatest book about London published in modern times". Such hyperbolic praise seems very un-British (though perhaps not very un-London). However, the book does unite the most appealing elements of atlases, encyclopaedias, city guides and general-knowledge handbooks into a psycho-geographic primer of a city at the peak of its global appeal and influence. You can dive in anywhere and learn something new on every page – a joy enhanced with more than a handful of wonderful maps sprinkled throughout the book.  
By the way: the only Tube station that shares no letters with 'mackerel', is St John's Wood.
Strange Maps #840 
Got a strange map? Let me know at strangemaps@gmail.com.
(1) A person with an obsessive interest in London, not necessarily a resident of the city. Also a magazine, with a similar attitude. See also here.
(2) Eyots, also known as aits, are river islands, especially used to refer to river islands in the Thames.
Certain water beetles can escape from frogs after being consumed.
Surprising Science
A Japanese scientist shows that some beetles can wiggle out of frog's butts after being eaten whole.
The research suggests the beetle can get out in as little as 7 minutes.
Most of the beetles swallowed in the experiment survived with no complications after being excreted.
In what is perhaps one of the weirdest experiments ever that comes from the category of "why did anyone need to know this?" scientists have proven that the Regimbartia attenuata beetle can climb out of a frog's butt after being eaten.
The research was carried out by Kobe University ecologist Shinji Sugiura. His team found that the majority of beetles swallowed by black-spotted pond frogs (Pelophylax nigromaculatus) used in their experiment managed to escape about 6 hours after and were perfectly fine.
"Here, I report active escape of the aquatic beetle R. attenuata from the vents of five frog species via the digestive tract," writes Sugiura in a new paper, adding "although adult beetles were easily eaten by frogs, 90 percent of swallowed beetles were excreted within six hours after being eaten and, surprisingly, were still alive."
One bug even got out in as little as 7 minutes.

Sugiura also tried putting wax on the legs of some of the beetles, preventing them from moving. These ones were not able to make it out alive, taking from 38 to 150 hours to be digested.
Naturally, as anyone would upon encountering such a story, you're wondering where's the video. Thankfully, the scientists recorded the proceedings:
The Regimbartia attenuata beetle can be found in the tropics, especially as pests in fish hatcheries. It's not the only kind of creature that can survive being swallowed. A recent study showed that snake eels are able to burrow out of the stomachs of fish using their sharp tails, only to become stuck, die, and be mummified in the gut cavity. Scientists are calling the beetle's ability the first documented "active prey escape." Usually, such travelers through the digestive tract have particular adaptations that make it possible for them to withstand extreme pH and lack of oxygen. The researchers think the beetle's trick is in inducing the frog to open a so-called "vent" controlled by the sphincter muscle.
"Individuals were always excreted head first from the frog vent, suggesting that R. attenuata stimulates the hind gut, urging the frog to defecate," explains Sugiura.
For more information, check out the study published in Current Biology.
The design of a classic video game yields insights on how to address global poverty.
Politics & Current Affairs
A new essay compares the power-up system in Mario Kart to feedback loops in real-life systems.
Both try to provide targeted benefits to those who most need them.
While games are simpler than reality, Mario's example makes the real-life cases easier to understand.
Poverty can be a self-sustaining cycle that might require an external influence to break it. A new paper published in Nature Sustainability and written by professor Andrew Bell of Boston University suggests that we could improve global anti-poverty and economic development systems by turning to an idea in a video game about a race car-driving Italian plumber.
A primer on Mario Kart
For those who have not played it, Mario Kart is a racing game starring Super Mario and other characters from the video game franchise that bears his name. Players race around tracks collecting power-ups that can directly help them, such as mushrooms that speed up their karts, or slow down other players, such as heat-seeking turtle shells that momentarily crash other karts.
The game is well known for having a mechanism known as "rubber-banding." Racers in the front of the pack get wimpy power-ups, like banana peels to slip up other karts, while those toward the back get stronger ones, like golden mushrooms that provide extra long speed boosts. The effect of this is that those in the back are pushed towards the center, and those in front don't get any boosts that would make catching them impossible.
If you're in last, you might get the help you need to make a last-minute break for the lead. If you're in first, you have to be on the lookout for these breakouts (and the ever-dreaded blue shells). The game remains competitive and fun.
Rubber-banding: A moral and economic lesson from Mario Kart
In the real world, we see rubber-banding used all the time. Welfare systems tend to provide more aid to those who need it than those who do not. Many of them are financed by progressive taxation, which is heavier on the well-off than the down-and-out. Some research suggests that these do work, as countries with lower levels of income inequality have higher social mobility levels.
It is a little more difficult to use rubber-banding in real life than in a video game, of course. While in the game, it is easy to decide who is doing well and who is not, things can be a little more muddled in reality. Furthermore, while those in a racing game are necessarily antagonistic to each other, real systems often strive to improve conditions for everybody or to reach common goals.
As Bell points out, rubber-banding can also be used to encourage sustainable, growth programs that help the poor other than welfare. They point out projects such as irrigation systems in Pakistan or Payments for Ecosystems Services (PES) schemes in Malawi, which utilize positive feedback loops to both provide aid to the poor and promote stable systems that benefit everyone.
Rubber-banding feedback loops in different systems. Mario Kart (a), irrigation systems in Pakistan (b), and PES operations in Malawi (c) are shown. Links between one better-off (blue) and one worse-off (red) individual are highlighted. Feedback in Mario Kart (a), designed to balance the racers, imprAndrew Bell/ Nature Sustainability
In the Malawi case, farmers were paid to practice conservation agriculture to reduce the amount of sediment from their farms flowing into a river. This immediately benefits hydroelectric producers and their customers but also provides real benefits to farmers in the long run as their soil doesn't erode. By providing an incentive to the farmers to conserve the soil, a virtuous cycle of conservation, soil improvement, and improved yields can begin.
While this loop differs from the rubber-banding in Mario, the game's approach can help illustrate the benefits of rubber-banding in achieving a more equitable world.
The task now, as Bell says in his paper, is to look at problems that exist and find out "what the golden mushroom might be."
Satellite imagery can help better predict volcanic eruptions by monitoring changes in surface temperature near volcanoes.
Credit:
Ammit
via Adobe Stock
Surprising Science
A recent study used data collected by NASA satellites to conduct a statistical analysis of surface temperatures near volcanoes that erupted from 2002 to 2019.
The results showed that surface temperatures near volcanoes gradually increased in the months and years prior to eruptions.
The method was able to detect potential eruptions that were not anticipated by other volcano monitoring methods, such as eruptions in Japan in 2014 and Chile in 2015.
How can modern technology help warn us of impending volcanic eruptions?
One promising answer may lie in satellite imagery. In a recent study published in Nature Geoscience, researchers used infrared data collected by NASA satellites to study the conditions near volcanoes in the months and years before they erupted.
The results revealed a pattern: Prior to eruptions, an unusually large amount of heat had been escaping through soil near volcanoes. This diffusion of subterranean heat — which is a byproduct of "large-scale thermal unrest" — could potentially represent a warning sign of future eruptions.
Conceptual model of large-scale thermal unrestCredit: Girona et al.
For the study, the researchers conducted a statistical analysis of changes in surface temperature near volcanoes, using data collected over 16.5 years by NASA's Terra and Aqua satellites. The results showed that eruptions tended to occur around the time when surface temperatures near the volcanoes peaked.

Eruptions were preceded by "subtle but significant long-term (years), large-scale (tens of square kilometres) increases in their radiant heat flux (up to ~1 °C in median radiant temperature)," the researchers wrote. After eruptions, surface temperatures reliably decreased, though the cool-down period took longer for bigger eruptions.
"Volcanoes can experience thermal unrest for several years before eruption," the researchers wrote. "This thermal unrest is dominated by a large-scale phenomenon operating over extensive areas of volcanic edifices, can be an early indicator of volcanic reactivation, can increase prior to different types of eruption and can be tracked through a statistical analysis of little-processed (that is, radiance or radiant temperature) satellite-based remote sensing data with high temporal resolution."
Temporal variations of target volcanoesCredit: Girona et al.
Although using satellites to monitor thermal unrest wouldn't enable scientists to make hyper-specific eruption predictions (like predicting the exact day), it could significantly improve prediction efforts. Seismologists and volcanologists currently use a range of techniques to forecast eruptions, including monitoring for gas emissions, ground deformation, and changes to nearby water channels, to name a few.

Still, none of these techniques have proven completely reliable, both because of the science and the practical barriers (e.g. funding) standing in the way of large-scale monitoring. In 2014, for example, Japan's Mount Ontake suddenly erupted, killing 63 people. It was the nation's deadliest eruption in nearly a century.
In the study, the researchers found that surface temperatures near Mount Ontake had been increasing in the two years prior to the eruption. To date, no other monitoring method has detected "well-defined" warning signs for the 2014 disaster, the researchers noted.
The researchers hope satellite-based infrared monitoring techniques, combined with existing methods, can improve prediction efforts for volcanic eruptions. Volcanic eruptions have killed about 2,000 people since 2000.
"Our findings can open new horizons to better constrain magma–hydrothermal interaction processes, especially when integrated with other datasets, allowing us to explore the thermal budget of volcanoes and anticipate eruptions that are very difficult to forecast through other geophysical/geochemical methods."
Surprising Science
New research from the University of Granada found that stress could help determine sex.
Scroll down to load more…