Should you wear long johns? There's a map for that
Mapping your daily long john needs since 2011 (Canada only)
Frank Jacobs
From a young age, Frank was fascinated by maps and atlases, and the stories they contained. Finding his birthplace on the map in the endpapers of Tolkien's Lord of the Rings only increased his interest in the mystery and message of maps.
While pursuing a career in journalism, Frank started a blog called Strange Maps, as a repository for the weird and wonderful cartography he found hidden in books, posing as everyday objects and (of course) floating around the Internet.
"Each map tells a story, but the stories told by your standard atlas for school or reference are limited and literal: they show only the most practical side of the world, its geography and its political divisions. Strange Maps aims to collect and comment on maps that do everything but that - maps that show the world from a different angle".
A remit that wide allows for a steady, varied diet of maps: Frank has been writing about strange maps since 2006, published a book on the subject in 2009 and joined Big Think in 2010. Readers send in new material daily, and he keeps bumping in to cartography that is delightfully obscure, amazingly beautiful, shockingly partisan, and more.
31 January, 2018
---
Long johns are popular in Canada, as in other cold countries. If you have to brave deep-freeze temperatures, you'll be glad you're wearing them. But when exactly do the benefits of long johns outweigh the trouble and discomfort of getting them on? Only Canada has a daily forecast on whether and where they should be worn.
Every weekday since 2011, an index rating and weather map has been produced by the 'Long John Index Service of Canada' – despite the official-sounding name, not an official government agency.
Nor is the Long John Index itself at all scientific. "It is used for entertainment and gambling purposes, and should not be confused with your preferred weather service", the LJI website disclaims.
Yet there is method to the index, which runs on a scale from 1 to 5, 1 being the lowest point (at the freezing point of 0°C/32°F). Basically, for every 10°C the temperature drops, the index goes up by one point. And the time spent outside without long johns decreases.
At LJI 1 (0°C to -9°C, no wind chill), you shouldn't need any long johns unless you're spending 7 or more hours outside and standing as still as "one of those creepy living mannequins". 
At LJI 2 (same temperature range as above, but with "wind strong enough to knock over mini vans"), you should spend no more than two hours outside without long johns.
LJI 3 means temperatures of -10°C to -19°C (14°F to -2°F). "Your thighs will give you that 'burny feeling', which is your body's way of telling you aren't dressed warm enough". So don't stay out withoug long johns for more than an hour.
LJI 4 is from -20°C to -29°C (-4°F to -20.2°F). If you're staying out longer than 15 minutes without long johns, "you'll feel like an astronaut, venturing out into the cold reaches of space. Though space is probably warmer".
Anything below -30°C (-22°F) is LJI 5. Length of time you can be outside without long johns: 0 seconds. "Long Johns should be worn INDOORS. Don't even bother going outdoors. Don't even look at the outdoors, unless you have Long Johns for your eyes. It's that cold. Instead, make some tea, grab a nice book, wrap yourself in as many towels and blankets as you can and just stay inside. When it's nice out, someone will tell you".
So what does the Long John Index for Canada look like? Each day, two LJIs are forecast for 38 Canadian cities, one for the morning, the other for the afternoon. On 31 January – no need get your long johns out in Vancouver, Victoria, Kelowna, Penticton or St. John's. Perfect zero scores in all five cities.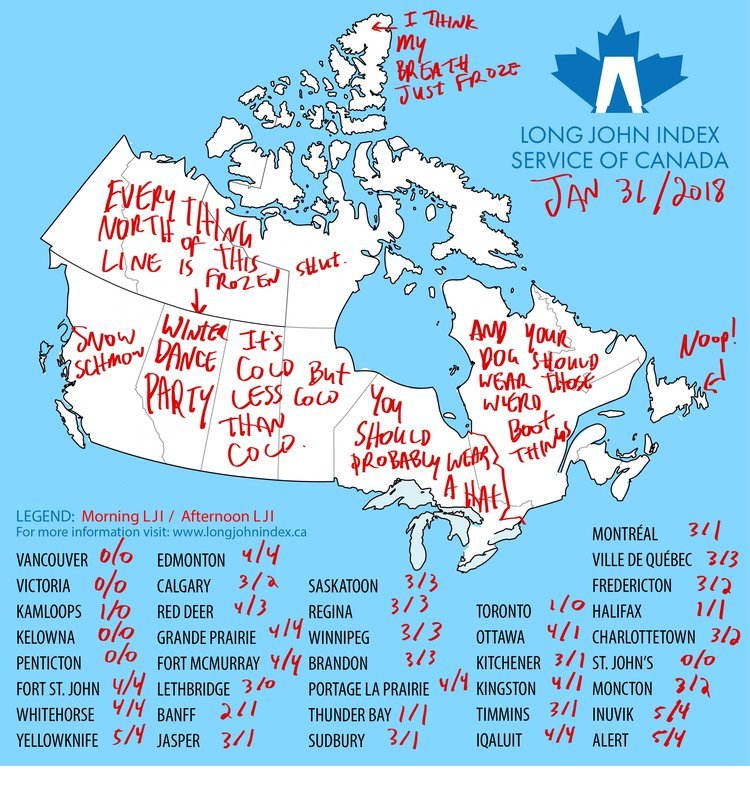 On the other end of the scale: Yellowknife, Inuvik and Alert. All three places score 5/4. No need to take them off. Fort St. John, Whitehorse, Edmonton, Grande Prairie, Portage La Prairie and Iqaluit are barely doing better (4/4). Compared to that, things sound pretty balmy in Kamloops, Toronto (both 1/0), Thunder Bay and Halifax (both 1/1). 
The map helpfully adds that "everything above this line is frozen", referring to the border that separates the Yukon and Northwest Territories from points south. Just to the east, Nunavut is "shut". In the northernmost bit of Canada, it's currently so cold that "I think my breath just froze". By comparison, temperatures are verging on the pleasant in British Columbia ("snow schmow") and Newfoundland ("noop!").
The prairie provinces are coping: Alberta is having a "winter dance party", and Saskatchewan and Manitoba are finding it "cold, but less cold than cold". If you're in Ontario, "you should probably wear a hat", while your dogn in Québec "should wear those weird boot things". What, don't dogs get to wear long johns? 
Here's the website for the Long John Index. You can also follow the LJI on Twitter and Facebook.
Strange Maps #884
Got a strange map? Let me know at strangemaps@gmail.com.
Related Articles
How a cataclysm worse than what killed the dinosaurs destroyed 90 percent of all life on Earth.
Credit: Ron Miller
Surprising Science
While the demise of the dinosaurs gets more attention as far as mass extinctions go, an even more disastrous event called "the Great Dying" or the "End-Permian Extinction" happened on Earth prior to that. Now scientists discovered how this cataclysm, which took place about 250 million years ago, managed to kill off more than 90 percent of all life on the planet.
A new study discovers the "liking gap" — the difference between how we view others we're meeting for the first time, and the way we think they're seeing us.
New acquaintances probably like you more than you think. (Photo by Simone Joyner/Getty Images)
Surprising Science
We tend to be defensive socially. When we meet new people, we're often concerned with how we're coming off. Our anxiety causes us to be so concerned with the impression we're creating that we fail to notice that the same is true of the other person as well. A new study led by Erica J. Boothby, published on September 5 in Psychological Science, reveals how people tend to like us more in first encounters than we'd ever suspect.
Using advanced laser technology, scientists at NASA will track global changes in ice with greater accuracy.
Firing three pairs of laser beams 10,000 times per second, the ICESat-2 satellite will measure how long it takes for faint reflections to bounce back from ground and sea ice, allowing scientists to measure the thickness, elevation and extent of global ice
popular
Leaving from Vandenberg Air Force base in California this coming Saturday, at 8:46 a.m. ET, the Ice, Cloud, and Land Elevation Satellite-2 — or, the "ICESat-2" — is perched atop a United Launch Alliance Delta II rocket, and when it assumes its orbit, it will study ice layers at Earth's poles, using its only payload, the Advance Topographic Laser Altimeter System (ATLAS).
Big think's weekly newsletter.
Get smarter faster from the comfort of your inbox.
See our newsletter privacy policy
here
Most Popular
Most Recent
Big think's weekly newsletter.
Get smarter faster from the comfort of your inbox.
See our newsletter privacy policy
here
© Copyright 2007-2018 & BIG THINK, BIG THINK EDGE,
SMARTER FASTER trademarks owned by The Big Think, Inc. All rights reserved.