Kentucky Fried Britain
As Scots go to the polls to determine their future, one oracle has already decreed that independence is inevitable: Englishman Terry O'Neil discovered this piece of chicken in his KFC meal, and was struck by its resemblance to the contours of Britain -- minus Scotland.
Frank Jacobs
From a young age, Frank was fascinated by maps and atlases, and the stories they contained. Finding his birthplace on the map in the endpapers of Tolkien's Lord of the Rings only increased his interest in the mystery and message of maps.
While pursuing a career in journalism, Frank started a blog called Strange Maps, as a repository for the weird and wonderful cartography he found hidden in books, posing as everyday objects and (of course) floating around the Internet.
"Each map tells a story, but the stories told by your standard atlas for school or reference are limited and literal: they show only the most practical side of the world, its geography and its political divisions. Strange Maps aims to collect and comment on maps that do everything but that - maps that show the world from a different angle".
A remit that wide allows for a steady, varied diet of maps: Frank has been writing about strange maps since 2006, published a book on the subject in 2009 and joined Big Think in 2010. Readers send in new material daily, and he keeps bumping in to cartography that is delightfully obscure, amazingly beautiful, shockingly partisan, and more.
17 September, 2014
Humans have used animals as oracles since time immemorial. Ancient soothsayers saw the shape of things to come in the entrails of birds, or in the pattern of their flight. Old as it is, the tradition lives on. As recently as 2010, Paul the Octopus picked winner after winner in the soccer World Cup. Now, could a piece of fried chicken predict the outcome of Scotland's referendum on independence?
---
Today is the most important date in the Scottish calendar since 1707, when the Acts of Union subsumed both Scotland and England in the Kingdom of Great Britain. For today, Scottish voters might well decide to cast off the British yoke, and after an interruption of 300 or 400 years (depending on your definition of 'independence') go it alone again.
Throughout most of the campaign, the No camp retained a clear lead over the Yessers. But in the weeks leading up to the referendum, the race has tightened, and the momentousness of the event has finally hit home - especially after a few polls have put the Yes camp ahead, if only by the narrowest of margins.
The race is now too close to call. So this will not only be the most important, but also the most exciting Scottish election in ages.Unless, of course, you believe in animal oracles. In that case, it's all over for the Union. For what did Terry O'Neill find at the bottom of his KFC bucket? A piece of fried chicken in the shape of the UK... without Scotland.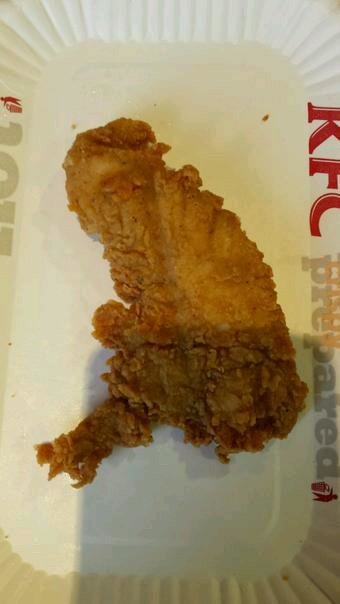 No Scottish Wing on this Chicken. (Image: Terry O'Neill)
Mr. O'Neill, an Englishman who lives on the Isle of Wight but was holidaying with his family in Eastbourne at the time of his auspicious discovery, is quoted on the Scotland Now website: "I picked this one piece out and I thought it looked like the map of Britain, but then I realised Scotland was missing."
The KFC delicacy does show more than a passing resemblance with rUK - the abbreviation for the 'rest of the UK' we may have to get used to after Thursday. Peninsular Cornwall is very recognisable (as it often is- see also #671). You do need to squint a bit to see Wales just above. But the shape of the southern and eastern coastlines is eerily precise... as is the northern border of England, with Scotland the obvious absentee, a phantom limb of this Kentucky Fried Britain.
"I don't know whether it's an omen for the outcome of the Scottish referendum, but I wouldn't be surprised if Scotland vote Yes", said Mr.O'Neill. "I'll be very sad if they do because it will mean we will probably never have another Labour government again". Not to mention the fact that his fried chicken pieces may be a lot smaller than before.
Many thanks to @fvlgen for notifying me of this story.
 _______________
Strange Maps #680
Entrepreneur and author Andrew Horn shares his rules for becoming an assured conversationalist.
content.jwplatform.com
Videos
To avoid basing action on external validation, you need to find your "authentic voice" and use it.
Finding your voice requires asking the right questions of yourself.
There are 3-5 questions that you would generally want to ask people you are talking to.
Sarco assisted suicide pods come in three different styles, and allow you to die quickly and painlessly. They're even quite beautiful to look at.
The Sarco assisted suicide pod
Technology & Innovation
Death: it happens to everyone (except, apparently, Keanu Reeves). But while the impoverished and lower-class people of the world die in the same ol' ways—cancer, heart disease, and so forth—the upper classes can choose hip and cool new ways to die. Now, there's an assisted-suicide pod so chic and so stylin' that peeps (young people still say peeps, right?) are calling it the "Tesla" of death... it's called... the Sarco! 
Swiss researchers identify new dangers of modern cocaine.
Getty Images
Mind & Brain
Cocaine cut with anti-worming adulterant levamisole may cause brain damage.
Levamisole can thin out the prefrontal cortex and affect cognitive skills.
Government health programs should encourage testing of cocaine for purity.
Big think's weekly newsletter.
Get smarter faster from the comfort of your inbox.
See our newsletter privacy policy
here
Most Popular
Most Recent
Big think's weekly newsletter.
Get smarter faster from the comfort of your inbox.
See our newsletter privacy policy
here
© Copyright 2007-2018 & BIG THINK, BIG THINK EDGE,
SMARTER FASTER trademarks owned by The Big Think, Inc. All rights reserved.