Big ideas.
Once a week.
Subscribe to our weekly newsletter.
A World Map of Boris Johnson Insults
Among many others, Britain's new Foreign Secretary has managed to offend the previous, current and future presidents of the U.S.
17 July, 2016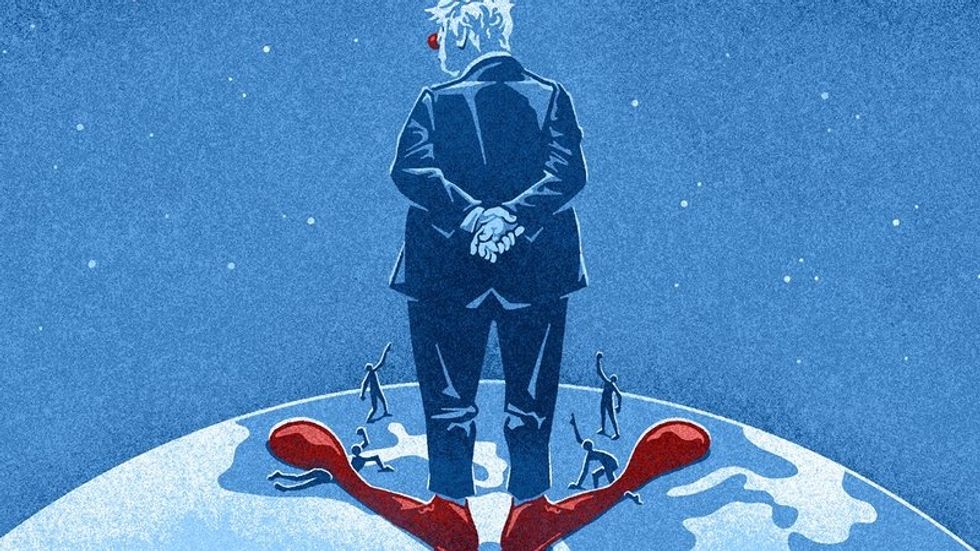 So Boris Johnson is Britain's new Foreign Secretary. Isn't that like promoting the iceberg that rammed the Titanic to ship's first officer? 
---
Many see Johnson as the main architect of the surprising win for Brexit in the 2016 referendum. Britain leaving the EU weakens both polities, but is arguably more detrimental to the UK's prosperity and even to its very survival.
At one of his first public appearances as Foreign Secretary, at the French embassy in London for Bastille Day, Johnson attempted to strike a conciliatory tone, but was booed by the audience.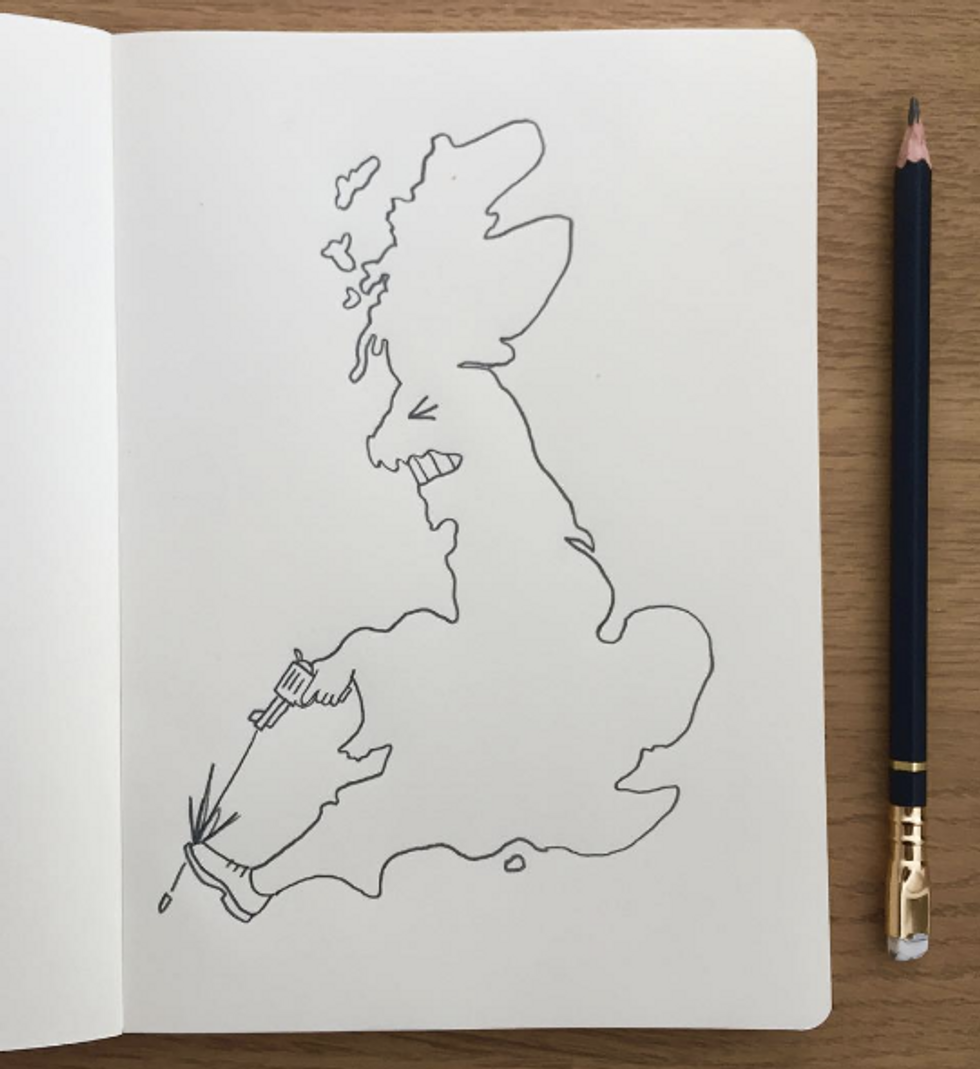 By voting for Brexit, Britain shoots itself in the foot (at least according to this cartoon).
Formerly the mayor of London, the ambitious Johnson is a shrewd operator and ultimate posh boy: his full name is Alexander Boris de Pfeffel Johnson, and he counts both king George II and a Turkish interior minister among his ancestors. But he is also a gaffe-prone populist, who has managed to insult large swathes of the world before even taking the helm at the Foreign and Commonwealth Office.
Facing a lengthy and painful divorce from the EU, Britain needs all the international friends it can get. Yet appointing Johnson as Britain's top diplomat feels like a deliberate snub – to Europe and beyond. As Jonathan Freedland wrote in The Guardian: "With Boris Johnson in charge of diplomacy, Britain has insulted the world".
The reaction of some of Johnson's new colleagues was uncharacteristically blunt. Jean-Marc Ayrault, France's foreign minister, said that "during the [Brexit] campaign, [Johnson] told a lot of lies to the British people and now it is him who has his back against the wall".
His German colleague Frank-Walter Steinmeier, called Johnson's appointment "ungeheuerlich", i.e. 'outrageous' or 'appalling'. "People [in the UK] are experiencing a rude awakening after irresponsible politicians first lured the country into Brexit and then, once the decision was made, decided to bolt from responsibility, and instead go off and play cricket", he said - a reference to Johnson's decision not to contest the leadership of the Conservative party and thus the post of Prime Minister, in the wake of David Cameron's resignation.  
This map shows exactly how much of the world Boris Johnson has already alienated, even before taking up his post at the helm of the Foreign and Commonwealth Office.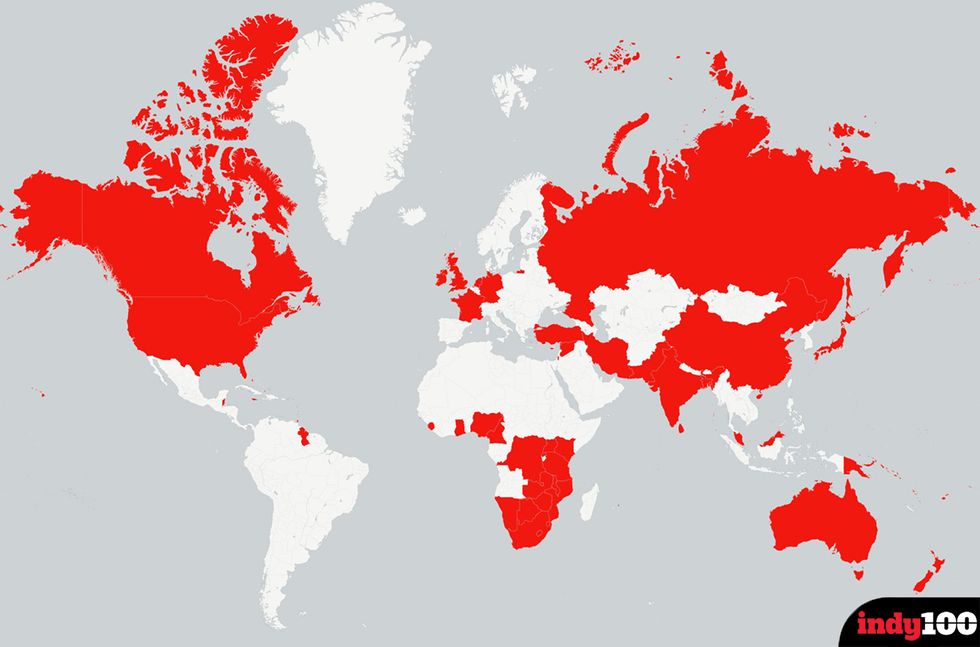 Another empire on which the sun never sets: a world map of the countries insulted by Boris Johnson.
United States
Johnson has not only insulted the previous and present occupants of the White House, but also the next president of the U.S. - by insulting both current candidates for the job. 
In 2003, he wrote in The Spectator about George W. Bush: "A cross-eyed Texan warmonger, unelected, inarticulate, who epitomises the arrogance of American foreign policy".
During Obama's visit to Britain last April, but ahead of the president's (anticipated) suggestion that the U.S. would prefer the UK to remain in the EU, Johnson unsubtly sought to undermine Obama's authority by recalling the removal of wartime Prime Minister Winston Churchill's bust from the White House. In his column in The Sun, Johnson suggested the removal "was a symbol of the part-Kenyan President's ancestral dislike of the British Empire – of which Churchill had been such a fervent defender". Reflecting on Johnson's appointment, Frans Timmermans, vice-president of the European Commission, referred to Johnson's choice of words as 'borderline racist remarks'.
Reacting to one of Trump's rants in December 2015, about radicalisation in some of London's muslim areas, Johnson wrote in The Sun in December 2015: "The only reason I wouldn't visit some parts of New York is the real risk of meeting Donald Trump", whom he also accused of possessing "stupefying ignorance".
In 2007, he said this about Hillary Clinton in The Daily Telegraph: "She's got dyed blonde hair and pouty lips, and a steely blue stare, like a sadistic nurse in a mental hospital".
The European Union
During his campaign for Brexit, Johnson in an interview with The Daily Telegraph on 15 May said the European Union's stated goal of 'ever closer union' was akin to the wars of conquest waged by France in the 19th century, and Germany in the 20th: "Napoleon, Hitler, various people tried this out, and it ends tragically. The EU is an attempt to do this by different methods".
To be fair, the Hitlerian comparison does have the effect of putting an earlier condescending remark on the European project in a much more sympathetic light: "I certainly want a European community where one can go off and scoff croissants, drink delicious coffee, learn foreign languages and generally make love to foreign women".
Many see Johnson's anti-EU attitude as tactical rather than ideological, and date it to his time as the Daily Telegraph's Brussels correspondent. He enjoyed tickling the prejudices of the right-wing paper's readership back home. One famous anecdote has him waltzing into a press conference just as it closes, asking: "So what is going on and why is it bad for Britain?"
The Commonwealth
In 2002, Johnson wrote in The Telegraph of the association of (mostly) former British colonies: "It is said that the Queen has come to love the Commonwealth, partly because it supplies her with regular cheering crowds of flag-waving piccaninnies".
Turkey
Last May, Johnson won first prize (and £1,000), for writing the best insulting poem about Turkish president Recep Teyyip Erdogan. His limerick went like this: "There was a young fellow from Ankara / who was a terrific w**kerer / till he sowed his wild oats / with the help of a goat / but he didn't even stop to thankera."
China
In 2005, he observed in The Daily Telegraph: "Compared with the old British Empire, and the new American imperium, Chinese cultural influence is virtually nil, and unlikely to increase".
In 2008, while closing the Olympic Games in Beijing (as they would move to his city London next), he remarked on China's favourite sport, ping pong: "it was invented on the dining tables of England in the 19th century. It was. And it was called whiff whaff".
Russia
Last year, he wrote about Russia's president Putin in The Telegraph: "Despite looking a bit like Dobby the House Elf, he is a ruthless and manipulative tyrant".
Papua New Guinea
"For 10 years we in the Tory Party have become used to Papua New Guinea-style orgies of cannibalism and chief-killing."
Africa
Writing in The Spectator in 2002, Johnson noted about Africa that "(t)he continent may be a blot, but it is not a blot upon our conscience. The problem is not that we were once in charge, but that we are not in charge any more".
DR Congo
In 2002, Johnson wrote in The Daily Telegraph about then-Prime Minister Tony Blair's upcoming trip to the DRC: "No doubt the AK47s will fall silent, and the pangas will stop their hacking of human flesh, and the tribal warriors will all break out in watermelon smiles to see the big white chief touch down in his big white British taxpayer-funded bird".
Netherlands
During a debate in 2014, while on the subject of the Netherlands' tolerant policy towards soft drugs, Johnson called Amsterdam "sleazy".
France
While still the mayor of London, he one-upped the mayor of Bordeaux, a  city of 240,000 people. "I said there were 250,000 French men and women in London and therefore I was the mayor of the sixth-biggest French city on earth".
So, will the new job instil Johnson with the gravitas that its office holder might be expected to exhibit? Will his wisdom prevail over his wit? Don't count on it. As the man himself said some time ago: "My friends, as I have discovered myself, there are no disasters, only opportunities. And, indeed, opportunities for fresh disasters".
Talking about disasters: the Boris Johnson Insult Map brings to mind another world map that reflects badly on the Brits: the World Map of British Invasions. Turns out there are only 22 countries in the world the UK hasn't invaded. Strangely, Johnson doesn't appear to have insulted any of them yet. So watch out, Bolivia, Chad and Kyrgyzstan: you may be on the receiving end of Secretary BoJo's whirlwind honeymoon tour of the world. Let's just hope he doesn't bring Prince Philip.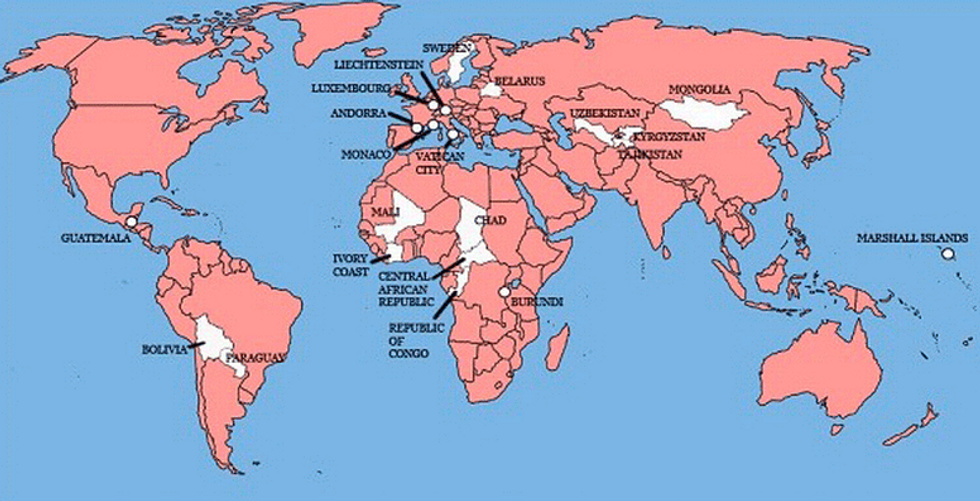 Over the centuries, Britain has invaded 90% of the world's almost 200 countries. Excepted – so far: Andorra, Belarus, Bolivia, Burundi, the CAR, Chad, the Republic of the Congo, Guatemala, Ivory Coast, Kyrgyzstan, Liechtenstein, Luxembourg, Mali, Marshall Islands, Monaco, Mongolia, Paraguay, Sao Tomé & Principe, Sweden, Tajikistan, Uzbekistan and Vatican City. 
Johnson clown cartoon by Matt Kenyon, illustrating Jonathan Freedland's aforementioned Guardian article. Brexit cartoon by Andrew Rae, taken here from his Instagram. Insult map found here at the Indy100 section of the Independent. Invasion map found here at the Telegraph.
Strange Map #791
Got a strange map? Let me know at strangemaps@gmail.com.
All this from a wad of gum?
Tom Björklund
Surprising Science
Researchers recently uncovered a piece of chewed-on birch pitch in an archaeological dig in Denmark.
Conducting a genetic analysis of the material left in the birch pitch offered a plethora of insights into the individual who last chewed it.
The gum-chewer has been dubbed Lola. She lived 5,700 years ago; and she had dark skin, dark hair, and blue eyes.
Five thousand and seven hundred years ago, "Lola" — a blue-eyed woman with dark skin and hair — was chewing on a piece of pitch derived from heating birch bark. Then, this women spit her chewing gum out into the mud on an island in Denmark that we call Syltholm today, where it was unearthed by archaeologists thousands of years later. A genetic analysis of the chewing gum has provided us with a wealth of information on this nearly six-thousand-year-old Violet Beauregarde.
This represents the first time that the human genome has been extracted from material such as this. "It is amazing to have gotten a complete ancient human genome from anything other than bone," said lead researcher Hannes Schroeder in a statement.
"What is more," he added, "we also retrieved DNA from oral microbes and several important human pathogens, which makes this a very valuable source of ancient DNA, especially for time periods where we have no human remains."
In the pitch, researchers identified the DNA of the Epstein-Barr virus, which infects about 90 percent of adults. They also found DNA belonging to hazelnuts and mallards, which were likely the most recent meal that Lola had eaten before spitting out her chewing gum.
Insights into ancient peoples
The birch pitch was found on the island of Lolland (the inspiration for Lola's name) at a site called Syltholm. "Syltholm is completely unique," said Theis Jensen, who worked on the study for his PhD. "Almost everything is sealed in mud, which means that the preservation of organic remains is absolutely phenomenal.
"It is the biggest Stone Age site in Denmark and the archaeological finds suggest that the people who occupied the site were heavily exploiting wild resources well into the Neolithic, which is the period when farming and domesticated animals were first introduced into southern Scandinavia."
Since Lola's genome doesn't show any of the markers associated with the agricultural populations that had begun to appear in this region around her time, she provides evidence for a growing idea that hunter-gatherers persisted alongside agricultural communities in northern Europe longer than previously thought.
Her genome supports additional theories on northern European peoples. For example, her dark skin bolsters the idea that northern populations only recently acquired their light-skinned adaptation to the low sunlight in the winter months. She was also lactose intolerant, which researchers believe was the norm for most humans prior to the agricultural revolution. Most mammals lose their tolerance for lactose once they've weaned off of their mother's milk, but once humans began keeping cows, goats, and other dairy animals, their tolerance for lactose persisted into adulthood. As a descendent of hunter-gatherers, Lola wouldn't have needed this adaptation.
A hardworking piece of gum
A photo of the birch pitch used as chewing gum.
Theis Jensen
These findings are encouraging for researchers focusing on ancient peoples from this part of the world. Before this study, ancient genomes were really only ever recovered from human remains, but now, scientists have another tool in their kit. Birch pitch is commonly found in archaeological sites, often with tooth imprints.
Ancient peoples used and chewed on birch pitch for a variety of reasons. It was commonly heated up to make it pliable, enabling it to be molded as an adhesive or hafting agent before it settled. Chewing the pitch may have kept it pliable as it cooled down. It also contains a natural antiseptic, and so chewing birch pitch may have been a folk medicine for dental issues. And, considering that we chew gum today for no other reason than to pass the time, it may be that ancient peoples chewed pitch for fun.
Whatever their reasons, chewed and discarded pieces of birch pitch offer us the mind-boggling option of learning what someone several thousands of years ago ate for lunch, or what the color of their hair was, their health, where their ancestors came from, and more. It's an unlikely treasure trove of information to be found in a mere piece of gum.
The non-contact technique could someday be used to lift much heavier objects — maybe even humans.
Kondo and Okubo, Jpn. J. Appl. Phys., 2021.
Surprising Science
Since the 1980s, researchers have been using sound waves to move matter through a technique called acoustic trapping.
Acoustic trapping devices move bits of matter by emitting strategically designed sound waves, which interact in such a way that the matter becomes "trapped" in areas of particular velocity and pressure.
Acoustic and optical trapping devices are already used in various fields, including medicine, nanotechnology, and biological research.
Sound can have powerful effects on matter. After all, sound strikes our world in waves — vibrations of air molecules that bounce off of, get absorbed by, or pass through matter around us. Sound waves from a trained opera singer can shatter a wine glass. From a jet, they can collapse a stone wall. But sound can also be harnessed for delicate interactions with matter.

Since the 1980s, researchers have been using sound to move matter through a phenomenon called acoustic trapping. The method is based on the fact that sound waves produce an acoustic radiation force.
"When an acoustic wave interacts with a particle, it exerts both an oscillatory force and a much smaller steady-state 'radiation' force," wrote the American Physical Society. "This latter force is the one used for trapping and manipulation. Radiation forces are generated by the scattering of a traveling sound wave, or by energy gradients within the sound field."
When tiny particles encounter this radiation, they tend to be drawn toward regions of certain pressure and velocity within the sound field. Researchers can exploit this tendency by engineering sound waves that "trap" — or suspend — tiny particles in the air. Devices that do this are often called "acoustic tweezers."
Building a better tweezer
A study recently published in the Japanese Journal of Applied Physics describes how researchers created a new type of acoustic tweezer that was able to lift a small polystyrene ball into the air.
Tweezers of Sound: Acoustic Manipulation off a Reflective Surface youtu.be
It is not the first example of a successful "acoustic tweezer" device, but the new method is likely the first to overcome a common problem in acoustic trapping: sound waves bouncing off reflective surfaces, which disrupts acoustic traps.

To minimize the problems of reflectivity, the team behind the recent study configured ultrasonic transducers such that the sound waves that they produce overlap in a strategic way that is able to lift a small bit of polystyrene from a reflective surface. By changing how the transducers emit sound waves, the team can move the acoustic trap through space, which moves the bit of matter.
Move, but don't touch
So far, the device is only able to move millimeter-sized pieces of matter with varying degrees of success. "When we move a particle, it sometimes scatters away," the team noted. Still, improved acoustic trapping and other no-contact lifting technologies — like optical tweezers, commonly used in medicine — could prove useful in many future applications, including cell separation, nanotechnologies, and biological research.
Could future acoustic-trapping devices lift large and heavy objects, maybe even humans? It seems possible. In 2018, researchers from the University of Bristol managed to acoustically trap particles whose diameters were larger than the sound wavelength, which was a breakthrough because it surpassed "the classical Rayleigh scattering limit that has previously restricted stable acoustic particle trapping," the researchers wrote in their study.
In other words, the technique — which involved suspending matter in tornado-like acoustic traps — showed that it is possible to scale up acoustic trapping.
"Acoustic tractor beams have huge potential in many applications," Bruce Drinkwater, co-author of the 2018 study, said in a statement. "I'm particularly excited by the idea of contactless production lines where delicate objects are assembled without touching them."
Australian parrots have worked out how to open trash bins, and the trick is spreading across Sydney.
Surprising Science
If sharing learned knowledge is a form of culture, Australian cockatoos are one cultured bunch of birds.
A cockatoo trick for opening trash bins to get at food has been spreading rapidly through Sydney's neighborhoods.
But not all cockatoos open the bins; some just stay close to those that do.
Like humans, some animals are capable of
culture
, including learning from one another. And the cockatoos of Sydney, Australia have learned a neat trick — well, neat for them, anyway. Homeowners with dumpsters might feel differently
Dumpster-diving trash parrots
In a study about these smart birds just published in Science, researchers define animal culture as "population-specific behaviors acquired via social learning from knowledgeable individuals."
Co-lead author of the study Barbara Klump of the Max Planck Institute of Animal Behavior in Konstanz, Germany says, "[C]ompared to humans, there are few known examples of animals learning from each other. Demonstrating that food scavenging behavior is not due to genetics is a challenge."
An opportunity presented itself in a video that co-author Richard Major of the Australian Museum shared with Klump and the other co-authors. In the video, a sulphur-crested cockatoo used its beak to pull up the handle of a closed garbage bin — using its foot as a wedge — and then walked back the lid sufficiently to flip it open, exposing the bin's edible contents.
Major has been studying Cacatua galerita for 20 years and says, "Like many Australian birds, sulphur-crested cockatoos are loud and aggressive." The study describes them as a "large-brained, long-lived, and highly social parrot." Says Major, "They are also incredibly smart, persistent, and have adapted brilliantly to living with humans."
(Research regarding some of the ways in which
wild animals adapt to the presence of humans
has already produced
some fascinating results
and is ongoing.)
Clever cockie opens bin - 01 youtu.be
The researchers became curious about how widespread this behavior might be and saw a research opportunity. After all, says John Martin, a researcher at Taronga Conservation Society, "Australian garbage bins have a uniform design across the country, and sulphur-crested cockatoos are common across the entire east coast."

Martin continues, "In 2018, we launched an online survey in various areas across Sydney and Australia with questions such as, 'What area are you from, have you seen this behavior before, and if so, when?'"
Word gets around
Credit: magspace/Adobe Stock
Although the cockatoos' maneuver was reported in only three suburbs before 2018, by the end of 2019, people in 44 areas reported observing the behavior. Clearly, more and more cockatoos were learning how to successfully dumpster dive.

As further proof, says Klump, "We observed that the birds do not open the garbage bins in the same way, but rather used different opening techniques in different suburbs, suggesting that the behavior is learned by observing others." One individual bird in north Sydney invented its own method, and the scientists saw it grow in popularity throughout the local population.
To track individual birds, the researchers marked 500 cockatoos with small red dots. Subsequent observations revealed that not all cockatoos are bin-openers. Only about 10 percent of them are, and they are mostly males. The other cockatoos apparently restrict their education to a different lesson: hang around with a bin-opener, and you will get supper.
Thanks to the surveys, the researchers consider the entire project to be a valuable citizen-science experiment. "By studying this behavior with the help of local residents, we are uncovering the unique and complex cultures of their neighborhood birds."
Culture & Religion
The few seconds of nuclear explosion opening shots in Godzilla alone required more than 6.5 times the entire budget of the monster movie they ended up in.
Scroll down to load more…