Big ideas.
Once a week.
Subscribe to our weekly newsletter.
A World Map of Boris Johnson Insults
Among many others, Britain's new Foreign Secretary has managed to offend the previous, current and future presidents of the U.S.
17 July, 2016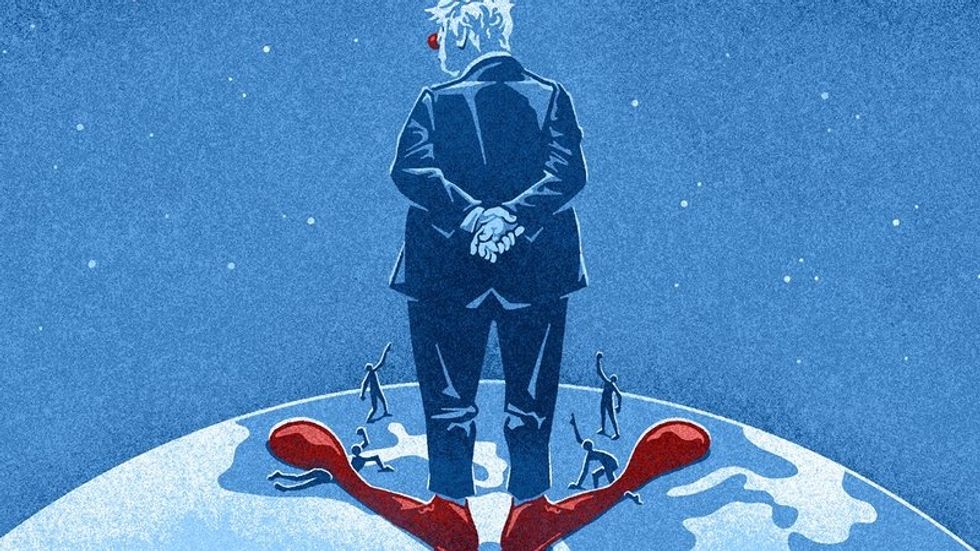 So Boris Johnson is Britain's new Foreign Secretary. Isn't that like promoting the iceberg that rammed the Titanic to ship's first officer? 
---
Many see Johnson as the main architect of the surprising win for Brexit in the 2016 referendum. Britain leaving the EU weakens both polities, but is arguably more detrimental to the UK's prosperity and even to its very survival.
At one of his first public appearances as Foreign Secretary, at the French embassy in London for Bastille Day, Johnson attempted to strike a conciliatory tone, but was booed by the audience.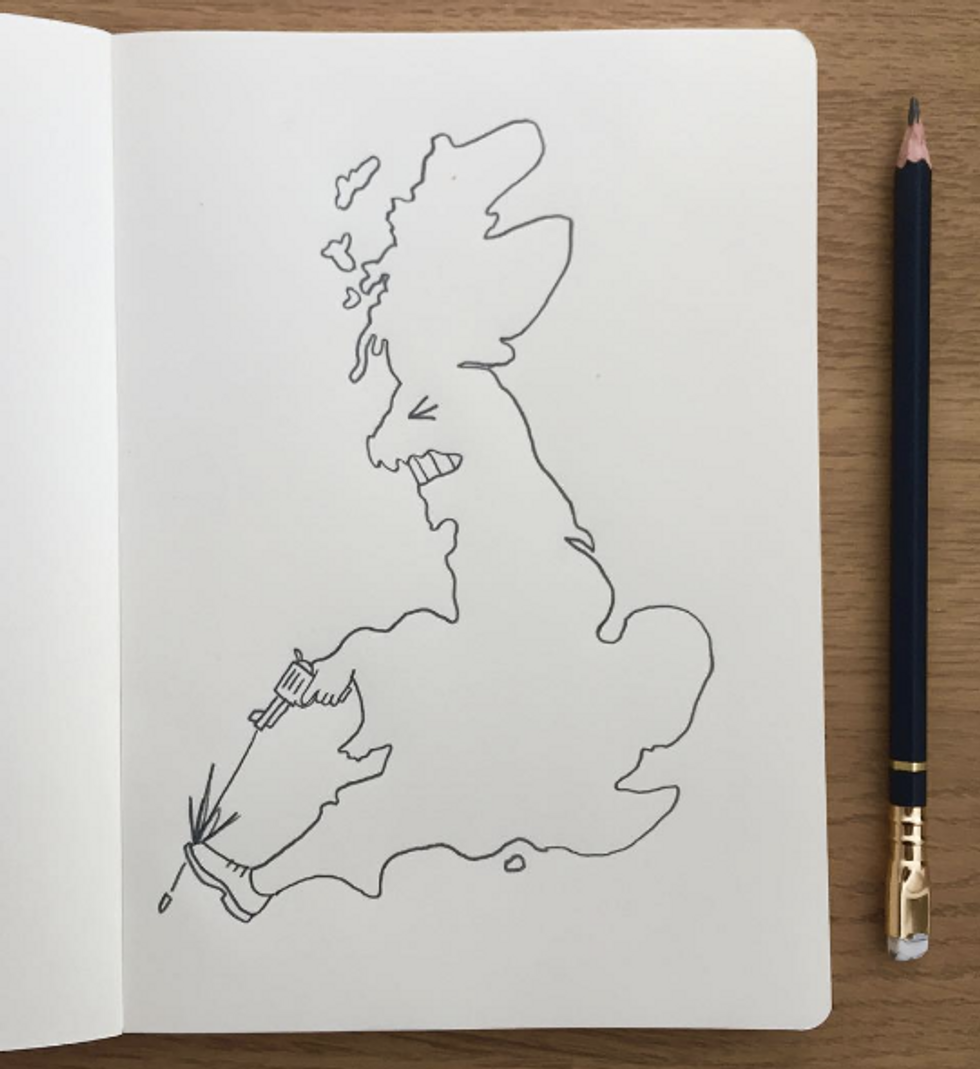 By voting for Brexit, Britain shoots itself in the foot (at least according to this cartoon).
Formerly the mayor of London, the ambitious Johnson is a shrewd operator and ultimate posh boy: his full name is Alexander Boris de Pfeffel Johnson, and he counts both king George II and a Turkish interior minister among his ancestors. But he is also a gaffe-prone populist, who has managed to insult large swathes of the world before even taking the helm at the Foreign and Commonwealth Office.
Facing a lengthy and painful divorce from the EU, Britain needs all the international friends it can get. Yet appointing Johnson as Britain's top diplomat feels like a deliberate snub – to Europe and beyond. As Jonathan Freedland wrote in The Guardian: "With Boris Johnson in charge of diplomacy, Britain has insulted the world".
The reaction of some of Johnson's new colleagues was uncharacteristically blunt. Jean-Marc Ayrault, France's foreign minister, said that "during the [Brexit] campaign, [Johnson] told a lot of lies to the British people and now it is him who has his back against the wall".
His German colleague Frank-Walter Steinmeier, called Johnson's appointment "ungeheuerlich", i.e. 'outrageous' or 'appalling'. "People [in the UK] are experiencing a rude awakening after irresponsible politicians first lured the country into Brexit and then, once the decision was made, decided to bolt from responsibility, and instead go off and play cricket", he said - a reference to Johnson's decision not to contest the leadership of the Conservative party and thus the post of Prime Minister, in the wake of David Cameron's resignation.  
This map shows exactly how much of the world Boris Johnson has already alienated, even before taking up his post at the helm of the Foreign and Commonwealth Office.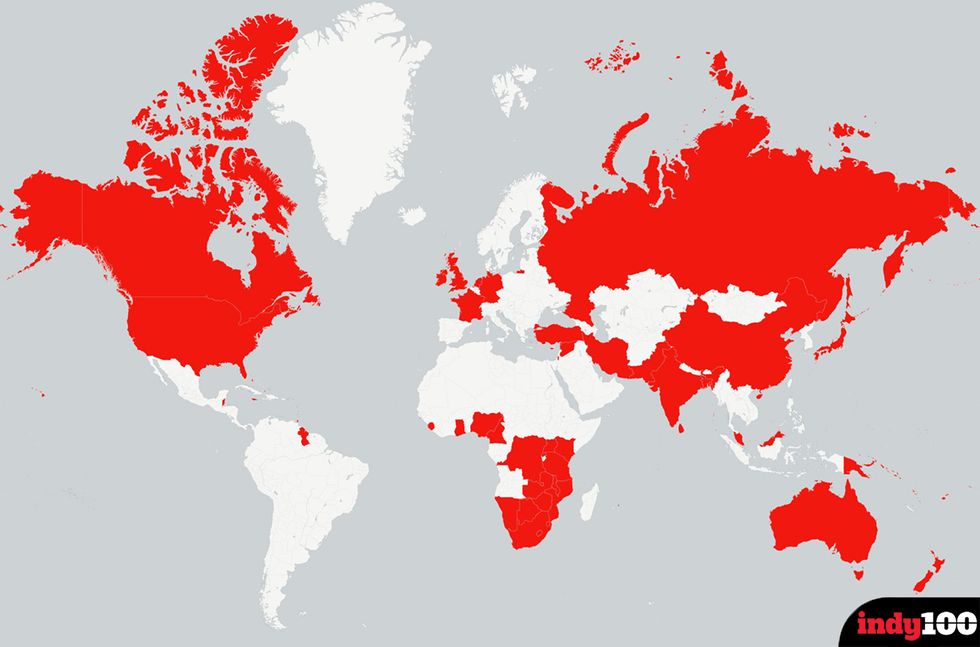 Another empire on which the sun never sets: a world map of the countries insulted by Boris Johnson.
United States
Johnson has not only insulted the previous and present occupants of the White House, but also the next president of the U.S. - by insulting both current candidates for the job. 
In 2003, he wrote in The Spectator about George W. Bush: "A cross-eyed Texan warmonger, unelected, inarticulate, who epitomises the arrogance of American foreign policy".
During Obama's visit to Britain last April, but ahead of the president's (anticipated) suggestion that the U.S. would prefer the UK to remain in the EU, Johnson unsubtly sought to undermine Obama's authority by recalling the removal of wartime Prime Minister Winston Churchill's bust from the White House. In his column in The Sun, Johnson suggested the removal "was a symbol of the part-Kenyan President's ancestral dislike of the British Empire – of which Churchill had been such a fervent defender". Reflecting on Johnson's appointment, Frans Timmermans, vice-president of the European Commission, referred to Johnson's choice of words as 'borderline racist remarks'.
Reacting to one of Trump's rants in December 2015, about radicalisation in some of London's muslim areas, Johnson wrote in The Sun in December 2015: "The only reason I wouldn't visit some parts of New York is the real risk of meeting Donald Trump", whom he also accused of possessing "stupefying ignorance".
In 2007, he said this about Hillary Clinton in The Daily Telegraph: "She's got dyed blonde hair and pouty lips, and a steely blue stare, like a sadistic nurse in a mental hospital".
The European Union
During his campaign for Brexit, Johnson in an interview with The Daily Telegraph on 15 May said the European Union's stated goal of 'ever closer union' was akin to the wars of conquest waged by France in the 19th century, and Germany in the 20th: "Napoleon, Hitler, various people tried this out, and it ends tragically. The EU is an attempt to do this by different methods".
To be fair, the Hitlerian comparison does have the effect of putting an earlier condescending remark on the European project in a much more sympathetic light: "I certainly want a European community where one can go off and scoff croissants, drink delicious coffee, learn foreign languages and generally make love to foreign women".
Many see Johnson's anti-EU attitude as tactical rather than ideological, and date it to his time as the Daily Telegraph's Brussels correspondent. He enjoyed tickling the prejudices of the right-wing paper's readership back home. One famous anecdote has him waltzing into a press conference just as it closes, asking: "So what is going on and why is it bad for Britain?"
The Commonwealth
In 2002, Johnson wrote in The Telegraph of the association of (mostly) former British colonies: "It is said that the Queen has come to love the Commonwealth, partly because it supplies her with regular cheering crowds of flag-waving piccaninnies".
Turkey
Last May, Johnson won first prize (and £1,000), for writing the best insulting poem about Turkish president Recep Teyyip Erdogan. His limerick went like this: "There was a young fellow from Ankara / who was a terrific w**kerer / till he sowed his wild oats / with the help of a goat / but he didn't even stop to thankera."
China
In 2005, he observed in The Daily Telegraph: "Compared with the old British Empire, and the new American imperium, Chinese cultural influence is virtually nil, and unlikely to increase".
In 2008, while closing the Olympic Games in Beijing (as they would move to his city London next), he remarked on China's favourite sport, ping pong: "it was invented on the dining tables of England in the 19th century. It was. And it was called whiff whaff".
Russia
Last year, he wrote about Russia's president Putin in The Telegraph: "Despite looking a bit like Dobby the House Elf, he is a ruthless and manipulative tyrant".
Papua New Guinea
"For 10 years we in the Tory Party have become used to Papua New Guinea-style orgies of cannibalism and chief-killing."
Africa
Writing in The Spectator in 2002, Johnson noted about Africa that "(t)he continent may be a blot, but it is not a blot upon our conscience. The problem is not that we were once in charge, but that we are not in charge any more".
DR Congo
In 2002, Johnson wrote in The Daily Telegraph about then-Prime Minister Tony Blair's upcoming trip to the DRC: "No doubt the AK47s will fall silent, and the pangas will stop their hacking of human flesh, and the tribal warriors will all break out in watermelon smiles to see the big white chief touch down in his big white British taxpayer-funded bird".
Netherlands
During a debate in 2014, while on the subject of the Netherlands' tolerant policy towards soft drugs, Johnson called Amsterdam "sleazy".
France
While still the mayor of London, he one-upped the mayor of Bordeaux, a  city of 240,000 people. "I said there were 250,000 French men and women in London and therefore I was the mayor of the sixth-biggest French city on earth".
So, will the new job instil Johnson with the gravitas that its office holder might be expected to exhibit? Will his wisdom prevail over his wit? Don't count on it. As the man himself said some time ago: "My friends, as I have discovered myself, there are no disasters, only opportunities. And, indeed, opportunities for fresh disasters".
Talking about disasters: the Boris Johnson Insult Map brings to mind another world map that reflects badly on the Brits: the World Map of British Invasions. Turns out there are only 22 countries in the world the UK hasn't invaded. Strangely, Johnson doesn't appear to have insulted any of them yet. So watch out, Bolivia, Chad and Kyrgyzstan: you may be on the receiving end of Secretary BoJo's whirlwind honeymoon tour of the world. Let's just hope he doesn't bring Prince Philip.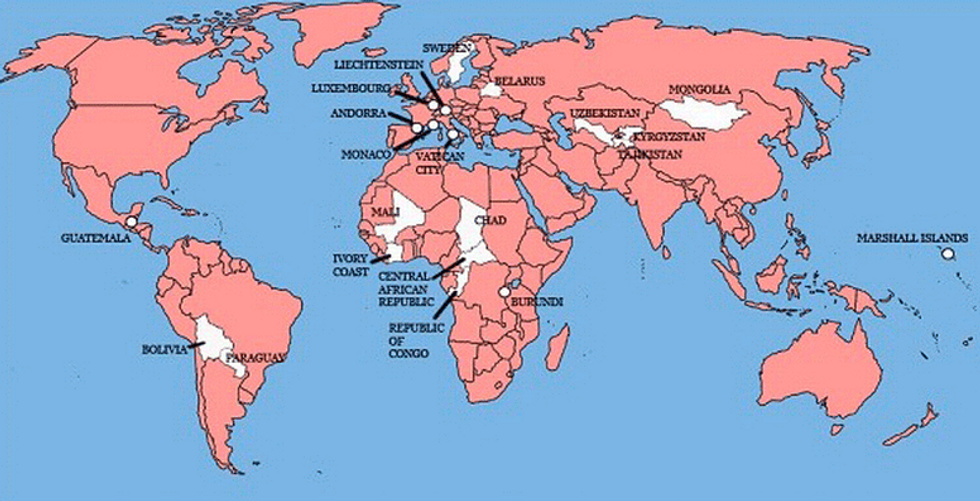 Over the centuries, Britain has invaded 90% of the world's almost 200 countries. Excepted – so far: Andorra, Belarus, Bolivia, Burundi, the CAR, Chad, the Republic of the Congo, Guatemala, Ivory Coast, Kyrgyzstan, Liechtenstein, Luxembourg, Mali, Marshall Islands, Monaco, Mongolia, Paraguay, Sao Tomé & Principe, Sweden, Tajikistan, Uzbekistan and Vatican City. 
Johnson clown cartoon by Matt Kenyon, illustrating Jonathan Freedland's aforementioned Guardian article. Brexit cartoon by Andrew Rae, taken here from his Instagram. Insult map found here at the Indy100 section of the Independent. Invasion map found here at the Telegraph.
Strange Map #791
Got a strange map? Let me know at strangemaps@gmail.com.
Scientists used CT scanning and 3D-printing technology to re-create the voice of Nesyamun, an ancient Egyptian priest.
Surprising Science
Scientists printed a 3D replica of the vocal tract of Nesyamun, an Egyptian priest whose mummified corpse has been on display in the UK for two centuries.
With the help of an electronic device, the reproduced voice is able to "speak" a vowel noise.
The team behind the "Voices of the Past" project suggest reproducing ancient voices could make museum experiences more dynamic.
Scientists have reproduced the voice of an ancient Egyptian priest by creating a 3D-printed replica of his mummified vocal tract.
An international and interdisciplinary team, led by David Howard, a professor of electronic engineering at Royal Holloway, used computed tomography (CT) scanning technology to measure the dimensions of the vocal tract of Nesyamun, a mummy that's spent about two centuries on display at Leeds City Museum in the United Kingdom.
The team then used those measurements to 3D-print an artificial vocal tract, through which they produced sounds using a peculiar electronic device called the Vocal Tract Organ. (You can check it out here.)
"The Vocal Tract Organ, a first in its own right, provided the inspiration for doing this," Howard told CNET.
Nesyamun, whose priestly duties included chanting and singing the daily liturgy, can once again "speak" — at least, in the form of a vowel noise that sounds something like a cross between the English pronunciation of the vowels in "bed" and "bad."
Of course, the new "voice" of Nesyamun is an approximation, and given the lack of actual recordings of his voice, and the degeneration of his body over millennia, it's impossible to know just how accurate it is. But the researchers suggested that their "Voice from the Past" project offers a chance for people to "engage with the past in completely new and innovative ways."
Howard et al.
"While this approach has wide implications for heritage management/museum display, its relevance conforms exactly to the ancient Egyptians' fundamental belief that 'to speak the name of the dead is to make them live again'," they wrote in a paper published in Nature Scientific Reports. "Given Nesyamun's stated desire to have his voice heard in the afterlife in order to live forever, the fulfilment of his beliefs through the synthesis of his vocal function allows us to make direct contact with ancient Egypt by listening to a sound from a vocal tract that has not been heard for over 3000 years, preserved through mummification and now restored through this new technique."
Connecting modern people with history
It's not the first time scientists have "re-created" an ancient human's voice. In 2016, for example, Italian researchers used software to reconstruct the voice of Ötzi, an iceman who was discovered in 1991 and is thought to have died more than 5,000 years ago. But the "Voices of the Past" project is different, the researchers note, because Nesyamun's mummified corpse is especially well preserved.
"It was particularly suited, given its age and preservation [of its soft tissues], which is unusual," Howard told Live Science.
As to whether Nesyamun's reconstructed voice will ever be able to speak complete sentences, Howard told The Associated Press, that it's "something that is being worked on, so it will be possible one day."
John Schofield, an archaeologist at the University of York, said that reproducing voices from history can make museum experiences "more multidimensional."
"There is nothing more personal than someone's voice," he told The Associated Press. "So we think that hearing a voice from so long ago will be an unforgettable experience, making heritage places like Karnak, Nesyamun's temple, come alive."
Ancient corridors below the French capital have served as its ossuary, playground, brewery, and perhaps soon, air conditioning.
Credit
: Inspection Générale des Carrières, 1857 / Public domain
Strange Maps
People have been digging up limestone and gypsum from below Paris since Roman times.
They left behind a vast network of corridors and galleries, since reused for many purposes — most famously, the Catacombs.
Soon, the ancient labyrinth may find a new lease of life, providing a sustainable form of air conditioning.
Ancient mining areas below Paris for limestone (red) and gypsum (green).Credit: Émile Gérards (1859–1920) / Public domain
"If you're brave enough to try, you might be able to catch a train from UnLondon to Parisn't, or No York, or Helsunki, or Lost Angeles, or Sans Francisco, or Hong Gone, or Romeless."

China Miéville's fantasy novel Un Lun Dun is set in an eerie mirror version of London. In it, he hints that other cities have similar doubles. On the list that he offhandedly rattles off, Paris stands out. Because the City of Light really does have a twisted sister. Below Paris Overground is Paris Underground, the City of Darkness.
Most people will have heard of the Catacombs of Paris: subterranean charnel houses for the bones of around six million dead Parisians. They are one of the French capital's most famous tourist attractions – and undoubtedly its grisliest.
But they constitute only a small fragment of what the locals themselves call les carrières de Paris ("the mines of Paris"), a collection of tunnels and galleries up to 300 km (185 miles) long, most of which are off-limits to the public, yet eagerly explored by so-called cataphiles.
The Grand Réseau Sud ("Great Southern Network") takes up around 200 km beneath the 5th, 6th, 14th, and 15th arrondissements (administrative districts), all south of the river Seine. Smaller networks run beneath the 12th, 13th, and 16th arrondissements. How did they get there?
Paris stone and plaster of Paris
It all starts with geology. Sediments left behind by ancient seas created large deposits of limestone in the south of the city, mostly south of the Seine; and gypsum in the north, particularly in the hills of Montmartre and Ménilmontant. Highly sought after as building materials, both have been mined since Roman times.
The limestone is also known as Lutetian limestone (Lutetia is the Latin name for ancient Paris) or simply "Paris stone." It has been used for many famous Paris landmarks, including the Louvre and the grand buildings erected during Georges-Eugène Haussmann's large-scale remodelling of the city in the mid-19th century. The stone's warm, yellowish color provides visual unity and a bright elegance to the city.

The fine-powdered gypsum of northern Paris, used for making quick-setting plaster, was so famed for its quality that "plaster of Paris" is still used as a term of distinction. However, as gypsum is very soluble in water, the underground cavities left by its extraction were extremely vulnerable to collapse.
Like living on top of a rotting tooth: subsidence starts far below the surface, but it can destroy your house.Credit : Delavanne Avocats
In previous centuries, a road would occasionally open up to swallow a chariot, or even a whole house would disappear down a sinkhole. In 1778, a catastrophic subsidence in Ménilmontant killed seven. That's why the Montmartre gypsum quarries were dynamited rather than just left as they were. The remaining gypsum caves were to be filled up with concrete.

The official body governing Paris down below is the Inspection Générale des Carrières (IGC), founded in the late 1770s by King Louis XVI. The IGC was tasked with mapping and, where needed, propping up the current and ancient (and sometimes forgotten) mining corridors and galleries hiding beneath Paris.
A delightful hiding place
Also around that time, the dead of Paris were getting in the way of the living. At the end of the 18th century, their final destination consisted of about 200 small cemeteries, scattered throughout the city — all bursting at the seams, so to speak. There was no room to bury the newly dead, and the previously departed were fouling up both the water and air around their respective churchyards.

Something radical had to happen. And it did. From 1785 until 1814, the smaller cemeteries were emptied of their bones, which were transported with full funerary pomp to their final resting place in the ancient limestone quarries at Tombe-Issoire. Three large and modern cemeteries were opened to receive the remains of subsequent generations of Parisians: Montparnasse, Père-Lachaise, and Passy.
Who says stacking skulls and bones can't be fun?Credit: Rijin via Wikimedia and licensed under CC BY-SA 4.0
The six million dead Parisians in the Catacombs, from all corners of the capital and across many centuries, together form the world's largest necropolis — their now anonymized skulls and bones methodically stacked, occasionally into whimsical patterns. The Catacombs are fashioned into a memorial to the brevity of life. The message above the entrance reads: Arrête! C'est ici l'empire de la Mort. ("Halt! This is the empire of Death.")

That has not stopped the Catacombs, accessible via a side door to a classicist building on the Avenue du Colonel Henri Rol-Tanguy, making just about every Top 20 list of things to see in Paris.
An underground economy
However, while the Catacombs certainly are the most famous part of the centuries-old network beneath Paris, and in non-pandemic times draw thousands of tourists each day, they constitute just 1.7 km (1 mile) of the 300-km (185-mile) tunneling total.
Subterranean Paris wasn't just used for mining and storing dead people. In the 17th century, Carthusian monks converted the ancient quarries under their monastery into distilleries for the green or yellow liqueur that still carries their name, chartreuse.

Because the mines generally keep a constant cool temperature of around 15° C (60° F), they were also ideal for brewing beer, as happened on a large scale from the end of the 17th century until well into the 20th century. Several caves were dug especially for establishing breweries, and not just because of the ambient temperature: going underground allowed brewers to remain close to their customers without having to pay a premium for real estate up top.
Overview of the Paris Catacombs.Credit: Inspection Générale des Carrières, 1857 / Public domain.
At the end of the 19th century, the underground breweries of the 14th arrondissement alone produced more than a million hectoliters (22 million gallons) per year. One of the most famous of Paris' underground breweries, Dumesnil, stayed in operation until the late 1960s.

In that decade, the network of corridors and galleries south of the Seine, long since abandoned by miners, became the unofficial playground for the young people of Paris. They explored the fantastical world beneath their feet, in some cases via entry points located in their very schools. Fascinated, these cataphiles ("catacomb lovers") read up on old books, explored the subterranean labyrinth, and drew up schematics that were passed around among fellow initiates as reverently as treasure maps.
As Robert Macfarlane writes in Underland, Paris-beneath-their-feet became "a place where people might slip into different identities, assume new ways of being and relating, become fluid and wild in ways that are constrained on the surface."

Some larger caves turned into notorious party zones: a 7-meter-tall gallery below the Val-de-Grâce hospital is widely known as "Salle Z." Over the last few decades, various other locations in subterranean Paris have hosted jazz and rock concerts and rave parties — like no other city, Paris really has an "underground music scene."
Hokusai's Great Wave as the backdrop to the "beach" under Paris.Credit: Reddit
Cataphiles vs. cataphobes

With popularity came increased reports of nuisance and crime — the tunnels provided easy access to telephone cables, which were stolen for the resale value of their copper.
The general public's "discovery" of the underground network led the city of Paris to officially interdict all access by non-authorized persons. That decree dates back to 1955, but the "underground police" have an understanding with seasoned cataphiles. Their main targets are so-called tourists, who by their lack of knowledge expose themselves to risk of injuries or worse, and degrade their surroundings, often leaving loads of litter in their wake.

The understanding does not extend to the IGC. Unlike in the 19th century, when weak cavities were shored up by purpose-built pillars, the policy now is to inject concrete to fill up endangered spaces — thus progressively blocking off parts of the network. That procedure has also been used to separate the Catacombs to prevent "infiltration" of the site by cataphiles.
Many subterranean streets have their own names, signs and all. This is the Rue des Bourguignons (Street of the Burgundians) below the Champs des Capucins (Capuchin Field), neither of which exists on the surface.Credit: Jean-François Gornet via Wikimedia and licensed under
The cataphiles, however, are fighting back. In a game of cat and mouse with the authorities, they are reopening blocked passages and creating chatières ("cat flaps") through which they can squeeze into chambers no longer accessible via other underground corridors.

Catacomb climate control
Alone against the unstoppable tide of concrete, the amateurs of Underground Paris would be helpless. But the fight against climate change may turn the subterranean labyrinths from a liability into an asset — and the City of Paris into an ally.
The UN's 2015 Climate Plan — concluded in Paris, by the way — requires the world to reduce greenhouse gas emissions by 75 percent by 2050. And Paris itself wants to be Europe's greenest city by 2030. More sustainable climate control of our living spaces would be a great help toward both targets. A lot of energy is spent heating houses in winter and cooling them in summer.
This is where the constant temperature of the Parisian tunnels comes in. It's not just good for brewing beer; it's a source of geothermal energy, says Fieldwork, an architectural firm based in Paris. It can be used to temper temperatures, helping to cool houses in summer and warming them in winter.

One catch for the cataphiles: it also works when the underground cavities are filled up with concrete. So perhaps one day, Paris Underground, fully filled up with concrete, will completely fall off the map, reducing the city's formerly real doppelgänger into an air conditioning unit.
Cool in summer, warm in winter: Paris Underground could become Paris A/C.Credit: Fieldwork
Strange Maps #1083
Got a strange map? Let me know at strangemaps@gmail.com.
Meconium contains a wealth of information.
Surprising Science
A new study finds that the contents of an infants' first stool, known as meconium, can predict if they'll develop allergies with a high degree of accuracy.
A metabolically diverse meconium, which indicates the initial food source for the gut microbiota, is associated with fewer allergies.
The research hints at possible early interventions to prevent or treat allergies just after birth.
The prevalence of allergies arising in childhood has increased over the last 50 years, with 30 percent of the human population now having some kind of atopic disease such as eczema, food allergies, or asthma. The cause of this increase is still subject to debate, though it has been associated with a number of factors, including changes to the gut microbiomes of infants.
A new study by Canadian researchers published in Cell Reports Medicine may shed further light on how these allergies develop in children by examining the contents of their first diaper.
The things you do for science
The research team examined the first stool of 100 infants from the CHILD Cohort Study. The first stool of an infant is a thick, green, horrid-looking substance called meconium. It consists of various things that the infant ingests during the second half of gestation. Additionally, it provides not only a snapshot of what the infant was exposed to during that time, but it also reveals what the food sources will be for the initial gut bacteria that colonize the baby's digestive tract.
The content of the meconium was examined and found to contain such varied elements as amino acids, lipids, carbohydrates, and myriad other substances.
A graph of the comparative, summed abundance of different elements in a metabolic pathway after scaling to median abundance of each metabolite. The blue figures are those children without atopy, the yellow ones show the data for those with an atopic condition. Petersen et al.
The authors fed this information into an algorithm that used this data, along with the identities of the bacteria present as well as the baby's overall health, to predict which infants would go on to develop allergies within one year. The algorithm got it right 76 percent of the time.

A way to prevent childhood allergies?
Infants whose meconium had a less diverse metabolic niche the initial microbes to settle in the gut were at the highest risk of developing allergies a year later. Many of these elements were associated with the presence or absence of different bacterial groups in the digestive system of the child, which play an increasingly appreciated role in our overall health and development. The findings were summarized by senior co-author Dr. Brett Finlay:

"Our analysis revealed that newborns who developed allergic sensitization by one year of age had significantly less 'rich' meconium at birth, compared to those who didn't develop allergic sensitization."
The findings could be used to help understand how allergies form and even how to prevent them. Co-author Dr. Stuart Turvey commented on this possibility:
"We know that children with allergies are at the highest risk of also developing asthma. Now we have an opportunity to identify at-risk infants who could benefit from early interventions before they even begin to show signs and symptoms of allergies or asthma later in life."
A model for early childhood allergies
Petersen et al.
As shown above, the authors constructed a model of how they believe metabolites and bacterial diversity help prevent allergies. Increased diversity of metabolic products in the meconium encourage the development of "healthy" families of bacteria, like Peptostreptococcaceae, which in turn promote the development of a healthy and diverse gut microbiome. Ultimately, such diversity decreases the likelihood that a child will develop allergies.
Mind & Brain
If you ask your maps app to find "restaurants that aren't McDonald's," you won't like the result.
Scroll down to load more…