Big ideas.
Once a week.
Subscribe to our weekly newsletter.
A Real Map of the Middle East
Years of war in the Middle East have erased old borders. Here is what the map currently looks like.
21 August, 2016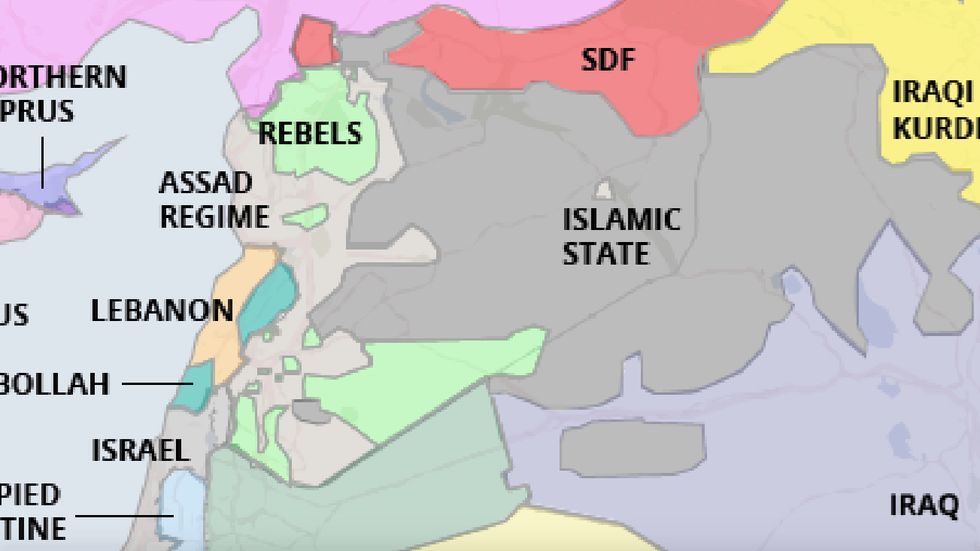 Could this map be any more different from the previous one discussed on this blog? That one dealt with the water, wetlands and shifting shorelines of Louisiana. This one zooms in on lines in the sand of the Middle-Eastern desert.
---
Yet both maps do something similar: knowing that our current maps no longer reflect reality, they replace their conventional wisdom with a new cartography, based on the new facts on the ground. 
For Louisiana, that means a shoreline that bites much deeper inland. For the Middle East, the effect is arguable even more dramatic: this new map charts the emergence of a handful of new statelets, and the dismemberment of a few older ones. 
The Middle East has been in turmoil since the so-called Arab Spring of 2011, with the Syrian civil war as its bloodiest consequence. Other countries in the area too have been shaken to their foundations by a wave of popular uprisings, terror attacks and military interventions. However, the old borders have generally held firm – except in Syria.
Here, the colonial-era boundary system known as Sykes-Picot has broken down, apparently permanently: few can envision a return to a unitary Syrian state – or a unitary Iraqi one, for that matter.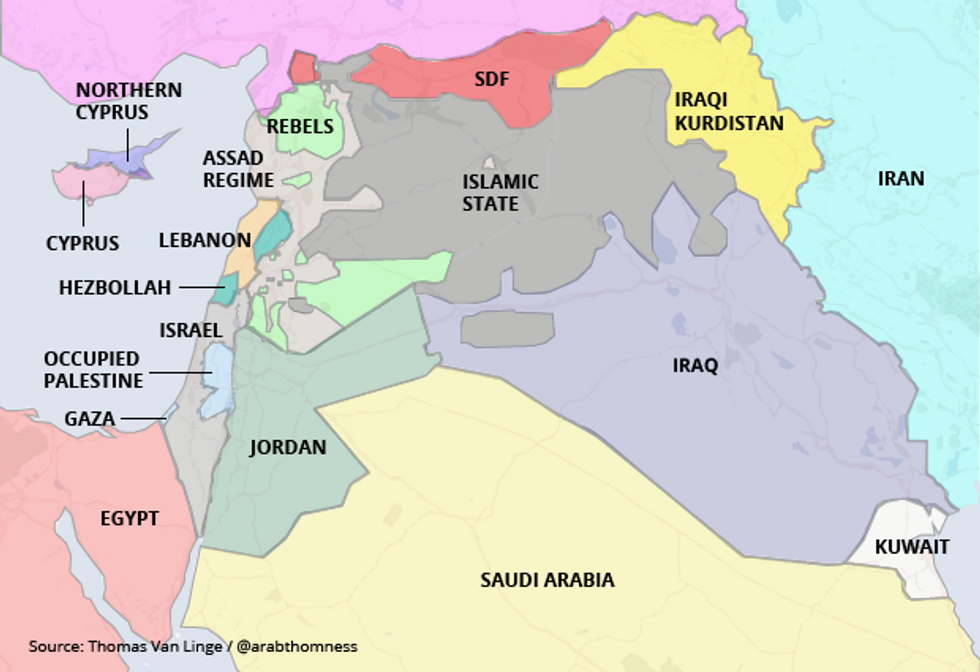 The Syrian central government (in light grey), based in Damascus, controls a coastal strip of territory in a patchwork shared with a number of rebel forces. The interior of the country is lost to government control, except a single light grey island in a sea of dark grey (for IS): the besieged city of Deir ez-Zor. 
The 'official' rebels (in green) control a fragmented archipelago of territories, spread across the north, middle and south of the country – also concentrated in the east, but without coastal access. Aleppo, in the north, is on the front line between government and rebel forces, with horrific consequences for the city and its people. 
Large parts of northern Syria are controlled by the Syrian Defence Forces (in red): a contiguous zone in the northeast, and a smaller zone in the northwest. Both are separated by the zone of contact between Turkey and Islamic State, although that zone has gotten a bit narrower since the takeover by the SDF of Manbij. The SDF, by the way, are mainly Kurdish forces, and the area they control is often referred to as Rojava – Kurdish for 'West'.
The Islamic State controls not only the largest part of Syria, but has also spilled over into Iraq, where it dominates mainly Sunni areas in the centre, up to and including the city of Mosul in the north. The IS's territory is surrounded by enemies, but has the advantage of being contiguous, with the exception of two exclaves, one in southwest Iraq, and another one in southeast Syria.
What remains of Iraq is controlled in the south by the Shiite-dominated government in Baghdad (in light blue), and in the North by the Iraqi Kurds (in yellow).
The map also reflects the mainly unrecognised secession of Northern Cyprus (in dark blue), and the de facto secession of Hezbollah-dominated areas within Lebanon (in green) – both facts on the ground predating the Syrian conflict, and likely to survive it. 
So, is this the map that will replace the ones in our current atlases? Perhaps not. Borders are likely to shift some more before the war is well and truly over. Few of the surrounding powers seem keen on letting the Islamic State survive – the same goes the other way, too, but the former outcome seems more likely. 
But even if this map proves to be no more than a snapshot of a fleeting moment in time, it is still more useful to keep in mind than the map in your atlas when you need a frame for the news from that part of the world.
Map found here at Middle East Eye, and produced by Thomas Van Linge, one of the select few citizen-cartographers that map the shifts in the lines of control that snake across Syria and Iraq. More on that here at Newser. Follow Van Linge's Twitter @arabthomness.
Strange Maps #798
Got a strange map? Let me know at strangemaps@gmail.com.
"You dream about these kinds of moments when you're a kid," said lead paleontologist David Schmidt.
Surprising Science
The triceratops skull was first discovered in 2019, but was excavated over the summer of 2020.
It was discovered in the South Dakota Badlands, an area where the Triceratops roamed some 66 million years ago.
Studying dinosaurs helps scientists better understand the evolution of all life on Earth.
What was the universe like one-trillionth of a second after the Big Bang? Science has an answer.
Credit: gonin via Adobe Stock
13-8
Following Steven Weinberg's lead, we plunge further back into cosmic history, beyond the formation of atomic nuclei.
Today, we discuss the origin of the quark-gluon plasma and the properties of the famous Higgs boson, the "God Particle."
Is there a limit? How far can we go back in time?
Last week, we celebrated the great physicist Steven Weinberg, bringing back his masterful book The First Three Minutes: A Modern View of the Origin of the Universe, where he tells the story of how, in the first moments after the Big Bang, matter started to organize into the first atomic nuclei and atoms. This week we continue to follow Weinberg's lead, plunging further back in time, as close to the beginning as we reliably can.
But first, a quick refresher. The first light atomic nuclei — aggregates of protons and neutrons — emerged during the very short time window between one-hundredth of a second and 3 minutes after the bang. This explains Weinberg's book title. Recall that atoms are identified by the number of protons in their nuclei (the atomic number) — from hydrogen (with a single proton) to carbon (with six) and all the way to uranium (with 92). The early cosmic furnace forged only chemical elements 1, 2, and 3 — hydrogen, helium, and lithium (as well as their isotopes, which contain the same number of protons but different numbers of neutrons). All heavier elements are forged in dying stars.
The hypothesis that the universe was the alchemist responsible for the lightest elements has been beautifully confirmed by numerous observations during the past decades, including improving a lingering discrepancy with lithium-7. (The "7" represents three protons and four neutrons for this lithium isotope, its most abundant in nature.) This primordial nucleosynthesis is one of the three key observational pillars of the Big Bang model of cosmology. The other two are the expansion of the universe — measured as galaxies recede form one another — and the microwave background radiation — the radiation leftover after the birth of hydrogen atoms, some 400,000 years after the bang.
The primordial soup of particle physics
At about one minute after the bang, the matter in the universe included light atomic nuclei, electrons, protons, neutrons, photons, and neutrinos: the primordial soup. What about earlier? Going back in cosmic time means a smaller universe, that is, matter squeezed into smaller volumes. Smaller volumes mean higher pressures and temperatures. The recipe for the soup changes. In physics, temperature is akin to motion and agitation. Hot things move fast and, when they cannot because they are stuck together, they vibrate more. Eventually, as the temperature increases, the bonds that keep things together break. As we go back in time, matter is dissociated into its simplest components. First, molecules become atoms. Then, atoms become nuclei and free electrons. Then, nuclei become free protons and neutrons. Then what?
Since the 1960s, we have known that protons and neutrons are not elementary particles. They are made of other particles — called quarks — bound together by the strong nuclear force, which is about 100 times stronger than electric attraction (that is, electromagnetism). But for high enough temperatures, not even the strong force can hold protons and neutrons together. When the universe was a mere one-hundred-thousandth of a second (10-5 second) old, it was hot enough to dissociate protons and neutrons into a hot plasma of quarks and gluons. Gluons, as the name implies, are the particles that stitch quarks into protons and neutrons (as well as hundreds of other particles held together by the strong force commonly seen in particle accelerators). Amazingly, such strange quark-gluon plasma has been created in high-energy particle collisions that generate energies one million degrees hotter than the heart of the sun. (Here is a video about it.) For a fleeting moment, the early universe re-emerges in a human-made machine, an awesome scientific and technological feat.
Remember the Higgs boson?
Credit: NASA
Is that it? Or can we go further back? Now we are contemplating a universe that is younger than one-millionth of a second old. For us, that's a ridiculously small amount of time. But not for elementary particles, zooming about close to the speed of light. As we keep going back toward t = 0, something remarkable happens. At about one-trillionth of a second (10-12 second or 0.000000000001 second) after the bang, a new particle commands the show, the famous Higgs boson. If you remember, this particle became both famous and infamous when it was discovered in 2012 at the European Center for Particle Physics, and the media decided to call it the "God Particle."

For this, we can blame Nobel Prize Laureate Leon Lederman, who was my boss when I was a postdoc at Fermilab, the biggest particle accelerator in the U.S. Leon told me that he was writing a book about the elusive Higgs, which he tried to but could not find at Fermilab. He wanted to call the book The God-Damn Particle, but his editor suggested taking out the "damn" from the title to increase sales. It worked.
The Higgs goes through a strange transition as the universe heats up. It loses its mass, becoming what we call a massless particle, like the photon. Why is this important? Because the Higgs plays a key role in the drama of particle physics. It is the mass-giver to all particles: if you hug the Higgs or (more scientifically) if a particle interacts with the Higgs boson, it gets a mass. The stronger the interaction, the larger the mass. So, the electron, being light, interacts less strongly with the Higgs than, say, the tau lepton or the charm quark. But if the Higgs loses its mass as it gets hotter, what happens to all the particles it interacts with? They also lose their mass!
Approaching t = 0
Think about the implication. Before one-trillionth of a second after the bang, all known particles were massless. As the universe expands and cools, the Higgs gets a mass and gives mass to all other particles it interacts with. This explains why the "God Particle" nickname stuck. The Higgs explains the origin of masses.
Kind of. We do not know what determines the strengths of all these different hugs (interactions), for instance, why the electron mass is different from the quarks' masses. These are parameters of the model, known as the Standard Model, a compilation of all that we know about the world of the very, very small. These all-important parameters determine the world as we know it. But we do not know what, if anything, determines them.
Okay, so we are at one-trillionth of a second after the bang. Can we keep going back? We can, but we must dive into the realm of speculation. We can talk of other particles, other dimensions of space and superstrings, the unification of all forces of nature, and the multiverse. Or we can invoke a pearl the great physicist Freeman Dyson once told me: most speculations are wrong. Readers are best served if we stick to what we know first. Then, with care, we dive into the unknown.
So, we stop here for now, knowing that there is much new territory of the "Here Be Dragons" type to cover in this fleeting one-trillionth of a second. We will go there soon enough.
Though gloomy and dense, Russian literature is hauntingly beautiful, offering a relentlessly persistent inquiry into the human experience.
Credit
: George Cerny via Unsplash
Personal Growth
Russian literature has a knack for precisely capturing and describing the human condition.
Fyodor Dostoevsky, Leo Tolstoy, and Aleksandr Solzhenitsyn are among the greatest writers who ever lived.
If you want to be a wiser person, spend time with the great Russian novelists.
In Fyodor Dostoevsky's 1864 novella Notes from Underground, an unnamed narrator asks the following question: "What can be expected of man since he is a being endowed with strange qualities?" The answer: "Even if man were nothing but a piano-key and this were proved to him by science, even then he would not become reasonable, but would purposefully do something perverse out of simple ingratitude. He would contrive destruction and chaos only to gain his point!"
After reading another handful of equally puzzling paragraphs, chances are you will find yourself seriously considering whether or not to put down this 100-page riddle. Chances are, plenty of readers will have beaten you to it already. Keep on reading, however, and you might just find that the second half of the story is not only much, much easier to understand, but can also make you look back at the first half from a radically different perspective.
A small person with big power
This narrator, it turns out, is a proud but spiteful bureaucrat. Dissatisfied with his career, he uses the trivial bit of power his position bestows upon him to make life hell for those he interacts with. Eclipsed by former classmates who successfully climbed the ladders of the military and high society, he spends his days alone — lost inside his own head — thinking of reasons for why the world has yet to notice the extraordinary talents he believes he possesses.
After the narrator finishes his incoherent diatribe about society's discontents, we get a glimpse at his everyday existence and the events that have made him so embittered. In one scene, he invites himself to a party for a recently promoted colleague he despises, only to spend the rest of the night complaining about the fact that everyone but him is having a fun time. "I should fling this bottle at their heads," he thinks, reaching for some champagne and defeatedly pouring himself another round.
Angsty college students will recognize this kind of crippling social anxiety in an instance, leaving them amazed at the accuracy with which this long-dead writer managed to put their most private thoughts to paper. Dostoevsky's unparalleled ability to capture our murky stream of consciousness has not gone unnoticed; a century ago, Sigmund Freud developed the study of psychoanalysis with Notes in the back of his mind. Friedrich Nietzsche listed Dostoevsky as one of his foremost teachers.
To an outsider, Russian literature can seem hopelessly dense, unnecessarily academic, and uncomfortably gloomy. But underneath this cold, rough, and at times ugly exterior, there hides something no thinking, feeling human could resist: a well-intentioned, deeply insightful, and relentlessly persistent inquiry into the human experience. Nearly two hundred years later, this hauntingly beautiful literary canon continues to offer useful tips for how to be a better person.
Dancing with death
Credit: Jez Timms via Unsplash
Some critics argue that the best way to analyze a piece of writing is through its composition, ignoring external factors like the author's life and place of origin. While books from the Russian Golden Age are meticulously structured, they simply cannot be studied in a vacuum. For these writers, art did not exist for art's sake alone; stories were manuals to help us understand ourselves and solve social issues. They were, to borrow a phrase popularized by Vladimir Lenin, mirrors to the outside world.

Just look at Dostoevsky, who at one point in his life was sentenced to death for reading and discussing socialist literature. As a firing squad prepared to shoot, the czar changed his mind and exiled him to the icy outskirts of Siberia. Starting life anew inside a labor camp, Dostoevsky developed a newfound appreciation for religious teachings he grew up with, such as the value of turning the other cheek no matter how unfair things may seem.
Dostoevsky's brush with death, which he often incorporated into his fiction, was as traumatizing as it was eye-opening. In The Idiot, about a Christ-like figure trying to live a decent life among St. Petersburg's corrupt and frivolous nobles, the protagonist recalls an execution he witnessed in Paris. The actual experience of standing on the scaffold — how it puts your brain into overdrive and makes you wish to live, no matter its terms and conditions — is described from the viewpoint of the criminal, something Dostoevsky could do given his personal experience.
Faith always played an important role in Dostoevsky's writing, but it took center stage when the author returned to St. Petersburg. His final (and most famous) novel, The Brothers Karamazov, asks a question which philosophers and theologians have pondered for centuries: if the omniscient, omnipotent, and benevolent God described in the Bible truly exists, why did He create a universe in which suffering is the norm and happiness the exception?
To an outsider, Russian literature can seem hopelessly dense, unnecessarily academic, and uncomfortably gloomy. But underneath this cold, rough, and at times ugly exterior, there hides something no thinking, feeling human could resist: a well-intentioned, deeply insightful, and relentlessly persistent inquiry into the human experience. Nearly two hundred years later, this hauntingly beautiful literary canon continues to offer useful tips for how to be a better person.
It is a difficult question to answer, especially when the counterargument (that is, there is no God) is so compelling. "I don't want the mother to embrace the man who fed her son to dogs," Ivan, a scholar and the novel's main skeptic, cries. "The sufferings of her tortured child she has no right to forgive; she dare not, even if the child himself were to forgive! I don't want harmony. From love for humanity, I don't want it. I would rather be left with unavenged suffering."
Yet it was precisely in such a fiery sentiment that Dostoevsky saw his way out. For the author, faith was a never-ending battle between good and evil fought inside the human heart. Hell, he believed, was not some bottomless pit that swallows up sinners in the afterlife; it describes the life of someone who is unwilling to forgive. Likewise, happiness did not lie in the pursuit of fame or fortune but in the ability to empathize with every person you cross paths with.
On resurrection
No discussion of Russian literature is complete without talking about Leo Tolstoy, who thought stories were never meant to be thrilling or entertaining. They were, as he wrote in his 1897 essay What is Art?, "a means of union among men, joining them together in the same feelings." Consequently, the only purpose of a novel was to communicate a specific feeling or idea between writer and reader, to put into words something that the reader always felt but never quite knew how to express.
Tolstoy grew up in a world where everything was either black or white and did not start perceiving shades of grey until he took up a rifle in his late teens. Serving as an artillery officer during the Crimean War, he found the good in soldiers regardless of which side of the conflict they were on. His Sevastopol Sketches, short stories based on his time in the army, are neither a celebration of Russia nor a condemnation of the Ottomans. The only hero in this tale, Tolstoy wrote, was truth itself.
It was an idea he would develop to its fullest potential in his magnum opus, War and Peace. Set during Napoleon's invasion of Russia, the novel frames the dictator, who Georg Hegel labeled "the World Spirit on horseback," as an overconfident fool whose eventual downfall was all but imminent. It is a lengthy but remarkably effective attack aimed at contemporary thinkers who thought history could be reduced to the actions of powerful men.
Semantics aside, Tolstoy could also be deeply personal. In his later years, the writer — already celebrated across the world for his achievements — fell into a depression that robbed him of his ability to write. When he finally picked up a pen again, he did not turn out a novel but a self-help book. The book, titled A Confession, is an attempt to understand his increasingly unbearable melancholy, itself born from the grim realization that he — like everyone else — will one day die.
In one memorable paragraph, Tolstoy explains his situation through an Eastern fable about a traveler climbing into a well to escape from a vicious beast, only to find another waiting for him at the bottom. "The man, not daring to climb out and not daring to leap to the bottom, seizes a twig growing in a crack in the wall and clings to it. His hands are growing weaker and he feels he will soon have to resign himself to the destruction that awaits him above or below, but still he clings on."
Confession is by no means an easy read, yet it is highly recommended for anyone feeling down on their luck. Tolstoy not only helps you understand your own emotions better but also offers inspiring advice on how to deal with them. What makes us humans unique from all other animals, he believes, is the ability to grasp our own impending and inevitable death. While this knowledge can be a terrible burden, it can also inspire us to focus on what is truly important: treating others with kindness.
Urge for action
Credit: Julia Kadel via Unsplash
Because 19th century Russia was an autocracy without a parliament, books were the only place people could discuss how they think their country should be run. While Tolstoy and Dostoevsky made conservative arguments that focused on personal growth, other writers went in a different direction. Nikolay Chernyshevsky, a progressive, treated his stories like thought experiments. His novel, What is to be Done?, explores what a society organized along socialist lines could look like.

What is to be Done?, which Chernyshevsky wrote while he was in prison, quickly became required reading for any aspiring Russian revolutionary. Imbued with the same kind of humanistic passion you may find in The Brothers Karamazov, these kinds of proto-Soviet blueprints painted such a convincing (and attractive) vision for the future that it seemed as though history could unfold itself no other way than how Karl Marx had predicted it would.
"I don't know about the others," Aleksandr Arosev, a Bolshevik who saw himself as the prophet of a new religion, once wrote about his childhood reading list, "but I was in awe of the tenacity of human thought, especially that thought within which there loomed something that made it impossible for men not to act in a certain way, not to experience the urge for action so powerful that even death, were it to stand in its way, would appear powerless."
Decades later, another Aleksandr — Aleksandr Solzhenitsyn — wrote an equally compelling book about the years he spent locked inside a Siberian prison camp. Like Arosev, Solzhenitsyn grew up a staunch Marxist-Leninist. He readily defended his country from Nazi invaders in East Prussia, only to be sentenced to eight years of hard labor once the government intercepted a private letter in which he questioned some of the military decisions made by Joseph Stalin.
In the camp, Solzhenitsyn took note of everything he saw and went through. Without access to pen and paper, he would lie awake at night memorizing the pages of prose he was composing in his mind. He tried his best remember each and every prisoner he met, just so he could tell their stories in case they did not make it out of there alive. In his masterpiece, The Gulag Archipelago, he mourns the names and faces he forgot along the way.
Despite doing time for a crime he did not commit, Solzhenitsyn never lost faith in humanity. Nor did he give in to the same kind of absolutist thinking that led the Soviet Union to this dark place. "If only it were all so simple!" he wrote. "If only there were evil people somewhere insidiously committing evil deeds. But the line dividing good and evil cuts through the heart of every human being. And who is willing to destroy a piece of his own heart?"
The mystery of man
"All mediocre novelists are alike," Andrew Kaufman, a professor of Slavic Languages and Literature at the University of Virginia, once told The Millions. "Every great novelist is great in its own way." This is, in case you didn't know, an insightful spin on the already quite insightful opening line from another of Tolstoy's novels, Anna Karenina: "All happy families are alike, but every unhappy family is unhappy in its own way."
While Russian writers may be united by a prosaic style and interest in universal experience, their canon is certainly diverse. Writing for The New York Times, Francine Prose and Benjamin Moser neatly sum up what makes each giant of literature distinct from the last: Gogol, for his ability to "make the most unlikely event seem not only plausible but convincing"; Turgenev, for his "meticulously rendered but ultimately mysterious characters"; Chekhov, for his "uncanny skill at revealing the deepest emotions" in his plays.
As distant as these individuals may seem to us today, the impact they made on society is nothing short of profound. In the cinemas, hundreds of thousands gather to watch Keira Knightly put on a brilliant ballgown and embody Tolstoy's tragic heroine. At home, new generations read through Dostoevsky's Notes of Underground in silence, recognizing parts of themselves in his despicable but painfully relatable Underground Man.
Just as Tolstoy needed at least 1,225 pages to tell the story of War and Peace, so too does one need more than one article to explain what makes Russian literature so valuable. It can be appreciated for its historical significance, starting a discussion that ended up transforming the political landscape of the Russian Empire and — ultimately — the world as a whole. It also can be appreciated for its educational value, inspiring readers to evaluate their lives and improve their relationships.
Most importantly, perhaps, Russian literature teaches you to take a critical look at yourself and your surroundings. "Man is a mystery," Dostoevsky once exclaimed outside his fiction, reiterating a teaching first formulated by the Greek philosopher Socrates. "It must be unraveled. And if you spend your whole life unraveling it, do not say you have wasted your time. I occupy myself with this mystery, because I want to be a man."
Scroll down to load more…