Steinbeck and Kerouac: Two Very Different Road Trips
Their paths were similar, but the outcomes were far from the same
Frank Jacobs
From a young age, Frank was fascinated by maps and atlases, and the stories they contained. Finding his birthplace on the map in the endpapers of Tolkien's Lord of the Rings only increased his interest in the mystery and message of maps.
While pursuing a career in journalism, Frank started a blog called Strange Maps, as a repository for the weird and wonderful cartography he found hidden in books, posing as everyday objects and (of course) floating around the Internet.
"Each map tells a story, but the stories told by your standard atlas for school or reference are limited and literal: they show only the most practical side of the world, its geography and its political divisions. Strange Maps aims to collect and comment on maps that do everything but that - maps that show the world from a different angle".
A remit that wide allows for a steady, varied diet of maps: Frank has been writing about strange maps since 2006, published a book on the subject in 2009 and joined Big Think in 2010. Readers send in new material daily, and he keeps bumping in to cartography that is delightfully obscure, amazingly beautiful, shockingly partisan, and more.
15 February, 2012
In 1960, feeling he might not be long for this earth, John Steinbeck decided to travel across the length and breadth of America for one last time. The celebrated writer of East of Eden, Of Mice and Men, and Grapes of Wrath set out from his Long Island home aboard Rocinante [1], his specially built camper van, and accompanied by his French poodle, Charley. In 1962, he published Travels with Charley: In Search of America. 
---
The end papers of the book, which would turn out to be Steinbeck's last original work published during his lifetime, were illustrated with this map of America, detailing the itinerary and some of the incidents of Steinbeck's travels with Charley [2]. 
Steinbeck, Rocinante and Charley travelled the US in counterclockwise direction, on a roughly 10,000-mile-long trip that saw them passing through New England to the top of Maine, then via Niagara Falls along the Canadian border, hitting Chicago and continuing on to Seattle by way of Fargo before turning south towards the Salinas Valley, backdrop of Steinbeck's youth. The trio completed their circumambulation via Texas, New Orleans and a huge chunk of the Deep South.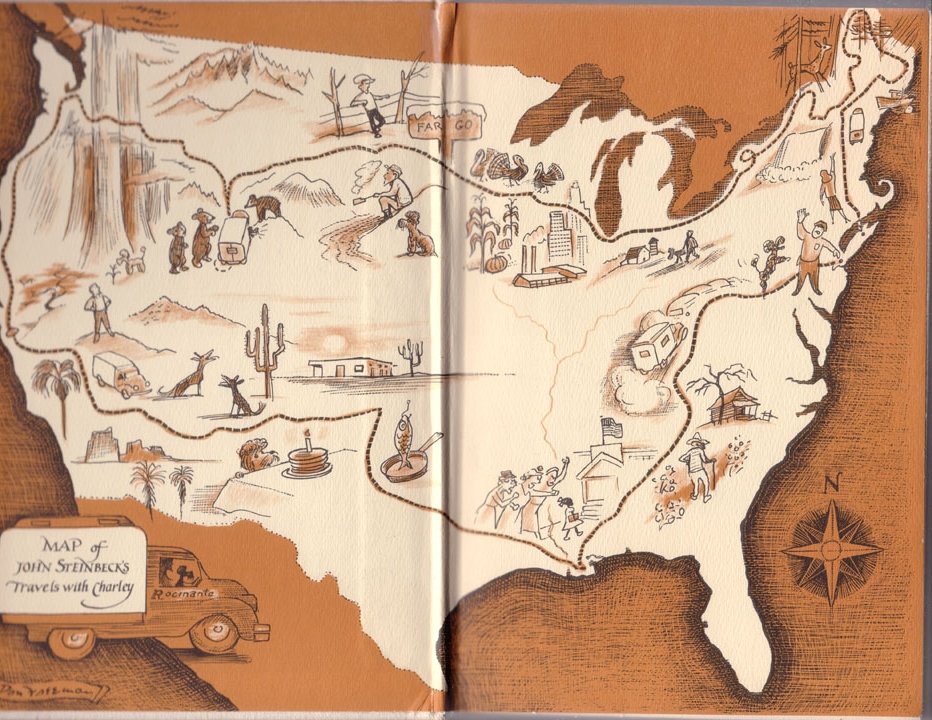 Steinbeck's travelogue is a State of the Union of sorts, but not in the obligatory upbeat tradition of the President's annual address. The writer is disheartened by the technology-driven pace and direction of social change in the United States and laments the country's blandness, fearfulness, homogeneity and wastefulness. 
Perhaps this says as much about the writer as his subject: Steinbeck was ill, and reportedly quite depressed, when undertaking his trip. That the trans-American trek didn't quite manage to recapture the wine of Steinbeck's youth might explain some of the sour grapes in the book. 
Contrast this map with a similar one, posted earlier on this blog: Jack Kerouac's 1947 cross-country hitchhiking round-trip (#98). Kerouac followed a slightly less border-hugging route, but both trajectories are more than passingly similar: starting and ending in New York, passing through Chicago on the way out to California, following the west coast south before returning east.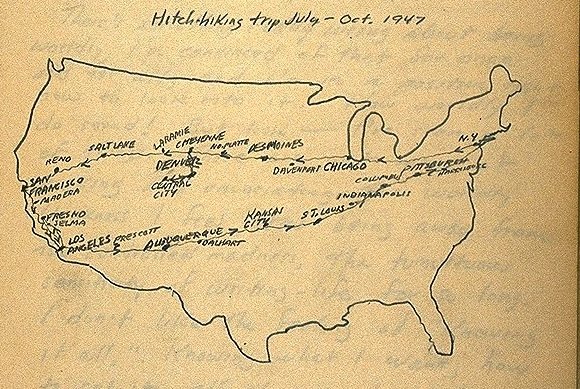 But Kerouac's trip became the basis for a different kind of book: On the Road, a lyrical, stream-of-consciousness tribute to America. His travelogue became the bible of the Beat generation. 
Why that difference in tone and outlook? Was America that more homogenised in 1960 than in 1947? Was Steinbeck just more into farm labourers than jazz musicians? Or is it because Kerouac was young and Steinbeck was old?
Steinbeck's book shot to the number-one spot on the NY Times Bestseller list; a few months later, he was awarded the Nobel Prize for Literature (though not particularly for this book, to be clear). In later years, scholars cast doubt on the veracity of many of the quotes, and even some of the anecdotes in Travels with Charley. Even Steinbeck's son John Jr. expressed his doubts [3]: "He just sat in his camper and wrote all that [expletive]."
Strange Maps #553
Got a strange map? Let me know at strangemaps@gmail.com.
[1] After Don Quixote's horse. The restored van is now on show in the Steinbeck Center in Salinas, California.
[2] The book was named after one of Steinbeck's favourite travelogues, R.L. Stevenson's Travels with a Donkey in the Cévennes.
[3] As quoted in Charles McGrath's article on the subject (NY Times, April 3, 2011).
Related Articles
If you want to know what makes a Canadian lynx a Canadian lynx a team of DNA sequencers has figured that out.
Surprising Science
A team at UMass Amherst recently sequenced the genome of the Canadian lynx.
It's part of a project intending to sequence the genome of every vertebrate in the world.
Conservationists interested in the Canadian lynx have a new tool to work with.
Artwork: Guillaume le Clerc / Wikimedia Commons
13th-century fantastical depiction of an elephant.
It is easy to see how one can look at 66,000 genomic sequences stored away as being the analogous equivalent of the Svalbard Global Seed Vault. It is a potential tool for future conservationists.
But what are the practicalities of sequencing the genome of a lynx beyond engaging with broad bioethical questions? As the animal's habitat shrinks and Earth warms, the Canadian lynx is demonstrating less genetic diversity. Cross-breeding with bobcats in some portions of the lynx's habitat also represents a challenge to the lynx's genetic makeup. The two themselves are also linked: warming climates could drive Canadian lynxes to cross-breed with bobcats.
John Organ, chief of the U.S. Geological Survey's Cooperative Fish and Wildlife units, said to MassLive that the results of the sequencing "can help us look at land conservation strategies to help maintain lynx on the landscape."
What does DNA have to do with land conservation strategies? Consider the fact that the food found in a landscape, the toxins found in a landscape, or the exposure to drugs can have an impact on genetic activity. That potential change can be transmitted down the generative line. If you know exactly how a lynx's DNA is impacted by something, then the environment they occupy can be fine-tuned to meet the needs of the lynx and any other creature that happens to inhabit that particular portion of the earth.
Given that the Trump administration is considering withdrawing protection for the Canadian lynx, a move that caught scientists by surprise, it is worth having as much information on hand as possible for those who have an interest in preserving the health of this creature—all the way down to the building blocks of a lynx's life.
The exploding popularity of the keto diet puts a less used veggie into the spotlight.
Purple cauliflower. (Photo: Shutterstock)
Surprising Science
The cauliflower is a vegetable of choice if you're on the keto diet.
The plant is low in carbs and can replace potatoes, rice and pasta.
It can be eaten both raw and cooked for different benefits.
Great again? Why America stopped looking forward to the future
Politics & Current Affairs
Income inequality is dividing Americans.
Wages haven't risen in 30 years, while prices for housing, schools, and basic goods has.
Canny (and uncanny) politicians have learned how to milk the politics of fear by comparing the present to the past.
Big think's weekly newsletter.
Get smarter faster from the comfort of your inbox.
See our newsletter privacy policy
here
Most Popular
Most Recent
Big think's weekly newsletter.
Get smarter faster from the comfort of your inbox.
See our newsletter privacy policy
here
© Copyright 2007-2018 & BIG THINK, BIG THINK EDGE,
SMARTER FASTER trademarks owned by The Big Think, Inc. All rights reserved.