Steinbeck and Kerouac: Two Very Different Road Trips
Their paths were similar, but the outcomes were far from the same
15 February, 2012
In 1960, feeling he might not be long for this earth, John Steinbeck decided to travel across the length and breadth of America for one last time. The celebrated writer of East of Eden, Of Mice and Men, and Grapes of Wrath set out from his Long Island home aboard Rocinante [1], his specially built camper van, and accompanied by his French poodle, Charley. In 1962, he published Travels with Charley: In Search of America. 
---
The end papers of the book, which would turn out to be Steinbeck's last original work published during his lifetime, were illustrated with this map of America, detailing the itinerary and some of the incidents of Steinbeck's travels with Charley [2]. 
Steinbeck, Rocinante and Charley travelled the US in counterclockwise direction, on a roughly 10,000-mile-long trip that saw them passing through New England to the top of Maine, then via Niagara Falls along the Canadian border, hitting Chicago and continuing on to Seattle by way of Fargo before turning south towards the Salinas Valley, backdrop of Steinbeck's youth. The trio completed their circumambulation via Texas, New Orleans and a huge chunk of the Deep South.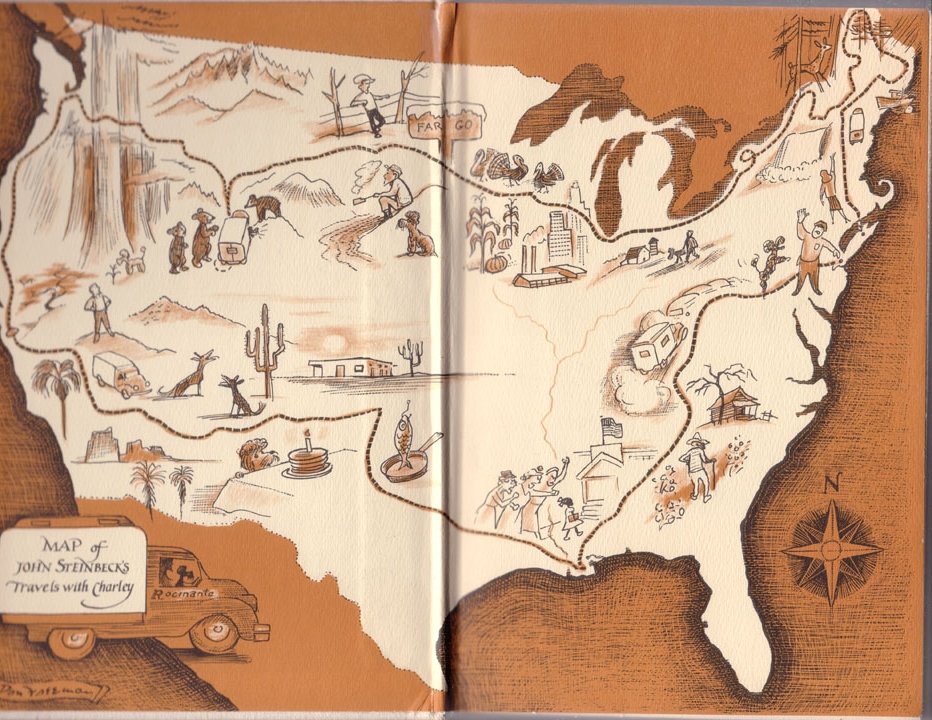 Steinbeck's travelogue is a State of the Union of sorts, but not in the obligatory upbeat tradition of the President's annual address. The writer is disheartened by the technology-driven pace and direction of social change in the United States and laments the country's blandness, fearfulness, homogeneity and wastefulness. 
Perhaps this says as much about the writer as his subject: Steinbeck was ill, and reportedly quite depressed, when undertaking his trip. That the trans-American trek didn't quite manage to recapture the wine of Steinbeck's youth might explain some of the sour grapes in the book. 
Contrast this map with a similar one, posted earlier on this blog: Jack Kerouac's 1947 cross-country hitchhiking round-trip (#98). Kerouac followed a slightly less border-hugging route, but both trajectories are more than passingly similar: starting and ending in New York, passing through Chicago on the way out to California, following the west coast south before returning east.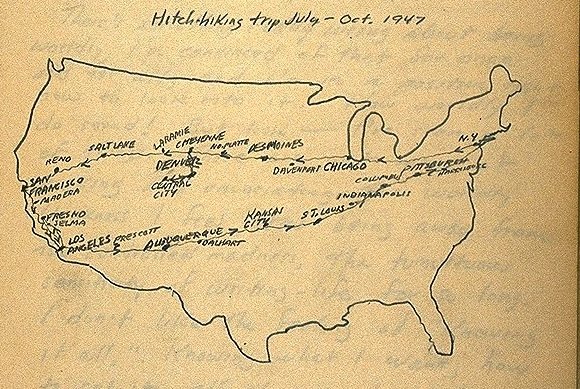 But Kerouac's trip became the basis for a different kind of book: On the Road, a lyrical, stream-of-consciousness tribute to America. His travelogue became the bible of the Beat generation. 
Why that difference in tone and outlook? Was America that more homogenised in 1960 than in 1947? Was Steinbeck just more into farm labourers than jazz musicians? Or is it because Kerouac was young and Steinbeck was old?
Steinbeck's book shot to the number-one spot on the NY Times Bestseller list; a few months later, he was awarded the Nobel Prize for Literature (though not particularly for this book, to be clear). In later years, scholars cast doubt on the veracity of many of the quotes, and even some of the anecdotes in Travels with Charley. Even Steinbeck's son John Jr. expressed his doubts [3]: "He just sat in his camper and wrote all that [expletive]."
Strange Maps #553
Got a strange map? Let me know at strangemaps@gmail.com.
[1] After Don Quixote's horse. The restored van is now on show in the Steinbeck Center in Salinas, California.
[2] The book was named after one of Steinbeck's favourite travelogues, R.L. Stevenson's Travels with a Donkey in the Cévennes.
[3] As quoted in Charles McGrath's article on the subject (NY Times, April 3, 2011).
Lumina Foundation is partnering with Big Think to unearth the next large-scale, rapid innovation in post-high school education. Enter the competition here!
Good science is sometimes trumped by the craving for a "big splash."
Videos
Scientists strive to earn credit from their peers, for grants from federal agencies, and so a lot of the decisions that they make are strategic in nature. They're encouraged to publish exciting new findings that demonstrate some new phenomenon that we have never seen before.
This professional pressure can affect their decision-making — to get acclaim they may actually make science worse. That is, a scientist might commit fraud if he thinks he can get away with it or a scientist might rush a result out of the door even though it hasn't been completely verified in order to beat the competition.
On top of the acclaim of their peers, scientists — with the increasing popularity of science journalism — are starting to be rewarded for doing things that the public is interested in. The good side of this is that the research is more likely to have a public impact, rather than be esoteric. The bad side? To make a "big splash" a scientist may push a study or article that doesn't exemplify good science.
Moans, groans, and gripes release stress hormones in the brain.
popular
Could you give up complaining for a whole month? That's the crux of this interesting piece by Jessica Hullinger over at Fast Company. Hullinger explores the reasons why humans are so predisposed to griping and why, despite these predispositions, we should all try to complain less. As for no complaining for a month, that was the goal for people enrolled in the Complaint Restraint project.
Participants sought to go the entirety of February without so much as a moan, groan, or bellyache.
Two space agencies plan missions to deflect an asteroid.
ESA's Hera mission above asteroid 65803 Didymos. Credit: ESA/ScienceOffice.org
Surprising Science
NASA and the European Space Agency (ESA) are working together on missions to a binary asteroid system.
The DART and Hera missions will attempt to deflect and study the asteroid Didymoon.
A planetary defense system is important in preventing large-scale catastrophes.
Big think's weekly newsletter.
Get smarter faster from the comfort of your inbox.
See our newsletter privacy policy
here
Most Popular
Most Recent
Big think's weekly newsletter.
Get smarter faster from the comfort of your inbox.
See our newsletter privacy policy
here
© Copyright 2007-2018 & BIG THINK, BIG THINK EDGE,
SMARTER FASTER trademarks owned by The Big Think, Inc. All rights reserved.