Big ideas.
Once a week.
Subscribe to our weekly newsletter.
St. Michael Alignment is England's Most Famous Ley Line. But is it Real?
Two straight lines connect Glastonbury to Armageddon
16 August, 2011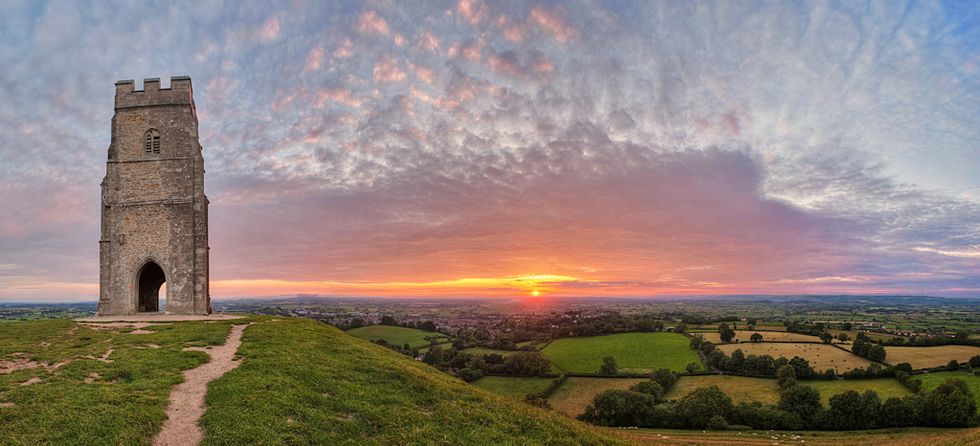 The St. Michael Alignment is arguably the most prominent and intriguing of the many ley lines that criss-cross Britain. It runs in a straight line between Land's End, England's southwestern extremity, and Hopton-on-Sea, on the Norfolk coast. Its name derives from the many sites devoted to St. Michael that it touches or skirts on its 350-mile course - and from its orientation: the direction of the sunrise on May 8th, when the Latin liturgy celebrates… the Apparition of St. Michael.
---
In spite of their supposed antiquity and the bewildering multitude of associated esoteric theories, ley lines have been (re)discovered only relatively recently, and were initially described in mainly exoteric [1] terms.
The first book devoted to ley lines was The Old Straight Track (1925), in which amateur archaeologist Alfred Watkins argued for the existence in Britain of an ancient system of straight trackways that connected landscape features and prehistoric monuments. The book led to a flurry of ley line exploration in the twenties and thirties, but Watkins' hypothenuse-rich hypothesis proved too iffy for mainstream science. 
Ley line lore was rediscovered and embellished a few decades later, most notably by John Michell, whose book The View Over Atlantis (1969) was the first to discuss the St. Michael Line extensively: 
"The St. Michael Line of traditional dragons sites in south-west England (…) is remarkable for its length and accuracy. It appears to be set between two prominent Somerset hills, both dedicated to St. Michael with ruined churches on their summit. These two hills are Glastonbury Tor and 'The Mump' at Burrowbridge some ten miles to the south-west. Both these hills appear to have been artificially shaped so that their axis align with each other, and their orientation, 27 degrees north of east, can be read off a large Ordnance Survey sheet."
As this quote suggests, the 'revived' ley lines are no longer merely putative remnants of neolithic surveying; they are imbued with mystical qualities, their significance explained by or explaining such diverse phenomena as dowsing, ancient astronomy, feng shui, the Nazca lines in Peru, and sacred geography of both the Christian and pagan sort.
Esoteric theories are usually long on mysteries and short on facts. Nevertheless, the St. Michael Line does cut an intriguing trajectory across southern England. 
For starters, it traverses St. Michael's Mount, an island monastery off the Cornish coast, and a sister site to the better-known Mont Saint-Michel on the Norman-Breton border [2].  
The Line touches the Hurlers, a Bronze Age set of three stone circles, so called because Christian legend has it that they are the petrified remains of men practising the sport of hurling during sabbath. A few other points:
Burrowbridge Mump, also called St. Michael's Borough, and topped with the ruins of a church dedicated to the Archangel.
Glastonbury Tor, pictured above, a visible neighbour to the Mump, a centre of Arthurian legends - and also crowned with the ruins of a church dedicated to St. Michael.
Oliver's Castle, an Iron Age hill fort (originally Roundway Down but possibly renamed for Oliver Cromwell following a nearby battle during the English Civil War in 1643).
The Avebury Henge - the largest 'henge' (i.e. prehistoric circular monument) in Britain. 
Bury St. Edmunds, once one of England's foremost abbeys, and the shrine of one of its patron saints.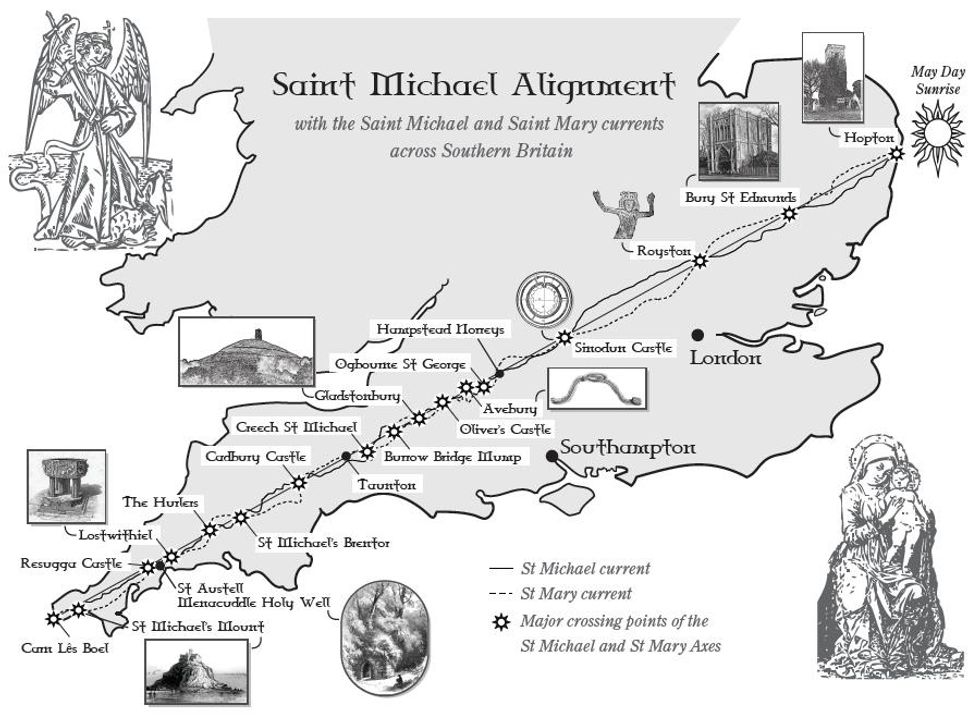 But what exactly is the significance of all of this? Why St. Michael? And what do the St. Mary Currents, shown intertwining with the St. Michael Line on this map, have to do with anything?
For his quest, the curious cartographer is rewarded with - or more likely frustrated by - elusive explanations that never quite manage to convince, but are in turn dependent by other, further mysteries. Cathedrals built on quicksand.
One could easily spend years researching the finer points of alignment lore. But instead of the final piece of the puzzle, you're more likely to find a bigger puzzle. You could also save some of your valuable time by contemplating the following counterargument.
As knowledge in Britain of the indigenous, but recently extinct Woolworths chain of stores recedes from living memory, its reputation will undoubtedly shift from the mundane to the legendary. To aid the rapid rise of its legend, Matthew Parker produced this baffling pattern, based on the location of a dozen Woolworths stores centred on the Midlands.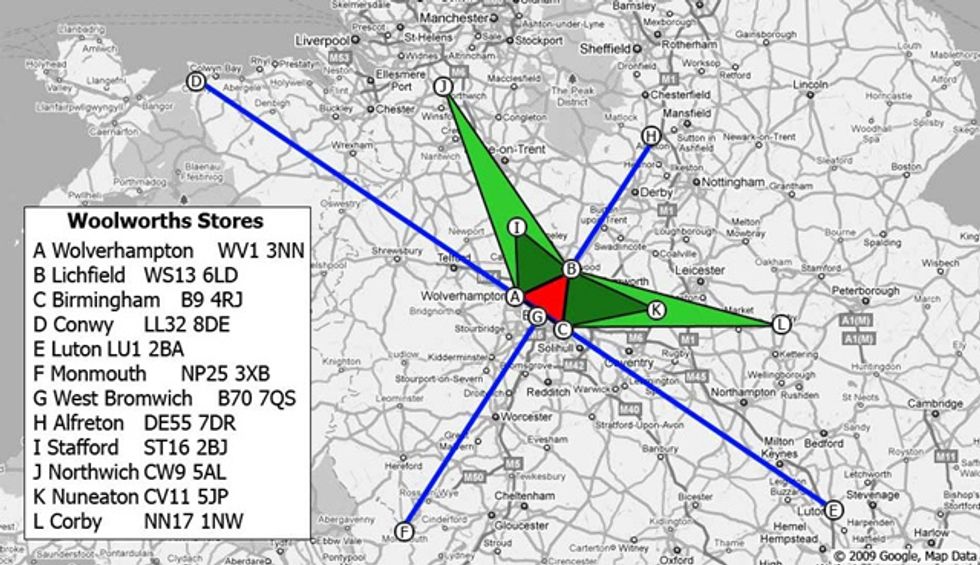 Connecting the dots between 12 former Woolworths locations, ranging from Conwy in north Wales to Luton, north of London, and Monmouth in the Welsh Borders to Alfreton, south of Sheffield, provides us with an intriguing geometric figure - so symmetrical that it simply has to be meaningful in some hidden, esoteric way…
While in fact all it proves is that it's quite easy to produce seemingly meaningful patterns, given a large enough sample of data (in this case: the locations of over 800 former Woolworths stores).
This is a return to the original criticism of Alfred Watkins' original ley lines theory. As writes Matthew Johnson in 'Archaeological Theory: An Introduction':
"Ley lines do not exist. This was shown by Tom Williamson and Liz Bellamy in Ley Lines in Question, which analysed such lines statistically and showed that the density of archaeological sites in the British landscape is so great that a line drawn through virtually anywhere will 'clip' a number of sites." 
Seems like sound advice, but somewhere in all of us lurks a pattern-recognisant idiot savant. The one inside me asks: What's with all these Matthews having problems with ley lines? 
Many thanks to Michael Everson and Greg Wilson for sending in the Woolworths map, found here on Bad Archaeology, originally posted here on the Bad Science blog. Read Matt Parker's original press release here on Ben Goldacre's secondary blog. The St. Michael Alignment map was found here on esoteric writer Jiro Olcott's website. The other St. Michael Line found here on Megalithomania. The Glastonbury Tor sunset was found here on Flickr. 
Strange Maps #527
Got a strange map? Let me know at strangemaps@gmail.com.
[1] accessible, comprehensible, non-secretive; the antonym of esoteric.
[2] If you draw a straight line between St. Michael's Mount and Mont Saint-Michel, you get another St. Michael Line. Follow this one on its southeasterly course, and you hit, successively, la Sacra di San Michele in Piemonte (a Benedictine abbey like the two aforementioned Mounts), Delphi in Greece and Mount Carmel in Israel. In the other direction lies the Irish island of - don't tell me you didn't see it coming - Skellig Michael.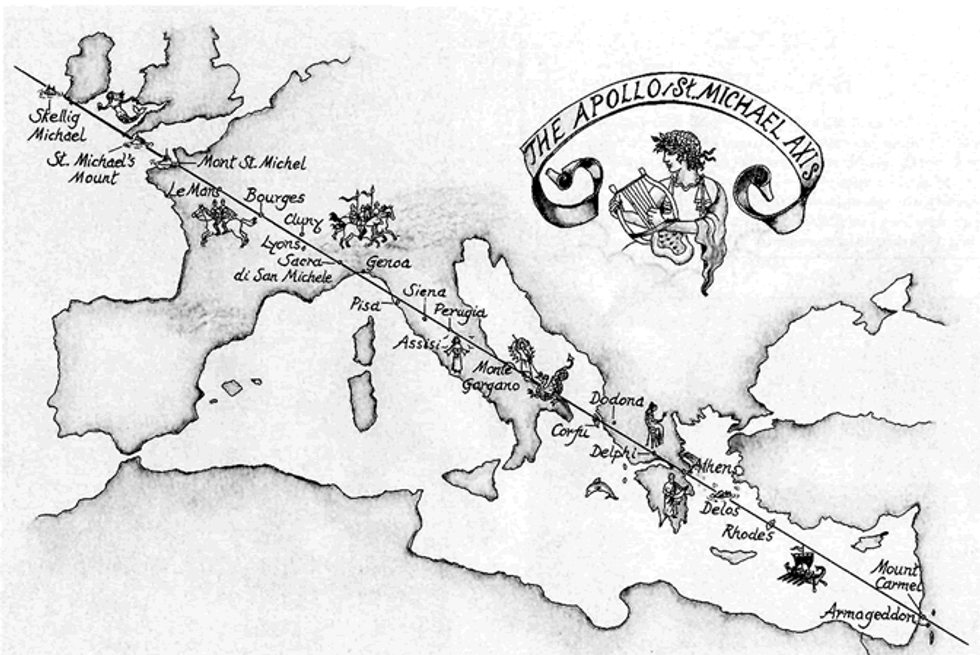 "You dream about these kinds of moments when you're a kid," said lead paleontologist David Schmidt.
Surprising Science
The triceratops skull was first discovered in 2019, but was excavated over the summer of 2020.
It was discovered in the South Dakota Badlands, an area where the Triceratops roamed some 66 million years ago.
Studying dinosaurs helps scientists better understand the evolution of all life on Earth.
In ancient Greece, the Olympics were never solely about the athletes themselves.
Coronavirus
Because of a dramatic rise in COVID-19 cases, the opening and closing ceremonies of the 2021 Olympics will unfold in a stadium absent the eyes, ears and voices of a once-anticipated 68,000 ticket holders from around the world.
Events during the intervening days will likewise occur in silent arenas missing the hundreds of thousands of spectators who paid US$815 million for their now-useless tickets.
After 48 years teaching classics, I can't help but wonder what the Greeks – who invented the Games nearly 3,000 years ago, in 776 B.C. – would make of such a ghostly version of their Olympic festival.
In many ways, they'd view the prospect as absurd.
In ancient Greece, the Olympics were never solely about the athletes themselves; instead, the heart and soul of the festival was the experience shared by all who attended. Every four years, athletes and spectators traveled from far-flung corners of the Greek-speaking world to Olympia, lured by a longing for contact with their compatriots and their gods.
In the shadow of dreams
For the Greeks, during five days in the late-summer heat, two worlds miraculously merged at Olympia: the domain of everyday life, with its human limits, and a supernatural sphere from the days superior beings, gods and heroes populated Earth.
Greek athletics, like today's, plunged participants into performances that pushed the envelope of human ability to its breaking point. But to the Greeks, the cauldron of competition could trigger revelations in which ordinary mortals might briefly intermingle with the extraordinary immortals.
The poet Pindar, famous for the victory songs he composed for winners at Olympia, captured this sort of transcendent moment when he wrote, "Humans are creatures of a day. But what is humankind? What is it not? A human is just the shadow of a dream – but when a flash of light from Zeus comes down, a shining light falls on humans and their lifetime can be sweet as honey."
However, these epiphanies could occur only if witnesses were physically present to immerse themselves – and share in – the spine-tingling flirtation with the divine.
Simply put, Greek athletics and religious experience were inseparable.
At Olympia, both athletes and spectators were making a pilgrimage to a sacred place. A modern Olympics can legitimately take place in any city selected by the International Olympic Committee. But the ancient games could occur in only one location in western Greece. The most profoundly moving events didn't even occur in the stadium that accommodated 40,000 or in the wrestling and boxing arenas.
Instead, they took place in a grove called the Althis, where Hercules is said to have first erected an altar, sacrificed oxen to Zeus and planted a wild olive tree. Easily half the events during the festival engrossed spectators not in feats like discus, javelin, long jump, foot race and wrestling, but in feasts where animals were sacrificed to gods in heaven and long-dead heroes whose spirits still lingered.
On the evening of the second day, thousands gathered in the Althis to reenact the funeral rites of Pelops, a human hero who once raced a chariot to win a local chief's daughter. But the climactic sacrifice was on the morning of the third day at the Great Altar of Zeus, a mound of plastered ashes from previous sacrifices that stood 22 feet tall and 125 feet around. In a ritual called the hecatomb, 100 bulls were slaughtered and their thigh bones, wrapped in fat, burned atop the altar so that the rising smoke and aroma would reach the sky where Zeus could savor it.
No doubt many a spectator shivered at the thought of Zeus hovering above them, smiling and remembering Hercules' first sacrifice.
Just a few yards from the Great Altar another, more visual encounter with the god awaited. In the Temple of Zeus, which was erected around 468 to 456 B.C., stood a colossal image, 40 feet high, of the god on a throne, his skin carved from ivory and his clothing made of gold. In one hand he held the elusive goddess of victory, Nike, and in the other a staff on which his sacred bird, the eagle, perched. The towering statue was reflected in a shimmering pool of olive oil surrounding it.
During events, the athletes performed in the nude, imitating heroic figures like Hercules, Theseus or Achilles, who all crossed the dividing line between human and superhuman and were usually represented nude in painting and sculpture.
The athletes' nudity declared to spectators that in this holy place, contestants hoped to reenact, in the ritual of sport, the shudder of contact with divinity. In the Althis stood a forest of hundreds of nude statues of men and boys, all previous victors whose images set the bar for aspiring newcomers.
"There are a lot of truly marvelous things one can see and hear about in Greece," the Greek travel writer Pausanias noted in the second century B.C., "but there is something unique about how the divine is encountered at … the games at Olympia."
Communion and community
The Greeks lived in roughly 1,500 to 2,000 small-scale states scattered across the Mediterranean and Black Sea regions.
Since sea travel in summertime was the only viable way to cross this fragile geographical web, the Olympics might entice a Greek living in Southern Europe and another residing in modern-day Ukraine to interact briefly in a festival celebrating not only Zeus and Heracles but also the Hellenic language and culture that produced them.
Besides athletes, poets, philosophers and orators came to perform before crowds that included politicians and businessmen, with everyone communing in an "oceanic feeling" of what it meant to be momentarily united as Greeks.
Egisto Sani/flickr, CC BY-NC
Now, there's no way we could explain the miracle of TV to the Greeks and how its electronic eye recruits millions of spectators to the modern games by proxy. But visitors to Olympia engaged in a distinct type of spectating.

The ordinary Greek word for someone who observes – "theatês" – connects not only to "theater" but also to "theôria," a special kind of seeing that requires a journey from home to a place where something wondrous unfolds. Theôria opens a door into the sacred, whether it's visiting an oracle or participating in a religious cult.
Attending an athletic-religious festival like the Olympics transformed an ordinary spectator, a theatês, into a theôros – a witness observing the sacred, an ambassador reporting home the wonders observed abroad.
It's hard to imagine TV images from Tokyo achieving similar ends.
No matter how many world records are broken and unprecedented feats accomplished at the 2020 games, the empty arenas will attract no gods or genuine heroes: The Tokyo games are even less enchanted than previous modern games.
But while medal counts will confer fleeting glory on some nations and disappointing shame on others, perhaps a dramatic moment or two might unite athletes and TV viewers in an oceanic feeling of what it means to be "kosmopolitai," citizens of the world, celebrants of the wonder of what it means to be human – and perhaps, briefly, superhuman as well.
The ancient Greeks wouldn't recognize some aspects of the modern Olympics.
Vincent Farenga, Professor of Classics and Comparative Literature, USC Dornsife College of Letters, Arts and Sciences
This article is republished from The Conversation under a Creative Commons license. Read the original article.

A new brain imaging study explored how different levels of the brain's excitatory and inhibitory neurotransmitters are linked to math abilities.
Mind & Brain
Glutamate and GABA are neurotransmitters that help regulate brain activity.
Scientists have long known that both are important to learning and neuroplasticity, but their relationship to acquiring complex cognitive skills like math has remained unclear.
The new study shows that having certain levels of these neurotransmitters predict math performance, but that these levels switch with age.
Why do roughly one in five people find math especially difficult?
You might blame teaching methods, which some argue explains why the U.S. lags behind other countries in standardized math test scores. You could point to math anxiety, which affects about 20 percent of students and 25 percent of teachers, according to surveys. And there are also medical conditions that make math difficult, such as dyscalculia, a learning disability that disrupts the normal development of arithmetic skills.
But another explanation centers on neurotransmitters. In a new study published in PLOS Biology, researchers explored how the brain's levels of GABA and glutamate relate to math abilities over time in students of varying ages. The results showed that levels of these neurotransmitters can predict students' performance on math tests. However, this relationship seems to flip as people get older.
GABA and glutamate are responsible for regulating brain activity. In the mature brain, GABA is the brain's main inhibitory neurotransmitter, helping to block impulses between nerve cells in the brain, which can calm feelings of stress, anxiety, or fear. GABA is made from glutamate, the brain's major excitatory neurotransmitter that helps send signals throughout the central nervous system.
Researchers have long known that these neurotransmitters play crucial roles in learning, development, and neuroplasticity. That is partly because they are thought to help trigger developmental windows (or "sensitive periods") during which neural systems become more plastic and better able to acquire certain cognitive skills.
"Importantly, sensitive periods vary for different functions, with relatively simple abilities (e.g., sensorimotor integration) occurring earlier in development, while the sensitive period for acquiring more complex cognitive functions extends into the third decade of life," the researchers wrote.
GABA, glutamate, and math
Still, the exact relationship between GABA, glutamate, and complex cognitive functions has remained unclear. The new study explored that relationship by focusing on associations between the neurotransmitters and math abilities, which "provides a unique cognitive model to examine these questions due to its protracted skill acquisition period that starts already from early childhood and can continue for nearly two decades," the researchers wrote.
For the study, the researchers measured levels of GABA and glutamate in the left intraparietal sulcus (IPS) of 255 students, ranging from primary school to college. The participants completed a math test as their brains were imaged. About a year and a half later, the participants repeated the same process.
"The longitudinal design allowed us to further examine whether neurotransmitter concentration is linked to MA [mathematical abilities] as well as predict MA in the future," the researchers wrote. "Crucially, adopting this design allowed us to discern the selective effect of glutamate and GABA in response to natural (i.e., learning in school) rather than artificial environmental stimulation, thus allowing us to test the knowledge gained from lab-based experiments in high ecological settings."
The results suggest that GABA and glutamate play an important role in math abilities, but that the dynamic switches with age. For the young participants, higher GABA levels in the IPS were associated with higher scores on math tests. The opposite was observed among older students: higher glutamate levels correlated with higher scores. Both results held true on subsequent math tests.
Although the study sheds light on how neurotransmitter levels at different stages of development contribute to learning some cognitive skills, like math, the researchers noted that acquiring other skills may involve different processes.
"Our findings may also highlight a general principle that the developmental dynamics of regional excitation and inhibition levels in regulating the sensitive period and plasticity of a given high-level cognitive function (i.e., MA) may be different compared to another high-level cognitive function (i.e., general intelligence) that draws on similar, albeit not identical, cognitive and neural mechanisms," they wrote.
Scroll down to load more…