Big ideas.
Once a week.
Subscribe to our weekly newsletter.
What if these Drainage Districts had become the essential units of government?
Powell's water-based states, or How the West wasn't won
15 November, 2010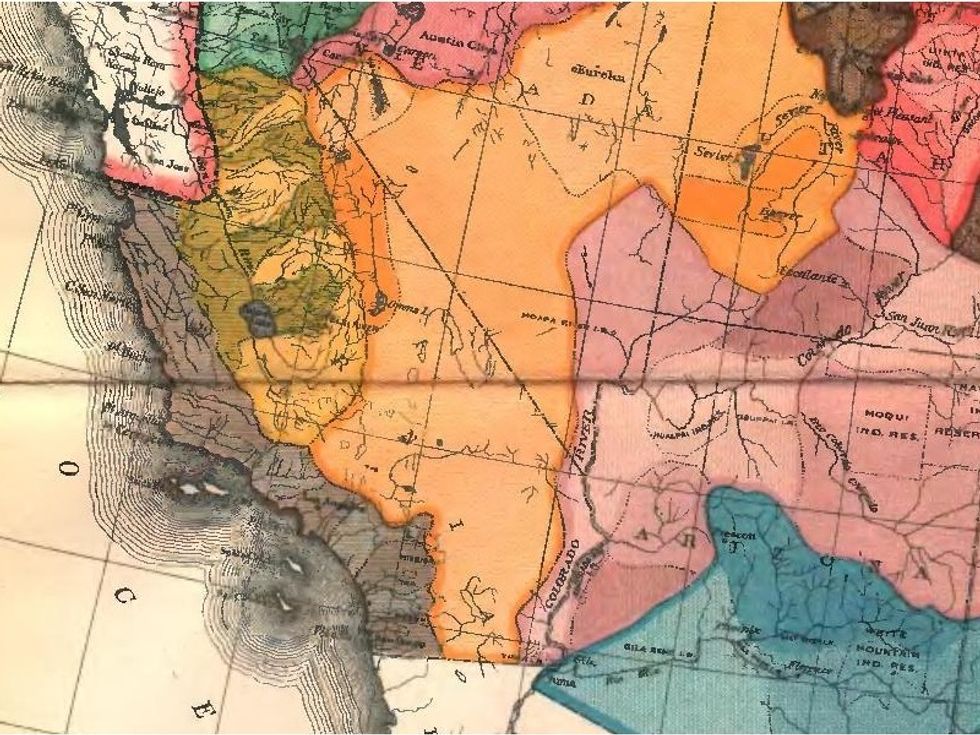 The prototypical American border is the straight line. Not a single US state lacks one (1). Wyoming and Colorado are perfect rectangles, and a dozen other states are bounded by enough straight borders to resemble boxes. These near-rectangles are prevalent west of the Mississippi where, in the worlds of the folk song, 'the states are square' (2).
---
That might not have been so if the US government had heeded the suggestions of John Wesley Powell, who in 1890 produced this Map of the Arid Region of the United States, showing Drainage Districts. Powell argued for those districts to become the essential units of government, either as states or as watershed commonwealths.
Those borders might look pretty alien right now, and Powell's proposal far-fetched, but he was hardly operating from the lunatic fringe. John Wesley Powell [1834-1902] is a towering figure in the history of the exploration and management of the American West. As a restless young man of 22, Powell rowed down the Mississippi all the way from St. Anthony, Minnesota, to the sea. Despite losing an arm in the Civil War and gaining a  geology professorship afterward, he continued exploring, turning his attention to the American West.
One of his expeditions, in 1869, was the first documented passage of European Americans through the Grand Canyon. In 1881, Powell was appointed the second director of the US Geological Survey. He also directed the Bureau of Ethnology at the Smithsonian Institution. In recognition of his service to the nation, Powell was buried at Arlington (after his death, presumably), and a monument in his honour erected at the Grand Canyon. Both the USGS headquarters and one of the organisation's highest awards were named after him.
The explorer's name was also bestowed on the second-largest man-made reservoir in the US, on the Colorado River straddling Utah and Arizona. This is deeply ironic, since large-scale reservoirs like Lake Powell were exactly what he was arguing against in his Report on the Lands of the Arid Regions of the United States.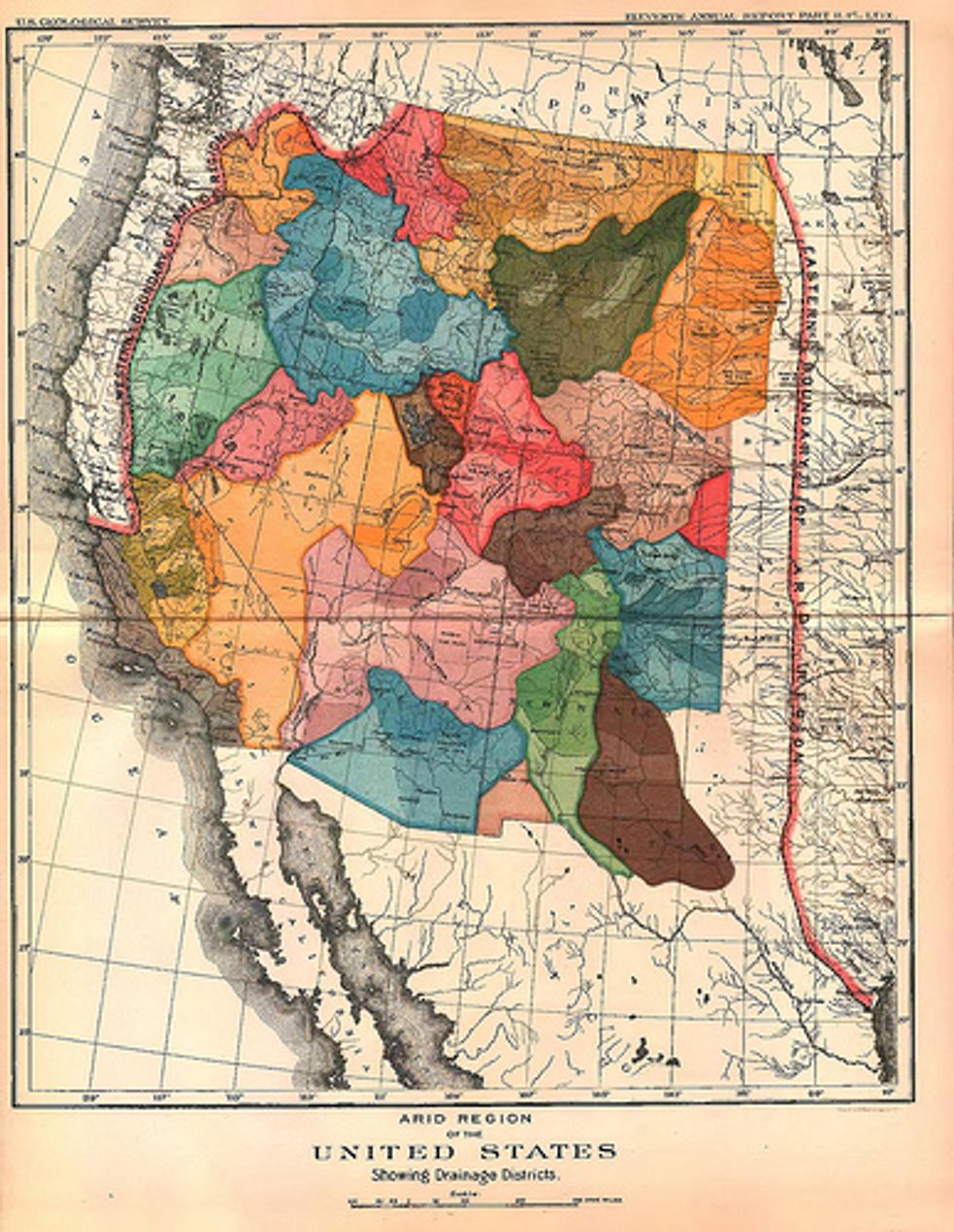 Powell was convinced that only a small fraction of the American West was suitable for agriculture (3). His Report proposed irrigation systems fed by a multitude of small dams (instead of the few huge ones in operation today) and state borders based on watershed areas. The bulk of the arid regions should be reserved for conservation and low-intensity grazing.
But other interests were at work; the railway companies lobbied for large-scale settlement and agricultural development. Counter-expertise for Powell's point of view was provided by professor Cyrus Thomas, who claimed that 'rain follows the plough'. That theory was thoroughly disproved by the Dust Bowl of the 1920s and 1930s, which caused tremendous hardship among the pioneers attracted to farm the arid regions, and led many of them to migrate even further West.
In light of that disaster, Powell's warning at an irrigation congress in 1883 seems particularly prescient: "Gentlemen, you are piling up a heritage of conflict and litigation over water rights, for there is not sufficient water to supply the land." Powell must have been frustrated by the contrast between the way his achievements were lauded, and his warnings ignored.
Had his water-based recommendations been followed, the states out West would have looked very different - the opposite of square. Powell foresaw that irrigation issues would be the principal bone of contention in the West. He therefore proposed that drainage districts, as shown on this map (4), should be the fundamental unit of government in the West.
If these districts did not themselves become states, then they should at least be organised as inter-state commonwealths, the authority of which over irrigation and agriculture would trump that of the states. What would this aquacratic system have implied? Powell's water-based states would have been contained by the eastern and western boundaries of the arid region itself. This would leave a much smaller area for the Pacific states. These would be reduced to a narrow coastal band, except for the North-West, where the non-arid region lurches inland, and southern California, which would be included in the arid region almost up to San Francisco.
For reasons unknown, Powell leaves unclaimed a strip of land on the inside of the eastern border of the arid zone. The drainage districts themselves are each shaded in lighter and darker hues, implying further administrative subdivisions. The shading makes a total count of the districts a bit tricky - I count 22 or 23. Some of the drainage districts are quite small, like the light brown one in the south of New Mexico, or the dark brown one surrounding the Salt Lake in Utah. Others are huge, like the orange one bordering the Salt Lake district to the south-west, which reaches across southern Nevada and southern California all the way down to the Mexican border.
Unfortunately, Powell neglected to provide names for his proposed states/commonwealths. It would have been fun to toy around with a batch of vaguely familiar and totally weird state names, like the ones proposed by Thomas Jefferson for the Northwest Territory (5). But like Jefferson's states, the units proposed by Powell seem, well, the wrong shape. From a purely cartophile point of view, they don't work as well as the states that did eventually make the cut. Ironically, they lack the normality of the present batch of straight-border states. Or is that just the force of habit talking?
Many thanks to Matthew Frank for bringing this map to my attention. He discusses it here on his blog Aqueous Advisors. Click here for a larger version. Powell's water-based borders bring to mind professor C. Etzel Pearcy's more recent proposal for 'natural' state borders (6).
Strange Maps #489 
Got a strange map? Let me know at strangemaps@gmail.com.
--------------
(1) OK, you got me. Hawaii doesn't have one.
(2) "Oh, I will go up and down the country and back and forth across the country. I will go out West where the states are square. I will go to Boise and Helena, Albuquerque and the two Dakotas and all the unknown places. Say brother, have you heard the roar of the fast express? Have you seen starlight on the rails?" (Utah Phillips [1935-2008], Starlight on the Rails. Phillips, a troubadour in the mould of Pete Seeger and Woody Guthrie, ran for US president in 1976 for the Do-Nothing Party).
(3) about 2%, mainly near natural water sources.
(4) presented together with his Report to the US House of Representatives Committee on Irrigation.
(5) Would you like to live in Polypotamia? See #284.
(6) Only 38 states in total, though. See #5. 
Why mega-eruptions like the ones that covered North America in ash are the least of your worries.
Image: USGS - public domain
Strange Maps
The supervolcano under Yellowstone produced three massive eruptions over the past few million years.
Each eruption covered much of what is now the western United States in an ash layer several feet deep.
The last eruption was 640,000 years ago, but that doesn't mean the next eruption is overdue.
The end of the world as we know it
Panoramic view of Yellowstone National Park
Image: Heinrich Berann for the National Park Service – public domain
Of the many freak ways to shuffle off this mortal coil – lightning strikes, shark bites, falling pianos – here's one you can safely scratch off your worry list: an outbreak of the Yellowstone supervolcano.
As the map below shows, previous eruptions at Yellowstone were so massive that the ash fall covered most of what is now the western United States. A similar event today would not only claim countless lives directly, but also create enough subsidiary disruption to kill off global civilisation as we know it. A relatively recent eruption of the Toba supervolcano in Indonesia may have come close to killing off the human species (see further below).
However, just because a scenario is grim does not mean that it is likely (insert topical political joke here). In this case, the doom mongers claiming an eruption is 'overdue' are wrong. Yellowstone is not a library book or an oil change. Just because the previous mega-eruption happened long ago doesn't mean the next one is imminent.
Ash beds of North America
Ash beds deposited by major volcanic eruptions in North America.
Image: USGS – public domain
This map shows the location of the Yellowstone plateau and the ash beds deposited by its three most recent major outbreaks, plus two other eruptions – one similarly massive, the other the most recent one in North America.
Huckleberry Ridge
The Huckleberry Ridge eruption occurred 2.1 million years ago. It ejected 2,450 km3 (588 cubic miles) of material, making it the largest known eruption in Yellowstone's history and in fact the largest eruption in North America in the past few million years.
This is the oldest of the three most recent caldera-forming eruptions of the Yellowstone hotspot. It created the Island Park Caldera, which lies partially in Yellowstone National Park, Wyoming and westward into Idaho. Ash from this eruption covered an area from southern California to North Dakota, and southern Idaho to northern Texas.
Mesa Falls
About 1.3 million years ago, the Mesa Falls eruption ejected 280 km3 (67 cubic miles) of material and created the Henry's Fork Caldera, located in Idaho, west of Yellowstone.
It was the smallest of the three major Yellowstone eruptions, both in terms of material ejected and area covered: 'only' most of present-day Wyoming, Colorado, Kansas and Nebraska, and about half of South Dakota.
Lava Creek
The Lava Creek eruption was the most recent major eruption of Yellowstone: about 640,000 years ago. It was the second-largest eruption in North America in the past few million years, creating the Yellowstone Caldera.
It ejected only about 1,000 km3 (240 cubic miles) of material, i.e. less than half of the Huckleberry Ridge eruption. However, its debris is spread out over a significantly wider area: basically, Huckleberry Ridge plus larger slices of both Canada and Mexico, plus most of Texas, Louisiana, Arkansas, and Missouri.
Long Valley
This eruption occurred about 760,000 years ago. It was centered on southern California, where it created the Long Valley Caldera, and spewed out 580 km3 (139 cubic miles) of material. This makes it North America's third-largest eruption of the past few million years.
The material ejected by this eruption is known as the Bishop ash bed, and covers the central and western parts of the Lava Creek ash bed.
Mount St Helens
The eruption of Mount St Helens in 1980 was the deadliest and most destructive volcanic event in U.S. history: it created a mile-wide crater, killed 57 people and created economic damage in the neighborhood of $1 billion.
Yet by Yellowstone standards, it was tiny: Mount St Helens only ejected 0.25 km3 (0.06 cubic miles) of material, most of the ash settling in a relatively narrow band across Washington State and Idaho. By comparison, the Lava Creek eruption left a large swathe of North America in up to two metres of debris.

The difference between quakes and faults
The volume of dense rock equivalent (DRE) ejected by the Huckleberry Ridge event dwarfs all other North American eruptions. It is itself overshadowed by the DRE ejected at the most recent eruption at Toba (present-day Indonesia). This was one of the largest known eruptions ever and a relatively recent one: only 75,000 years ago. It is thought to have caused a global volcanic winter which lasted up to a decade and may be responsible for the bottleneck in human evolution: around that time, the total human population suddenly and drastically plummeted to between 1,000 and 10,000 breeding pairs.
Image: USGS – public domain
So, what are the chances of something that massive happening anytime soon? The aforementioned mongers of doom often claim that major eruptions occur at intervals of 600,000 years and point out that the last one was 640,000 years ago. Except that (a) the first interval was about 200,000 years longer, (b) two intervals is not a lot to base a prediction on, and (c) those intervals don't really mean anything anyway. Not in the case of volcanic eruptions, at least.
Earthquakes can be 'overdue' because the stress on fault lines is built up consistently over long periods, which means quakes can be predicted with a relative degree of accuracy. But this is not how volcanoes behave. They do not accumulate magma at constant rates. And the subterranean pressure that causes the magma to erupt does not follow a schedule.
What's more, previous super-eruptions do not necessarily imply future ones. Scientists are not convinced that there ever will be another big eruption at Yellowstone. Smaller eruptions, however, are much likelier. Since the Lava Creek eruption, there have been about 30 smaller outbreaks at Yellowstone, the last lava flow being about 70,000 years ago.
As for the immediate future (give or take a century): the magma chamber beneath Yellowstone is only 5 percent to 15 percent molten. Most scientists agree that is as un-alarming as it sounds. And that its statistically more relevant to worry about death by lightning, shark, or piano.
Strange Maps #1041
Got a strange map? Let me know at strangemaps@gmail.com.

Measuring a person's movements and poses, smart clothes could be used for athletic training, rehabilitation, or health-monitoring.
Technology & Innovation
In recent years there have been exciting breakthroughs in wearable technologies, like smartwatches that can monitor your breathing and blood oxygen levels.
But what about a wearable that can detect how you move as you do a physical activity or play a sport, and could potentially even offer feedback on how to improve your technique?
And, as a major bonus, what if the wearable were something you'd actually already be wearing, like a shirt of a pair of socks?
That's the idea behind a new set of MIT-designed clothing that use special fibers to sense a person's movement via touch. Among other things, the researchers showed that their clothes can actually determine things like if someone is sitting, walking, or doing particular poses.
The group from MIT's Computer Science and Artificial Intelligence Lab (CSAIL) says that their clothes could be used for athletic training and rehabilitation. With patients' permission, they could even help passively monitor the health of residents in assisted-care facilities and determine if, for example, someone has fallen or is unconscious.
The researchers have developed a range of prototypes, from socks and gloves to a full vest. The team's "tactile electronics" use a mix of more typical textile fibers alongside a small amount of custom-made functional fibers that sense pressure from the person wearing the garment.
According to CSAIL graduate student Yiyue Luo, a key advantage of the team's design is that, unlike many existing wearable electronics, theirs can be incorporated into traditional large-scale clothing production. The machine-knitted tactile textiles are soft, stretchable, breathable, and can take a wide range of forms.
"Traditionally it's been hard to develop a mass-production wearable that provides high-accuracy data across a large number of sensors," says Luo, lead author on a new paper about the project that is appearing in this month's edition of Nature Electronics. "When you manufacture lots of sensor arrays, some of them will not work and some of them will work worse than others, so we developed a self-correcting mechanism that uses a self-supervised machine learning algorithm to recognize and adjust when certain sensors in the design are off-base."
The team's clothes have a range of capabilities. Their socks predict motion by looking at how different sequences of tactile footprints correlate to different poses as the user transitions from one pose to another. The full-sized vest can also detect the wearers' pose, activity, and the texture of the contacted surfaces.
The authors imagine a coach using the sensor to analyze people's postures and give suggestions on improvement. It could also be used by an experienced athlete to record their posture so that beginners can learn from them. In the long term, they even imagine that robots could be trained to learn how to do different activities using data from the wearables.
"Imagine robots that are no longer tactilely blind, and that have 'skins' that can provide tactile sensing just like we have as humans," says corresponding author Wan Shou, a postdoc at CSAIL. "Clothing with high-resolution tactile sensing opens up a lot of exciting new application areas for researchers to explore in the years to come."
The paper was co-written by MIT professors Antonio Torralba, Wojciech Matusik, and Tomás Palacios, alongside PhD students Yunzhu Li, Pratyusha Sharma, and Beichen Li; postdoc Kui Wu; and research engineer Michael Foshey.
The work was partially funded by Toyota Research Institute.
Reprinted with permission of MIT News. Read the original article.

How imagining the worst case scenario can help calm anxiety.
Credit
: OLIVIER DOULIERY via Getty Images
Personal Growth
Stoicism is the philosophy that nothing about the world is good or bad in itself, and that we have control over both our judgments and our reactions to things.
It is hardest to control our reactions to the things that come unexpectedly.
By meditating every day on the "worst case scenario," we can take the sting out of the worst that life can throw our way.
Are you a worrier? Do you imagine nightmare scenarios and then get worked up and anxious about them? Does your mind get caught in a horrible spiral of catastrophizing over even the smallest of things? Worrying, particularly imagining the worst case scenario, seems to be a natural part of being human and comes easily to a lot of us. It's awful, perhaps even dangerous, when we do it.
But, there might just be an ancient wisdom that can help. It involves reframing this attitude for the better, and it comes from Stoicism. It's called "premeditation," and it could be the most useful trick we can learn.
Practical Stoicism
Broadly speaking, Stoicism is the philosophy of choosing your judgments. Stoics believe that there is nothing about the universe that can be called good or bad, valuable or valueless, in itself. It's we who add these values to things. As Shakespeare's Hamlet says, "There is nothing either good or bad, but thinking makes it so." Our minds color the things we encounter as being "good" or "bad," and given that we control our minds, we therefore have control over all of our negative feelings.
Put another way, Stoicism maintains that there's a gap between our experience of an event and our judgment of it. For instance, if someone calls you a smelly goat, you have an opportunity, however small and hard it might be, to pause and ask yourself, "How will I judge this?" What's more, you can even ask, "How will I respond?" We have power over which thoughts we entertain and the final say on our actions. Today, Stoicism has influenced and finds modern expression in the hugely effective "cognitive behavioral therapy."
Helping you practice StoicismCredit: Robyn Beck via Getty Images
One of the principal fathers of ancient Stoicism was the Roman statesmen, Seneca, who argued that the unexpected and unforeseen blows of life are the hardest to take control over. The shock of a misfortune can strip away the power we have to choose our reaction. For instance, being burglarized feels so horrible because we had felt so safe at home. A stomach ache, out of the blue, is harder than a stitch thirty minutes into a run. A sudden bang makes us jump, but a firework makes us smile. Fell swoops hurt more than known hardships.
What could possibly go wrong?
So, how can we resolve this? Seneca suggests a Stoic technique called "premeditatio malorum" or "premeditation." At the start of every day, we ought to take time to indulge our anxious and catastrophizing mind. We should "rehearse in the mind: exile, torture, war, shipwreck." We should meditate on the worst things that could happen: your partner will leave you, your boss will fire you, your house will burn down. Maybe, even, you'll die.
This might sound depressing, but the important thing is that we do not stop there.
Stoicism has influenced and finds modern expression in the hugely effective "cognitive behavioral therapy."
The Stoic also rehearses how they will react to these things as they come up. For instance, another Stoic (and Roman Emperor) Marcus Aurelius asks us to imagine all the mean, rude, selfish, and boorish people we'll come across today. Then, in our heads, we script how we'll respond when we meet them. We can shrug off their meanness, smile at their rudeness, and refuse to be "implicated in what is degrading." Thus prepared, we take control again of our reactions and behavior.
The Stoics cast themselves into the darkest and most desperate of conditions but then realize that they can and will endure. With premeditation, the Stoic is prepared and has the mental vigor necessary to take the blow on the chin and say, "Yep, l can deal with this."
Catastrophizing as a method of mental inoculation
Seneca wrote: "In times of peace, the soldier carries out maneuvers." This is also true of premeditation, which acts as the war room or training ground. The agonizing cut of the unexpected is blunted by preparedness. We can prepare the mind for whatever trials may come, in just the same way we can prepare the body for some endurance activity. The world can throw nothing as bad as that which our minds have already imagined.
Stoicism teaches us to embrace our worrying mind but to embrace it as a kind of inoculation. With a frown over breakfast, try to spend five minutes of your day deliberately catastrophizing. Get your anti-anxiety battle plan ready and then face the world.
Jonny Thomson teaches philosophy in Oxford. He runs a popular Instagram account called Mini Philosophy (@philosophyminis). His first book is Mini Philosophy: A Small Book of Big Ideas.
Personal Growth
A study on charity finds that reminding people how nice it feels to give yields better results than appealing to altruism.
Scroll down to load more…