Meet the Maiden Hidden Inside the Map of Finland
Frank Jacobs
From a young age, Frank was fascinated by maps and atlases, and the stories they contained. Finding his birthplace on the map in the endpapers of Tolkien's Lord of the Rings only increased his interest in the mystery and message of maps.
While pursuing a career in journalism, Frank started a blog called Strange Maps, as a repository for the weird and wonderful cartography he found hidden in books, posing as everyday objects and (of course) floating around the Internet.
"Each map tells a story, but the stories told by your standard atlas for school or reference are limited and literal: they show only the most practical side of the world, its geography and its political divisions. Strange Maps aims to collect and comment on maps that do everything but that - maps that show the world from a different angle".
A remit that wide allows for a steady, varied diet of maps: Frank has been writing about strange maps since 2006, published a book on the subject in 2009 and joined Big Think in 2010. Readers send in new material daily, and he keeps bumping in to cartography that is delightfully obscure, amazingly beautiful, shockingly partisan, and more.
26 July, 2010
Suomi-Neito is a distant, but weirdly parallel echo of 'Paula', the personification of Brazil's Sao Paulo state (discussed in #471). Female like most other anthropomorphic representations of geographic entities (1), this Finnish Maiden shares with Paula the extra distinction of not only symbolising her nation, but also literally coinciding with its geographic shape.
---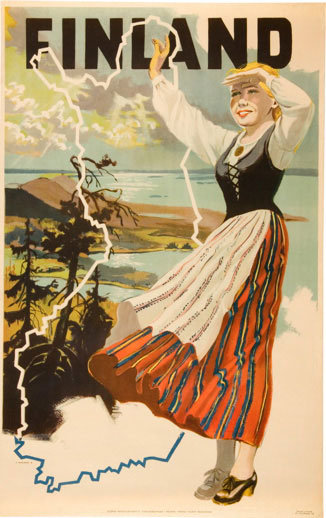 Although eternally young, the Finnish Maiden is older than the Finnish nation. She was devised to represent the longed-for national independence in the 19th century, when Finland was still a Grand Duchy in the Russian Empire. The shape of that Grand Duchy inspired the conceit of seeing her as the country itself, with both arms raised. Eastern territories lost by Finland to the Soviet Union in 1944 meant the Maiden, facing the viewer, also lost her raised left arm (2).
Nowadays, Suomi-Neito is usually presented as follows: Finland's westward protrusion into the Gulf of Bothnia is the Maiden's wind-blown skirt, the narrower middle of the country her small waist, the northernmost bulge of Lapland her head and the narrow region branching out towards the northwest between Sweden and Norway her waving right arm. The identification of this region with its anthromorphic equivalent is such that the area, officially the commune of Enontekiö, is commonly referred to as Käsivarsi ('The Arm').
Many thanks to Kevin Axe for sending in this map, found here on Come to Finland, a website (and a book) devoted to the art of Finnish tourist posters. The map and the maiden were produced in 1948 by Finnish artist Olavi Vepsäläinen (1927–1993).
Strange Maps #473
Got a strange map? Let me know at strangemaps@gmail.com.
1 see also Marianne (France), Mother Russia, and a host of Roman-sounding ladies such as Germania, Hibernia, Polonia, Helvetia and Britannia; male counterparts include Johnny Canuck (Canada), Deutscher Michel (Germany), Uncle Sam, John Bull and Juan de la Cruz (Philippines).
2 the area known as Petsamo in Finnish, now the Pechengski District in Russia, which while in Finnish possession granted Finland access to the Barents Sea, at the same time denying the Soviet Union a common border with Norway. The situation was reversed when the area was ceded to the Soviet Union after Finland's defeat in the Continuation War (1941-1944), together with other areas further south, most notably a large part of Karelia in Finland's southeast. This Wikimedia Commons map shows the location of Petsamo (in yellow), plus a small area pre-ceded by Finland to the Soviets in 1940 (in green) and another area sold by the Finnish to the Soviet Union in 1947 (in red). Petsamo, incidentally, is the birthplace of an actress who popularised an esthetic diametrically opposed to the wholesome, blonde, outdoorsy one symbolised by the Finnish Maiden: Maila Nurmi (1922-2008), better known as the raven-haired, black-clad proto-goth Vampira.
Related Articles
These modern-day hermits can sometimes spend decades without ever leaving their apartments.
700,000 Japanese people are thought to be hikikomori, modern-day hermits who never leave their apartments (BEHROUZ MEHRI/AFP/Getty Images).
Mind & Brain
A hikikomori is a type of person in Japan who locks themselves away in their bedrooms, sometimes for years.
This is a relatively new phenomenon in Japan, likely due to rigid social customs and high expectations for academic and business success.
Many believe hikikomori to be a result of how Japan interprets and handles mental health issues.
How a cataclysm worse than what killed the dinosaurs destroyed 90 percent of all life on Earth.
Credit: Ron Miller
Surprising Science
While the demise of the dinosaurs gets more attention as far as mass extinctions go, an even more disastrous event called "the Great Dying" or the "End-Permian Extinction" happened on Earth prior to that. Now scientists discovered how this cataclysm, which took place about 250 million years ago, managed to kill off more than 90 percent of all life on the planet.
A new study discovers the "liking gap" — the difference between how we view others we're meeting for the first time, and the way we think they're seeing us.
New acquaintances probably like you more than you think. (Photo by Simone Joyner/Getty Images)
Surprising Science
We tend to be defensive socially. When we meet new people, we're often concerned with how we're coming off. Our anxiety causes us to be so concerned with the impression we're creating that we fail to notice that the same is true of the other person as well. A new study led by Erica J. Boothby, published on September 5 in Psychological Science, reveals how people tend to like us more in first encounters than we'd ever suspect.
Big think's weekly newsletter.
Get smarter faster from the comfort of your inbox.
See our newsletter privacy policy
here
Most Popular
Most Recent
Big think's weekly newsletter.
Get smarter faster from the comfort of your inbox.
See our newsletter privacy policy
here
© Copyright 2007-2018 & BIG THINK, BIG THINK EDGE,
SMARTER FASTER trademarks owned by The Big Think, Inc. All rights reserved.