19 - A Europe of 'little states'
Frank Jacobs
From a young age, Frank was fascinated by maps and atlases, and the stories they contained. Finding his birthplace on the map in the endpapers of Tolkien's Lord of the Rings only increased his interest in the mystery and message of maps.
While pursuing a career in journalism, Frank started a blog called Strange Maps, as a repository for the weird and wonderful cartography he found hidden in books, posing as everyday objects and (of course) floating around the Internet.
"Each map tells a story, but the stories told by your standard atlas for school or reference are limited and literal: they show only the most practical side of the world, its geography and its political divisions. Strange Maps aims to collect and comment on maps that do everything but that - maps that show the world from a different angle".
A remit that wide allows for a steady, varied diet of maps: Frank has been writing about strange maps since 2006, published a book on the subject in 2009 and joined Big Think in 2010. Readers send in new material daily, and he keeps bumping in to cartography that is delightfully obscure, amazingly beautiful, shockingly partisan, and more.
23 July, 2010
One  last map by Leopold Kohr, also an addendum to his book 'The Breakdown of Nations' (1957). Kohr probably realised that dividing Europe into rectangular, US-style states would clash with the 'tribal' makeup of the Old Continent's culturally diverse peoples. So he modified that idea to propose a European federation of 'little states': still too small to cause harm, but more in line with Europe's ethnic composition.
---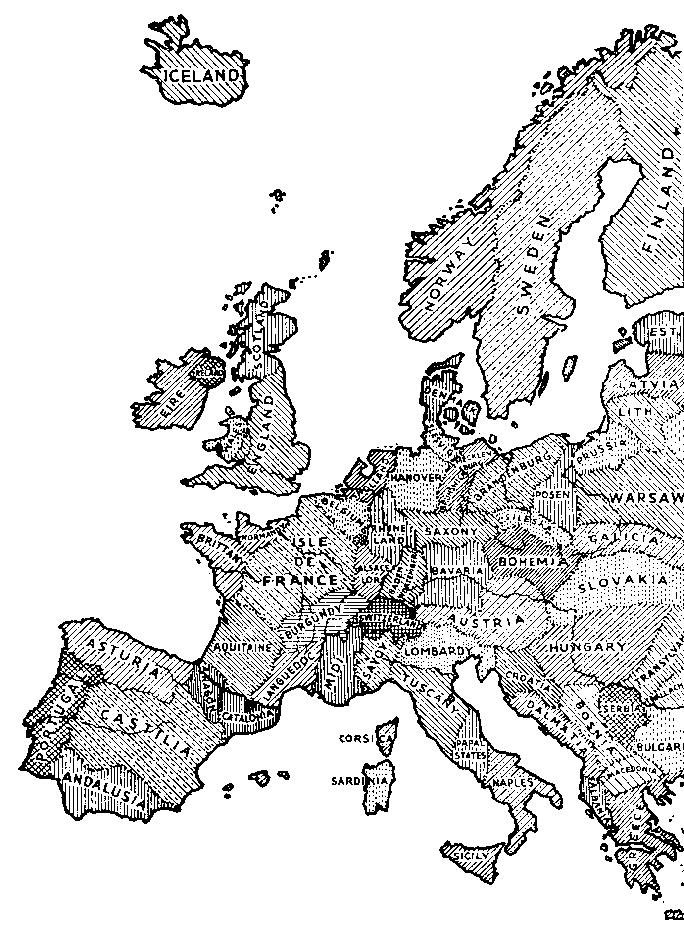 Some states are small enough to continue undivided: Eire, Portugal, all 5 Scandinavian countries, the 3 Baltic countries (which weren't yet independent at that time), the Netherlands and Belgium (is Luxembourg too small for this map, or has it been absorbed by Belgium?), Austria, Hungary, Albania, Greece, Bulgaria and Switzerland. The bigger European states are divvied up along not unfamiliar lines:
The UK is disestablished in favour of its constituent nations: England, Scotland, Wales, (Northern) Ireland.
Spain disintegrates into Asturia, Castillia, Andalusia, Catalonia and Aragón.
France falls apart into Aquitaine, Brittany, Normandy, Isle de France, Alsace-Lorraine, Burgundy, Languedoc, the Midi and Corsica.
Italy is replaced by successor states Savoy, Lombardy, Tuscany, the Papal States (!), Naples, Sicily and Sardinia.
Yugoslavia breaks up into Croatia, Dalmatia, Bosnia, Serbia and Macedonia. 
Romania becomes Transylvania and Wallachia.
Czechoslovakia is divided among Bohemia and Slovakia.
Germany,  the pivotal power in Central Europe (in a bad way, historically) disintegrates into Bavaria, Saxony, Hanover, the Rhineland, Baden-Württemberg, Brandenburg, Prussia, Silesia and one more state the name of which I can't quite make out – but which would have to be Mecklenburg.
Poland becomes Posen, Galicia and Warsaw.
Related Articles
Explore how alcohol affects your brain, from the first sip at the bar to life-long drinking habits.
(Photo by Angie Garrett/Wikimedia Commons)
Mind & Brain
Alcohol is the world's most popular drug and has been a part of human culture for at least 9,000 years.
Alcohol's effects on the brain range from temporarily limiting mental activity to sustained brain damage, depending on levels consumed and frequency of use.
Understanding how alcohol affects your brain can help you determine what drinking habits are best for you.
If you want to know what makes a Canadian lynx a Canadian lynx a team of DNA sequencers has figured that out.
Surprising Science
A team at UMass Amherst recently sequenced the genome of the Canadian lynx.
It's part of a project intending to sequence the genome of every vertebrate in the world.
Conservationists interested in the Canadian lynx have a new tool to work with.
Artwork: Guillaume le Clerc / Wikimedia Commons
13th-century fantastical depiction of an elephant.
It is easy to see how one can look at 66,000 genomic sequences stored away as being the analogous equivalent of the Svalbard Global Seed Vault. It is a potential tool for future conservationists.
But what are the practicalities of sequencing the genome of a lynx beyond engaging with broad bioethical questions? As the animal's habitat shrinks and Earth warms, the Canadian lynx is demonstrating less genetic diversity. Cross-breeding with bobcats in some portions of the lynx's habitat also represents a challenge to the lynx's genetic makeup. The two themselves are also linked: warming climates could drive Canadian lynxes to cross-breed with bobcats.
John Organ, chief of the U.S. Geological Survey's Cooperative Fish and Wildlife units, said to MassLive that the results of the sequencing "can help us look at land conservation strategies to help maintain lynx on the landscape."
What does DNA have to do with land conservation strategies? Consider the fact that the food found in a landscape, the toxins found in a landscape, or the exposure to drugs can have an impact on genetic activity. That potential change can be transmitted down the generative line. If you know exactly how a lynx's DNA is impacted by something, then the environment they occupy can be fine-tuned to meet the needs of the lynx and any other creature that happens to inhabit that particular portion of the earth.
Given that the Trump administration is considering withdrawing protection for the Canadian lynx, a move that caught scientists by surprise, it is worth having as much information on hand as possible for those who have an interest in preserving the health of this creature—all the way down to the building blocks of a lynx's life.
The exploding popularity of the keto diet puts a less used veggie into the spotlight.
Purple cauliflower. (Photo: Shutterstock)
Surprising Science
The cauliflower is a vegetable of choice if you're on the keto diet.
The plant is low in carbs and can replace potatoes, rice and pasta.
It can be eaten both raw and cooked for different benefits.
Big think's weekly newsletter.
Get smarter faster from the comfort of your inbox.
See our newsletter privacy policy
here
Most Popular
Most Recent
Big think's weekly newsletter.
Get smarter faster from the comfort of your inbox.
See our newsletter privacy policy
here
© Copyright 2007-2018 & BIG THINK, BIG THINK EDGE,
SMARTER FASTER trademarks owned by The Big Think, Inc. All rights reserved.