'Scott's Great Snake': a Plan to Strangle the Confederacy
It might have snuffed out Secession with minimal loss of life; but Lincoln chose both the blockade and an invasion
Frank Jacobs
From a young age, Frank was fascinated by maps and atlases, and the stories they contained. Finding his birthplace on the map in the endpapers of Tolkien's Lord of the Rings only increased his interest in the mystery and message of maps.
While pursuing a career in journalism, Frank started a blog called Strange Maps, as a repository for the weird and wonderful cartography he found hidden in books, posing as everyday objects and (of course) floating around the Internet.
"Each map tells a story, but the stories told by your standard atlas for school or reference are limited and literal: they show only the most practical side of the world, its geography and its political divisions. Strange Maps aims to collect and comment on maps that do everything but that - maps that show the world from a different angle".
A remit that wide allows for a steady, varied diet of maps: Frank has been writing about strange maps since 2006, published a book on the subject in 2009 and joined Big Think in 2010. Readers send in new material daily, and he keeps bumping in to cartography that is delightfully obscure, amazingly beautiful, shockingly partisan, and more.
23 July, 2010
"We propose a powerful movement down the Mississippi to the Ocean, with a cordon of posts at proper points (…) the object being to clear out and keep open this great line of communication in connection with the strict blockade of the seaboard, so as to envelop the insurgent States and bring them to terms with less bloodshed than by any other plan."
---
- from a letter from General-in-Chief Winfield Scott to major-general George B. McClellan, dated May 3rd, 1861
The American Civil War lasted from 1861 to 1865 and cost over 600,000 lives. If US Army (i.e. northern) General-in-Chief Winfield Scott (1786-1866) had had its way, the number of casualties would have been a lot lower. At the beginning of the war, he devised a plan that would have ended the secession of the southern states with minimal loss of life.
This plan involved strangling the Southern economy by a twofold blockade: an economic blockade of Southern seaports, preventing the export of cash crops such as tobacco and cotton and the import of arms; and taking control of the Mississippi River, thus dividing the main part of the Confederated States of America from its westernmost parts on the right bank of the river.
After a popular newspaper cartoon (pictured here), Scott's scheme was called 'Scott's Great Snake', or the 'Anaconda Plan', after the giant snake that throttles its victims. Incidentally, the name is borne by four types of South American snake, which makes the etymology even more paradoxical. For the consensus is that the name originates in faraway Sri Lanka, but it's doubted whether it is Sinhalese ('Thunder Snake') or Tamil ('Elephant Killer') in origin.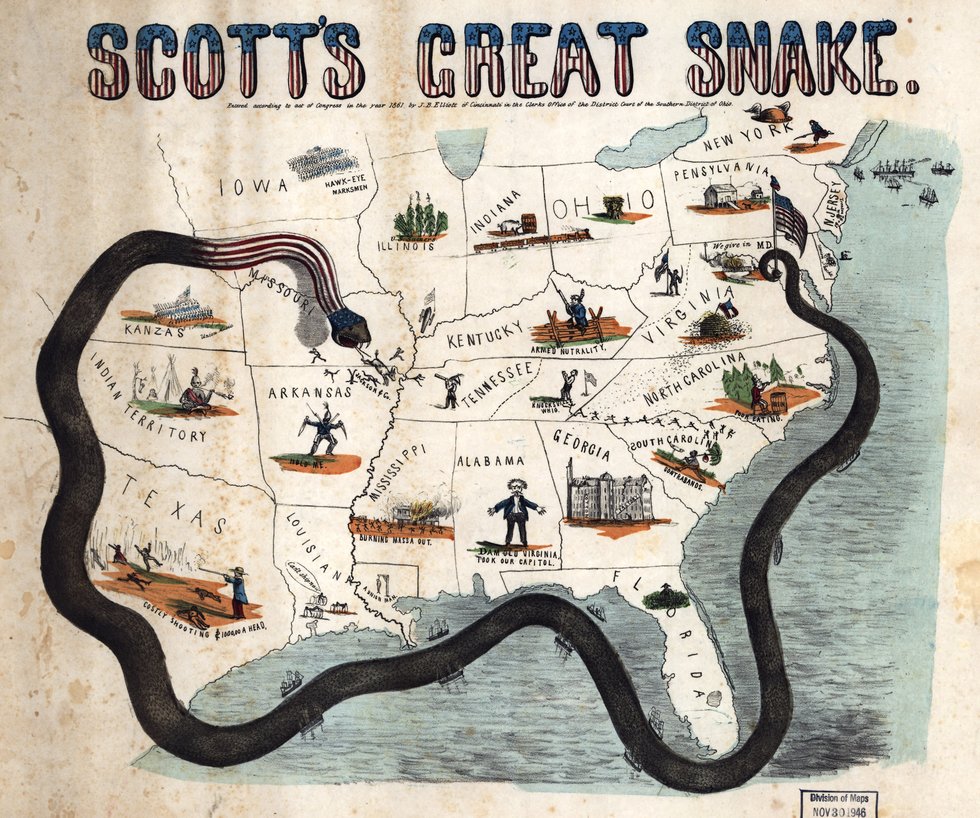 Scott's plan was not well received; the public mood called for a large-scale invasion. President Lincoln didn't choose: he implemented the blockade as proposed by Scott, and the large-scale invasion. A total of two million Union soldiers repeatedly tried to capture Richmond, the confederate capital in Virginia, contributing to the eventual heavy toll in lives.
Winfield Scott was also known as 'Old Fuss and Feathers' and the 'Grand Old Man of the Army'. Here are Ten fun facts on this interesting warhorse:
1. He was an active-duty general for over 47 years, longer than any other person in American history, serving under 14 presidents from Jefferson to Lincoln and commanding soldiers in 5 wars: the War of 1812, the Mexican-American War, the Black Hawk War, the Second Seminole War and the American Civil War.
2. During the Mexican-American War, Scott commanded the southern army, landing at Veracruz and (on purpose) following the same route to Mexico City as Hernan Cortez in 1519.
3. Fat and vain, Scott was haunted by a quote from a letter from Mexico to the Secretary of War that was published to sabotage his reputation. "At about 6 PM as I sat down to take a hasty plate of soup" became a catch phrase that appeared in cartoons and folk songs for the rest of his life.
4. After the Mexican War, he served as military governor of Mexico City. He was nominated for US president by the Whig Party in 1852, but lost to Franklin Pierce. He was promoted to lieutenant general in 1856, the first American to hold that post since George Washington.
5. During the war of 1812, he urged that British POWs be executed as retaliation for the Brits' executing 13 Irish-American POWs that they considered their own subjects, and therefore traitors. President James Madison refused.
6. He earned his nickname 'Old Fuss and Feathers' for his insistence on discipline and decorum in the US Army, at that time mostly a volunteer force.
7. In 1839, he helped defuse the territorial dispute between Maine (US) and New Brunswick (Britain), which caused the so-called 'Bloodless Aroostook War'. In 1859, he travelled to the Northwest to settle another faux conflict with the British over San Juan Island, the so-called 'Pig War'.
8. Scott translated several Napoleonic manuals into English, including Infantry Tactics, which was the standard drill manual for the US Army from 1840 to 1855.
9. The phrase 'Great Scott!' – an interjection akin to present-day favourite 'Oh my God!' – may refer to him, as in his later years, he weighed 137 kg.
10. Winfield Scott is not to be confused with Winfield Scott Hancock (1824-1886), who also served with distinction in the Mexican-American War, also was a Union general during the Civil War, and also ran unsuccessfully for president afterwards (defeated by Republican James Garfield in 1880). 'Hancock the Superb' was in fact named after the other Winfield Scott, by then already famous as a hero of the War of 1812. And the latter was the commander of the former during the Mexican War. Another Winfield Scott is the songwriter who wrote the song 'Return to Sender' for the eponymous Elvis Presley movie.
This 1861 cartoon found here on Wikipedia.
Strange Maps #139
Got a strange map? Let me know at strangemaps@gmail.com.
A federal judge ruled that the Trump administration likely violated the reporter's Fifth Amendment rights when it stripped his press credentials earlier this month.
WASHINGTON, DC - NOVEMBER 16: CNN chief White House correspondent Jim Acosta (R) returns to the White House with CNN Washington bureau chief Sam Feist after Federal judge Timothy J. Kelly ordered the White House to reinstate his press pass November 16, 2018 in Washington, DC. CNN has filed a lawsuit against the White House after Acosta's press pass was revoked after a dispute involving a news conference last week. (Photo by Alex Wong/Getty Images)
Politics & Current Affairs
Acosta will be allowed to return to the White House on Friday.
The judge described the ruling as narrow, and didn't rule one way or the other on violations of the First Amendment.
The case is still open, and the administration may choose to appeal the ruling.
Progressive America would be half as big, but twice as populated as its conservative twin.
Image: Dicken Schrader
Strange Maps
America's two political tribes have consolidated into 'red' and 'blue' nations, with seemingly irreconcilable differences.
Perhaps the best way to stop the infighting is to go for a divorce and give the two nations a country each
Based on the UN's partition plan for Israel/Palestine, this proposal provides territorial contiguity and sea access to both 'red' and 'blue' America
New research identifies an unexpected source for some of earth's water.
Surprising Science
A lot of Earth's water is asteroidal in origin, but some of it may come from dissolved solar nebula gas.
Our planet hides majority of its water inside: two oceans in the mantle and 4–5 in the core.
New reason to suspect that water is abundant throughout the universe.
Big think's weekly newsletter.
Get smarter faster from the comfort of your inbox.
See our newsletter privacy policy
here
Most Popular
Most Recent
Big think's weekly newsletter.
Get smarter faster from the comfort of your inbox.
See our newsletter privacy policy
here
© Copyright 2007-2018 & BIG THINK, BIG THINK EDGE,
SMARTER FASTER trademarks owned by The Big Think, Inc. All rights reserved.