The North Pole, Land of Pygmies and Giant Magnets
According to Mercator, the North Pole was marked by a giant black magnetic rock
23 July, 2010
---
Somewhere in the 14th century, a Franciscan from Oxford, a 'priest with an astrolabe', writes a travelogue about his discoveries in the North Atlantic, calls it the Inventio Fortunata ('The Discovery of Fortunata') and in 1360 presents it to the King of England.
This book has been lost since the late 15th century.
However, a Jacobus Cnoyen from the city of 's Hertogenbosch (in present-day Netherlands) summarizes the contents of the Inventio, related to him in 1364 in Norway by another Franciscan who had met the author. Cnoyen's own travel-book is called the Itinerarium.
This book has also been lost.
All this we know by the extensive quotes from the Itinerarium in a letter by the Flemish cartographer Gerhard Mercator to his friend, the English scientist, occultist and royal advisor John Dee. That letter, written in 1577 and now in the British Museum, mentions that:
"In the midst of the four countries is a Whirl-pool, into which there empty these four indrawing Seas which divide the North. And the water rushes round and descends into the Earth just as if one were pouring it through a filter funnel. It is four degrees wide on every side of the Pole, that is to say eight degrees altogether. Except that right under the Pole there lies a bare Rock in the midst of the Sea. Its circumference is almost 33 French miles, and it is all of magnetic Stone (…) This is word for word everything that I copied out of this author (i.e. Cnoyen) years ago."
A giant magnetic rock, exactly at the North Pole… well, that would explain why all compasses point north, wouldn't it? Alas, the ominous magnet (described in the letter as "black and glistening" and "high as the clouds") is a bit too fantastic an explanation for the phenomenon of magnetism. For even back in the late 16th century, mariners often found that their compasses increasingly deviated from 'true north' as they approached it.
But only later did the separate (and wandering) location of the magnetic poles become common knowledge. In the intervening Age of Exploration (and sometimes Fabulation), Mercator cites an author who clearly hadn't seen the North Pole with his own eyes – nor had the author he quoted, nor in fact would anyone for centuries to come.
In the meantime, the invented geography in the Inventio Fortunata that came to us via that one letter greatly influenced cartographers' views of the Arctic region. For if no other knowledge of yet-undiscovered lands is available, there's really not much argument against unbelievable stories.
And so, the Black Cliff, the four countries and the whirlpool are evident in Martin Behaim's globe (1492), which predates Mercator's map. In 1956, a letter surfaced written by the English merchant John Day in 1497 or 1498 to 'the Lord Grand Admiral' (probably Columbus), with Day expressing regret that he hadn't been able to find the Inventio Fortunata for him. In a marginal note on one of Johannes Ruysch's maps (from 1508), the Dutch cartographer even mentions that two of the continents surrounding the North Pole are inhabited.
Mercator's late-16th-century Arctic map (Septentrionalium Terrarum, 'Of the Northern Lands') was the first ever to be centred on the North Pole itself. It was a mix of fact and fiction, showing some recent discoveries but also the four fanciful countries surrounding the Arctic whirlpool with in its middle the Rupes Nigra et Altissima ('Black and Very High Cliff'), supposedly responsible for animating navigators' compasses.
On the subject of mixing fact with fiction, Mercator incongruously includes in his map two other magnetic poles, along the 180° meridian, indicating that he did know of the magnetic deviation from the 'true North', but wasn't yet prepared to ditch the preceding fabulation (thanks to Greg for pointing this out).
Mercator's map was included in the last of three volumes constituting his ground-breaking work (the first geographic tomes to be called an Atlas). The cartographer didn't live to see it published: the last volume was brought out by his son Rumold in 1595, the year after his death.
In 1604, cartographer Jodocus Hondius acquired the printing plates of Mercator's Atlas, and over the years improved on the Arctic map (and others) as explorers and whalers came back with ever more accurate descriptions of the coastlines, in the case of the Arctic map especially those of Spitsbergen and Nova Zembla (also, and more correctly known as Novaya Zemlya, 'New Land' in Russian).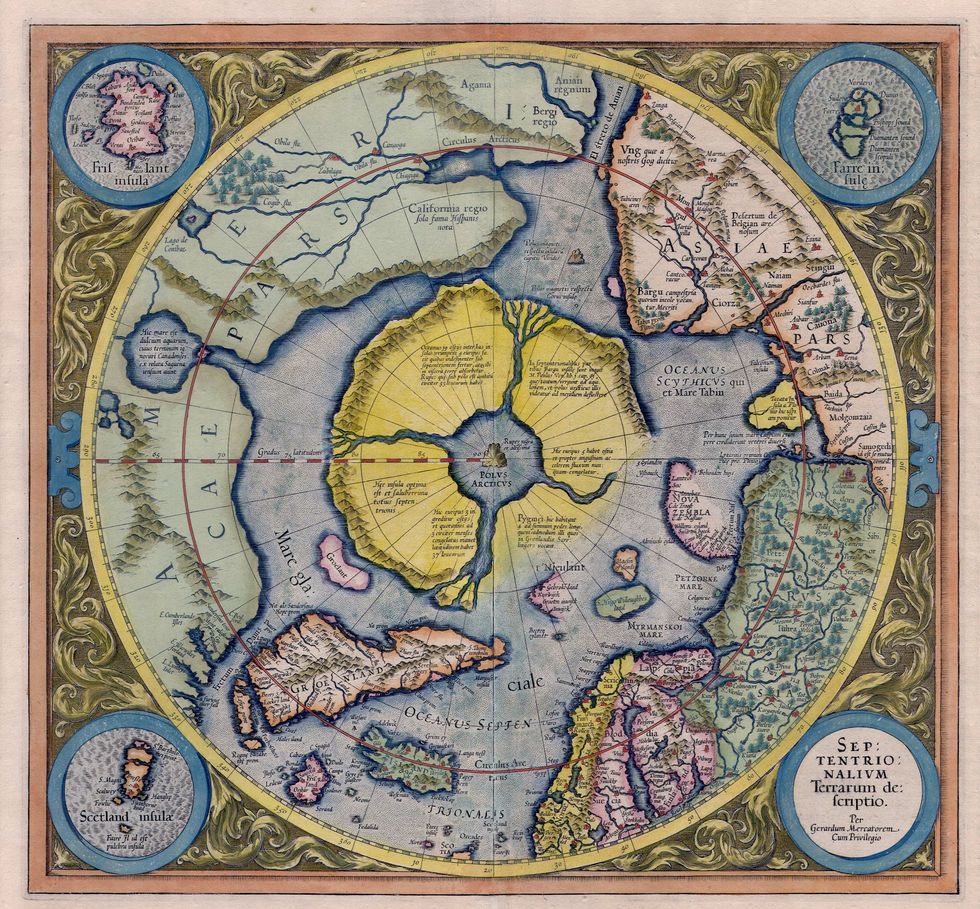 Mercator's authoritative (but wrong) depiction of the North Pole persisted well into the 17th century, only to be dispelled gradually by real discoveries.
On the map, the Rupes Nigra can be seen surrounded by the four countries, all of which are labelled with Latin texts, some of which I can make out:
• The island on the bottom right is labelled: Pygmei hic habitant & ad summum pedes longi quem admodum illi quos in Gronlandia Screlingers vocant. Which translates as something like this: 'Here live Pygmies and (something about long feet), like those in Greenland that are called Skraelinger'.
• The island to the north of Pygmy-land is labelled: Hic euripus habet ostia et propter angustiam ac celerem fluvium nunquam congelatur. Which goes something like this: 'This narrow channel has a harbour and due to its narrowness and swift current never freezes'.
Let me know if your Latin is better than mine...
Map found here at Wikimedia Commons.
Strange Maps #116
Got a strange map? Let me know at strangemaps@gmail.com.
Universities claim to prepare students for the world. How many actually do it?
Sponsored by Charles Koch Foundation
Many university mission statements do not live up to their promise, writes Ben Nelson, founder of Minerva, a university designed to develop intellect over content memorization.
The core competencies that students need for success—critical thinking, communication, problem solving, and cross-cultural understanding, for example—should be intentionally taught, not left to chance.
These competencies can be summed up with one word: wisdom. True wisdom is the ability to apply one's knowledge appropriately when faced with novel situations.
This is what the world will look like, 250 million years from now
On Pangaea Proxima, Lagos will be north of New York, and Cape Town close to Mexico City
Surprising Science
To us humans, the shape and location of oceans and continents seems fixed. But that's only because our lives are so short.
SpaceX's momentous Crew Dragon launch is a sign of things to come for the space industry, and humanity's future.
Photo:Joe Raedle/Getty Images
Politics & Current Affairs
SpaceX was founded in 2002 and was an industry joke for many years. Eighteen years later, it is the first private company to launch astronauts to the International Space Station.
Today, SpaceX's Crew Dragon launched NASA astronauts Bob Behnken and Doug Hurley to the ISS. The journey will take about 19 hours.
Dylan Taylor, chairman and CEO of Voyager Space Holdings, looks at SpaceX's journey from startup to a commercial space company with the operating power of a nation-state.
A new study may help us better understand how children build social cognition through caregiver interaction.
Personal Growth
Scientists speculate imitation helps develop social cognition in babies.
A new study out of Lund University shows that six-month-olds look and smile more at imitating adults.
Researchers hope the data will spur future studies to discover what role caregiver imitation plays in social cognition development.
Surprising Science
Researchers at UT Southwestern noted a 47 percent increase in blood flow to regions associated with memory.
Scroll down to load more…