The 'culture of secrecy' and blackmail that perpetuates abuse in the Catholic Church
Over the past 70 years, the Roman Catholic Church in Pennsylvania has been covering up child sexual abuse by hundreds of priests, according to a new report issued by a grand jury on Tuesday.
16 August, 2018
---
Over the past 70 years, the Roman Catholic Church in Pennsylvania has been systematically covering up child sexual abuse by priests, according to a new report issued by a grand jury on Tuesday.
The report includes 1,000 identifiable victims, but the real number is likely much higher, considering victims are often too afraid to come forward and some church records have been destroyed or were otherwise unavailable.
The cases detailed in the report include a priest who collected child porn and would routinely play 'doctor' with a young boy; a priest who would befriend children's parents, get invited to stay the night, then molest the children while their parents slept; and incidents that "involved whips, chains, drugs and alcohol."
Church leaders were aware of the widespread abuse but covered it up or made insufficient improvements, according to the grand jury.
"Despite some institutional reform, individual leaders of the church have largely escaped public accountability," the grand jury wrote. "Priests were raping little boys and girls, and the men of God who were responsible for them not only did nothing; they hid it all. For decades. Monsignors, auxiliary bishops, bishops, archbishops, cardinals have mostly been protected; many, including some named in this report, have been promoted."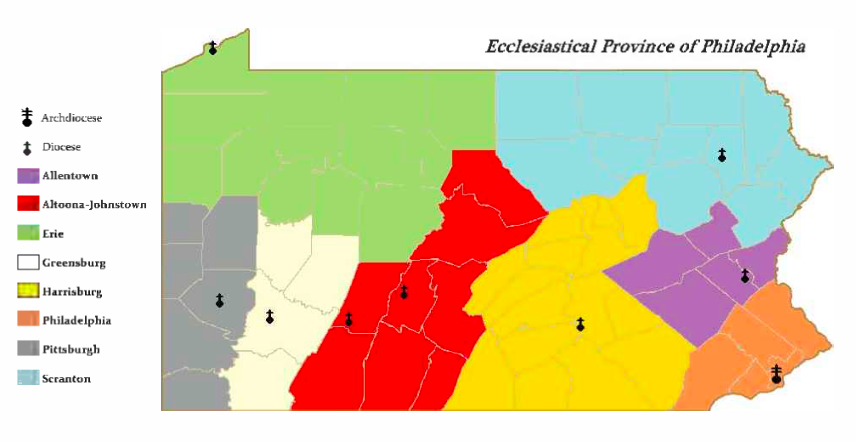 The eight diocese of Pennsylvania. In the six diocese investigated (the other two were the subjects of previous grand juries), the grand jury documented 1,000 child abuse victims at the hands of 300 priests. This is just one state of 50.
The report emphasized the scale and ubiquity of the abuse.
"We, the members of this grand jury, need you to hear this. We know some of you have heard some of it before," the grand jury began its report. "There have been other reports about child sex abuse within the Catholic Church. But never on this scale. For many of us, those earlier stories happened someplace else, someplace away. Now we know the truth: it happened everywhere."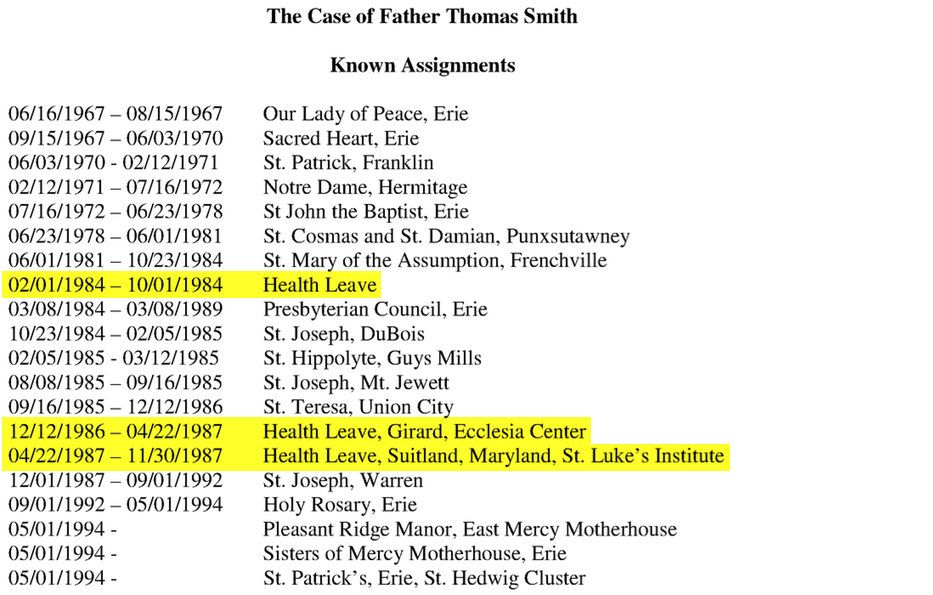 The report shows how the church neglected to punish or report priests whom it knew to be abusers, choosing instead to relocate them to different parishes or other facilities.
'Health leave,' for example, is a euphemism for time in a church-run treatment facility after a sexual abuse scandal. The grand jury reports: "while in treatment, Smith admitted to sexually molesting at least fifteen children. Smith stated that all of his victims were boys, some as young as seven. Smith had raped them anally and orally. This information was provided to [Bishop] Murphy in November 1987. That same month, Smith was discharged from the facility." Father Thomas Smith was reassigned to different parishes over and over again until his retirement in 2002.
The grand jury suggests the abuse and its coverup by the church is ongoing.
It's far from the first report to expose the systemic abuse and cover-up of child sexual abuse in the church. The most famous and wide-reaching report in recent history came from the Boston Globe's Spotlight team, which in 2002 unveiled the systemic child abuse and coverups within the Archdiocese of Boston.
So, why does the Catholic Church's endemic abuse persist?
One reason seems to be a culture of secrecy and blackmail that emerges from celibacy rules. The culture emerges like this: Priests and bishops sometimes violate their vows of celibacy, whether with men, women or children. When other church leaders discover these violations of celibacy, they would be able to use that information as blackmail to discourage others from revealing their own indiscretions.
Some say removing celibacy rules would be a major step in eradicating systemic abuse in the Catholic Church.
"There are Catholics who study the church and study the sexuality of the priesthood who have been saying this for 20 and 30 years," Laurie Goodstein, a religion correspondent for The New York Times, said on The Daily podcast.
The new report, which comes during a cultural moment when broader issues of power and sexual abuse are being examined like never before, could usher in a new era of scrutiny on the the Catholic Church.
"The Church has been turning away those questions, has said 'those are not relevant, that's not what we need to look at,'" Goodstein said. "But the people calling for that to be examined—that's getting louder now than I've ever heard it before."
What can 3D printing do for medicine? The "sky is the limit," says Northwell Health researcher Dr. Todd Goldstein.
Northwell Health
Sponsored by Northwell Health
Medical professionals are currently using 3D printers to create prosthetics and patient-specific organ models that doctors can use to prepare for surgery.
Eventually, scientists hope to print patient-specific organs that can be transplanted safely into the human body.
Northwell Health, New York State's largest health care provider, is pioneering 3D printing in medicine in three key ways.
New computing theory allows artificial intelligences to store memories.
Credit: Perception and Robotics Group, University of Maryland.
Technology & Innovation
To become autonomous, robots need to perceive the world around them and move at the same time.
Researchers create a theory of hyperdimensional computing to help store robot movement in high-dimensional vectors.
This improvement in perception will allow artificial intelligences to create memories.
If you don't want to know anything about your death, consider this your spoiler warning.
Culture & Religion
For centuries cultures have personified death to give this terrifying mystery a familiar face.
Modern science has demystified death by divulging its biological processes, yet many questions remain.
Studying death is not meant to be a morbid reminder of a cruel fate, but a way to improve the lives of the living.
Riots may ensue as more poor Americans recognize their "miserable" long-term prospects.
Videos
How bad is wealth inequality in the United States? About 1 percent of Americans hold 80 percent of the money.
In the United States, the correlation between the income of parents and the income of their children when they grow up is higher than in any other country in the world.
One of the big underlying reasons for poverty is receiving a crummy education, which in turn leads to crummy jobs. When people recognize their miserable long-term prospects, they are more likely to partake in riots.
Big think's weekly newsletter.
Get smarter faster from the comfort of your inbox.
See our newsletter privacy policy
here
Most Popular
Most Recent
Big think's weekly newsletter.
Get smarter faster from the comfort of your inbox.
See our newsletter privacy policy
here
© Copyright 2007-2019 & BIG THINK, BIG THINK EDGE,
SMARTER FASTER trademarks owned by The Big Think, Inc. All rights reserved.