Legalizing marijuana gives police more time to solve more serious types of crimes
A new study's findings suggests that legalization has "produced some demonstrable and persistent benefit" to police departments in Washington and Colorado.
20 July, 2018
---
In 2012, Washington and Colorado became the first U.S. states to legalize marijuana for recreational use. Since, both supporters and opponents of legalization have closely tracked the consequences as other states begin to reconsider their approach to drug enforcement.
Now, a new study shows that legalization has "produced some demonstrable and persistent benefit" to police departments in the two states, seemingly by freeing up resources for officers to solve more serious types of crime.
"Our models show no negative effects of legalization and, instead, indicate that crime clearance rates for at least some types of crime are increasing faster in states that legalized than in those that did not," the authors wrote in a study published in the journal Police Quarterly.
The researchers used FBI data on Colorado and Washington from 2010 to 2015 to study crime clearance rates, a measurement of how many crimes are solved by police. Before legalization, crime clearance rates were falling in the states. However, the rates seemed to stabilize and then increase following legalization—an effect not observed in the 48 other states.
The clearance rates of burglary and motor vehicle theft especially increased, authors noted.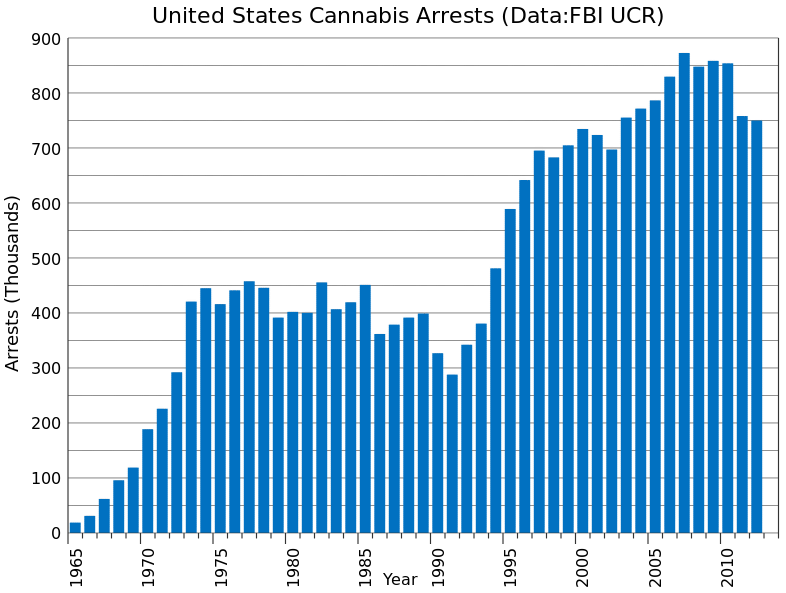 "The clearance rate for these two offenses increased dramatically postlegalization," the authors found. "In contrast, national trends remained essentially flat."
Still, they said the study can't conclusively link the increase in crime clearance rates to marijuana legalization. Other factors, like police overtime or different enforcement strategies, might have played a part, though they note that there were no clear changes to public policy that might have explained the changes they observed.
"We think the argument that legalization did in fact produce a measurable impact on clearance rates is plausible," the researches wrote.
The idea that marijuana legalization would free up police resources is a common argument of marijuana legalization proponents. It makes sense given the numbers: In 2016, about 600,000 people nationwide were arrested for simple marijuana possession. That's more people than were arrested for all violent crimes in the same year.
"Our results suggest that, just as marijuana legalization proponents argued, the legalization of marijuana influenced police outcomes, which in the context of this article is modeled as improvements in clearance rates," the researchers wrote.
A number of states are expected to vote on marijuana-related bills this year, including Utah, Rhode Island, Illinois, and Michigan, which could see the drug legalized for recreational use in November.
Step inside the unlikely friendship of a former ACLU president and an ultra-conservative Supreme Court Justice.

Sponsored by Charles Koch Foundation
Former president of the ACLU Nadine Strossen and Supreme Court Justice Antonin Scalia were unlikely friends. They debated each other at events all over the world, and because of that developed a deep and rewarding friendship – despite their immense differences.
Scalia, a famous conservative, was invited to circles that were not his "home territory", such as the ACLU, to debate his views. Here, Strossen expresses her gratitude and respect for his commitment to the exchange of ideas.
"It's really sad that people seem to think that if you disagree with somebody on some issues you can't be mutually respectful, you can't enjoy each other's company, you can't learn from each other and grow in yourself," says Strossen.
The opinions expressed in this video do not necessarily reflect the views of the Charles Koch Foundation, which encourages the expression of diverse viewpoints within a culture of civil discourse and mutual respect.
Learn how to redesign your job for maximum reward.
Videos
Broaching the question "What is my purpose?" is daunting – it's a grandiose idea, but research can make it a little more approachable if work is where you find your meaning. It turns out you can redesign your job to have maximum purpose.
There are 3 ways people find meaning at work, what Aaron Hurst calls the three elevations of impact. About a third of the population finds meaning at an individual level, from seeing the direct impact of their work on other people. Another third of people find their purpose at an organizational level. And the last third of people find meaning at a social level.
"What's interesting about these three elevations of impact is they enable us to find meaning in any job if we approach it the right way. And it shows how accessible purpose can be when we take responsibility for it in our work," says Hurst.
Erik Verlinde has been compared to Einstein for completely rethinking the nature of gravity.
Photo by Willeke Duijvekam
Surprising Science
The Dutch physicist Erik Verlinde's hypothesis describes gravity as an "emergent" force not fundamental.
The scientist thinks his ideas describe the universe better than existing models, without resorting to "dark matter".
While some question his previous papers, Verlinde is reworking his ideas as a full-fledged theory.
TuSimple, an autonomous trucking company, has also engaged in test programs with the United States Postal Service and Amazon.
Technology & Innovation
This week, UPS announced that it's working with autonomous trucking startup TuSimple on a pilot project to deliver cargo in Arizona using self-driving trucks.
UPS has also acquired a minority stake in TuSimple.
TuSimple hopes its trucks will be fully autonomous — without a human driver — by late 2020, though regulatory questions remain.