Study: Great white sharks will be swimming in British waters by 2050
As a result of warming seas, at least 10 types of sharks currently found in warmer areas will likely be found in British waters in coming decades.
17 July, 2018
---
Great white sharks will likely start moving north as warming seas open new habitats for the predatory fish, according to a new study.
The study, led by Ken Collins at the University of Southampton, predicts that at least 10 types of shark currently found in warmer places, like the Mediterranean and coast of Africa, will be swimming in British waters in coming decades.
"These include the likes of blacktips, sand tigers and hammerheads, which are currently found swimming off the coasts of Spain and Portugal," Collins said.
Collins, a Senior Research Fellow within Ocean and Earth Science, National Oceanography Centre Southampton at the University of Southampton, said the changes are the result of climate change, which poses threats to shark populations worldwide.
"Though while the potential number of shark species may increase in the next few decades, the overall number of sharks, especially the larger ones, will fall as a result of overfishing, plastic waste and climate change."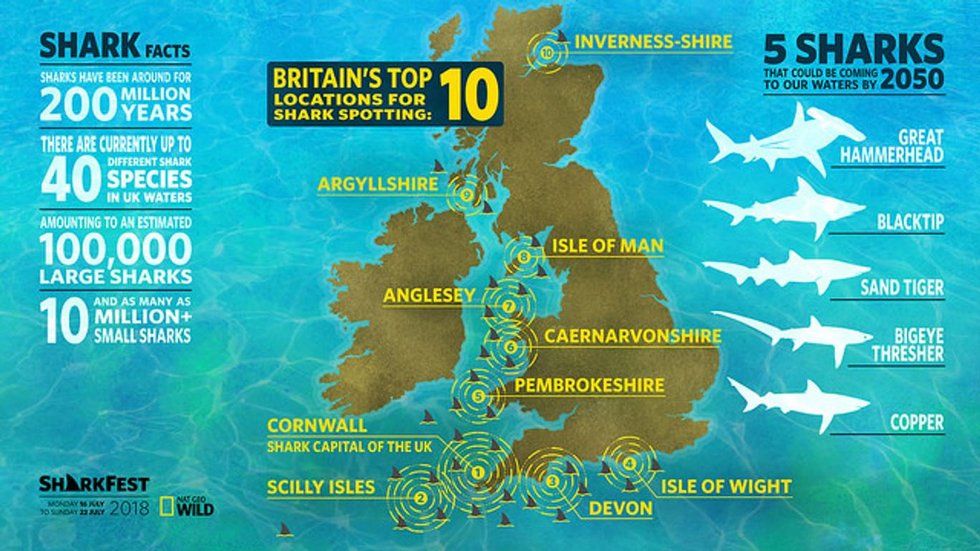 (Image: Nat Geo WILD)
He elaborated in an interview with The Independent:
"We will increase from 40 species to maybe 60, but there will still be less of them—and some of the existing ones will maybe go extinct in the meantime... They are getting rarer and rarer—and it's the big sharks that have the problem because people target them."
Shark migration patterns also seem to be changing in other parts of the world's oceans. Earlier this year, National Geographic spoke with marine biologist Stephen Kajiura, who's been tracking blacktip sharks for more than a decade.
"This year has been strange," he said.
During the colder months, blacktip sharks normally swim south from North Carolina to Florida, but this year researchers noticed that only one-third of the usual number of blacktips had migrated south. They suspect the sharks are staying north because of warmer waters.
"Last year was unusually warm all winter: The water temperatures never got below 73.4 Fahrenheit," Kajiura said. "This year, the temperatures have risen dramatically to 78.8 Fahrenheit. It's now even hotter than this time last year."
Sharks can disrupt marine ecosystems when they relocate or change migration patterns. An increase of sharks in a region can result in the extinction of other types of marine life, including other species of shark.
Conversely, the disappearance of sharks from an area they once inhabited, like the Florida coast, can spell disaster for coral reefs and seagrasses because sharks help keep the "ecosystem healthy by weeding out weak and sick fish," as National Geographic  reported.
What can 3D printing do for medicine? The "sky is the limit," says Northwell Health researcher Dr. Todd Goldstein.
Northwell Health
Sponsored by Northwell Health
Medical professionals are currently using 3D printers to create prosthetics and patient-specific organ models that doctors can use to prepare for surgery.
Eventually, scientists hope to print patient-specific organs that can be transplanted safely into the human body.
Northwell Health, New York State's largest health care provider, is pioneering 3D printing in medicine in three key ways.
Torn between absolutism on the left and the right, classical liberalism—with its core values of compassion and incremental progress whereby the once-radical becomes the mainstream—is in need of a good defense. And Adam Gopnik is its lawyer.
Think Again Podcasts
Liberalism as "radical pragmatism"
Intersectionality and civic discourse
How "a thousand small sanities" tackled drunk driving, normalized gay marriage, and could control gun violence
As Game of Thrones ends, a revealing resolution to its perplexing geography.
Strange Maps
The fantasy world of Game of Thrones was inspired by real places and events.
But the map of Westeros is a good example of the perplexing relation between fantasy and reality.
Like Britain, it has a Wall in the North, but the map only really clicks into place if you add Ireland.
The lost practice of face-to-face communication has made the world a more extreme place.
Videos
The world was saner when we spoke face-to-face, argues John Cameron Mitchell. Not looking someone in the eye when you talk to them raises the potential for miscommunication and conflict.
Social media has been an incredible force for activism and human rights, but it's also negatively affected our relationship with the media. We are now bombarded 24/7 with news that either drives us to anger or apathy.
Sitting behind a screen makes polarization worse, and polarization is fertile ground for conspiracy theories and fascism, which Cameron describes as irrationally blaming someone else for your problems.
Big think's weekly newsletter.
Get smarter faster from the comfort of your inbox.
See our newsletter privacy policy
here
Most Popular
Most Recent
Big think's weekly newsletter.
Get smarter faster from the comfort of your inbox.
See our newsletter privacy policy
here
© Copyright 2007-2019 & BIG THINK, BIG THINK EDGE,
SMARTER FASTER trademarks owned by The Big Think, Inc. All rights reserved.