Study: Great white sharks will be swimming in British waters by 2050
As a result of warming seas, at least 10 types of sharks currently found in warmer areas will likely be found in British waters in coming decades.
17 July, 2018
---
Great white sharks will likely start moving north as warming seas open new habitats for the predatory fish, according to a new study.
The study, led by Ken Collins at the University of Southampton, predicts that at least 10 types of shark currently found in warmer places, like the Mediterranean and coast of Africa, will be swimming in British waters in coming decades.
"These include the likes of blacktips, sand tigers and hammerheads, which are currently found swimming off the coasts of Spain and Portugal," Collins said.
Collins, a Senior Research Fellow within Ocean and Earth Science, National Oceanography Centre Southampton at the University of Southampton, said the changes are the result of climate change, which poses threats to shark populations worldwide.
"Though while the potential number of shark species may increase in the next few decades, the overall number of sharks, especially the larger ones, will fall as a result of overfishing, plastic waste and climate change."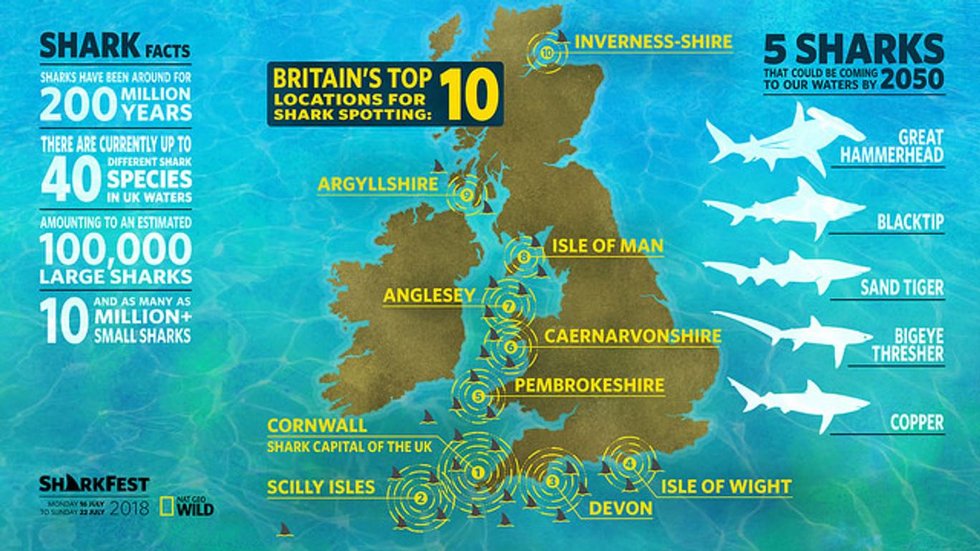 (Image: Nat Geo WILD)
He elaborated in an interview with The Independent:
"We will increase from 40 species to maybe 60, but there will still be less of them—and some of the existing ones will maybe go extinct in the meantime... They are getting rarer and rarer—and it's the big sharks that have the problem because people target them."
Shark migration patterns also seem to be changing in other parts of the world's oceans. Earlier this year, National Geographic spoke with marine biologist Stephen Kajiura, who's been tracking blacktip sharks for more than a decade.
"This year has been strange," he said.
During the colder months, blacktip sharks normally swim south from North Carolina to Florida, but this year researchers noticed that only one-third of the usual number of blacktips had migrated south. They suspect the sharks are staying north because of warmer waters.
"Last year was unusually warm all winter: The water temperatures never got below 73.4 Fahrenheit," Kajiura said. "This year, the temperatures have risen dramatically to 78.8 Fahrenheit. It's now even hotter than this time last year."
Sharks can disrupt marine ecosystems when they relocate or change migration patterns. An increase of sharks in a region can result in the extinction of other types of marine life, including other species of shark.
Conversely, the disappearance of sharks from an area they once inhabited, like the Florida coast, can spell disaster for coral reefs and seagrasses because sharks help keep the "ecosystem healthy by weeding out weak and sick fish," as National Geographic  reported.
Lumina Foundation is partnering with Big Think to unearth the next large-scale, rapid innovation in post-high school education. Enter the competition here!
That's one way to reduce the national debt.
Change.org
Politics & Current Affairs
The tongue-in-cheek petition, whose stated aim is to reduce the national debt, has been signed more than 8,600 times as of Tuesday.
Selling Montana, the fourth largest state in the country, would constitute the largest land deal since the Louisiana Purchase.
The national debt is often a source of concern for individuals, but the chances of the U.S. defaulting on its debts are relatively low — in part because the bulk of the national debt is owned by the American public.
The part of your brain responsible for ASMR catalogs music, and appears to be a stronghold against Alzheimer's and dementia.
The parts of the brain highlighted in red and yellow are thought to control your sense of attention and memory. (image c/o Brain Network Lab)
popular
Some music inspires you to move your feet, some inspires you to get out there and change the world. In any case, and to move hurriedly on to the point of this article, it's fair to say that music moves people in special ways. 
Evolutionarily speaking, being gay is still something of an enigma
Videos
Heterosexual people have been less interesting to scientists than gay people, in terms of where they come from, because, evolutionarily speaking, being gay doesn't lead to a higher "higher reproductive fitness" — meaning, it doesn't lead to more babies.
Across cultures, gay boys tend to be more interested in spending time with their mothers.
We still don't really know why gay people are attracted to each other.
Big think's weekly newsletter.
Get smarter faster from the comfort of your inbox.
See our newsletter privacy policy
here
Most Popular
Most Recent
Big think's weekly newsletter.
Get smarter faster from the comfort of your inbox.
See our newsletter privacy policy
here
© Copyright 2007-2018 & BIG THINK, BIG THINK EDGE,
SMARTER FASTER trademarks owned by The Big Think, Inc. All rights reserved.