'Booty' Is The Funniest Word In The English Language, Study Says
A study surveyed 821 people to find the funniest words in the English language.
04 August, 2017
---
Which word is funnier: porridge or oatmeal?
That was the question that inspired a new study that ranks the funniest words in the English language.
"Apparently my supervisor's kids couldn't stop laughing at 'porridge' one morning during breakfast," Engelthaler said. "He was really confused because 'porridge' and 'oatmeal' are the same thing, but they sound different. He thought 'porridge' was funnier, I thought 'oatmeal' was funnier. So, we decided to make a study to kind of settle the argument."
Engelthaler and his colleagues at the University of Warwick asked 821 people in the U.S. to rate 200 words, which were chosen from a list of 5,000. 
The top 12 words, in order of funniest, were:
booty, tit, booby, hooter, nitwit, twit, waddle, tinkle, bebop, egghead, ass and twerp.
At the other extreme, these were the words respondents found least humorous:
rape, torture, torment, gunshot, death, nightmare, war, trauma, rapist, distrust, deathbed, pain.
The researchers' main objective was to establish a data-set to be used in future humor studies. Still, the results showed some interesting trends, particularly in the differences between what men and women consider funny.
"Men find more dirty words funnier," Engelthaler said. "Women kind of prefer humor that's sound-driven and innocent. So, women find words like giggle and beast funnier, whereas men find words like orgy and bondage funnier."
As far as the words both sexes found similarly funny? Chug, fluff, scrotum, jabber, joke, buttocks, boon, yank, tinker, prance. 
The results also showed that both sexes tended to consider strange words funnier. 
"We found that words that are really infrequent, so words people are unfamiliar with, are funnier on average," Engelthaler said. "I think you're less used to them, so you find them strange and funny."
Engelthaler thinks this might be explained by the benign violations theory, which suggests that we find something funny when it deviates from our expectations, but only in a way that's not too offensive. That might explain why curse words didn't top the list.
"They end up being somewhere closer to the top," Engelthaler said. "But they're not at the very top, which is because, I guess, they offend a slight fraction of the people they're presented to."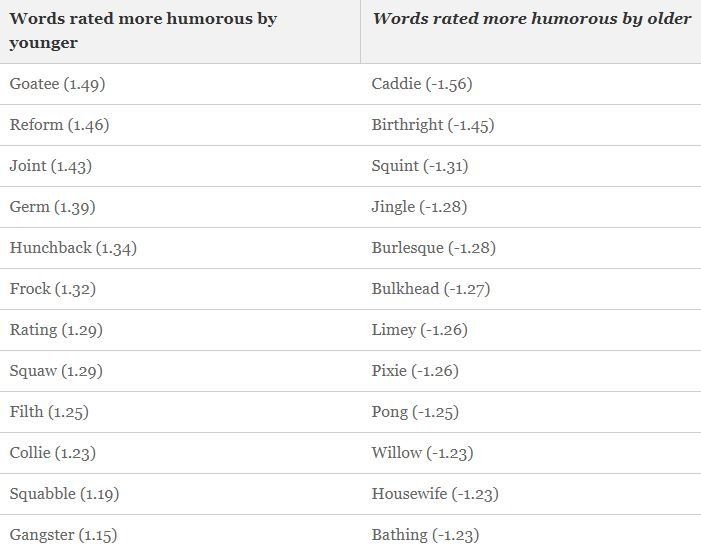 Strange words could also be funny for a different reason.
"One thing we want to look into is the sounds of the words, because there have been studies that have taken a look nonsensical words," Engelthaler said . "They found that certain sounds in the words and sound patterns make them really funny. So even though the word has no meaning at all, they still can be funny words."
Although the words were rated by people in the U.S., the U.K. researchers didn't notice much of a difference between what people in the two countries consider funny.
"As long as something's slightly naughty and slightly dirty, and not too negative, you would find funny in both the U.K. English and the U.S. English," Engelthaler said.
Step inside the unlikely friendship of a former ACLU president and an ultra-conservative Supreme Court Justice.

Sponsored by Charles Koch Foundation
Former president of the ACLU Nadine Strossen and Supreme Court Justice Antonin Scalia were unlikely friends. They debated each other at events all over the world, and because of that developed a deep and rewarding friendship – despite their immense differences.
Scalia, a famous conservative, was invited to circles that were not his "home territory", such as the ACLU, to debate his views. Here, Strossen expresses her gratitude and respect for his commitment to the exchange of ideas.
"It's really sad that people seem to think that if you disagree with somebody on some issues you can't be mutually respectful, you can't enjoy each other's company, you can't learn from each other and grow in yourself," says Strossen.
The opinions expressed in this video do not necessarily reflect the views of the Charles Koch Foundation, which encourages the expression of diverse viewpoints within a culture of civil discourse and mutual respect.
French newspapers report that the trial hasn't lived up to expectations.
Image source: Charly Triballeau / AFP / Getty Images
Technology & Innovation
The French government initially invested in a rural solar roadway in 2016.
French newspapers report that the trial hasn't lived up to expectations.
Solar panel "paved" roadways are proving to be inefficient and too expensive.
Erik Verlinde has been compared to Einstein for completely rethinking the nature of gravity.
Photo by Willeke Duijvekam
Surprising Science
The Dutch physicist Erik Verlinde's hypothesis describes gravity as an "emergent" force not fundamental.
The scientist thinks his ideas describe the universe better than existing models, without resorting to "dark matter".
While some question his previous papers, Verlinde is reworking his ideas as a full-fledged theory.
Scientists make an important discovery for the future of computing.
Pixabay
Surprising Science
Researchers find a new state of matter called "topological superconductivity".
The state can lead to important advancements in quantum computing.
Utilizing special particles that emerge during this state can lead to error-free data storage and blazing calculation speed.