'Booty' Is The Funniest Word In The English Language, Study Says
A study surveyed 821 people to find the funniest words in the English language.
04 August, 2017
Photo by David Silverman/Getty Images
---
Which word is funnier: porridge or oatmeal?
That was the question that inspired a new study that ranks the funniest words in the English language.
"Apparently my supervisor's kids couldn't stop laughing at 'porridge' one morning during breakfast," Engelthaler said. "He was really confused because 'porridge' and 'oatmeal' are the same thing, but they sound different. He thought 'porridge' was funnier, I thought 'oatmeal' was funnier. So, we decided to make a study to kind of settle the argument."
Engelthaler and his colleagues at the University of Warwick asked 821 people in the U.S. to rate 200 words, which were chosen from a list of 5,000. 
The top 12 words, in order of funniest, were:
booty, tit, booby, hooter, nitwit, twit, waddle, tinkle, bebop, egghead, ass and twerp.
At the other extreme, these were the words respondents found least humorous:
rape, torture, torment, gunshot, death, nightmare, war, trauma, rapist, distrust, deathbed, pain.
The researchers' main objective was to establish a data-set to be used in future humor studies. Still, the results showed some interesting trends, particularly in the differences between what men and women consider funny.
"Men find more dirty words funnier," Engelthaler said. "Women kind of prefer humor that's sound-driven and innocent. So, women find words like giggle and beast funnier, whereas men find words like orgy and bondage funnier."
As far as the words both sexes found similarly funny? Chug, fluff, scrotum, jabber, joke, buttocks, boon, yank, tinker, prance. 
The results also showed that both sexes tended to consider strange words funnier. 
"We found that words that are really infrequent, so words people are unfamiliar with, are funnier on average," Engelthaler said. "I think you're less used to them, so you find them strange and funny."
Engelthaler thinks this might be explained by the benign violations theory, which suggests that we find something funny when it deviates from our expectations, but only in a way that's not too offensive. That might explain why curse words didn't top the list.
"They end up being somewhere closer to the top," Engelthaler said. "But they're not at the very top, which is because, I guess, they offend a slight fraction of the people they're presented to."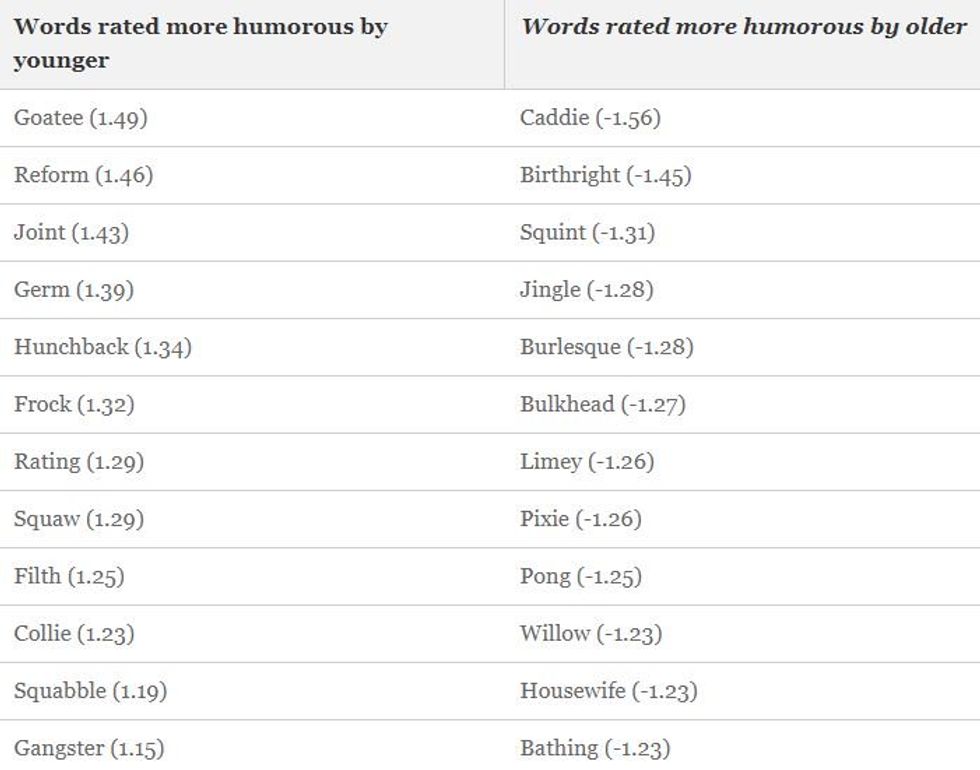 Strange words could also be funny for a different reason.
"One thing we want to look into is the sounds of the words, because there have been studies that have taken a look nonsensical words," Engelthaler said . "They found that certain sounds in the words and sound patterns make them really funny. So even though the word has no meaning at all, they still can be funny words."
Although the words were rated by people in the U.S., the U.K. researchers didn't notice much of a difference between what people in the two countries consider funny.
"As long as something's slightly naughty and slightly dirty, and not too negative, you would find funny in both the U.K. English and the U.S. English," Engelthaler said.
Universities claim to prepare students for the world. How many actually do it?
Sponsored by Charles Koch Foundation
Many university mission statements do not live up to their promise, writes Ben Nelson, founder of Minerva, a university designed to develop intellect over content memorization.
The core competencies that students need for success—critical thinking, communication, problem solving, and cross-cultural understanding, for example—should be intentionally taught, not left to chance.
These competencies can be summed up with one word: wisdom. True wisdom is the ability to apply one's knowledge appropriately when faced with novel situations.
This is what the world will look like, 250 million years from now
On Pangaea Proxima, Lagos will be north of New York, and Cape Town close to Mexico City
Surprising Science
To us humans, the shape and location of oceans and continents seems fixed. But that's only because our lives are so short.
A new study may help us better understand how children build social cognition through caregiver interaction.
Personal Growth
Scientists speculate imitation helps develop social cognition in babies.
A new study out of Lund University shows that six-month-olds look and smile more at imitating adults.
Researchers hope the data will spur future studies to discover what role caregiver imitation plays in social cognition development.
Researchers at UT Southwestern noted a 47 percent increase in blood flow to regions associated with memory.
Photo: Johannes Eisele/AFP via Getty Images
Surprising Science
Researchers at UT Southwestern observed a stark improvement in memory after cardiovascular exercise.
The year-long study included 30 seniors who all had some form of memory impairment.
The group of seniors that only stretched for a year did not fair as well in memory tests.
Videos
According to a man that knows more than 20 languages, the key is to start in the middle.
Scroll down to load more…