'Booty' Is The Funniest Word In The English Language, Study Says
A study surveyed 821 people to find the funniest words in the English language.
04 August, 2017
---
Which word is funnier: porridge or oatmeal?
That was the question that inspired a new study that ranks the funniest words in the English language.
"Apparently my supervisor's kids couldn't stop laughing at 'porridge' one morning during breakfast," Engelthaler said. "He was really confused because 'porridge' and 'oatmeal' are the same thing, but they sound different. He thought 'porridge' was funnier, I thought 'oatmeal' was funnier. So, we decided to make a study to kind of settle the argument."
Engelthaler and his colleagues at the University of Warwick asked 821 people in the U.S. to rate 200 words, which were chosen from a list of 5,000. 
The top 12 words, in order of funniest, were:
booty, tit, booby, hooter, nitwit, twit, waddle, tinkle, bebop, egghead, ass and twerp.
At the other extreme, these were the words respondents found least humorous:
rape, torture, torment, gunshot, death, nightmare, war, trauma, rapist, distrust, deathbed, pain.
The researchers' main objective was to establish a data-set to be used in future humor studies. Still, the results showed some interesting trends, particularly in the differences between what men and women consider funny.
"Men find more dirty words funnier," Engelthaler said. "Women kind of prefer humor that's sound-driven and innocent. So, women find words like giggle and beast funnier, whereas men find words like orgy and bondage funnier."
As far as the words both sexes found similarly funny? Chug, fluff, scrotum, jabber, joke, buttocks, boon, yank, tinker, prance. 
The results also showed that both sexes tended to consider strange words funnier. 
"We found that words that are really infrequent, so words people are unfamiliar with, are funnier on average," Engelthaler said. "I think you're less used to them, so you find them strange and funny."
Engelthaler thinks this might be explained by the benign violations theory, which suggests that we find something funny when it deviates from our expectations, but only in a way that's not too offensive. That might explain why curse words didn't top the list.
"They end up being somewhere closer to the top," Engelthaler said. "But they're not at the very top, which is because, I guess, they offend a slight fraction of the people they're presented to."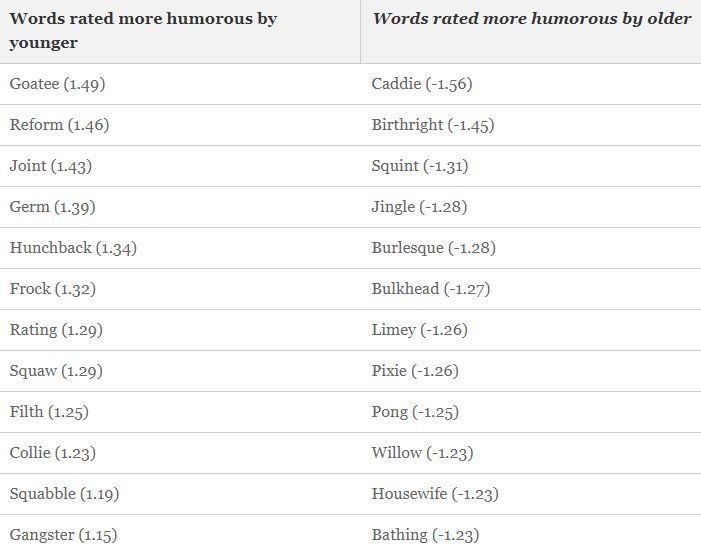 Strange words could also be funny for a different reason.
"One thing we want to look into is the sounds of the words, because there have been studies that have taken a look nonsensical words," Engelthaler said . "They found that certain sounds in the words and sound patterns make them really funny. So even though the word has no meaning at all, they still can be funny words."
Although the words were rated by people in the U.S., the U.K. researchers didn't notice much of a difference between what people in the two countries consider funny.
"As long as something's slightly naughty and slightly dirty, and not too negative, you would find funny in both the U.K. English and the U.S. English," Engelthaler said.
What can 3D printing do for medicine? The "sky is the limit," says Northwell Health researcher Dr. Todd Goldstein.
Northwell Health
Sponsored by Northwell Health
Medical professionals are currently using 3D printers to create prosthetics and patient-specific organ models that doctors can use to prepare for surgery.
Eventually, scientists hope to print patient-specific organs that can be transplanted safely into the human body.
Northwell Health, New York State's largest health care provider, is pioneering 3D printing in medicine in three key ways.
Torn between absolutism on the left and the right, classical liberalism—with its core values of compassion and incremental progress whereby the once-radical becomes the mainstream—is in need of a good defense. And Adam Gopnik is its lawyer.
Think Again Podcasts
Liberalism as "radical pragmatism"
Intersectionality and civic discourse
How "a thousand small sanities" tackled drunk driving, normalized gay marriage, and could control gun violence
Irish president believes students need philosophy.
Personal Growth
President of Ireland Michael D. Higgins calls for students to be thought of as more than tools made to be useful.
Higgins believes that philosophy and history should be a basic requirement forming a core education.
The Irish Young Philosopher Awards is one such event that is celebrating this discipline among the youth.
The lost practice of face-to-face communication has made the world a more extreme place.
Videos
The world was saner when we spoke face-to-face, argues John Cameron Mitchell. Not looking someone in the eye when you talk to them raises the potential for miscommunication and conflict.
Social media has been an incredible force for activism and human rights, but it's also negatively affected our relationship with the media. We are now bombarded 24/7 with news that either drives us to anger or apathy.
Sitting behind a screen makes polarization worse, and polarization is fertile ground for conspiracy theories and fascism, which Cameron describes as irrationally blaming someone else for your problems.
Big think's weekly newsletter.
Get smarter faster from the comfort of your inbox.
See our newsletter privacy policy
here
Most Popular
Most Recent
Big think's weekly newsletter.
Get smarter faster from the comfort of your inbox.
See our newsletter privacy policy
here
© Copyright 2007-2019 & BIG THINK, BIG THINK EDGE,
SMARTER FASTER trademarks owned by The Big Think, Inc. All rights reserved.