Scientists discover strange new shape called the 'scutoid'
Scientists have identified a new shape called the scutoid, and it helps explain the how cells in the body arrange themselves in tightly packed three-dimensional structures to form tissues.
30 July, 2018
---
Scientists have identified a new shape called the scutoid, a discovery that helps explain how cells arrange themselves in tightly packed three-dimensional structures that serve as protective barriers in the body.
The shape was discovered while a team of researchers was studying epithelial cells, which are the safety shields of the body that make up the cell walls lining our blood vessels and organs. As tissues and organs develop, epithelial cells squish together, twisting and turning into highly efficient and complex three-dimensional structures that help block microbes from entering our skin or organs.
But the shape of these cell structures has long been a mystery to scientists. Some have proposed they were shaped like prisms or cylinders, but a new paper published in Nature shows how scientists used computer modeling and imaging to settle the question once and for all.
The team ran a computer model to see what would be the most efficient shape for the epithelial cells to take. It produced a strange, prism-like shape, one with six sides on one end, five on the other, and a strange triangular protrusion coming out of one of the sides.
"It was such a surprise!" Luis Escudero, a developmental biologist at the University of Seville in Spain and co-author of the paper, told Gizmodo.
That was just a computer model, though. To find out if the strange shape exists in nature, the researchers used microcopy and computer imaging to take an up-close look at the epithelial tissues of fruit flies and zebrafish. As predicted, they discovered the scutoid. The name was chosen by Javier Buceta, a systems biologist and co-author of the study, because the shape resembles a beetle's scutellum from a top-down view.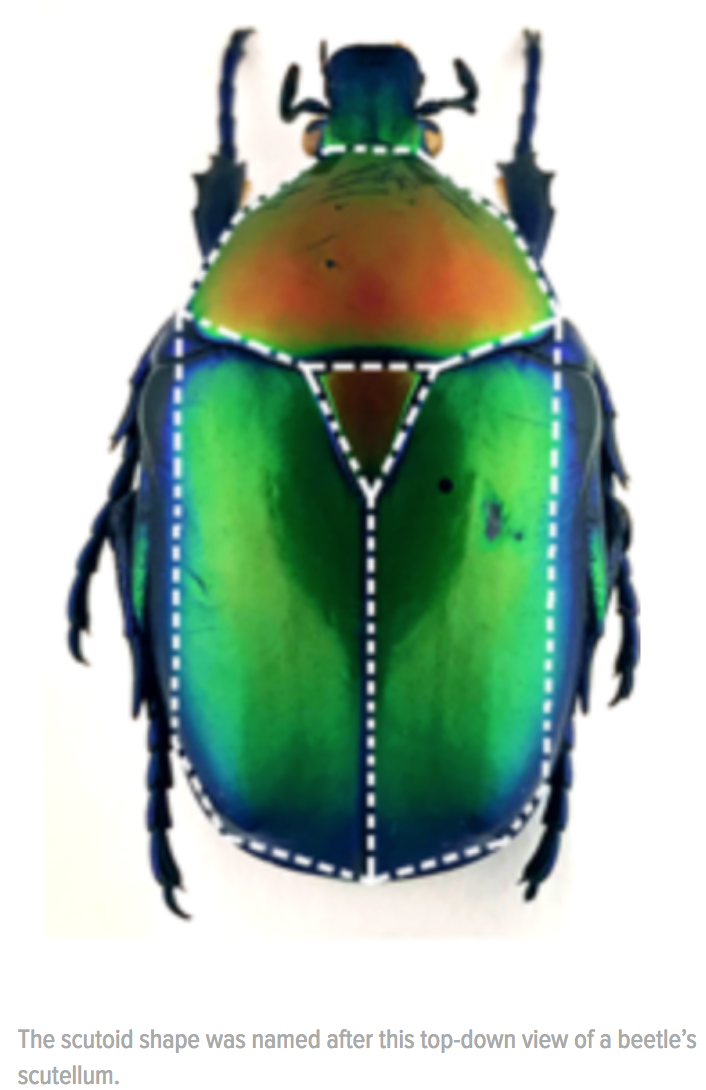 "You normally don't have the opportunity in your life to name something that will hopefully be there forever," Buceta told Gizmodo. "It's not going to be the circle or the square, but we have been able to name a new shape."
The researchers think the scutoid will be useful in other fields beyond biology, such as mathematics and engineering.
"We believe that this is a major breakthrough in many ways," Escudero told Gizmodo. "We are convinced that there are more implications that we are trying to understand as we speak."
The structures are tiny and difficult to image in 3D, so it's still a mystery as to whether scutoids exist in the human body, but given its highly efficient form some think it's likely.
What can 3D printing do for medicine? The "sky is the limit," says Northwell Health researcher Dr. Todd Goldstein.
Northwell Health
Sponsored by Northwell Health
Medical professionals are currently using 3D printers to create prosthetics and patient-specific organ models that doctors can use to prepare for surgery.
Eventually, scientists hope to print patient-specific organs that can be transplanted safely into the human body.
Northwell Health, New York State's largest health care provider, is pioneering 3D printing in medicine in three key ways.
An ordained Lama in a Tibetan Buddhist lineage, Lama Rod grew up a queer, black male within the black Christian church in the American south. Navigating all of these intersecting, evolving identities has led him to a life's work based on compassion for self and others.
Think Again Podcasts
"What I'm interested in is deep, systematic change. What I understand now is that real change doesn't happen until change on the inside begins to happen."
"Masculinity is not inherently toxic. Patriarchy is toxic. We have to let that energy go so we can stop forcing other people to do emotional labor for us."
We were gaining three IQ points per decade for many, many years. Now, that's going backward. Could this explain some of our choices lately?
The Flynn effect appears to be in retrograde. (Credit: Shutterstock/Big Think)
popular
There's a new study out of Norway that indicates our—well, technically, their—IQs are shrinking, to the tune of about seven IQ points per generation.
Here's why generalists triumph over specialists in the new era of innovation.
Videos
Since the explosion of the knowledge economy in the 1990s, generalist inventors have been making larger and more important contributions than specialists.
One theory is that the rise of rapid communication technologies allowed the information created by specialists to be rapidly disseminated, meaning generalists can combine information across disciplines to invent something new.
Here, David Epstein explains how Nintendo's Game Boy was a case of "lateral thinking with withered technology." He also relays the findings of a fascinating study that found the common factor of success among comic book authors.
Big think's weekly newsletter.
Get smarter faster from the comfort of your inbox.
See our newsletter privacy policy
here
Most Popular
Most Recent
Big think's weekly newsletter.
Get smarter faster from the comfort of your inbox.
See our newsletter privacy policy
here
© Copyright 2007-2019 & BIG THINK, BIG THINK EDGE,
SMARTER FASTER trademarks owned by The Big Think, Inc. All rights reserved.