Scientists discover source of cosmic rays, opening new era of 'multi-messenger astronomy'
A team of international scientists has pinpointed the cosmic source of a ghostly subatomic particle called a neutrino, marking the beginning of a new era in astronomy.
13 July, 2018
Image: NASA illustration
---
A team of international scientists has pinpointed the cosmic source of a neutrino, a ghostly subatomic particle thought to be produced alongside cosmic rays, in a discovery that marks a new era of astronomy.
The findings, initially recorded in September 2017, were published this week in two papers in the journal Science.
On September 22, 2017, a highly charged neutrino from a distant galaxy tore through Earth's magnetic field, as billions do every day.
"Neutrinos are very mysterious particles," Juan Collar, a professor of experimental physics at the University of Chicago, told Live Science. "People call them 'ghost particles' because they can go through the Earth without interacting. Of all the particles we know, they are the ones that have the smallest probability of interaction with any other known form of matter."
But the neutrino that traveled to Earth last September would prove unique. After breaching the planet's magnetic field, it ripped through the Indian Ocean and, eventually, through a block of ice in Antarctica where it collided with an atomic nucleus. As luck would have it, that reaction occurred in a block of ice that belonged to the IceCube Neutrino Observatory, which had outfitted about one cubic kilometer of ice with 5,160 sensors to search for signs of exactly the type of rare neutrino reaction that took place that fateful day.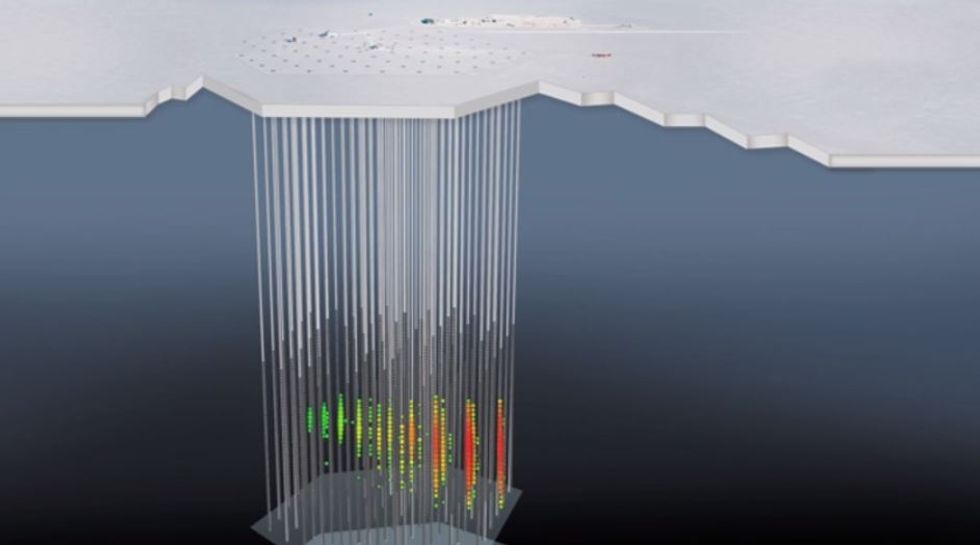 Underground sensors (Image: IceCube Collaboration/NSF)
The reaction left a trajectory that enabled scientists to determine where the subatomic particle originated. Pinpointing the source of a neutrino would be a major discovery for scientists because neutrinos are thought to be produced by the same forces that emit cosmic rays.
The source of cosmic rays has been a mystery to scientists for more than a century. Every day, these rays bombard Earth's magnetic shield, which deflects them back into space. That's good for us, but it makes it hard for scientists to determine where cosmic rays originate.
"The problem with cosmic rays is that they go out into space and get scrambled," Erik Blaufuss, a particle astrophysicist who works on IceCube, told The Guardian.
Neutrinos, extremely tiny particles thought to be produced concurrent with cosmic rays, would be the perfect clue in the search for the source of cosmic rays. Unlike cosmic rays, neutrinos travel across space and time virtually undisturbed in a perfectly straight line. As Collar noted, these tiny particles hardly ever interact with matter, even after passing through entire galaxies.
The idea behind the IceCube project was to put in their path as much matter as possible, in the form of a billion tons of ice, and listen closely for a reaction–one strong enough to suggest it was at one point accompanied by cosmic rays.
"Neutrinos are the smoking gun," Chad Finley, an astroparticle physicist at Stockholm University who worked on the IceCube team, told the Washington Post.
The reaction observed in September 2017 would change everything in the world of neutrino physics.
"It's crazy," Finley said. "These are particles that seldom interact with anything. That has to be the unluckiest neutrino ever."
The observatory immediately issued an automatic alert announcing the recording of a high-energy particle reaction. The alert spread across the scientific community, and soon astronomers across the globe pointed telescopes and other instruments toward the upper-left side of the constellation of Orion. There they found its likely source: a blazar galaxy some 3.7 billion light-years from Earth named TXS 0506+056.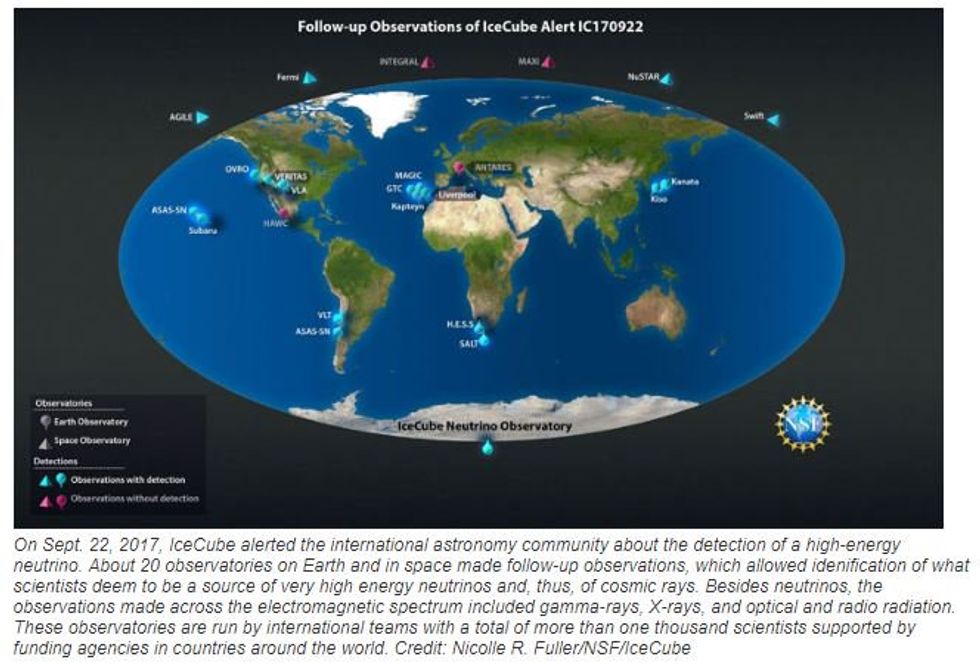 Blazars are a unique type of galaxy. Scientists suspect black holes lie at the heart of most galaxies, but some galaxies are believed to revolve around black holes so violent that, in addition to consuming cosmic material with unfathomable force, they emit into space streams of highly charged particles, also known as cosmic rays. When those streams are pointed at Earth, like TXS 0506+056 is, these galaxies are called blazars.
Still, blazars weren't the prime suspects in the search for the source of cosmic rays.
"It is interesting that there was a general consensus in the astrophysics community that blazars were unlikely to be sources of cosmic rays, and here we are," IceCube lead scientist Francis Halzen said in a statement. "Now, we have identified at least one source that produces high-energy cosmic rays because it produces cosmic neutrinos."
After examining past records, the IceCube identified many other neutrino reactions over 150 days in 2014 and 2015 that also seem to have come from TXS 0506+056. The discovery, assuming it's confirmed, cements the link between cosmic rays and neutrinos.
It also unlocks a new era of "multi-messenger astronomy."
"The era of multi-messenger astrophysics is here," said National Science Foundation Director France Córdova. "Each messenger—from electromagnetic radiation, gravitational waves and now neutrinos—gives us a more complete understanding of the universe, and important new insights into the most powerful objects and events in the sky. Such breakthroughs are only possible through a long-term commitment to fundamental research and investment in superb research facilities."
Ellen Zweibel, a professor of astronomy who works on IceCube, said the discovery opens up new possibilities.
"The universe just talks to us in so many ways, and every time you find a new way of listening, you find something else."
To create wiser adults, add empathy to the school curriculum.
Sponsored by Charles Koch Foundation
Stories are at the heart of learning, writes Cleary Vaughan-Lee, Executive Director for the Global Oneness Project. They have always challenged us to think beyond ourselves, expanding our experience and revealing deep truths.
Vaughan-Lee explains 6 ways that storytelling can foster empathy and deliver powerful learning experiences.
Global Oneness Project is a free library of stories—containing short documentaries, photo essays, and essays—that each contain a companion lesson plan and learning activities for students so they can expand their experience of the world.
Philosophers like to present their works as if everything before it was wrong. Sometimes, they even say they have ended the need for more philosophy. So, what happens when somebody realizes they were mistaken?
Numerous U.S. Presidents invoked the Insurrection Act to to quell race and labor riots.
Photo by Michael Ochs Archives/Getty Images
Politics & Current Affairs
U.S. Presidents have invoked the Insurrection Act on numerous occasions.
The controversial law gives the President some power to bring in troops to police the American people.
The Act has been used mainly to restore order following race and labor riots.
It looks like a busy hurricane season ahead. Probably.
Surprising Science
Before the hurricane season even started in 2020, Arthur and Bertha had already blown through, and Cristobal may be brewing right now.
Weather forecasters see signs of a rough season ahead, with just a couple of reasons why maybe not.
Where's an El Niño when you need one?
Welcome to Hurricane Season 2020. 2020, of course, scoffs at this calendric event much as it has everything else that's normal — meteorologists have already used up the year's A and B storm names before we even got here. And while early storms don't necessarily mean a bruising season ahead, forecasters expect an active season this year. Maybe storms will blow away the murder hornets and 13-year locusts we had planned.
NOAA expects a busy season
According to NOAA's Climate Prediction Center, an agency of the National Weather Service, there's a 60 percent chance that we're embarking upon a season with more storms than normal. There does, however, remain a 30 percent it'll be normal. Better than usual? Unlikely: Just a 10 percent chance.
Where a normal hurricane season has an average of 12 named storms, 6 of which become hurricanes and 3 of which are major hurricanes, the Climate Prediction Center reckons we're on track for 13 to 29 storms, 6 to 10 of which will become hurricanes, and 3 to 6 of these will be category 3, 4, or 5, packing winds of 111 mph or higher.
What has forecasters concerned are two factors in particular.
This year's El Niño ("Little Boy") looks to be more of a La Niña ("Little Girl"). The two conditions are part of what's called the El Niño-Southern Oscillation (ENSO) cycle, which describes temperature fluctuations between the ocean and atmosphere in the east-central Equatorial Pacific. With an El Niño, waters in the Pacific are unusually warm, whereas a La Niña means unusually cool waters. NOAA says that an El Niño can suppress hurricane formation in the Atlantic, and this year that mitigating effect is unlikely to be present.
Second, current conditions in the Atlantic and Caribbean suggest a fertile hurricane environment:
The ocean there is warmer than usual.
There's reduced vertical wind shear.
Atlantic tropical trade winds are weak.
There have been strong West African monsoons this year.
Here's NOAA's video laying out their forecast:
But wait.
ArsTechnica spoke to hurricane scientist Phil Klotzbach, who agrees generally with NOAA, saying, "All in all, signs are certainly pointing towards an active season." Still, he notes a couple of signals that contradict that worrying outlook.
First off, Klotzbach notes that the surest sign of a rough hurricane season is when its earliest storms form in the deep tropics south of 25°N and east of the Lesser Antilles. "When you get storm formations here prior to June 1, it's typically a harbinger of an extremely active season." Fortunately, this year's hurricanes Arthur and Bertha, as well as the maybe-imminent Cristobal, formed outside this region. So there's that.
Second, Klotzbach notes that the correlation between early storm activity and a season's number of storms and intensities, is actually slightly negative. So while statistical connections aren't strongly predictive, there's at least some reason to think these early storms may augur an easy season ahead.
Image source: NOAA
Batten down the hatches early
If 2020's taught us anything, it's how to juggle multiple crises at once, and layering an active hurricane season on top of SARS-CoV-2 — not to mention everything else — poses a special challenge. Warns Treasury Secretary Wilbur Ross, "As Americans focus their attention on a safe and healthy reopening of our country, it remains critically important that we also remember to make the necessary preparations for the upcoming hurricane season." If, as many medical experts expect, we're forced back into quarantine by additional coronavirus waves, the oceanic waves slamming against our shores will best be met by storm preparations put in place in a less last-minute fashion than usual.
Ross adds, "Just as in years past, NOAA experts will stay ahead of developing hurricanes and tropical storms and provide the forecasts and warnings we depend on to stay safe."
Let's hope this, at least, can be counted on in this crazy year.
Technology & Innovation
Got any embarrassing old posts collecting dust on your profile? Facebook wants to help you delete them.
Scroll down to load more…